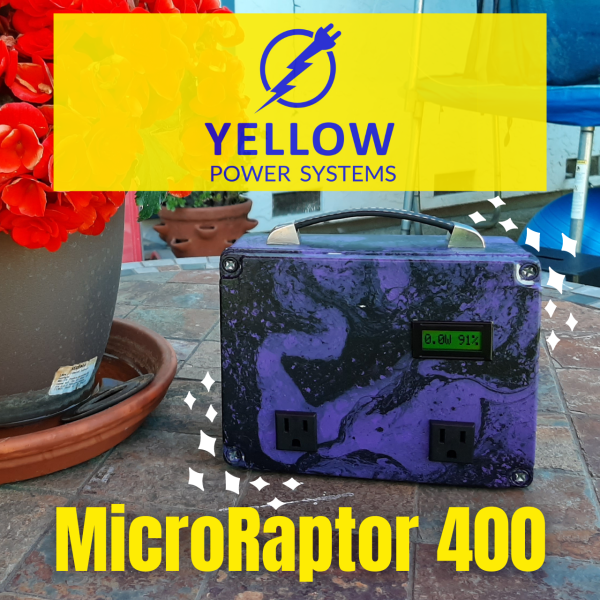 MicroRaptor 400 Power Station
$1,000
raised out of
$50,000
Concept
Large capacity portable power station that is half the weight of its closest competitor.
Story
Short Summary
We are all dependent on power. Often times we want to take some with us. Generators are clunky, USB Power Banks simply don't provide enough, and battery-based Power Stations are simply too heavy. 
Our goal is to provide a significant amount of energy (400Whr) without any unnecessary weight or size. As a bonus of our technology, the MicroRaptor 400 is also completely silent and splash-proof!
Your contribution will help us begin mass-producing the MR400 and provide powerful, yet small Power Stations around the United States and the world! 
The developed technology is a stepping stone to next-generation power grids that will be based on DC voltage, which is proven to be more efficient and reliable than existing AC-based power grids.
Yellow Power Systems is funded by Anton Bakker, a veteran in the Power Electronics Industry with over 25 years of experience in IC Design and Production. Anton holds a Ph.D. degree in Electrical Engineering from Delft University in the Netherlands. 
Judith Bakker is our head of Marketing and Sales and she is pursuing a BSc degree in Aerospace Engineering at San Jose State University.
What We Need & What You Get
Your funds will kick start production of the MR400, which is the world's first High-Voltage (120V) DC-based Power Station. Prototypes of the MR400 are currently being beta-tested and the goal of this campaign is to produce 50-100 products to gauge user experience with this new concept that could define future microgrids. 
Our technology enables the removal of inefficient DC-AC converters and cooling. Resulting in lower weight, smaller size, and higher efficiency. To give you a few numbers: The MR400 is half the weight and half the size of its closest competitor of similar power capacity, while at the same time being 15 times more efficient! (The MR400 has an efficiency of 99%, while competitors are typically at 85%)
If you decide to fund us, you will receive an MR400 with a 20% rebate and up to $100 in accessories that we have carefully selected for you that work perfectly with our technology.
The Impact
Renewable energy is the way to go for a better future in this world. All engineers and scientists agree that homes and microgrids should be based on DC instead of AC. By funding us or buying our Power Station you will contribute to a better environment, while at the same time own a piece of equipment that is twice as good as anything else that is on the market today. 
Risks & Challenges
The MR400 development has taken 4 years and is on its fifth prototype and has been proven functional and useful by a handful of users and beta testers. It is now ready for mass production and we believe it is ready to be shown to a bigger audience.  We use high-quality, original Samsung 35-E batteries that are used in numerous e-bikes that are mass-produced in the USA. 
We also give a 1-year replacement and a 5-year life-time warranty on this first batch of our product.  
Other Ways You Can Help
The best way to help is to fund us by buying an MR400. However, if you don't have the funds available, you can also support us by spreading the word and informing your friends who might be interested in owning this piece of equipment! It is a lifesaver during a blackout, a great upgrade for a camping trip, and a perfect tool for professional use when no electricity is readily available.