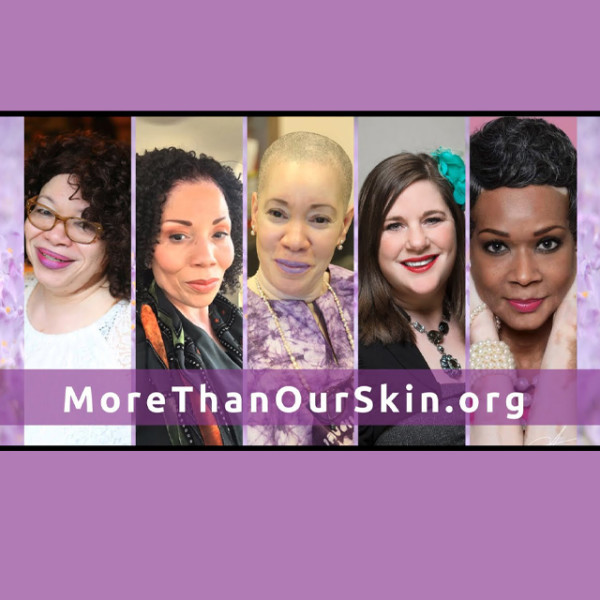 More Than Our Skin
$400
raised out of
$50,000
Concept
A documentary focusing on the lives of five women living with the auto-immune disease Vitiligo.
Story
Summary
We live in a society where beauty is determined by how we look.  The prevalence of beauty products, fashion magazines and films impose their standards upon us daily, reinforcing the misconception that beauty is only skin deep.  We only must look in the mirror to know, the only person who can define beauty for us is the one being reflected, not the one spread on the cover of a magazine. Shouldn't those living with the effects of Vitiligo be afforded the same consideration?
More Than Our Skin is a documentary exploring the depths and effects of living with Vitiligo. Vitiligo is an auto-immune disease in which the skin loses its pigment cells resulting in discolored patches throughout the body. People with the condition not only experience high levels of depression, but also suffer from social stigmatization and isolation. The result, oftentimes, manifests as shame, avoidance of intimacy, and in far too many cases – suicidal ideation.
More Than Our Skin will show and tell the stories of those privately suffering in this very public silence as they try to hide in plain sight. We'll look at how society's notions of beauty and belonging have conspired to erase the more than 70 million people around the globe who suffer in silence. The irony and beauty of the film project is that More Than Our Skin will give face to those whose face has been the source of so much pain and discomfort.
What We Need & What You Get
To complete this film, we are asking for your support to cover the remaining post-production costs associated with this film. We are so grateful for the donations we've received so far which helped cover the pre-production and filming stages. This last push will allow us to complete this film by our Spring 2023 deadline and allow us to participate in film festivals to help build awareness and excitement as we look to secure a distribution contract.
I have no doubt More Than Our Skin will be life changing – not just for those whose voices contributed to this extraordinary story, but to an audience who will, many for the first time, know what it means to live with Vitiligo. 
Hull Bay Productions, the company behind this documentary, was already awarded the the Bronze Award in the 2022 Anthem Awards for outstanding Health Special Project. 
The Impact
Because Vitiligo affects a person's physical appearance, there are various associated psychological and social impacts. Higher levels of depression and social anxiety have been reported in patients with Vitiligo. Patients may also experience low self-esteem, social stigmatization, shame, avoidance of intimacy, adjustment disorder, fear, suicidal ideation, and other psychiatric morbidities. 
Lower measures of quality of life have also been reported. Specifically, visible vitiligo lesions have been associated with more emotional distress and stigmatization than nonvisible lesions. With regards to the pediatric population, adolescents are more likely to report lower quality-of-life measures and greater psychological and emotional distress than young children.
Advocacy and Awareness
Our production partner, VITFriends, is a patient advocacy group that encourages, educates, and empowers our Vitiligo Friends to know all there is to know about the disease; to advocate for themselves; to be comfortable in their own skin and to live their best life! The ultimate desire is to see changes for our community in the areas of: 
Vitiligo Legislation
Correct Insurance Labeling
Funding for Support Group Programs
Funding for Research
VITFriends is partnering with Hull Bay Productions in providing access to the many voices who are helping others living with Vitiligo; the latest information on FDA Regulations and treatments; and the support mechanisms for those seeking professional services with regards to mental and emotional wellness.
Risks & Challenges
The creative team behind More Than Our Skin understands that because of the lack of knowledge and understanding of Vitiligo and how it affects one's life – that many people will just look past this project. This is where we find our greatest challenge in getting audiences to see why gaining an understanding of what it means to live with Vitiligo is so important.
Perhaps your child goes to school with a student with Vitiligo? Perhaps you have seen someone with "spots" and always wondered what it is and if it's contagious? This is why it's so important to learn more about this important film and how it will be able to pull off the lens of what this disease means and how it affects the millions of people around the world living with it.
Other Ways You Can Help
We understand that some of you reading this campaign can't contribute, but that doesn't mean you can't help!
Visit morethanourskin.org and learn more about this important project and the women whose stories we will tell!
Get the word out and make some noise about our campaign by sharing this on your social media platform, in your community, church, family and friends.
Remind them to use the Indiegogo share tools!
We thank you for taking the time to read about our amazing film and for your generosity!