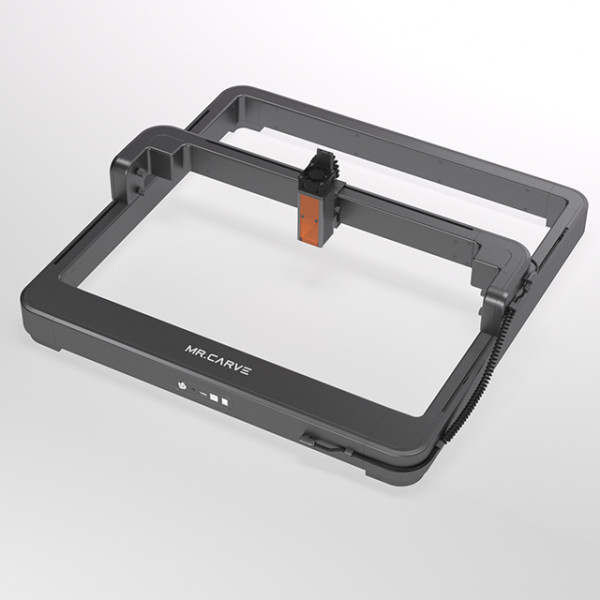 Mr Carve M3: Laser Engraver For All Materials
$407,363
raised out of
$10,000
Concept
Engrave or cut virtually anything, quickly, precisely, and on a large scale.
Story

Mr. Carve M3 laser engraver has swappable infrared(red) and blue laser heads enabling you to work on any material you can think of. Whether it's glass, paper, or even metal. It also features a working area 10 times larger than others on the market, so there's no limit on what you can create. It works with its own software as well as others including LightBurn and LaserGRBL. Plus, its powerful air filtration system ensures hours of engraving comfort and protection.
Through everyone's effort, we launched the Mr Carve M1 – the mini all-metal engraver with industrial grade quality last year.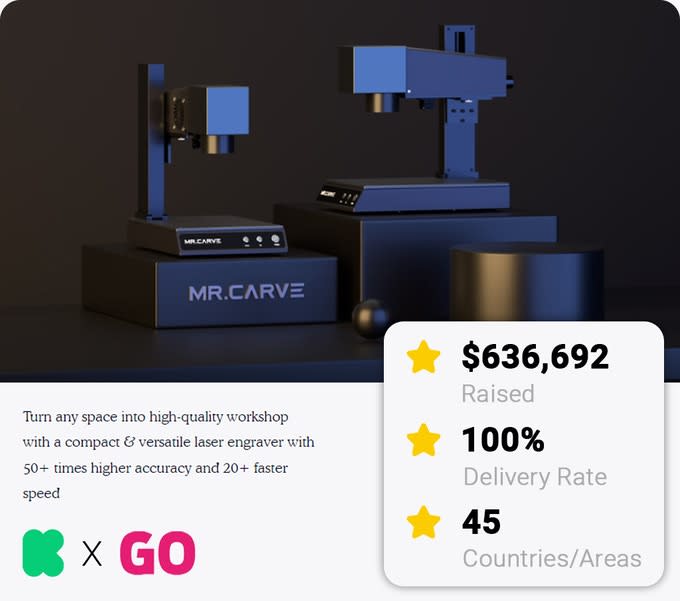 Comments from Kickstarter backers for our last project M1
Your support gave us great confidence and drive. So we evolved the breakthrough technologies from M1 and updated it to M3 including a smaller infrared laser head, but a larger working area. We are back stronger!
Mr. Carve M3 In The Press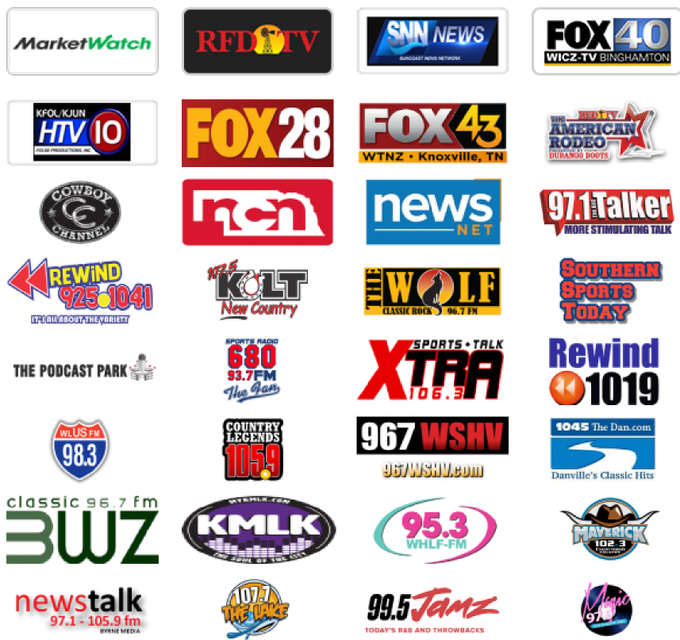 The latest M3 laser engraver and cutter, which evolves from M1 with groundbreaking technologies, is capable of carving metal and almost all types of materials in large areas, bringing all your projects to life.

Blue and infrared laser fit for different materials. M3 featuring laser heads of both colors covers all your engraving and cut needs.

Infrared laser operates at a 1064nm wavelength, it is a pulsed laser with high peak power. M3 includes an infrared laser head with the smallest size on the market and can engrave on all metal materials with vivid details.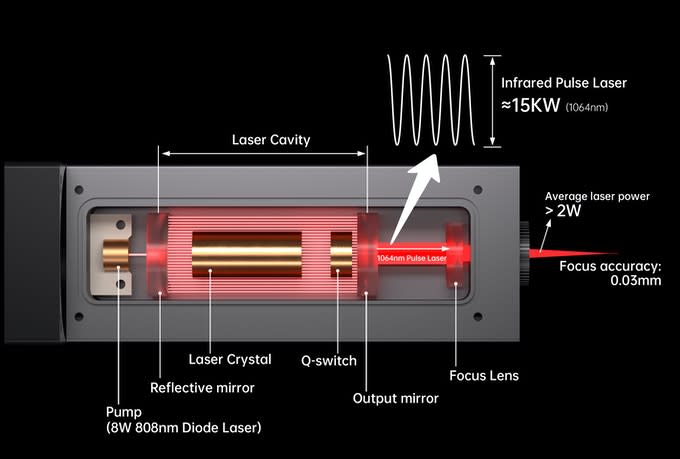 The laser crystal absorbs 808nm pump laser provided by the semiconductor and transitions to a higher energy level to reverse the number of ions, and release 1064nm laser photons. The reflective mirror and output mirror forms a laser cavity, so that the photon resonates repeatedly in the cavity and realizes laser amplification. Continuous laser is transformed into pulse laser through the Q switch, with a peak power of 15KW or so. Finally, the laser is focused through a focusing mirror to achieve all-metal laser engraving. Although the average output power of the infrared pulse laser is only 2W, the peak power reaches about 15KW through Q switch, so all metal engraving can be achieved. The laser from 5W and 10W blue laser is continuous, only working for non-metal and stainless steel, not other metals!

Blue laser heads can engrave and cut almost all non-metal materials.
Infrared laser heads make engraving on virtually any metallic as well as some non-metal materials a breeze.
The max mechanical movement area of the Mr Carve is 40×40cm. There is an inertia buffer space of 1cm or so on four sides reserved for official softwares. This is to avoid the laser head's strong collision with frame due to mechanical inertia in the movement to the limit distance, resulting in slight displacement of the machine and affecting the precision of engraving. The max engraving area can be adjusted to 39cm×39cm for LightBurn and GRBL LASER.
Almost any object can be laser engraved upon and cut.
Free your creativity with this amazing DIY laser cutting tool.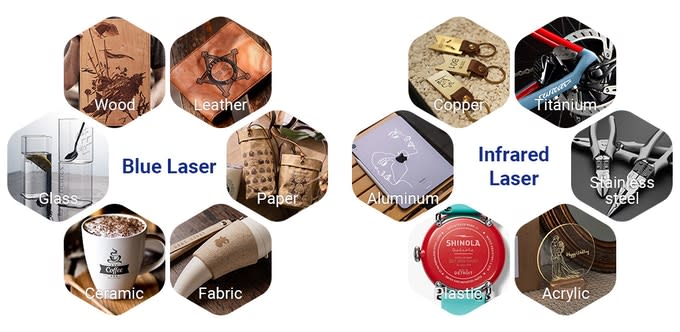 Versatile laser heads cover all your engraving and cutting needs.
Solid yet flexible fabrication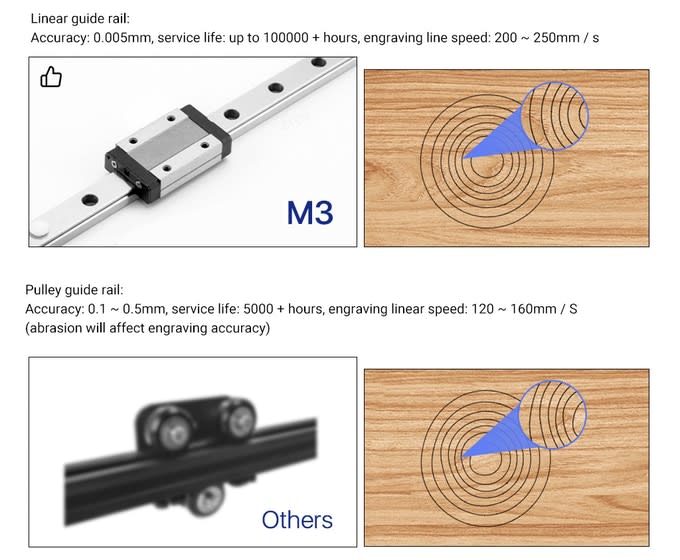 Advanced linear guide rail assures engraving more accurate, faster and for much longer time than conventional pulley guide rail.
M3 features industrial grade linear guide rail instead of the pulley track design used for ordinary frame laser engravers on the market. It allows the laser head to be guided by a continuous motion, which results in higher precision, faster speed and longer service life than ordinary frame engravers.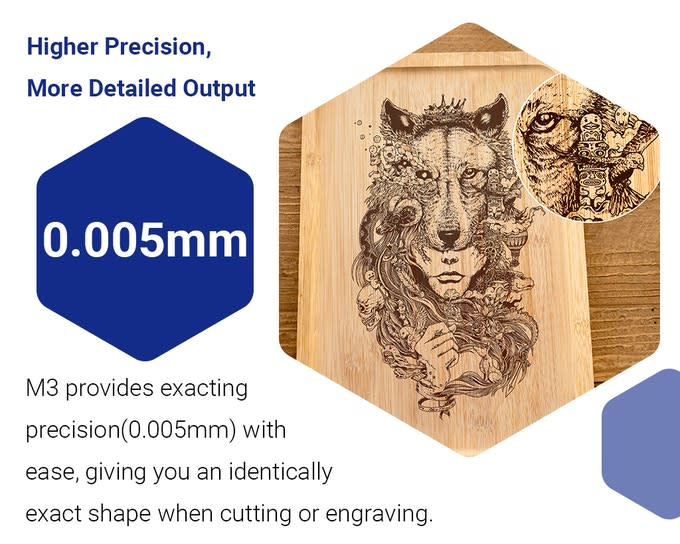 Mr Carve M3 cuts 8mm thick wood in just one go V.S. Others in two go. M3 gets all of your tasks done much faster than competitors.

Accomplish more and bring your creative ideas to life in the shortest time possible with M3's super-fast engraving speed of 200mm/s.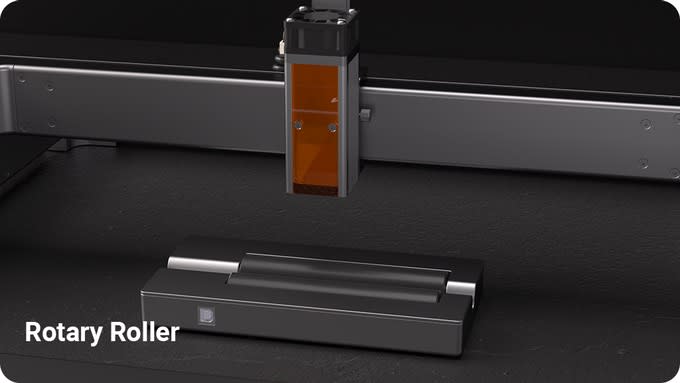 Rotary roller contributes to 360° engraving capabilities. No shape limit.
With a rotary roller, the cylindrical objects, orbs, and even eggs can be engraved on! M3 can bring you more fun engraving on almost any surface. You can break free from conventional engraving today!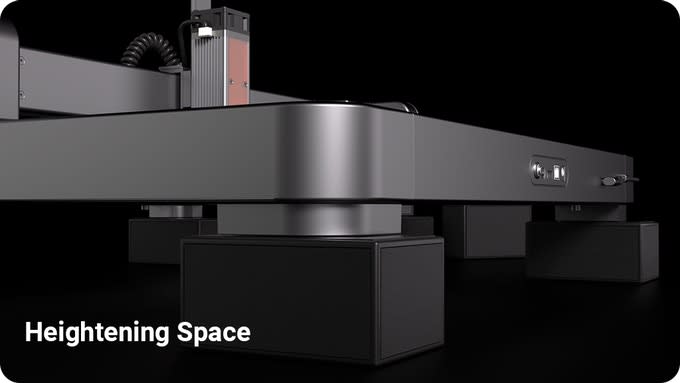 With 4 heightening blocks, M3 has fewer size limitations, providing more options to engrave on – even large volume objects, which was previously not possible.
M3 makes it easy to engrave and etch repetitively in mass production with efficiency. Etch your own personal gifts, souvenirs for friends and family, or even run a small business with the M3.

With its integrated filtration system, M3 eliminates smoke and dust, ensuring a healthy indoor environment.
M3 has an integrated fume extraction system to protect the user's respiratory health. This includes a hose and activated carbon filters that absorb fumes, particles, and smells, allowing for a safe working environment for everyone within a small work area.
Safety goggles can protect your eyes from bright light and glare.
With the M3 safety goggles, you can witness the etching process in real-time. Just wear them over your eyes and watch as designs are etched onto all kinds of materials.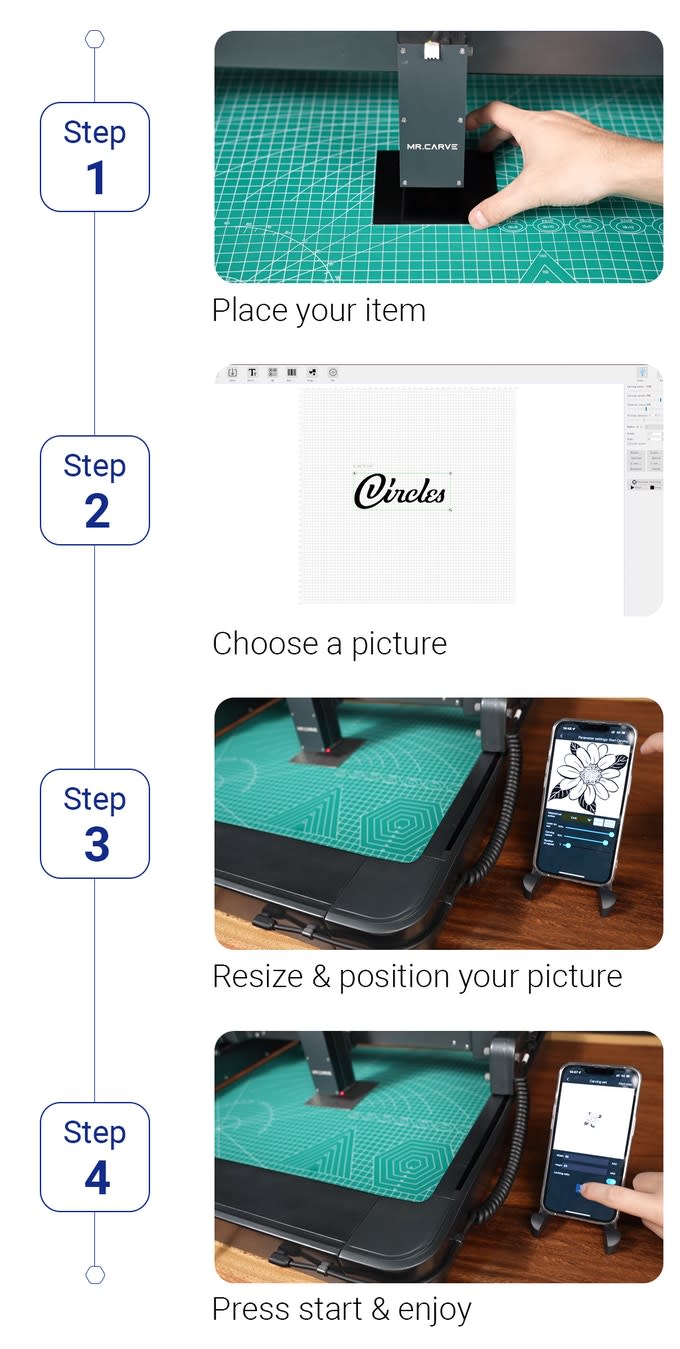 M3 offers pro-level engraving to the at-home artisan. Simply connect a smartphone or computer via USB/Bluetooth, choose your photo, and M3 transforms it into a vector image for easy engraving or cutting. The positioning plate then reads the image for simple engraving or cutting. Virtually anyone can use M3 to bring their creative ideas to life, from first-time users to experienced professionals alike.

One-click button for offline engraving allows you to easily duplicate the engraving or mass-produce your work without the need to re-setup.
With the M3, you can work offline in manual mode, and not have to worry about losing your work in the event of power failure. The intelligent design has been upgraded with a one-click button for offline engraving, which means that you can set up M3 to engrave in large batches and it will memorize your pattern even without a constant connection.

With a rotary roller, M3 has a 360° rotational engraving capability on cylindrical objects.There's no limit to the shapes you can engrave.
Say goodbye to your old engraving machines. With a rotary roller, M3 can perfectly fit onto every cylinder and spheres! Let your imagination run wild with all new possibilities.

No more hassles, trying to deal with cumbersome software! The Mr. Carve M3 Laser Engraver is here to make your life easier. Quickly capture and upload images using the easy-to-use app, then edit them to get the results you want, and create your own private gallery of laser-engraved masterpieces.

Simply connect M3 with your phone via Bluetooth using the M3 APP, then edit your photos and design remotely.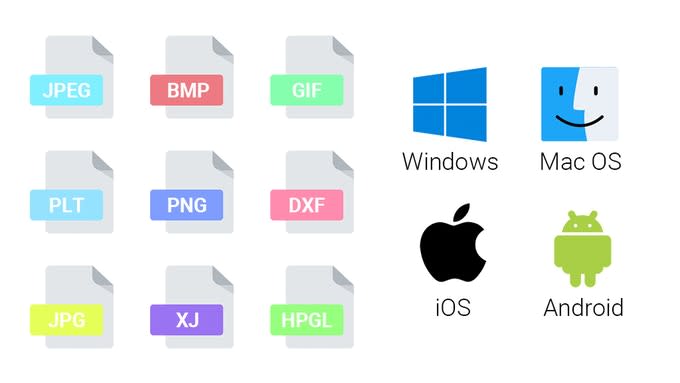 M3's exclusive app allows you to easily engrave any kind of pattern using different software, including LightBurn & LaserGRBL, as well as across multiple image formats.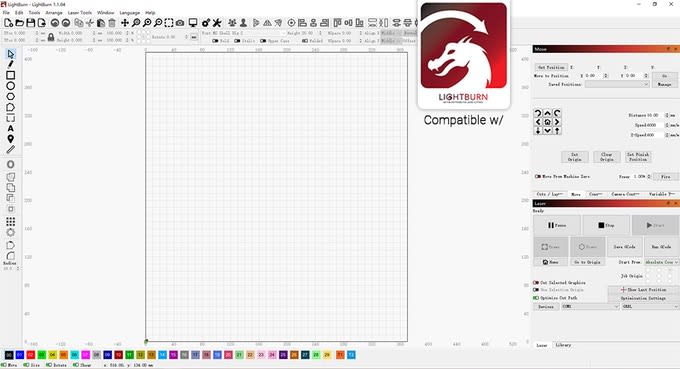 M3 is compatible with LightBurn completely, making your engraving job super conveniently.
M3 supports Android/iOS for mobile phones and Windows/Mac OS for computers, giving users multiple options for bringing their creative visions to life. It supports common file formats including PLT, DXF, JPG, JPEG, PNG, BMP. It also works with many software applications such as LightBurn, LaserGRBL, AutoCAD, Illustrator, CorelDraw, and more.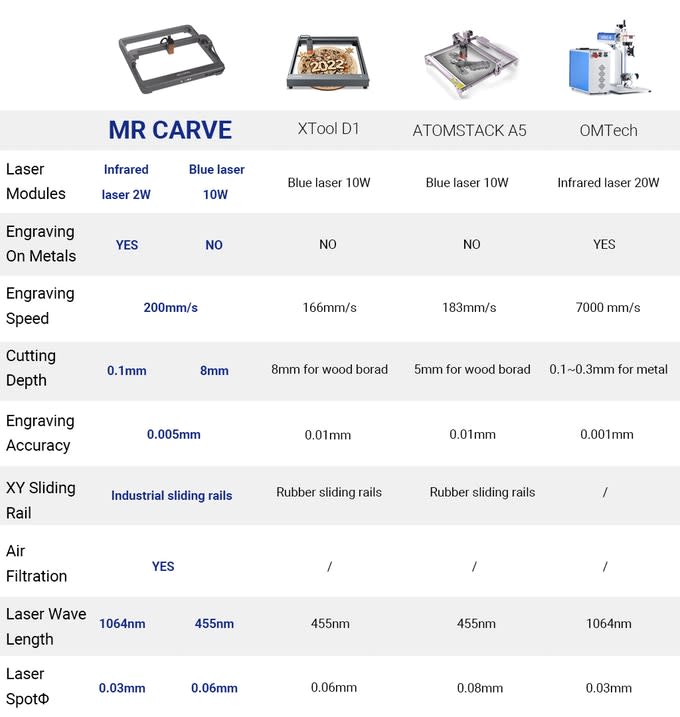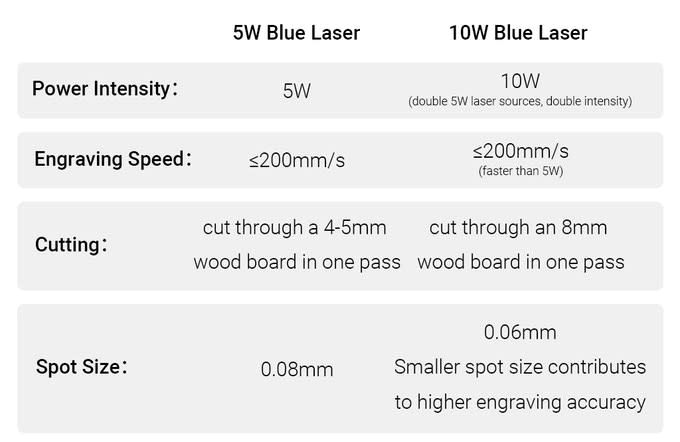 The most simple and innovative assembly design, three-step assembly, just 5 minutes easy to complete

Focus more conveniently for the infrared laser head
1. Flip down the fixed focus column on the side, adjust the height of the lifting slider until the column touches the surface of the engraving object. This position is the focusing height needed.
2. After setting the focal length, lock the screw of the lifting slider and flip back the fixed focus column to start engraving immediately.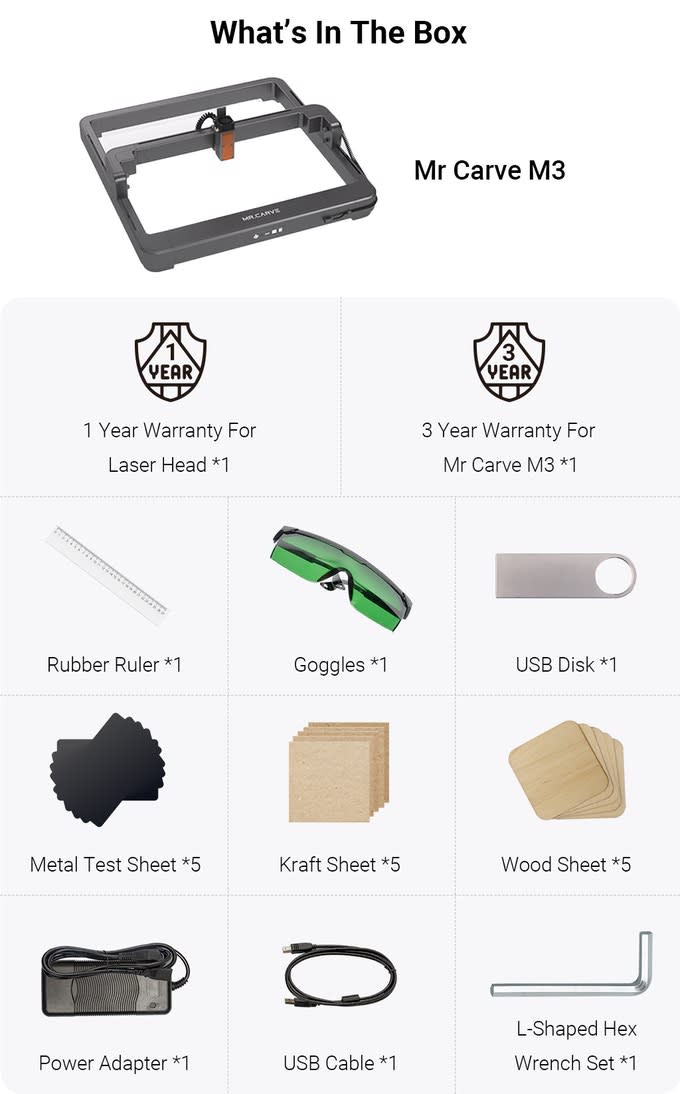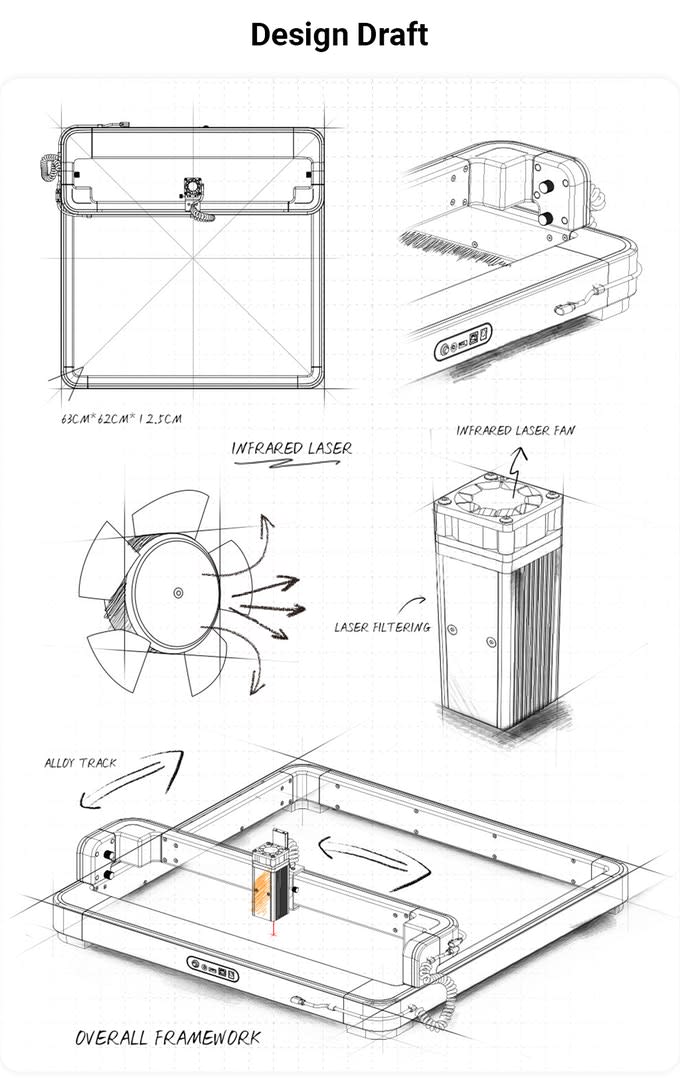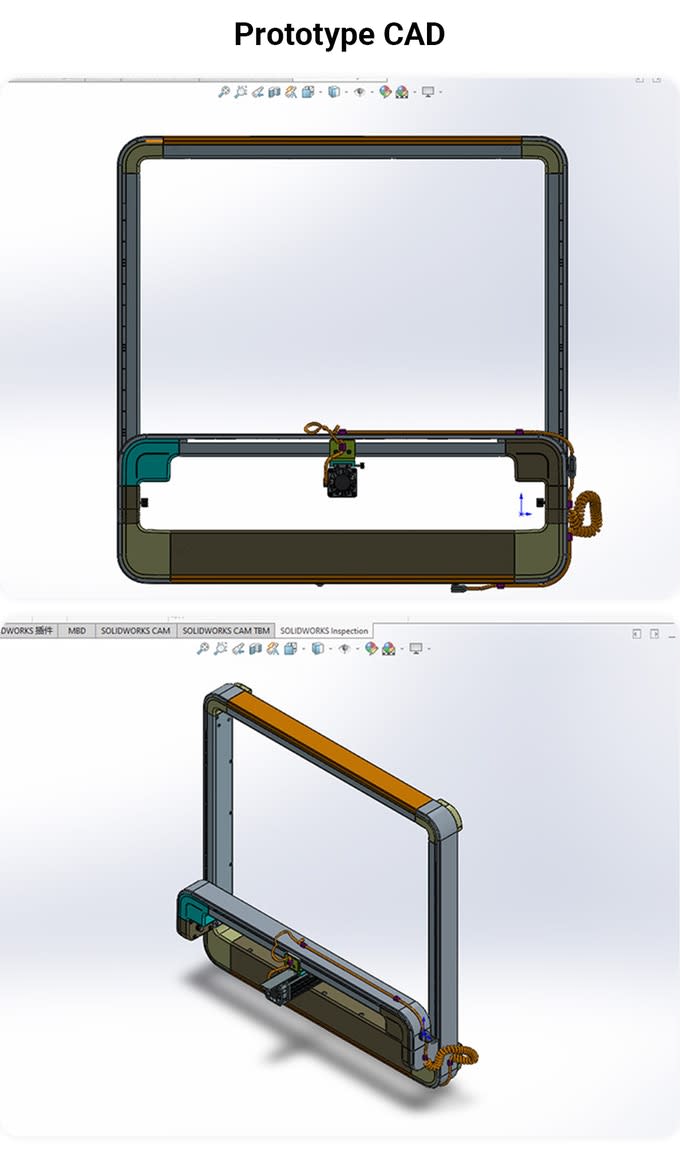 This project is constructed and presented to you by OTO1, the marketing expert who've helped make 250+ campaigns successful, risk-free.

 Featured on BackerPlanet – IDEAL PLANET FOR CROWDFUNDING ENTHUSIASTS