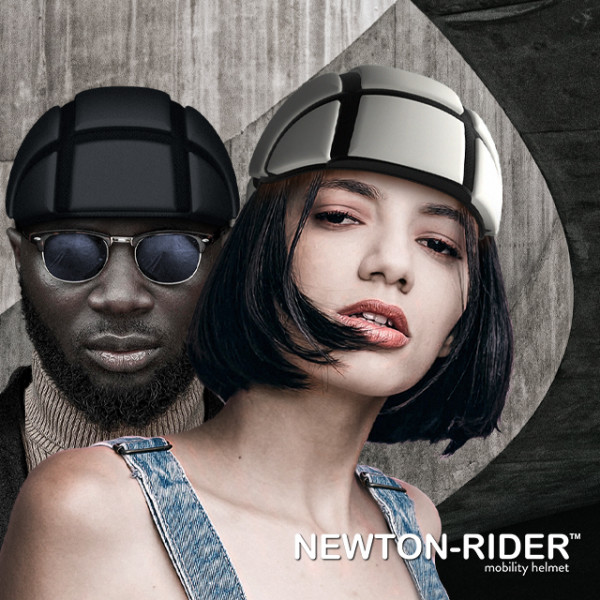 Newton-Rider, the bicycle helmet like no other
$8,323
raised out of
$75,000
Overview
https://youtube.com/watch?v=458547577
Concept
Sleek, Thin, Semi-soft, and Foldable
Story
Newton-Rider, the bicycle helmet like no other
We believe the urban youth, embracing mobility and freedom of transport when at the same time refuses to compromise on design and style, need a bicycle helmet that is exactly this… 
Sleek 
Thin
Semi-soft
Foldable
Built in chip for incentivised riding
Comply to EN1078 and CPSC
The helmet
Watch our video here, how the folded Newton-Rider helmet is easily grabbed from your bag and with a simple tap it communicates with any provider that might incentivise riding with our helmet. And last but not least we believe that riding with a helmet finally looks sleek and quite Instagrammable.
The team
We started the Newton-Rider project in early 2019 and are a professional and experienced core team of three. Daniel Bünger, German with a Masters Degree in Engineering specialising in Bio and Nano technologies, Wil Marschall, New Zealander based in the UK and an Industrial Designer and Ulrik Jensen, Danish and Concept Designer.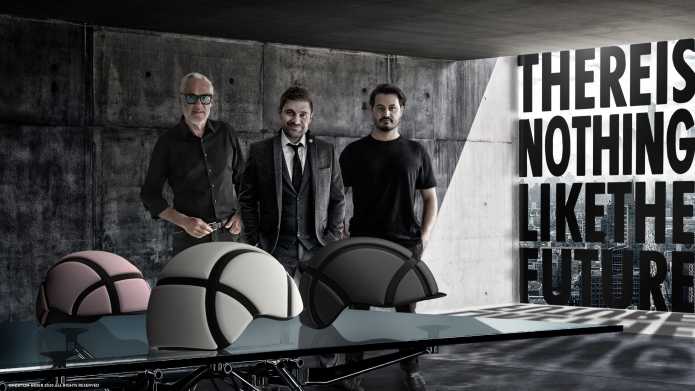 The team
We decided to try challenge the norm with science and engineering
We set high goals because we like to challenge and to push boundaries. Nothing has really changed in the way bicycle helmets are manufactured over the last 10-15 years. Helmets are still a hard, polystyrene hat, that for sure makes you safe when riding but are rather bulky and uncomfortable to wear and honestly, they do not make you look a lot prettier either.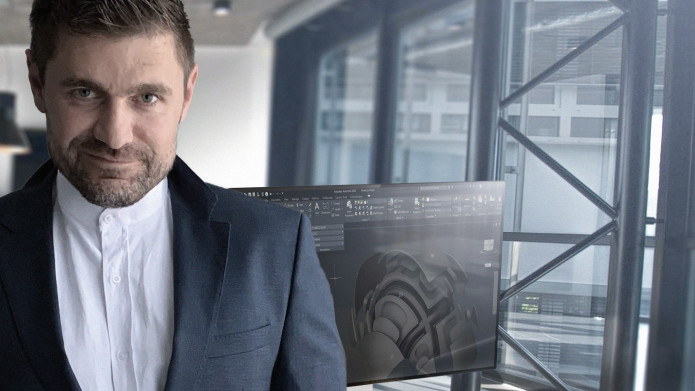 The complex multi layered helmet construction of only 16 mm was an interesting challenge for us
Worlds thinnest bicycle helmet
The Newton-Rider helmet is made with sophisticated calculated compounds of Visco-Elastic and Non-Newtonian materials, the clever engineering and innovative design that makes the helmet not only comply to EN 1078 and CPSC safety standards when only 16 mm thin, but renders the helmet as a never yet seen, semi-soft and flexible helmet for comfort and style. Compared to traditionally made helmets that are completely rigid and require a thickness of 30-35 mm to comply to the same standards, we believe it is rather impressive what we have achieved.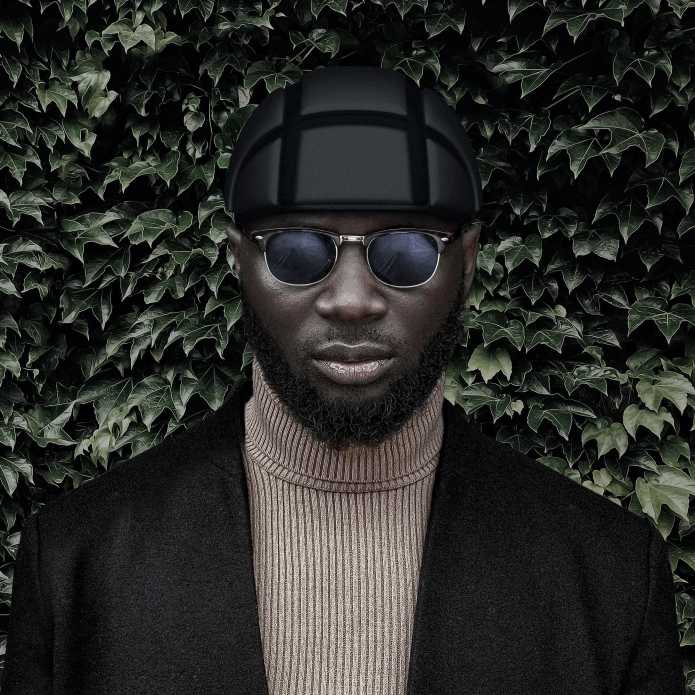 A helmet that is sleek and cool
Medium hard crashes used to cause concussions as a minimum.
A polystyrene helmet is completely hard and works because, in the event of a serious and life threatening crash, it compresses and cracks open instead of your skull. This is good.
However when you experience a  medium hard crash, the impact force is not big enough to compress the very hard polystyrene and instead your head will take all the impact force leaving you with a concussion.
The soft material in the Newton-Rider helmet works in both instances. It saves your life of course in a serious crash but also it will protect your head in a small or medium hard crash and likely save you from a concussion due to the construction with compounds of Visco-Elastic and Non Newtonian soft impact absorbing materials.
Another advantage by the Newton-Rider helmet design is that in the event of a crash, afterward it is not unsafe to continue to ride with, it is still as good as new, unlike a traditionally built polystyrene helmet that has to be discarded after any impact.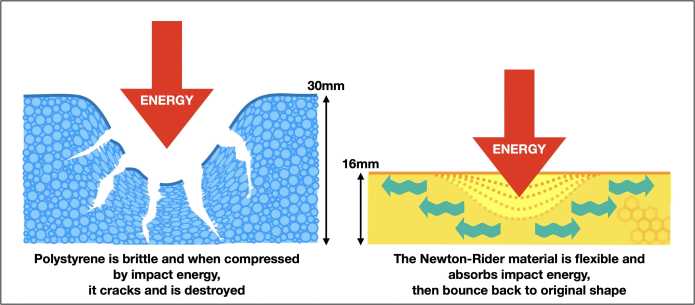 Comparison of characteristics and properties between polystyrene (EPS) and the Newton-Rider material
The thing about fit and comfort
We all know how it feels riding with a polystyrene helmet – not really that comfortable. No two heads have the exact same form and shape which is why traditionally helmets come with a variety of foam pads to place inside to somehow try to make the helmet fit. 
The Newton-Rider Helmet innovative IP protected design principles are not yet seen in the industry and makes the helmet fit any adult skull shape and circumference between 57cm and 60cm in a comfortable way. Thanks to their unique pad concept together with an elastic and flexible liner that adjusts to the head size and shape.
Our IP protected  flexible design for fit and comfort
Always with me
Urban youth of today not only rides their owned bicycles but has embraced new modalities when it comes to their everyday transporting needs. The wave of e-scooters for sustainable transporting, the last mile to and from workplace etc, calls for a helmet that is also foldable to always have it with you. The estimated weight of the helmet is 450-460g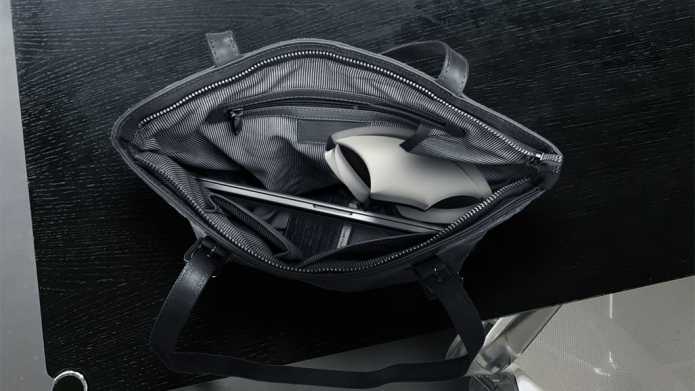 A helmet to be always with you
Hey it's 2020
"We also wanted to make the helmet kind of IoT 'ish. We have embedded in the helmet a highly sophisticated NFC chip, that together with our proprietary software API and if embedded in scooter apps, can make operators create incentives for riding with helmet
The entire development of the backend system and the API we have outsourced to Shape , Copenhagen, an award winning software company with 100+ developers doing advanced apps and backend systems for international clients.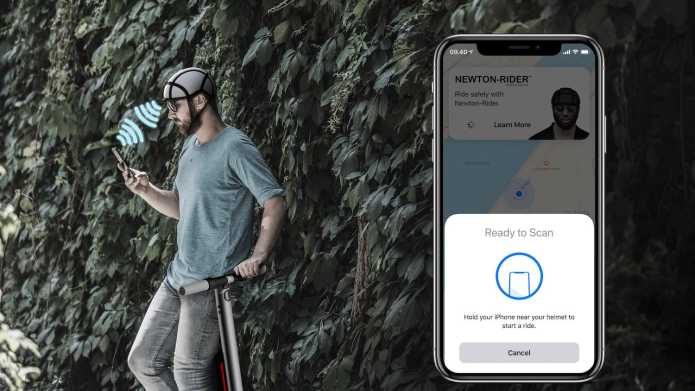 Built in NFC chip for incentivised riding
In fact our highly sophisticated chip and backend system essentially creates an individual URL for each helmet. So, providers can create incentives and offers to users in specific areas if they see a fit. Our software is even planned to also handle theft and many other cool features. 
All in all, the Newton-Rider helmet, we believe, is in many ways how a helmet should look like and what the urban youth will expect from a modern stylish bicycle helmet of today.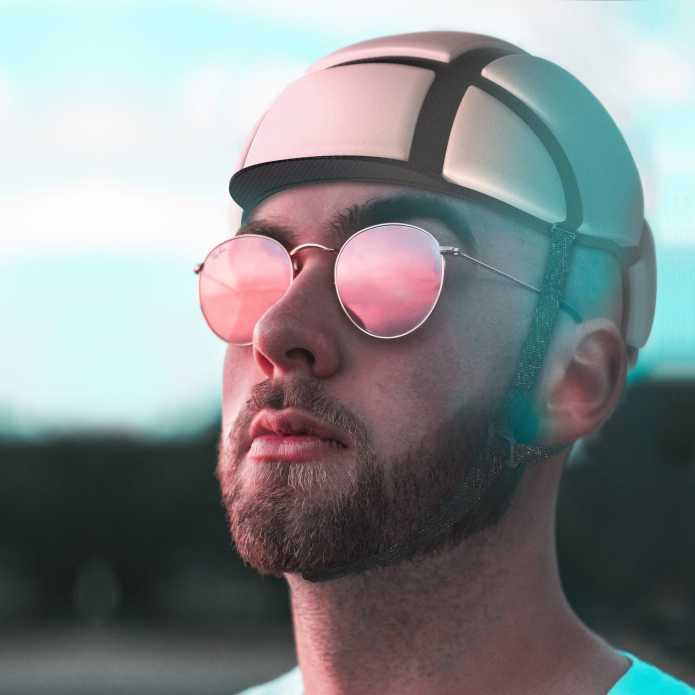 There is nothing like the future
Go back us now
You can become one of the first in Europe, US and Canada to ride with the helmet, that naturally will comply to the European standard for bicycle helmets, EN 1078 and along Q1 2021 also  to CPSC. Back us now in this limited window to show you are committed to personal safety and freedom of transport in a sustainable way.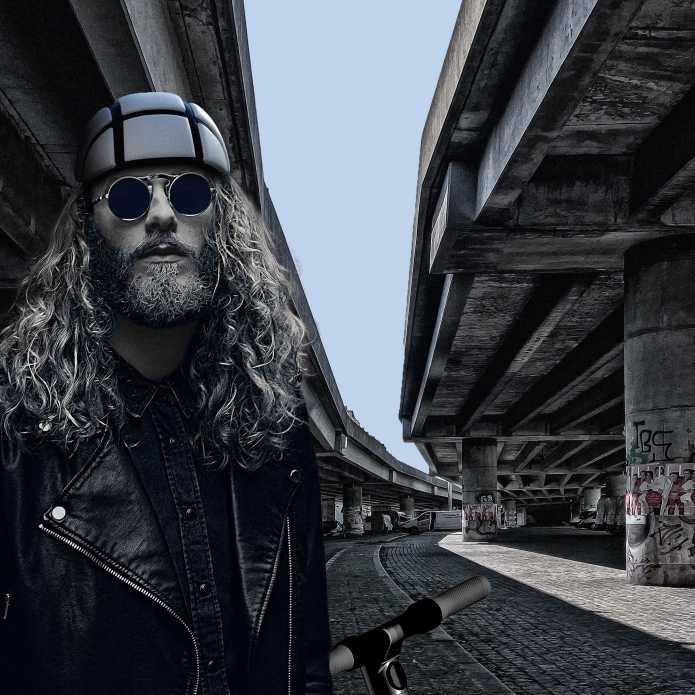 Newton-Rider is supported by the state funded Danish Innovation Fund because of our innovative concept and engineering and the project is in an advanced state. We comfortably estimate shipment to take place in Q1 2021 for both European and North American backers.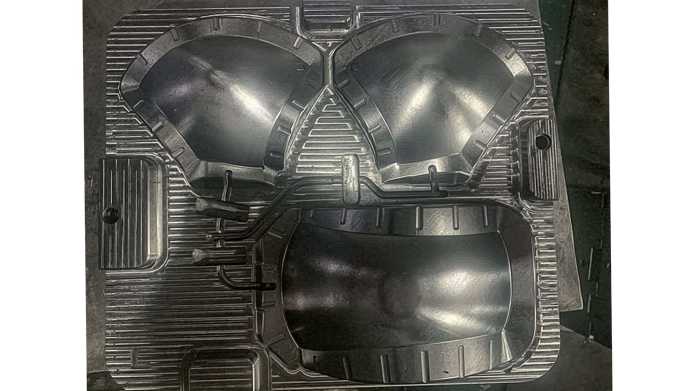 Mould part for mass production
SHIPPING & TAXES
We ship the Newton-Rider helmet to all EU countries and without any extra taxes or VAT. + UK*
Estimated shipping costs for EU and UK backers: EUR 9.00 /1 helmet  EUR 15.00 /2 helmets
*UK Tax and VAT, TBA
At given time nobody knows how the tax situation will develop in regard to the UK leaving effectively the EU after 31.12.2020. We will notify UK backers and present a solution when facts are known.  
We also ship to the US and Canada, currently estimated along Q1 2020.
Estimated shipping costs for US/Canada backers: USD 11,-/1 helmet USD 18,- /2 helmets
Prices do not include taxes and VAT for US/Canada backers. This will be subject to the laws and regulations in US and Canada and will be calculated and paid for before we ship the helmets out to you.
We currently do not ship to countries not mentioned above.
Risks and challenges
The Newton-Rider team consists of highly skilled members and we have been working on this project for a long time before we could comfortably launch this Kickstarter campaign. The high goals we set out when we started Newton-Rider has since been tested and improved many times to ensure we can deliver on our promises. The newton-Rider helmet is truly different than all other helmets on the market today and thus we had to invent completely new ways of manufacturing a bicycle helmet. However we are in a good place and have known our manufacturing partners for nearly 10 years. We are confident to deliver a Newton-Rider helmet that is like no other simply because we have done our homework in advance. But we are also realistic. Unexpected things can happen no matter how well plans have been made. We all have experienced how a virus can change the world. Should anything occur that will have influence of our promises we are still professionals and will deal with it in a way that our backers can feel confident about.