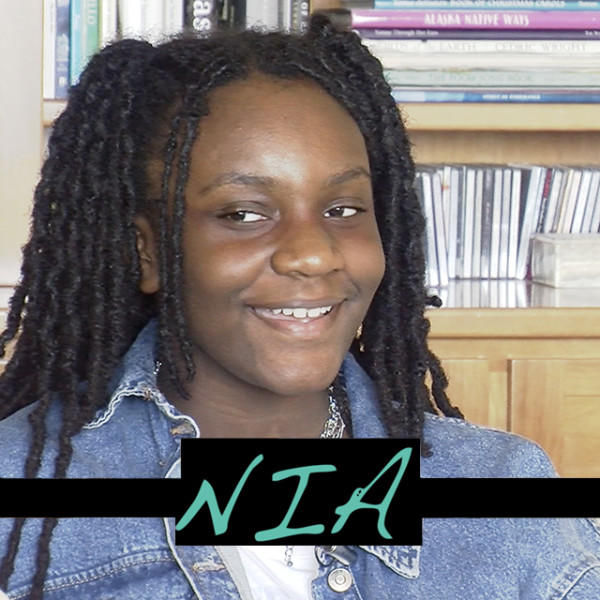 NIA
$8,000
raised out of
$50,000
Overview
https://youtube.com/watch?v=659078596
Concept
Nia's first talent was the breast crawl. Now at 14 she is a singer/songwriter, drummer and bassist
Story
Does peace on earth begin at birth?…Really???
NIA is a full length documentary which shows that this might be possible.  It stars 14 year old Nia.  Her name is also the word for PURPOSE in Swahili.  So we'll start by shouting out the purpose of this film which is to…

                          HEAL THE WORLD
Whaaat???

We believe that making the world healthier for having babies, gentler for giving birth, kinder for mamas and papas – the mental and physical environment is rejuvenated.  No more jet fuel in breast milk for instance.   That's a thing??? 
Yes* 
A woman needs peace and quiet to release her baby.  No more aggression, oppression – war. No more unnecessary interventions.   She needs to deal with the 'what ifs' and manufactured risks surrounding childbirth.
So the movie's… about birth?
Yes.    Nia's birth is off script, down to earth, and full of magnificent life!  You'll probably discover things you may not have known about or ever seen before:  An inspired, ecstatic, uninterrupted birth;  Nia's breast crawl;  the Momnibus Act and more.   
Nia was born at home to a musically talented family.  Midwives and Doulas sang backup as she arrived.  When she was 7, Nia had her own band.  At 11, she was encouraged by Lin Manuel Miranda in the part of Angelica for her school play.  Now, at 14, Nia and her father are writing the film score for this movie. 
It's always exciting to see how the music and footage fit together.   The producers, Love Delivers (501c3) and Benevolent Purpose LLC are partnering to make that happen.  A little over $50K is needed for more filming and editing.  There are no salaries or hidden costs here.  Like birth itself, this is a labor of love.
                                                                       DONOR PERKS!
If you want a really priceless perk, you can zoom with the team, including our star – Nia!
The truth is, we need everyone's help, money or no money.  We need to create safe environments for everyone  and especially for babies just arriving.  We need to handle fear, call out what's good and what needs to change.  You can be an influence for good on social media, in your community and by using the tools IndieGoGo provides here to draw attention to this campaign.
Please join us in your own inspired "Heal-The-World" way.
*LiveScience.com – See – Rocket Fuel Chemical Found in Breast Milk