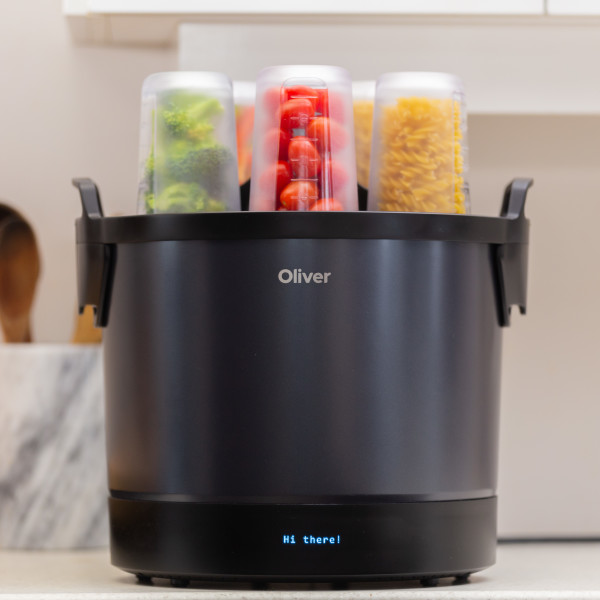 Oliver, a smart robot chef
$25,576
raised out of
$60,000
Concept
Automated hands-off cooking—great meals, less work
Story
Oliver won't revolutionize the way you cook—Oliver cooks for you.
Oliver is a smart cooking robot that can fry, steam, stir, simmer, sauté, braise, mix, boil, poach and bake. It's an expert robot chef that is also a recipe library, meal planner and shopping assistant, all in one! 
No meal kits, no subscriptions, no monthly fees. Just simple step-by-step prep instructions and a fully automated cooking process using multiple techniques that lets you step away from the stove and still enjoy a home-cooked meal.
Made with love, but cooked by Oliver.
Life is unpredictable—especially these days. Even when a pandemic isn't keeping us home, mealtime can be chaotic, rushed, frustrating or bland. Whether you're a busy professional looking for a way to prep meals quicker and easier, a parent with competing demands for your time and attention, or just someone who wants to lighten the load in the kitchen, Oliver is for you.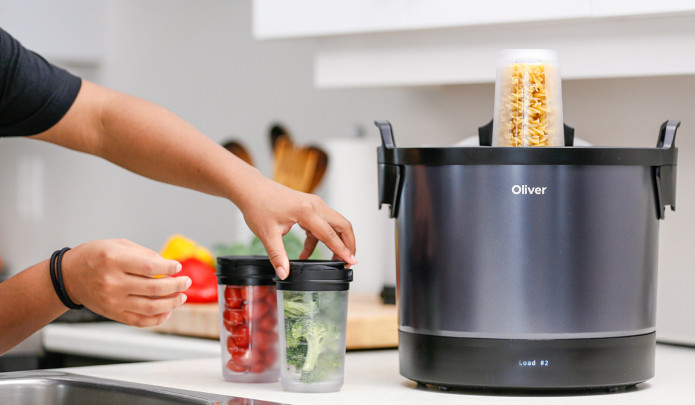 George and Jane Jetson wish they had it this good. Rosie was an outdated model—Oliver is the latest thing. Not just a mixer. More than a pressure cooker. Forget about one-trick devices.
As our team watched the smart kitchen market grow, we felt like something was missing. Existing appliances were limited to one method of preparation, one opportunity to add ingredients, or one time cycle.
Great meals take more than one method of preparation, and not all ingredients should be cooked at the same temperature for the same amount of time. Cooking is more than throwing everything together all at once.
We built Oliver to capture an expert chef's talent, timing and technique—in frying, steaming, sautéing, mixing, braising and stirring—in one smart cooking robot.

What the media's saying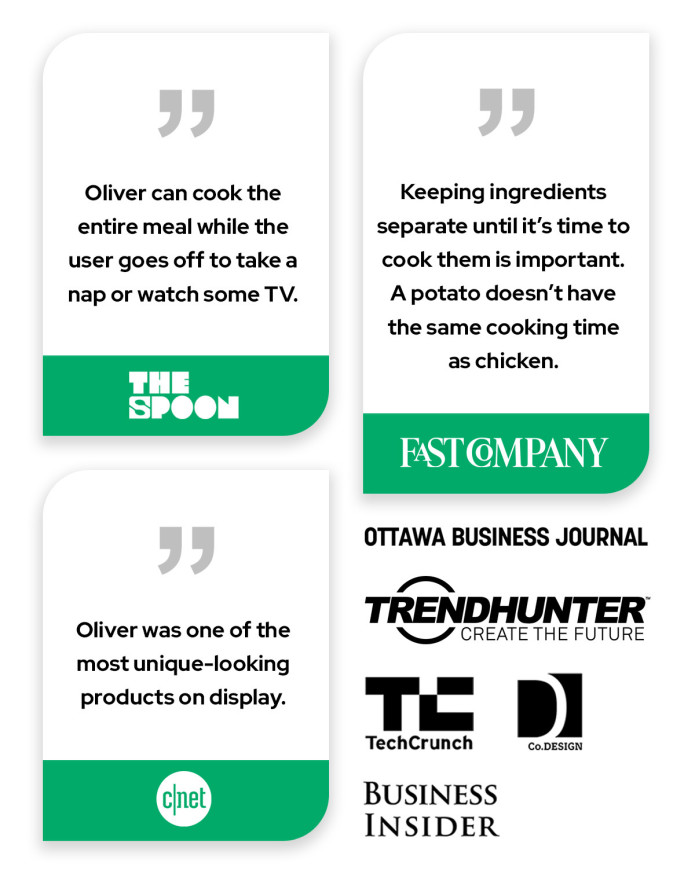 How Oliver compares

Right ingredients, right time
Oliver knows that shrimp and potatoes cook at different times and temperatures. That's why its five jars function independently in each recipe and add each ingredient at just the right moment for perfect results, every time.
Recipes in motion
Great cooking teaches you to keep ingredients moving. Oliver is the only smart kitchen appliance with a specially engineered internal stirring arm to distribute flavours throughout the cooking process. The stirring arm is designed to lift, mix and stir ingredients evenly as it rotates. This ensures that Oliver mixes all ingredients throughout the pot to ensure nothing gets stuck or is left undercooked.
More flexibility for more meal options
Oliver gives you the flexibility to finesse great meals, with precise control over time, temperature and technique. Other appliances only cook according to one method at one temperature for one set amount of time.
Take the guesswork out of great meals
Tired of being chained to the stove, wondering if the onions are softened, browned or just burnt? Oliver's recipes are tested by our team of expert chefs to guarantee great results. Step-by-step app instructions show you how to prep the ingredients and fill Oliver's jars so our ingenious little robot can take care of the rest.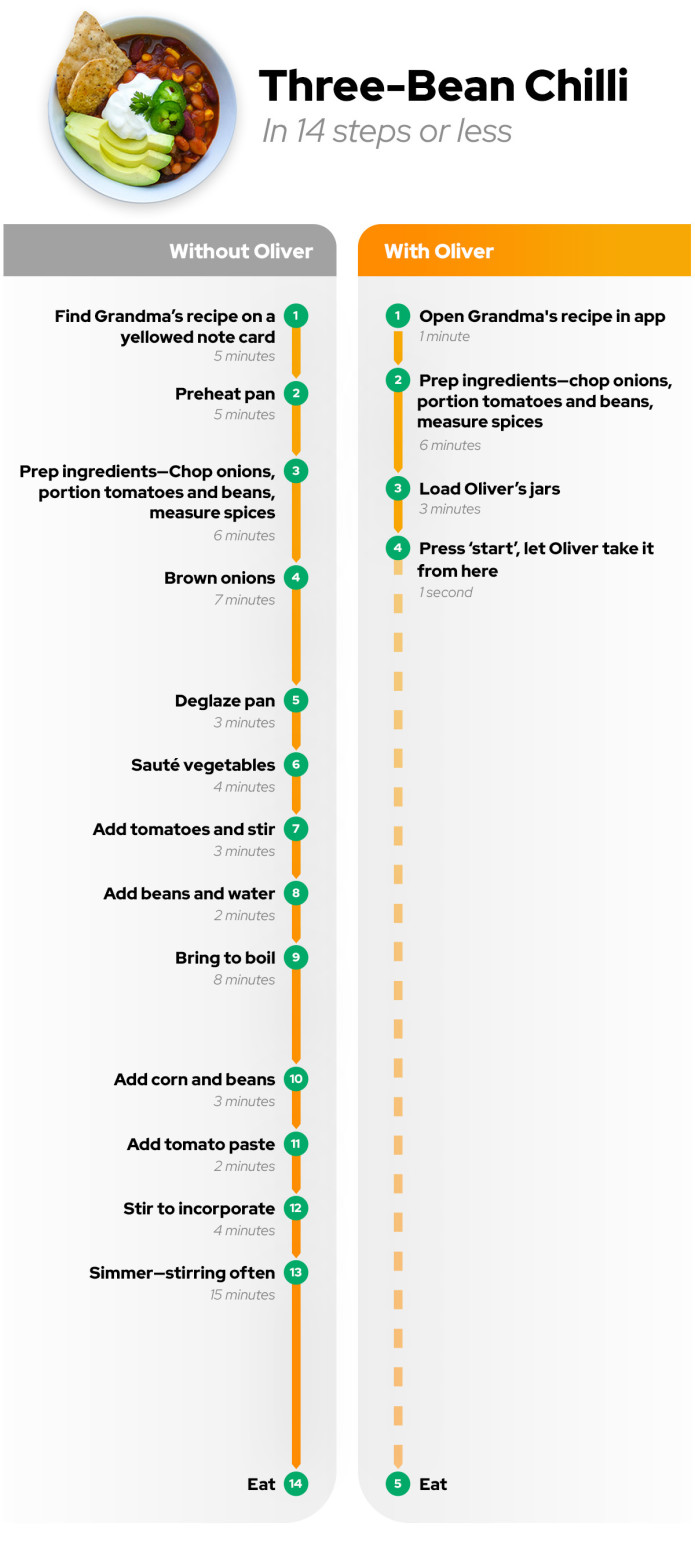 Simple, tasty recipes from around the world
Whatever your favourite cuisine, Oliver has it covered. The integrated app includes hundreds of recipes perfected over years of development by our expert culinary team. And we're just getting started—there are thousands more to come.
But don't just rely on our taste—users from around the world can add recipes and share them with the entire Oliver community.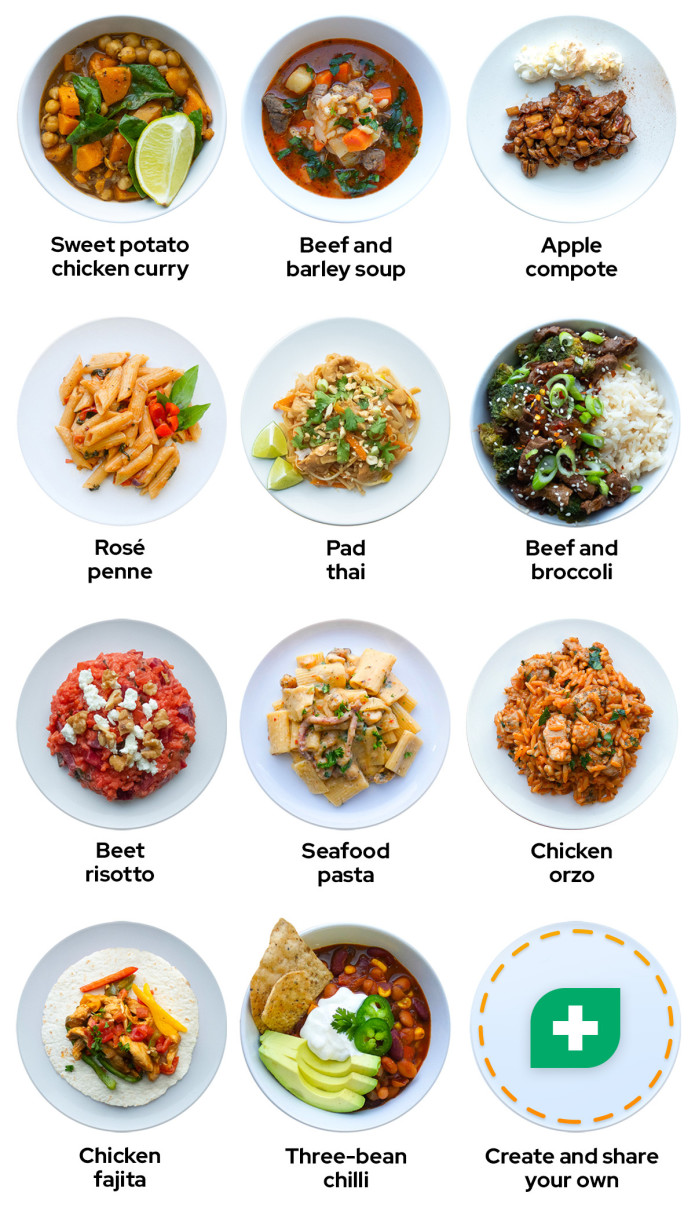 Cook for pennies a serving
Stop throwing away hundreds of dollars a year on meal kits and takeout. Oliver empowers you to make excellent, nutritious meals for much less.
Spend less of your precious time in the kitchen
Simply choose a recipe, prep the ingredients, load Oliver's jars, hit start and get ready for a great meal.
A seamless app experience
What's a revolutionary robot chef without a great app and recipe experience? Oliver's feature-rich app supports a global community of chefs with a growing list of easy-to-follow recipes.
Whether you're a kitchen neophyte who wants a hand to hold through every aspect of the cooking experience or a veteran chef who wants to perfect and share recipes with the world, Oliver makes it happen.
Integrate Oliver into your meal planning
Oliver's app is more than a recipe library—it's also a meal planner and shopping assistant. Select meals for the week and populate your shopping list. And soon, you will even be able to order ingredients from your local grocer right from the app.
Prep ingredients an hour, day, or week ahead. When the time is right, load up Oliver's jars and go.
Testimonials from our beta testers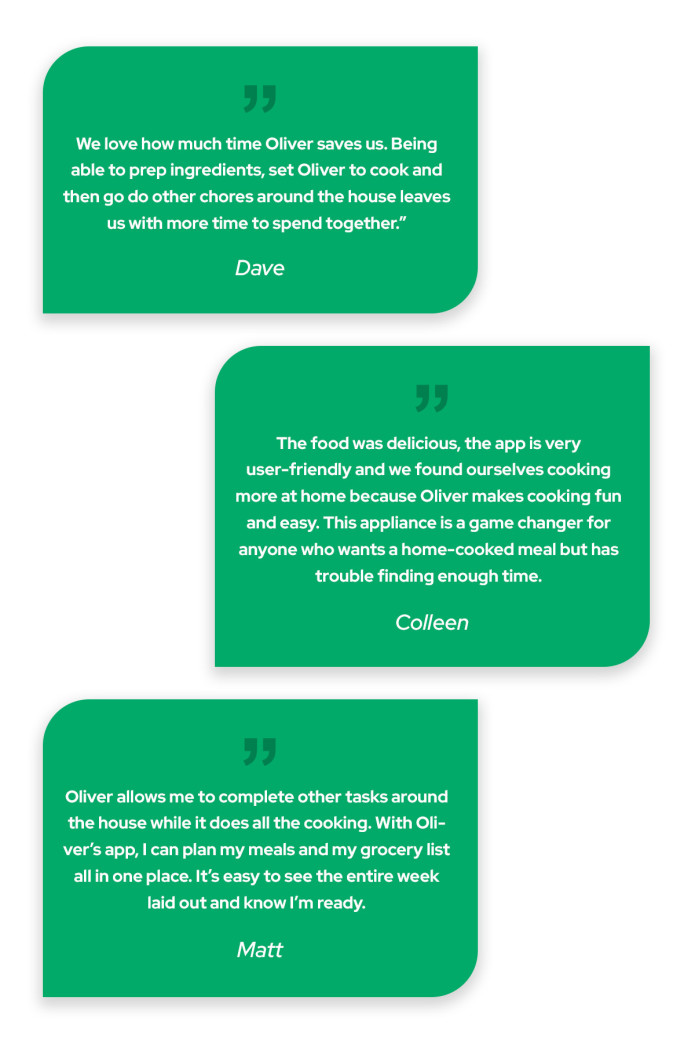 Engineering and Innovation
Else Labs engineered and thoroughly tested every element of Oliver. Our team built and refined multiple prototypes over years of research and development. With an idea this bold and unique, we knew everything had to be just right.
We realized the solution wasn't simply to add smart features to existing appliances. The key is Oliver's unique culinary variables—the ability to employ the techniques, times and temperatures that replicate a chef's contribution to your great meal.
Oliver is a smart cooking robot that actually understands how to cook
The key to Oliver's automated cooking process is its precise command over temperature modulation while at the same time being able to expertly add, mix and stir ingredients throughout a recipe's many stages. The results are significantly improved flavours and textures and chef-quality meals at home.
How Oliver makes Pad Thai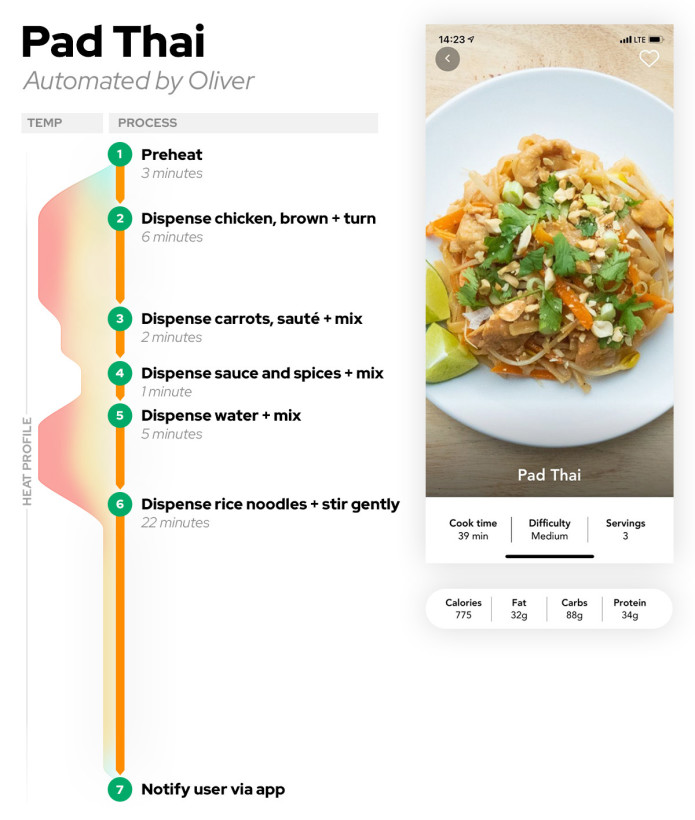 If you can't stand the heat…
A stovetop is a hot and messy place. Every aspect of Oliver's technology is built strong to withstand the heat and pressure of a professional kitchen. The centerpieces of this ground-breaking device are the high-strength polymer mixing arm and our patented dispensing system.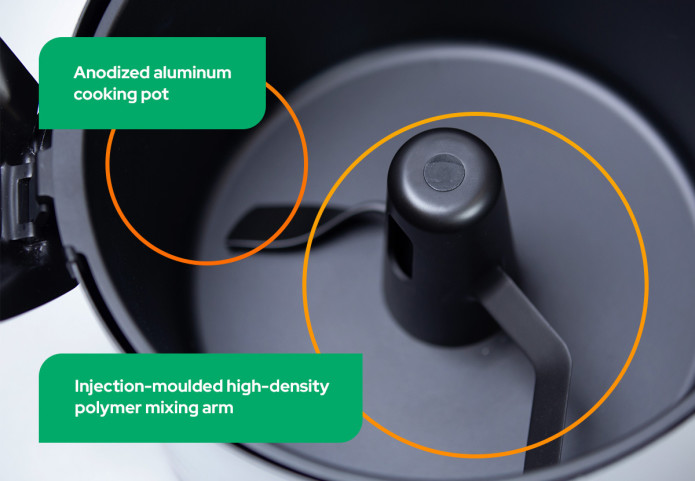 Featuring a unique design and fully customizable motorization routines, the stirring arm replicates the expert movements of a trained chef with robotic precision.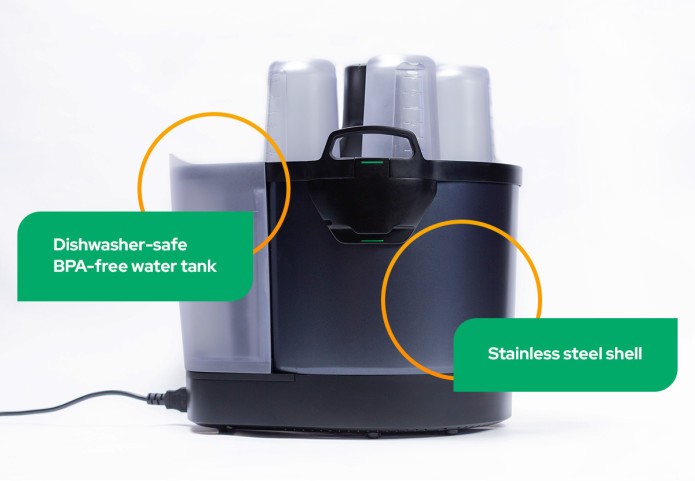 The dispensing system's five independent chambers add ingredients at precise times, customized to every recipe and cooking process.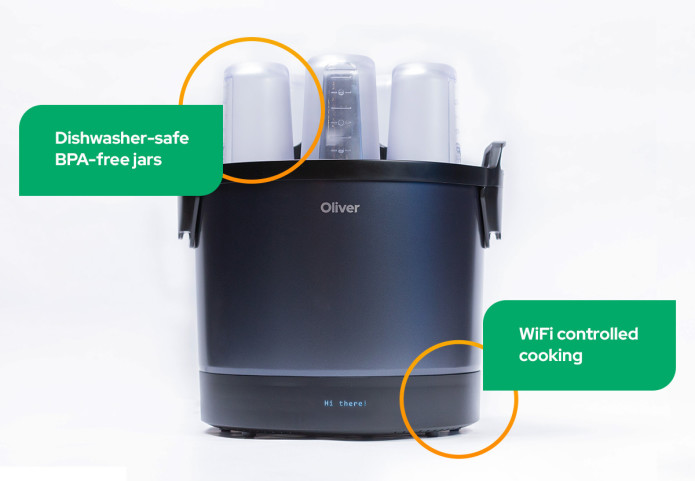 Oliver's BPA-free jars and water tank are dishwasher-safe. All ingredient and cooking components feature hypo-allergenic silicone seals. The non-stick, scratch-resistant anodized aluminum cookpot is housed in a rugged and attractive stainless-steel outer shell.
Designed for easy cleanup
Every part of Oliver is made for easy cleanup. Quick disassembly and dishwasher safe components ensure you can clean the jars, mixing arm, lid and cookpot simply and easily.
Quality engineering and delicious results
Oliver's technology and engineering are as good as the quality of its meals. For every hour we spent on engineering, we invested more in developing Oliver's recipes. They're crafted by talented chefs—tested and retested to ensure consistent, delicious outcomes.
Got your own ideas? Oliver's recipe-building tools are open to all users. Create your own recipes easily and share your family's favourites with Oliver cooks around the globe.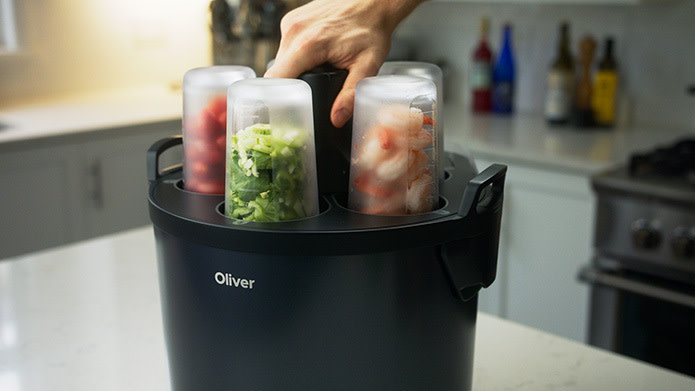 The team
The Else Labs team brings together leading engineers, culinary experts, marketers and businesspeople who have a common passion for innovation. This is what fuelled us to build Oliver, the first of many smart cooking appliances we hope to introduce to your kitchen.
Our team is as diverse as the world of food, featuring professionals from a range of cultures and backgrounds. Together, we've worked tirelessly to make Oliver the perfect kitchen helper for everyone. So regardless of your ethnicity, location or craving, Oliver can prepare your food just like mama used to make.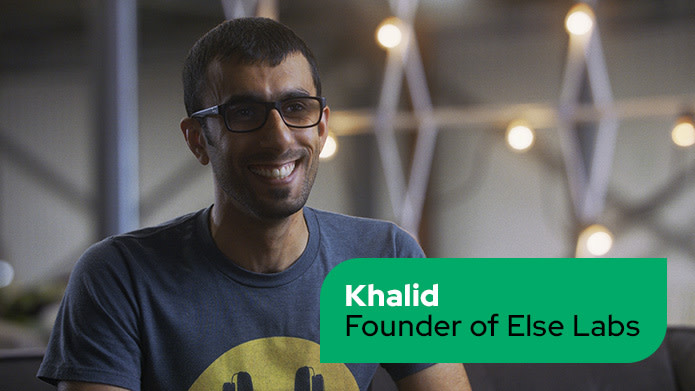 Timeline & budget
When you support us through Indiegogo, 100% of your contribution goes to building your Oliver and shipping it to you, no matter where you are.
Else Labs' research and development was funded through independent investments, seed-funding rounds and innovation grants. Our focus now is to fund full production and get Oliver into your kitchen.
As of September 2020, our schedule is:
October 2020: Kickoff with manufacturer
October to November 2020: Finalize design for manufacturing and assembly
December 2020: Engineering validation testing 
January to February 2021: Tooling production
March 2021: Design validation testing
April 2021: Certification
April 2021: Production validation testing
May 2021: Production start
June 2021: Inspection
June 2021: First Olivers leave factory