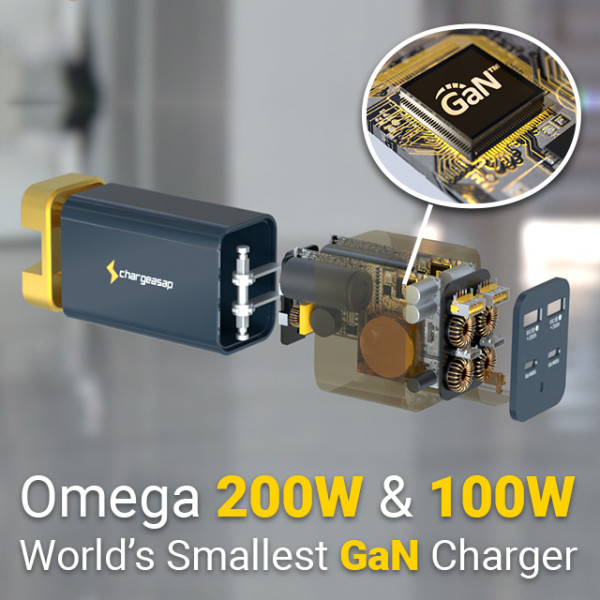 Omega: World's Smallest 100W & 200W USB-C Charger
$1,291,806
raised out of
$10,000
Concept
Revolutionary 65W, 100W & 200W credit card-size charger | Quick charge 4 devices at the same time
Story

Check out the 9to5Mac hands-on review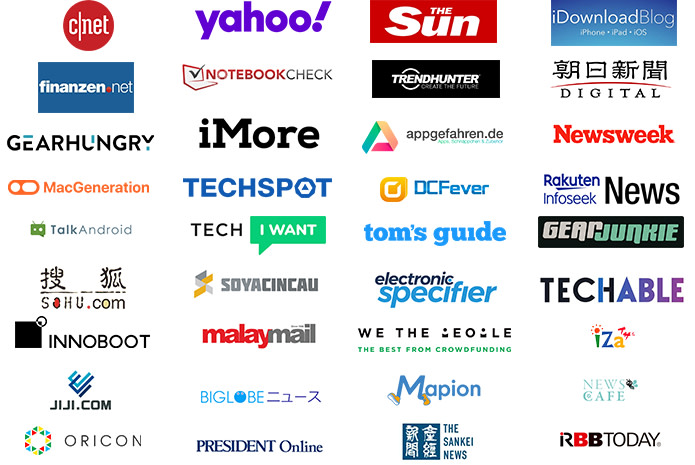 Android Police: "When you first see the Omega 200W, you won't believe that it actually delivers as much power as it does…"
Idownloadblog: "This marks the first portable charger capable of outputting 200W."
Sun Herald: "They won't weigh you down…"
Yahoo: "200W Omega boasts not only higher output but also greater support for more charging protocols"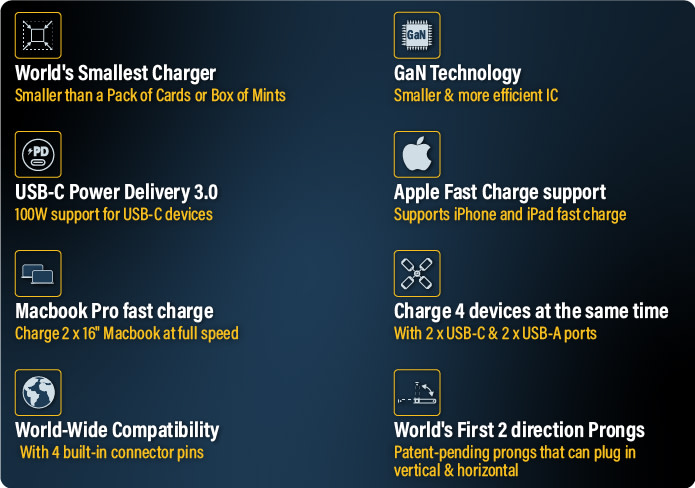 Omega Chargers Hands-on Video
​

Pocked-sized Omega Charger is the world's first 200W Gallium Nitride (GaN) charger and also the world's smallest 200W charger that is up to 66% smaller than traditional chargers.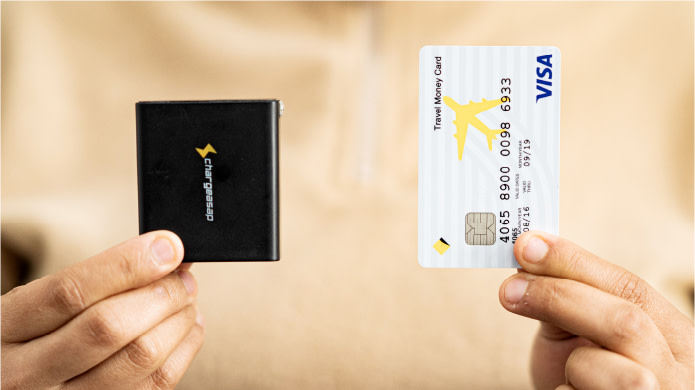 Omega Charger also comes in a 100W version which is the world's smallest 100W GaN charger similar to a box of Eclipse mints and even smaller than a credit card. With a host of improvements over 1st generation GaN Chargers, 100W Omega is truly a standout in being the world's first 2nd generation charger with graphene membrane for heat dissipation.

After surpassing $1 million, we've unlocked another stretch goal and introduced the 65W Omega- the world's smallest 65W charger. 41% smaller than the closest competitor, 65W Omega is only 85g light and so compact you can easily slip it into your pocket or bag for daily use. With a 65W USB-C Power Delivery 3.0 PPS port, that's enough power to charge a 2019 MacBook Pro 13" at full speed.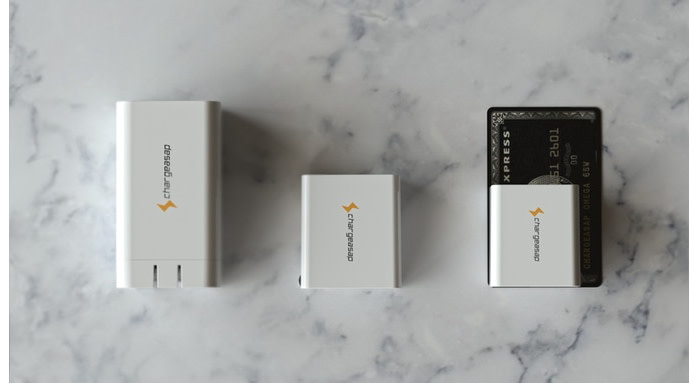 200W Omega, 100W Omega & 65W Omega from left to right.
Please note the 65W perk doesn't come with any travel adapters included as it uses the same travel adapters as the 100W Omega. It's also compatible with the 200W Omega adapters. Additional adapters are available as add-ons for $2.50 per adapter.

With 200W of power, there's always more than enough power to share around with 4 ports: 2 x USB-C Power Delivery 3.0 and 2 x USB-A (supporting QC3.0, AFC, VOOC, SCP & FCP).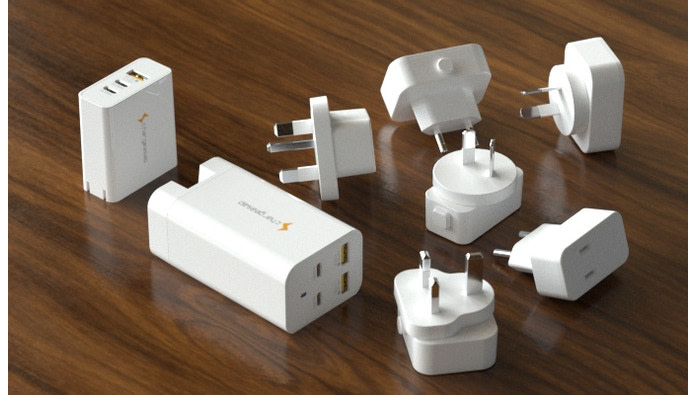 Matching worldwide travel adapters available in matching charger colours. These are specially designed travel adapters with a very secure unique locking mechanism. This meansyou can use the plugs on ANY US 2-pront plug from any device- giving you perfect convenience so you never have to bring travel adapters for any of your US devices.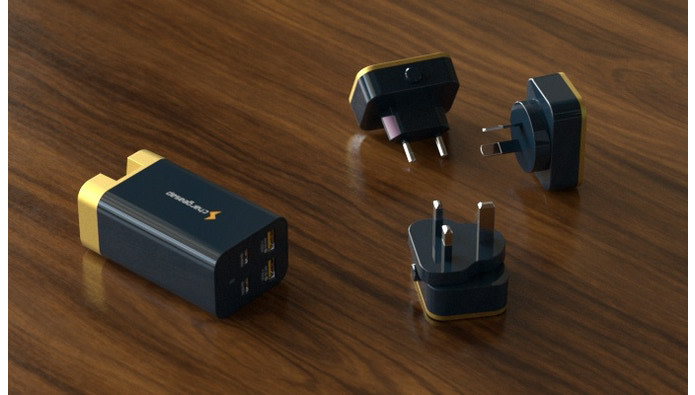 Both 200W and 100W Omega Charger supports 100V – 240V worldwide universal voltage and comes included with 3 plug converters (AU/EU/UK) so that you can use it in 200+ countries worldwide. Please note the adapters can be interchanged between the 200W and 100W models though due to different shapes, it will stick out a little.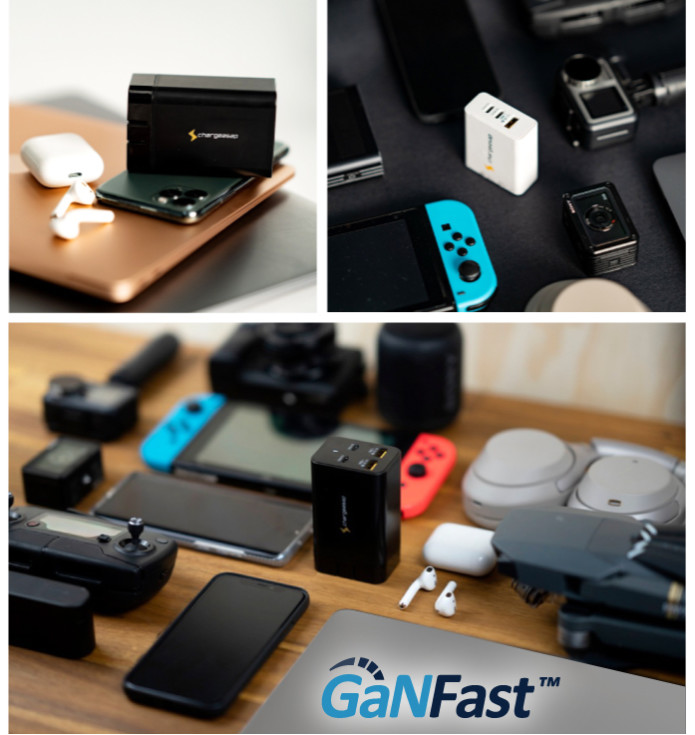 The portability and high power means you will never need another charger for USB charging needs.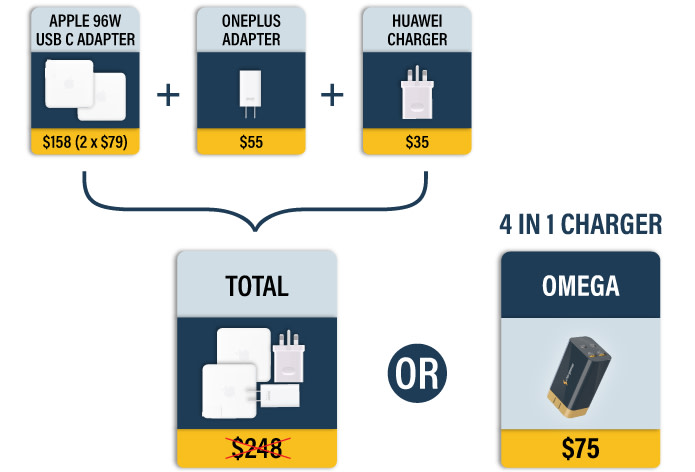 A world's first 200W portable charger provides the ability to quick charge a laptop (16″ MacBook Pro), a tablet (iPad Pro), smartphone (iPhone), and mobile device (AirPods, Watch) all at the same time.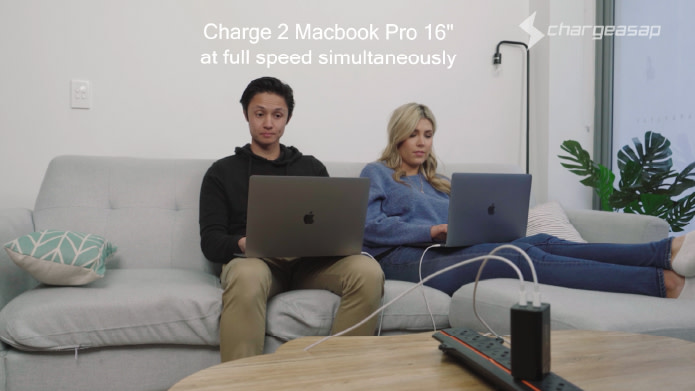 With 2 x 100W USB-C Power Delivery 3.0 PPS ports, a single 200W Omega charger can power 2 laptops (16″ MacBook Pro) simultaneously, and at full speed. This is a gamechanger in charger technology, making it the first portable charger in the world to output 200W.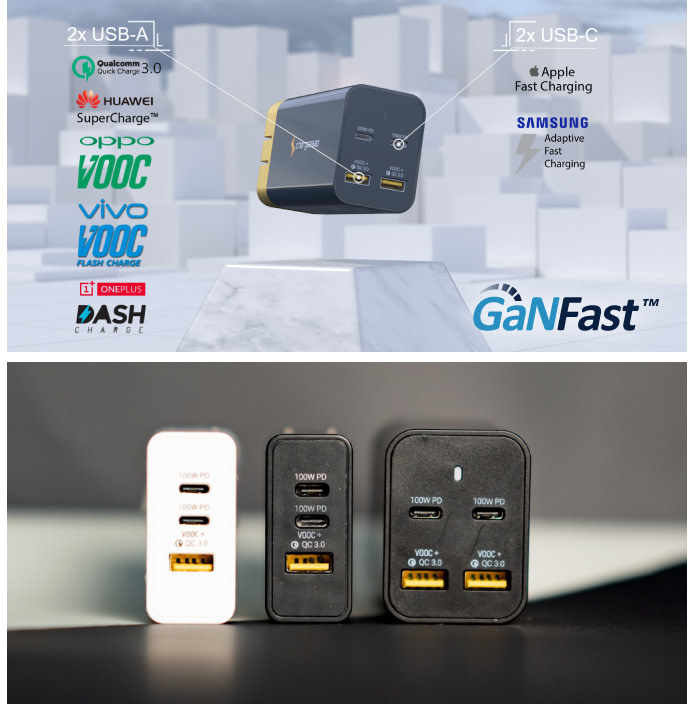 Omega Charger USB-A ports are compatible with a wide range of devices that support Quick Charge 3.0, AFC, VOOC, SCP, FCP almost all major fast charging protocols in the market from all major brands including Samsung, Huawei, Oppo, Vivo and Oneplus up to 22.5W.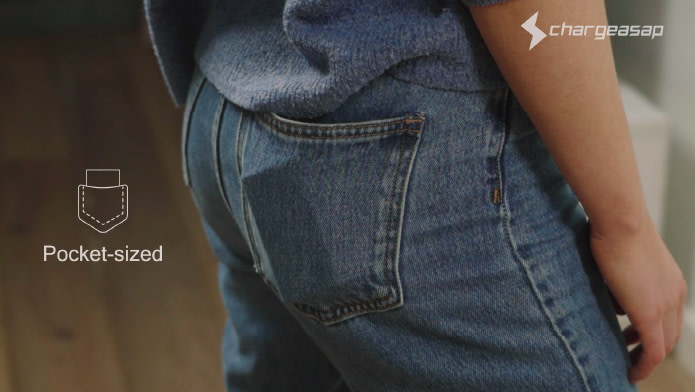 At only 220g (0.49lb), you can easily fit 200W Omega Charger into any pocket and bring it with you wherever you go.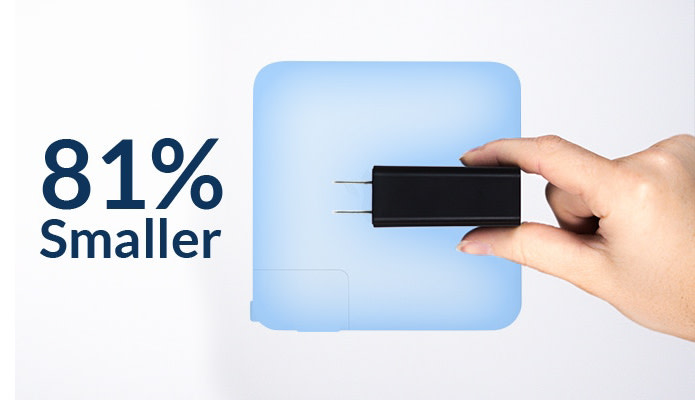 The 100W Omega is even smaller and lighter at 120g (0.26lb) at 81% less volume than a 100W Apple charger, giving you unrivalled portability. 

200W Omega charger is the world's first charger to features our patent-pending 2-way foldable prongs which can be adjusted at a 90° or 180° angle allowing you to fit Omega charger into any tough to fit wall plug whether its a floor or wall plug.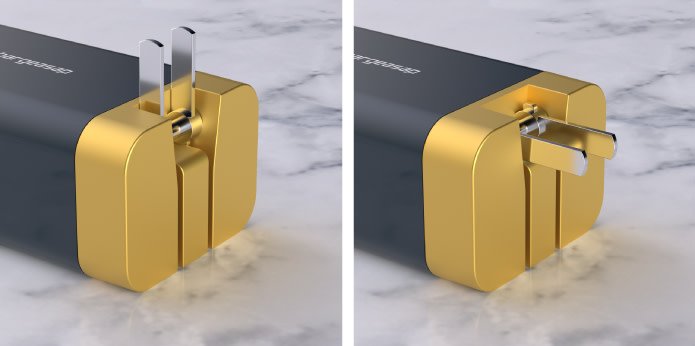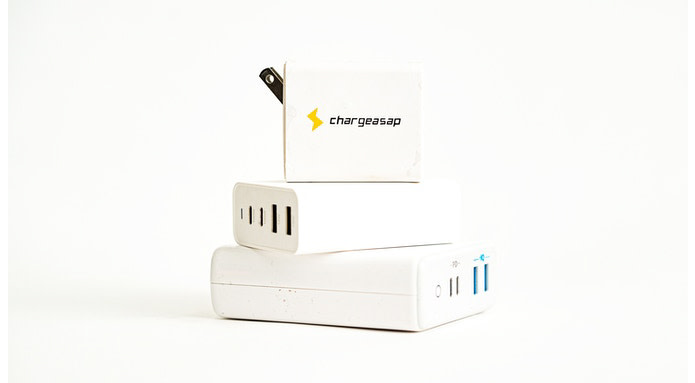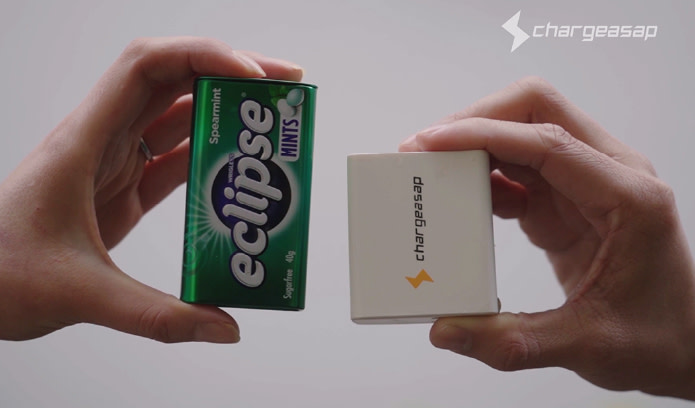 The 100W Omega is so small its smaller than a credit card and comparable to a pack of Eclipse mints. The perfect portable charger for work, home and travel. 

By popular demand we're introducing the world's first GaN charger with a detachable C7 adapter. The C7 adapter for 200W Omega will debut for $11 and include a complimentary 1m (3.3ft) cable in your choice of AU/EU/UK or US plug.
This means you can charge 200W Omega anywhere in the world with a C7 plug, commonly used with household appliances & electronics worldwide.
The addition of the C7 adapter means Omega can be easily reachable in all those difficult to access spots where wall sockets are hidden. We personally like to have the charger on the table and the C7 connector will allow that flexibility & easy access.
Updated Smaller C7 Design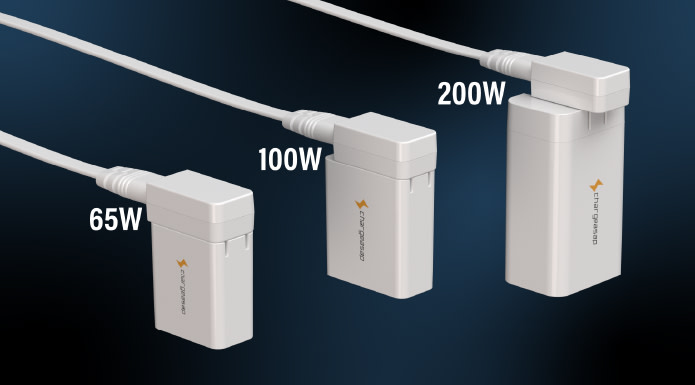 C7 adapter attached to 65W, 100W and 200W Omega
The C7 adapter comes in 1 size for all chargers.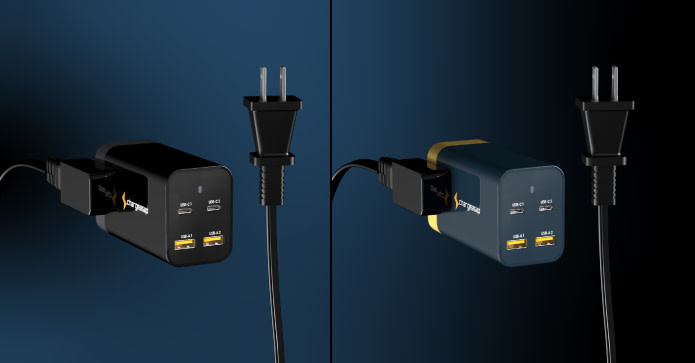 Black C7 adapter comes with a black C7 cable.
White or Navy & Gold C7 adapter comes with a white C7 cable.
You'll be able to add-on the C7 adapter during the BackerKit survey phase which will be emailed to you 14 days after the campaign has ended.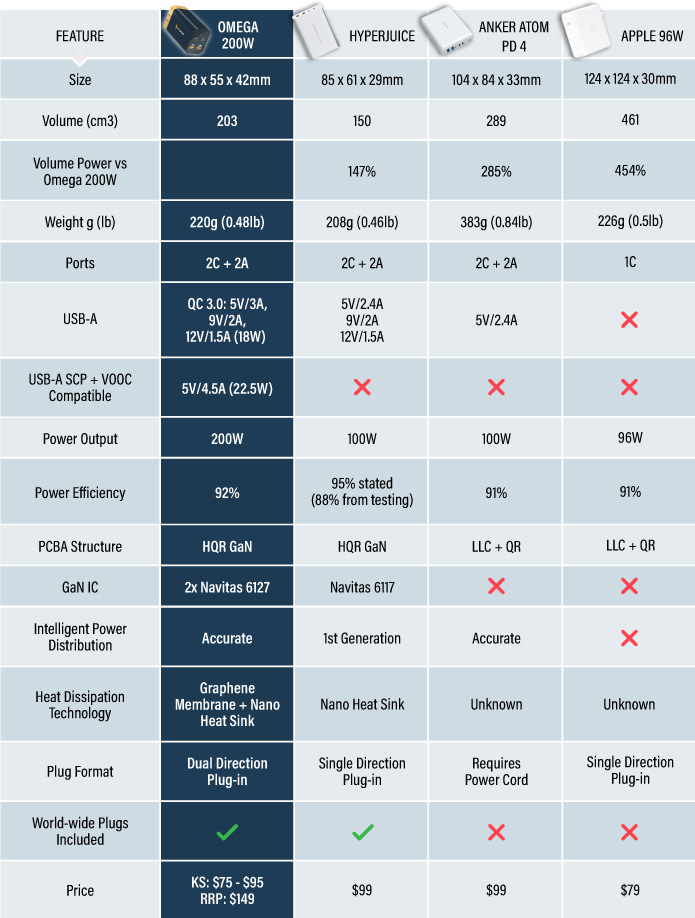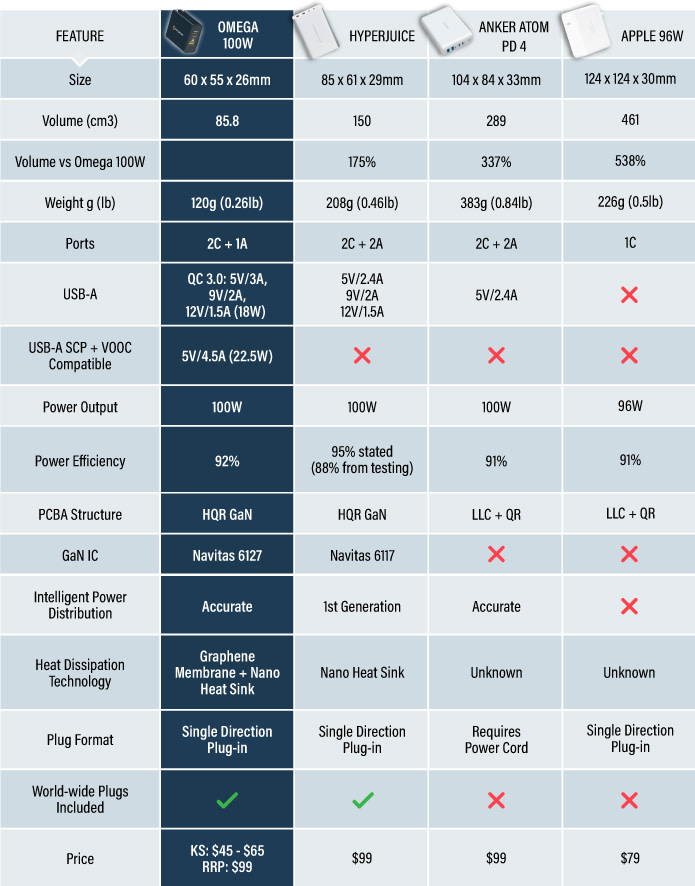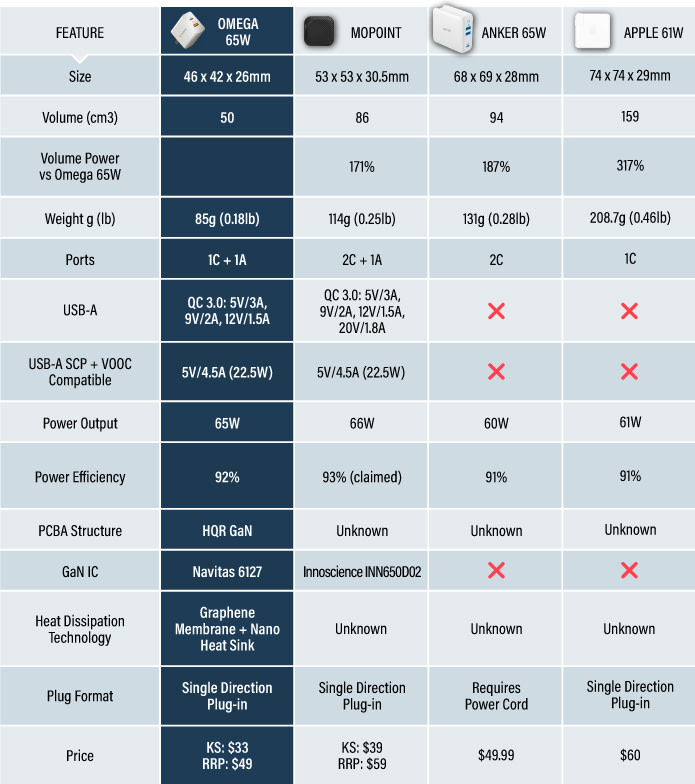 200W Design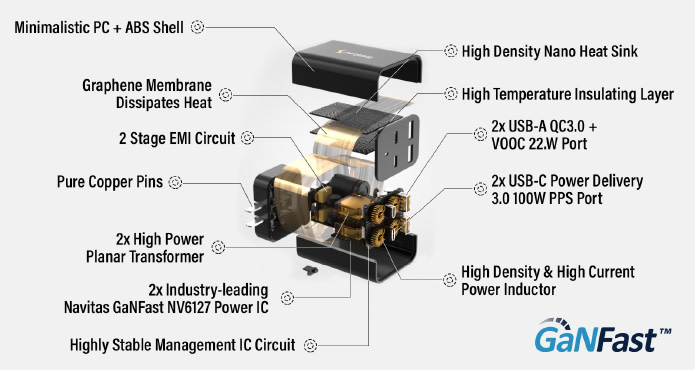 Chargeasap has spent over 8 months perfect the internal circuitry and firmware, taking care to upgrade user experience and ensure the final product maximised the use of the Navitas GaNFast NV6127 power ICs. The NV6127 is the latest GaN power chip from Navitas and has superior heat dissipation, and is the powertrain in a high-frequency quasi-resonant (HFQR) flyback topology – a high-efficiency, cost-optimized GaN structure.
In order to make the smallest 100W and 200W charger ever, the circuit board and components are laid out in a very compact and space-efficient manner. By incorporating only industry-leading components we can deliver superior performance in a pocket-sized charger. The dense circuit board is then surrounded by high-density, thin heat sinks to aid in heat dissipation. An industry-first graphene membrane is strategically wrapped around major charger components to further aid in cooling. The charger is then wrapped in a minimalist fire-resistant polycarbonate (PC) and Acrylonitrile butadiene styrene (ABS) enclosure to complete the design.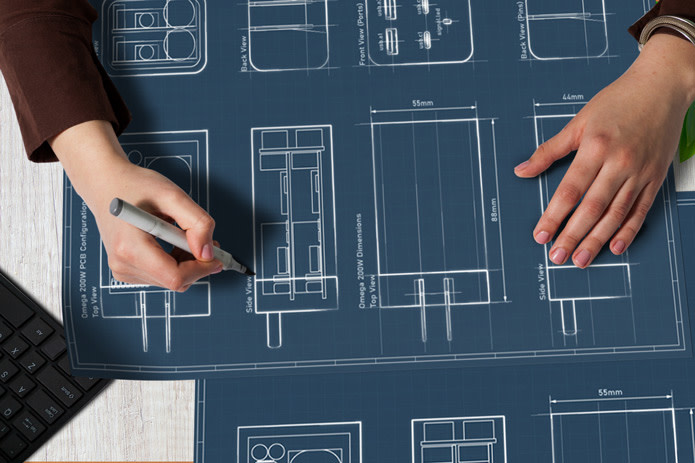 Getting to this final form factor was no easy task; we worked with 6 different factories over a year leading to a lot of funds being used in mold fees that weren't eventualized, and all but one failing to create the product in the perfect portable size we were after.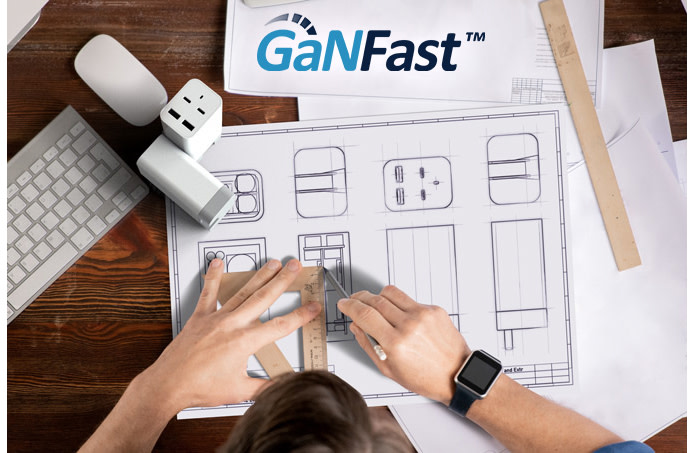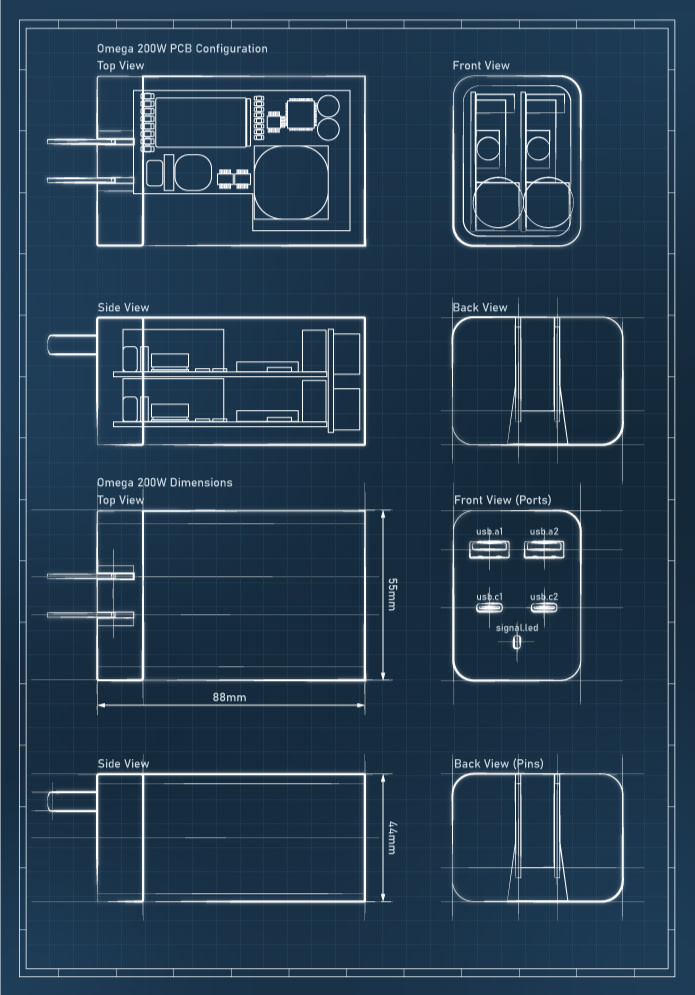 100W Design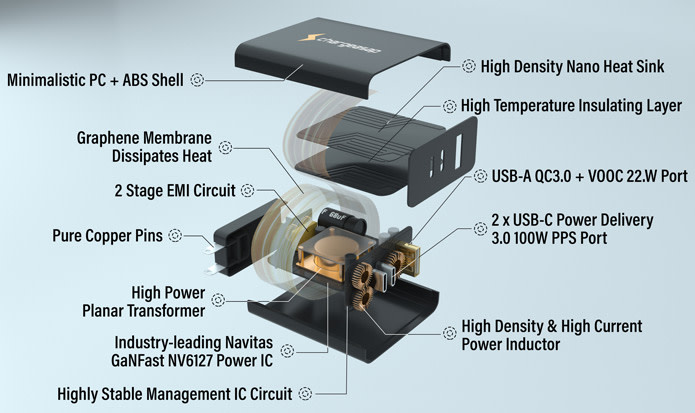 Earlier Samples of 200W & 100W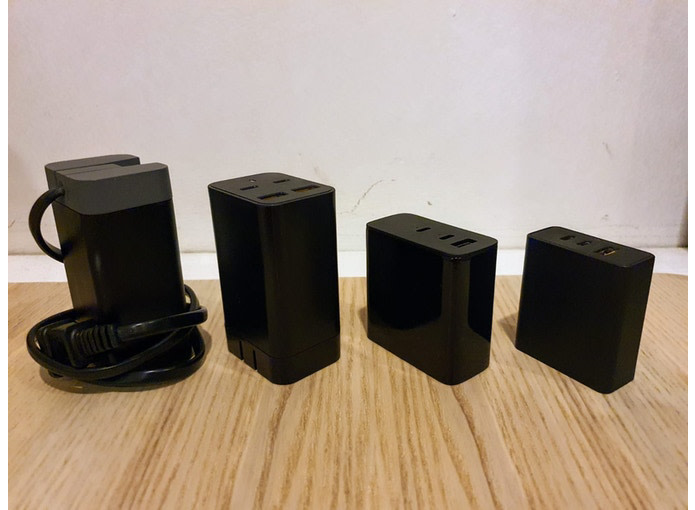 Omega is a big leap for the world of GaN chargers. With improved features including the latest Navitas GaN power IC, graphene membrane and accurate power distribution, the Omega Chargers are proud to be a pioneer in being the world's first second generation GaN chargers solving issues found commonly in first generation GaN chargers.
Kickstarter backers are early adopters, and assisted Chargeasap to optimize and upgrade Omega performance above earlier designs. A survey of 4,538 respondents (previous Chargeasap backers) in July 2020 was used to highlight any earlier issues and provide a laser-focus for our design team to optimize:
Cool, full-power operation
On-demand, stable, accurate power-sharing between outputs
High quality & reliability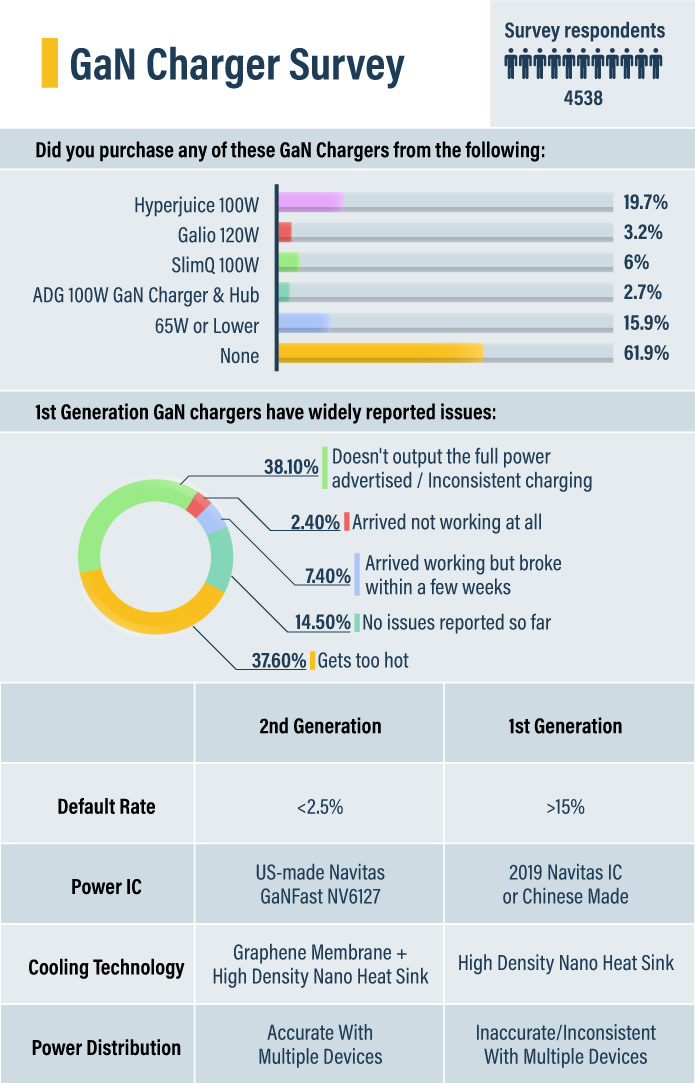 Thank you to every respondent as your feedback has allowed us to create a charger that fixed the painpoints of limited chargers available today.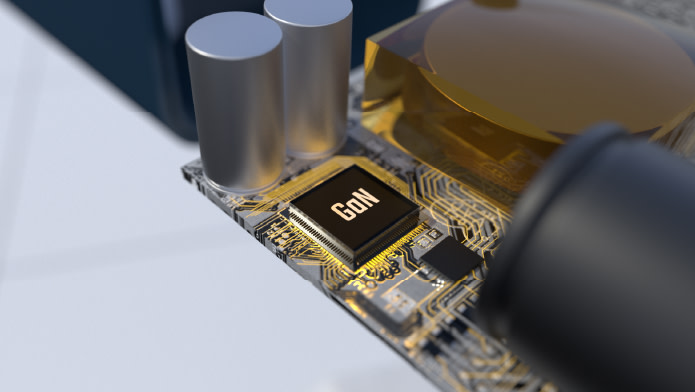 To optimize GaN for high speed, high efficiency and high reliability, Navitas created GaNFast power ICs. Here, the GaN power switch (FET) is carefully, monolithically integrated with GaN logic and GaN analog circuits on a single GaN chip to form a true GaN power IC. These 'digital-in power-out' building blocks – known as GaNFast™ power ICs – deliver robust, high-efficiency performance up to 2 MHz.
The 200W Omega is the first portable charger in the world to feature not one but two GaNFast NV6127s – designed by Navitas in Los Angeles, California – enabling the 200W power to be reached with minimal heat and maximum efficiency.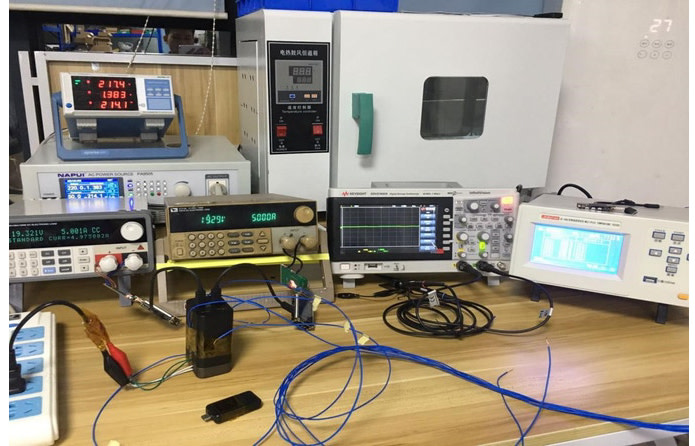 One of the big advantages of GaN technology is its superior AC-DC efficiency – over 92%. Omega loses 15% less energy than Apple and Anker, resulting in cool case temperatures, even at full power – anywhere in the world (measured at 110V and 220V inputs).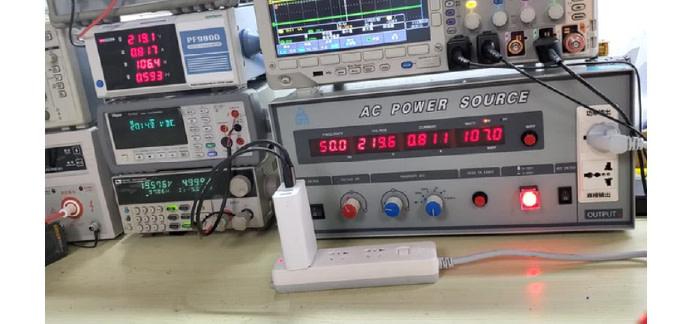 Competitor product: Hyperjuice Laboratory Testing
Calculation: Input power = 106.4W, output power = 19.576V x 5A = 97.88W, so efficiency is 97.88/106.4 = 92%
Tested in our lab under the same conditions, the 100W Hyperjuice reaches only 88% at 110V, which is a 33% increase in energy loss – a much higher case temperature
Official GaNFast Partner
Chargeasap is proud to partner with Navitas Semiconductor and utilize the high-speed, high-efficiency performance of GaNFast power ICs. GaNFast technology has been adopted by industry leaders including Lenovo, Xiaomi and OPPO.
Navitas is the world's first & only GaN Power IC company, founded in 2014. Navitas has a strong and growing team of power semiconductor industry experts with a combined 300 years of experience in materials, devices, applications, systems and marketing, plus a proven record of innovation. Over 100 Navitas patents are issued or pending.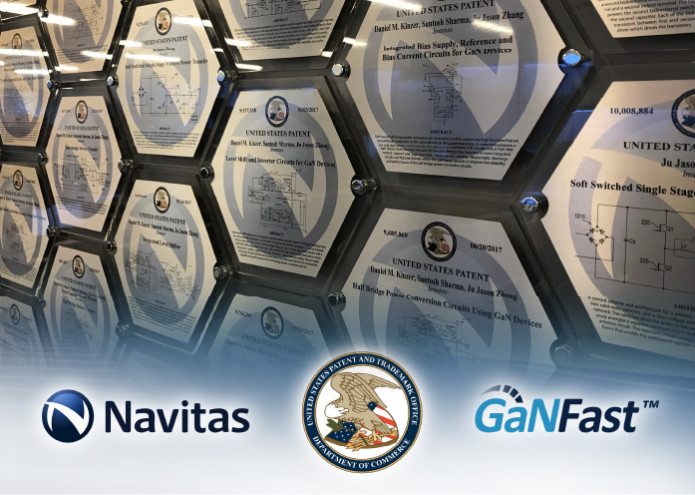 One of Omega's pioneering technologies is being the first charger to include a graphene membrane which is like a ribbon cooling sheet that's been carefully interlaced within the internal components to dissipate heat.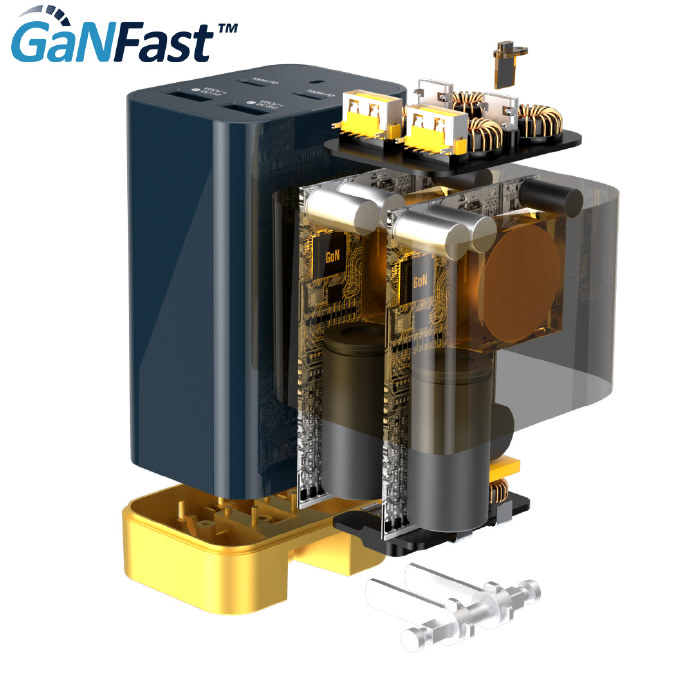 This feature is combined with a high density nano heat sink commonly found in 1st generation GaN chargers which together ensure true heat dissipation particularly when used with high wattage devices.

The industry standard for charger maximum temperature is 130ºC internally and 65ºC externally. Both 100W Omega and 200W Omega will remain below 110ºC internally and 60ºC externally due to superior components include a more advanced GaN IC and the inclusion of a graphene membrane ribbon sheet.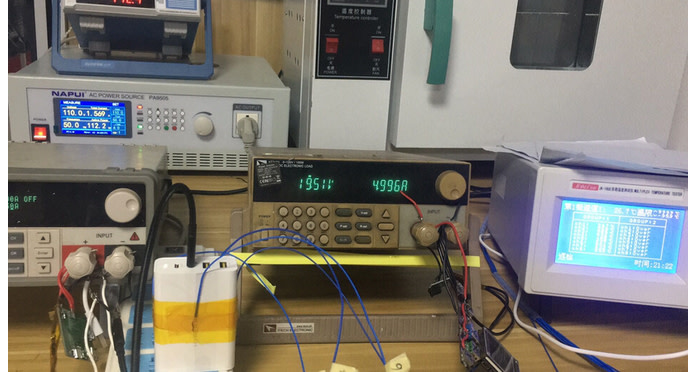 We've completed extensive factory testing on GaN competitors to ensure if they are coming clean with their claims. The world's 1st 100W multi-output GaN charger can be seen here reaching 76.9°C externally, which suggests an internal temperature in excess of 130°C. Note the test was only performed on 1 unit and was the competitor's brand earlier production, it's possible future production runs could have improvements that fixed this issue.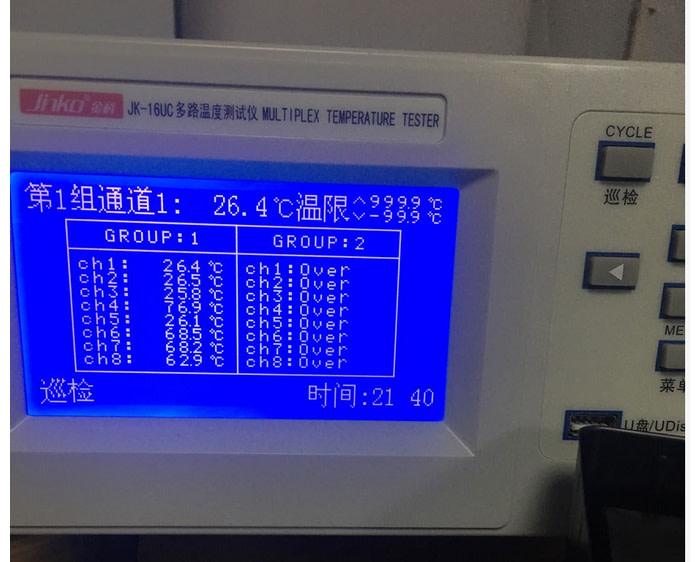 One of the flaws of 1st Generation multi-ouput GaN chargers is their lack of accurate intelligent power distribution. By not limiting the USB-C port when the USB-A port is used, its easy to confuse the charger which is why many competitor brand users have experienced many issues with their charger not working to their expectations. The solution is to specify the limit for each port and ensure they are independent, so there is no preference for power. Furthermore the true solution is to increase the output of the charger and hence the 200W GaN Charger will not fail to output 100W power for each of the 2 USB-C ports when multiple devices are connected.
200W Power Distribution
C1 or C2 = 100W
C1 + C2 = 100W + 100W
C1+ A1 + A2 = 100W + 12w + 12W
C1+ C2 + A1 = 100W + 65W + 22.5W
C1+ C2+  A2 = 100W + 65W + 22.5W
C1+ A1= 100W + 22.5W
C2+ A2 = 65W + 22.5W
A1 + A2 = 12W + 12W 
A1 or A2 = 22.5W
4 ports used simultaneously: 100W+ 65W + 12W +12W
Our 200W Omega has a laptop-first power distribution which means the C1 port will also be prioritised at 100W to ensure your laptop will always charge as fast as possible and not be interupted by devices being plugged or unplugged.
100W Power Distribution
C1 or C2 = 100W
C1 + C2 = 45W + 45W
C1 + A1 = 65W + 22.5W
C2 + A1 = 65W + 22.5W
A1 = 22.5W
3 ports used simultaneously: 45W + 30W + 22.5W
65W Power Distribution
C1= 65W
A1 = 22.5W
2 ports used simultaneously: 45W + 18W = 63W
Fast Recalibration
One of the shortfalls of current GaN chargers is a long recalibration time. This means when there is a device plugged into 1 USB-C port and you plug in another port it will not work for a few seconds. 
100W Omega has a recalibration time of 0.5sec across all ports.
200W Omega has 0 recalibration time between C1 and C2 and 0.5sec for the A ports.
This is vs Hyperjuice which from our testing has a recalibration time of 3sec as it uses 1 circuit for all the ports rather than dedicated circuits for each USB-C port. 
Proof

of Concept Video

 

 

Video showing 200W Omega being plugged into a wall socket and outputting 2 x 100W from each USB-C port into the wattage tester.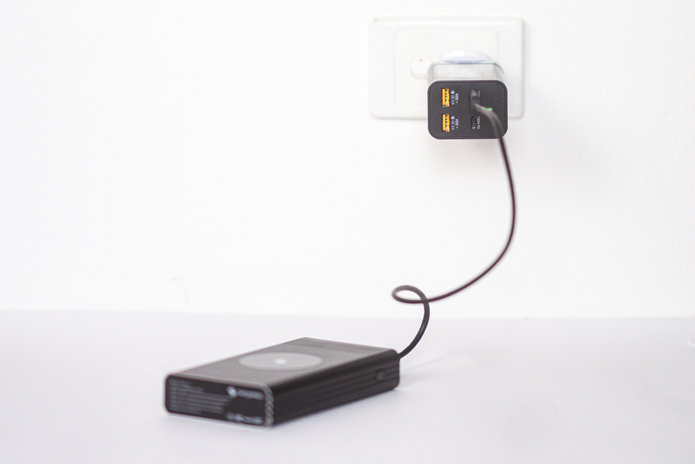 From the Team that brought you Flash: World's Fastest Charging 100W USB-C Power Bank
We haven't forgotten about our Flash backers, Omega Charger is designed to be paired with Flash 1.0 & 2.0, ensuring the full 100W to enable the fastest powerbank charge time in the world at only 70 minutes. For those who missed out on the Flash campaign we will be offering the powerbank at a special price during the BackerKit phase.
Charge 2 Flash Powerbanks
at the same time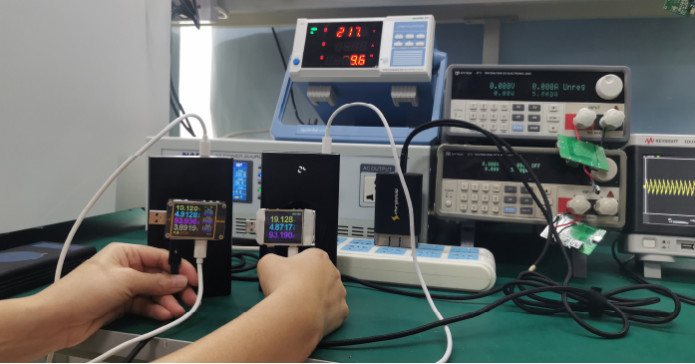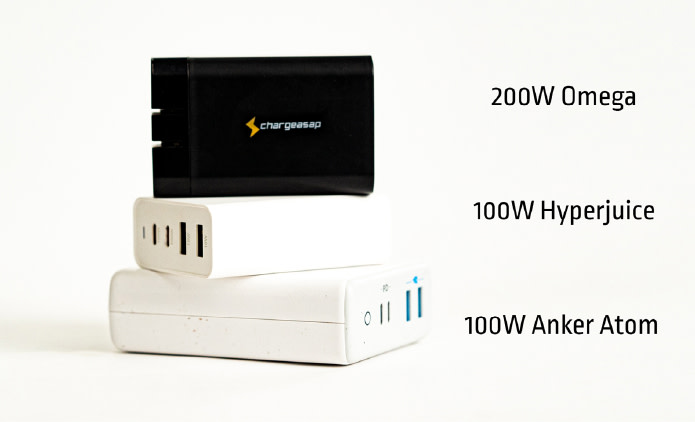 In order to achieve international certification for safe use, all chargers are put through a number of rigorous industrial tests to ensure Omega can withstand daily use.
1 Year International Warranty
With over 130,000 orders shipping, Chargesap is a well known and trusted brand in the crowdfunding and consumer electronics category. All our products are protected by our 1 year warranty giving you peace of mind with your early support.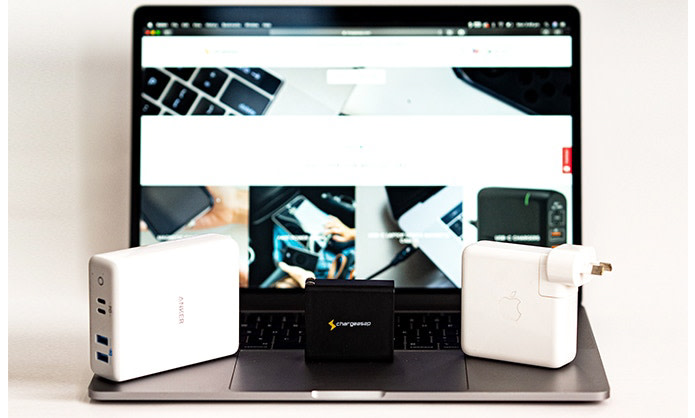 200W Omega Technical Drawings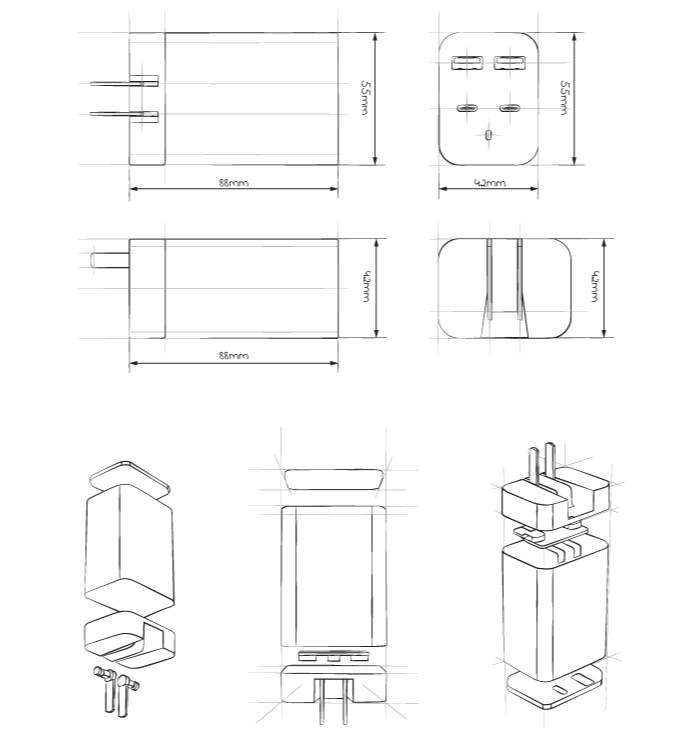 200W Omega Specifications 
Product Dimensions: 88 x 55 x 42mm / 3.46″ x 2.17″ x 1.65″
Product Weight: 220g / 0.49lb / 7.76oz
Power Input: AC 100-240V 50/60Hz 3.5A
Max Power Output: 100W
Ports: 2 x USB-C and 2 x USB-A
USB-C1: 100W Power Delivery 3.0, 5~15V/3A, 20V/3.25A, 20V/5A (PPS) 
USB-C2: 100W Power Delivery 3.0, 5~15V/3A, 20V/3.25A, 20V/5A (PPS) 
USB-A1: Quick Charge 3.0: 5V/3A, 9V/2A, 12V/1.5A (18W), SCP, VOOC: 5V/4.5A (22.5W)
USB-A2: Quick Charge 3.0: 5V/3A, 9V/2A, 12V/1.5A (18W), SCP, VOOC: 5V/4.5A (22.5W)
Device Operating Temperature: -10ºC to 60ºC
Enclosure: PC + ABS 
Protection: Over-current, Over-voltage, Over-temperature, Short-circuit Protection
100W Omega Technical Drawings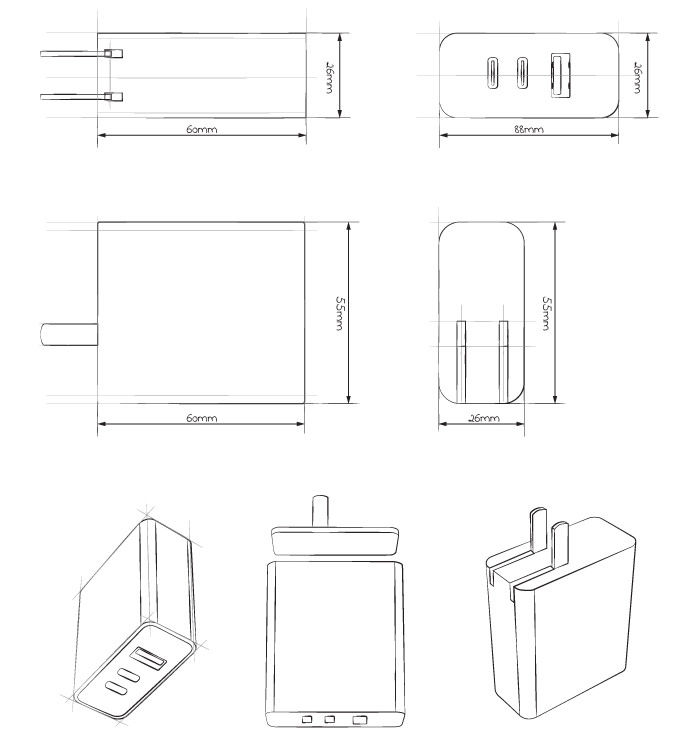 100W Omega Specifications 
Product Dimensions: 60 x 55 x 26mm / 2.36″ x 2.17″ x 1.02″
Product Weight: 120g / 0.26lb / 4.23oz
Power Input: AC 100-240V 50/60Hz 2.5A
Max Power Output: 100W
Ports: 2 x USB-C and 1 x USB-A
USB-C1: 100W Power Delivery 3.0, 5~15V/3A, 20V/3.25A, 20V/5A (PPS) 
USB-C2: 100W Power Delivery 3.0, 5~15V/3A, 20V/3.25A, 20V/5A (PPS) 
USB-A1: Quick Charge 3.0: 5V/3A, 9V/2A, 12V/1.5A (18W), SCP, VOOC: 5V/4.5A (22.5W)
Device Operating Temperature: -10ºC to 60ºC
Enclosure: PC + ABS 
Protection: Over-current, Over-voltage, Over-temperature, Short-circuit Protection
 65W Omega Specifications 
Product Dimensions: 46mm x 42mm x 26mm / 1.81″ x 1.65″ x 1.02″
Product Weight: 85g / 0.18lb / 3oz
Power Input: AC 100-240V 50/60Hz 2.5A
Max Power Output: 65W
Ports: 1 x USB-C and 1 x USB-A
USB-C1: 65W Power Delivery 3.0, 5V 3A/ 9V 3A / 12V 3A / 15V 3A / 20V 3.25A (PPS)
USB-A1: Quick Charge 3.0: 5V/3A, 9V/2A, 12V/1.5A (18W), SCP, VOOC: 5V/4.5A (22.5W)
Device Operating Temperature: -10ºC to 60ºC
Enclosure: PC + ABS 
Protection: Over-current, Over-voltage, Over-temperature, Short-circuit Protection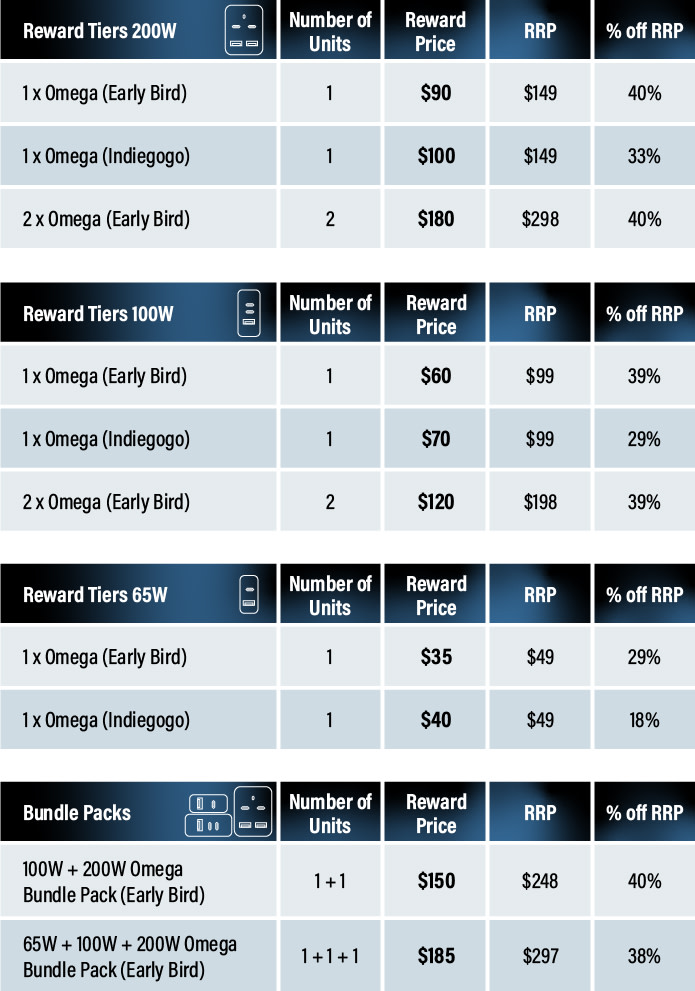 200W Colour Options

100W Colour Options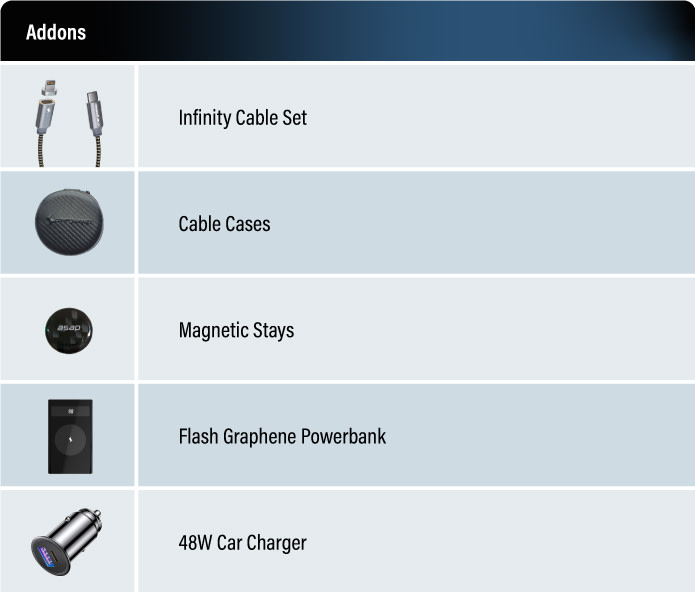 Laptop Head Add ons
Following the popularity of the laptop adapter heads with Flash we're giving Omega backers the option to purchase these adapters which convert a USB-C cable into a laptop input for a range of laptops. Available for $19 each.
If you'd like to purchase a combination of 200W and 100W Omega, you can do so waiting until you are emailed a survey 14 days after the campaign finished from BackerKit where you can:
Add-on a charger at the same discounted rate
Purchase additional add-ons from our Chargeasap range
Lock in your color choices
Confirm your shipping address

All rewards will be delivered via air freight directly from our distribution centre in Shenzhen, China. Backers are also expected to receive rewards between 4-20 days from shipping depending on the size of the delivery and your country (including USA). We've chosen this costlier method so no matter what country you're supporting from you don't have the long transportation times of sea freight.
Why We Need Your Support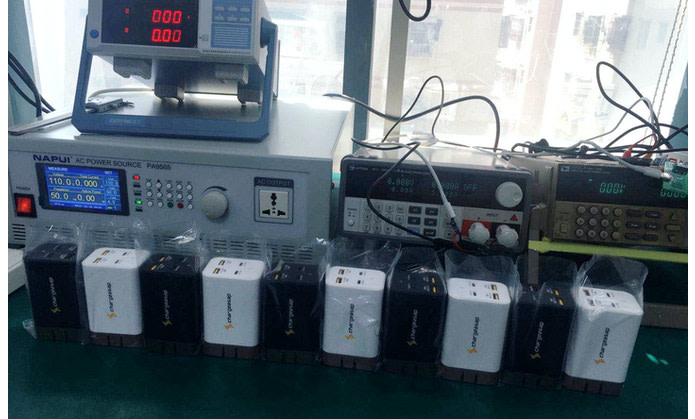 We've already spent over $150,000 on NRE (non-recurring engineering) costs to develop the working samples and cover much of the initial mold fee. We depend on the support of Kickstarter backers to cover the cost of materials for the initial production run to bring Omega to life.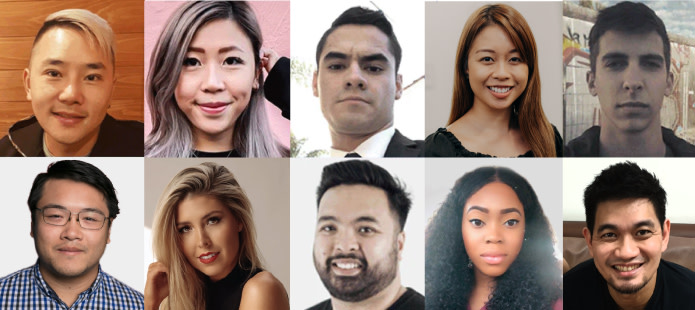 Chargeasap is a consumer electronics startup originating from Sydney with a global team who believe users should be the creators and innovators of products. We realize that your mobile phone is the one object you interact with every day more than any other object or person, so why not simplify this interaction?
Our mission is to create highly innovative phone accessories that simplifies the way you interact with your mobile devices.
Our team consists of serial entrepreneurs, creatives and engineers who've worked together since 2015 to overcome painstaking obstacles to bring to life the vision of each life-changing product. Our international team is spread across the world from Sydney- Down Under to Bali- Indonesia, Shenzhen- China, Dubai- UAE and California- LA.  
We're a startup that is backed only by ourselves. We have no external investors. Instead we launch products through the magic of crowd funding. The funds raised here will not only go towards manufacturing, they'll also help us to design future products.
We've already had 8 previous successful campaigns, raising over $4.5 million and delivering to more than 130 countries.  Our previous campaigns have been featured in hundreds of major publications and online media worldwide garnering over 150m views.
Thank you for your early support of Omega! The last USB charger you'll ever need.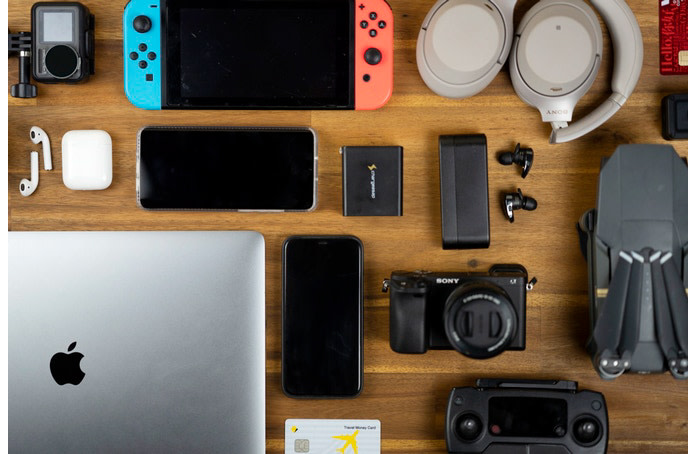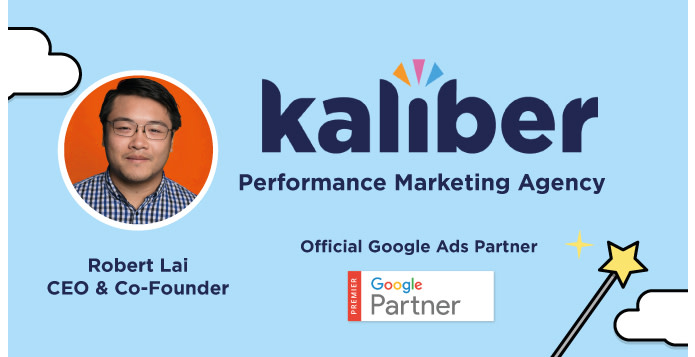 Risks and challenges
This is Chargeasap's 9th crowdfunding project. We've got plenty of experience under our belts on how to manufacture high-quality mobile phone accessories and fulfilled 130,000+ orders. We've also been blindsided more than once by completely unexpected issues with manufacturing and shipping and always dealt with them in a way that leaves every last customer happy with their purchase and proud to support our company. In short, we know what we're doing, and you should be very confident that we will deliver what we say we will, when we say we will. And we solemnly swear that should unforeseen issues come up, we will handle them with the utmost transparency and care for you, our backers. We have already created the mold, so it's very unlikely for any reason that the December delivery won't be on schedule. Supply Chain Risk: We're incredibly proud of our supply chain partners, and have worked with them for over 3 years developing strong relationships. In saying that, unseen circumstances do occur. Sometimes 8 shipping containers of product get stuck outside a shipyard for 3 weeks due to customs or other clearance issues. We've accounted for potential delays in our schedule, but sometimes not enough. We've been battling Covid since 2020 and have accounted for any potential delays.