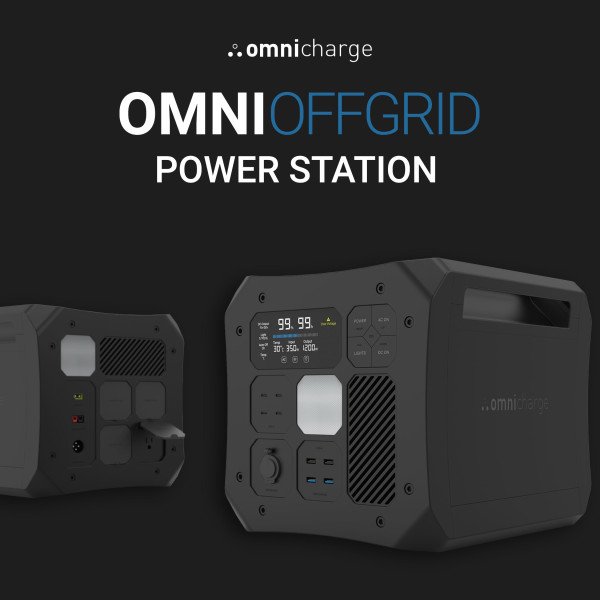 Omni Off-Grid: Next Generation Backup Power
$156,627
raised out of
$50,000
Concept
The world's first high powered battery backup with off-grid comms, geolocating, and modular add-ons.
Story
Omnicharge is back for a 4th crowdfunding campaign with its most versatile, powerful, and portable power solution for all your off-grid adventures and emergency situations.
BE READY FOR ANY ADVENTURE, EVEN THE UNPREDICTABLE ONES
We are so used to having power and connectivity in our lives, bringing our devices everywhere. But when we venture off-grid, power and connectivity can be quite unreliable. That's why we designed Omni Off-Grid; to help you prepare for any situation.
OFF-GRID BACKUP POWER
ADVANCED PORTABLE POWER FOR
YOUR OFF-GRID ADVENTURES
Our team has spent a lot of effort engineering a next-generation power station for today's digital adventurers. Powerful, without compromising mobility and versatility.
– Most Versatile Power Solution –
Omni Off-Grid is equipped with all the power ports you need to charge up all your devices. Each port is designed with the latest fast charging technology.
– High powered fast charging –
With 16 individual power ports, each designed with the highest output power for your devices. Versatile enough for any situation like camping, off-site work, or emergencies.
– Fast & flexible recharging –
We designed the Omni Off-Grid to charge from as many options as possible so you'll never feel stranded in any situation. You can directly plug your solar panels, use our dedicated charger or even use your own USB-C charger!
– Unlimited Power Expansion –
And for those that are power users or just want peace of mind and never worry about running out of backup power, you can easily hook up additional backup batteries to design your own power solution for your off-grid adventures or prepare for any emergency!
– Designed For Mobility –
Engineered from the ground up, we provide a compact power station that you can take anywhere! The Omni Off-Grid has a similar capacity with more features, yet 40% smaller than the competition. Making it more versatile and portable.
OMNI CONNECT ADD-ON MODULE
INTEGRATED CONNECTIVITY
FOR ANY OFF-GRID SITUATION
We've integrated the latest in long range off-grid wireless technologies. Perfect for outdoor adventures, but also critical for emergency situations like blackouts or natural disasters. The Omni Connect Module comes with 4 Omni Connect devices and can be used INDEPENDENTLY from the Omni Off-Grid Station.
– LONG RANGE CONNECTIVITY SOLUTION –
Voice and text messages transmitted through Omni Connect uses a new communication standard called LoRA; that allows you to send and receive messages using extraordinarily little power at very long range. You can read more about LoRA HERE.
– BUILD A PRIVATE OFF-GRID NETWORK –
Omni Connect doesn't require any 4g, wifi, or cloud network; it is your own private communication channel. Perfect for off-grid camping or any emergencies when the grid is down.
Privately communicate with your family and friends; the encryption and decryption are handled on your smartphone using 128bit AES, so only you and the people you share with will receive your text and voice messages
– EXTEND THE EDGE OF CONNECTIVITY –
THROUGH MESH NETWORKING
Expand your network's reach with others in the community; for each Omni connect device in use, the range of the community mesh expands.
All Omni Connect devices operate on the same frequency, so everyone within range can act as relays for others. Your smartphone handles the encryption and decryption, and people it is relaying through can't decrypt the message.
OMNI CONNECT APP
Advanced control
through the omnicharge app
The Omnicharge mobile app provides an INTUITIVE interface that allows you to interact with your Omni Off-Grid and Omni Connect. It also allows you to manage off-grid channels, track locations, and privately message your family and friends.
NO CLOUD NETWORK NECESSARY
ALL DATA IS STORED ON YOUR SMARTPHONE
PERKS WE OFFER:
FEEDBACK FROM THE COMMUNITY
"…I have great respect for this company for turning out quality products. Additionally, the off-grid capability of this particular device has varied use cases ranging from recreational to supporting State/Federalagencies during critical moments and rapid disaster response."
Kchotai, Omnicharge Backer
"It was easy to back the Omni Off-Grid. I have 3 other Omni campaign products and use all of them reliably and keep them in my go-bag. I live in CA fire zones so having this quality equipment is vital, not just a nice to have."
Kaduffey, Omnicharge Backer
POWERED BY OMNICHARGE
OMNICHARGE MEDIA COVERAGE
"Omnicharge was designed and built to put all other portable battery banks to shame."
ABOUT OMNICHARGE
Since the beginning, our mission has been to bring power solutions that change how everyone interacts with their everyday devices. With the help and support of our backers, we've achieved big success in our past campaigns and have powered hundreds of thousands of professionals across the world.
Thank you to the entire community for all the trust and patience you have given us over the years. We are excited to be back with the Omni Off-Grid, our 4th crowdfunding campaign and are excited to continue on our mission to power your journey.
TECHNOLOGY
LORA MESH NETWORK
Omni Off-Grid mesh networking is designed to support short-burst data transmissions like GPS location, text and voice messaging.
POWER MANAGEMENT SYSTEM
With built-in MPPT technology it can auto-detect the optimal input voltage for the most efficient charging and discharging. Also with independent circuits, Omnicharge is able to simultaneously charge and discharge, maximizing power productivity.
BATTERY MANAGEMENT ARCHITECTURE
Designed to minimize power loss by sensing different power status and switching to the lowest power criteria allowing for longer period of storage with best in class power loss performance..
BATTERY MAINTENANCE
The Omnicharge app allows you to monitor the battery health of your Omni Power Station. Giving you estimates about when you should service your battery. The modular design allows you to replace the battery pack once it is no longer operating at adequate levels.
GENERAL TECH SPECS
FAQ
General
Will COVID affect the campaign?

So far COVID-19 has had zero impact on production. Our overseas production facility is working in full force. We don't foresee any delays due to the coronavirus.
Will the production models be exactly like the ones pictured?

No. We have a few tweaks to make and reserve the right to make modifications. We've already made some upgrades based on feedback from thousands of backers.
Is there a warranty?

Yes! We use high-quality components and are in this for the long run. If you need any support at all you can reach our support team by email. All Omnicharge products are protected by a one year warranty.
How much does it weigh?

The Omni Off-Grid is both lighter and smaller than competition with similar capacity. In the current configuration, It weighs in at around 37lbs.
Can I take the Omni Off-Grid on a plane?

No. Under FAA regulations you are not allowed to take any battery exceeding 100Wh on a plane.
How frequently do I need to use or charge the device?

We recommend that you recharge the Omni Off-Grid at least once every six months. If user charges to 100%, unit can be placed in storage for 1 year in normal temperature environment.
Is there any water resistance?

Very light rain and other similar amounts of water won't affect the Omni, but be sure not to expose to heavy rain or water for safety reasons.
Technical
Will you also offer a 230V model?

Yes we will be supporting a 230V model with an international AC plug version of the Omni Off-Grid. Just select your perk, and you can choose the option you want shipped to you.
Is the solar charge controller mode MPPT or PWM?

We've incorporated an MPPT controller in both the Omni Off-Grid and Omni Extended Battery solar input ports.
Can I use a third party solar panel and what conditions need to be met?

Yes, you can. However, it must meet Open Circuit Voltage: 12-60V/Max.10A, Max.400W.
Can you recharge with Solar panel and the Wall Socket simultaneously?

Yes, you can, the total maximum input is 800W which recharges the Omni Off-Grid in 3 hours.
Does the Omni Off-Grid use a pure sine wave AC inverter?

Yes, all AC outlets on the Omni Off-Grid use pure sine wave inverters so you can safely power any equipment or appliance.
Can you charge and discharge the Omni Off-Grid simultaneously?

Yes, it supports pass through charging for both AC and DC loads. This means you charge the power station while simultaneously outputting power as well.
How fast can you charge it to 100%?

It takes about 3 hours to charge to 100% with 800W total input from solar + ac wall charging.
What is the surge power of the Omni Off-Grid?

It can reach up to 3000W surge.
Is the DC 12v regulated?

Yes, it is.
Omni Connect
How are the messages transmitted?

The messages and walkie talkie are transmitted through a new communication standard called LoRA. LoRA is a long range low power communication standard, that allows you to send and receive messages using extraordinarily little power at very long range. You can read more about LoRA HERE.
What is the range of Omni Connect?

The range of Omni connect can vary greatly depending on the terrain you are operating in. If you are operating indoors in a big city, your range could be as low as 500m, but if you are in open terrain in the countryside you could get up to 3km for voice or up to 8km for text.
What LoRA frequency do you use?

We operate at sub gHz bandwidth around 800-900mHz.
How is my communication secured?

The encryption and decryption is handled on your smartphone using 128bit AES.
Can messages relay through people I don't know?

Yes, your encrypted message can be relayed via other omni connect users; letting you expand your coverage through the Omni Community. The encryption and decryption is handled on your smartphone and cannot be decrypted by people it is relaying through.
Can a Omni connect device act as a relay if it's not paired with a smartphone?

Yes it can. The logic for transmitting a message is done on a hardware level, and the smartphone is only there to decrypt the message. This means that you can set up Omni Connect devices independently, and they can still act as relays.
How many times can a message be relayed?

Messages can be relayed up to 7 times.
Can I use the Omni Connect module independently?

Yes, the connect docking module has a separate USB-C charging port for use away from the Omni Off-Grid Power Station.
Can I use the Omni Connect Walkie Talkie independently?

Yes, each walkie-talkie can be used independently without the connect docking module. Each walkie-talkie comes with a USB-C charging port, and can be charged separately.
Payments & Shipping
When does it ship?

We expect to start shipping the first batches in the Summer of 2021. Shipping is first come first serve.
Will you ship to my country?

You can check what shipping countries are available by beginning the checkout process and inputting your shipping info. If your country is not available, please reach out to us at support@omnicharge.co.
What is the shipping method?

Products will be shipped by sea to most countries in Europe and the US. Outside of this, orders will be shipped via air.
How Much is Shipping?

You can check the most updated shipping rate for your country by beginning the checkout process and inputting your shipping info. The shipping cost includes freight from our FACTORY all the way to local delivery in your home country.
Who is responsible for any additional taxes, duties or VAT?

For most countries VAT is included in the shipping costs. For countries like Norway and Switzerland, VAT and customs will need to be paid upon receipt. Countries that we can cover the customs clearance BUT DO NOT COVER TAX: Australia, New Zealand, South Korea, Singapore. Countries that we CANNOT COVER THE CUSTOMS CLEARANCE AND TAX: Norway and Switzerland.
How can I pay?

Indiegogo currently accepts payments from direct credit/debit cards, Apple Pay, and Google Pay. If you'd like a payment option that is not currently supported (such as PayPal), please get in touch with us directly via support@omnicharge.co.
What's the refund policy?

Please refer to IndieGoGo's policy HERE. We'll put the funds from Indiegogo directly into producing your order, and delivering each order is important for this project to work.