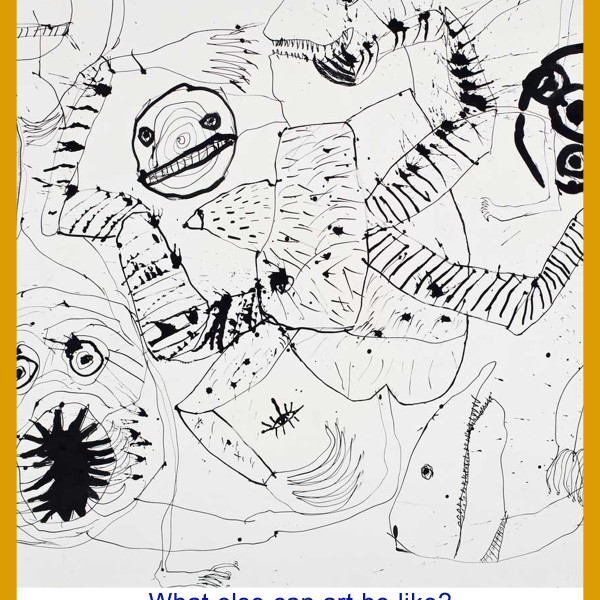 Outsider Art in Canada: New Book
$1,300
raised out of
$65,000
Concept
Exploration of outsider art in Canada
Story
What it's all about
My book, Outsider Art in Canada – What else can art be like?  is the result of 10 years of research, both personal and academic, into outsider art in Canada.  The book is ready to be published by an Italian art book publisher in two editions: English and French. Funds raised in two campaigns will contribute to the extraordinary cost of producing two full-colour art books.
What is outsider art? The term refers to idiosyncratic artwork made by self-taught creators who express themselves in spontaneous and expressive ways. What used to be called art brut, a term coined by Jean Dubuffet in the 1940s, is now called outsider art because it defies categorization in an art-historical context. In other words, it has no place in the continuum of art history and is situated entirely outside any established art world. Although outsider art has an enormous international audience, the genre is not often discussed in Canada. This near-absence of knowledge about outsider art within Canada has led to Canadian artists being celebrated in countries other than their own. It's time to change that situation.
I discovered the world of outsider art late in life. I obtained a law degree in 1979 but my interests remained firmly in the art world. As I began exploring the enormous world of international outsider art, I was puzzled by the lack of information about Canadian outsider artists. I suspected that outsider artists must live and work in Canada and I set out to meet them. I created a blog, and later a website, to record my findings and connect with other Canadians who are interested in the genre. Although this enabled me to discuss outsider art with others, both within Canada and in other countries, I heard many different opinions and was faced with a growing list of questions. I pursued a Master's degree in art education at the University of British Columbia to research the evolution of outsider art and to explore its current parameters. I also spent a term at Intuit – The Center for Intuitive and Outsider Art – in Chicago. My 2016 Master's thesis analyzes the status of the genre forty years after art brut was renamed outsider art and examines the genre in a uniquely Canadian context.
My exploration of outsider art in Canada revealed many different perspectives. Some members of the general public believe they are excluded from joining conversations about contemporary art because it belongs in the private domain of art scholars and critics. This is an unfortunate state of affairs. Alluding to the exclusivity of the contemporary art world, the curator of the 2013 Venice Biennale – a prestigious exhibition of contemporary cultural and social issues – included outsider art in the show, declaring that it is time for art to come down from its pedestal and function as a tool for interpreting our visual culture. I share this view. Outsider Art in Canada is more than 'just an art book.' It invites the reader to consider art from a sociological perspective and challenge the status quo of art proprietorship.
Outsider Art in Canada is a full-colour, 225-page book. It's purpose is to introduce Canadian outsider art to an international audience and to advance a dialogue in Canada about art that falls outside the confines of conventional art history. Although it is based in scholarly research, it is not an academic treatise on outsider art, but rather an exploration of how we think about art and who defines it. While there are numerous international publications about outsider art, the artists are rarely invited to speak about their own work. I was troubled by the failure to seek their views as they have much to tell us about their need to create, unapologetically and without regard to public opinion. To give artists an opportunity to talk about their art-making process, I travelled to locations across Canada to meet with 30 artists as well as art collectors and curators. The book is an entertaining and revealing documentation of my exploration of outsider art in Canada.
Outsider Art in Canada will be published by an Italian art-book publisher. All monies raised in this campaign (less funding platform fees) will go directly to the publisher for production expenses. Any excess funds will be used to cover the cost of professional photography of artwork featured in the book as well as incidental shipping expenses.
Please note: the book image is a place-holder. The cover art is not final.
Thank you for your support.
Linda Rainaldi
Artists featured in the book
Laurie Marshall 
Kevin House   
David Ogilvie 
Ian McKay    
Randy Pandora 
Serge von Engelhardt 
Roger Ing  
Jahan Maka  
Scottie Wilson 
Menno Krant
Floyd Kuptana 
J.P. Denys   
Fritz Ruhland 
Alma Rumball 
Jordan MacLachlan 
Karl Goertzen 
Claude Bolduc 
Arthur Villeneuve 
William Anhang 
Henriette Valium 
Anik Langelier 
Nancy Ogilvie
Sylvain Martel 
Daniel Erban 
Luc Guerard 
Karine Labrie 
Lessard Brothers 
Roland Wilkie 
A.J. Aucoin 
John Devlin 
There are two campaigns
This main campaign, which showcases work by artists featured in the book, is in conjunction with a second campaign, Outsider Art in Canada – Art for Sale: https://www.indiegogo.com/projects/outsider-art…  The second campaign offers artwork generously donated by Galerie Robert Poulin in Montreal. Although these artists are not featured in the book, they create intriquing artwork in an "outsider style."
Why this book is important
It is time for Canada to join the conversation about outsider art and to introduce Canadian artists to the international art community.  Very little is known about Canadian outsider art and this book will, I believe, initiate a dialogue on important issues in both outsider and contemporary art. While outsider art (art brut) was first recognized in Europe in the 1940s, its continuing existence raises important questions about art in the post-modern age. Has the special category of outsider art outlived its usefulness as art categories are collapsing into each other? What role does the public play in defining meaningful art? Outsider Art in Canada is both an important and timely exploration of who is entitled to call themselves an artist.
What's needed & what you get
The goal of this fundraiser is to raise $65,000. Some of the artists featured in the book have kindly donated artwork to this campaign.
With all donations over $110, you will receive a copy of the book in either French or English. Donations at higher levels will receive the book as well as an orginal piece of artwork from a  featured artist. 
There are many expenses associated with crowdfunding and publishing. Approximately 10% of donations are deducted by Indiegogo for platform and credit card fees. Remaining funds will be sent directly to the publisher to produce the book. Their expenses include 4-colour printing of two editions of the book, translation fees, and marketing and distribution of the book in Europe and North America. If excess funds are raised, the money will be used to pay for professional photography of artwork in the book, incidental shipping expenses, and image reproduction fees.
Are there any risks?
No. 
The book is finished and the publisher is waiting to receive its submission. Aside from some professional photographs of artwork for the book, all the hard work is done.
But, as the last 3 years have reminded us, anything can happen. If insufficieint funds are raised to publish the book, your donation will be refunded.
Other ways you can help
Support comes in many forms:
Follow me on Facebook – Outsider Art in Canada – to get the latest news on this project.
Follow me on Instagram @outsider.art.canada to see work by Canadian outsider artists and a list of funders who support this project.
Tell all your art-loving friends about this fundraising campaign!  The Indiegogo share tools make it easy to send this fundraising campaign to others.
Support artists in your community!