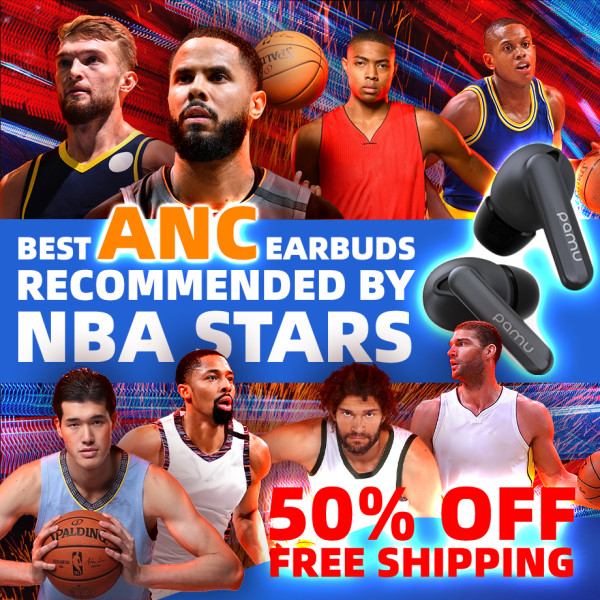 PaMu Quiet: Music in, Noise out, Never Fall Out
$1,894,634
raised out of
$10,000
Concept
The World's 1st Qualcomm + ams ANC earbuds | The most comfortable hybrid ANC | NBA stars recommended
Story


The History-Making, Backer-Delighting Team Is Back And Better Than Ever
TOGETHER, WE'VE CREATED A WINNING FORMULA:
The PaMu Team + The Best Chip Company (Qualcomm) +The Best Noise Cancelling Tech Company (ams) + The Best Microphone Makers (Knowles)=PaMu Quiet, the best Active Noise Cancelling (ANC) earphones you can buy.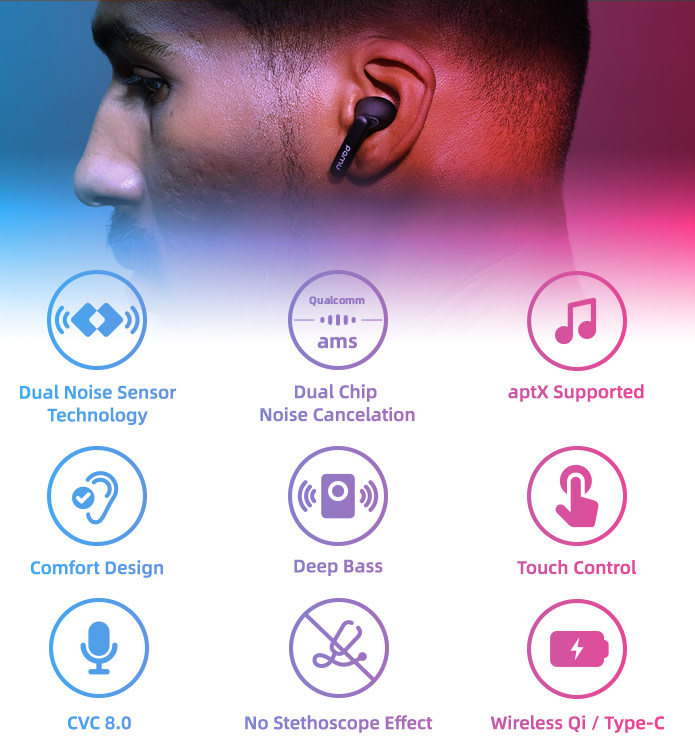 Our 3 Indiegogo campaigns so far have raised an amazing $11 MILLION. Big thanks to 200,000+ backers who's backed us so far…We've Set The Bar High, Now We're Raising It. We've been working hard to develop a new product that continues the PaMu legacy. NOW LET'S MAKE MORE HISTORY! Introducing the world's first ANC earphones created in partnership with PaMu, Qualcomm, AMS, & Knowles. 

We put PaMu Quiet in the slam-dunking, history-making hands of NBA stars to get their take on our new earphones.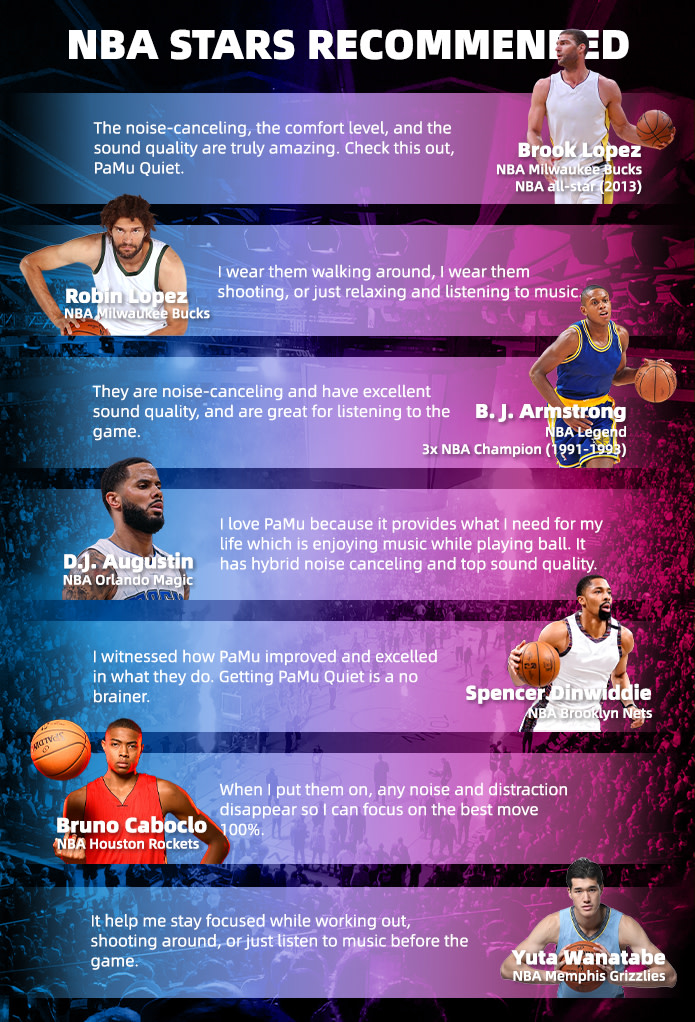 Success in the NBA is all about no distractions and total focus. Slip our ultra comfortable NEVER FALL OUT earphones into your ears and that's what you'll experience with PaMu Quiet.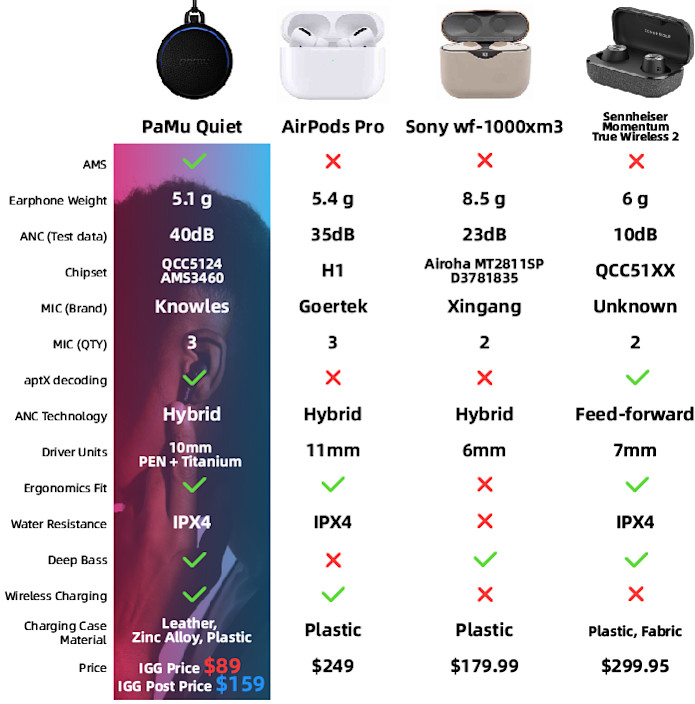 If you participated our past 3 campaigns, you definitely know we offer the best price ONLY during our crowdfunding campaign. The price will go up and up as demand gets higher and higher. 

Wait any longer and you'll completely miss out. Don't regret it. Save big money today!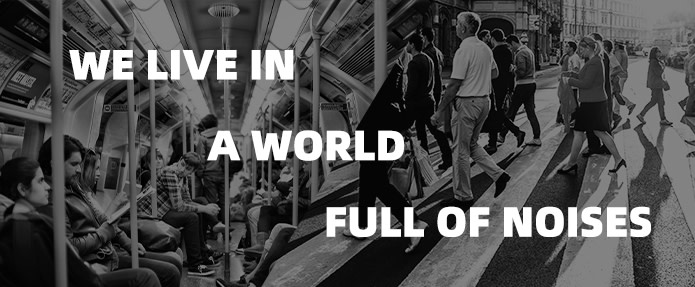 The buzz of crowds. The hum of traffic. The roar of airplanes. We live in a noisy world. When you're on the move, ambient noise can creep in and spoil what you're listening to.
PaMu Quiet cancels out crowd noise.
PaMu Quiet deletes distractions.
So you can focus on what you're listening to.
MUSIC • AUDIO BOOKS • CALLS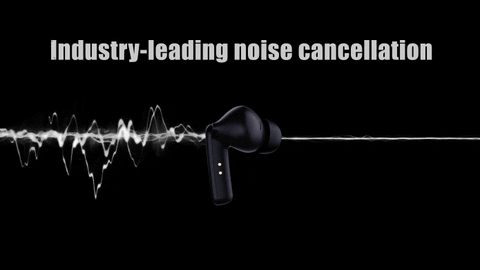 Let's face it, BEFORE PaMu, earphones were ho-hum. So-so. And in some cases just plain bad. We saw the need to create better quality earphones. Cue the success of our first 3 Indiegogo campaigns. 
Now we're back with a fourth. A new product that's destined to take PaMu to a new level. And like our previous three products, we've been innovating, paying attention to details, testing, testing, testing, and delivering a product that's worthy of the name PaMu.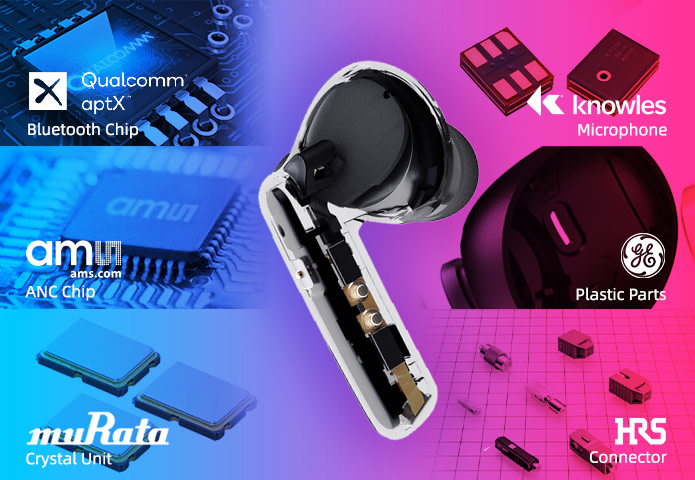 Teams are better than individuals. Just like the left ear works with the right ear to deliver the best stereo sound, for PaMu Quiet, we've teamed-up with Qualcomm, ams, Knowles, GE, Murata, HRS etc to deliver enhanced sound chip performance. Only industry leading techniques for PaMu Quiet!

We've also worked with the best noise cancelling company in the world, AMS, and the creators of quality microphones, KNOWLES. One of their many claims to fame is sending microphones to the moon and back with Neil Armstrong in 1969..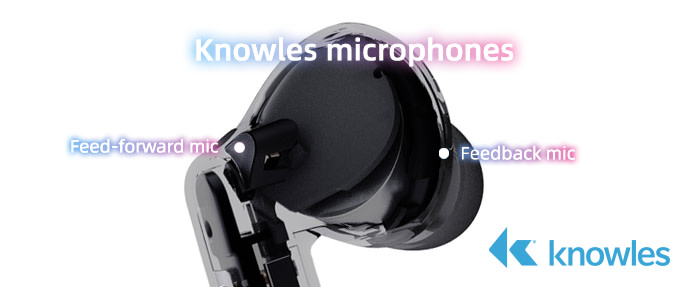 Huge ANC Effects In A Small Package. When it comes to ANC, PaMu Quiet gets to work in a new way. PaMu Quiet is different than most other ANC earphones that just use either FEEDBACK or FEED-FORWARD noise cancellation. PaMu Quiet uses BOTH, delivering a better ANC experience with Hybrid Noise Cancellation

Core Chip, speaker and sound cavity structure are the key parts to achieve better sound. PaMu Quiet offers all the best.
PaMu Quiet applies Qualcomm's flagship chip, QCC5124, supporing the best sound quality in the market. Qualcomm aptX Classic, SBC, AAC decoding, 48kHz/16-bit LPCM audio.

Ready For Multi-Frequency Brilliance?
PaMu Quiet Lets You Listen Loud to;
BONE-RATTLING BEATS from the super-deep sub woofer;
DEEP RICH BASSLINES thanks to outstanding elasticity;
FULL & BRIGHT MIDS for a textured sound;
CRYSTAL-CLEAR TREBLE so you hear every nuance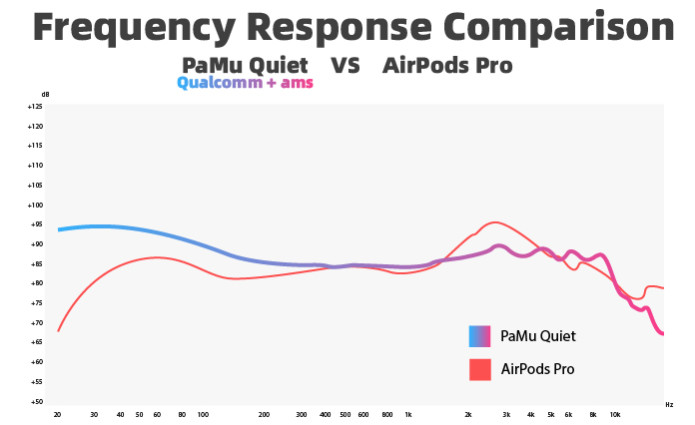 EXCLUSIVE CUSTOMISED SPEAKER
The combination of the following delivers an unprecedented sound experience and performance with beautiful balance across the full frequency range:
10mm LARGE DRIVER enhances the depth of the bass
AGILE PEN TITANIUM COMPOSITE DIAPHRAGM delivers good ductility
PRECIOUS TITANIUM METAL produces awesome sound quality at high frequencies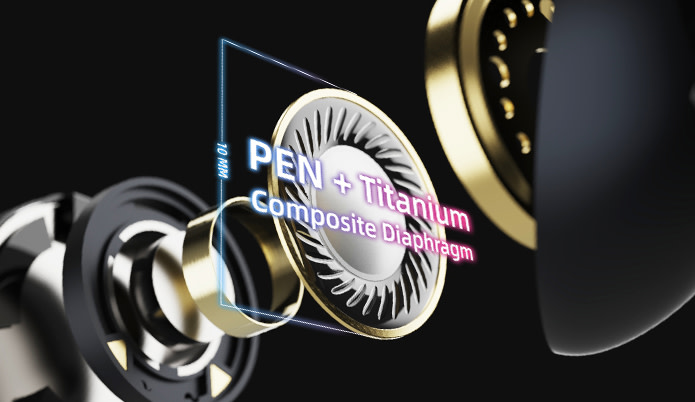 PRECISION-DESIGNED SOUND CAVITY
We designed over 10 iterations of PaMu Quiet's sound cavity before hitting the sweet spot.
Our brilliant sound cavity delivers
              • AMAZING NOISE CANCELLATION
              • PERFECT SOUND QUALITY
              • A BIG REDUCTION IN EAR PRESSURE for more comfort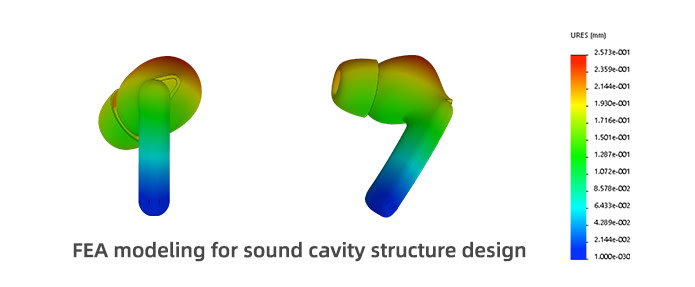 You never have to sacrifice comfort for sound quality with PaMu Quiet. Your ears get the best of both worlds.
              BEAUTIFUL SOUND
              INCREDIBLE COMFORT

How do we do it? We've conducted careful research into 2 key areas that cause discomfort to wearers of earbuds:
THE STETHOSCOPE EFFECT
This is a popping sound that can be heard in some earphones when walking or talking. It's caused by completely sealing the in-ear silicon earplugs. We've eliminated the stethoscope effect by designing our earphones with precision vents to open the silicon and equalize the pressure. So you get the same brilliant bass, with better comfort.
EAR PRESSURE REDUCTION
Our precision designed sound cavity results in a big reduction in pressure for your enhanced listening comfort.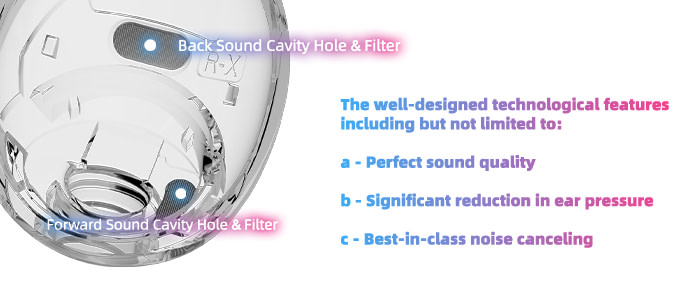 Our 3 previous Indiegogo campaigns have taught us how to deliver. PaMu Quiet is already in production in our factory, so you won't have to wait long to hear and feel the brilliance of PaMu Quiet in your ears. And we've made sure all the features that made past PaMu campaigns such a success are back:
• THE BEST PRODUCTS AT UNBELIEVABLY LOW PRICES – Indiegogo is the only place you can buy PaMu Quiet at a never-to-be-repeated low price.
• FAST AND SAFE DELIVERY – we successfully delivered to over 80,000 backers last time so know how to ensure you get your perks safe and fast.
• REGULAR UPDATES – keep checking back so you know how things are going, and don't miss the chance to benefit from special promotions and deals.
There's MORE HISTORY TO BE MADE when you back us.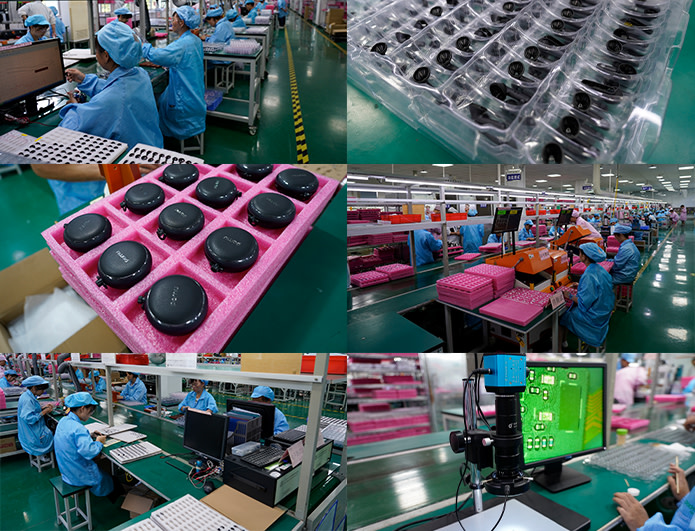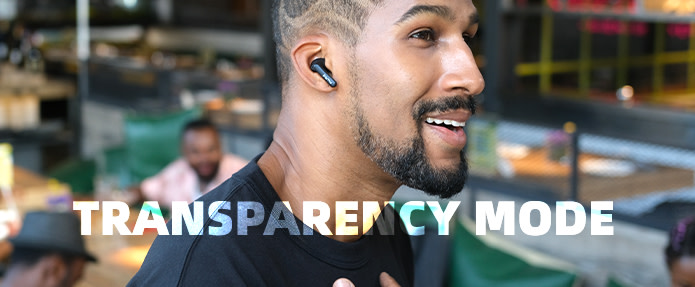 Transparency mode makes the earphones "transparent" in terms of audio, letting you hear outside noise. It allows you to be more aware of your surroundings, which is sometimes necessary, like when you are out for a run in a public area and want to be aware of vehicles or people around you. You can easily switch from ANC mode to Transparency mode whenever you want.

Whether you're working from home or you've made it into the office, whenever a socket is near you can charge PaMu Quiet using a Type C charger.
When you're away from the city and there's no socket in sight, or you left your charger at home (tut! tut!) no problem! You can wirelessly charge your PaMu Quiet earphones using the included charger case.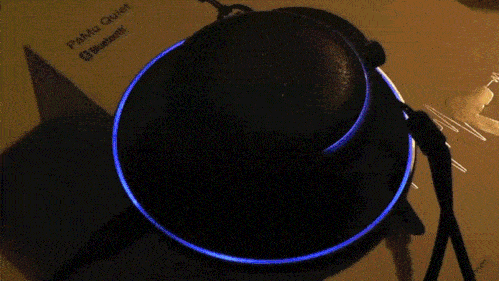 3.5 Hours Of Crisp Sound On One Charge
How many tunes is that – 50? On one charge in one go. That's a long enough soundtrack to last most daily commutes there and back, or a whole morning's work for you digital nomads!
10.5 Hours Battery Life
The PaMu Quiet battery case can charge your earphones twice and give 10.5 hours of playtime in total. That's enough for a really busy day's work, and two 7-hour sessions of tunes over the weekend. Plus plenty of call time.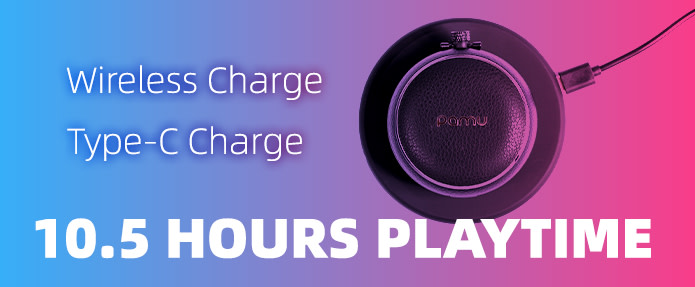 In traditional PaMu style, you can operate your earbuds with a tap or two, giving you easy access to Siri, Alexa, and Google Assistant plus other features. So when you're on the go, in a hurry, or your hands are full, just a tap is all it takes to do all this: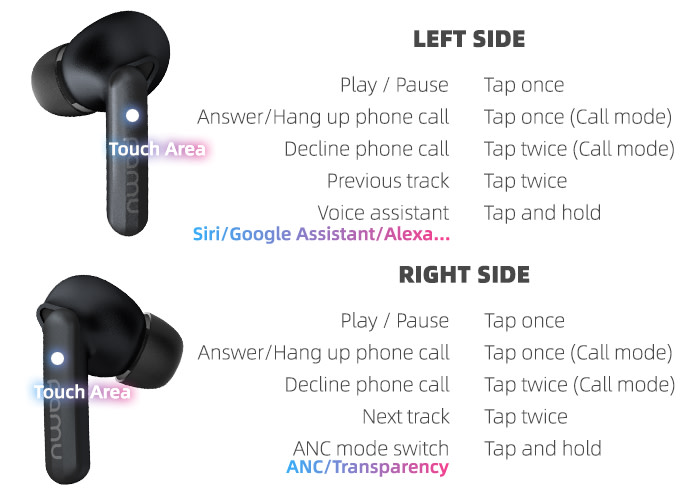 Who knows where you'll be when an urgent call comes through? It's likely to be somewhere with background noise. With PaMu Quiet, there'll be no screwing up your face as you strain to hear. Our earphones use CVC 8.0 mic reduction to eliminate external noise, so you catch every word.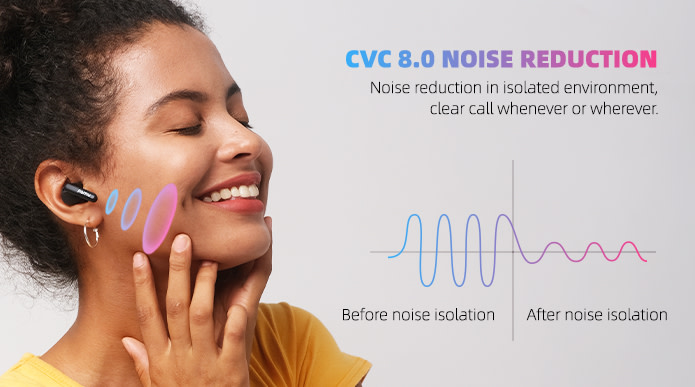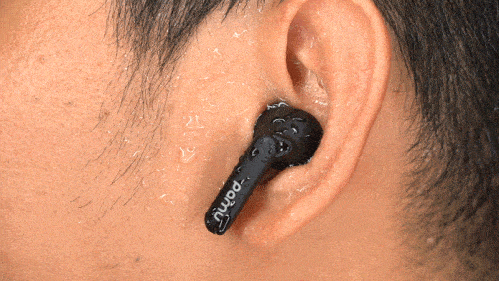 PaMu Quiet earphones are IPX4 water resistant, and sweat resistant too. So no matter what that weather app says, PaMu Quiet will be with you, so you can listen to your favourite tunes and enjoy brilliant sound quality.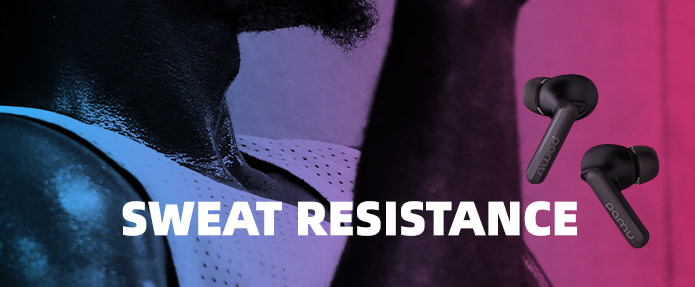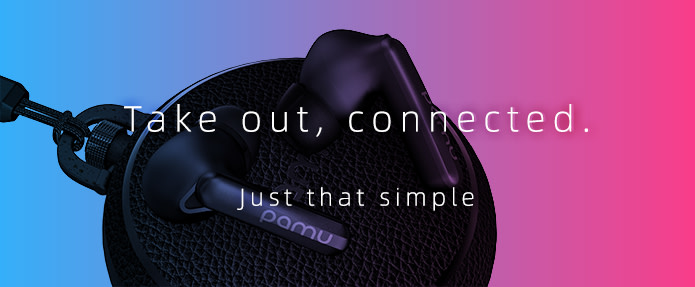 PaMu Quiet is good to go with your other devices straight out of the box. So no more adjusting those settings. PaMu Auto Pairs with:
              • Android Phones
              • Android Laptops / Tablets
              • iPhone
              • iPad
              • Apple Watch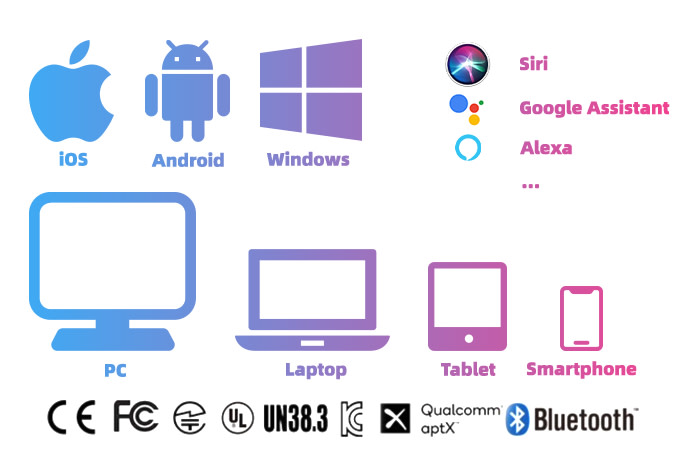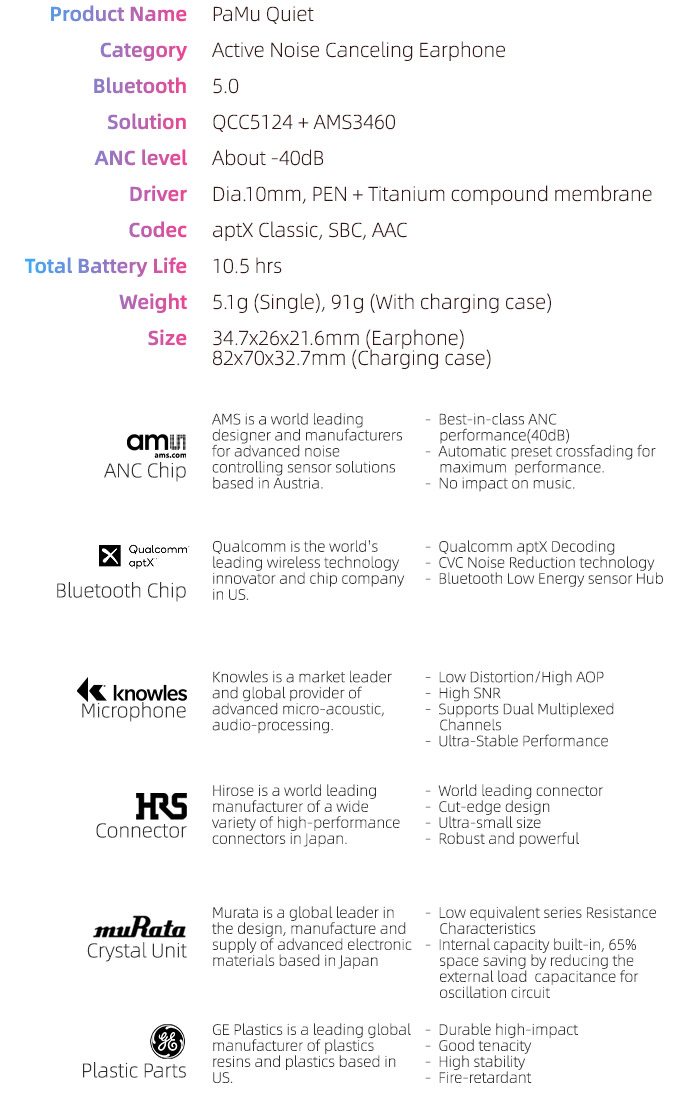 Here's what's in it…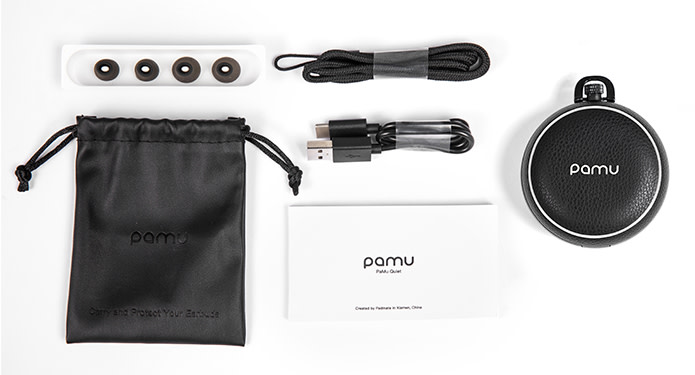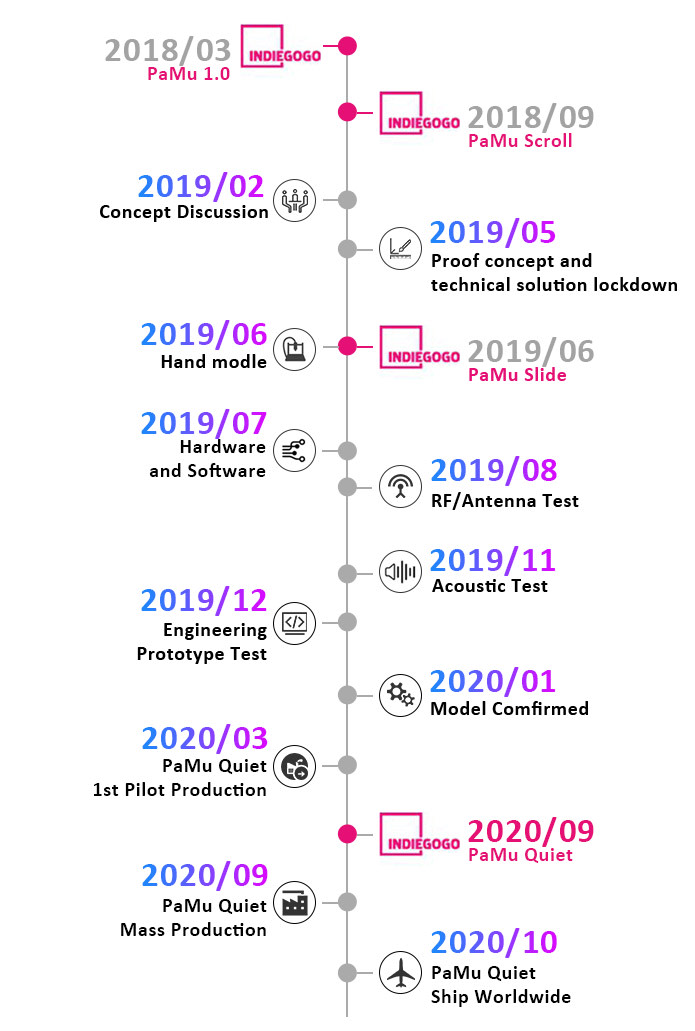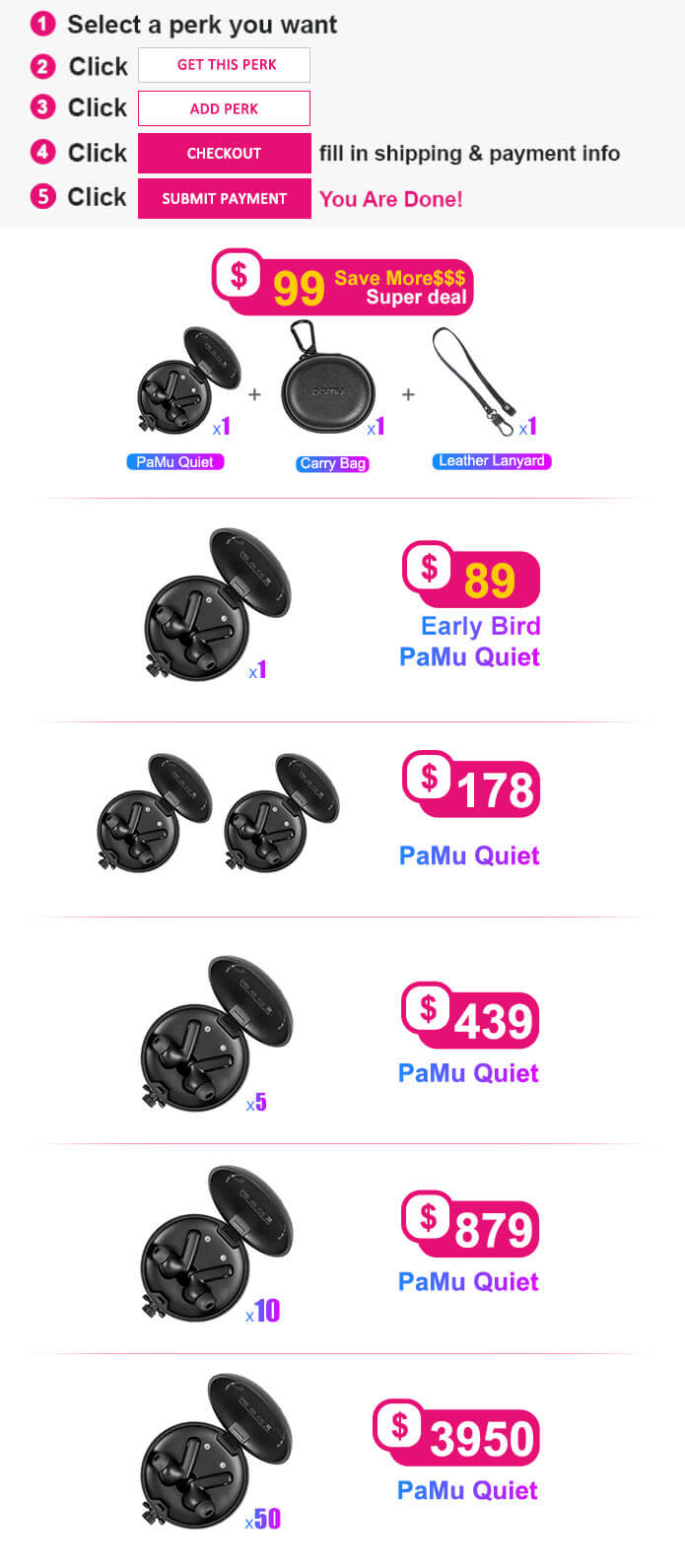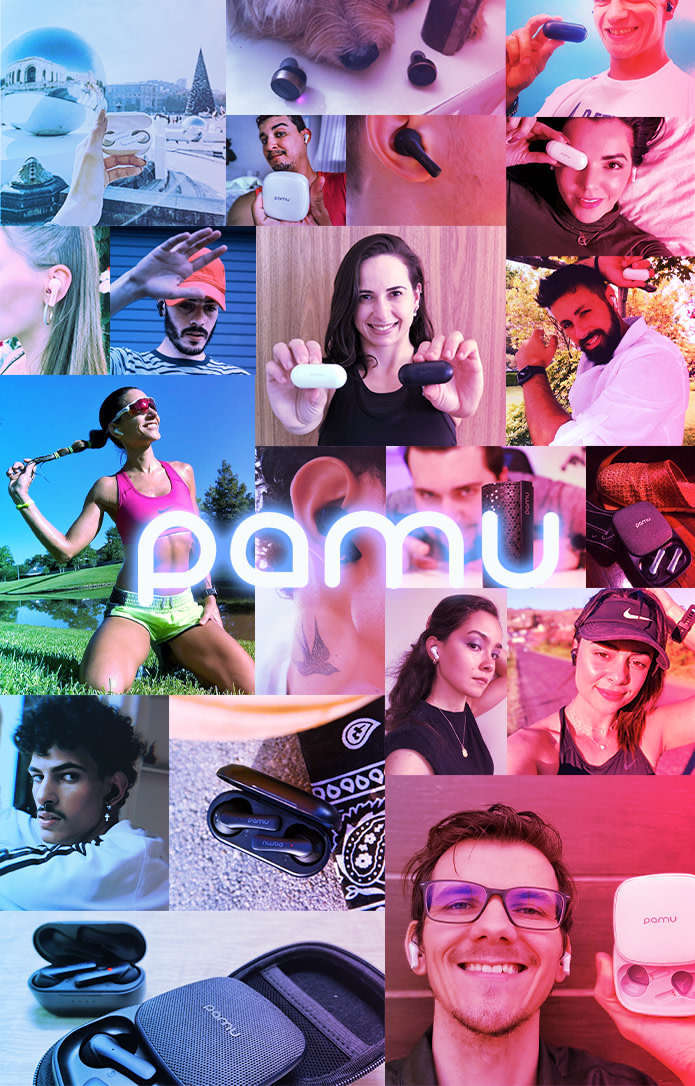 We are SO READY and SO EXCITED to introduce the world to PaMu Quiet.
This is our 4th Indiegogo campaign, with the first 3 being a great success. With your support we hope to break more records!
The PaMu adventure started in 2018 with our first campaign. Of course, we have learned a lot, and bring you the benefit of all our solid experience.
The PadMate team behind PaMu Quiet was founded in 2010 and has Design, R&D, Lab Testing and Large Manufacturing facilities. We're proud to bring you the PaMu Quiet earphones, in partnership with Qualcomm, ams, Knowles, GE, Murata, Hirose and many other leading edge companies to push TWS earphones to be better and better.