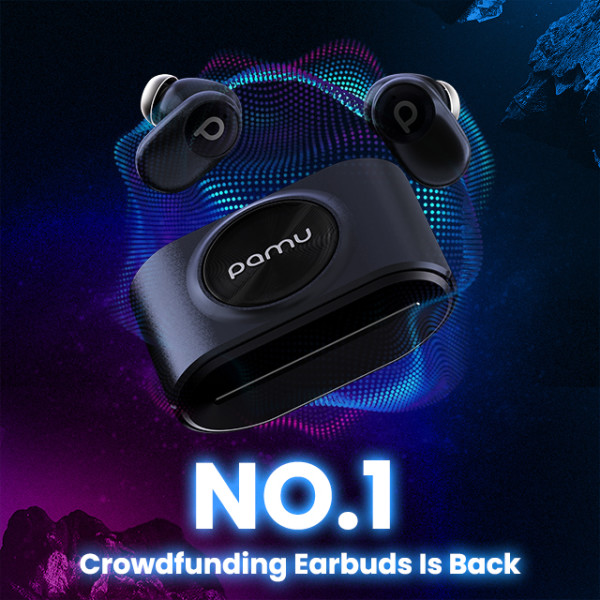 Pamu Slide 2-the Most Funded Earbuds. Now Upgraded
$451,949
raised out of
$10,000
Overview
https://youtube.com/watch?v=725559527
Concept
Smaller but More Powerful. Enjoy Quality, Comfort, and Rich Sound with the World's Best ANC Earbuds
Story

The History-making Pamu Slide Earphone Is Back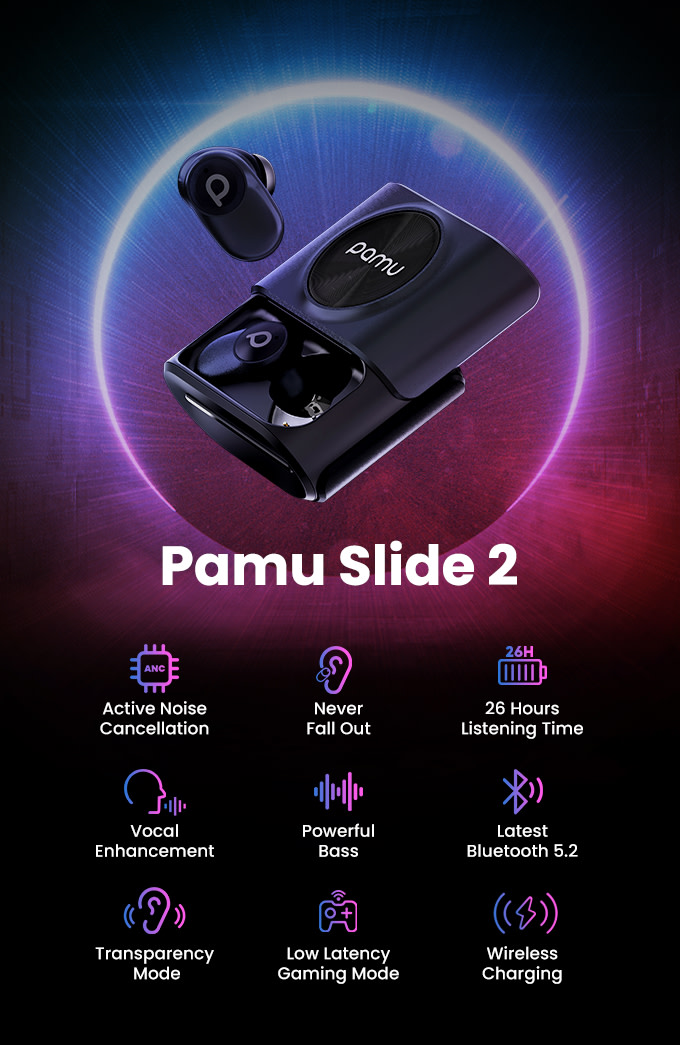 After two years of efforts, Padmate is ready to bring back the Pamu Slide series with this brand new upgraded version of the legend —— Pamu Slide 2. Check out the new and upgraded version of our record-breaking earphones. And help us make our latest campaign the biggest and best ever.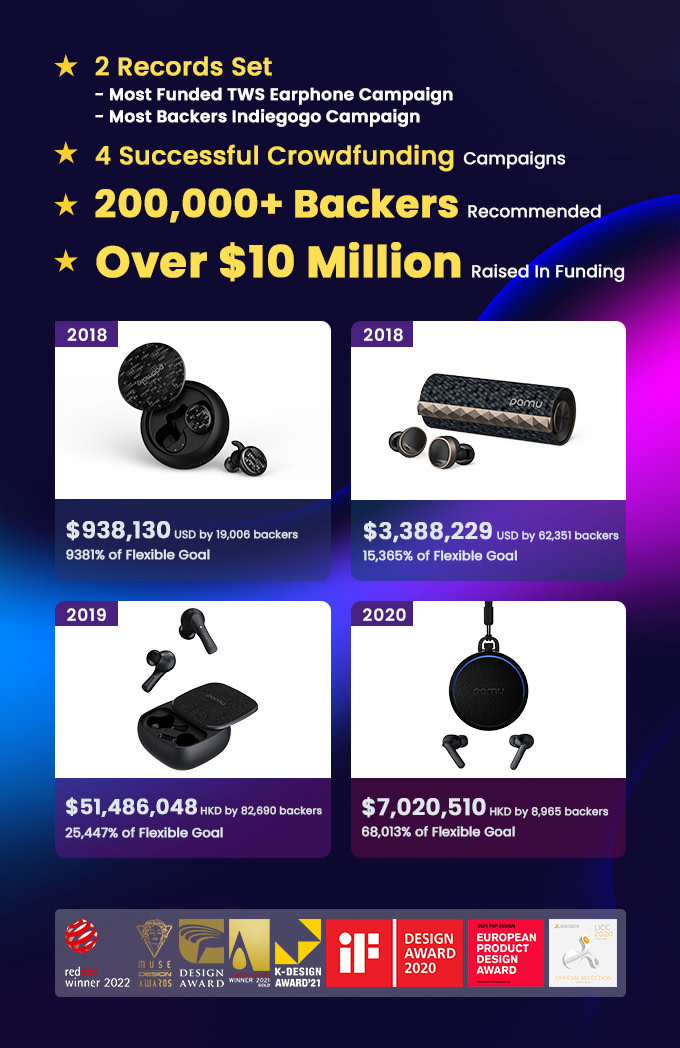 The Legend of Crowdfunding, Now Upgraded
The legend of crowdfunding is now upgraded.
Two years after the launch of the legendary Pamu Slide crowdfunding campaign, which set a new Indiegogo record in the headphones category, Padmate is proud to announce the upgraded Pamu Slide 2.
Just like its predecessor, Pamu Slide 2 boasts super-comfortable, 'Never Fall Out' fit earbuds, and delivers powerful bass and soaring treble.
What's new with Pamu Slide 2 is:
Smaller size;
Active noise cancellation; 
App controls;
Lower latency time;
…
Actually, just read on to discover all that's new about Pamu Slide 2.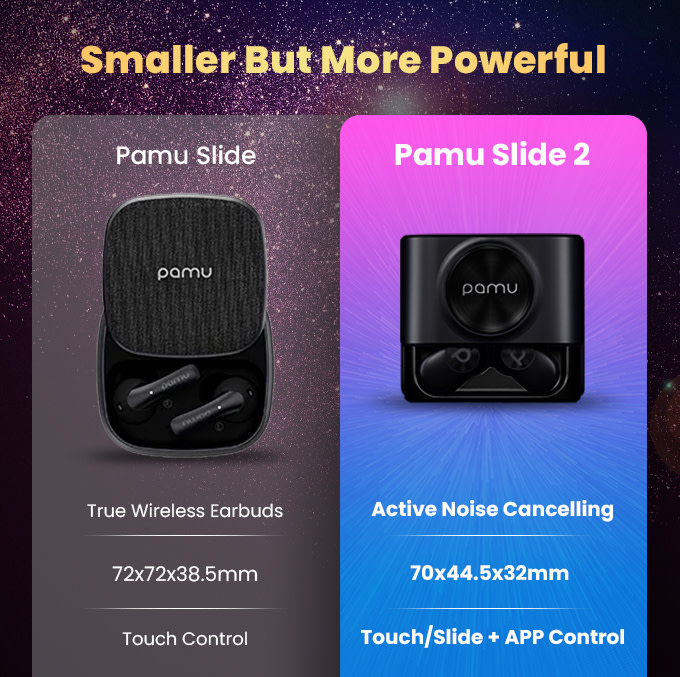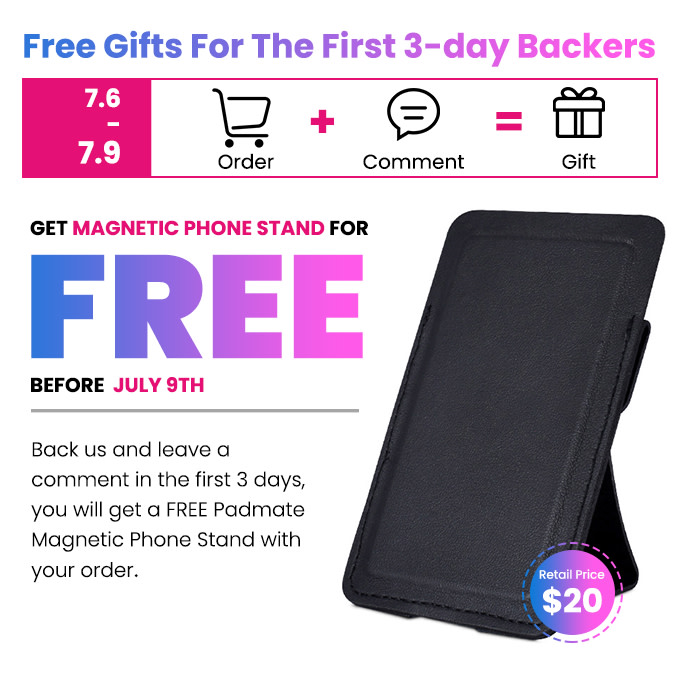 The VAT cost of European Union is included in the shipping fee.
Any questions?
Call or contact one of our specialists for professional guidance.
pamuslide2@padmate-tech.com

Messenger live chat
As Featured In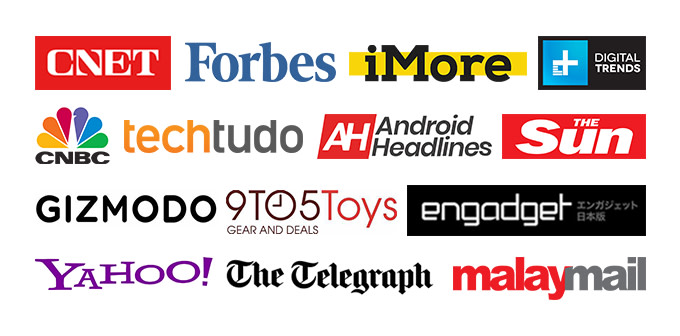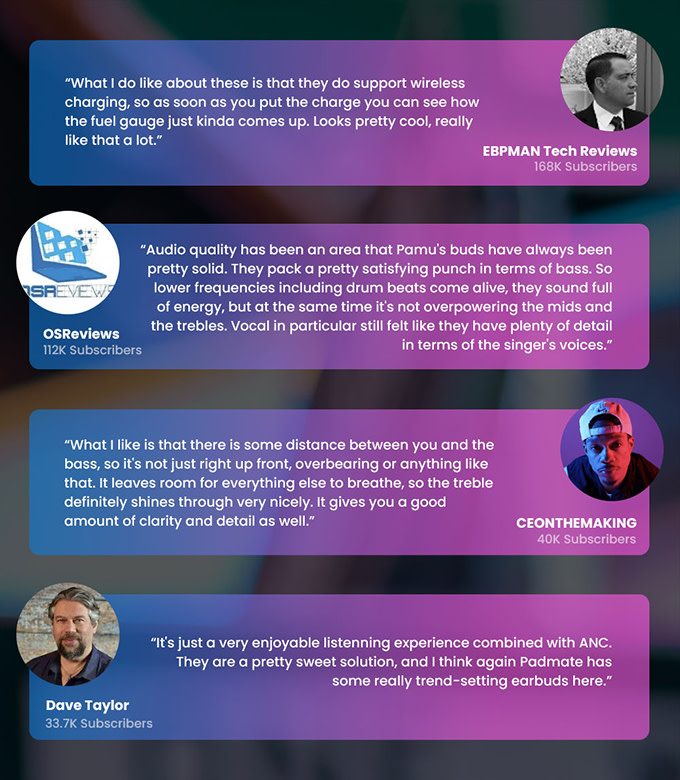 【Gamesky】
"It did a really good job picking up my voice in noisy environments. In My opinion, this just makes this a pair that works better across a lot more genres."
【Brannon No d】
"The sound is fantastic on these. Let me assure you, the highs and the mids are outstanding. The bass, however, is nice and deep, so your bass heads are really gonna dig them. "

Now Better Than Ever.

Pamu Slide 2's unique ergonomic in-ear design earbuds are engineered specifically to disperse pressure, ensuring maximum wearing comfort.
So they won't come loose or fall out easily – whatever you're doing.

Hear What You Want To Hear.

Don't let the sounds of busy airports, bustling subways, noisy highways, or shouting crowds affect your listening enjoyment.
Pamu Slide 2's Hybrid ANC technology helps you hear what you want to hear by canceling the noise you don't want to hear.
The smart tech reduces noise up to 42dB, on a noise reduction bandwidth of 20-2000Hz. So the noises you don't want to hear, like planes and people, won't spoil what you do want to hear.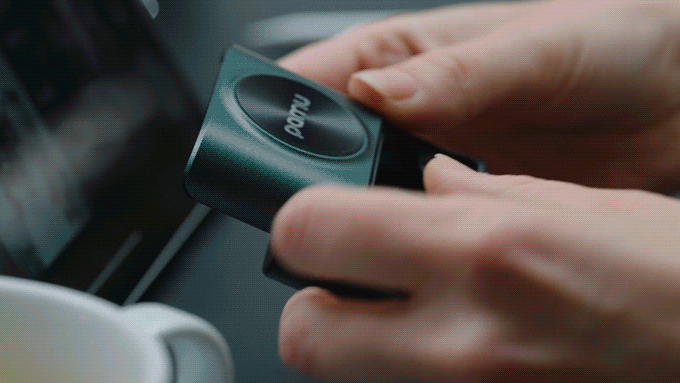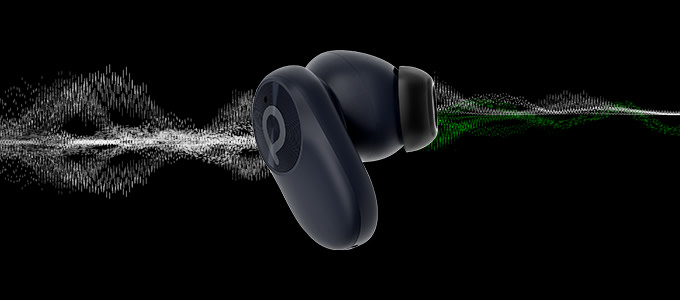 When you want the best sound quality, you need the best active noise-canceling wireless earbuds. 
And the active noise canceling in Pamu Slide 2 lets you fully immerse yourself in your music and hear every detail with beautiful clarity and without distractions.  
【Dave Taylor】
"It's just a very enjoyable listening experience combined with ANC.  "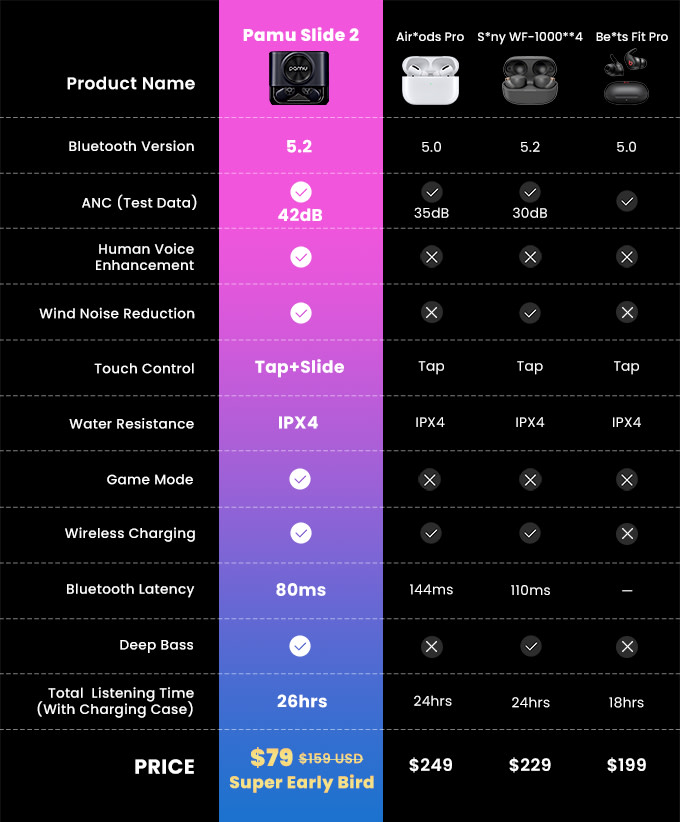 Enjoy Superior Sound Quality.

Get full enjoyment of the tracks you love with deeper and stronger bass thanks to 10mm dynamic drivers.
At the other end of the sound scale, Titanium delivers crystal clear high-frequency sounds.
And in between, PEN makes the mids and lows beautifully full and natural.
The Pamu Slide 2 nails medium and low frequencies thanks to a 10-mm sound unit that's been precision-tuned by acoustic experts.
Coupled with the DSP noise cancellation technology which filters out ambient noise, and delivers crystal-clear sound, all of these, have made Pamu the crowdfunding record-breaker.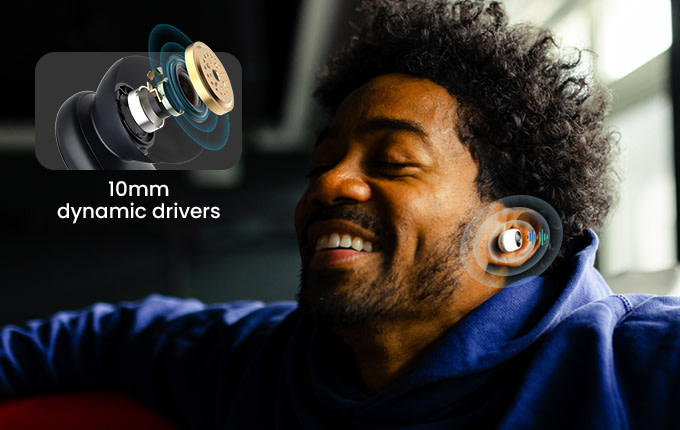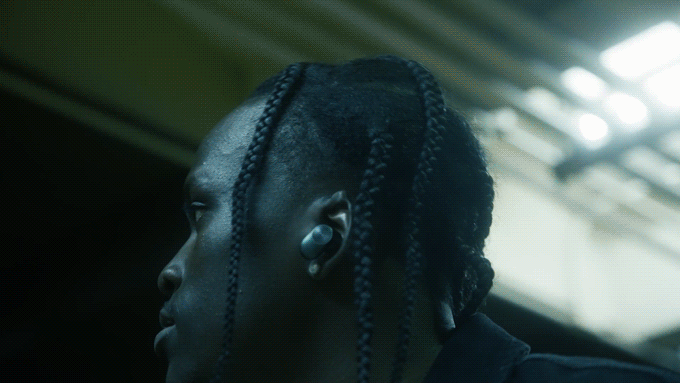 【CEONTHEMAKING】
"What I like is that there is some distance between you and the bass, so it's not just right up front, overbearing or anything like that. It leaves room for everything else to breathe, so the treble definitely shines through very nicely. It gives you a good amount of clarity and detail as well."

The VAT cost of European Union is included in the shipping fee.
Any questions?
Call or contact one of our specialists for professional guidance.
pamuslide2@padmate-tech.com

Messenger live chat

Like you're talking face-to-face.

Pamu's New Super Clear Call Technology applies 6 microphones and AINR algorithm to pick up your voice clearly and accurately for hands-free calls – on the road, in a café, or wherever you are.
The wind noise reduction mode in Pamu APP lets you hear the person on the other end of the call more clearly, even in noisy situations.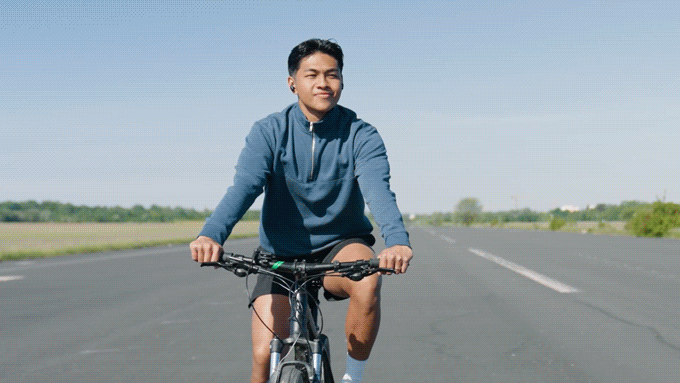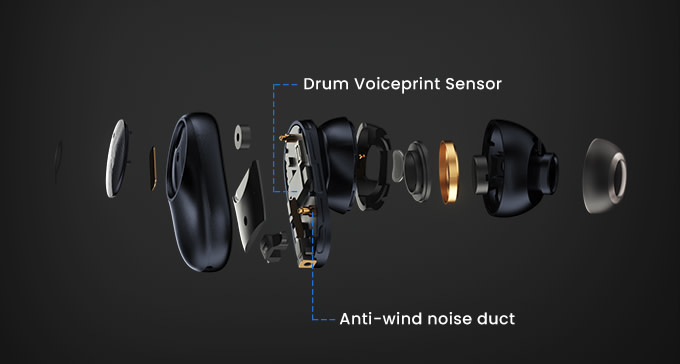 【EBPMAN Tech Reviews】
"Bass is definitely there, these are real punchy. "

You can personalize your experience with Pamu Slide 2 for ultimate control over your listening experience.
Simply download the app and select your favorite EQ sound effects for the most flexible and authentic listening experience.
With the Pamu app you can boost functionality:
CHOOSE your earbud settings;
CUSTOMIZE your touch/slide control functions;
UPGRADE the listening experience with upgrading firmware.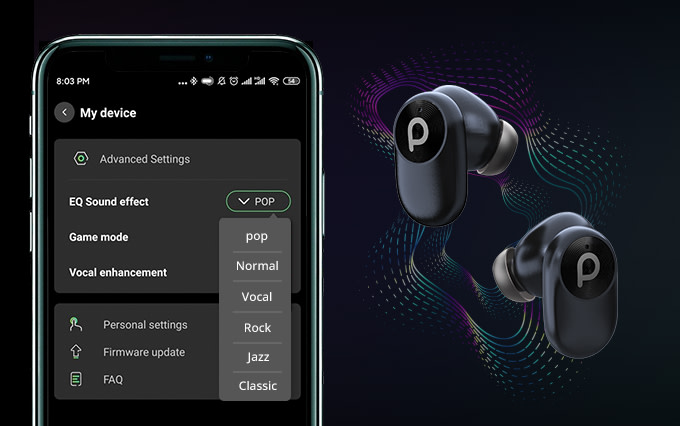 Pamu understands that sometimes you need to hear ambient sounds around you to stay safe, like traffic noise or what people are saying.
That's why you can easily turn on Transparency Mode and hear exactly what's happening wherever you are.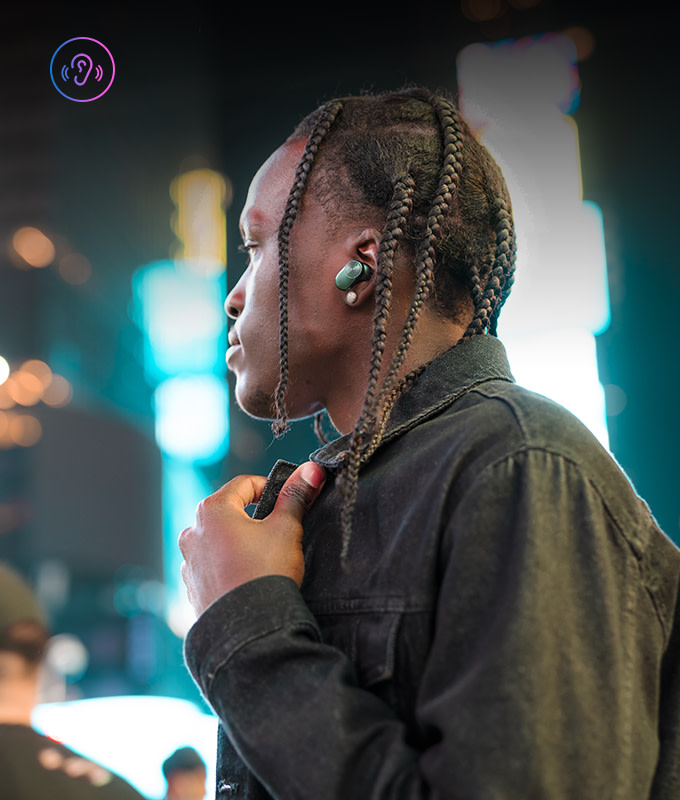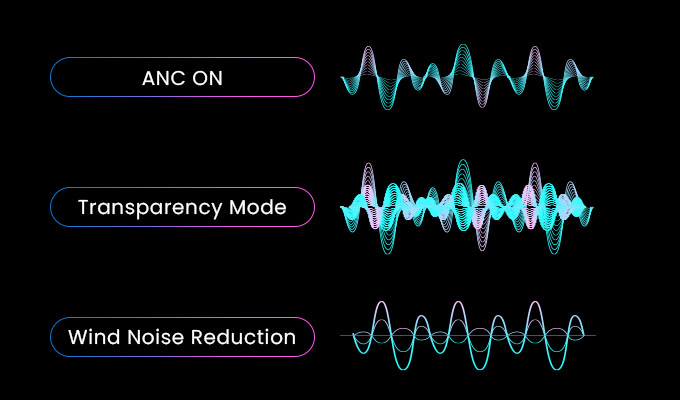 The Pamu Slide 2's low latency game mode ensures smooth sound sync during gaming sessions.
It's all thanks to the ANC earbuds' proprietary Bluetooth chip, which accelerates audio processing.
Simply switch your earbuds to Gaming Mode, and Pamu Slide 2 brings down the latency to as low as 80ms, for faster-transferring speed.
So you get to hear in-game engine revs, explosions, and cheers exactly as they happen with no time lag.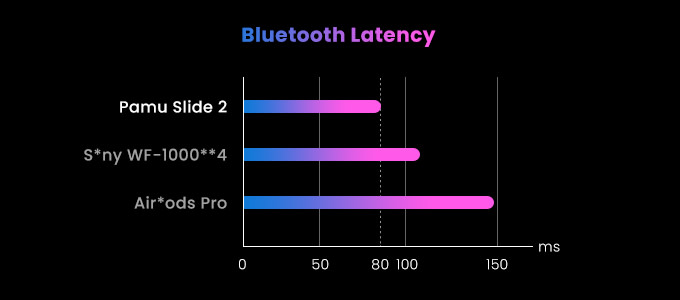 The earbuds deliver up to 6.5 hours of listening time on one single charge.
And the charging case gives you multiple additional charges so you get up to 26 hours of listening time before you need to find a socket.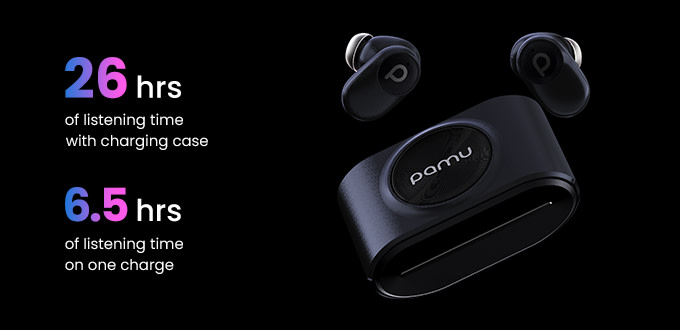 Pamu Slide 2 offers wireless charging by simply placing the phone on a compatible wireless charging pad. This can be especially convenient for those who dislike dealing with tangles of wires. Pamu Slide 2 also comes with a Type-C charging adapter that allows you to recharge the battery using a regular wall socket or a computer's USB port.

In-ear detection.

Pamu Slide 2 knows when your earbuds are in or out of your ear. It means you can set your earbuds so they automatically start playing when you insert them in your ear, and automatically pause when you remove them.
It's the easy way to save power and never miss a beat.

The VAT cost of European Union is included in the shipping fee.
Any questions?
Call or contact one of our specialists for professional guidance.
pamuslide2@padmate-tech.com

Messenger live chat

Enjoy Personal Fits for your ears.
These are soft silicone earplugs with 4 size options so you're bound to find a fit with the feels you want.
Comfy Wear
These earbuds are so ergonomic and super lightweight, that sometimes you'll forget you still have them on.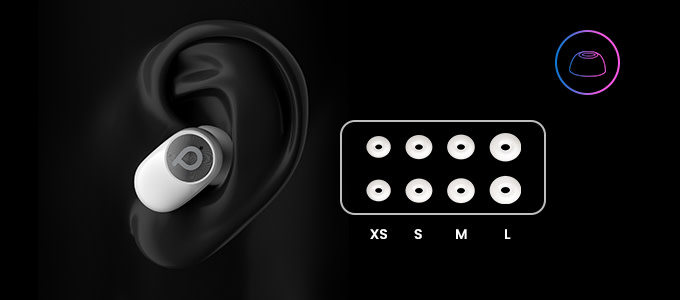 Pressure Balanced
Air vents adjust the pressure difference between inside and outside for the perfect balance.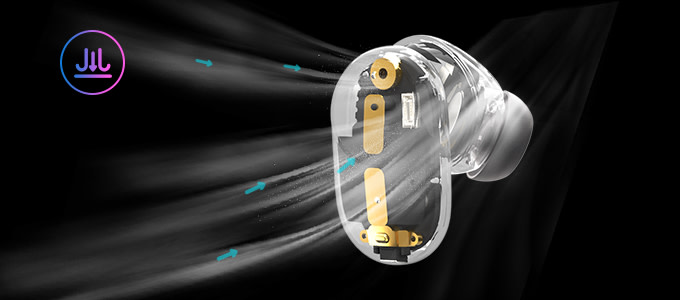 Single-ear, double-ear.

Pamu Slide 2's multi-point technology allows you to use them on two devices at the same time and switch seamlessly among devices according to priority. What's more, the Pamu Slide 2 left and right earbuds can work independently, which means you could use one in one ears while the another one left in the charging cases.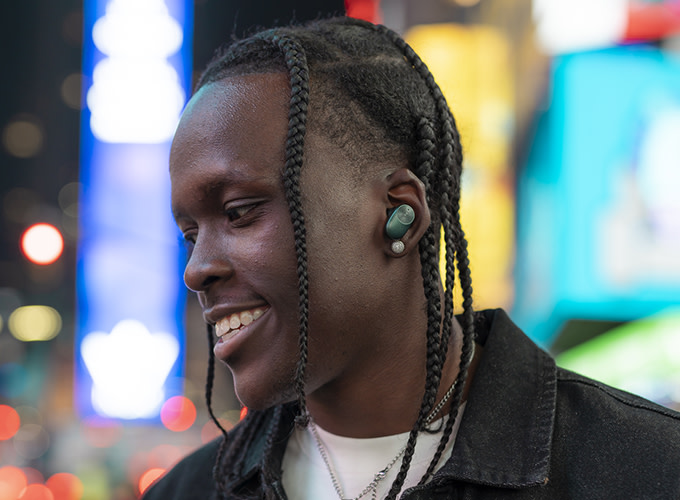 Coming through loud and clear.

Pamu Slide 2 gives you access to the RHE intelligent algorithm. This has the power to strengthen other voices, so you can hear what people are saying louder and clearer, and you won't miss a thing. 

Pamu Slide 2 is good to go with your other devices straight out of the box. So no more wasting time adjusting those settings. Pamu Auto Pairs with:
• Android Phones
• Android Laptops / Tablets
• iPhone
• iPad
• Apple Watch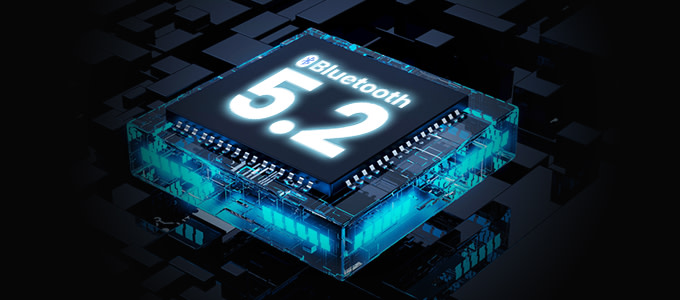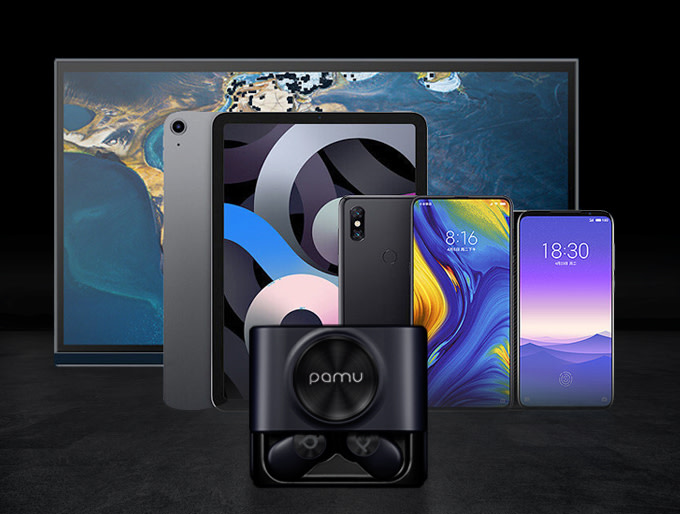 Phone in your pocket, hands in the air.

When you're busy doing other things, or simply don't want to take your phone out, you'll still have control over your Pamu Slide 2 earbuds.
Adjust the volume by swiping up and down on the earbuds
Use the app to set gestures that give you other controls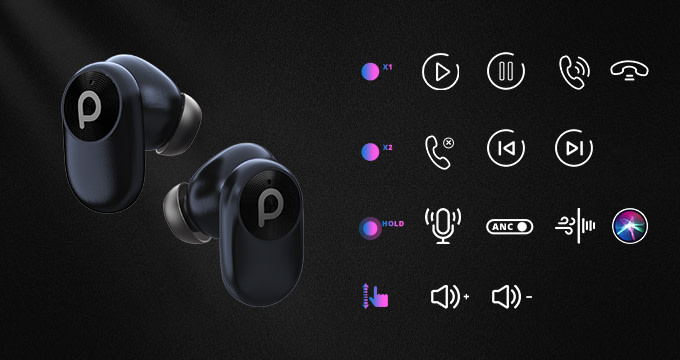 【Digital Slang】

"I'm happy to say that we do have control of everything because on the earbuds, you can slide for the volume up and down, and I'm very happy that I have full access to all of my touch controls."

Get out and enjoy the benefits of Pamu Slide 2 earphones, whatever your weather app says. The earbuds are IPX4 water-resistant, and sweat resistant too.
So you can listen to your favorite tunes and enjoy brilliant sound quality whatever the weather's doing – and whatever you're doing – running, cycling, or just chilling in the sun.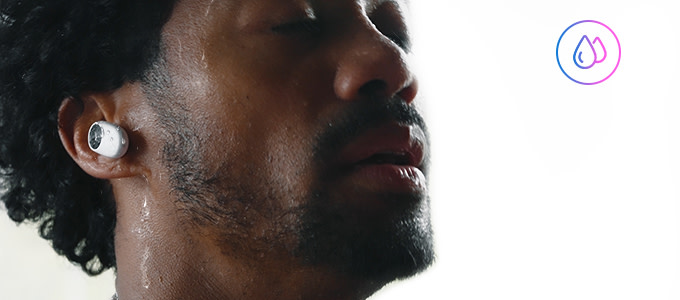 Colors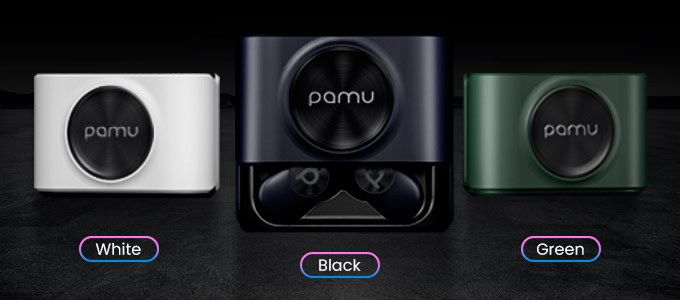 The VAT cost of European Union is included in the shipping fee.
Specs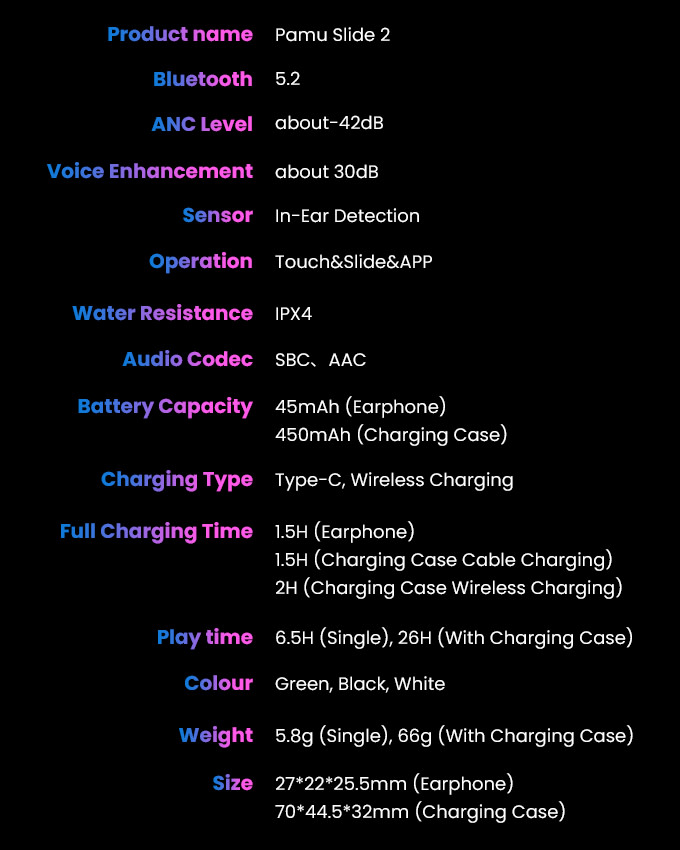 What's In the Box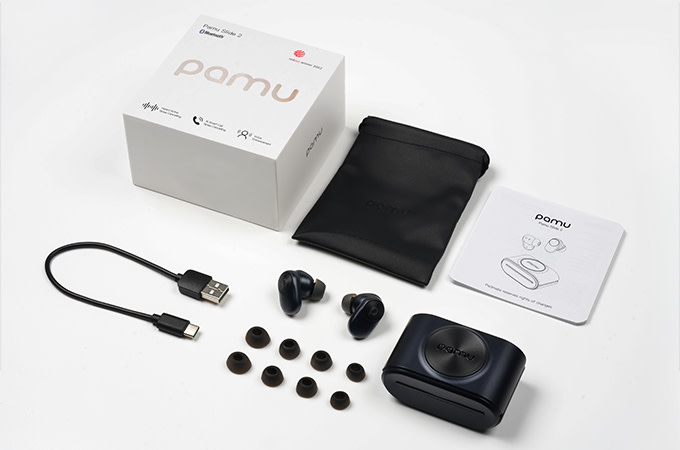 Perk List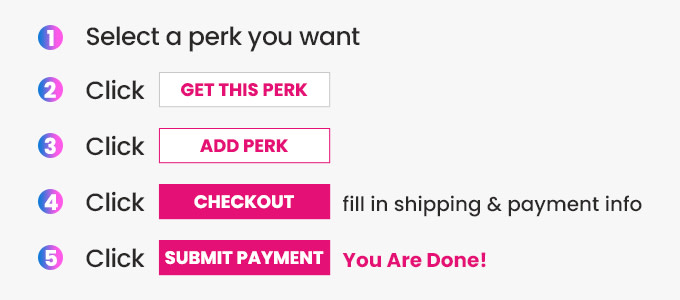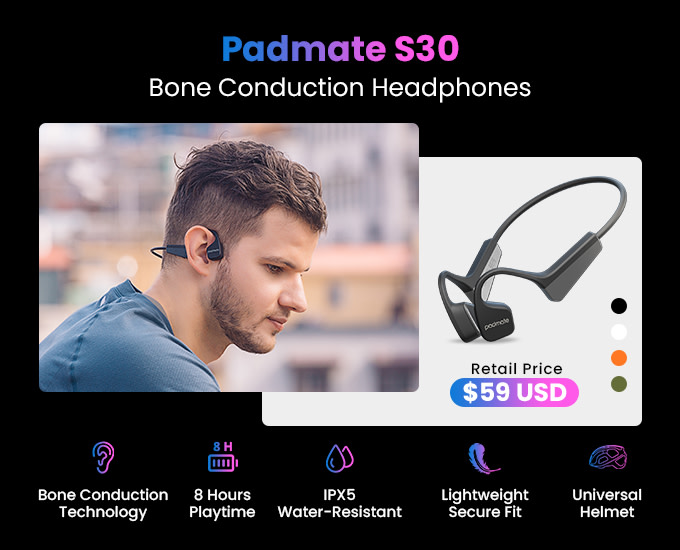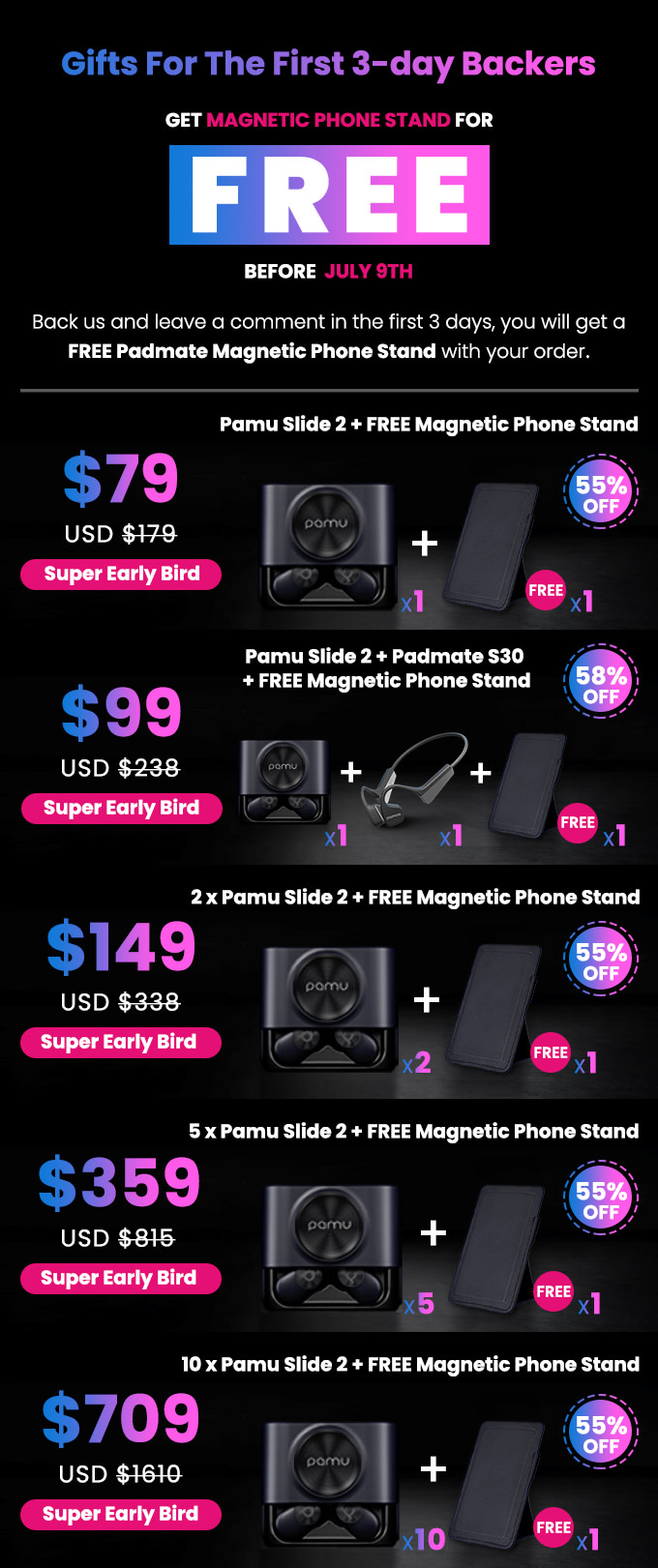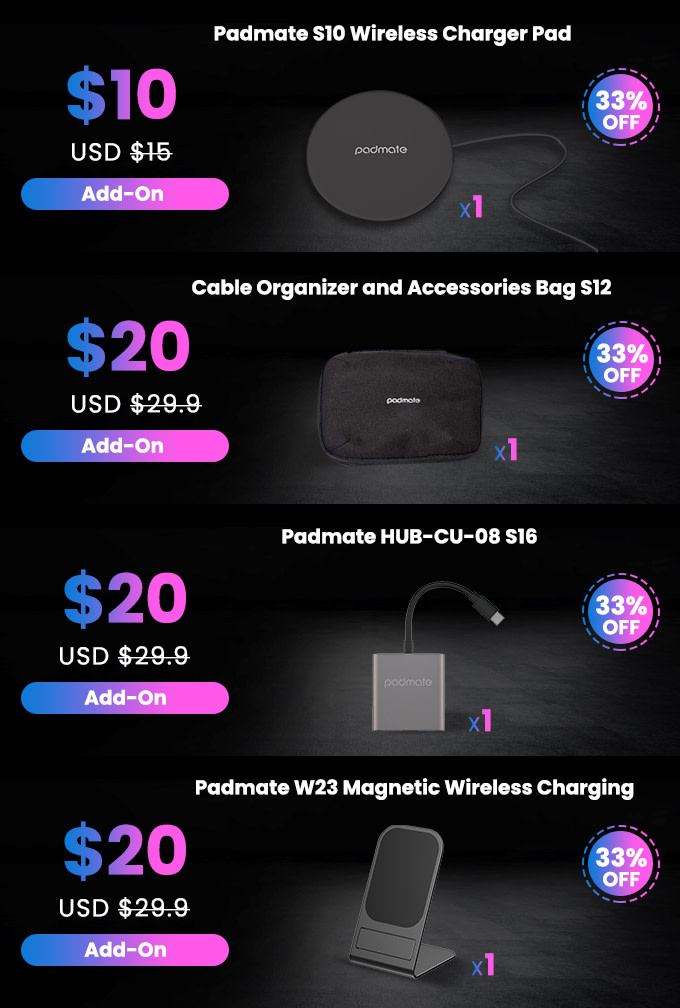 Our Team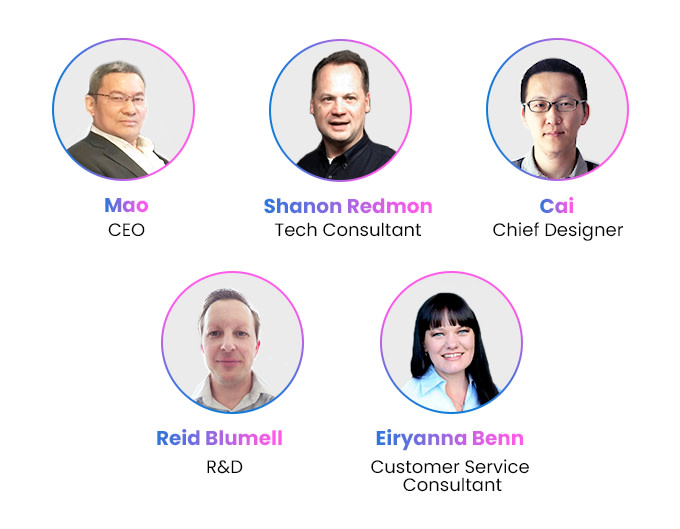 Pamu, the Most Reliable Crowdfunding Audio Brand
We are SO READY and SO EXCITED to introduce the world to Pamu Slide 2.
This is our 5th Indiegogo campaign, with the first 4 being a great success. With your support, we hope to break more records!
The Pamu adventure started in 2018 with our first campaign. Of course, we have learned a lot, and bring you the benefit of all our solid experience.
The PadMate team behind Pamu was founded in 2010 and has Design, R&D, Lab Testing, and Large Manufacturing facilities. We're proud to bring you the Pamu Slide 2 earphones, in partnership with Knowles, GE, Murata, Hirose, and many other leading-edge companies to push TWS earphones to be better and better.
Meet the Pamu community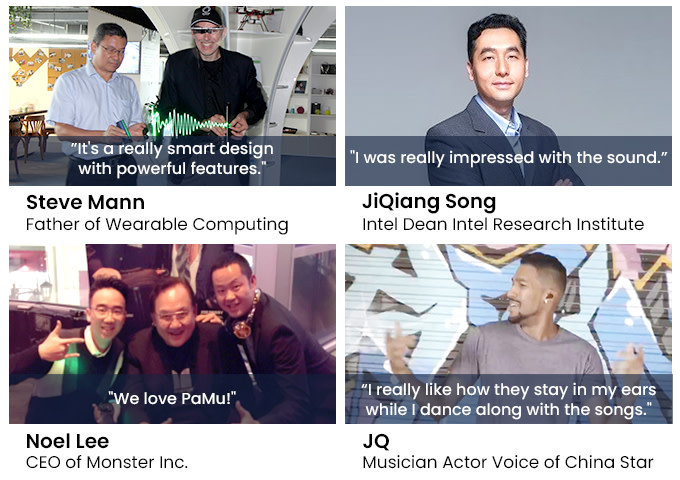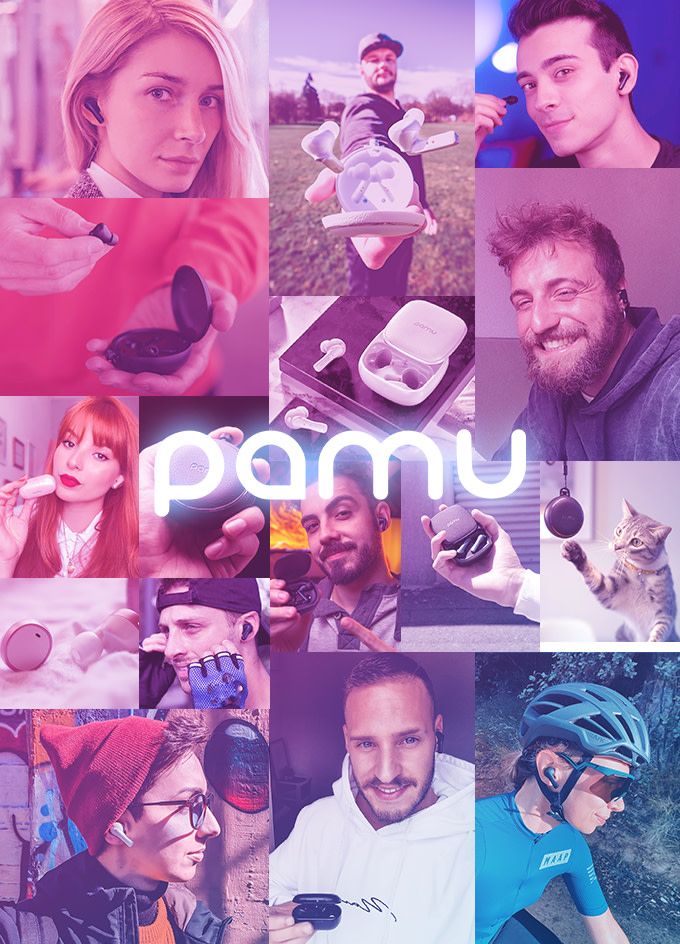 Behind Pamu's earphones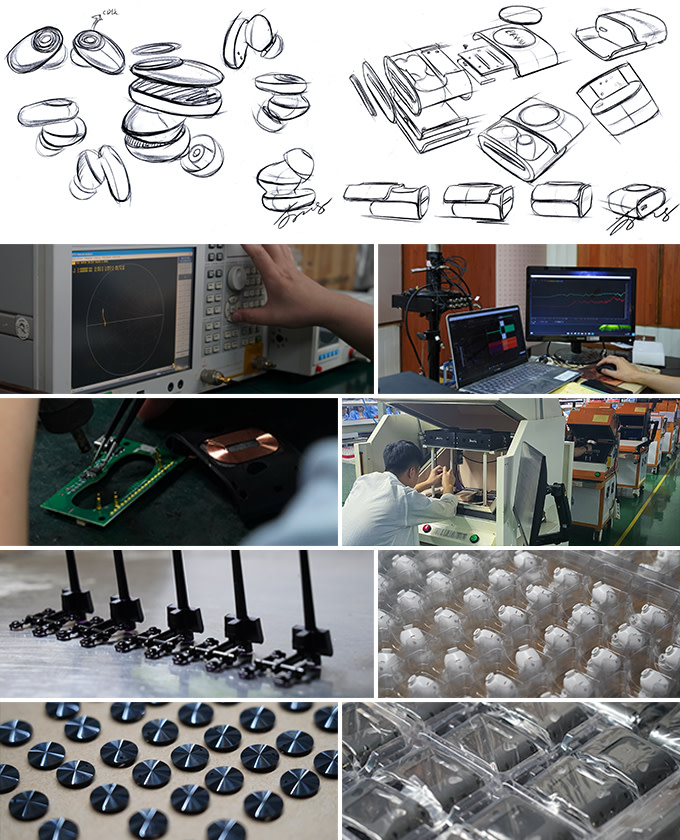 Timeline