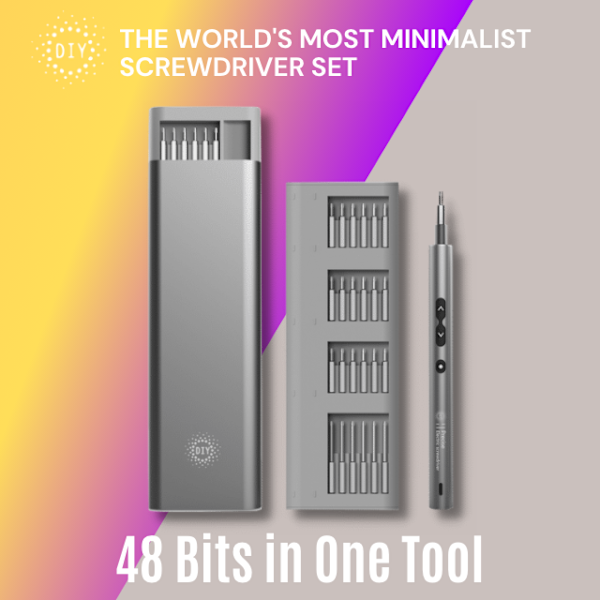 PENDORA: 48 Bits in One Tool
$672,510
raised out of
$300,000
Concept
The World Most Minimalist Screwdriver Set
Story
PENDORA 48E
The World's Most Minimalist Screwdriver Set
48 Bits in One Tool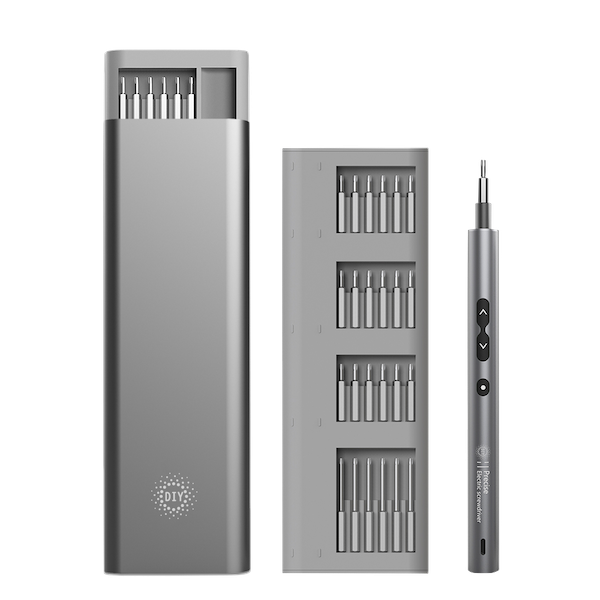 Utility and Stunning Design: The series introduces a minimalist line of screwdriver sets.
Each set contains:
48 high-precision bits
Aluminum alloy case with one-click latch
Simple operation with 3 control buttons
An elegant, effective toolset that you can take with you wherever you go.
Exactly what you need and nothing you don't!
[Minimalist DIY at its finest]

HOW IT ALL BEGAN!
Inspired by the bold simplicity of minimalist design, we revolutionized the form of the screwdriver and simplified the storage of the interchangeable bits.
After our crowdfunding launch in April, we've already been backed by thousands of supporters in Japan. They have helped us make worldwide introduction possible!

And now, we would like to introduce the idea to the world of DIYers and minimalist enthusiasts.


HELLO, DIY DIE-HARDS AND
MINIMALIST DEVOTEES!
Digital gadgets are ubiquitous and indispensable, and electric screwdrivers are used more and more in our everyday lives.
Nothing is more irritating than those situations where you need a specific tool. You know exactly what that tool is, yet it's nowhere to be found!
For those moments and all others, we'd like to introduce you to a minimalist electric screwdriver that exceeds expectations for both physical appearance and performance in your most delicate situations.
..
.
How many of these situations have derailed your DIY projects?



All this made us think …
Q1: Can we find durable right-sized bits?
Q2: Can we have a slim case with a magnet to secure bits inside?
Q3: Can we improve a screwdriver design and functions?
Introducing the PENDORA 48E
A 350 mAh lithium battery powers this compact, pen-shaped screwdriver. It's the perfect companion for all types of DIY projects, small household repairs, and endless tinkering of gadgets.
Usage Scenes
One-touch operation makes it super-easy to use the Pendora 48E for any job.
You can switch between clockwise and counterclockwise rotation with a simple two-button selector.



ESSENTIAL PERFORMANCE
IS WHERE PENDORA EXCELS
① Ultra-lightweight – only 1.7 ounces (50 grams)!
The weight of the Pendora 48E is roughly the same as about one egg. The slim design has a diameter of only a half-inch(16 mm), so you can easily hold it like a pen.
② High speed turning at 200 RPMs
You can shorten your work time and make it easier to enjoy your DIY projects!
③ Shadowless LED lights
In any position, the LED light shines and is never blocked by your hand, allowing you to work more effectively in dark environments. In addition, You can easily toggle it on or off with the press of a single button.
④ USB Type-C Charging
You can easily recharge the battery-powered design with a standard USB Type-C cable, so no additional batteries are required.
MAIN FEATURES
① Reliable and versatile bits
48 bits with both short and long lengths, making them applicable to various situations.
All high-precision bits are made from wear-resistant S2 steel for maximum durability.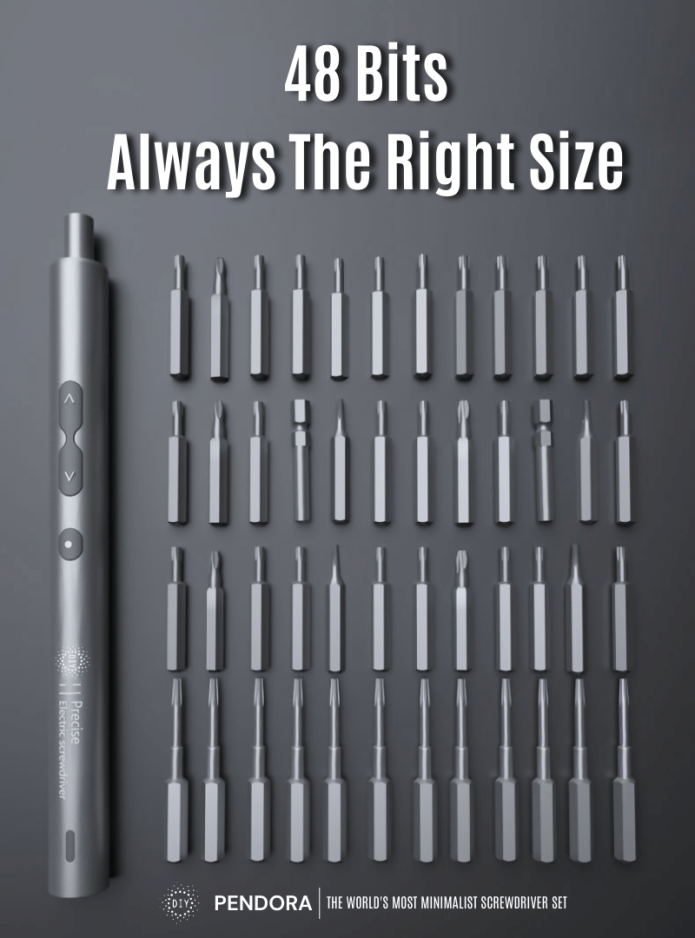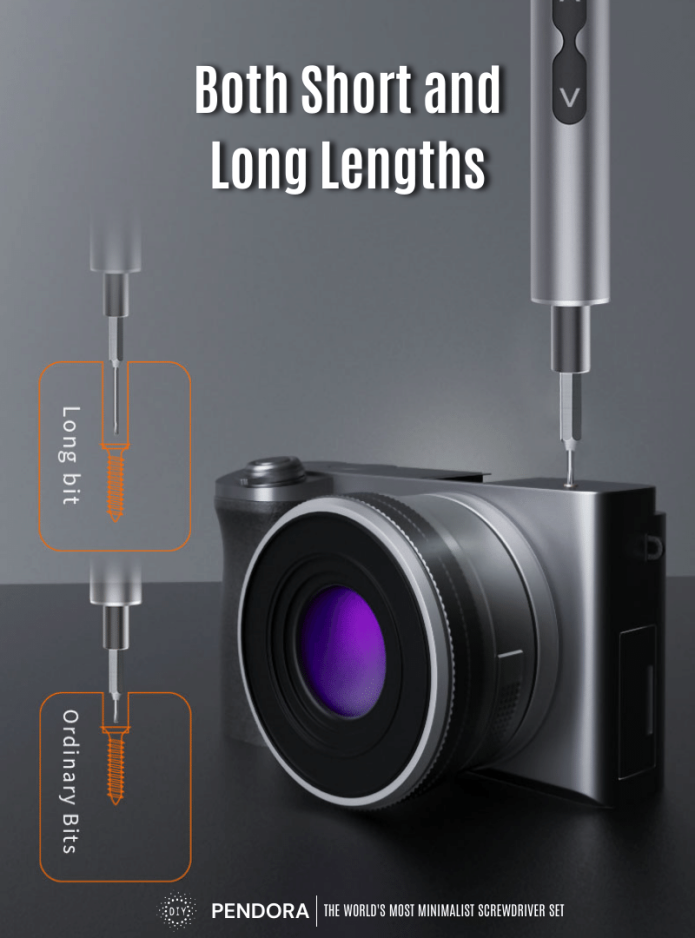 ② Easy to store
The case opens and closes with a One-Click motion.
The magnetic bit-holder keeps all bits securely inside, even when it's open!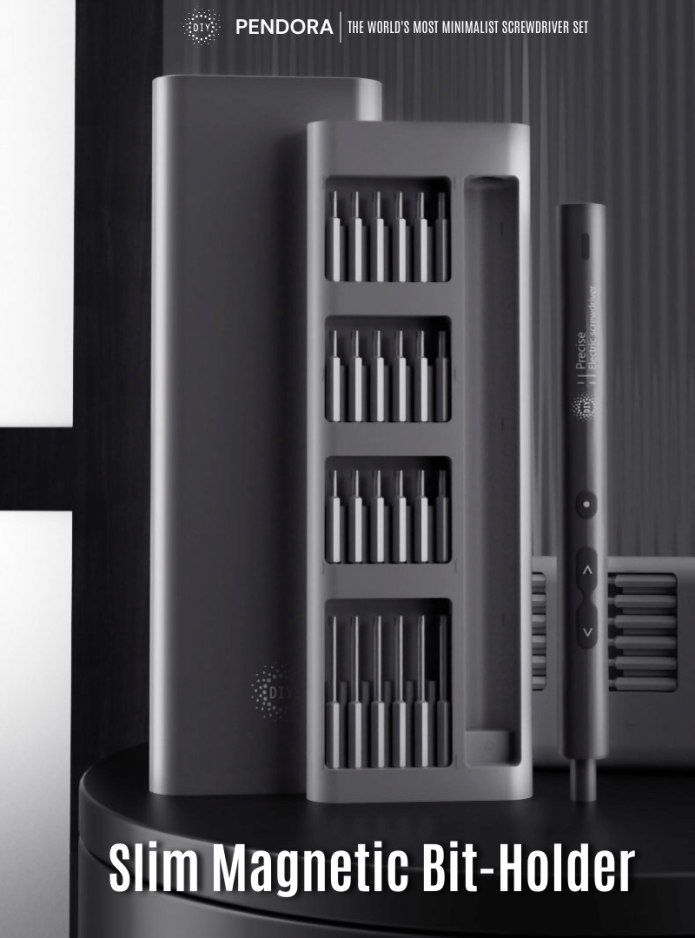 ​
③ Effortless operation
The minimalist design allows you to use it effectively anywhere.
The powerful electric motor makes it easy to operate in tedious projects.

​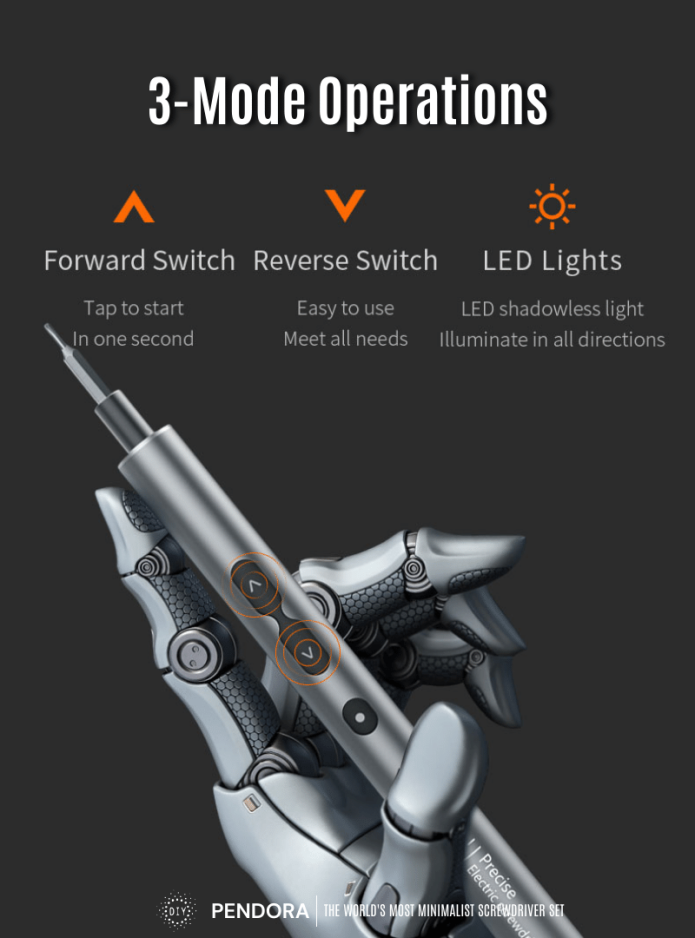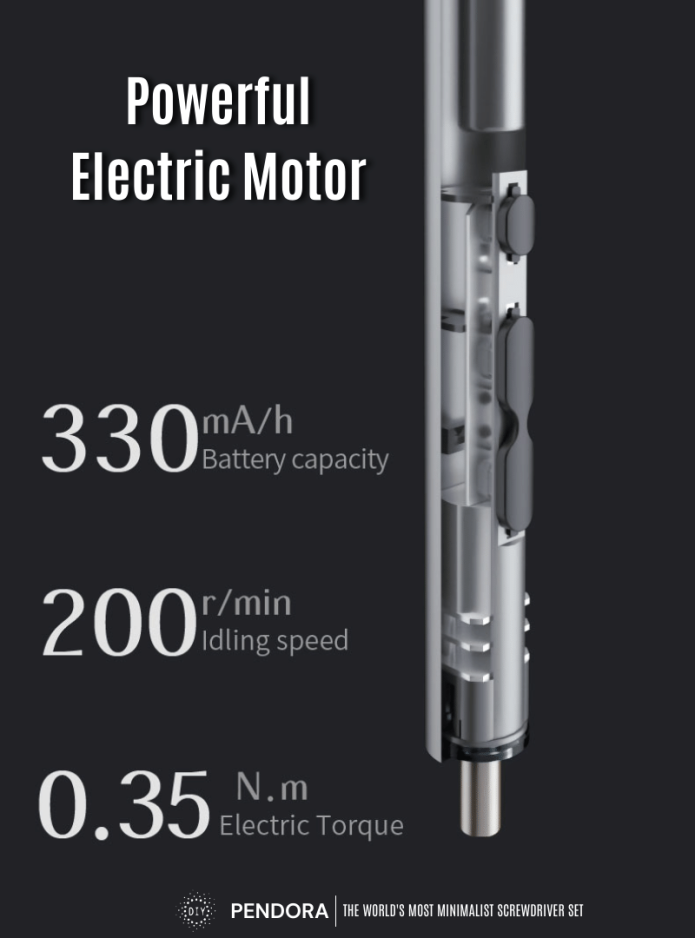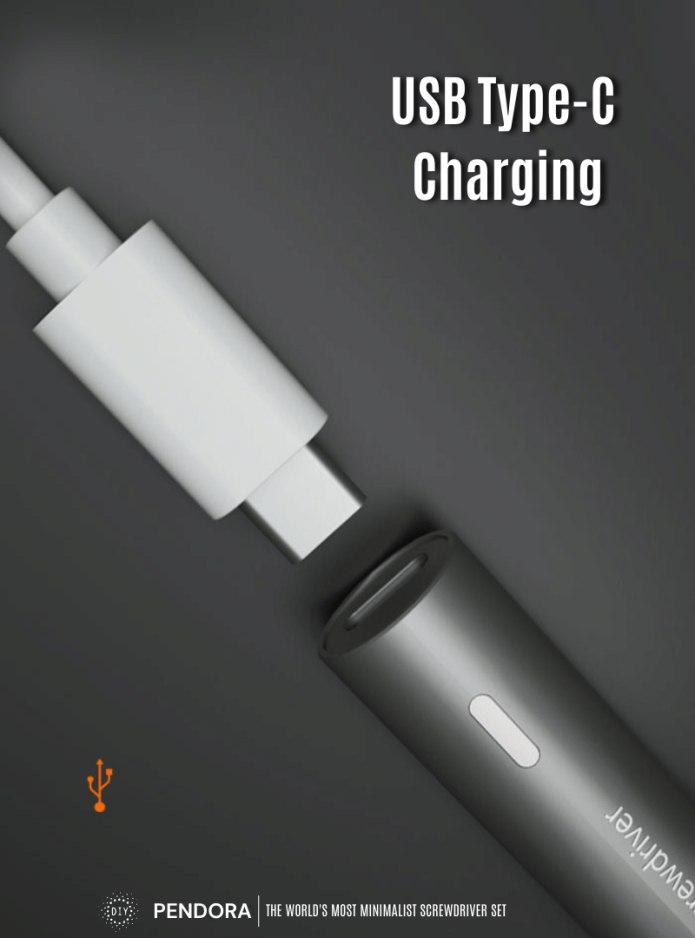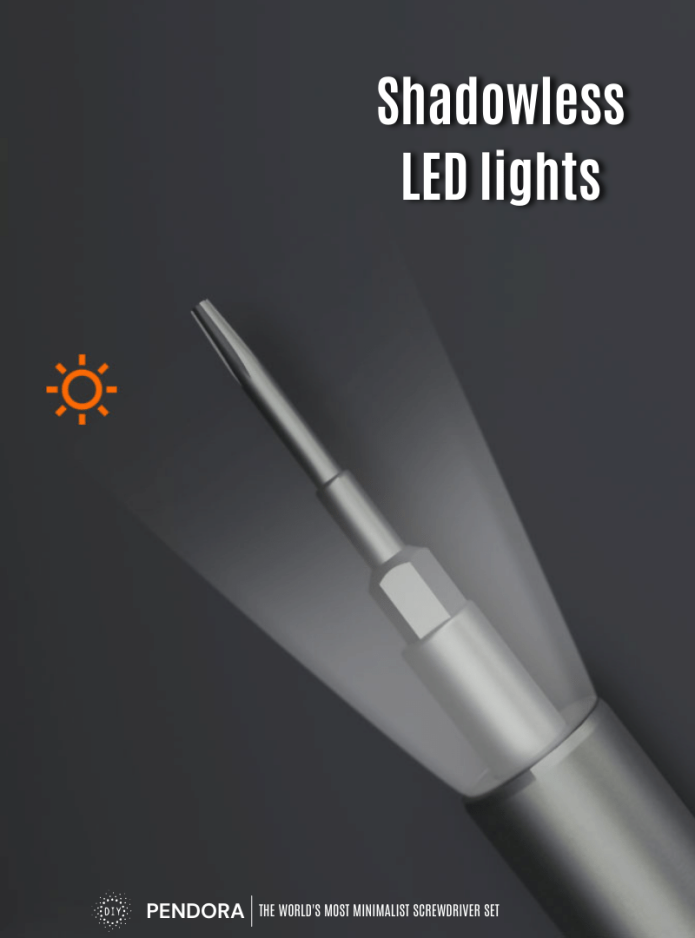 ★ Aluminum material with slim ergonomic design
The handle is made of high-quality, corrosion-resistant aluminum. The soft finish and sophisticated design of the PENDORA 48E are sure to be appreciated by anyone who values quality materials and craftsmanship.
Especially recommended for those who want to improve workability!
Draw our dreams

We want to deliver a driver set worthy of DIYers who have the same dreams!
Ready and GO!
Leading DIY designers have tested the pen in their own work, and the reviews couldn't be better!
The unique shape fits naturally in hand, and the experience of finishing a project with this unique piece has them inspired and ready to start their next DIY masterpiece.
No matter which precision repairing task you're working on, you've got the perfect tool to let you concentrate on the pleasure of your DIY efforts.
Back us and get your PENDORA now!

Testimonial
Project Timeline
​※ We commit to deliver the awards to early supporters all over the world. 100% of our previous advocators in Japan received PENDORA on time despite COVID 19.

We offer a range of minimalist-inspired tools to help you maximize your productivity in the home improvement process.
As we add more supporters to this project, we'll begin to unlock more exciting stretch goals.
Stretch Goals
We want to give more returns to our backers. Let's achieve these stretch goals together!

Specifications
PENDORA 48E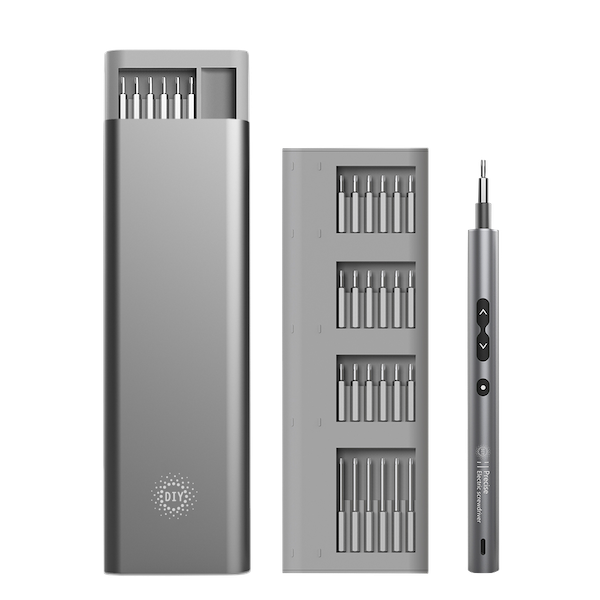 The team that brought you this innovative product comprises two engineers in Japan passionate about creating DIY products inspired by minimalist design.
We're making the world a more elegant, sophisticated place, one tool at a time.
When you back the Pendora 48E, you're not just adding a functional, appealing object to your home. Instead, you're bringing it one step closer to existence all around the world!
With a true heart, we believe DIY minimalists around the world share our vision. Our DIY tools will bring quality and minimalism to like-minded individuals worldwide and make your everyday life brighter.
Back the Pendora 48E today!