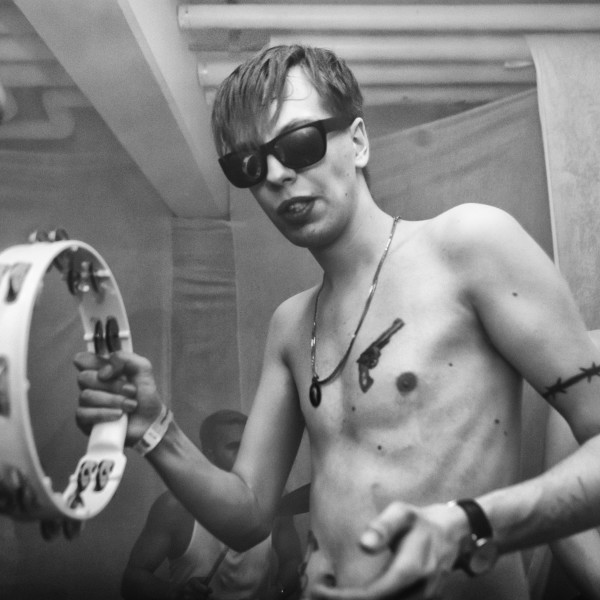 PLAN B – The Photo Book
$16,458
raised out of
$140,000
Overview
https://youtube.com/watch?v=468553099
Story
"Gianluca La Bruna's photographs capture this peculiar contrast between dream and desperation. His pictures make me feel an anarchist desire to look ahead, to gussy up, to inebriate, to let life be lived. These pictures summarize an era that believes in creative solutions and different lifestyles, still on the fringe of society but without the destructive will to remain there on the margins. In short, Malmö."
Extract from the foreword.
John Peter Nilsson (former director at Moderna Museet Malmö and now museum strategist at Moderna Museet in Stockholm)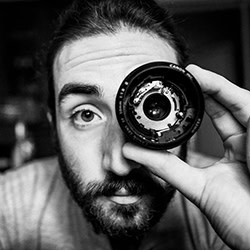 Hi everyone,
my name is Gianluca La Bruna, an Italian photographer based in Malmö. I have been lucky enough to witness the rise of a magic place in town. I do believe that its unique story, that shaped the life of so many people, needs to be told. With this photo book everyone will get a glimpse of this wonderful community.
After all, everybody needs a PLAN B.
* * *
My forthcoming photo book is a reflection on a community, on music, DIY-culture and friends co-creating an alternative society, but it is also, on a very personal level, a representation of my personal growth.
Even when I was living in Italy, photography was my true passion, but it was a side job while I worked as a social worker and studied landscape architecture.
When I moved to Sweden a few years ago, a baby on the way and not quite 30 years old, I decided that photography, my passion, must also be my central focus.
I owe much to my experience with social work. I began developing an attention to the individual in relation to society while involved with an ethnographic research project at the University of Florence. For that project, which resulted in this book, I photographed the working class district in my hometown. But it wasn't until Plan B that I really began exploring these relations using photographic language.
I've always felt a connection between music and photography. When I was a student, I had an apprenticeship at a music festival in my hometown. Shooting the festival between exams, I can't say that I was doing deep social investigation, but I began to learn how to shoot fast and edit even faster.
Soon after moving to Malmö, I met Carlo, Moraea and Viktor. They were getting ready to open a membership club in a basement on the so-called 'most dangerous streets in Malmö'. Within a few weeks they had booked bands and were staging concerts. There were like 180 bands within the first year and a half who played on that stage made from pallets. By the end of 2019 the number just blew up to 600. It was crazy, there was no time for anything else, I definitely wasn't shooting between exams anymore.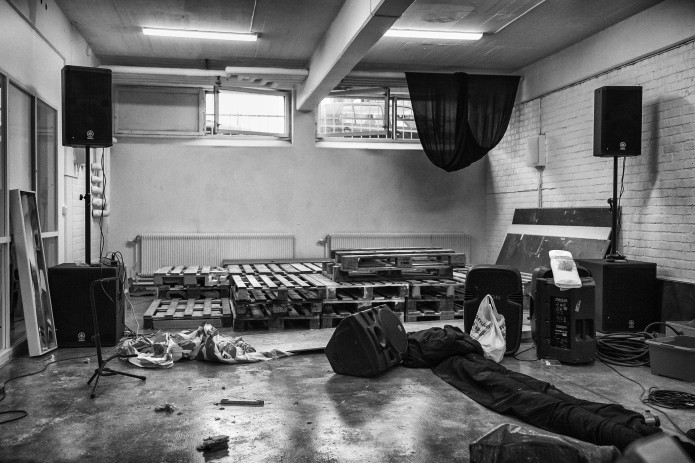 This venue created out of nothing started to attract people that, like its creators, were driven out of a love of being together, a new feeling of freedom, of having a voice and an identity. All sorts of subcultures, movements, activists, communities gravitated towards Plan B, drawn, it seems, to the attractiveness of this belonging that was full of freedom to be unique.
I was lucky to be at Plan B (Swedish for "basement level") at the beginning, but even luckier to be someplace where I wanted to stay until the end. Plan B in its basement era was the best family, safe, free and full of love. Night after night, I documented almost every single concert and event.
Plan B has been the place where to go when there was no plan A.
This is my plan B.

Book specs:
200 pages photobook 276×340 mm: hardcover with engraved title edition + softcover with flaps edition. MUNKEN Pure paper
Artists and bands contributions
Foreword from Johan Peter Nilsson (art critic and curator at Moderna Museet in Stockholm)
Bio/interview by Ralph Bretzer​ (journalist and curator of Nöjesbloggen at Skånska Dagbladet)
List of the band that played at Plan B (2015-2019)
Contact sheets pages of all the 'killed' photos 
The book will be published by Kira förlag, a small independent publishing house based in Malmö that is focused on giving voice to authors of this part of Sweden. We share the same values and the connection between Jeanette, my publisher, and I has grown also on a personal level: we work side by side every day, cook together, share a laugh or a fun story. I feel blessed that this family feeling did not leave me when I decided to transform my project into an editorial product. I know that Kira förlag aims to make a difference for this region – it surely made a difference for me.
Why do I need your support?
First, and probably more important, I want to keep the price of the book as low as possible, and that's the reason why I need you as my supporters. The more copies I can print, the less each one of them will cost, so I need to raise enough money to print 1000 books.
I also want to keep the perks as low as possible, because the lower the fees, the more people will have the opportunity to participate. This project represents the power of communities and togetherness, and I want as many people as possible to be part of its making.
I know these are hard times economically speaking, but please, don't think you can't help in any way if you don't find yourself in the position to spend money. Talk about the project, about the book, spread the word and copy the link on your social networks! This way you will contribute more than you can imagine.
If I do reach the goal you will have my eternal gratitude! Anyway, if I don't reach the goal, you still get what you ordered. 
Important! You have until the 16th of November 2020 to claim your items from this campaign and/or give the name you want to be shown in the book. 30 days from the launch!
Every single contribution it's a BIG help and it will fund these expenses:
78.000 kr = Printing: books (250 copies hardcover and 750 copies softcover with flaps); fine art prints (poster size, A4, A3, A3+), prints A4 format, postcards (galore!), 
25.000 kr = to Sara, the most amazing layout designer
22.000 kr = wrapping and packaging of the items
15.000 kr = campaign fees + transaction fees
Exhibitions and Press Releases​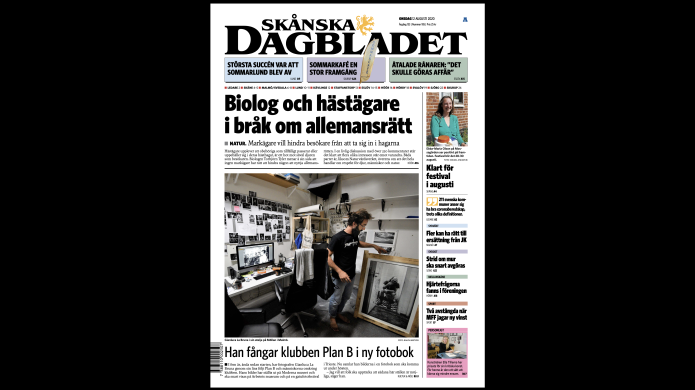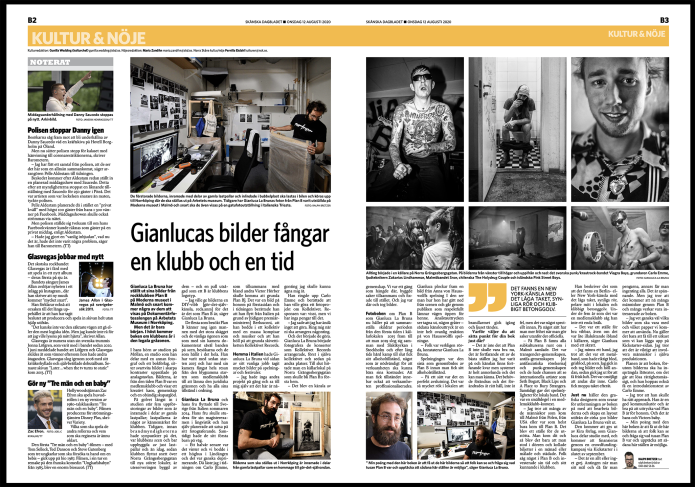 Skånska Dagbladet, 2020-08-12 – Article about Arbetets Museum exhibition and photo book.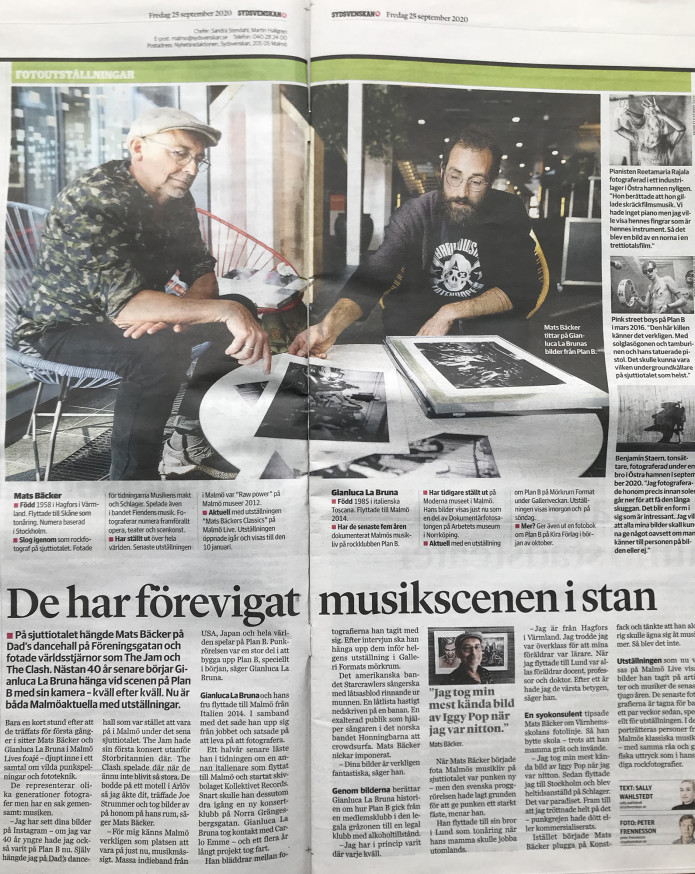 Double interview on Sydsvenskan with the master photographer Mats Bäcker about our upcoming exhibitions and PLAN B photo book, 2020-09-25
Risks
My project is well under way. During the last year I dedicated every second of my time planning the book, and still dedicating every second of my time making it. The book is virtually there: the graphic designer Sara worked hard to have every single page done, the cover is done, the paper is chosen, the publisher Jeanette is ready for the distribution, the press has talked about the book and advertised it. We are there!
There are always factors outside of control, as printing problems, shipping delays, and unexpected glitches that may arise. I am confident that none of these potential issues will occur, but we live in a strange year indeed. Corona time might have an impact on shipping times, for instance. If this happens, I will keep my backers constantly updated and let them know immediately what my new plans are. I have lots of Plan Bs.