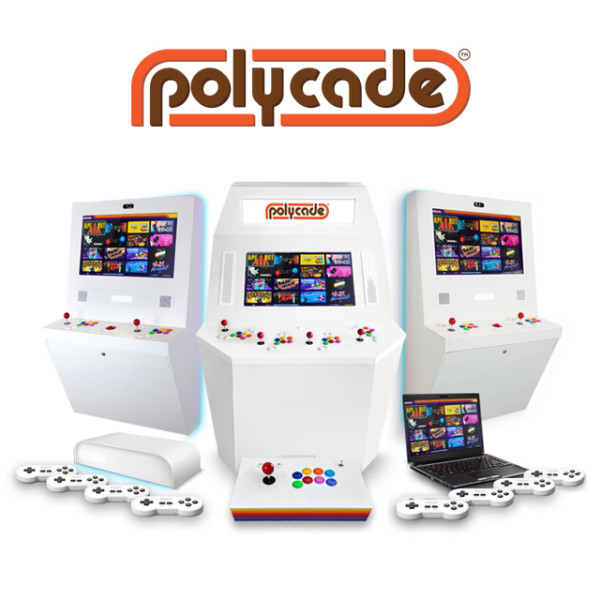 Polycade: Powerful Arcade Style Gaming
$50,037
raised out of
$50,000
Concept
Polycade pairs the magic of the arcade days with the power of modern gaming!
Story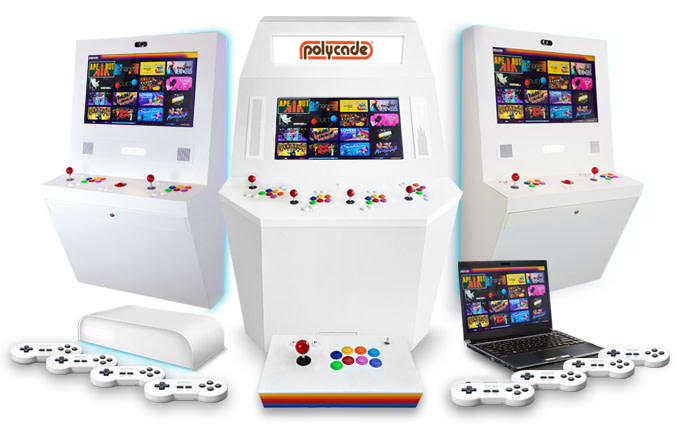 Play the Polycade Arcade Gaming Software on your very own PC with a simple download, or play on one of our plug-and-play devices!

The Polycade Game Store allows you to purchase and download games. We focus on two areas: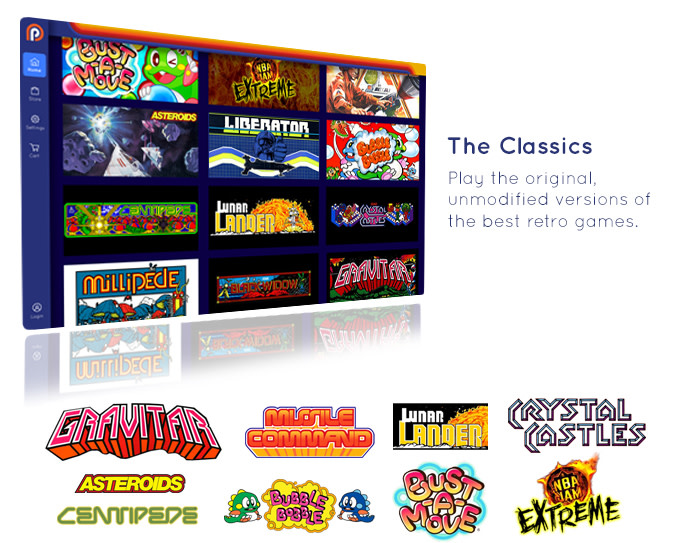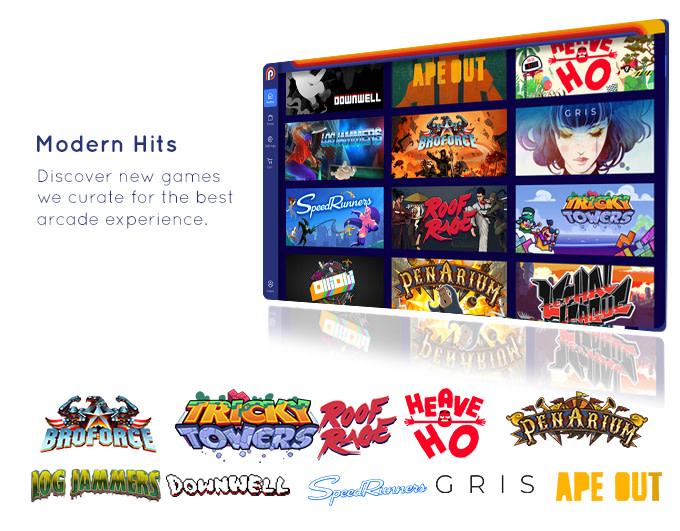 Can't find what you're looking for in the Polycade Game Store? You can also play games from other platforms, including Steam, GOG, and all your favorite retro consoles!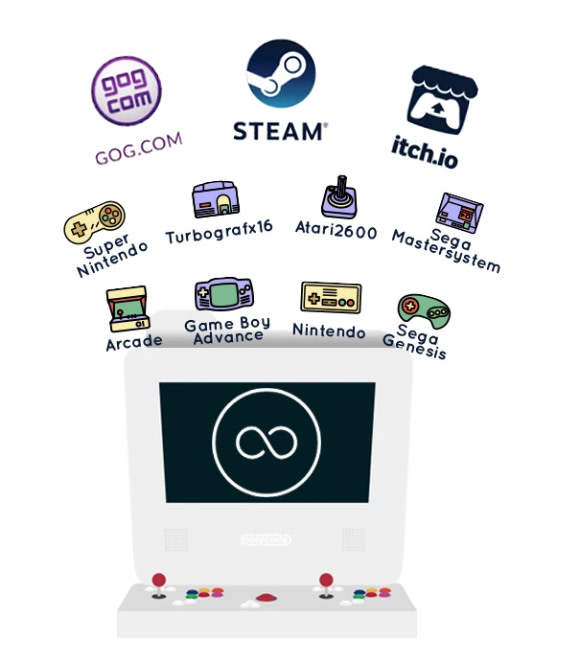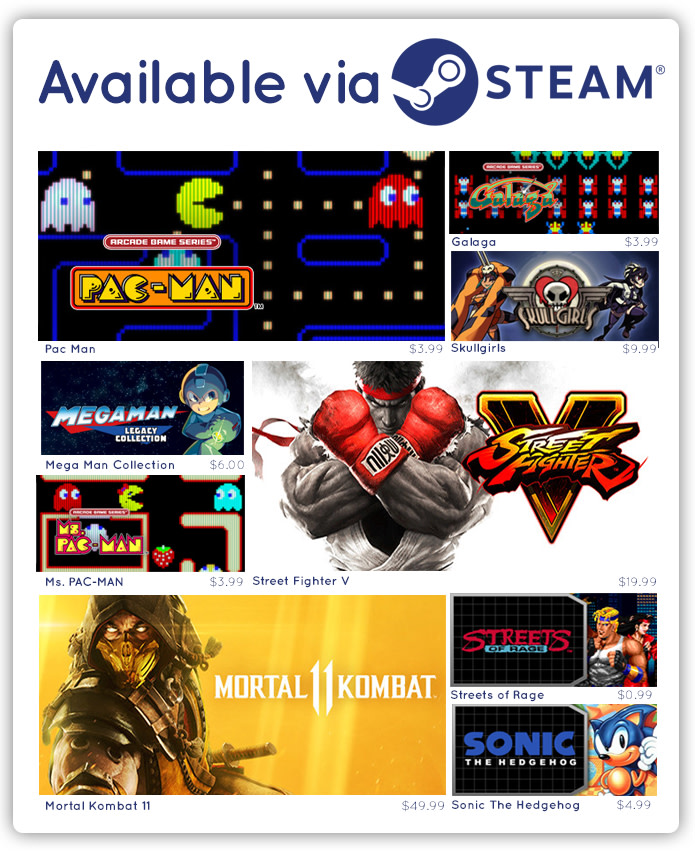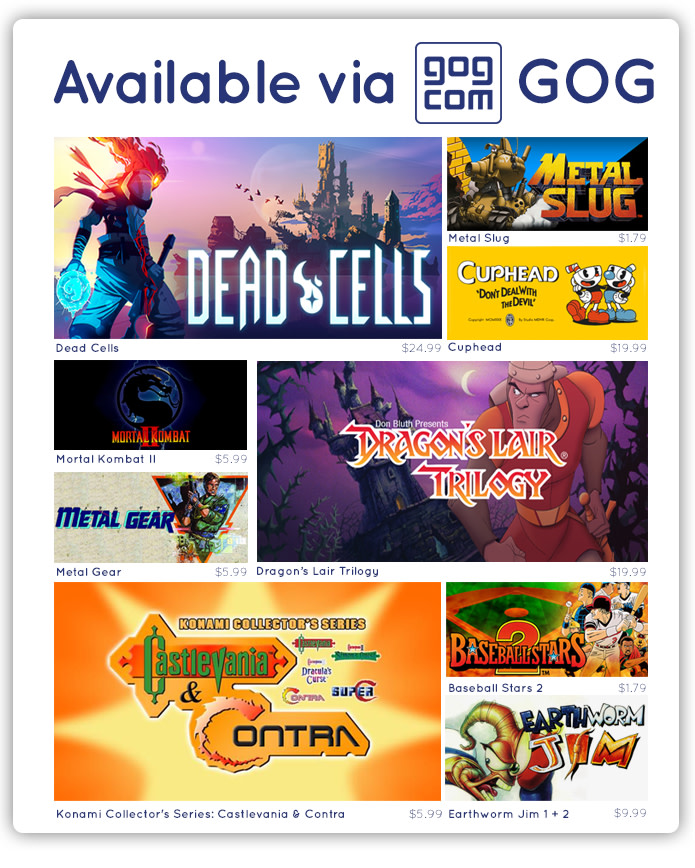 Polycade AGS can be enjoyed as either a console or arcade experience. You can choose from our pre-configured devices, or you can use a computer and controller you already own.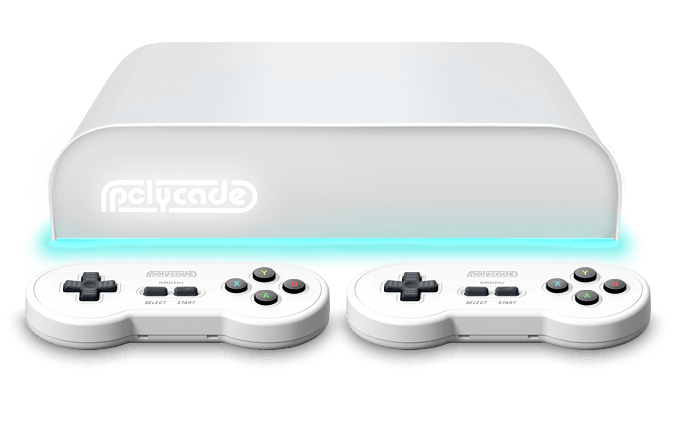 Play Polycade from the comfort of your couch!
The Polycade 2600 is an easy plug-and-play system – just add your TV! Choose from a variety of controllers to play with.
We have lovingly dubbed this product the "2600" as an homage to Atari!

Download the Polycade Arcade Gaming Software and play with your existing Windows computer!
You can use an Xbox Controller, our eZpZ Controller, or our Arcade Controller to play!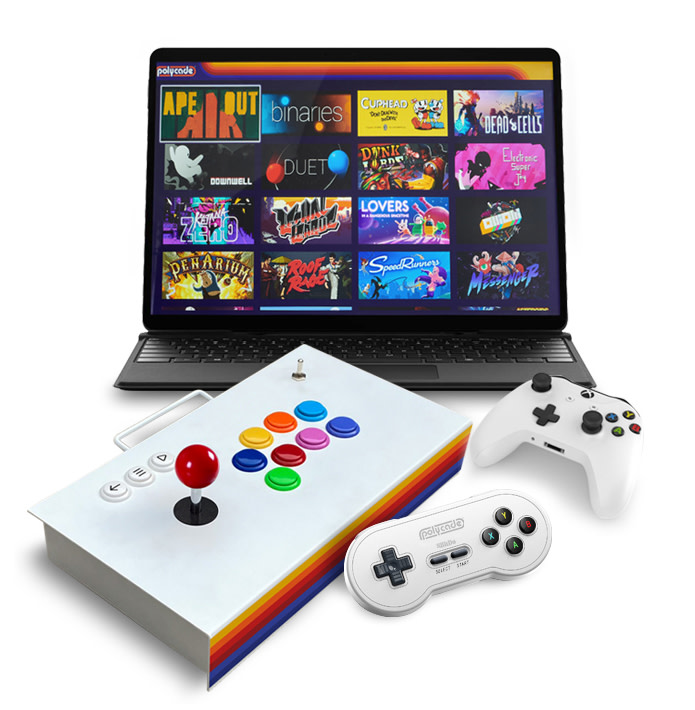 Our arcades include everything – screen, controls, computer, speakers, etc!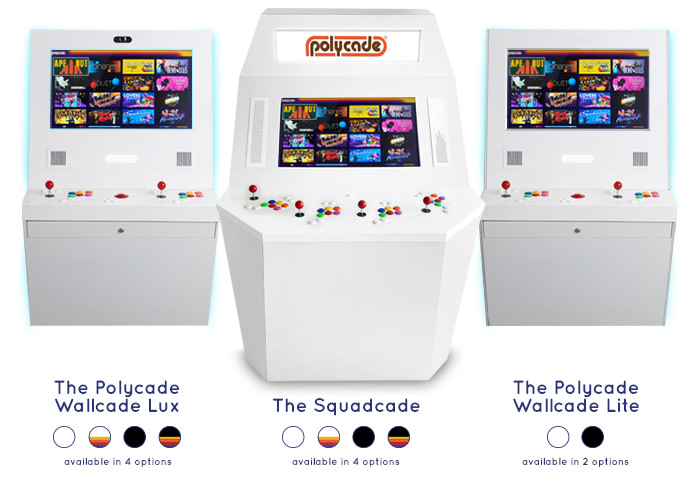 To commemorate the launch of Polycade AGS, we're including several exclusive extras! Backing any perk $25 or above will get you all 3 extras, including your first Patch achievement!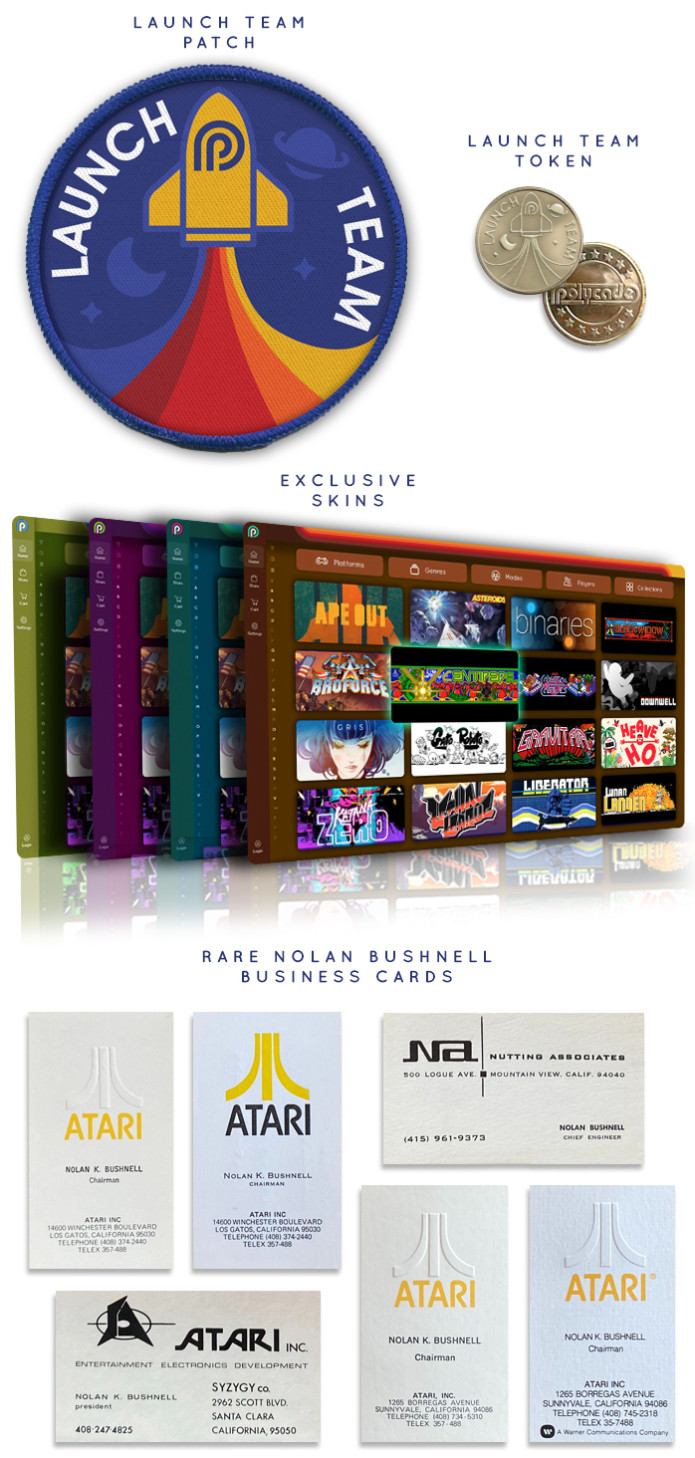 You don't need Polycade products to play Polycade AGS (you can use your PC and Xbox controller!), but if you're looking for some cleanly designed gaming hardware that works perfectly with Polycade AGS, look no further!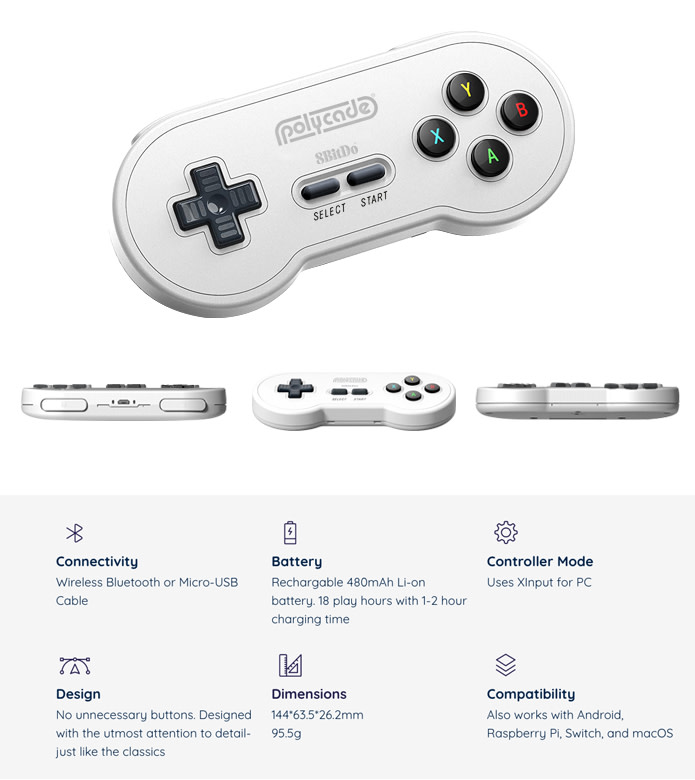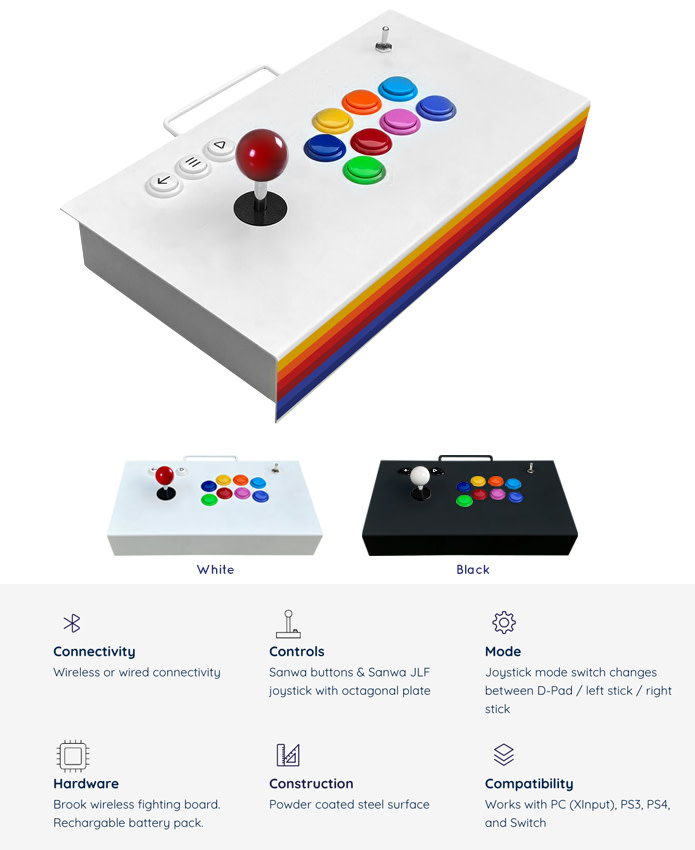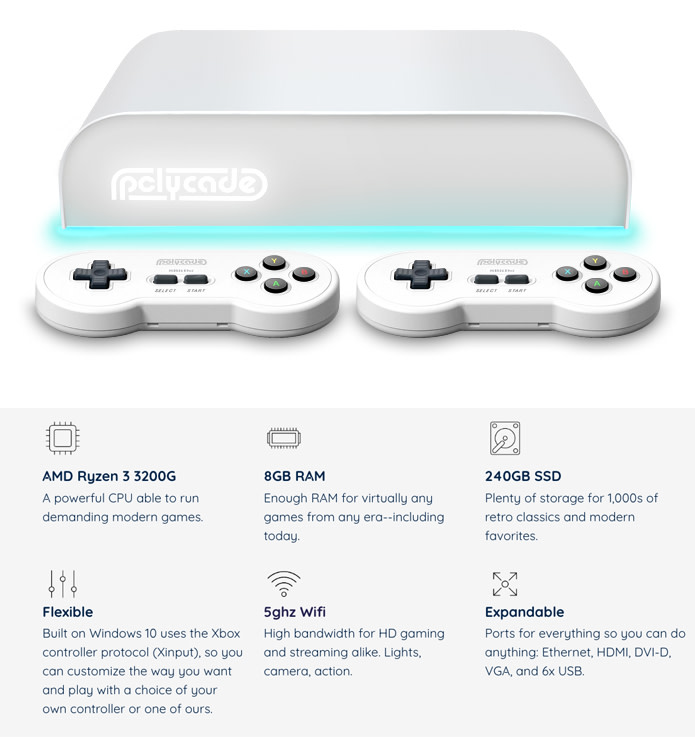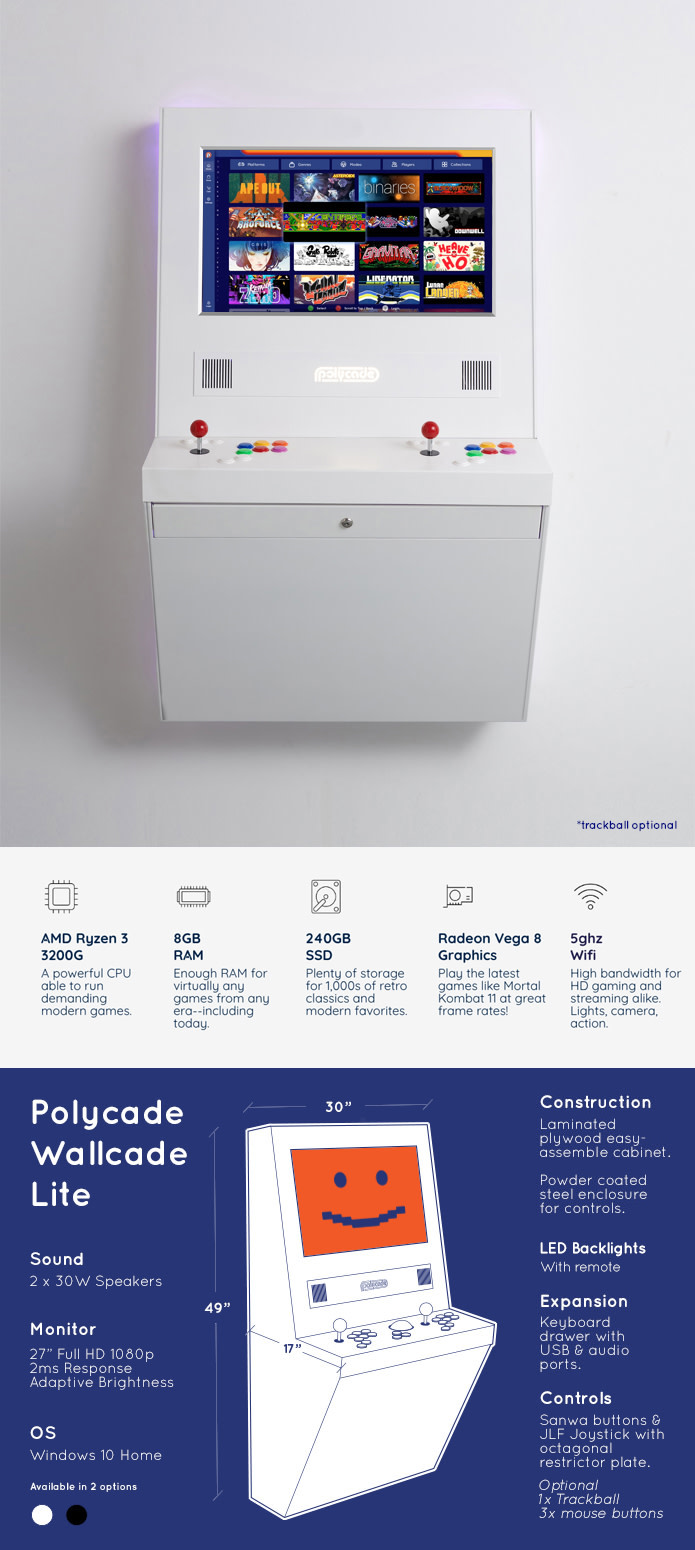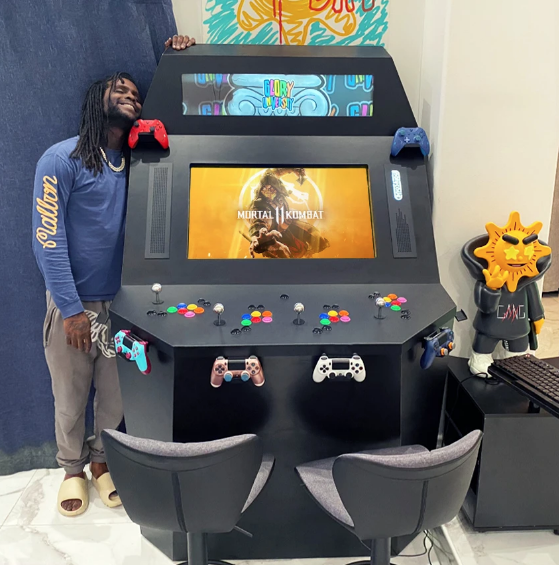 Chief Keef with his Squadcade!
Street Fighter match with Kalin White

The Polycade Arcade Gaming Software (AGS) makes gaming easy.
Whether you dabble in games or spend every free moment playing, Polycade makes your gaming experience painless and magical!

Read on to learn more about the rad features we've got in store for launch!

When logged in, you'll enjoy some great features:
Your high scores will be recorded!
Games you own are playable on any Polycade you sign into!
Continue from your last save on any Polycade!
Customize the look and feel of the interface with unique skins

Excitement reaches maximum levels when you pull out 4 controllers and game with your favorite people!

We rate games with characteristics that will help you find the titles you want to play.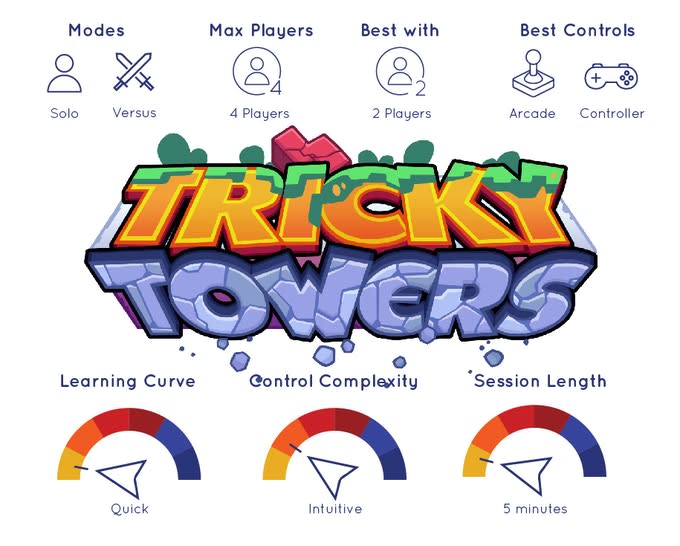 Back in the golden age of the arcades, high scores had a particularly gratifying feeling. Our unique leaderboard system allows you to see the scores that matter to you!

Built-in support for your favorite platforms!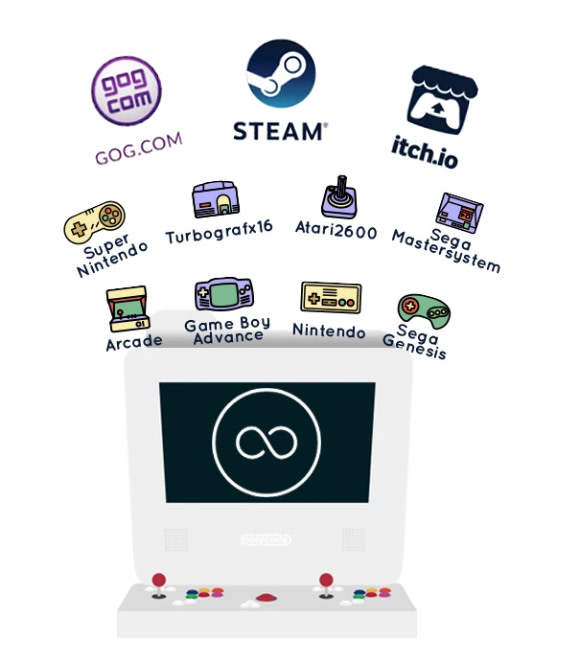 Steam
GOG
itch.io
Via Emulation:

Arcades (MAME)
Atari 2600 (Retroarch)
NES
SNES
Genesis
Master System
TurboGrafx-16

Playing your favorite classic games is easier than ever. Our software will help you add games from retro consoles. Polycade AGS comes with emulators bundled and already configured – saving even the most tech savvy users hours of research, mapping, testing, and meta-tagging.
As of now, we support the retro platforms mentioned above, and our configuration options allow you to add additional emulators as you see fit.

Sometimes you want a specific version of a game, or you might own the game on multiple platforms (Polycade, Steam, etc). Polycade AGS allows you to select the version you want to play.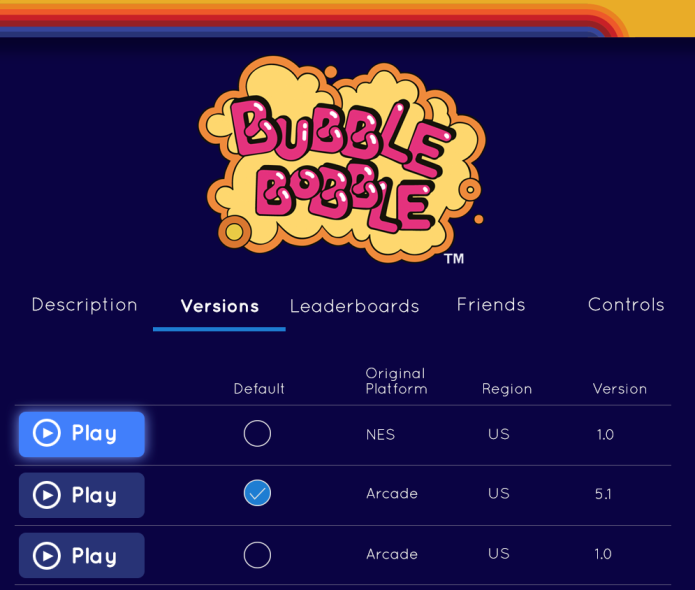 Polycade AGS features a unique achievement system that we call Patches. Patches are earned through a wide variety of actions – from earning the highest score in your city to real-life quests like "Play on 10 different Polycades!". The first 100 players to achieve each patch will receive a free, physical cloth patch in the mail!
Backing any tier $25 and above gets you the exclusive Launch Team Patch!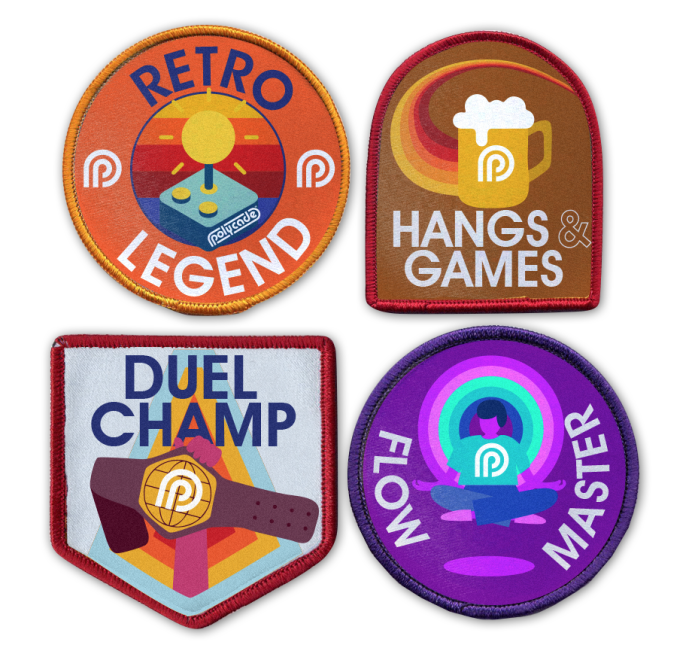 If you leave your Polycade system idle, it will switch into screensaver mode. Polycade AGS includes a variety of animated artwork from artists around the world!
Alternatively, you can set your system to launch a game when idle – either a specific game or a random one!
See below for some examples of screensavers that are included with Polycade AGS!
Screensaver art – "Miami" by AbueloRetrowave 
Screensaver art – "Sunset" by Grabrela Arts

Launched with a Kickstarter campaign in November of 2015, Polycade was founded with the vision of a gaming platform designed to be social, approachable, and ubiquitous.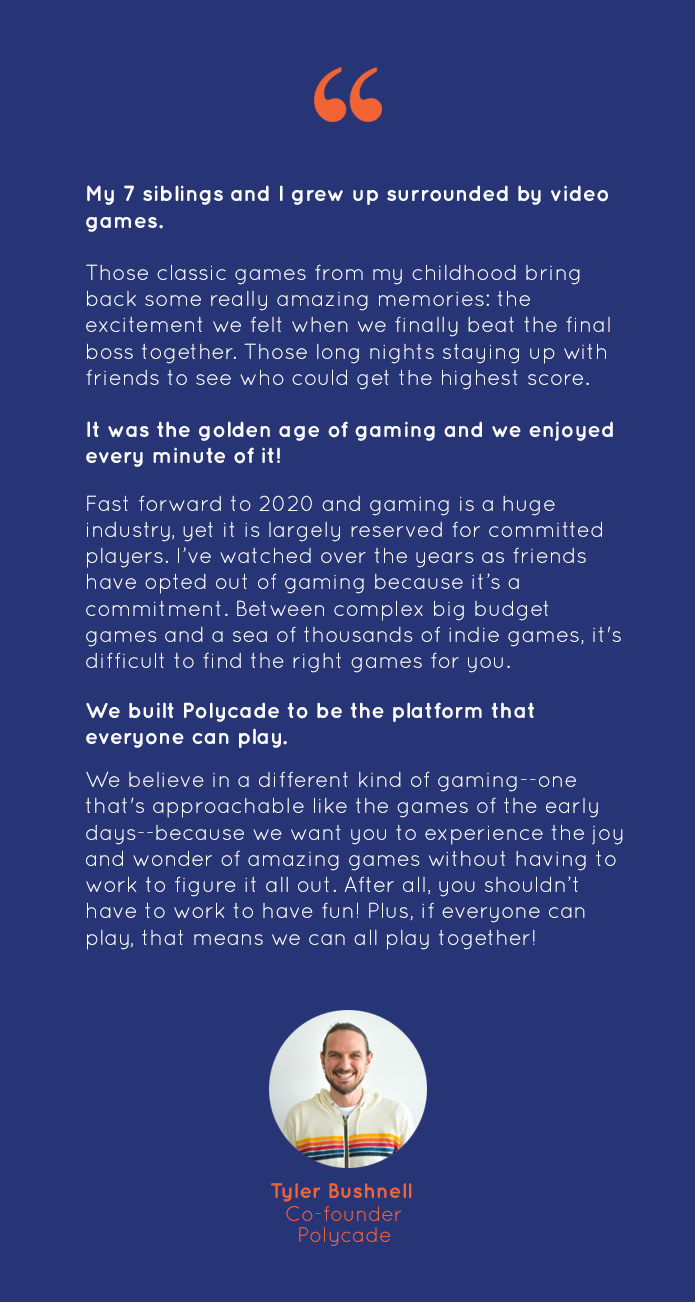 Laughing and having fun with your friends and family are the most valuable moments in our lives.
Our goal is to make those moments happen as often as possible!
The golden age of gaming was full of high-fives and high-scores! There was no such thing as a "gamer" because everyone played – video games were light-hearted, intuitive, and social.
Polycade captures the heart of those old days of hanging out, laughing, and playing games with your friends and family.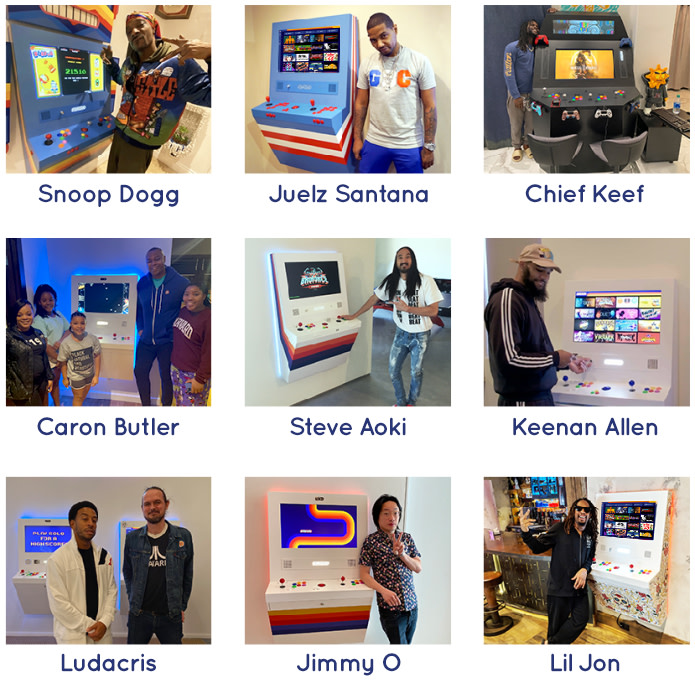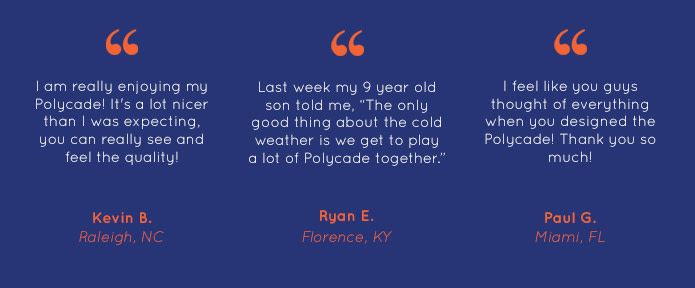 As we design new products and software features, the first questions we always ask are "As players, what do we want? How do we want this to work?" Our goal is to make your gaming life easy, delightful, powerful, and social – because that's what we want for ourselves.

We strive to design products that look like they belong in your living space. We aim for a clean, simple base design that can be customized to fit your space and personality – from bright and playful to elegant and modern.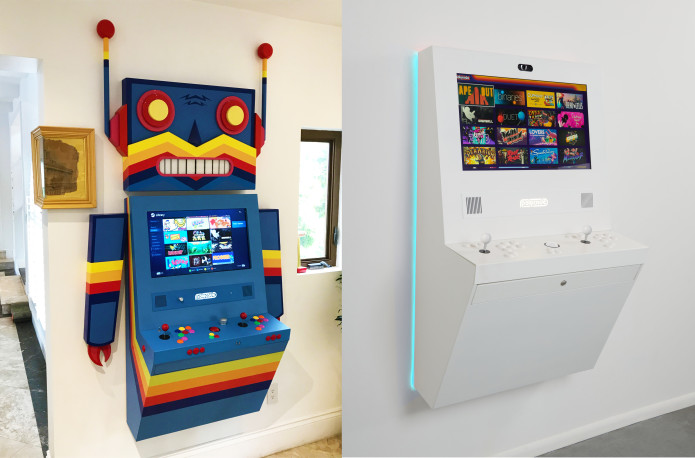 Magnetic Decals!

We aim to create an intuitive software experience that "just works" as you expect it to.

Whenever possible, we use existing, proven software and hardware rather than spending engineering time on already-solved problems. For example, Polycade is based on the Windows 10 platform for a wide variety of reasons. First and foremost, it gives you – the user – access to the maximum possible games. The vast majority of all games ever made, and all games being made today, can run on Windows – including most of the games you see on major consoles.

Many platforms have difficulty licensing games because they require Developer Adoption. This means that in order for a game to run on their platform, the game developer must make changes or updates to their games, and sometimes even rebuild it from scratch.
These updates are often expensive, and result in fewer games available on those platforms.
On Polycade, developers rarely need to make changes to their games, resulting in an extremely low barrier to developer adoption.

Whenever possible, we want Polycade to be an open platform that allows you to plug in 3rd party services and deeply customize your experience. We don't want to "lock you in". Down the road, we'll be including support for plugins and open source components!

Polycade systems run on standard PC hardware. This means that your system will have a longer life span than a console like an Xbox or Playstation, and could have an extremely long life span if you choose to upgrade it instead of replacing it with a future model. This also means you can build your own system, customize your Polycade system, or use a PC  you already own. Save money on any Polycade product by requesting it with no computer so that you can install your own!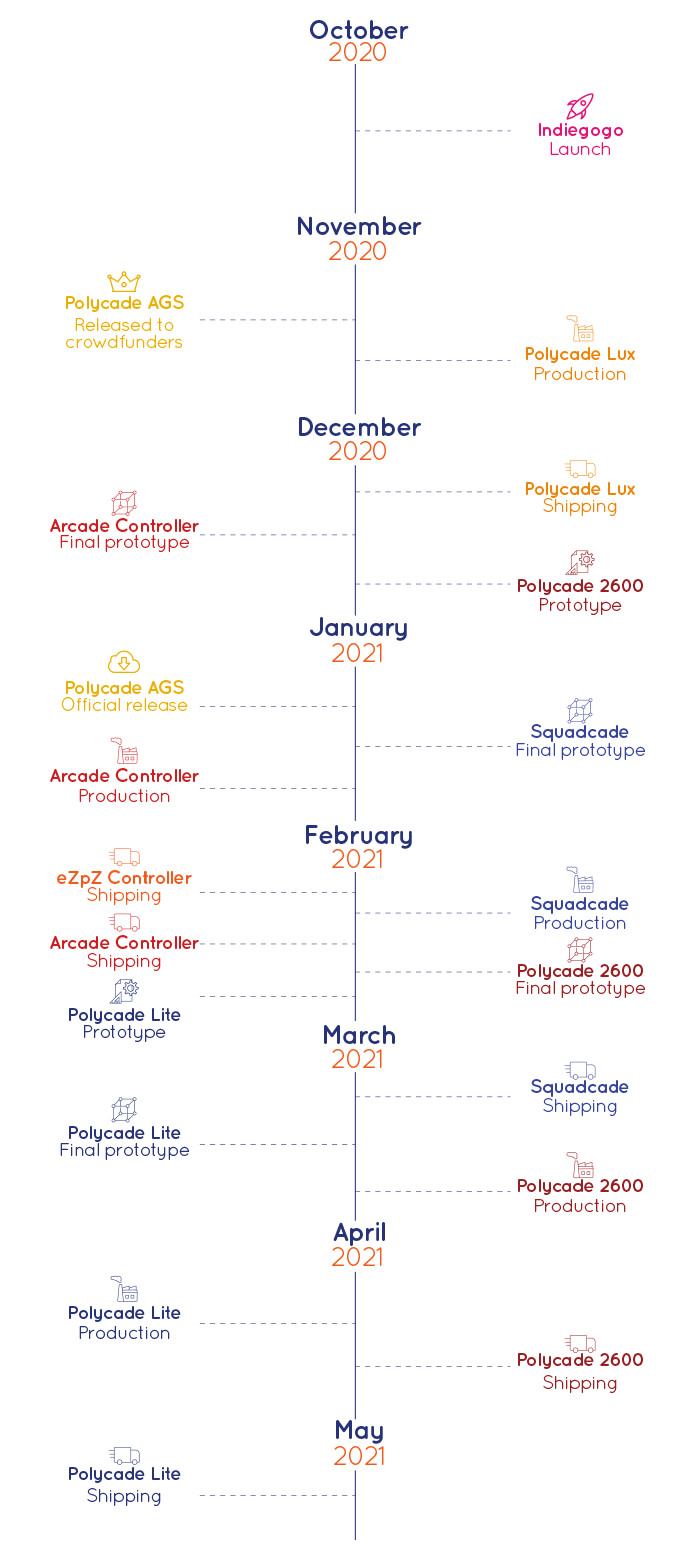 The Polycade Team is made up of 10 diverse and talented individuals and are led by co-founders Jake Galler and Tyler Bushnell. We come together everyday on a mission to make gaming as welcoming and inclusive as the golden age of the arcade…and we play lots of games together.

When we launched our Kickstarter campaign back in 2015, we hadn't yet found our ideal manufacturing partner. Two years ago we found the right partner to aid us in building our dreams, and we've been working up to this launch together.
While it may look like we're biting off a lot here, we've already built nearly everything you see offered in this campaign. The vast majority of the components used in each of these products we have been using in the Polycade Lux for years. We built 11 Squadcades a few years ago – with a few minor updates the new version will be ready for production. The electronics of the Polycade 2600 have been tested at length, and we will see a physical prototype of the enclosure in February.
Though the scope of these timelines are manageable, manufacturing always carries the risk of delays. Shipments of components can get lost, unexpected numbers can stress availability. Whatever may happen, our team is standing by to keep you informed and find the best solution around any roadblock.