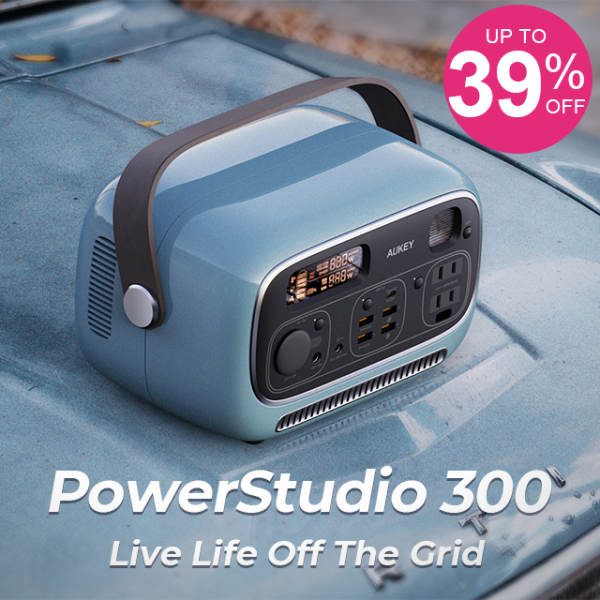 PowerStudio 300: Live Life Off The Grid
$72,010
raised out of
$5,000
Concept
297Wh Battery|9-Way Output|USB-C PD 100W | 2.5hr Fast-Recharging | 7.9lb Lightweight|Solar Powered
Story




Electricity is the lifeblood of the modern world. Unpredictable circumstances like an earthquake, hurricane, or other events could knock out a region's power supply for days. Having a modern, dependable backup power source gives enormous peace of mind. Without it we are unable to keep in touch with others, unable to enjoy entertainment, unable to keep food fresh, and unable to see at night. In other words, deprived of a power source, our quality of life drops to near zero.

This absolute reliance on electricity is at odds with the trend towards more flexible lifestyles. Many of us would love to work from the beach or experience life "off the grid", but know we can't stray too far from power outlets.
We took one look at the existing products in this space and knew immediately we had to do something different. Other power stations and large batteries of this type all look like they're designed to match a set of power tools. They feel like an appliance, something that exists purely to serve a practical purpose and nothing more.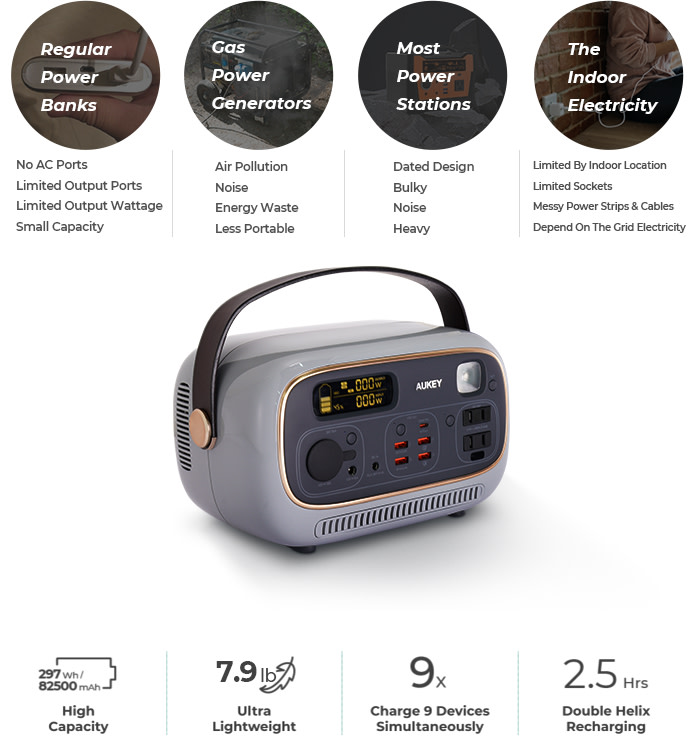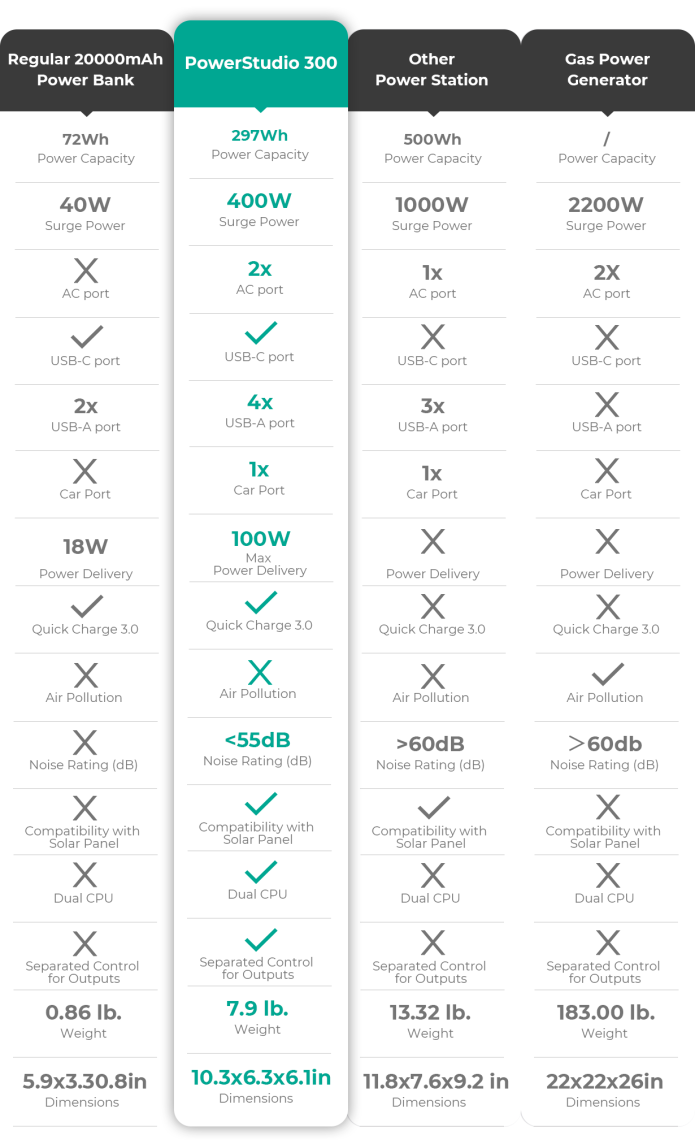 An outlet you can take anywhere

The portable power backup redefined. Power video equipment, lighting gear, drones, and much more, all from a stylish little box that weighs just 7.9lb/3.6kg. The PowerStudio 300 is the ultimate solution to the modern need for on-demand electricity wherever you go.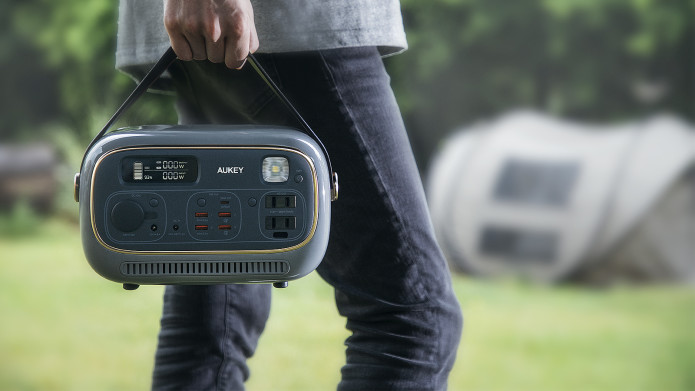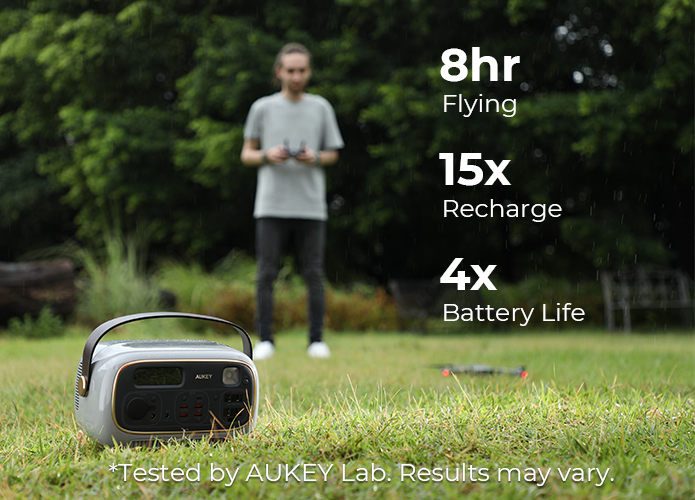 PowerStudio 300 is compatible with the vast majority of devices, gadgets, and appliances, including those powered by USB, AC outlets or DC outlets. You can get 110V AC output just like the wall outlet at home, only this is an outlet you can take anywhere. There's also a wide variety of fast-charging USB ports and DC outlets. 297W is enough to power all kinds of beefy appliances, and the huge battery takes a very long time to run down.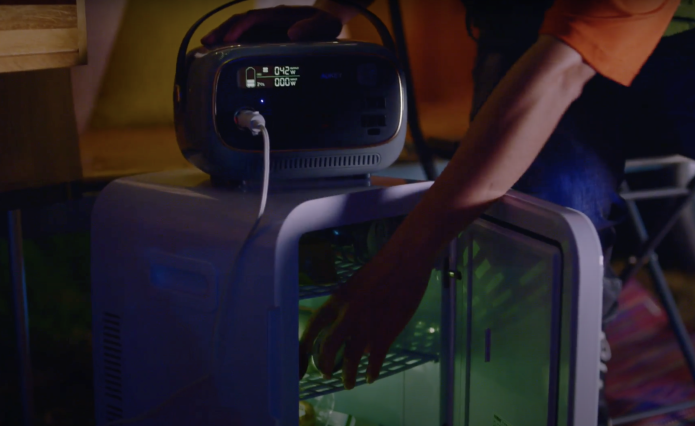 The only ones to look out for are high-powered appliances rated at more than 300W, which might include things like induction cookers, kettles and hairdryers. Basically everything else should be fine. Here's just a taste of the kind of things you could be powering on a deserted island with your PowerStudio 300.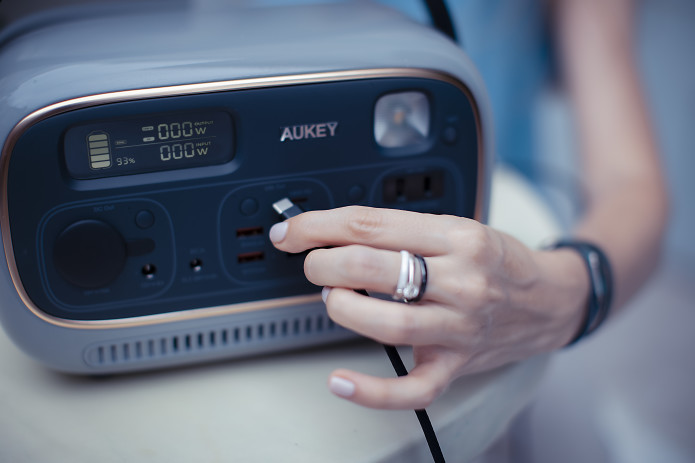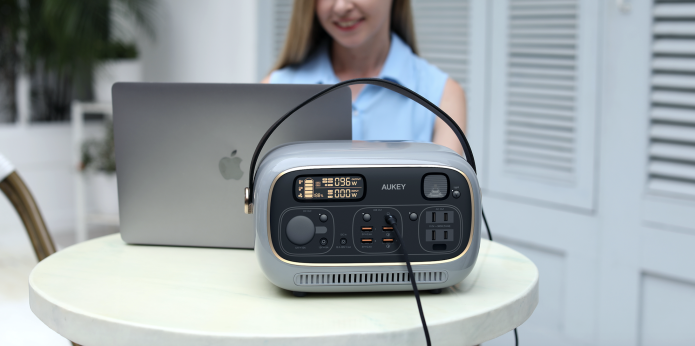 PowerStudio 300 supports USB Power Delivery input/output charging up to 100W via USB-C. To put that in perspective, standard phone charging is only 5W, most phones fast-charge up to a maximum of about 18W, a MacBook Air charges at 30W, and the 16″ MacBook Pro accepts up to 96W. In other words, 100W USB charging is more than enough for any mobile device or laptop.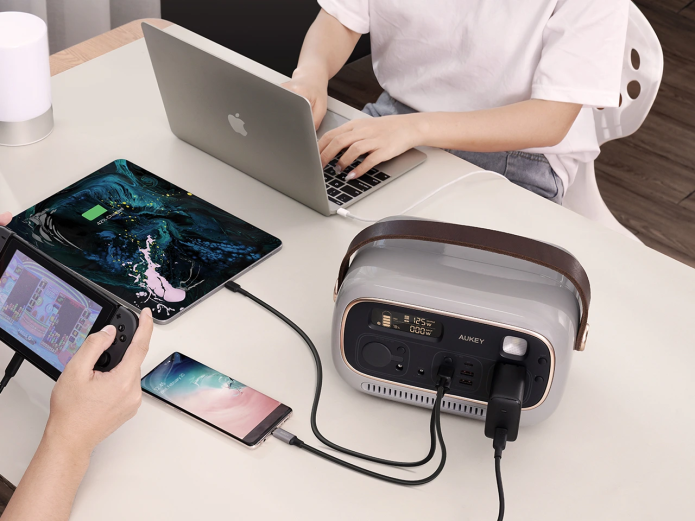 The same port can be used for input or output, adding to the convenience. There are also four regular USB-A ports, two of which support Quick Charge 3.0, which can fast-charge a wide variety of Android smartphones at the maximum rate they support.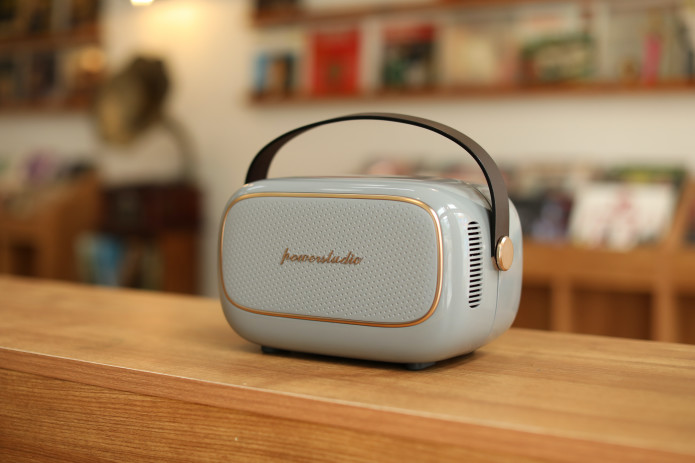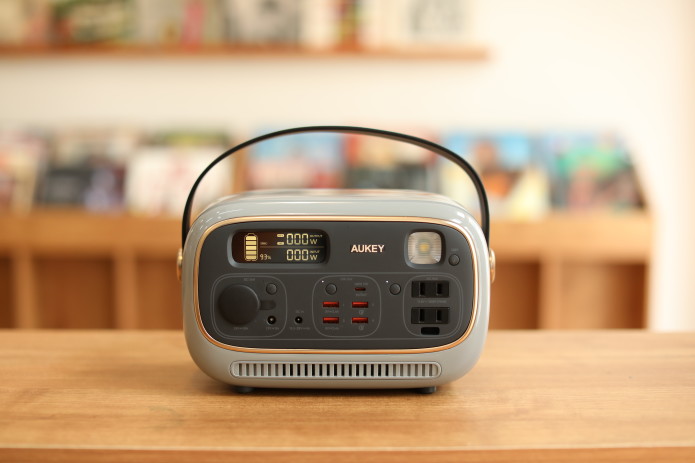 With PowerStudio 300, we purposefully set out to create a product without equivalent, and a big part of that is in the retro styling. This is something that won't look out of place at a party or at a music festival. It's not a workman's tool, it's your companion for an off-the-grid lifestyle.

This funky little package has unique "modern vintage" styling that sets it clearly apart from other power stations, which are no more than a bland workaday power appliance. PowerStudio 300 is the kind of tech you'd happily keep in your living room, rather than hiding away in the tool shed. It combines all the benefits of power banks and gas generators without the drawbacks. That means total silence, completely clean, vastly powerful, and a huge capacity.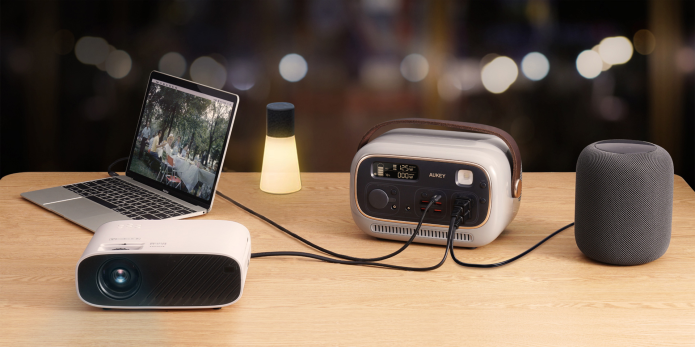 For Work, Rest and Play
A product like this has an almost infinite number of usage scenarios. You can power pretty much any device, gadget, or appliance you can think of, anywhere you care to travel. Here are just a few ideas:
Solo Camper:
Campers have long been using traditional generators and gadgets powered from their car's cigarette lighter, but there's no question the PowerStudio 300 is several steps up from that.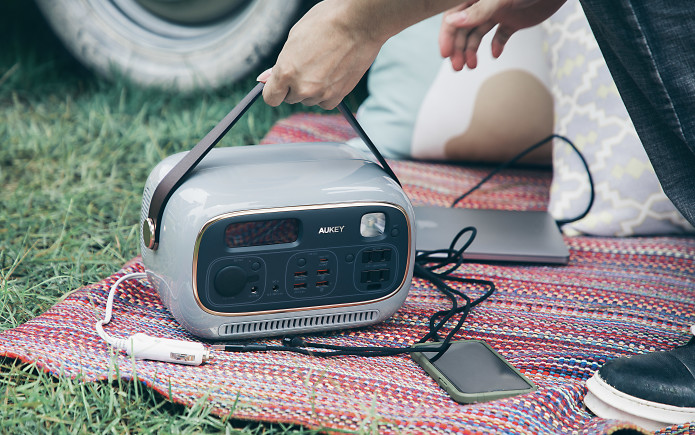 Not only is it far cleaner, lighter, and more portable than a clunky generator (not to mention better looking), with all the different port options it's also far more versatile. It will barely weigh down your camping luggage but will make your time in the great outdoors far more enjoyable. 
What could be better than a chilled can of beer on a hot summer's day far from the city, or a stuffy tent ventilated by an electric fan?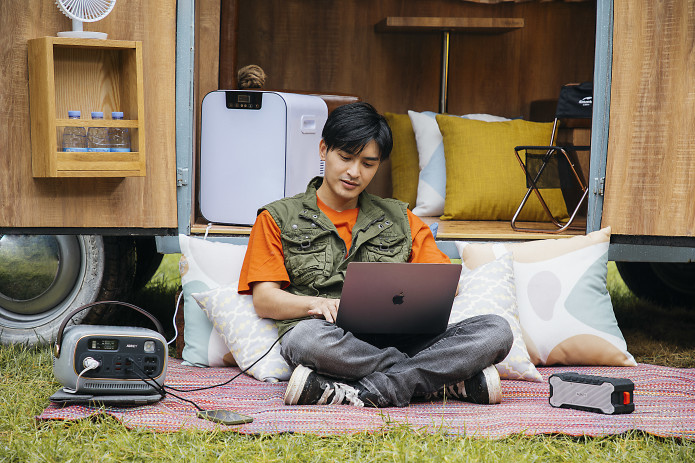 You can also keep your laptop and all your other devices fully charged throughout even a lengthy stay without needing to hunt around for charging outlets. With PowerStudio 300, camping is more free.
Content Creators:
The days of having to work from an office are long gone. In fact, nowadays you don't even have to work from home. With a laptop and a dependable power source you could work from a hilltop, a camper van, or a park bench.
Content creators can power video equipment, lighting gear, microphones, drones, and much more, all from a stylish little box that weighs just 3.6kg/7.9 lb. It can provide you with 8 extra hours of drone flying, 12 more hours of phone video recording, 10 hours of professional lighting, or an extra 4 hours of continuous live streaming from a remote location.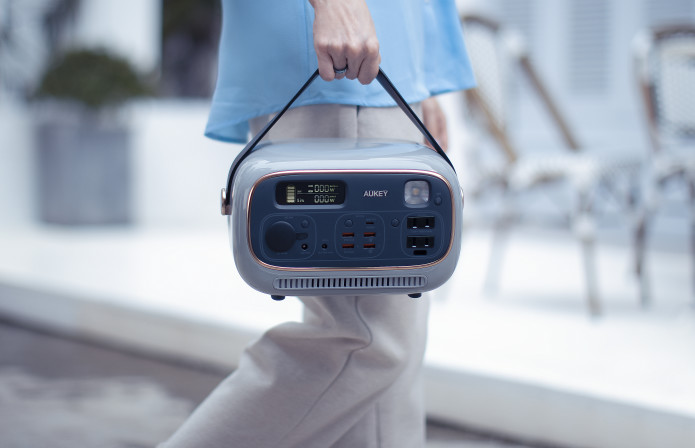 And it's not just internet creators that can benefit. Buskers and street artists can power amps, microphones, and instruments from a silent power source that can easily fit into a small bag. PowerStudio 300 sets your creative side free and allows you to go wherever your inspiration leads you.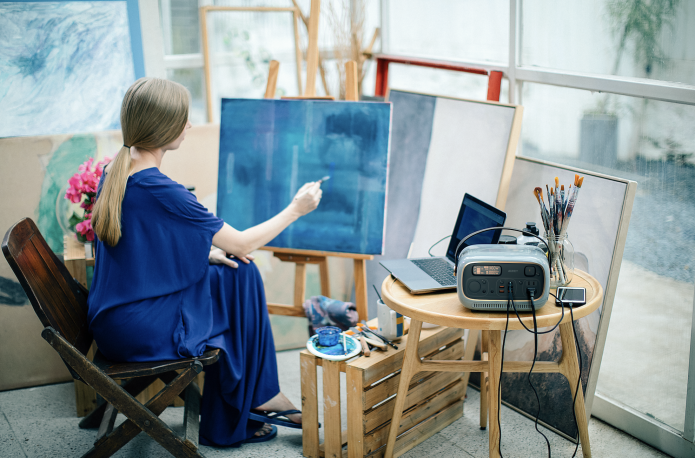 Music lovers, party animals and festival goers: 
Due to the events of 2020, crowded indoor venues have become a lot less common, and socializing and nightlife have become more intimate. Since clubs and bars can't put on events, it's up to you to organize your own.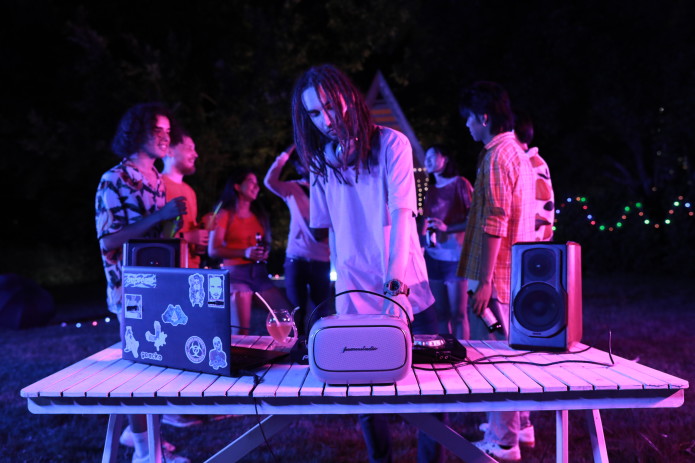 The portable power that PowerStudio 300 brings allows you to put on a memorable event for a close-knit group of friends in literally any environment.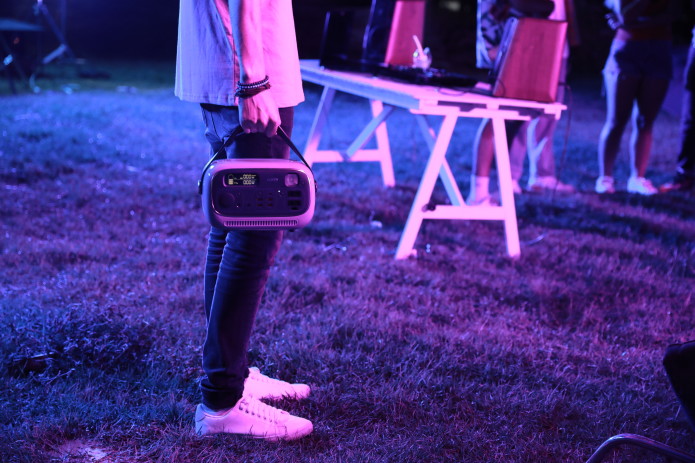 In addition to work, PowerStudio 300 is also great for play. Any tent at a music festival could do with a power source like this, both to make life more comfortable and to add to the fun. 
At outdoor parties you can power your own speakers or even a DJ deck, free from all the constraints of indoor venues.
You could also add a dramatic light show or hook up a projector. The battery has enough capacity to power 100 songs from a speaker and 3 movies worth of footage from a projector, so there's no chance the party will be cut short.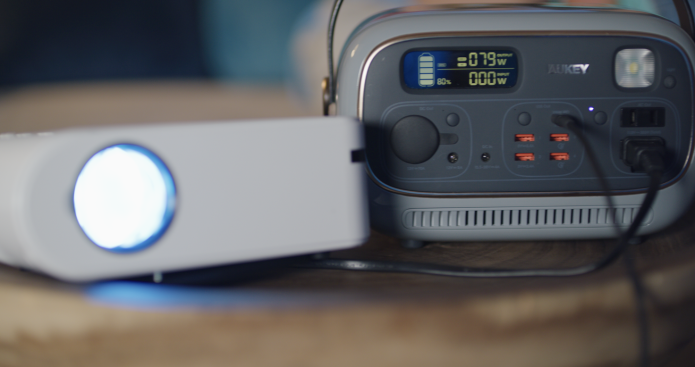 1 Single Charge = Backup for 1 Year
The PowerStudio 300 is well suited to playing the role of emergency backup as it holds its charge well in storage and is highly reliable. A single charge will give you backup for a year.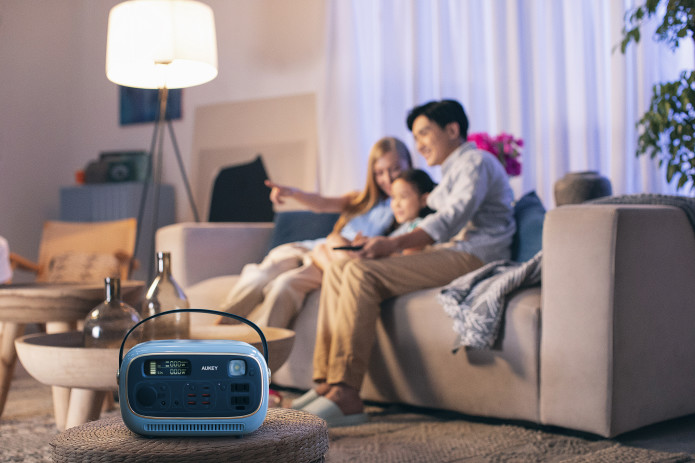 For many parts of the world, natural disasters are a fact of life. An earthquake, typhoon/hurricane or other event could knock out a region's power supply for days. Having a modern, dependable backup power source gives enormous peace of mind.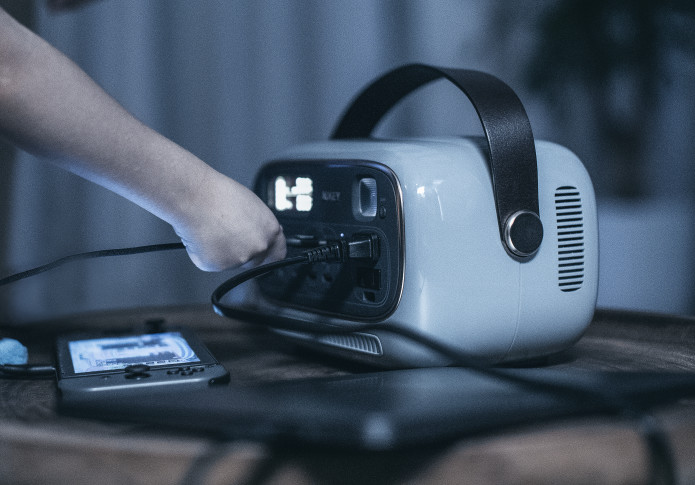 A power source like this can also help provide lifesaving medical care, for example keeping CPAP respirators running during blackouts or when far from medical facilities.


Easy Carry For Children And Elders

For the true off the grid experience, you can connect solar panels to your PowerStudio 300 and charge the battery at up to 100W via the DC input. It's designed to be compatible with most portable solar panels on the market, and all you have to do is plug them in and the battery will start charging.

This solution takes portability and freedom to the next level. Not only can you power your appliances far from civilization, but with solar charging you can do so indefinitely. The convenience and flexibility this brings goes without saying, and by using 100% renewable energy you're also doing your bit for the environment. The solar solution is great for those who like to get away from it all for long periods at a time, and it's also an infinite backup power source in the event of a prolonged outage.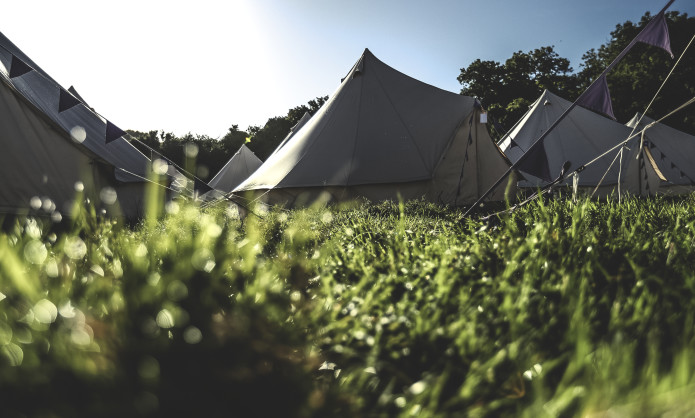 There's also something deeply satisfying about generating your own electricity. This solution is definitely recommended for those who love to be self-sufficient.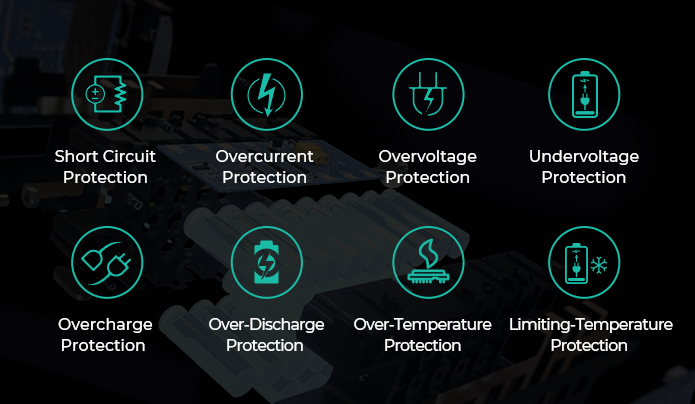 With so much power available, obviously safety was a primary concern for our product team. The PowerStudio adheres to a number of international anti-flammable standards, and there are an extensive collection of failsafes that prevent overheating, overheating, short-circuiting when exposed to liquids, and much more. It has an extremely wide operating range of between 0°C and 40°C (32°F and 104°F), and will shut down safely when outside this temperate band.

PowerStudio uses semiconductors from STMicroelectronics and integrates an effective dual-chip solution (using the STM32F030 series chip). Each of these two chips operates independently, one controlling the AC system and the other controlling the DC system.
Ultra-efficient: The system response time is in milliseconds, which ensures stable power output.
Precise power control: Most power products of this type have output discrepancies in the region of 10W, but through its highly effective dual-chip setup, PowerStudio 300 is able to limit this to under 3W, which is industry-leading accuracy.

*STMicroelectronics is a French-Italian multinational electronics and semiconductor manufacturer headquartered in Geneva, Switzerland. It is commonly called ST, and it is Europe's largest semiconductor chip maker based on revenue. 

Charge From 0 to 100% in Just 2.5 Hours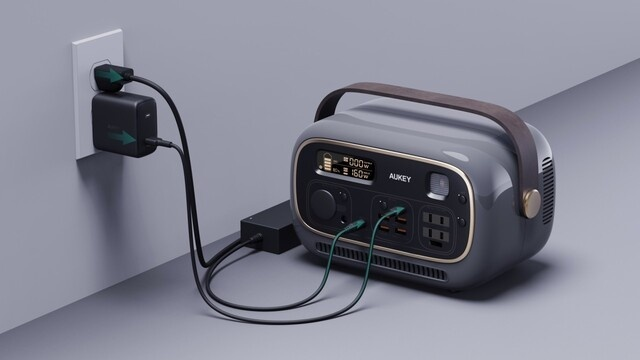 One of the downsides to very large batteries is that they can take a very long time to charge, but AUKEY has an innovative solution for this too. The PowerStudio 300 offers two methods of charging, one by DC input and the other via USB Power Delivery. Both of these methods are no slouch by themselves, with the tiny USB-C port supporting up to 100W and the DC input not much less, but for us that wasn't enough. Our engineers have successfully developed what we call Double Helix charging.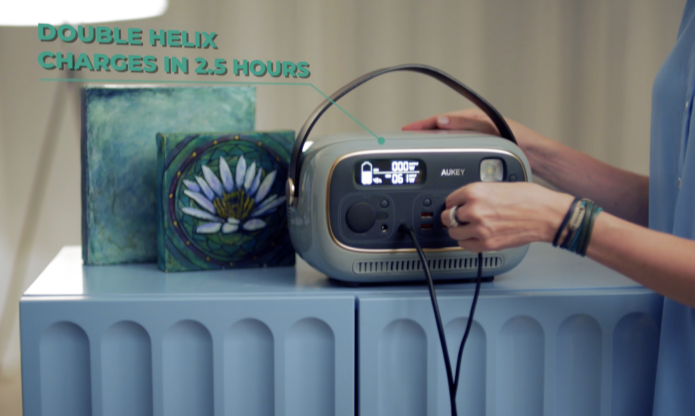 This allows both of these input methods to be used simultaneously, greatly increasing the input power and vastly reducing the total time it takes to fill up the battery. Using this solution, the massive 297Wh lithium-ion battery can be charged from 0 to 100% in just 2.5 hours, which is several hours less than other products with similar capacities.

Advanced Temperature Control
Large batteries and high-powered charging tend to lead to one thing – heat. Just ask EV companies like Tesla, keeping everything cool is often the main constraint when developing products that use high-output battery technology. Luckily, the boffins at AUKEY have been able to come up with an ingenious solution that keeps temperatures down even at maximum output.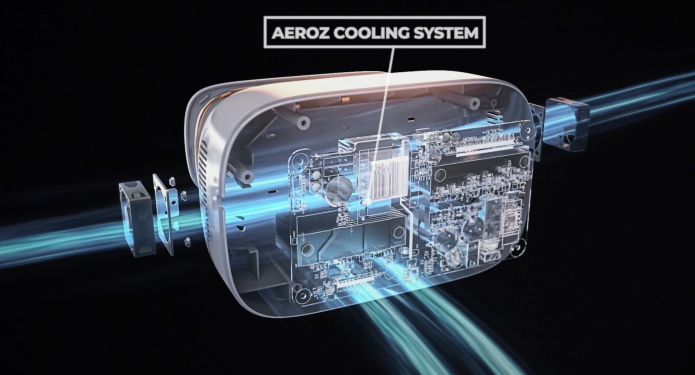 We call this AeroZ, and it involves a dual-fan setup in combination with a sophisticated polymer air duct design. These two elements work in unison to achieve rapid heat dissipation, meaning your off-the-grid activities won't be cut short due to an overheating battery, even when out in direct sunlight.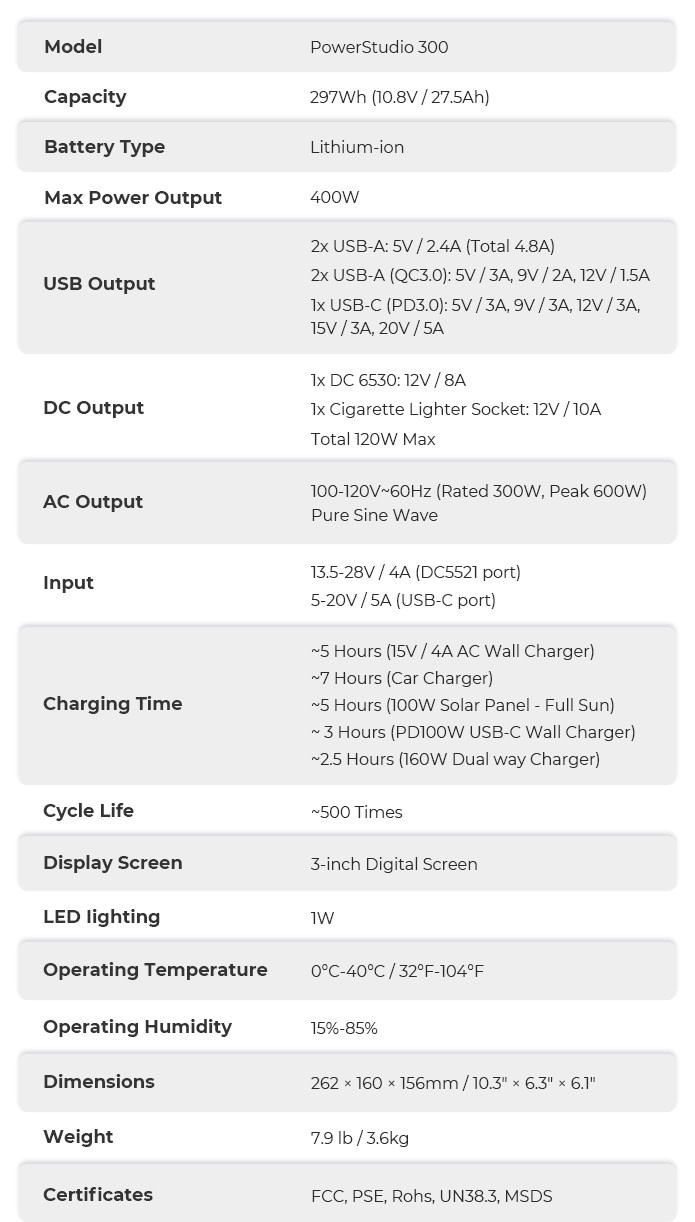 SOLAR PANEL SPECS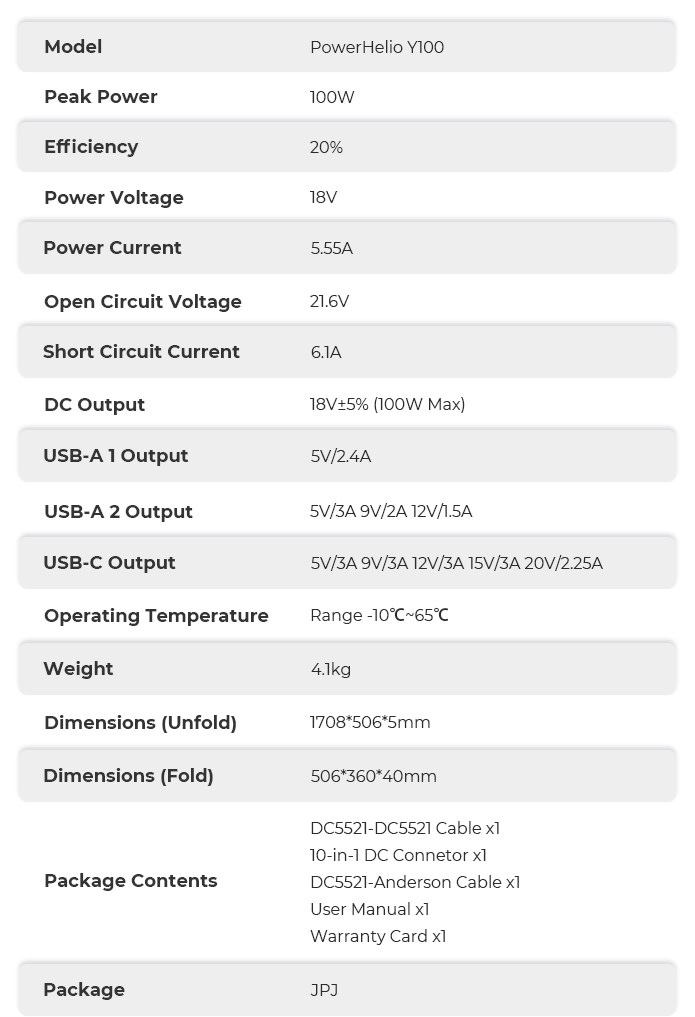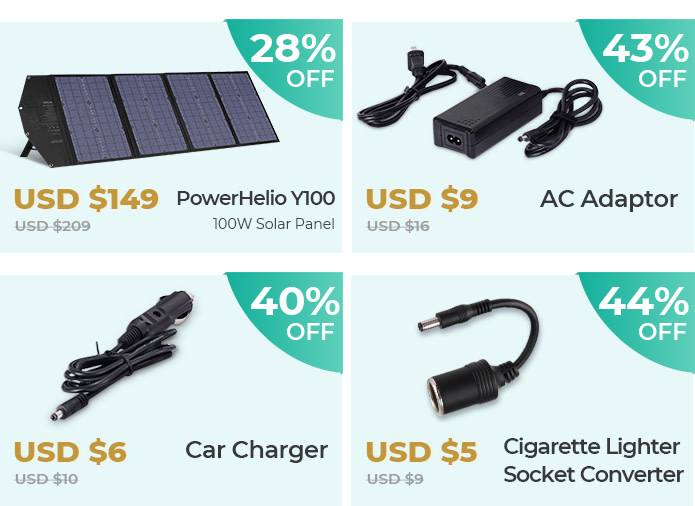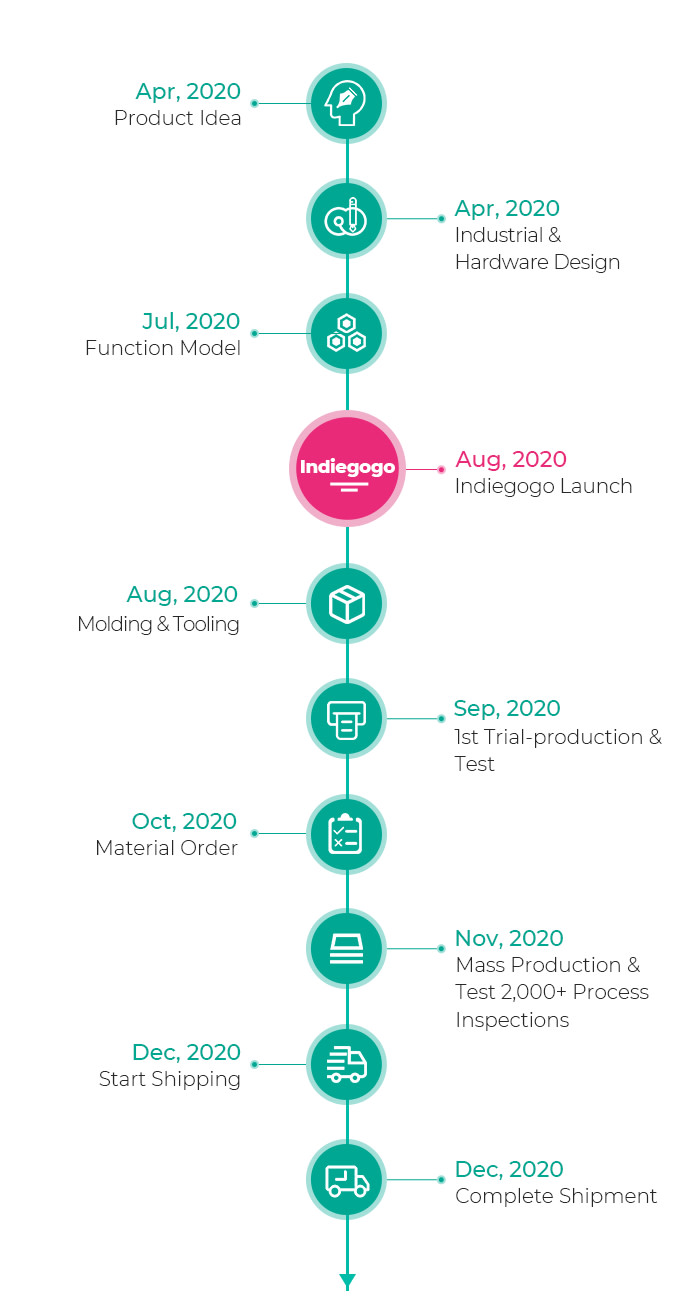 AUKEY is a global charging leader that provides a variety of charging solutions all under one roof.
With 15 years of experience in the charging industry, and specializing in USB-C Power Delivery fast charging, AUKEY is the first adopter of GaN tech. In addition, AUKEY  is an innovator of cutting-edge technologies such as AUKEY OmniaChip chipset, Dynamic Detect, and is the producer of the world's smallest PD chargers. The product lineup has been streamlined over the past few years to focus more on power delivery products, which is AUKEY's core strength. This category is mainly divided into wall chargers, power banks, power stations, and car chargers.
AUKEY places great emphasis on R&D and innovation. As of the most recent count, AUKEY had filed 320 patents, 420 trademarks, and 97 software copyrights.
We aim to give access to dependable power products for everyone. Our mission is to make products that improve people's lives and make our products easily available in every corner of the globe. We want to excel in the creation of the most dependable, approachable, and easily available power delivery products that'll serve everyone's daily power needs.
For the third year, AUKEY makes it to the prestigious list of Top 50 Global Brands in the report compiled by BrandZ, a leading authority on brand power, is published each year in collaboration with Google.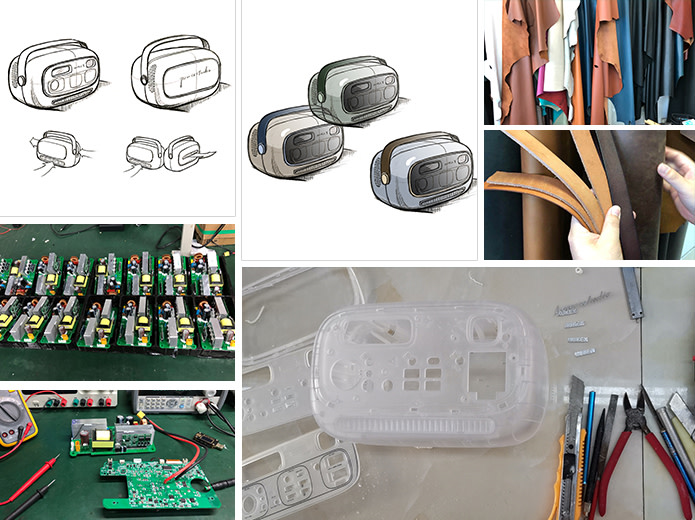 AUKEY Brings Charging Pedigree
AUKEY has been at the forefront of power tech for years, and we're always looking to push the boundaries and attempt something new. Recently we've been producing increasingly powerful power banks, and so the PowerStudio 300 seemed like the natural next step from that.
AUKEY chargers have won multiple awards in the past, both for performance and product design, and we are at the forefront of development of a number of new technologies. All this expertise and experience has gone into making PowerStudio 300 the ultimate charging product.
Unlock more with AUKEY.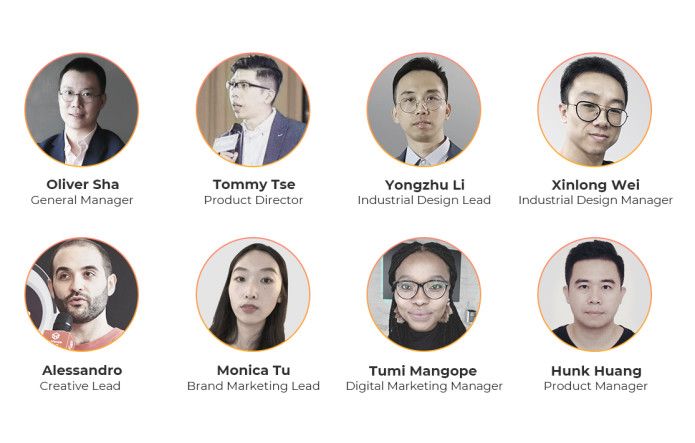 The timeframe was quite pressing. Lots of our competitors are working on related products, so the entire process had to be completed in four months. This included market research, a feasibility study, industrial design, project initiation, hardware and software development, opening the mold, and last of all production. In order to meet hardware requirements, we had to look past the traditional vertical layered approach and instead adopt a side-by-side layout with redesigned air ducts. This novel approach can ensure stable power output even at high power. In order to improve output accuracy, no expense was spared in going for a dual-CPU approach, with a separate CPU for AC and DC output. Combined with optimized software, this brings about the most accurate power output possible.