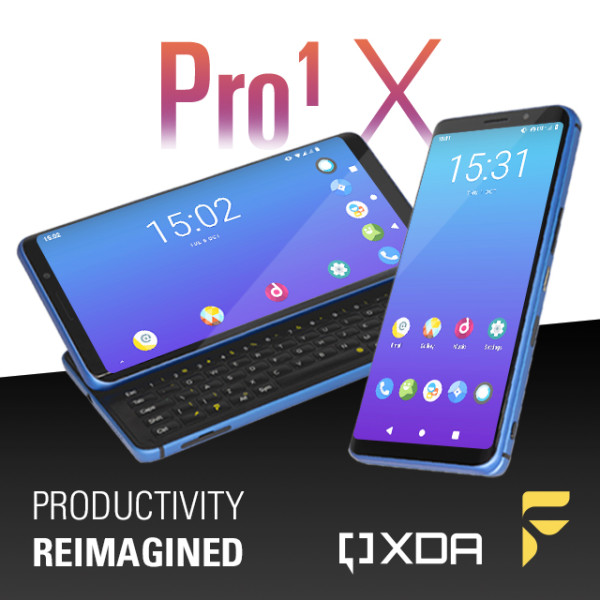 Pro1 X Smartphone Functionality, Choice & Control
$151,562
raised out of
$75,000
Overview
https://youtube.com/watch?v=471380106
Concept
A keyboard smartphone purposely designed for functionality & productivity running Lineage or Ubuntu.
Story


Following the success of our first smartphone, the Pro1, team F(x)tec have been working closely with our customers and the wider tech community to bring you a special version of our award winning phone. 
In partnership with XDA (one of the largest online tech communities) we present the Pro1-X; the smartphone that gives you control. Control over your data, control over your privacy, and choice over your software.  For the first time, a high spec smartphone running Lineage OS or Ubuntu Touch OS out of the box.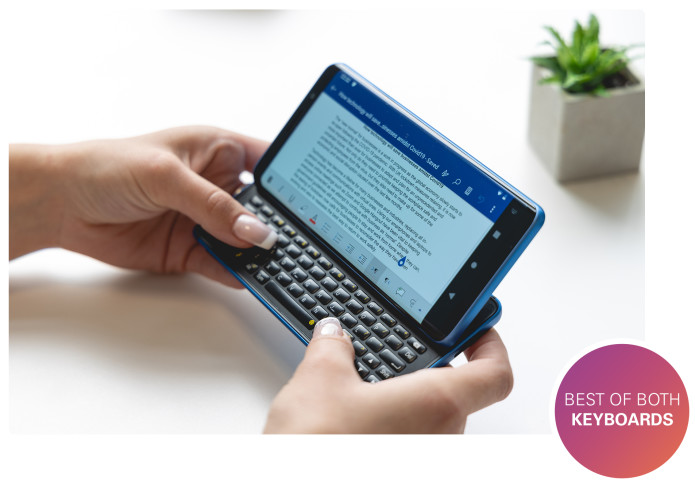 Do you want to get your hands on the world's first consumer smartphone with Lineage OS out of the box? or would you rather be amongst the first to own the most powerful Ubuntu touch OS smartphone ever made?  
Whether you're looking for a pure android experience with the controls to give you privacy from Google, or the immense power of a solid Linux smartphone, choose the OS that suits you best:

Freedom to do whatever you want, with privacy that you control.
The unique design of the Pro1-X combines a modern touchscreen smartphone with the added functionality of a full landscape physical keyboard. Users can experience the best of both physical and virtual keyboards, integrated into one slim, elegant and beautifully crafted device.
We've increased the RAM (8GB) and storage (256GB) to give users the best Lineage and Ubuntu Touch experience imaginable, and we didn't stop there… The Pro1-X comes with a special edition Sapphire Blue housing. Function really has never looked so stylish.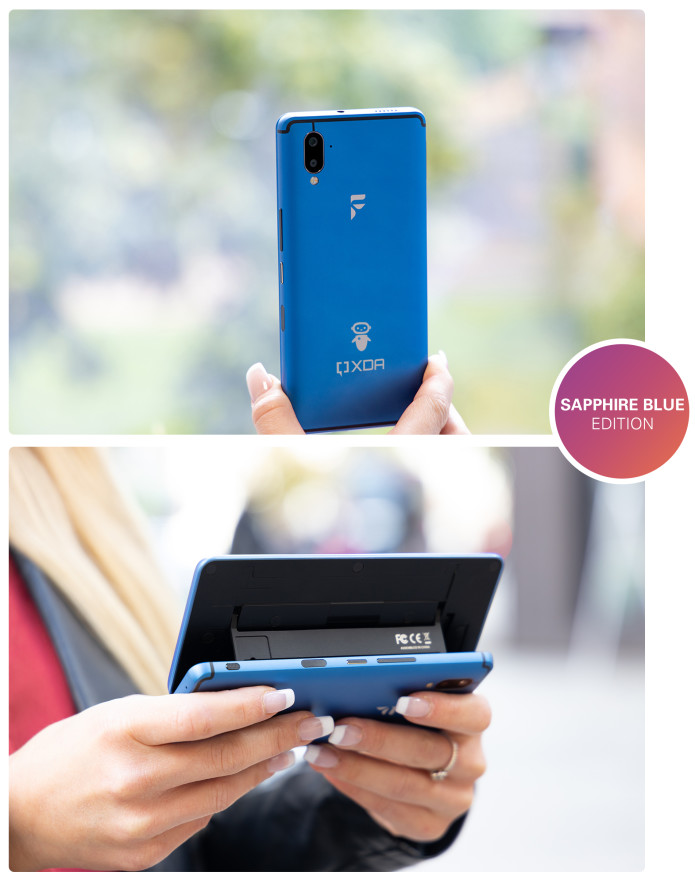 Our partnership with XDA comes from a shared vision to create the best Lineage OS smartphone the market has ever seen. XDA is one of the largest smartphone communities online, the best set of resources for the smartphone enthusiast and one of the homes for Lineage OS.  
Privacy and security are more important than ever and XDA users are renowned for going beyond the traditional smartphone experience. Now, we want to bring this to a wider audience, with the deeper controls in Lineage OS giving users the freedom to take back control and experience the new normal for digital privacy.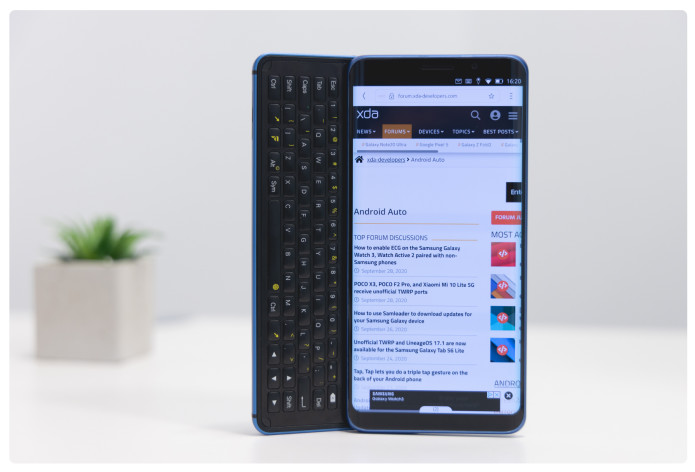 Bringing you a pure, powerful and private Android experience.
Want the Google/Android OS, but without spying? Look no further. Pro1-X gives you the freedom to do whatever you want on your smartphone. No strings attached 
Use app control; Privacy Guard (Lineage 16.0) or PermissionHub (Lineage 17.1) and Superuser to manage your permissions & root access, so that you can control exactly what your apps do and share, wherever and whenever, you like 
Official LineageOS support providing monthly software & security updates, so you can stay productive & keep your phone running for longer 
Ships with Lineage 16.0 out of the box with Lineage 17.1 available to update straight away 
Currently running Lineage 17.1 official release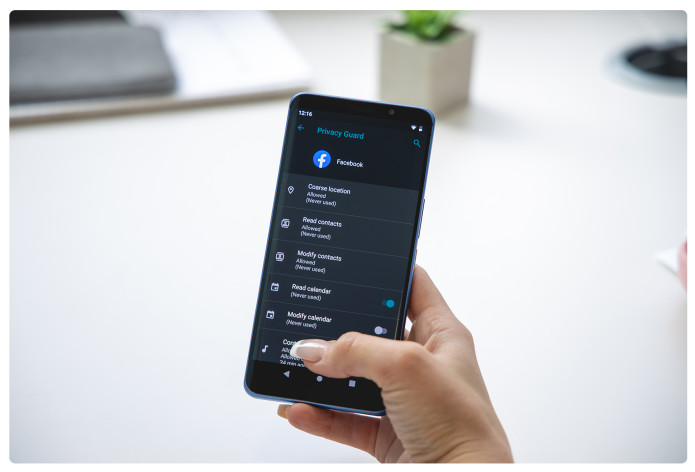 The smartphone desktop experience reimagined.
Do you want the power of a PC from your smartphone? Experience true convergence by simply plugging your Pro1-X into a monitor and watch it instantly transform your desktop.
Ubuntu Touch's super smooth gesture based UI
Full desktop experience from your smartphone, with gesture controls and a modern UI 
Use the Pro1-X screen as a mouse to navigate your desktop experience
Multitask like a pro and work on multiple apps at the same time
Run your favorite Android apps with AnBox or desktop apps with Libertine 
When you're done, unplug and continue using the Pro1-X as your everyday smartphone
It's your phone, so we want to give you the power to choose how you use it. The possibilities are endless.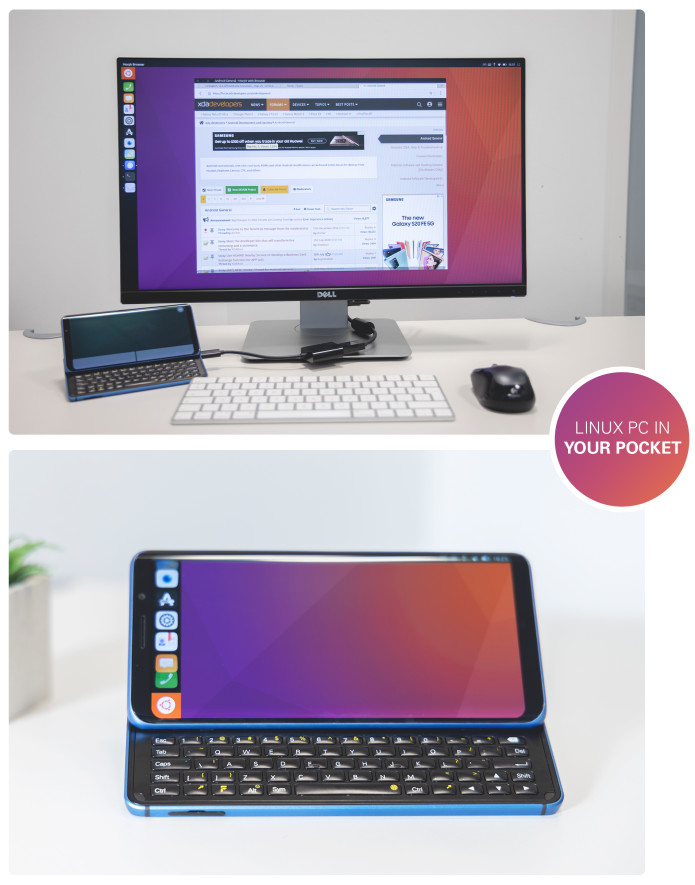 Additional OS support in development.


Experience the best of both keyboards
Having the freedom to choose between a virtual keyboard or a physical keyboard makes it that much easier to edit documents, message your friends, play games or access terminal on the go. Your phone, your choice.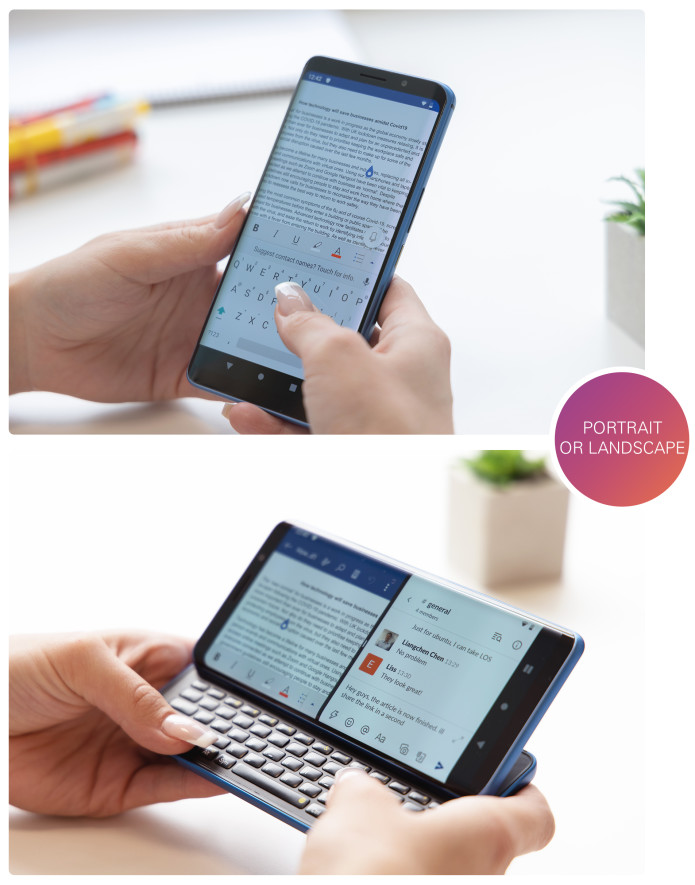 Multitask like a pro
The slide out landscape physical keyboard and large 5.99 inch AMOLED display lets you use split-screen multitasking as it should be. Open two apps at the same time without the screen taken up by a virtual keyboard. Staying productive on the go is a breeze and honestly a joy to use.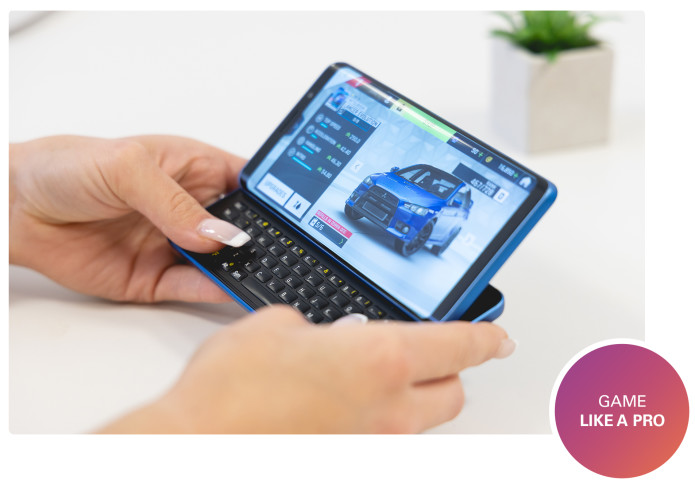 Take full advantage of the physical keyboard and its PC like features to play your favourite games.
With a resolution of 2160 x 1080 pixels, the Pro1's large 6 inch AMOLED display really brings games to life. For the first time on a smartphone, play your favourite emulators with physical keys. 

We've been featured in all this media in the past 12 months: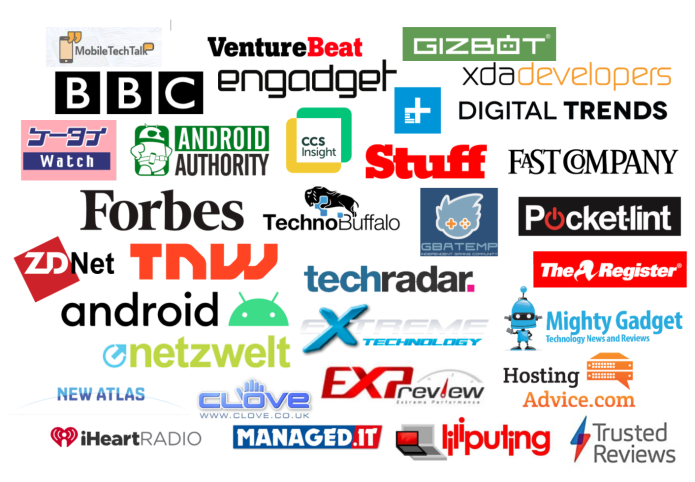 We are on a mission to create products that enhance our functionality and productivity. Like you, we believe in complete freedom and openness when it comes to technology. We've been listening closely to our community, and have taken their feedback onboard in creating the Pro1-X. This is why we've come up with the special edition Sapphire Blue colour and increased it's RAM and storage.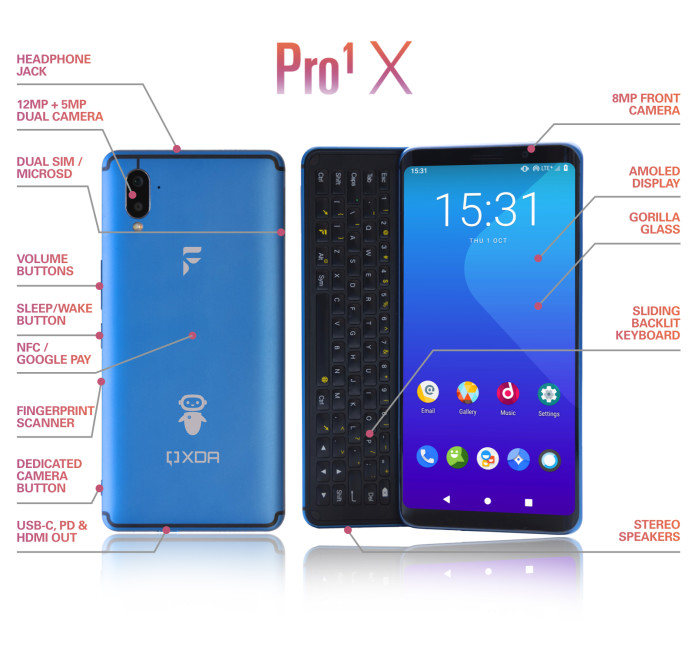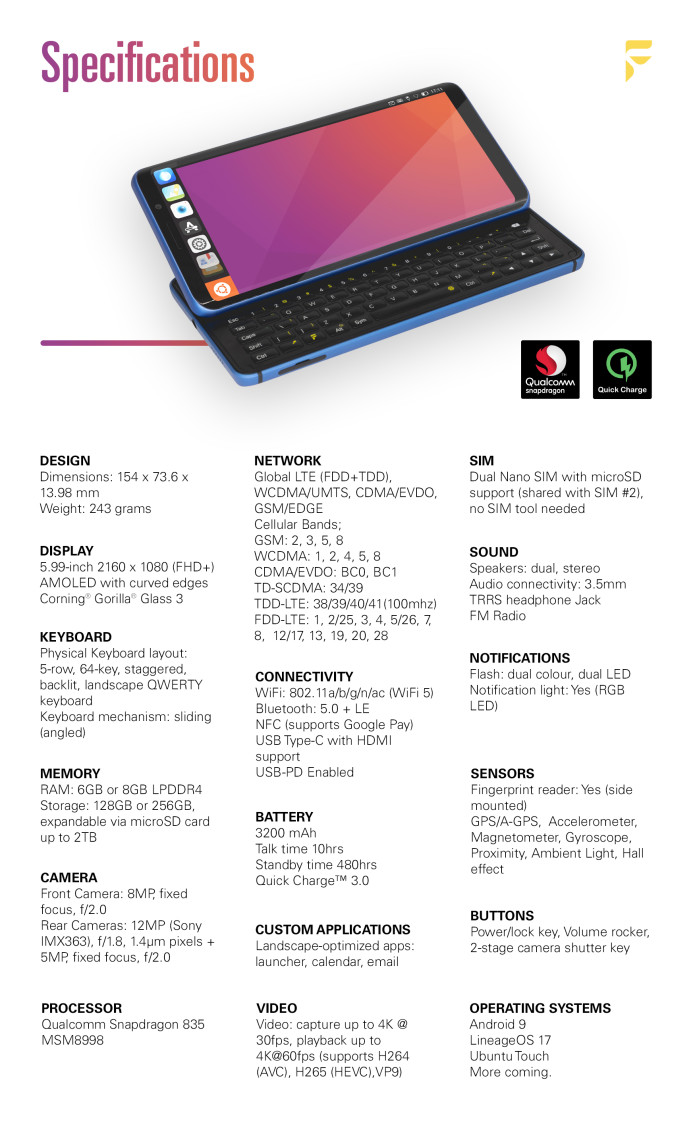 The Pro1-X hardware runs both Lineage OS and Ubuntu Touch smoother and faster than almost every other competitor device. We don't get caught up the the GHz discussions but if you really want to know, here's how the Pro1-X compares to some of the competition: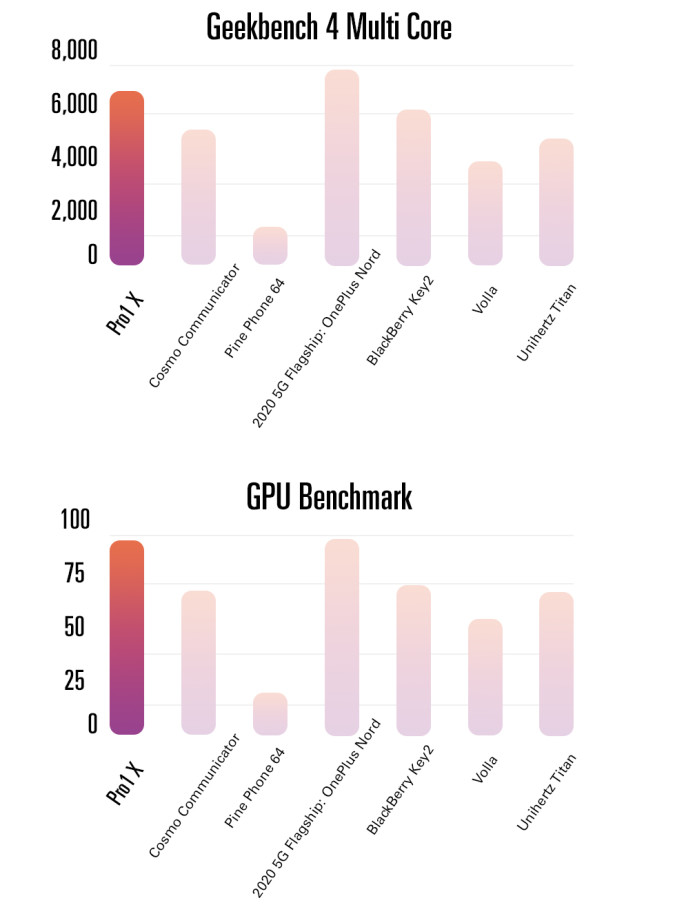 You asked for more keyboards, so we're now including the following options:
QWERTY

QWERTZ

Scandinavian

We also have an AZERTY layout which is currently being finalised. An update with AZERTY renders will be provided in the coming weeks before shipping.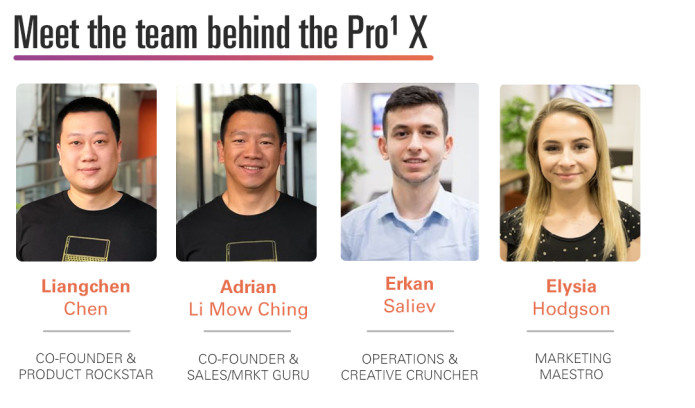 Plus a wider support team, Team F(x)tec HQ is in London, United Kingdom.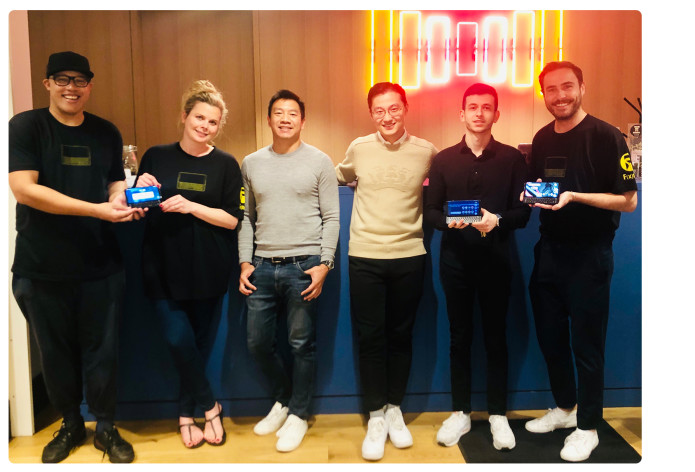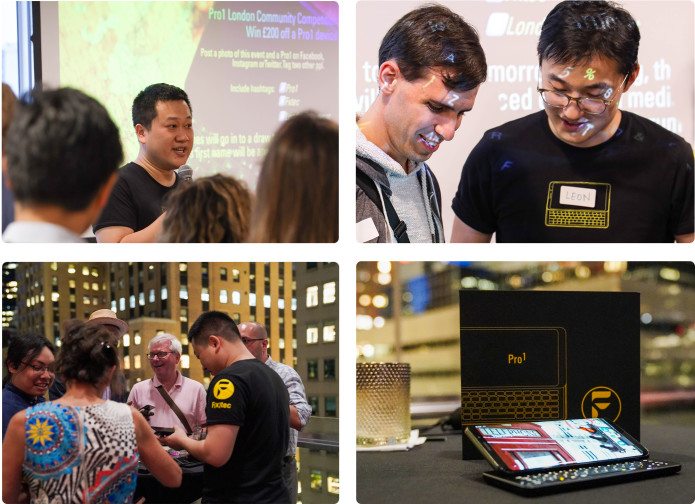 For those of you that are not already part of the F(x)tec community, we would like to invite you to join us on this exciting journey. Make a pledge today and join the thousands of existing community members and customers. 
We can't do this without you so show us your support by following us on social media and help us to spread the word!

We are an existing, well-established smartphone brand and have been completely self funded to date. So I guess you could say we are not your typical indiegogo campaign… Having already launched & delivered our first phone to many happy customers we have chosen to launch the Pro1-X exclusively through IndieGoGo. 
The way in which this device came about both with F(x)tec community members and with our partnership with XDA (one of the largest tech communities online) we wanted to bring this to market on a community based platform. Community feedback is really important to us and we are keen to hear first hand how you think we are doing. Lineage and Ubuntu Touch have already been carefully reviewed and tested by the F(x)tec.The Ubuntu Touch and XDA communities have given their support, so this is our opportunity to show you all that we have been listening & now it's our turn to give something back to you.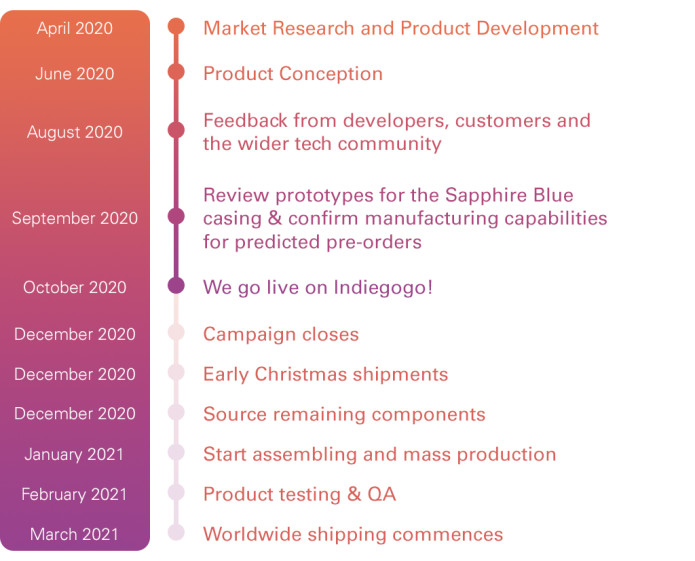 We are super confident in our ability to bring the Pro1-X to market based on our experience with the Pro1. This saw us successfully manufacturing and shipping thousands of devices internationally over the last 12 months. 
Co-founder & Product Designer, Chen has a really strong relationship with our manufacturers in China and will maintain regular communication with the factory for updates and progress reports on the Pro1-X. With our supply chain already in place, we anticipate being able to start shipping early units before Christmas. Based on existing knowledge, expertise, infrastructure and workforce, we have assessed the overall risk to backers to be extremely low.

Here is what we are doing to make ensure our project runs smoothly: 
We have recently renewed our contracts with the factory to secure workforce and time allocated to manufacturing our devices in the upcoming months
We have already part-purchased the main components needed to manufacture the Pro1-X
We have been liaising with the factory to discuss what additional steps will need to be implemented in the production process
We have been working closely with developers & our F(x)tec community to assess the additional OS options
Despite this, we do ask that backers are considerate to unforeseen circumstances that may occur and/or is out of our control i.e. machinery breaking in the factory or the recent coronavirus pandemic. 
We will provide regular updates throughout our journey; from the moment we begin manufacturing right until our backers have received their final product.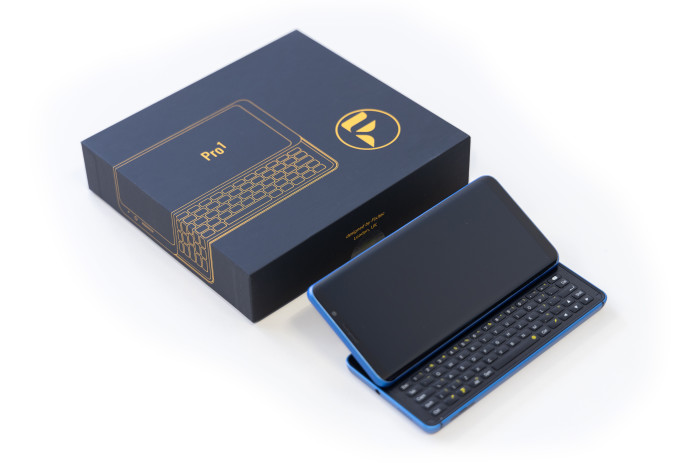 We are hoping to raise £75,000 through our campaign, and hope to start shipping some devices before Christmas and others in Q1 2021. This will contribute towards finalising prototypes, purchasing components,  manufacturing costs, and advanced software development and configuration of Ubuntu Touch, Lineage OS, Android OS (to name a few) on the Pro1-X.
Back us now to be amongst the first to get your hands on a Limited Edition Pro1-X. You also have the opportunity to give us some feedback and suggestions that will inevitably shape the future of F(x)tec smartphones.
We need you to help us build technology that puts you in control.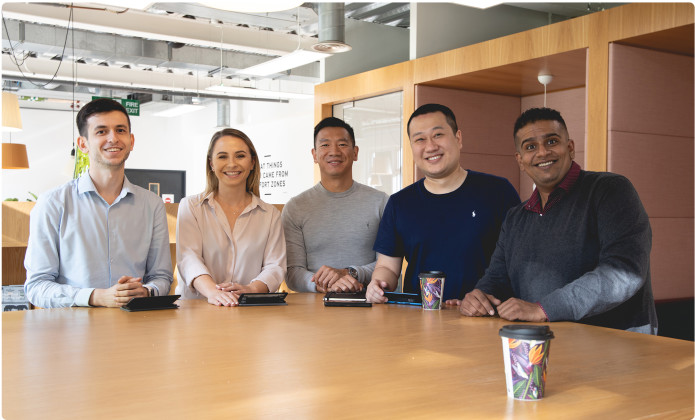 Refer your friends for the chance to win one of two Pro1-X smartphones, with a personalised engraving and a pair of F(x)tec headphones!
Once you have placed your contribution, don't forget to share your unique referral link to your friends, family and anyone else you think might like this phone (only available when signed into your IG account).The more people you refer, the better your chances of winning!