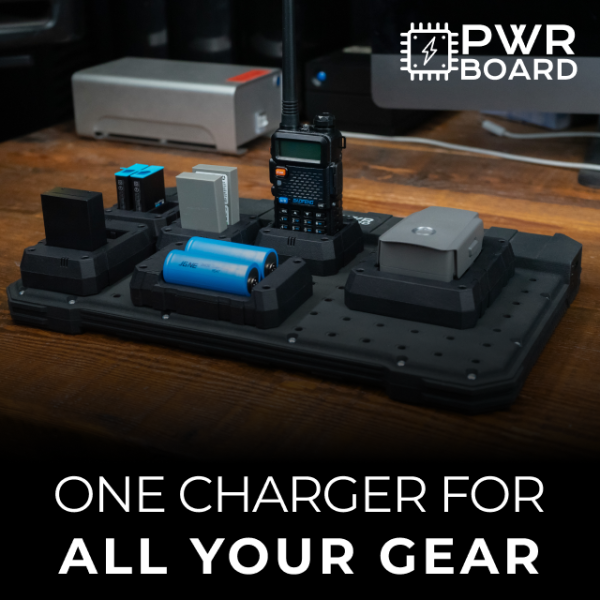 PWRBOARD: World's First Modular Charging Station
$8,303
raised out of
$60,000
Concept
Zero Cables | Open-Source | 200+ Devices Supported | Fully Configurable | Safe Charging
Story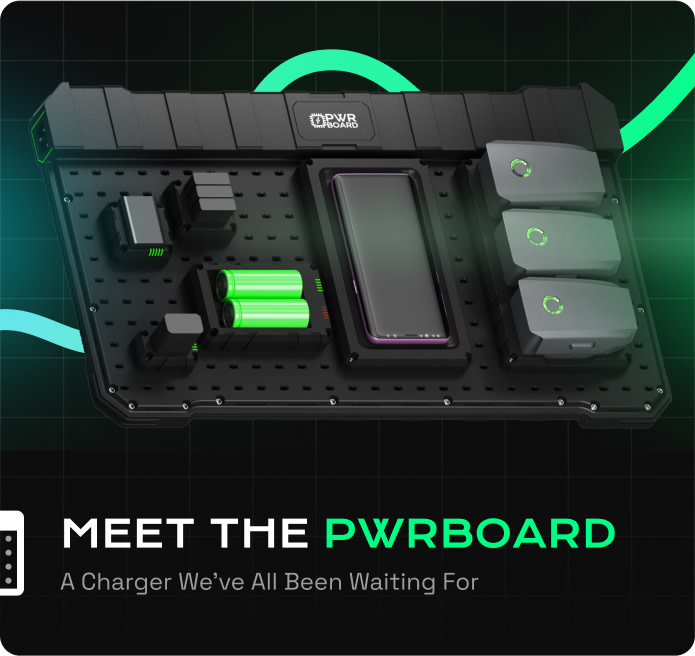 Meet the PWRBOARD — a revolutionary way to charge all of your gear. From DSLRs, cinema cameras, and drones to laptops, phones, and anything else you can imagine!
It's an open-source and fully customizable universal charging station for everyone who needs to charge a bunch of batteries on a daily basis — an all-in-one charger in a convenient & versatile package.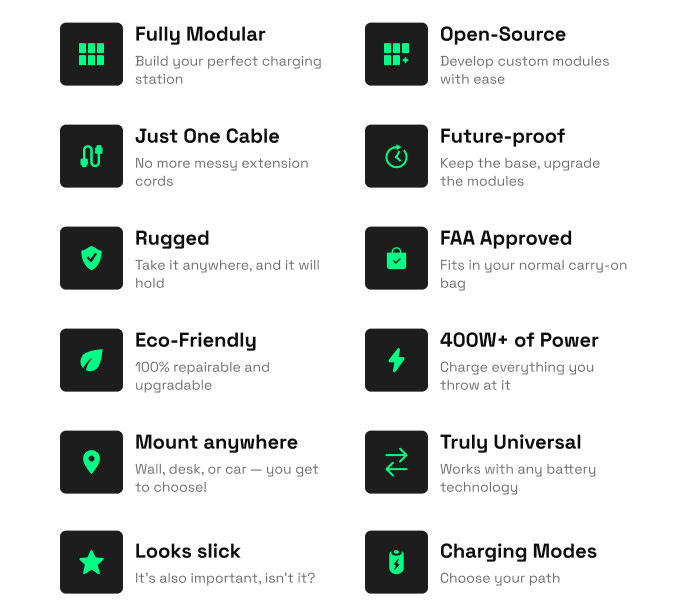 PWRBOARD is the only truly universal charger out there that will work with all your gear no matter the brand, battery technology, or anything else.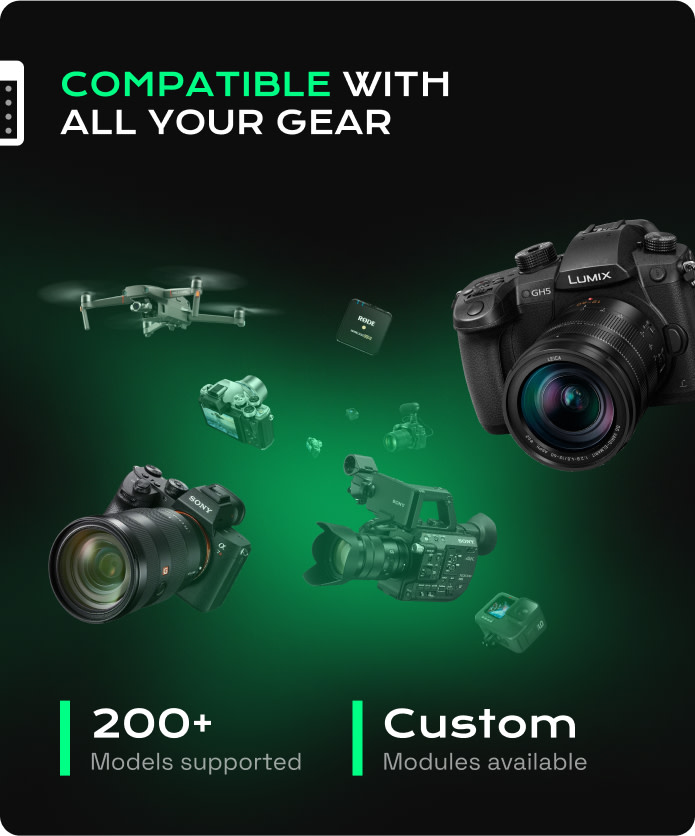 Not only we are supporting 200+ most popular pieces of equipment from your favorite brands starting day one, but you can easily order a custom module for your specific piece of gear and even build your own module with just a 3D printer and our universal SmART PCB or your own custom circuitry with the help of the Module Development Guide (available summer 2022) and Dev Kits!
When you decide to upgrade your equipment, that's not a problem either — keep the base and get the new module for a fraction of the cost of the full charger!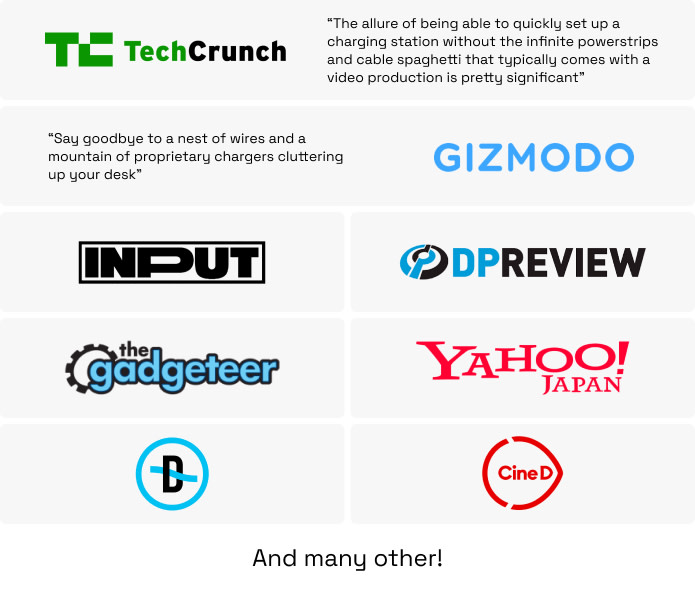 Let's be honest – we all are tired by a ton of cables we are forced to carry on an everyday basis, by having to roll them up and then untangle on every move, by putting too much effort into organizing our gear…
With PWRBOARD, there will be no need to waste any more time on these unnecessary tasks. Your batteries are organized by default wherever you go, and there is nothing to untangle because there are no cables! Well, technically, there is one, the only one 😀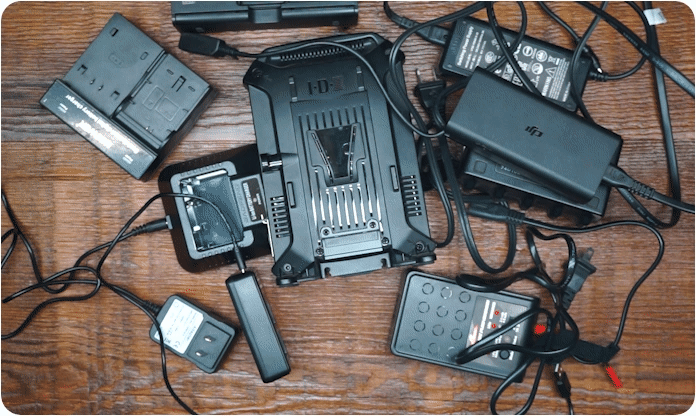 Plug in that one cord, press the power button and sit back and enjoy your batteries being charged – it's that easy.

As a creators ourselves, we understand how important it is to choose your charger wisely, as some cheap aftermarket chargers can irreversibly damage your battery.
Our amazing electrical engineering team have built a state-of-art universal PCB, which we use in almost all of our modules.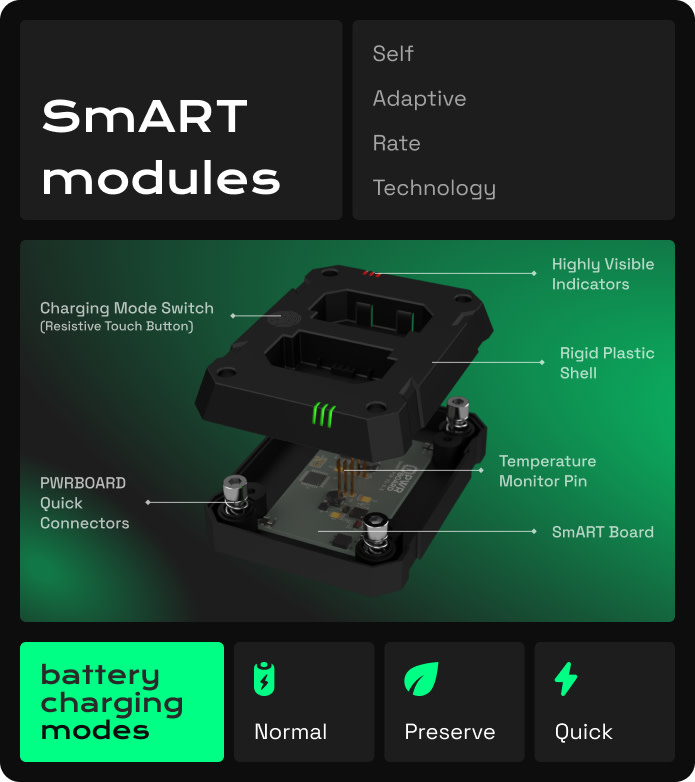 SmART PCB not only instantly detects all battery specs and adjusts voltage and current accordingly but also allows you to switch between 3 different charging modes.
⚡Normal mode charges your battery normally using the manufacturer's recommended current.
⚡Preserve mode uses only 70% of the manufacturer's recommended current to charge your battery and charges it only up to 85% of its nominal capacity. This helps to extend battery life but reduces the shooting time.
⚡Quick mode is the exact opposite of the Preserve mode – it charges a battery with the maximum safe current possible (approximately 2x faster than the Normal mode). It does reduce battery life and cycles, but if you need a full battery ASAP, this is the way to go.
Did we mention battery temperature monitoring? Yes, It's there for all batteries supporting it. With PWRBOARD's SmART Battery Control PCB, you can 100% trust us with your batteries.
Please note that batteries with built-in smart controllers like DJI or V-Mount batteries control their parameters on their own. Thus, PWRBOARD cannot provide different charging modes for such batteries.

PWRBOARD fits perfectly inside the FAA-allowed carry-on bag, yet it's large and powerful enough to charge 45 GoPro batteries simultaneously at full speed.
Charge your batteries anywhere with a bunch of power options available – power the board using 110V / 220V AC plug at home or studio, or use the 12-24V DC Input to power it in the car, van, or a boat.
When powered by 12-24V DC input, total power might be limited by the source plug output. DC port will be added for no extra cost to all Boards if the corresponding stretch goal is reached (see below).

Connecting and disconnecting your modules should be easy and fun – and it is! Our in-house developed special Quarter Turn Fastener system lets you install or remove a module in less than 10 seconds. Share Modules with your friends and colleagues or exchange them hassle-free.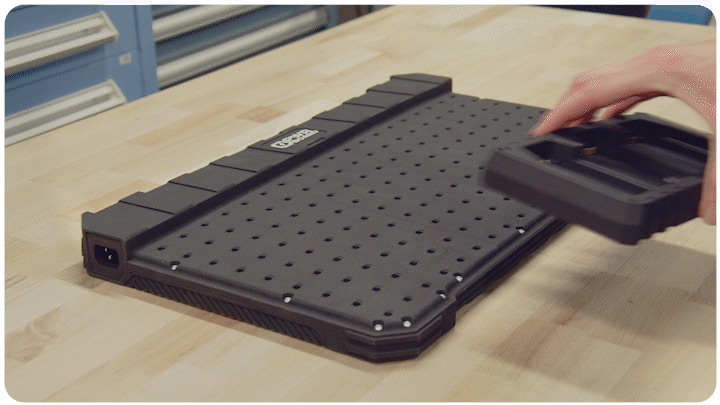 Your Modules will never fall off by themselves whether you decide to hang PWRBOARD on the wall or throw it in a bag for a journey. You can even lift the fully loaded board by a single module! This connection is very strong as it utilizes physical fasteners – no magnets or other bullsh*t.

Forgetting to take a charger with you on a shoot – what can be worse? Well, probably realizing that you haven't charged all of those batteries that were drained yesterday.
Not anymore! With a well-organized PWRBOARD modular system and highly visible charging indicators, every battery is now at your fingertips.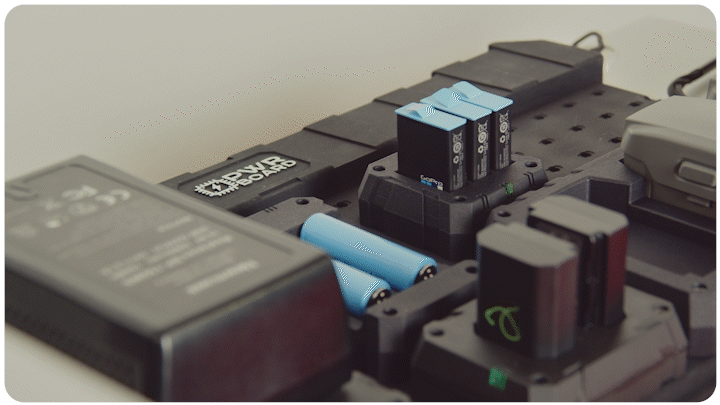 Check the charging status of all your equipment just by taking a glance at your PWRBOARD – with all indicators meaning the same, there will be no more guessing about the current battery state. Easily see the charging mode in which Module is charging your batteries, and switch it with a quick tap.

Got some great DIY skills and a 3D printer? Save money by building your own module to charge anything you want.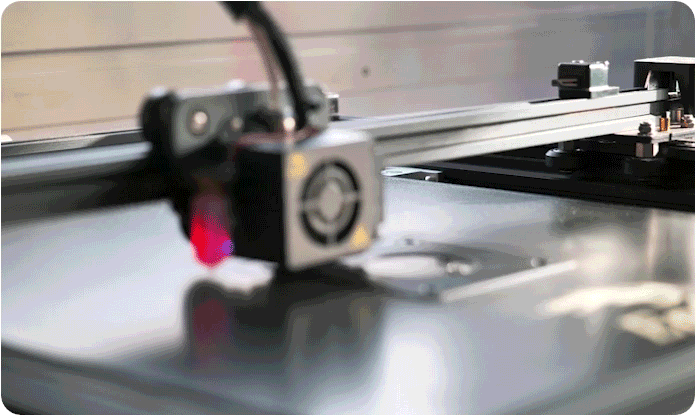 The whole process is very simple:
Download our Module Development Guide (coming this July)
Measure your batteries to choose the right module size and design it
Design your own circuitry or buy the PWRBOARD SmART PCB
Assemble it all together
Enjoy your new charger!
To order SmART PCBs now, choose the "PWRBOARD Dev Kit" perk or order them later via the link you will receive after the campaign ends.
Designed an awesome module that we missed out on? Distribute the model for free or sell it as a pre-built device through our Community Marketplace (or any other platform)!

With PWRBOARD, there is no need to buy different power bricks anymore to charge all your equipment. Use a single power supply that is built into the board to juice up everything you've got!
As for the modules, due to their parts being partially interchangeable, whenever you decide to upgrade or exchange one of them, there will be an option to order just the required parts for upgrade and keep up to 60% of plastic parts and up to 100% of internal electronics thanks to our SmART PCBs which we embed inside every module.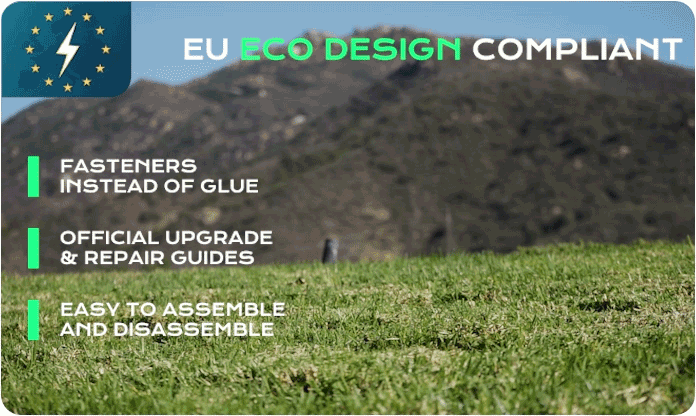 According to our calculations, taking the average device lifecycle as a reference timeframe, you can reduce the amount of e-waste generated by chargers you own by about 2.5 times when choosing the PWRBOARD modular universal charger!

We proudly assemble the boards in our home countries — USA & Estonia. Of course, some components are sourced abroad, but the PWRBOARD is designed, developed, and assembled here.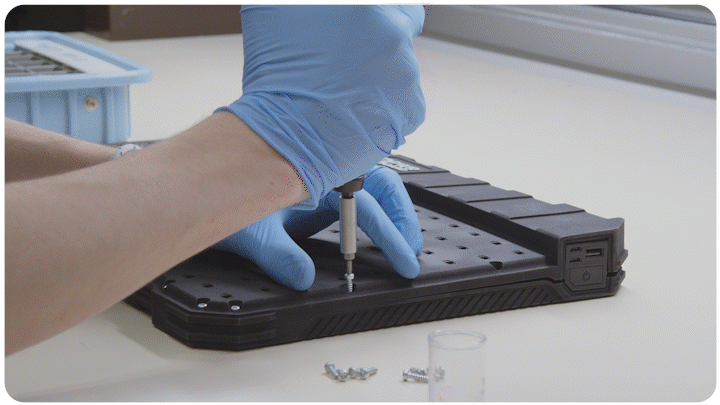 This does not only optimize shipping and duties but also ensures an outstanding quality
of the final product, as well as lightning-fast support.

Customize your board however you like – paint it, apply a printed skin, or something else! Same with modules – make them look cool, unique, and distinguishable from each other.
Make and sell custom skins on our Community Marketplace (or any other platform).
Want something unique right now? Check out our super-limited PWRBOARD NFT Collection and buy a board there!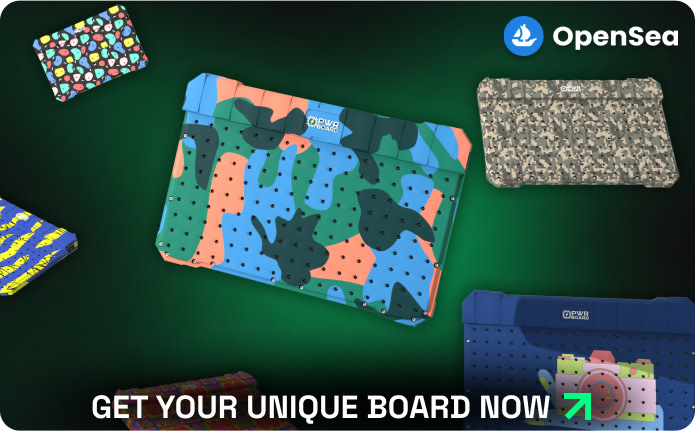 Every board in the collection is a one-of-a-kind PHYSICAL piece of art, hand-painted by our amazing artists with an NFT token that works as a digital certificate.
If it doesn't sound cool enough just yet, let us tell you that right now you have a chance to participate in the first-ever NFT hardware launch! So check it out and be the first one to get your unique board!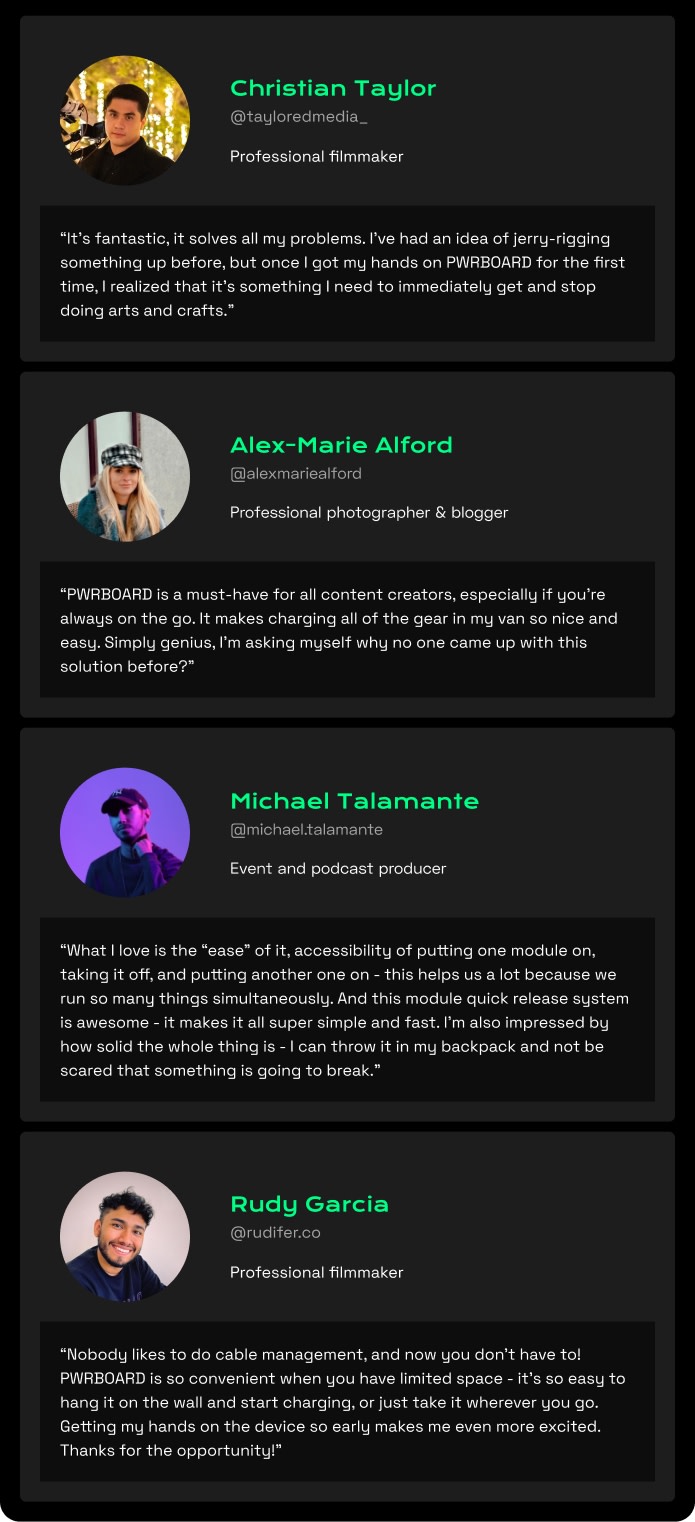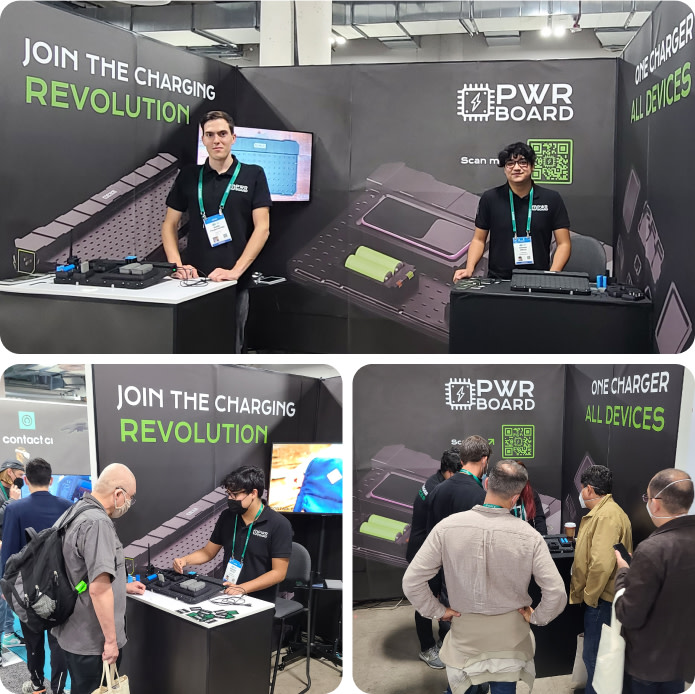 During the IndieGoGo checkout process, you will specify just the number of Modules you want to get with your board. After the campaign ends, you will receive a link to our automated backer platform to specify the particular Module models, order extra Modules, set your shipping address, and many more.

The Board is the PWRBOARD's core. It does all the hard work by transforming AC to DC and serves as a base for Modules by keeping them in place and supplying them with power.
Thanks to specially designed circuitry inside, you can place the Modules however you like!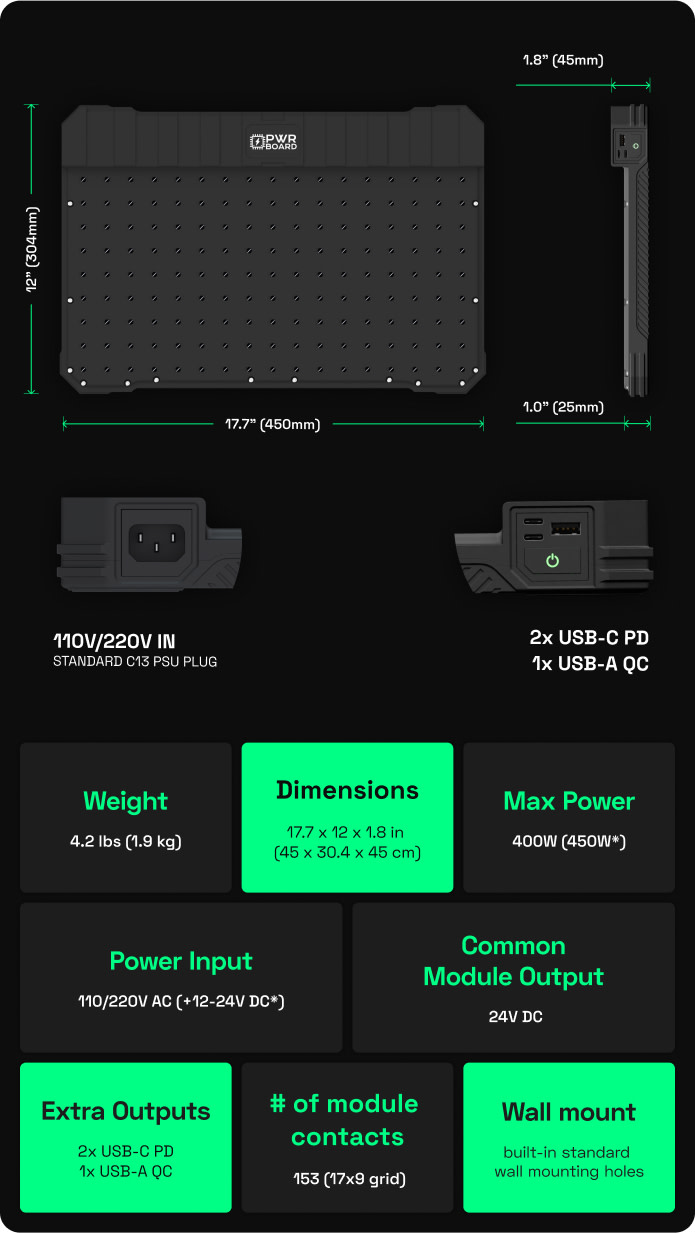 Modules, on the other hand, do all the smart work by instantly recognizing all of the specs of inserted battery and adjusting the voltage and current accordingly to create the best possible charging conditions. Did we say about battery temperature monitoring? Yes, It's there for all batteries supporting it 🙂
Please see below for all the first batch Module models and check out our Module Configurator to build your perfect layout and plan module quantities:

During the IndieGoGo checkout process, you will specify just the number of Modules you want to get with your board. After the campaign ends, you will receive a link to our special platform where you can specify the particular Module models, order extra Modules, set your shipping address, and many more.


Order a custom module with ease!
Thanks to the SmART universal PCB our engineers have developed, we are able to build new modules with the speed of light and for the fraction of the cost of the "normal" R&D process!
After the campaign ends, you will receive a link to our special backer platform where you can specify the particular Module models, order custom & extra Modules, set your shipping address, and many more.
Or utilize the advantage of our open-source ecosystem and build your own Module!
Besides that, should this campaign be successful, we will be releasing new modules for the new top-tier equipment within a month of its release date, so you will never ever have to buy another charger.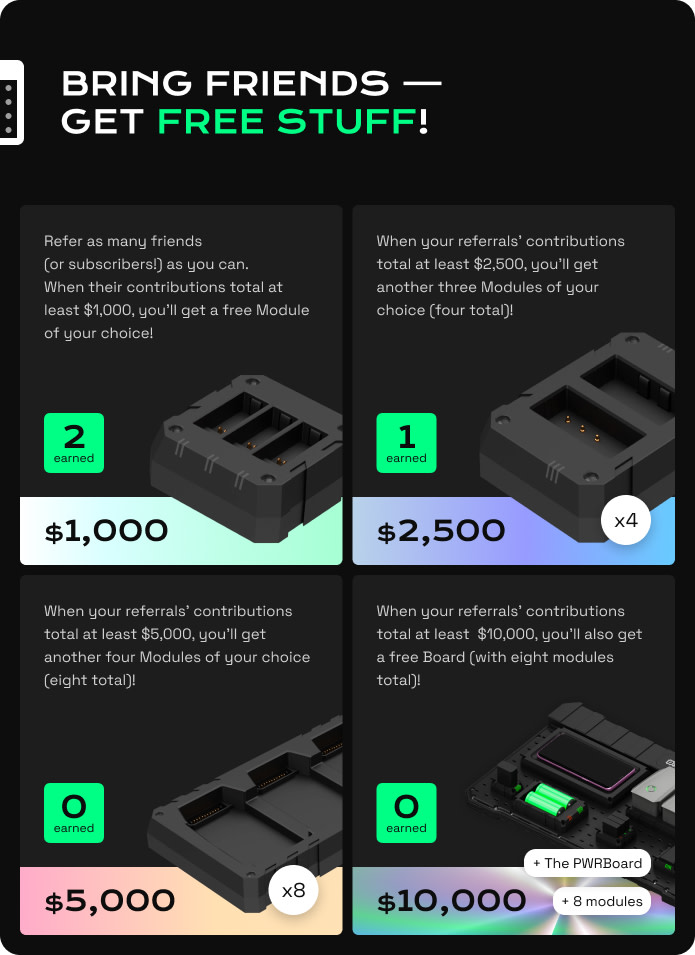 For platform to count your referrals, you MUST BE LOGGED IN into your IndieGoGo Account and MUST USE THE SHARE LINKS at the beginning of page (near the "Follow" button).
The link must have your unique number code in the end, just like this: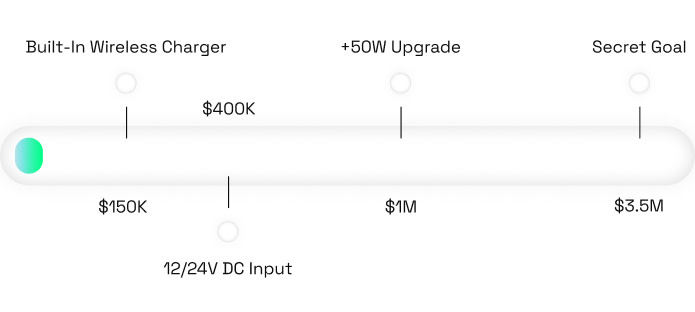 PWRBOARD is a very resource-intensive project due to many components that has to be designed and manufactured, so we have identified some milestone features that we really want to implement but can do it only if we have your full support (and enough funding). These features get unlocked once the total pledged amount exceeds its respective goal.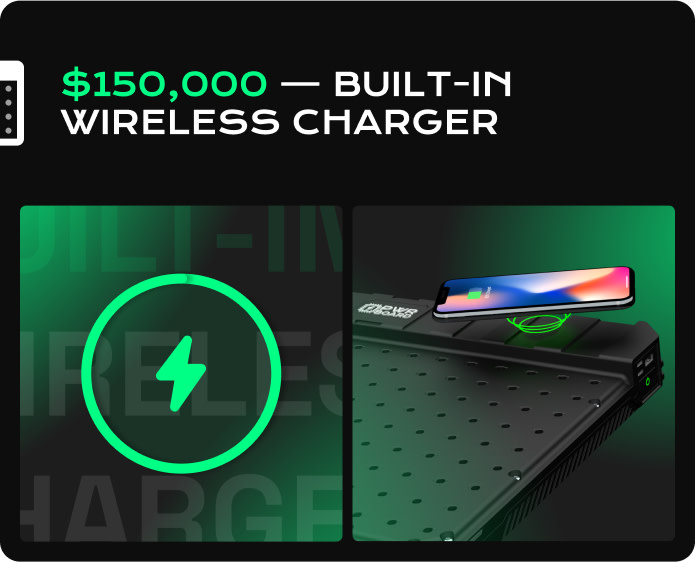 Super-fast Qi Wireless Charger, compatible with Android and Apple phones and many other devices.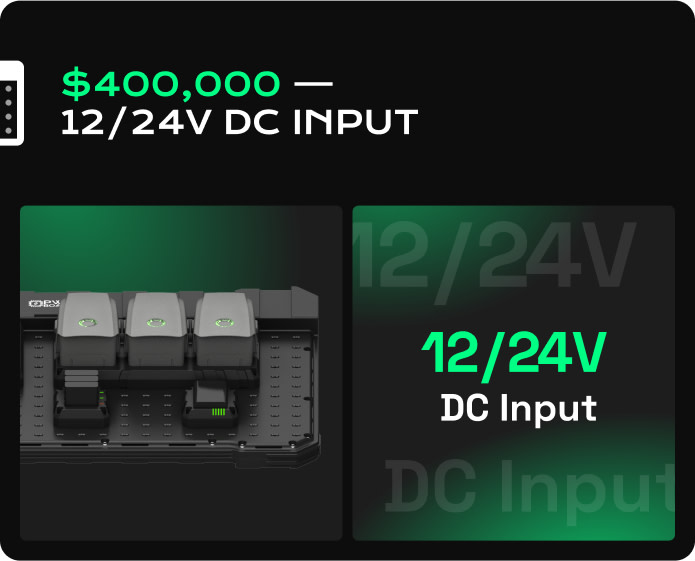 Why not use your PWRBOARD in a car or a van without the need for an inverter? We would love to do it too!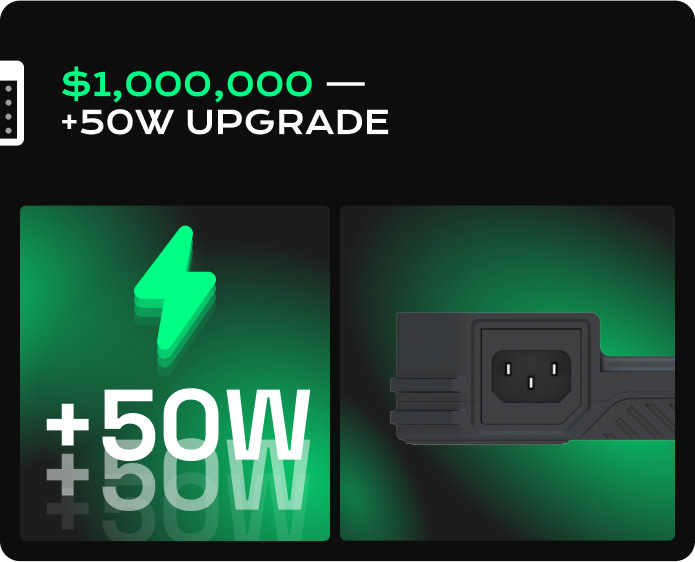 Extra power is never too much, especially when it comes to charging all of the gear simultaneously! $1M and it's here.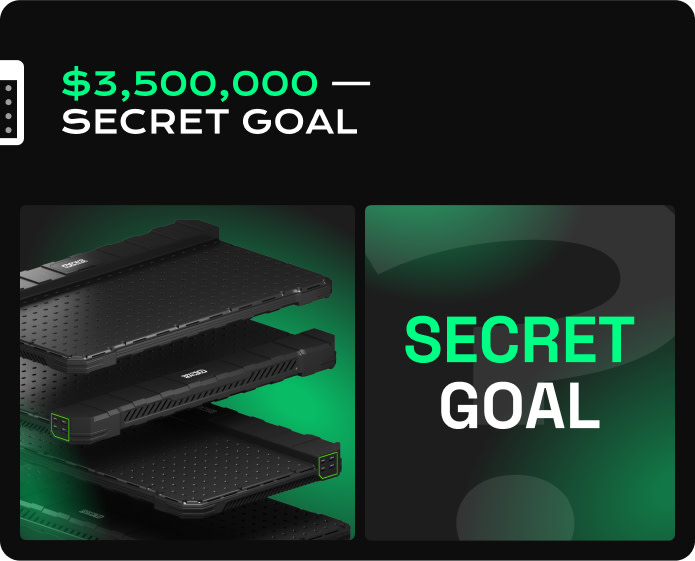 This is a super-secret and, at the same time, super cool addition to the board that you will 100% enjoy! We've been asked a lot about it, but it requires some serious work to be done, so call in all of your friends, and let's make it happen!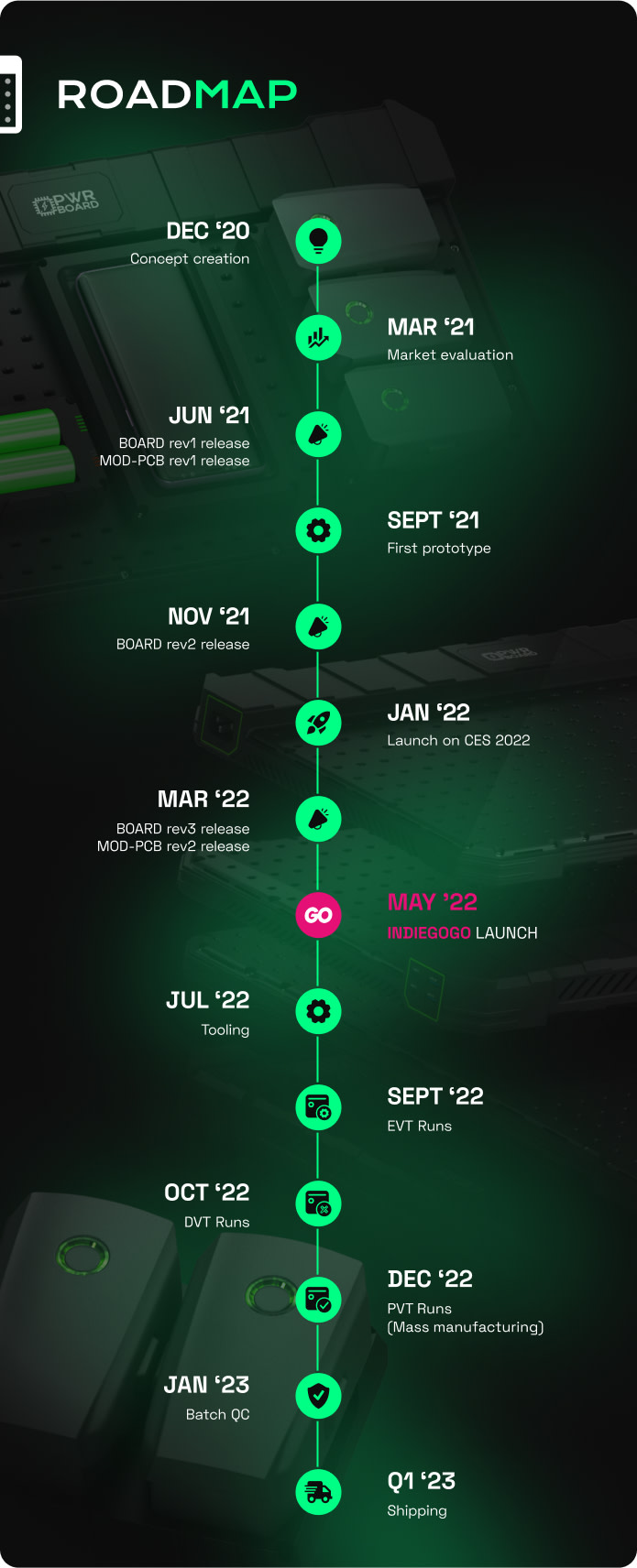 We are committed to 100% transparency about the whole project, especially about the delivery dates. We are highly aware of the current problems in the semiconductor industry that even large companies face, and we anticipate situation to stay the same for at least 10-16 months. This is what forces us to set a delivery date almost a year from now – so we can meet it.
We really appreciate you backing us right now, and this is why we are offering a FREE PRE-ORDERED MODULES REPLACEMENT PROGRAM for all of our backers. This means that if you upgrade or switch your equipment during this year, you will be able to change ordered modules for no extra cost about 2-3 months before the shipping begins (the offer is limited to the same module footprint).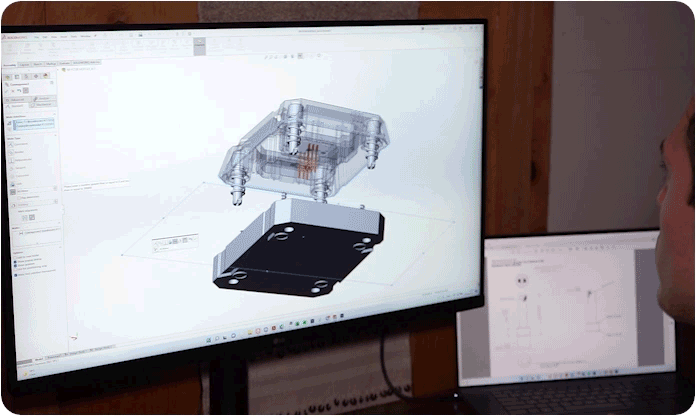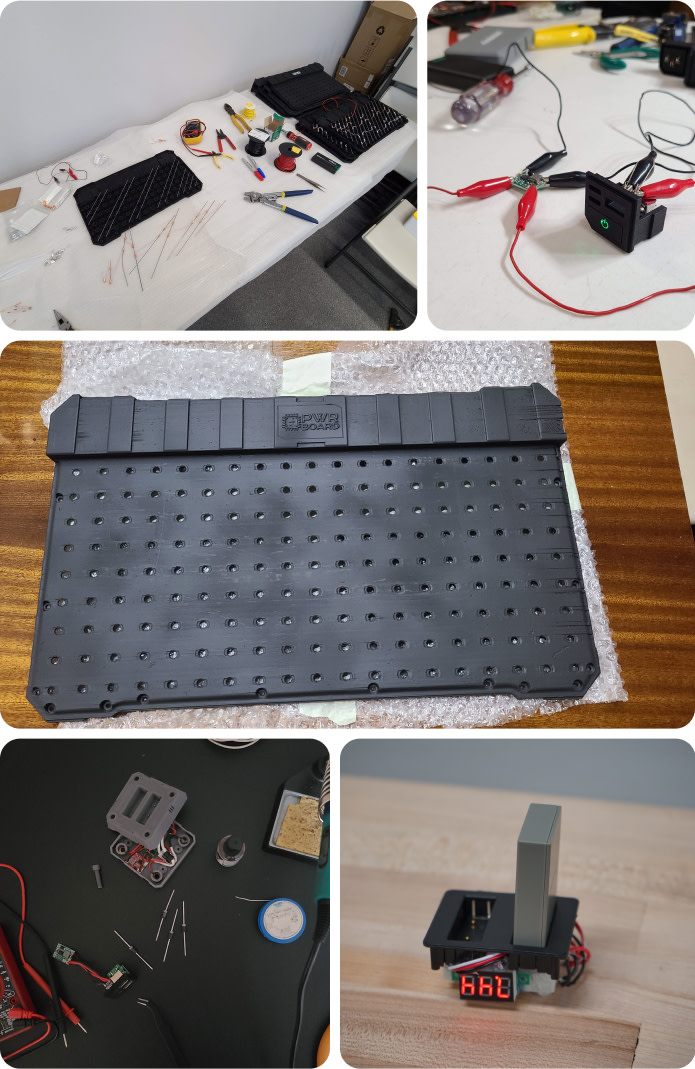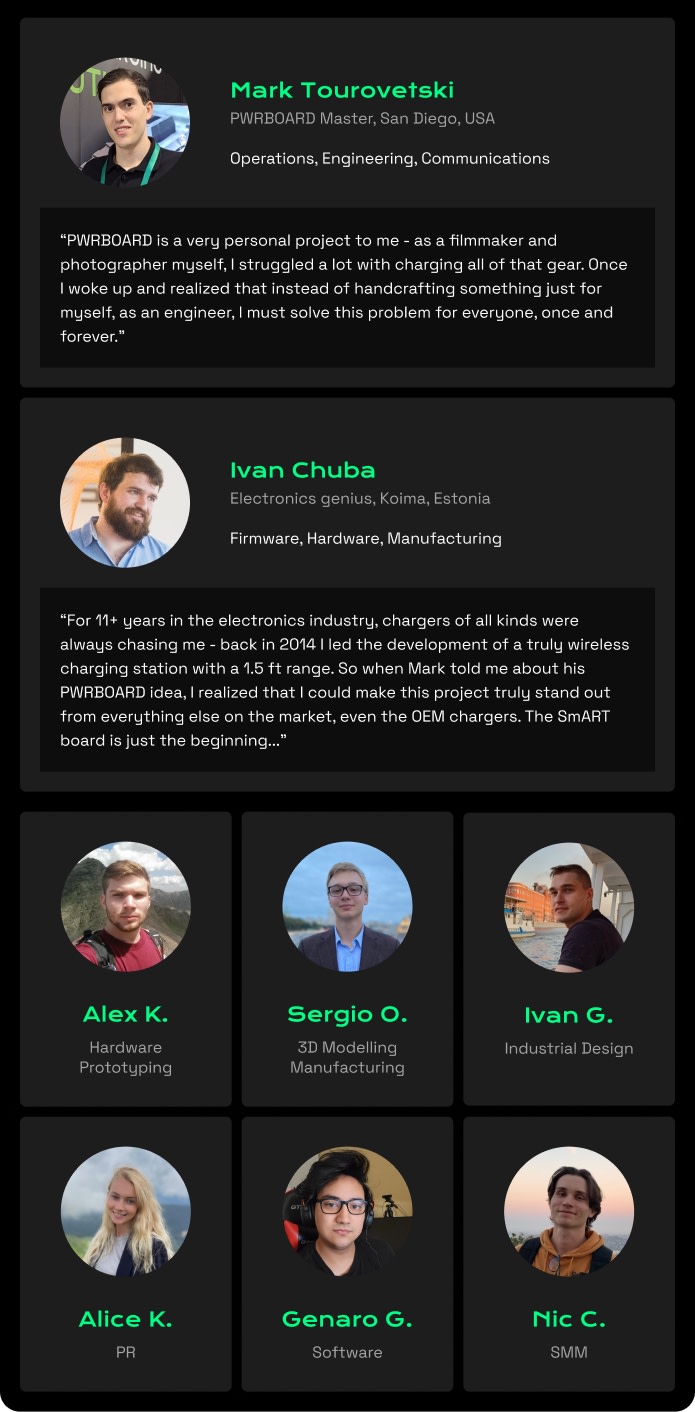 PWRBOARD will be shipped worldwide.
The cost of shipping will be charged via the pledge management system after the campaign, where you will also be able to confirm your rewards, address, and buy extra modules.
Your orders will be shipped from US and EU. Thus, customers from these regions will not need to worry about the import taxes or duties, and we expect shipping costs to be around $30-$40 for such a large device.
If you are located outside of the EU/US, please note that our prices do not include local taxes, duties, and VAT, which will be subject to the laws and regulations of each individual country.

Please check out the project FAQ tab (right below the top video or at the bottom of the page) to get answers to the most popular questions about the PWRBOARD.

Got more questions? Don't hesitate to reach out anytime to get all of them answered!

Please find the press release, pictures, videos, and GIFs for press and blog articles on our Google Drive.

Manufacturing & Supply Chain:
Advanced Charging Solutions Inc. founders and the core team have been in the hardware business for more than eight years, with tens of products developed and manufactured, including a few successful crowdfunding campaigns. We have extensive knowledge and experience in hardware design and development, manufacturing, QC, and other critical processes. We understand the production process well and know how to ensure that the manufactured product is reliable, well tested, and delivered in time.
We have strong supply chain partners whom we worked with for many years on plastic injection molding, PCB manufacturing, and more – they are capable of delivering high-quality parts and components.
Part of our manufacturing team is based in Hangzhou to supervise and control every step in the component production process, and our experienced team members are in place in US and EU to oversee the final assembly and testing processes.
However, the current situation in the world may still bring us unexpected issues, and if this happens, we are committed to keeping you fully and transparently informed about how we're going to deal with it and how it will affect the shipping dates.
Logistics:
As we are expecting to ship devices locally for many of our customers, logistics should not be an issue in this case.
For our customers outside US & EU, our logistics partners will fulfill the pledges with top-notch courier companies to ensure reliable and fast international direct-to-customer delivery.
However, due to many supply chains being broken now, the shipping may be tricky nowadays with unexpected delays, problems on borders, and everyday changing rules, possibly resulting in some delays. We will be 100% transparent and keep you informed if such issues arise.

Due to continuous product improvements, the images and technical specifications may differ slightly from the actual product that you receive.
PWRBOARD is shipped with insurance and tracking. Damaged goods must be reported within 5 business days of receipt of goods for Domestic shipments and within 48 hours for International shipments to qualify for insurance claims.
PWRBOARD is Patent Pending.
Shipping costs for perks and add-on perks based on carrier and destination will be determined post-campaign. PWRBOARD ships worldwide. Taxes such as VAT and GST are not included.
Customers may also pick up items from our San Diego, CA facility by making an appointment with customer service at the time of fulfillment.
The Canon logo is a trademark of Canon Inc. The Sony logo is a trademark of Sony Corporation. The Nikon logo is a trademark of Nikon Corporation. The Olympus logo is a trademark of Olympus Corporation. The Panasonic logo is a trademark of Panasonic Corporation. The Fujifilm logo is a trademark of Fujifilm Holdings Corporation. The GoPro logo is a trademark of GoPro, Inc. The DJI logo is a trademark of SZ DJI Technology Co., Ltd. All other trademarks are trademarks of their respective owners.