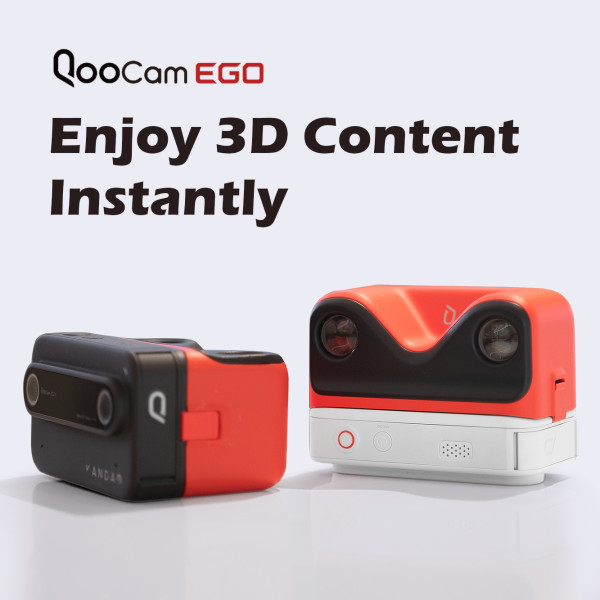 QooCam EGO, Enjoy 3D Content Instantly
$290,938
raised out of
$30,000
Concept
Stereo 3D Tech | Instant Playback | Headset Free | Magnetic Design | 60FPS & 847PPI | Touch Screen
Story

QooCam EGO is the World's first 3D camera for instant immersion. Using stereo 3D technology and magnetic design, the camera lets you capture moments like never before.
With the detachable magnetic 3D viewer, QooCam EGO is the ONLY  headset-free 3D camera. Once the 3D viewer is attached to the camera, the system automatically enters the playback mode, you can then relive all of your precious memories.
Unlike other devices that split one image into two images to render a fake 3D effect, QooCam EGO has two lenses that capture the world just as you see it to provide an ultra-realistic 3D experience for photos and video. Now, the most important moments in your life will no longer be limited to 2 dimensions.
The idea of stereo 3D is based on human biology: We have 2 eyes that each deliver 2 slightly different views of the same scene. The further an object is away, the less these 2 views will differ and vice versa. 
QooCam EGO mimics the interpupillary distance of human eyes (65mm) creating images with the depth and realism that virtually replicates the experience of the physical world.
EGO Gallery
 

Sample Photo

(8000×3000, side by side, original color)

 

Recording at dual 1920*1080@60 FPS, QooCam EGO provides smooth and clear 3D video and images. 
The PPD (Pixel per degree) of the 3D viewer is nearly TWICE as much as that of existing headsets.
By attaching the 3D viewer, you can achieve a boundary-pushing experience that will thoroughly immerse you into the scene when combined with our full HD display technology.
 
QooCam EGO can be easily connected to your phone via in-cam Wi-Fi. With smart editing and customized 3D stickers, our App unleashes your creativity even further.
Double the fun when you're with friends! Have you ever wished he/she was here at a certain point in your life? The sharing feature of QooCam EGO makes your wish come true! Users can effortlessly share 3D content via a unique pin code. The footage is also compatible with YouTube and major 3D TVs and headsets. 
To watch via headset, you can insert the SD card and view the 3D video directly. The direct output format is side-by-side. There's no need to convert format or stitch the footage. Create your stories and captivate the world!
The QooCam EGO is small enough to fit in your pocket and weighs just 160g without the 3D viewer, less than half the weight of a can of Coke (around 384g). You can take it anywhere you want to go without effort so that all your best adventures can come alive in 3D.
The QooCam EGO comes with a 1340mAh battery that can last approximately one hour. Extra batteries and battery chargers are also available so you can capture anything whenever you choose.
Thanks to cloud storage, you can upload your videos and photos so you never run out of storage capacity and you can safely store and view your content anytime.
Shenzhen Kandao Technology is a world-leading company that focuses on VR technology, Ultra-HD video cameras, and video conferencing cameras. Adhering to the mission of "creating distinguished imaging products, enriching human life experience", we continue to develop distinguished software and hardware.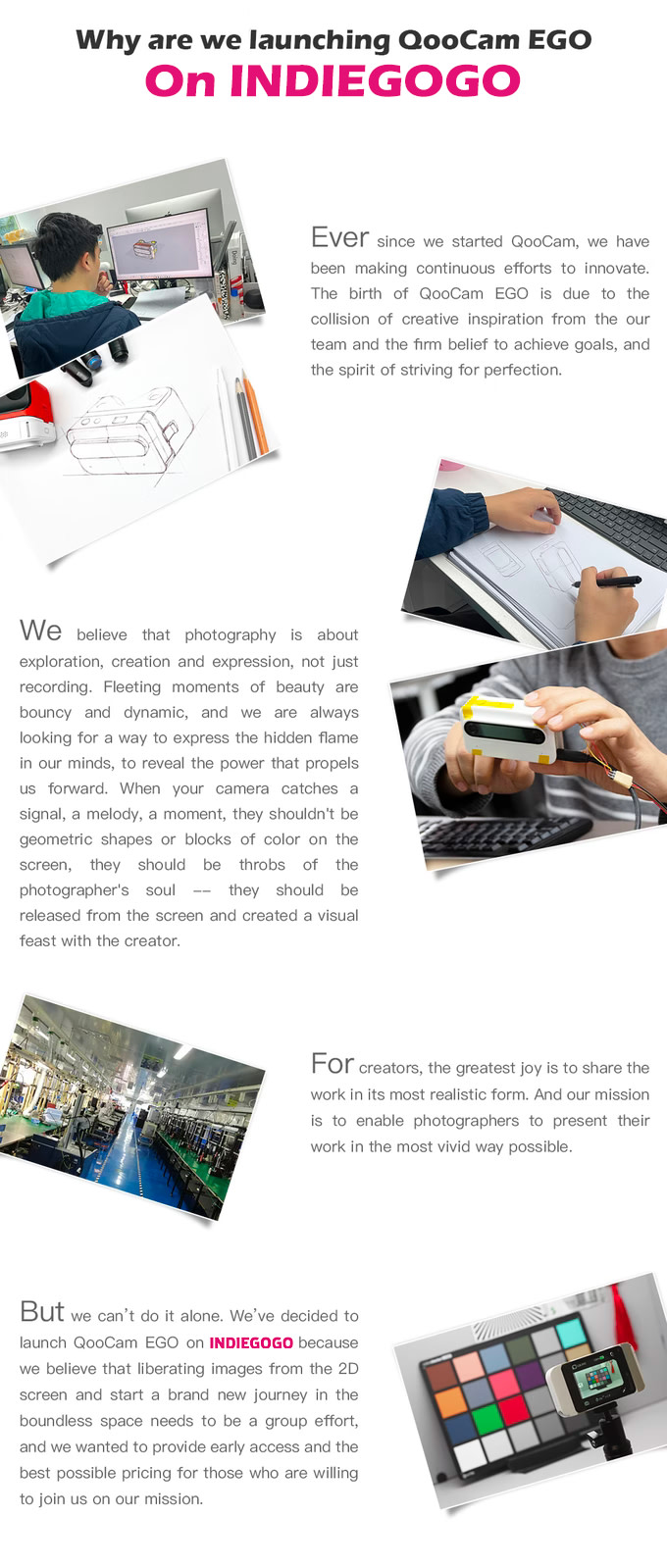 Over the years, we've earned many international authoritative awards such as CES Best Innovation Awards, Japan Good Design Best100 Award, Red Dot Design Award, IDEA Award, iF Design Awards, German Design Award, etc.