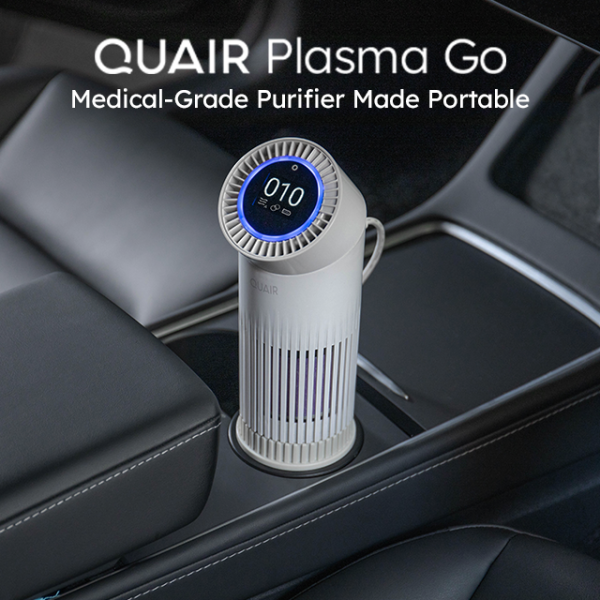 QUAIR Medical-grade purifying device made portable
$31,318
raised out of
$50,000
Concept
A compact dual-tech air purifier developed and trusted by top universities around the world
Story


At the tail-end of our first Indiegogo project, we asked our Backers, "What do you want to see next?" Thanks to the resounding response and a year and a half later, we're ready to launch our new product. Since the project is in its final stages, and everything has been funded, we will be doing a pre-order.
Introducing the Quair Plasma Go — a portable air purifier the size of a water bottle with the power of a waterfall.
From the bed to the desk, the car to the plane — charge it up, take it with you — it's that portable!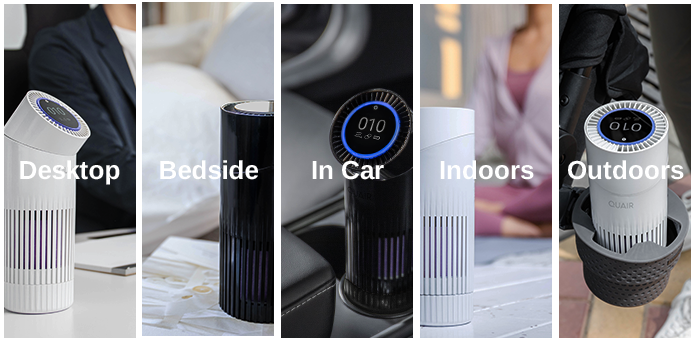 Combining two advanced air purification technologies, our device works reactively on nearby particles while proactively eliminating airborne toxins. Here's how:
1. Plasma Ion Tech
Many air purifiers that use ionization (a.k.a. negative ions) simply drop pathogens onto nearby surfaces. Our plasma ion generator infuses the air with positive and negative ions to proactively search and fully break down these pathogens.
How it works:


2. MAP Coated Filter
HEPA 13 filters are, without fail, great for filtration, but that's it. This means harmful particles remain alive and well, living rent-free on the filter.
To combat this, we infused the dependable 3-layer HEPA filter with a special coating that, not only filtrates but eliminates pathogens outright. The advanced Multi-level Antimicrobial Polymer coating consists of tiny nano-capsules that break down viruses by:
(i)  Rupturing its outer shell
(ii) Stripping its viral spikes
(iii) Splitting its DNA/RNA 
This coating has been rigorously tested by internal standardized labs and local universities with the government since 2003 – check out our website for more details.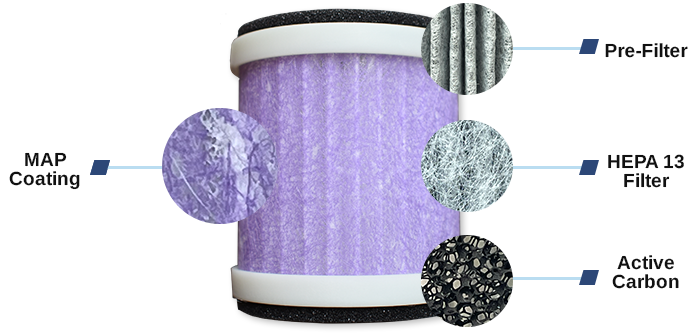 How it works:

We all know filters can be very pricey compared to the price of the device. For some brands, two filters can buy a completely new device — and we're not even talking about their most effective filter. Considering this, we ensured that you're getting the most effective filter in the market at the most reasonable price.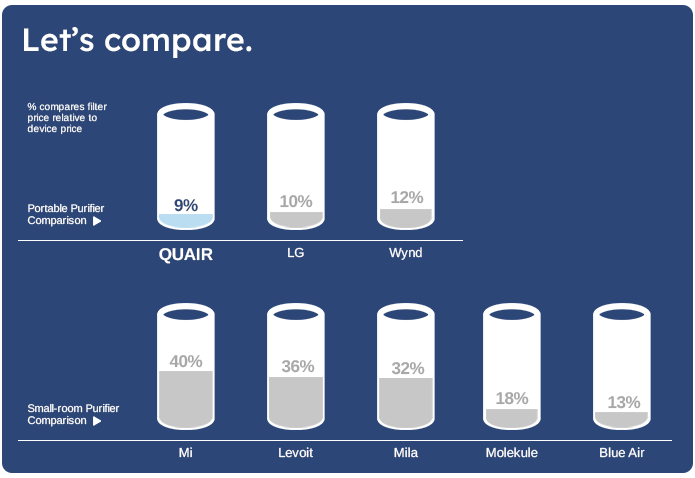 On the inside, the Plasma Go reactively neutralises nearby pathogens; on the outside, it proactively seeks and breaks down airborne toxins, resulting in clean air from top to bottom.

The Plasma Go has received certifications against various pathogens and toxins and has effectively taken care of all of them.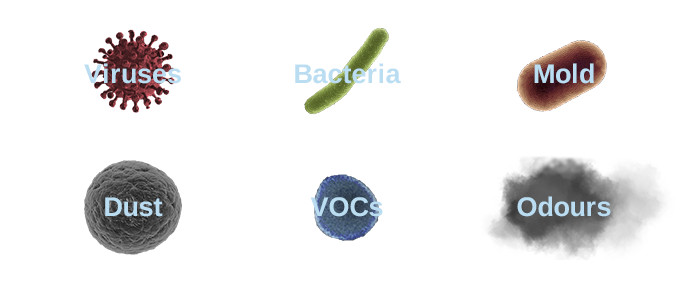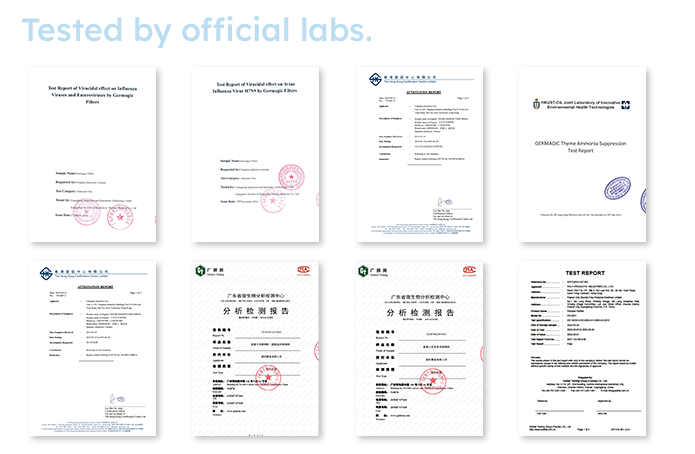 Other portable air purifiers make you believe they can be carried around, no wires needed — until you realize it only works with a power outlet. Not ours!
The Plasma Go houses a 4,000 mAh battery that lasts 7 to 11 hrs and it's detachable. Why?
(i) With multiple batteries, you'll have continuous on-the-go clean air
(ii) When used in a car, removing the battery prevents overheating on hot days
Where do you want clean air to go? To you of course! That's why the top of the Plasma Go can be rotated clockwise 180º to direct clean air your way.
A quick glance at the OLED screen gives you real-time air quality and a 4-coloured indicator for a simple air quality check.

With the included cupholder insert, the bottom of the device is elevated to ensure maximum airflow for the maximum purification efficiency — works for any cupholder.
Even without the battery pack, you can still plug it in and get the same clean air.
Plus, control everything with one button — from changing between 3 fan speeds and auto-mode to turning ions on/off and flipping the screen.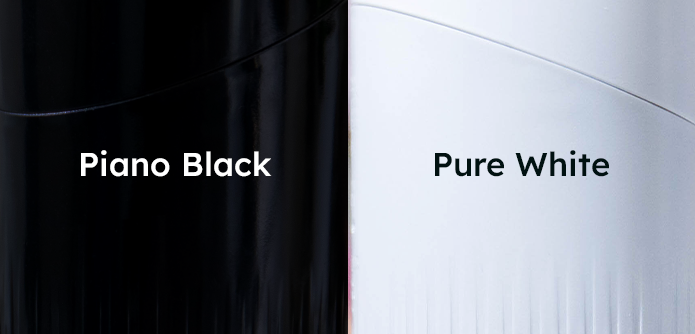 Available in two super-clean colours.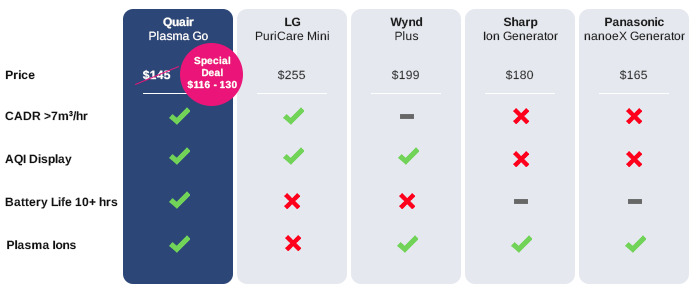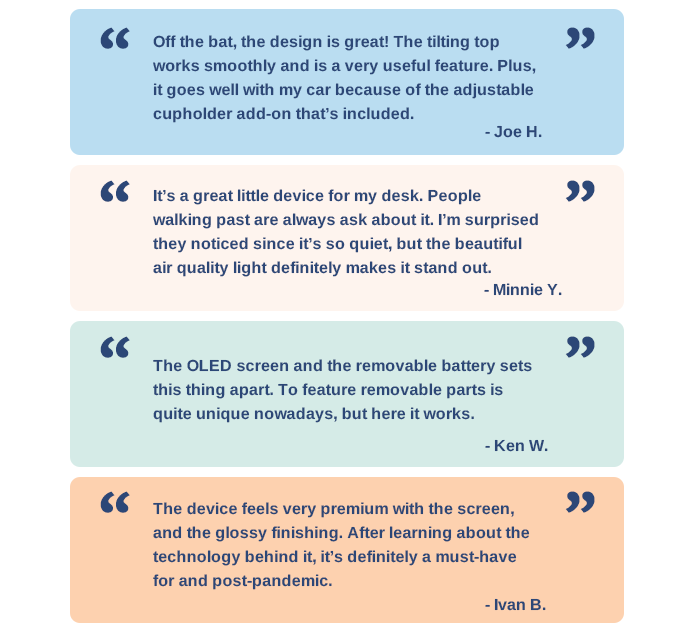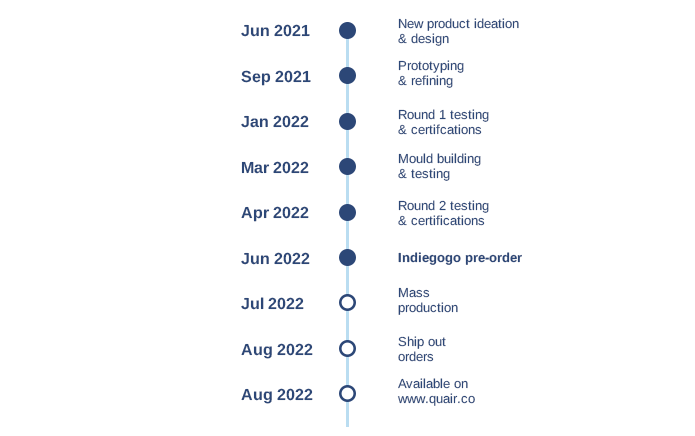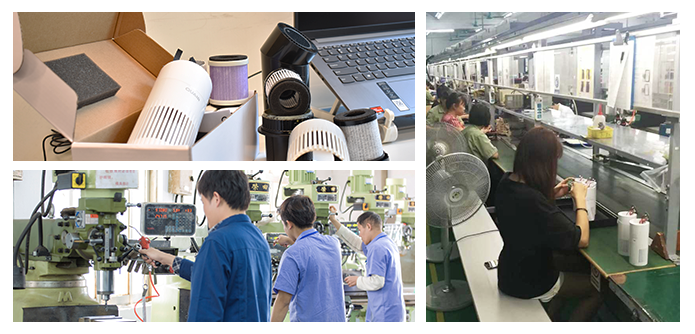 First off, the entire Quair team would like to give a BIG THANK YOU to all our supporters — you are the reason we continue to innovate.
Our journey began during the pandemic. We created Quair and launched our first crowdfunding campaign with one goal in mind – to see our family and friends in the safest way possible. We hope the Plasma Mini did just that.
It's been a year and a half since then, and as the world opens back up, it's time to get back out there – safely and cautiously of course. This time around, we searched far and wide for new air innovations and meticulously designed the Plasma Go with portability in mind. The end result? A new-age purifier that we're proud to add to Quair.
We will continue to create air cleaning and personal hygiene solutions for our everyday. If there's one thing we strive for after the pandemic, it's to live more! Our new goal is to help you worry less so that you can live more. 
Get out there and breathe easy!