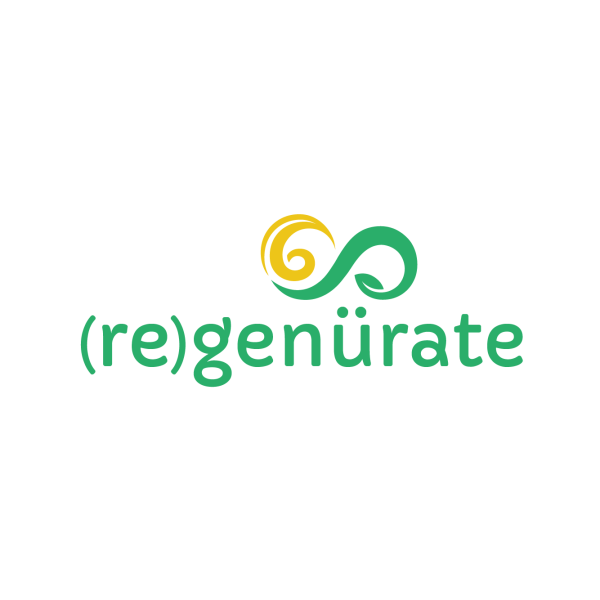 Regenerative Education
$872
raised out of
$500,000
Concept
Educational tools that equip students to steward regenerative actions for the Global Goals
Story
Short Summary
RegenÜrate creates educational experiences centered around experiments, games, and activities that train the rising generations (ages 6 to 18) to catalyze innovative actions for a regenerative world. Our products and services include student activity books, teacher guide books and training sessions, and impact evaluations that are aligned with UNESCO's education plan for 2030 as well as the Global Goals (formerly SDGs). Students will be equipped to explore the reality that they are inheriting and transform the global adversities we face into infinite regenerative opportunities and actions. Results from our impact evaluations show students taking agency in their learning process, developing skills for a more fulfilled life, connecting to their emotional intelligence, and taking actions to meet the Global Goal targets.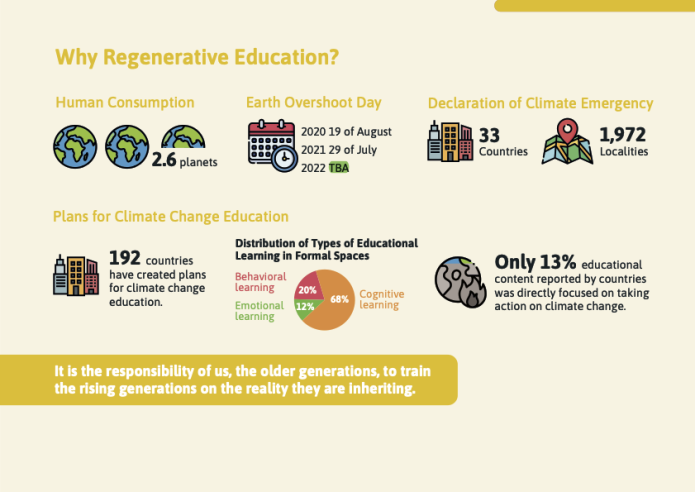 These alarming statistics prove that we are in need of innovative actions to transform the way we live, most importantly by understanding who we are, and the reason why we co-inhabit the planet along with other forms of life. 
Learning spaces are training grounds for students to take action toward creating a harmonious world. It is our responsibility to train the rising generations on the reality they are inheriting. Education is a right. We embarked on this educational mission out of gratitude, and in service to all inhabitants of planet Earth.
What We Need & What You Get
We are fundraising to fulfill our vision of implementing "Regeneration" as subject-matter in all spaces of learning around the globe. 
Funds will go towards supporting our current efforts and hiring:
Current efforts
Finish editing, designing, beta-testing, and implementing feedback for the 20 educational packages that are a work in progress
Expand our educator development offerings
Launch our student ambassador program and educator support network
Hiring
Translators to reach a broader geographic audience
Local sales teams to connect us to educational institutions and spaces of learning
Engineers to program our collaborative platform for knowledge sharing and idea collaboration for students and teachers around the globe
The Impact
Our impact evaluation methods have tracked progress in the following areas: students taking agency of their learning process, building skills for a fulfilled life, developing their emotional intelligence, and taking transdisciplinary actions to fulfill the global goals.
Learning Process
"Digital Citizenship" (GG 16, ages 11-14). Students' learning process evolved closely with the acquisition of self-care habits. Before the regenerative experience, all answers were limited to strategies such as "not accepting strangers" on social media.

"The Journeys of Water" (GG 6. Ages 11-14). Initially, the students in Jordan had a limited ability to identify where their water came from: only a few were able to link their taps to an ecosystem. 

"Feeling and sharing energy" (GG 07, ages 6-7). "We never imagined that a subject as complex as energy in its various manifestations could be explored with children at such an early age. The playful and experiential way as it is approached by regenÜrate manages to motivate them, favoring their attention and learning".  —Clara, mother from Colombia.
Building skills for a fulfilled life
"The diversity in Identity!" (GG 05, ages 15-18). Impact Evaluations with different groups of students that work with this book show that, by the end of their regenerative education, 65% of them are able to give more detailed opinions about love, respect and commitment in relationships (how to perceive consent, the link between love and freedom, ideas to end forced marriages).
"Dancing With the Winds of Peace" (GG 16, ages 6-7). At the end of the regenerative training, 100% of students identified the effects of child abuse. Students also concluded that child abuse transcends the plane of physical abuse and also affects emotions.
"Look, I'm flying!" (GG 03, ages 8-10). Before the workshops on Sexual Health and Well-Being, 66,6% of students manifested anxiety and fear towards the changes their bodies were going through. 

"This is the focus of regenÜrate as well: it's to better prepare kids to enter the world as more mindful adults." —Lauren, Middle School J-term Director, Jordan
Developing their emotional intelligence
"The emotional intelligence of the group had given a turn, especially in comparison with their other youth that were invited but did not attend". —Claudia, psychologist at Grupo de Neurociencias de Antioquia, Colombia 
"Caring cartography" (GG 03, Sexual health, ages 15-18). In the beginning, 50% of students thought that having a healthy relationship with sexuality was limited to using a condom. 

"The Journeys of Water" (GG 6. Ages 11-14). Initially, only 9.6% of our students in Jordan were able to connect with the feelings of other marine beings. After the regenerative training, 85,7% showed an increase in their empathy towards them, even proposing actions to guarantee justice for animal, human, and plant life in water management (demanding corporate and government action, research on water sources, pipelines extracting less than the limit, relocation of species).
Taking action
"I had the opportunity to laugh with my classmates, I was also motivated to weave and see that we all have different talents. We learned in a fun way… I found motivation to bring new projects to my school… we had no sex education, which is why I suggested it… and now in my school we have sex education and also training on mental health. Believe me for those who have not been in these [regenerative] courses I would tell you that it is the best thing that is going to happen to you in this life." 
—Julieta, Colombia, 13 years
"The Journeys of Water" (GG 6. Ages 11-14). With students in Jordan, we noticed an increase in their inspiration to drive change in water management. Initially 53.6% felt inspired to drive change. By the end of the encounters, 92% showed their motivation with concrete actions. 

More milestones we are celebrating
94% of students have said they want to see more regenerative education in their primary learning spaces. We have published 4 educational packages of student activity books, teacher guides, and impact assessments with 20 more in development! 

Executed regenerative training for testing of our services with over 300 students from 11 countries (with two more trainings coming up in 2022)!
Planning for 5 teacher training sessions for 2022! 
Launched pilot studies in Mexico, Colombia, and Jordan with over 170 students!
After their regenerative experiences, students are launching their own ventures, including designing water filters, creating jewelry lines from recycled items, and introducing sexual education into their schools.
Risks & Challenges
Risk: Education sector can be a slow adopter
The results from our impact evaluations are a strong convincing factor for implementing "Regeneration". We are a unique educational venture in the market that combines our special pedagogical style with action-based learning for the Global Goals. Our international team will allow us to reach a larger geographical scope to be able to show-case value propositions in different spaces of learning around the globe, which will strengthen our case for implementation on a larger scale. 
Challenge: Education sector is globally underfunded
Our redistributive pricing plans ensure accessibility of our products and services to different spaces of learning (public and private schools, small educational initiatives and communities, homeschooling).
Other Ways You Can Help
Regenerative actions are infinite and all are welcome! 
Find and plant local seeds. Connect us to schools in your community. Transform outdoor space into a food forest. Ask your grandparents to hand down ancestral recipes. Investigate the salary-pay gap at your place of work. Create your own renewable energy devices. Replant the roots of kitchen produce. Invite your friends to try out our professional training workshops. Understand the world's adversities and communicate its risks.