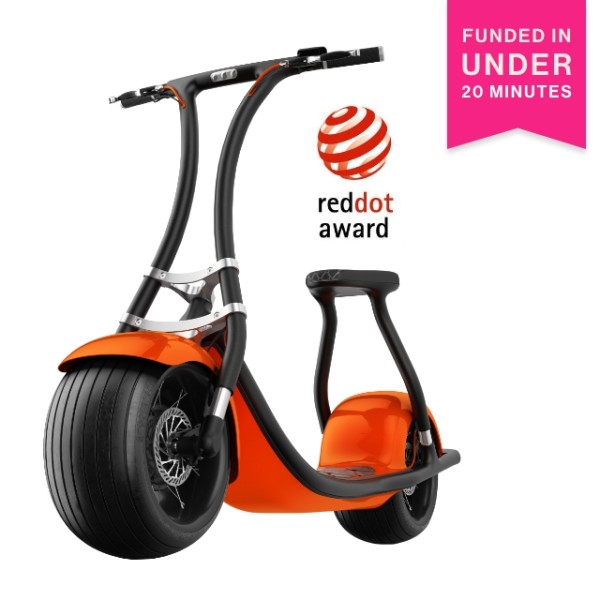 Rolley by Scooterson – Smart Electric Scooter
$133,081
raised out of
$10,000
Concept
Zip across town on the smart e-scooter that's easy to ride, quick to charge and incredibly secure.
Story

Rolley+ uses motion detection, predictive routing algorithms, and A.I. to learn how you ride. When you enable Smart Mode Acceleration, the A.I. takes over and adjusts acceleration levels and tune with your motion and your route, and conserves battery power for the smoothest, most carefree ride ever.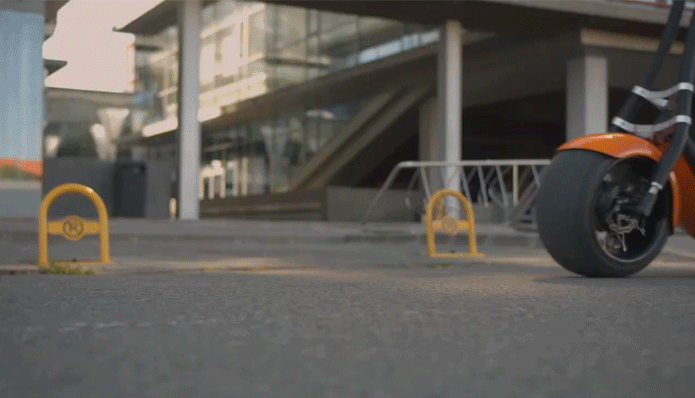 Our flagship model Rolley+ was designed from scratch, using the latest technologies and space-age materials, and features a range of intelligent features for a seamless riding experience.
A piece of Art. At Scooterson we believe that all things around us should be beautiful. This is why we worked relentlessly and achieved this spectacular Award-Winning Design.
Scooterson App. The Perfect Dashboard, and more. The best display is already on your smartphone. Install the App, and transform your phone into the best scooter dashboard, with the coolest features.
Rolley is fully controlled through the Scooterson Mobile App. Your smartphone connects with Rolley+ via Bluetooth or LTE and your phone number acts as your unique user ID. Once you unlock your scooter, you can snap your phone right into the built-in holder for easy access to the dashboard as you ride. Rolley can also be unlocked using the optional Scooterson NFC Card.
Packed with features to give you peace of mind and increased safety: In-App tampering notification, charging notifications, Find-my-Scooter, Dark-Mode, and more features will be added with updates.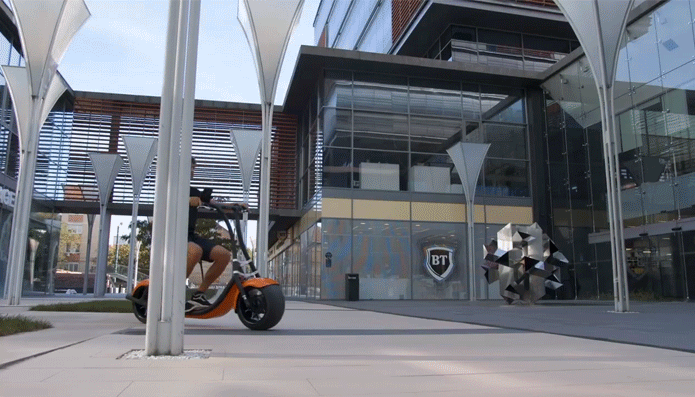 Can't ride a bicycle? No problem. Rolley+ is the easiest scooter to ride because it self-balances due to its fat tires and extremely low center of gravity. Learn instantly. The passive Auto-Balance design makes Rolley very easy to ride even for those who are having difficulties riding a bicycle or a kick-scooter.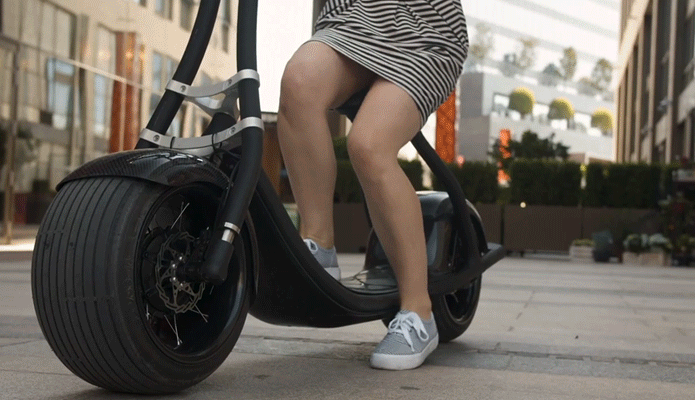 When you hop off Rolley+, it automatically activates Sentry Mode to prevent theft. And if someone tampers with it, you get alerts sent right to your phone. The anti-tampering alarm will send a notification to your phone each time someone tries any shenanigans with your Rolley+.
Only your phone unlocks Rolley+, but the Sharing Feature allows you to unlock it for friends with the Rolley+ App and let them ride your scooter. You can also disable access at any time. Show them you care by giving them the opportunity to experience the joy of riding and feel loved.
When you let someone ride it, you will know your Rolley+ location anytime using the 'Find My Scooter' feature from the Scooterson App. This feature use GPS Tracking to  shows where is your Rolley+ on the map. 
Rolley is the only scooter that can make money for you. Using the Sharing features you can choose to monetize it when you lend your scooter to your coworkers or neighbors or anyone else you feel comfortable with. You can set your own rates by the minute, hour, or day. Let your scooter make you money or Bitcoins when you are not using it, when you sleep, work, or you are on a holiday. Yes, we just invented the 'Decentralized Scooter Sharing', taking the power from Lime and Bird, giving it to you!
The App notices when you're at home or the office and it sends you charging reminders at a convenient time.

*Huge discounts on IndieGoGo from Rolley+ MSRP of $3490
The most exquisite materials ever on a scooter. Carbon-reinforced polymer body and precision-machined aerospace-grade alloy parts, on a 3D bent aluminum alloy chassis.
Most scooters are made of steel, which is heavy and rusts quickly. We replaced steel with aerospace-grade aluminum alloys to reduce Rolley+'s total weight by 40lbs and eradicate rust issues.

Welding areas are the weakest points on the frame and can develop cracks and structural failure over time. For Rolley, we used space-age adhesive bonding with powerful force resistance that maintains its integrity even after years of use.


Instead of using thermoplastics that are easy to damage, we used a sandwich of composite materials and  carbon-fiber-reinforced polymers to create a strong yet light body.


Golf buggy tires are commonly used on fat-tire scooters but they present maneuverability problems when cornering. Rolley+'s customer tires are designed to have superior handling and are half the weight of golf buggy tires, optimized for energy efficiency.
Rolley+ and Rolley side-by-side comparison
Unlike cars that emit 4.6 metric tons of carbon dioxide annually, on average, Rolley+ gives you an affordable and fun way to get around with zero carbon emissions and zero trips to the gas station.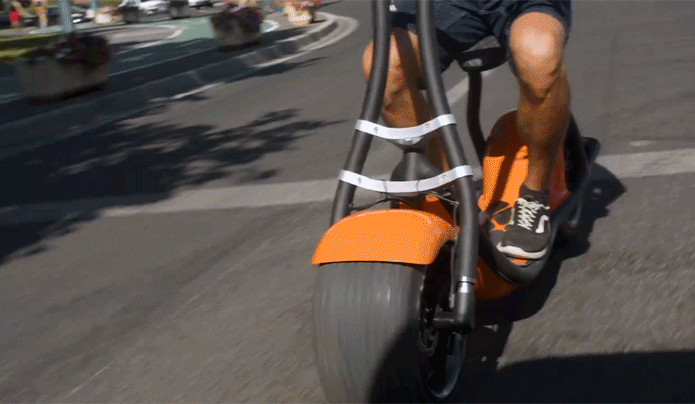 The ScootPack is a high-end backpack with a solid front shell made from Forged Carbon-Fiber composite material. Waterproof and extremely lightweight, ScootPack can fit your 16′ inch laptop!
While all the Scooterson color options are made from carbon-fiber reinforced composites, the Carbon Fiber Finish Upgrade will showcase a visible carbon fiber on the exterior.
A need to have design detail for ideal color coordination on your new ride!
The extra 750Wh battery means convenient swapping for immediate riding when your main runs out of charge.
Hook and unhook your smartphone in less than a second with the best quick-release holder in the market.
Instantly unlock your scooter when your phone is dead without connecting your phone to the USB charging port.
A definitive must-have for golfers. 
An optional upgrade for maximum precision and control when braking.
A simple statement piece for those who love the classic look of vintage leather.
Show your allegiance to Scooterson and Ride with the Tribe!
Run errands and store belongings in style with our custom designed-for-Rolley shopping basket.
Can't find your preferred color in our existing options? Want to match your Rolley color with your Ferrari custom paint job? Then our custom color wrapping is for you!
Shipping and Fulfillment will be handled by Easyship Survey.  Due to the current volatility of the market producing extremely high shipping costs, collection of payment for shipping will be done well after the end of the campaign, close to our ship date. This will allow us to present the most accurate and up-to-date prices, to pass savings on to you, our valued backers. In that survey- backers will be able to:
Pay for shipping costs on the spot- you will have 3 tiered options to choose from.
Pay for taxes and duties (if due) on the spot as well.
Have the ability to add insurance to the package.
The Rolley+ development phase has been completed and the manufacturing phases started by building a limited batch of 20 Rolley scooters for the last tests. Some of the molds, fixtures, and jigs required for mass production are already manufactured and the rest will be completed by the end of 2021. The first batch, code-named 'Indiegogo Batch' is entering mass production in January 2022 and planned to be shipped in May 2022, just in time for the springtime and summer.
Using the Scooterson Business App you can rent our scooters to neighbors and to the tourists coming to your neighborhood. The Scooterson team will provide you all training and support needed. Quit your boring job and join now! Get the Scooterson Business Perk to put a downpayment and start your new business! For more information about the Scooterson Business Perk, please see the FAQs.
Rolley+ was created by serial entrepreneurs Mihnea de Vries and Deepansh Jain. They combined their respective passions of building amazing mobility devices and creating AI algorithms to create the smartest, most intuitive scooter ever.
The Scooterson Story
Mihnea de Vries started his entrepreneurial journey in 1996, at age 27, when he created the first Internet Service Provider in his hometown. Then, he worked as a film director for 15 years. Next, he created KopterX, a company that created custom-built cinematography drones.
In 2015, Mihnea developed a prototype electric scooter. After seeing "wow" reactions on the street, he soon realized that electric scooters were the next big thing in urban mobility, and went on to start the Scooterson project.
Deepansh Jain is a serial entrepreneur from India. In 2011, he founded his first startup, Juvenis, which was acquired within two years for half a million dollars. He then co-founded Shifu App, an AI-powered, context-aware personal assistant application, whose investors included Google executives. Shifu App was acquired by the leading Indian mobile wallet and e-commerce company, Paytm/Alibaba, in January 2016.
Mihnea and Deepansh met at an event in Budapest where Deepansh was speaking about how he incorporated AI algorithms into Shifu App.
Mihnea approached him after the event to discuss how AI algorithms could be implemented into smart electric scooters. A few days later, Deepansh joined Scooterson to implement A.I. optimizations and further the mission to create the best user experience on two wheels!
DeepTech Innovation – Self-Driving and Tele-Operations
In 2019 Scootereson Team presented the world's first functional prototype scooter with teleoperation and self-driving capabilities built by the same company.
Some of the extraordinary people who helped build Scooterson: