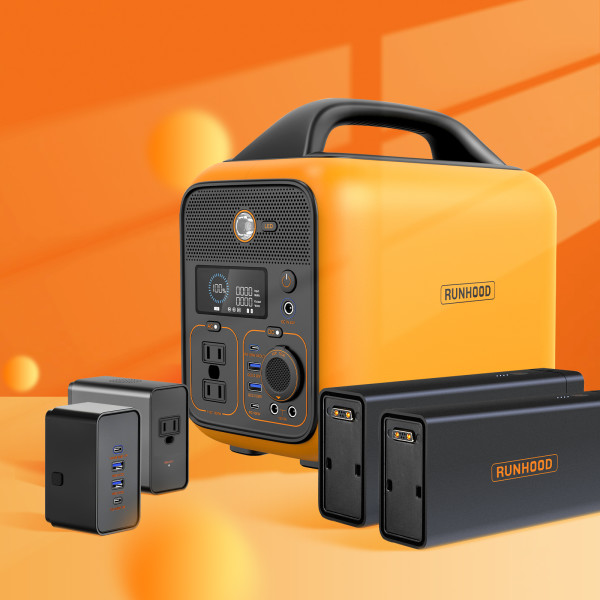 RUNHOOD MODULAR POWER STATION
$59,191
raised out of
$10,000
Concept
Modular Portable Power Station with Swappable Battery. Flexible combinations to fit for your needs!
Story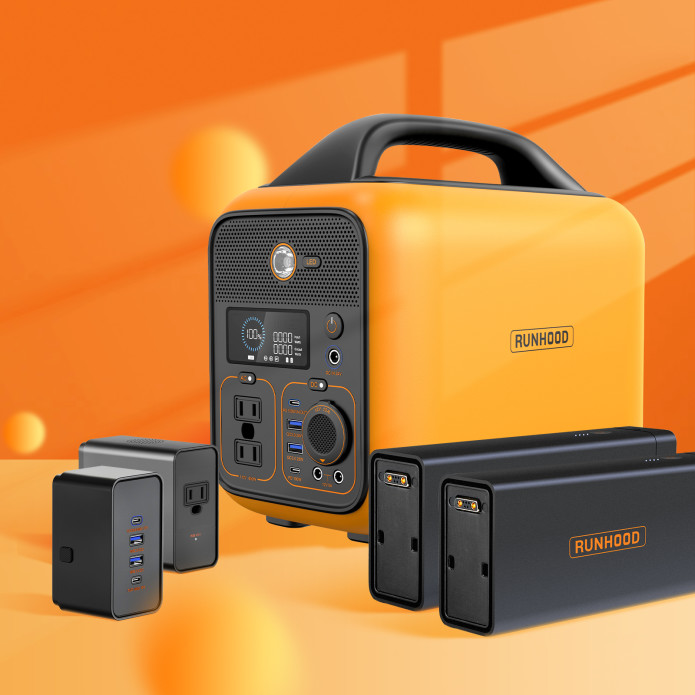 RUNHOOD is proud to present our first Modular Portable Power Station.
Runhood Portable Power Station consists of 4 modules. The Energy Bar 324 (EB324) is the battery module to provide power. There're 3 types of Engine modules to provide functional interfaces. You can always choose the right engine to fit your needs. Our product design philosophy is that we take only what we need and what is necessary. If you're only for a short trip with no heavy-duty appliances, you can take a battery module with a small Engine. If you're using some heavy-duty appliances, take the big Engine and a pair of battery modules. If you're going for long, take the solar panel with you or some extra battery modules. This is very important especially when we are in some outdoor activities such as camping, fishing, photographing, hiking and etc.

RUNHOOD portable power station enables the user to swap the batteries when they run out of power. No more waiting for the recharging. Just swap the battery and you can get power to keep your appliances running. The power station has two battery modules, offering a capacity of 648Wh, and can be extended easily to 1296Wh and even more by swapping the battery modules, which means the durability is no longer an issue.

Modular design gives another unique advantage compared to other products in the market: no interruption for the appliances during the swap of battery. There're two battery modules in the power station. When swapping one by one, there's always a battery module in the station to provide power to the appliance and keep it working. This is important for your PC, refrigerator, video games and etc. You don't have to shut them down any more. RUNHOOD will keep them running.

RUNHOOD Modular Power Station provides 3 products, and more.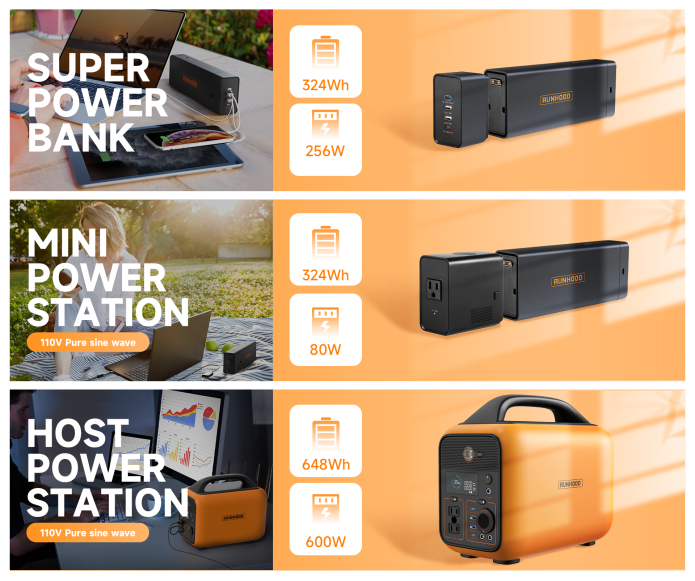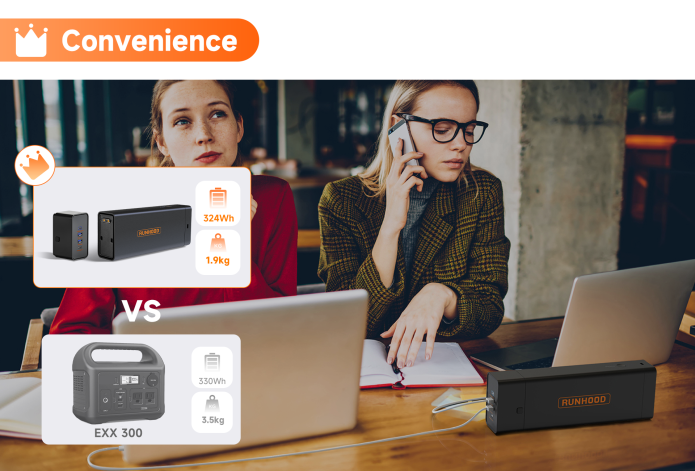 Our powerful USB Engine provides a total out put of 256W, including two independent USB-C PD 100W interfaces, enough to handle any portable electronic devices. It is practically a supper power bank with 324Wh capacity and 256W power output. One of the USB-C 100W interfaces is IN/OUT dual mode, which means you can also recharge the battery modules apart from the Host Engine.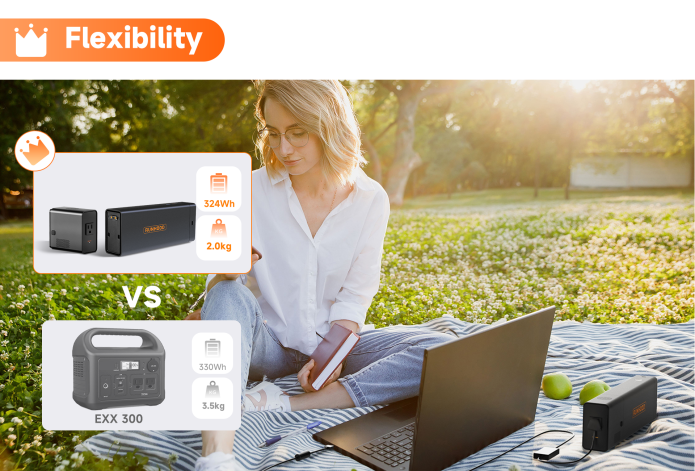 Instead of taking the whole big box, Runhood offers a combination of a MINI power station. Our Ac Engine provides AC 110V pure sine wave output 80W to meet the need of most lights, sleep aid devices and camera battery rechargers. When the AC engine is combined with the battery module, it is a MINI power station of 80W/324Wh. The modular design gives you a great flexibility for various scenarios.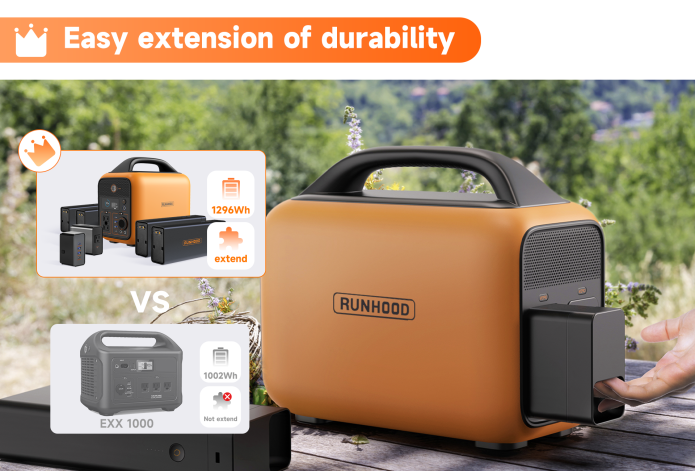 One simple swap can refresh your use of time. No more worries about lack of power. No more waiting for recharging your power station. No more suffering from the heavy weight.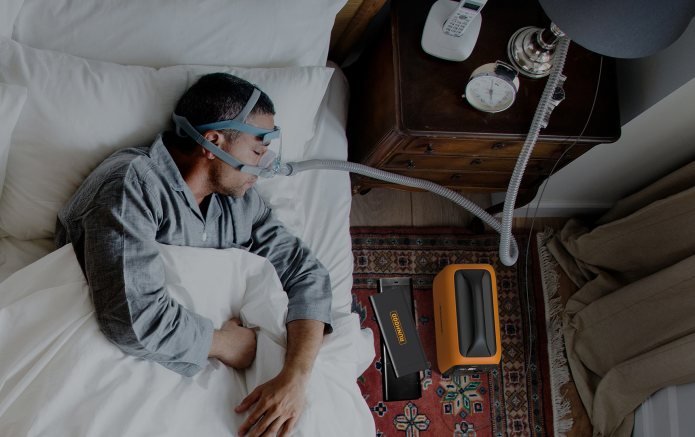 You'll have two solutions to power the sleep aid device. Host Power Station 600W/648Wh can keep the device (60W) running around 10 hours. The Mini Power Station 80W/324Wh can ensure around 5 working hours. They are quite friends. It is your reliable and friendly sleeping companion.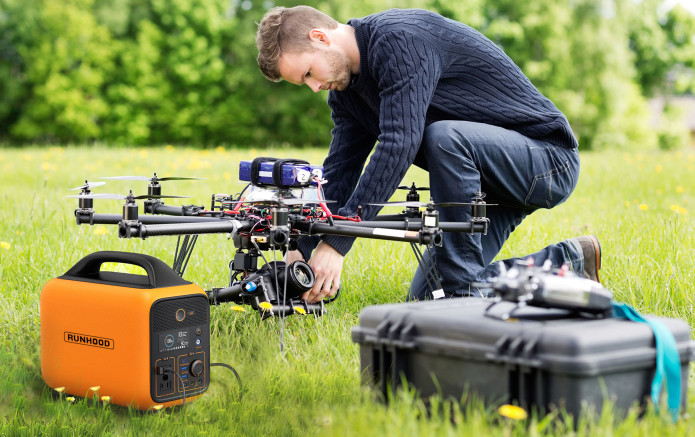 The Host Power Station with 648Wh is enough to fly your drones all day long. Take a drone with 16.2W for example, you can charge it around 40 times. If that's not enough, put an extra pair of batteries into your backpack.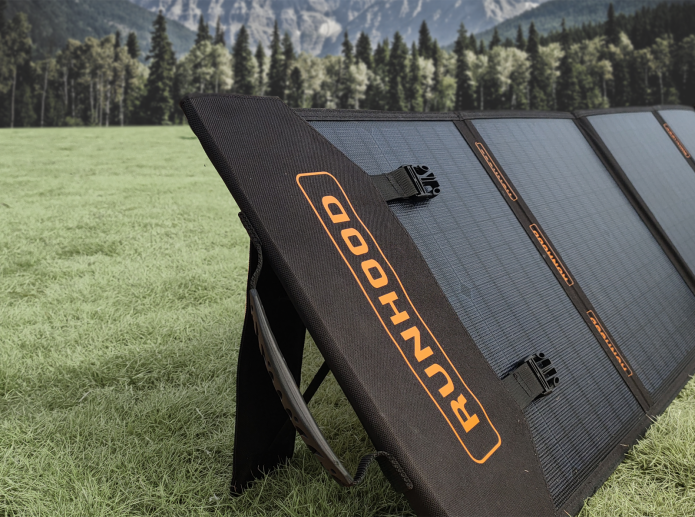 Runhood's ESS technology captures and stores energy from solar panels. It allows you to use stored energy both outdoor and indoor, which ultimately helps reducing your electricity bill and save some money, especially reducing your carbon footprint. We have improved our solar panel design by adding the MC4 conncetors on our solar panel, to make it more universal with other devices that you may want to power.

HOBO TECH's review in April.
BLATANT REVIEW in April.
OUTDOOR ZONE's review in April.
Fresh review from HOBOTECH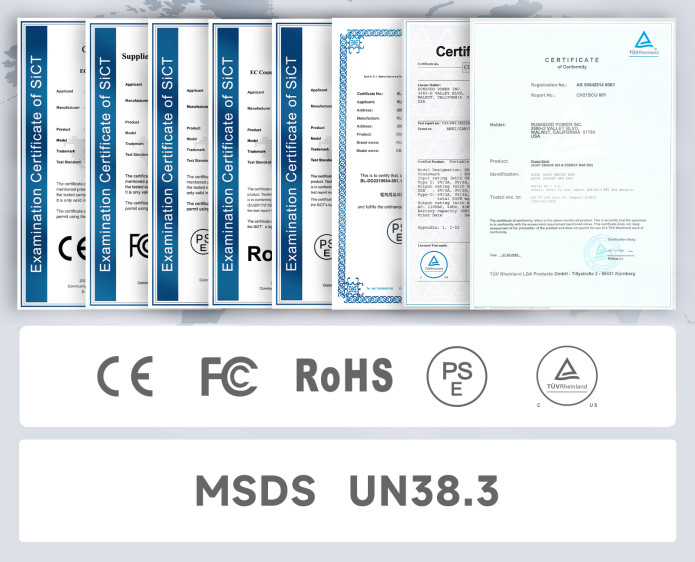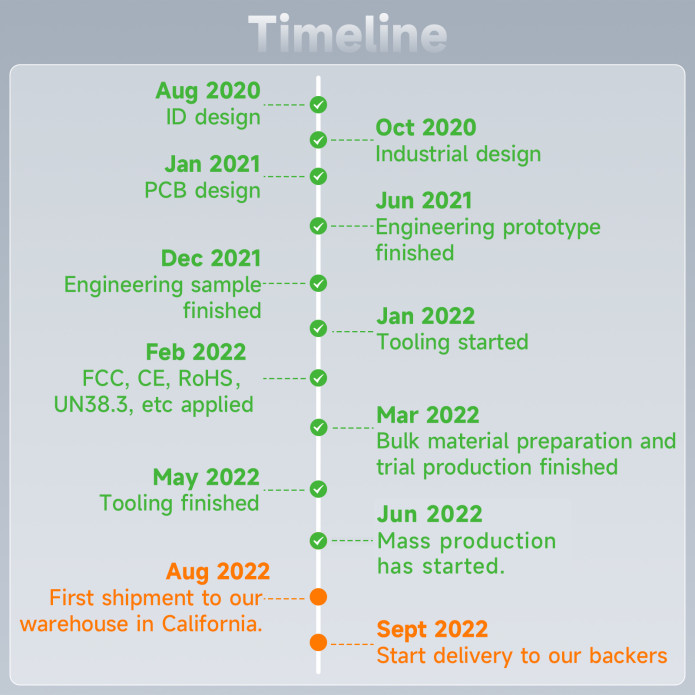 Mass production was started in June. As the bulk material preparation is well finished, we will be able to ship out our first patch to our warehouse in L.A. in August. Hence, we'll be able to fulfill our delivery starting from late September. Although we're a young company, we have made a solid plan to give fast delivery to our backers. We guarantee 100% delivery. IGG campaign is our first step and soon after this campaign, you'll see our products in the U.S. market. So don't miss this chance to get your Early Bird Offer.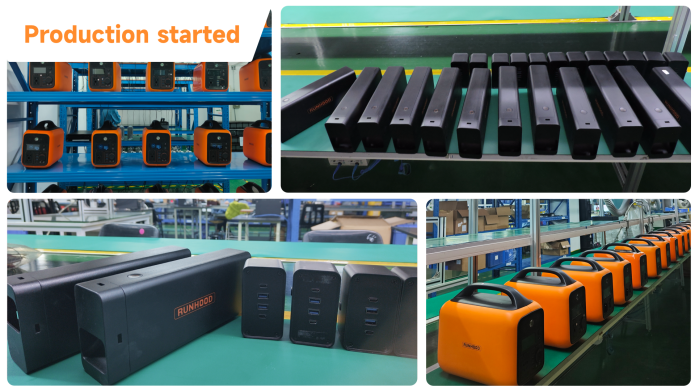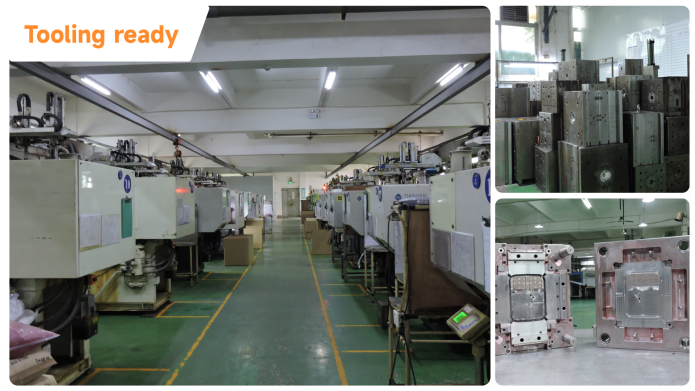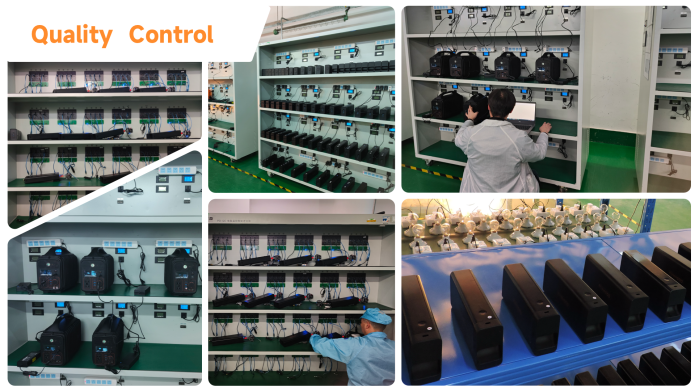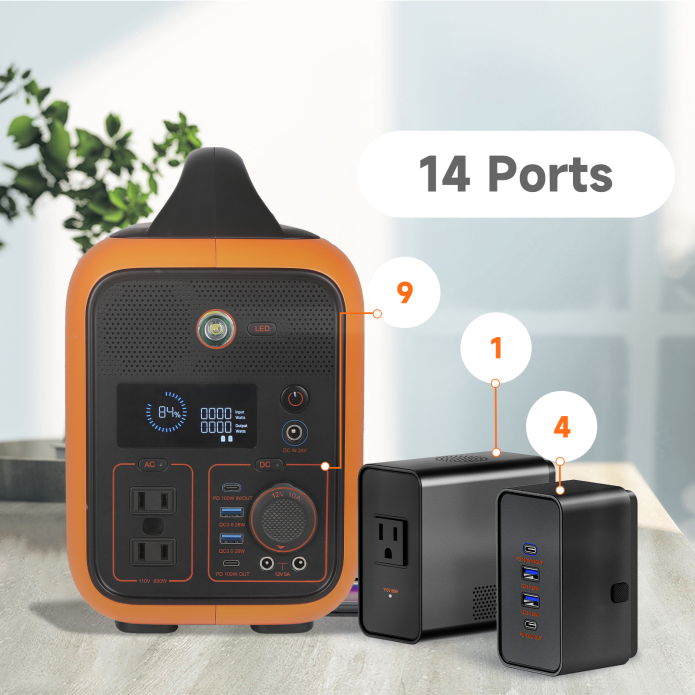 When we design this Modular Power Station, we want it to be a nice item shared among family members and friends. There are as many as 9 charging ports on HE600, 4 on UE256 and 1 on AC80, which allows many electrical devices to be recharged simultaneously such as smart phone, drone, mini fridge, camera, tablet, etc. Moreover, the USB-C PD 100W  will easily power your latest portable devices.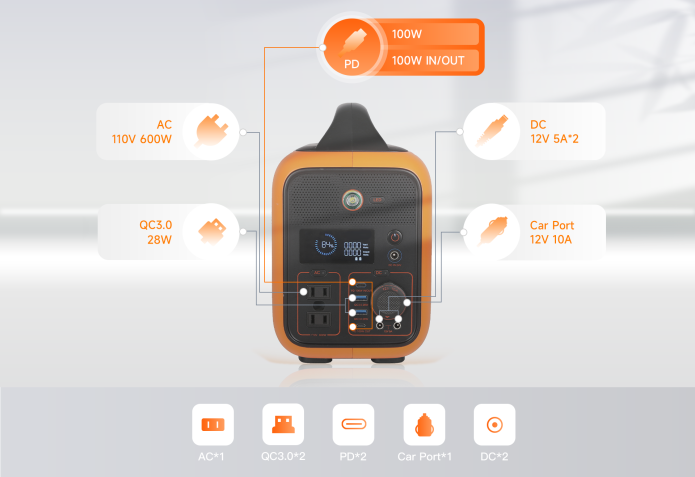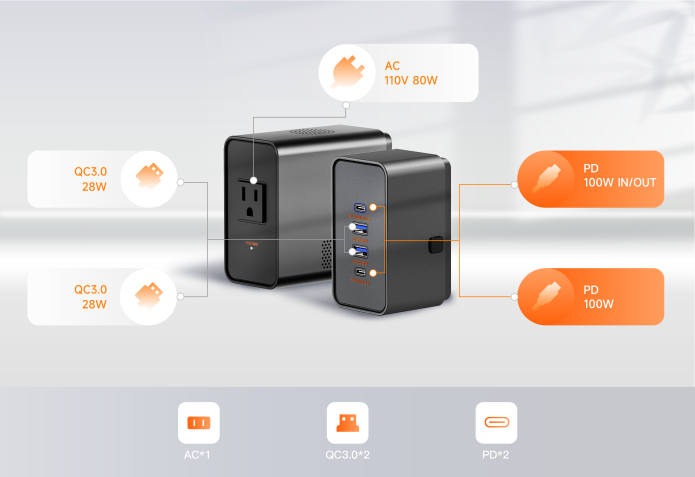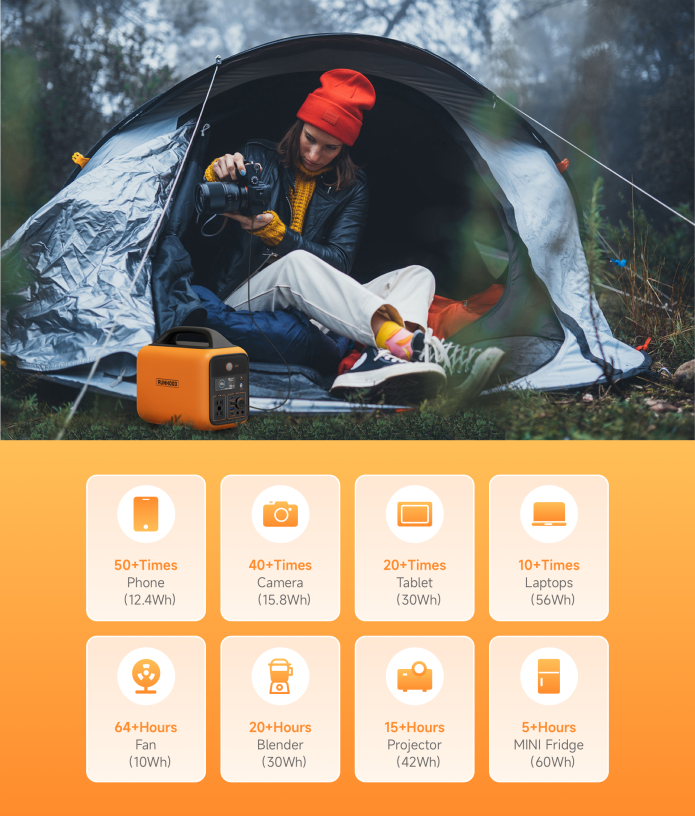 Grace to the innovative modular design, this special power station is easily carried to the parks for drones, to the mountains for photographing or inhouse for home emergency back up. You can enjoy an amazing camping life with your friends, and a bid farewell to infuriating blackouts during hurricanes with your family members.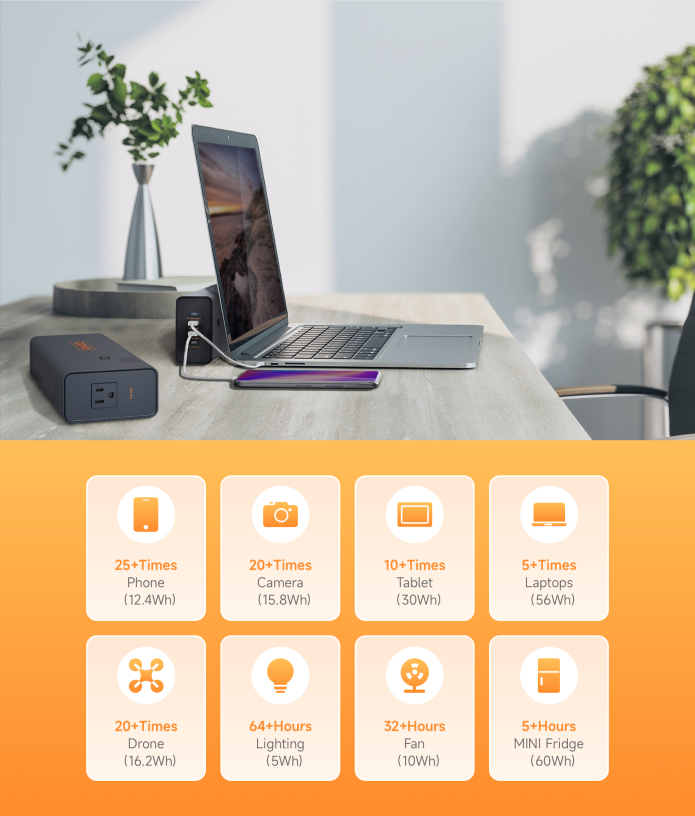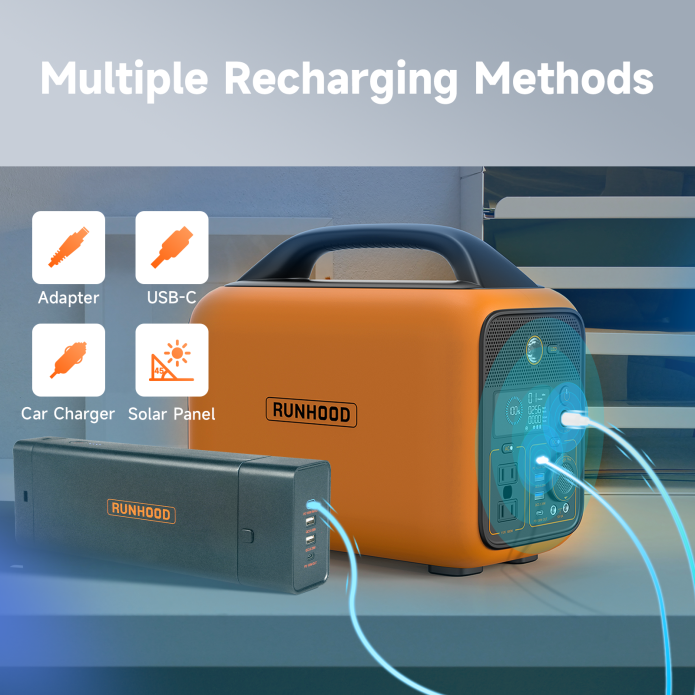 You may concern how to recharge such a unique Power Station. You can recharge the Energy Bar 324 through Host Engine 600 (HE600) and USB Engine 256(UE256), while there are as many as four recharge ways for the HE600 and one recharge way for the UE256. Especially you can recharge through HE600 with Adapter 180W and PD 100W simultaneously to fully recharge it in less than 2.5 hours. We are also working on a solution which allows the solar panel to recharge directly the battery modules.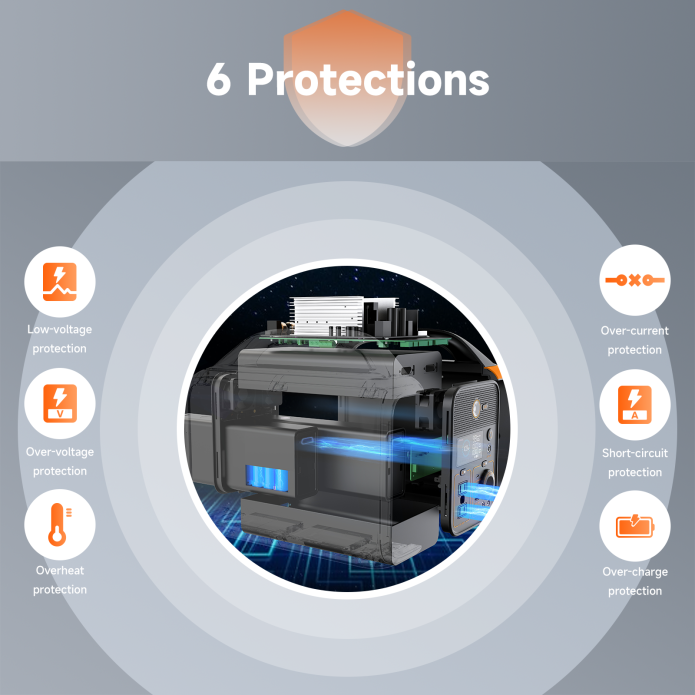 As a technology driven company, we always put quality at the first place. Our items received many tests referring to EMC, working environment, electrical performance, safety, etc. With advanced BMS (Battery Management System) technology, there are 6 protections including over-voltage protection, low-voltage protection, over-heat protection, over-current protection, short-circuit protection, and over-charge protection.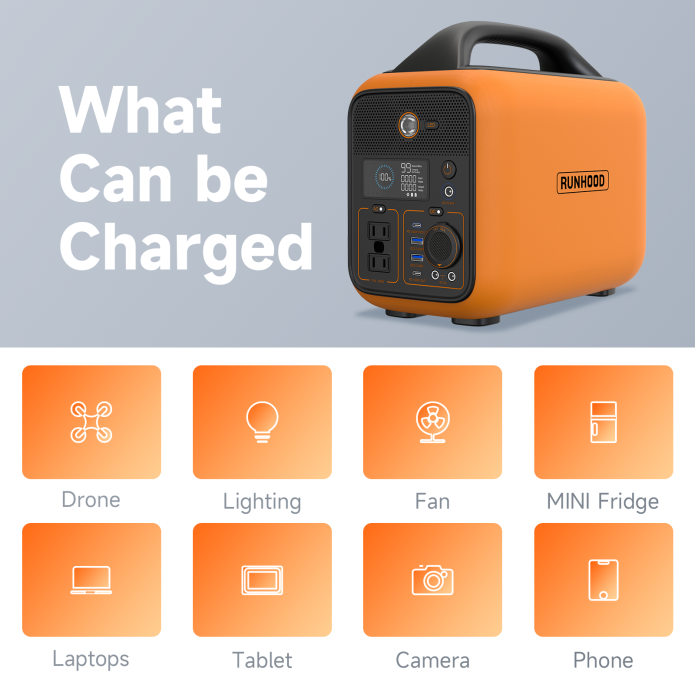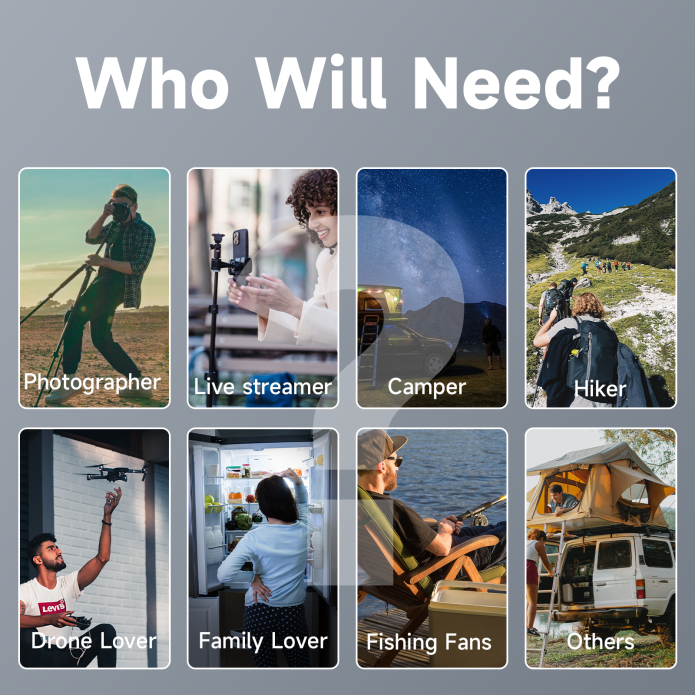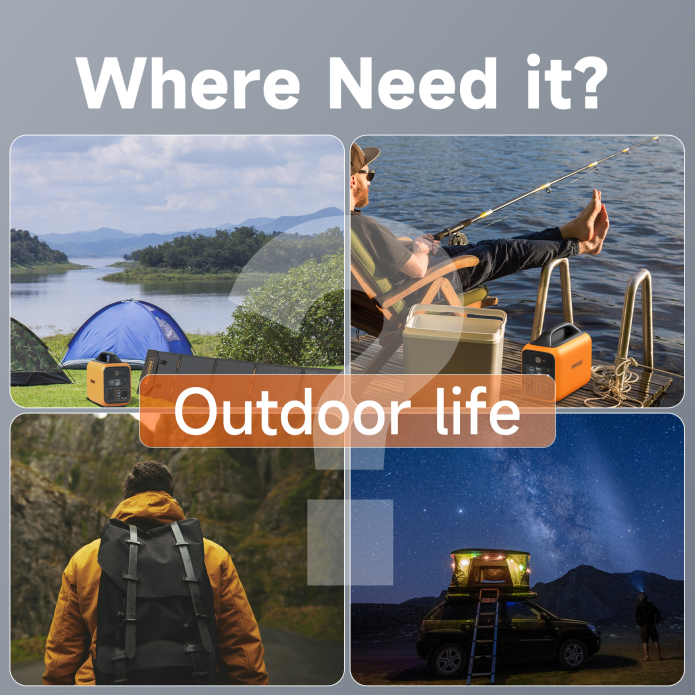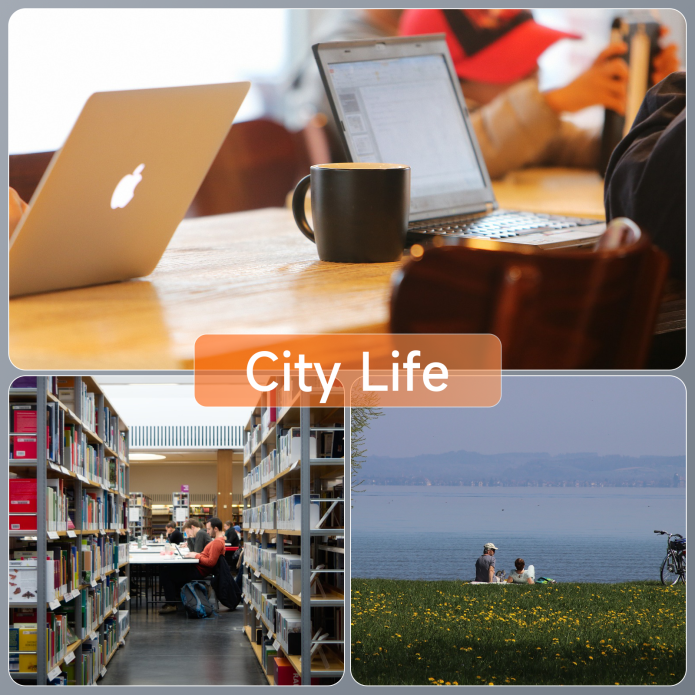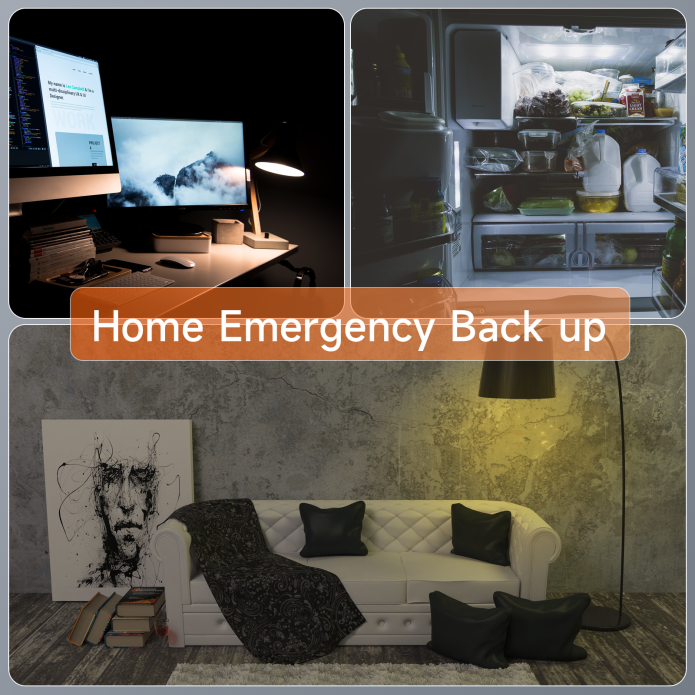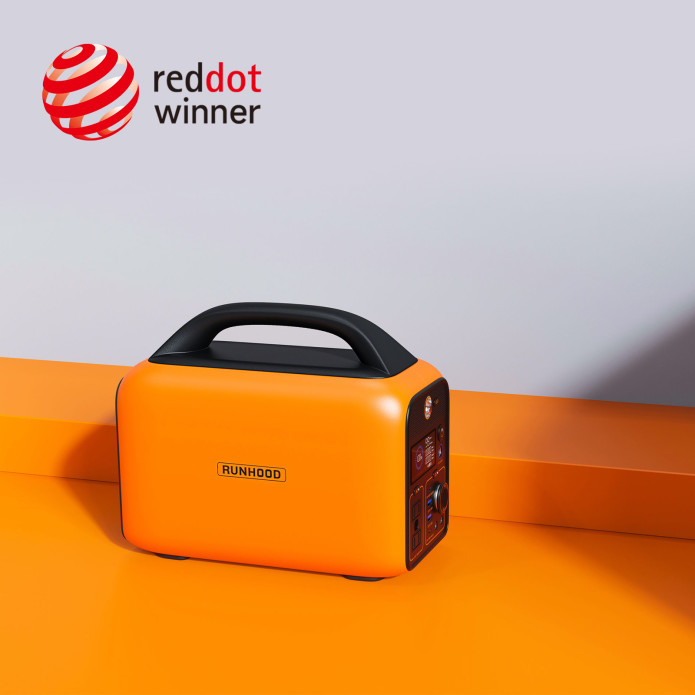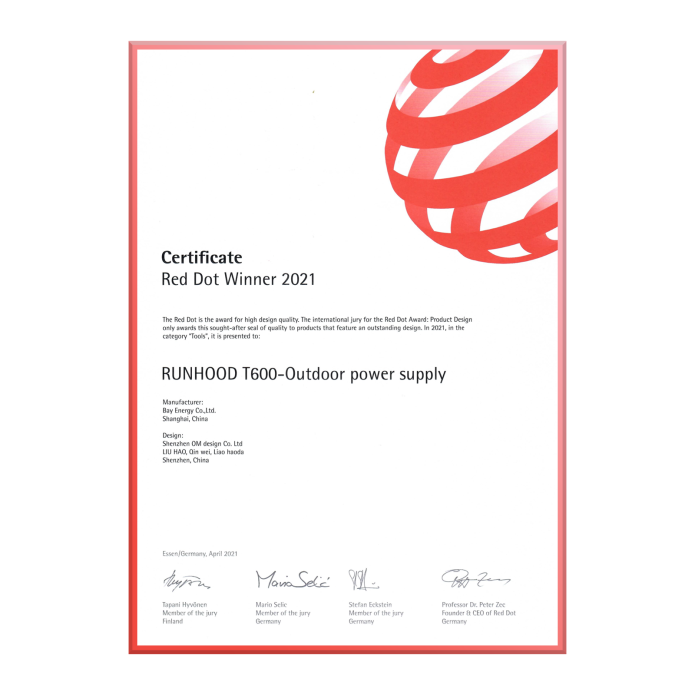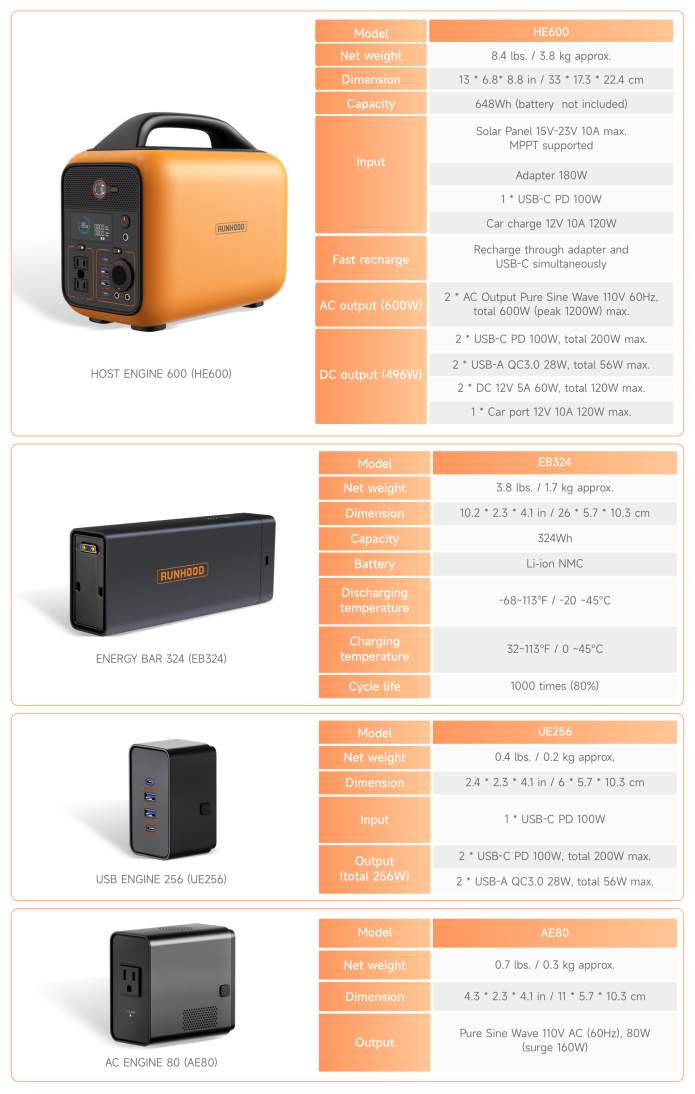 RUNHOOD Modular Power Station is an expandable system. We're developing new modules to enlarge the family. Soon we'll launch another Host Engine module with more powerful output and larger capacity, meanwhile compatible with the existing modules of the family.  We look forward to presenting you the new member of the family in the next year.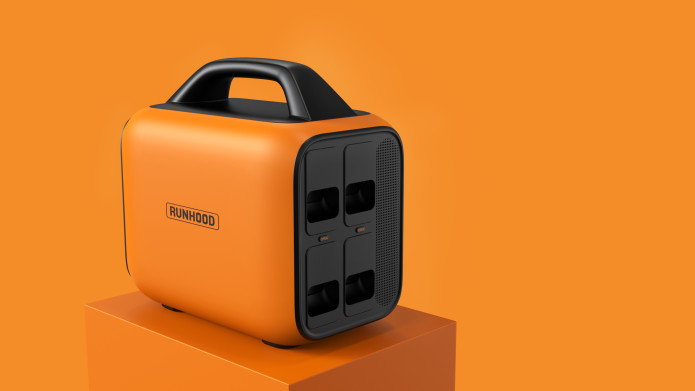 RUNHOOD POWER INC. is a Californian company. Our team has abundant experience in the Energy Storage System from our previous career. We are now trying to minimize the industrial Energy Storage System, make it more portable and bring it into our daily life.
We are a young company and the Modular Portable power station is our first product. The modular design enables the flexibility to fit for different needs in various scenarios. Techinically, it is a MINI Energy Storage System with multiple battery modules. With our unique swappable battery design, our product can easily extend the durability, hence to keep people away from the fear of power outage, to keep your home appliances running in the time of unexpected power outage, and of course, to provide a joyful experience in out-door activities.
We will keep developing new product modules to provide more powerful renewable energy in our daily life. Soon, we'll launch another new product, same modular design and more powerful, while keeping the existing modules compatable. With the help of the MINI ESS system, we hope to bring more renewable energy into our daily life. Our final goal is to achieve 100% renewable energy in our products. We'll keep working on it and make our mother Earth clean, beautiful and a better place to live.