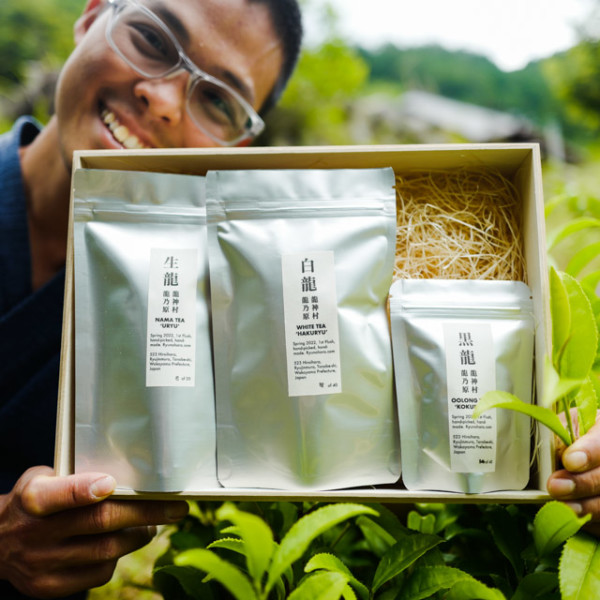 Ryunohara Shokudo
$366,850
raised out of
$720,000
Concept
Help open a farm-to-table izakaya restaurant deep in the mountains of the Kii Peninsula, Japan.
Story
Farm-to-table restaurant
I'm Lee, a Singaporean tour guide who now lives in the mountains of the Kii Peninsula, Japan. I'm opening a farm-to-table izakaya-style restaurant in 2 traditional Japanese minka farmhouses this August and I need your help! Here's what your contributions will help pay for:
Kitchen renovations, including sewage works, piping, cement flooring, and windows
Toilet renovations, which includes a washlet toilet
Flooring and roofing for the dining area
And here's what we will be serving at the restaurant:
Charcoal-grilled satay (meat skewers)
Singapore-style curry
A selection of teas made by me as well as world teas selected by tea master Othniel Giovanni
Seasonal izakaya menu by chef Moriguchi Shu on Fridays, Saturdays and Sundays
We will source most of our ingredients within a 1 hour radius, and favor small-scale farmers who grow food without pesticides and chemical fertilizers.
What We Need
The 2 farmhouses were built 120 years ago and 60 years ago, and were never meant to be restaurants, so they didn't have sewage systems (just a simple tank for human waste), and they do not meet the legal requirements for a restaurant.
I began renovating them bit by bit in April 2021, and even now renovations are underway for a proper septic tank with bacterial filtration, a new roof for the dining area (I'm re-roofing the building with my friend Yasu), and we are projecting a total spend of ¥4,000,000 (US$30,000) before Ryunohara Shokudo can open.
We successfully applied for a subsidy from the Japanese government and will be receiving about ¥2,000,000 (US$15,000), but we will still be spending ¥2,000,000 (US$15,000) of our own money, savings from the tour guide agency we run together. With offline tours non-existent and the online tours business faltering we are seeing a shortfall of ¥720,000 (US$5,300). That's the minimum amount we hope to raise here on Indiegogo.
If we don't meet the funding target we will still proceed with the project. However, that will mean that we will have to dip even further into our savings and risk running out of operating expenses a mere 3 months after opening the cafe. If we exceed the funding target, we will be able to invest in tea making equipment and have the latitude to host more events for the community. Either way we will be keeping you updated on our Youtube channel, as we have done for the past year.
What You Get
Contributors get an exclusive taste of this year's 1st flush teas, which I picked and made myself, under the guidance of tea master Othniel Giovanni. These teas are exclusive to this Indiegogo campaign and are sold nowhere else.
6 "Platinum" contributors will receive 4 kinds of teas (white, green, oolong, and fermented) in a wooden box laser engraved with their name on the underside of the cover, plus have their names engraved on the main table in the main dining room (a local carpenter is going to make the table with cedar from the surrounding forest)
12 "Diamond" contributors will receive 3 kinds of tea (white, oolong, and fermented) in a wooden box laser engraved with their name on the underside of the cover
20 "Gold" contributors will receive 2 kinds of tea (white and oolong) in a wooden box laser engraved with their name on the underside of the cover
"Silver" contributors will get a thank you note handwritten on traditional Japanese washi paper made in Ryujinmura by a local artisan.
All contributors will also have their names recorded on a sponsors' board that will be displayed in the main dining area, and for the rest of 2022, their names on the end credits for Ryunohara's Youtube video updates.
The Impact
Ryunohara Shokudo's insistence on seasonal, locally-grown food will put a spotlight on the small-scale farmers in Ryujinmura who work hard to grow safe and delicious food without the use of chemical fertiliser and pesticides.
By restoring and using 2 minka (traditional Japanese houses with a wooden structure built without the use of nails), we preserve history and keep alive the skills of artisans who build and maintain vernacular architecture
We show young people that living in rural, fast depopulating areas is not all darkness and gloom. 43% of Ryujinmura's 2977 residents are over the age of 65, and the population is declining fast (it was over 3,200 just a few years ago). If Ryunohara Shokudo succeeds, we not only create employment in the village but also demonstrate that new business ideas can succeed outside crowded cities like Tokyo and Osaka.
Risks & Challenges
My business partner Yasu and I have a good track record in the hospitality business, having run a in-person tours like the Alternative Fushimi Inari Walking Tour and Hidden Water Cycling Tour of Kyoto with 100% 5-star ratings on TripAdvisor and Airbnb Experiences. Prior to Covid we also managed Kyoto's top-ranking hostel on Hostelworld.com. We have never run a restaurant though, and the food business is notoriously difficult in any country.
We are mitigating the risks of failing by getting as much help as we can from industry veterans like locally-born chef Moriguchi Shu (who will run the kitchen on the weekends) and Willin Low, Singapore restauranteur and whom the New York Times has called the"Father of ModSin" (Modern Singaporean Cuisine) will be advising along the way. The local paper, TV station, national lifestyle magazines, and even Singaporean newspapers have promised to help spread the word when we open. We can't help but to succeed.
Other Ways You Can Help
If you can't contribute financially at this time, there are other ways you can still help.
Share this Indiegogo campaign on social media and tell your friends about us.
Follow us on Youtube to help the Youtube algorithm find more like-minded people who may be interested in this campaign.
Come visit when you visit Japan!