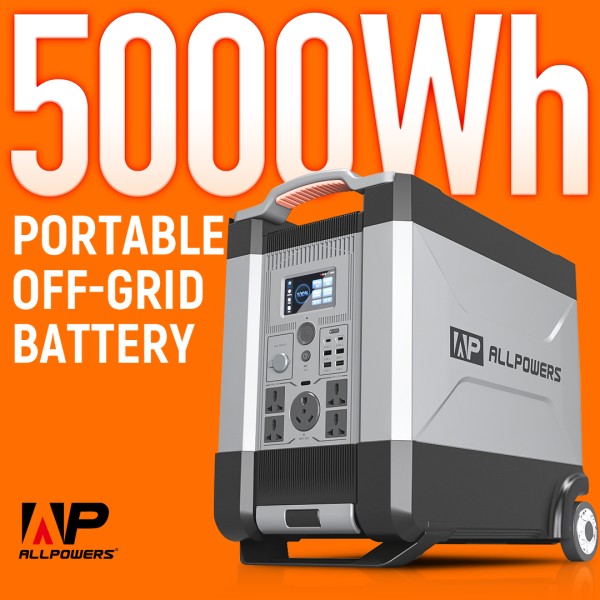 S5000: Most Versatile Portable Home Battery
$4,374,396
raised out of
$78,351
Concept
5000Wh & Expandable Capacity | Power Anything 3.5~7kW | Wind & Solar Energy Recharging for Your Home
Story


Our modern world relies on a stable supply of energy. We simply can't do without it.
And now you don't have to. Introducing S5000, the world's first 5000Wh LiFePO4 smart portable & home backup power station which can be expanded to 80kWh, gives you uninterrupted power any time, and every time, you need it!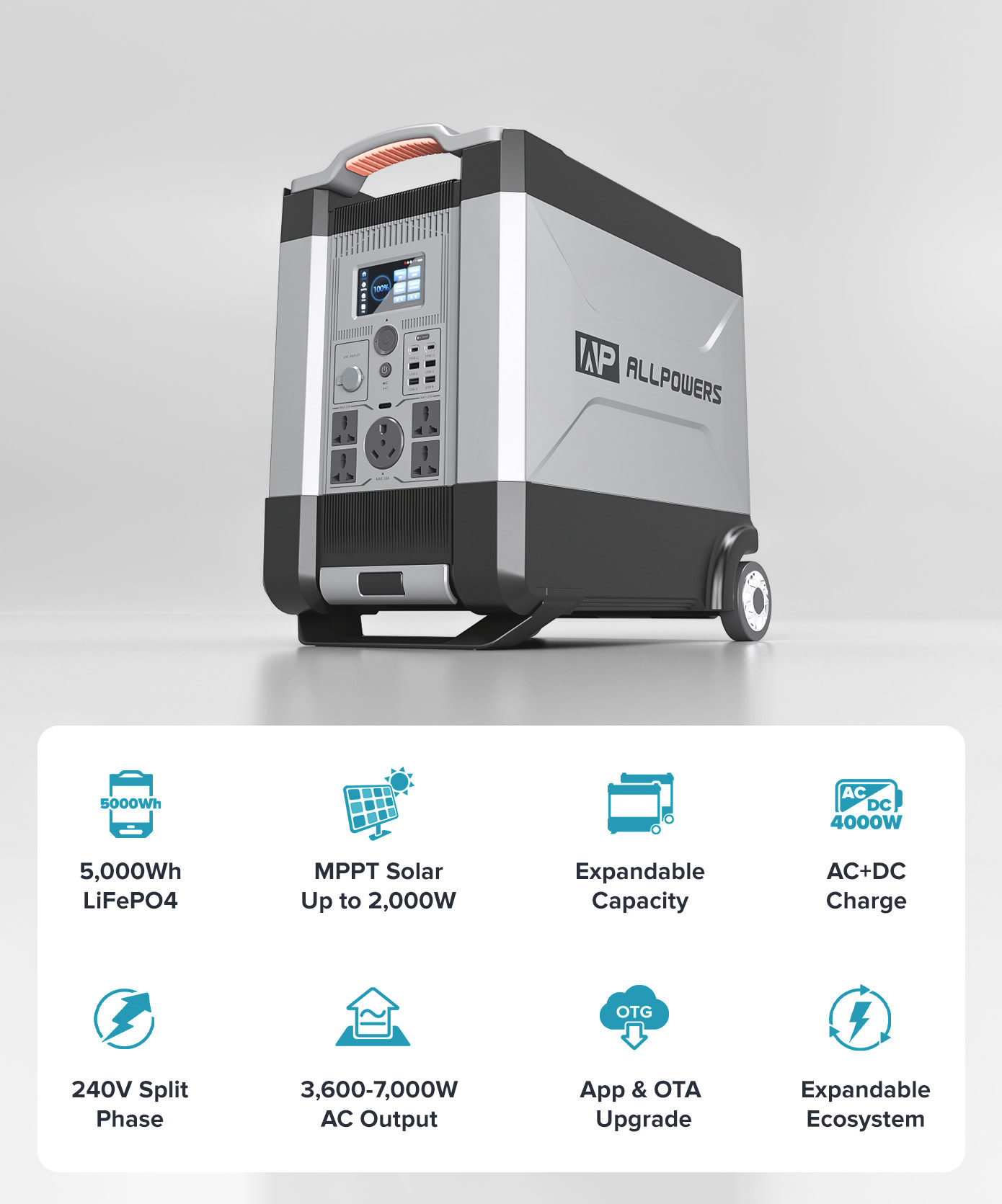 S5000 is a game-changer in the world of power generators.
This powerful battery has a 3,600W power output, that's as much as your standard wall socket! AND with 4,000W max input, only 1.5 hours to full charge the massive 5,000Wh capacity!  It is more than sufficient to power all your devices for hours so that even in the worst black-out your home, office, or outdoor living space, can keep functioning as normal, without a hiccup!
And it's portable! So, wherever you go S5000 goes!
Power S5000 is all about smart energy management for both home and outdoor use, which means lower energy bills and less reliance on the grid.  For complete peace of mind, 3-year battery warranty (IGG exclusive).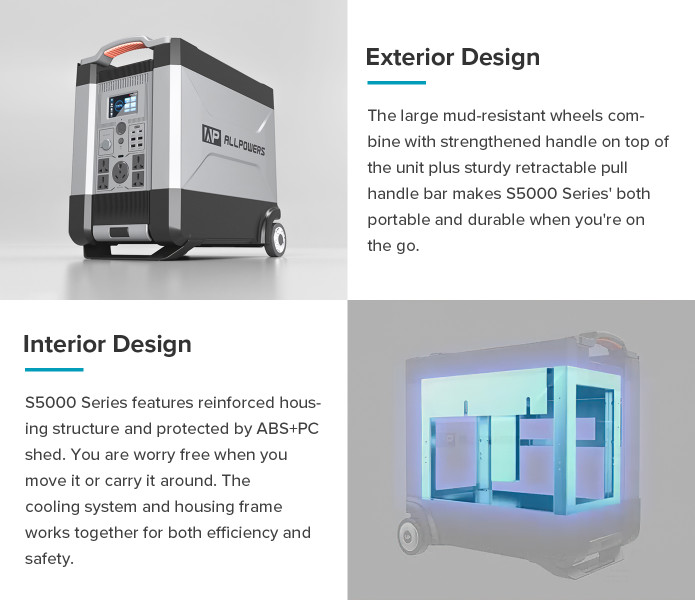 With S5000 standing by you're no longer at the mercy of rolling power outages or even extreme blackouts that last for days.  Now you have the best portable & home backup power supply that delivers expandable 5kWh~80kWh of capacity. Whatever the situation and wherever the location, S5000 provides consistent reliable power.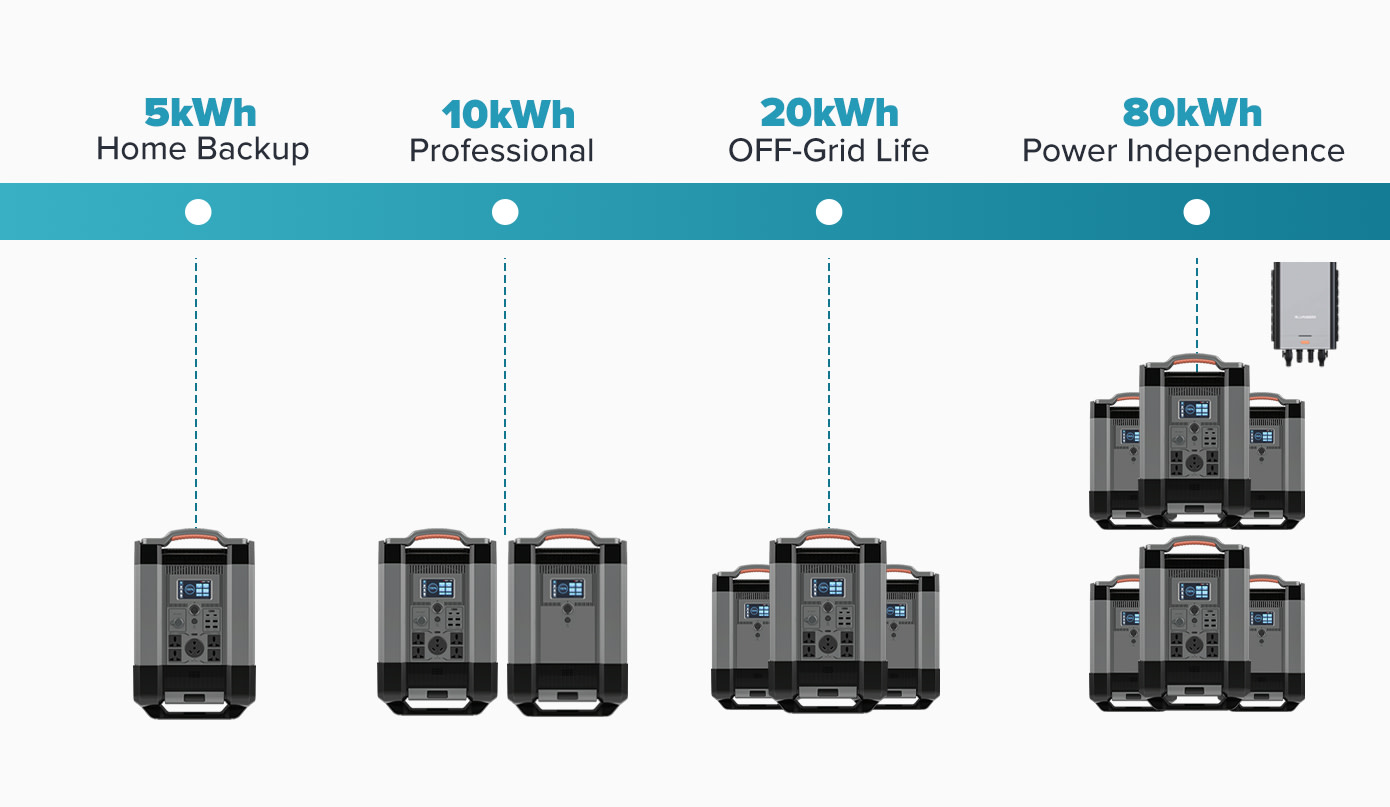 So what can S5000 really do?
It can run your essential home appliances, like your refrigerator, coffee maker, heater and water pump.   If you're on the road it will power even the largest RV.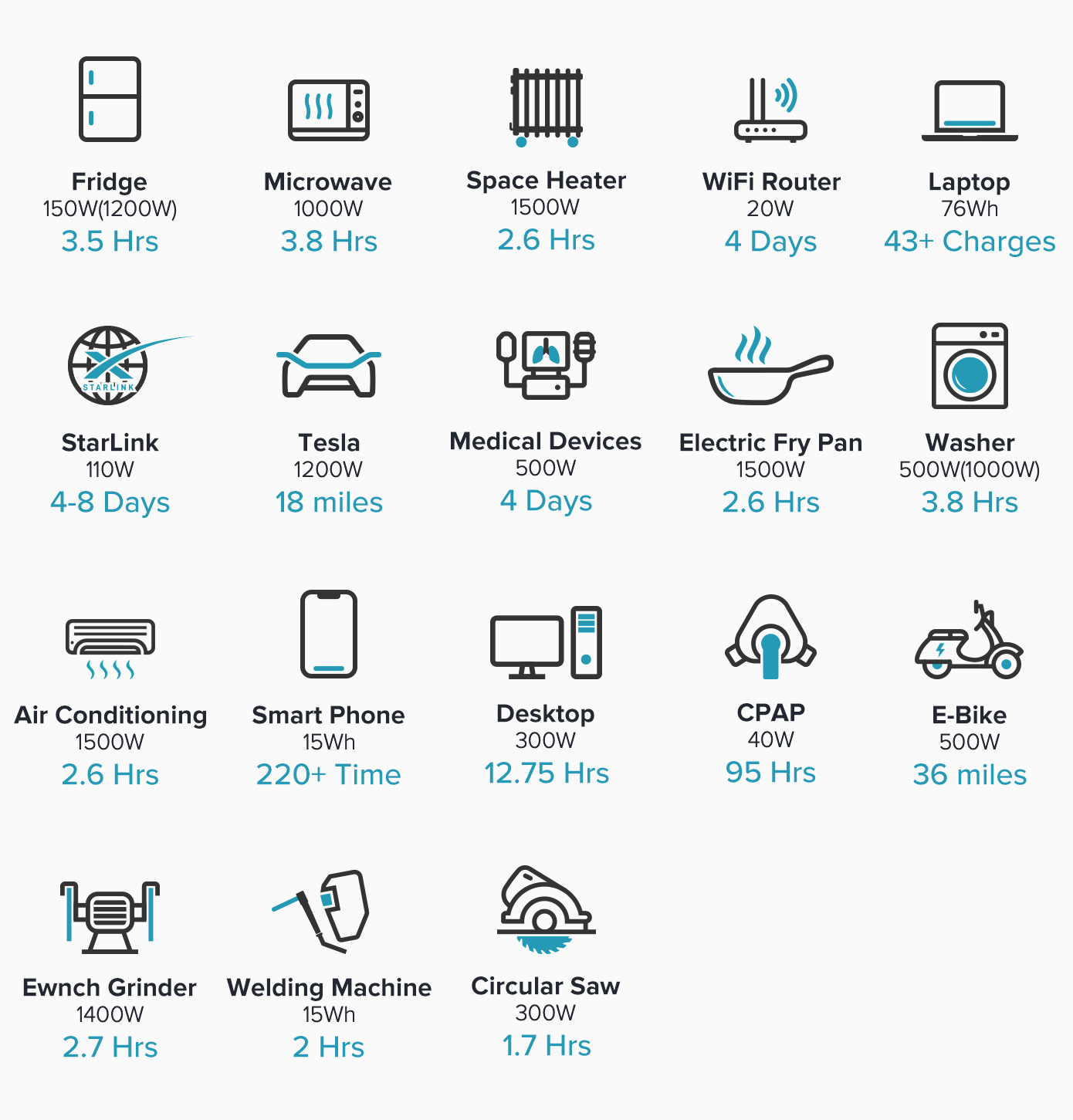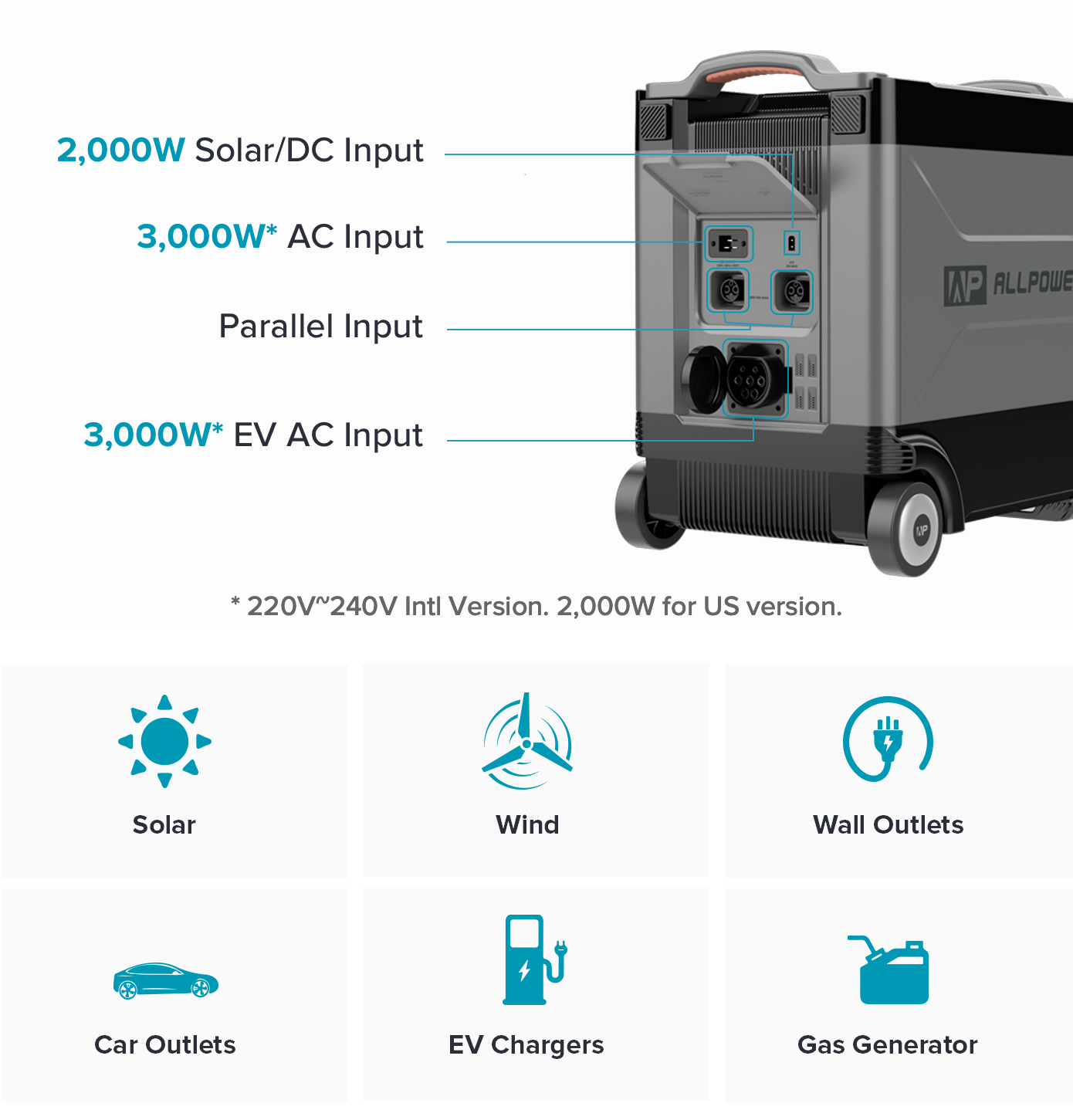 A major advantage of alternating current is that its voltage can be modified relatively easily using a transformer, which allows power to be transmitted at very high voltages before being taken down to safer voltages for commercial and residential use. Between, no more bulky adapter is needed as well.

To add to its adaptability, S5000 has an incredible charging speed of 4000W, which can be achieved by combining 2000W of power from a conventional AC wall socket and 2000W of DC solar power. This means a super-fast recharging time, from 0% to 100%, in around 1.5 hours!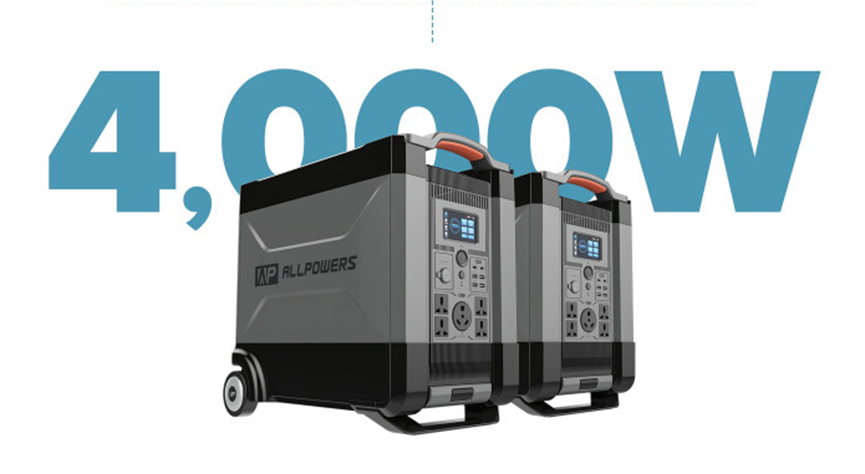 When you're on the road, a quick stop at a charging station will give your S5000 a 3,000W fast charge (3000W for 220V~240V version, 2000W for 110V version). ALLPOWERS offers EV Charging converters for both US & EU standards sold separately. 


S5000's charging technology isn't just fast, it's safe too. Its built-in battery management system ensures seamless, secure charging from a standard AC wall socket in only 2 hours.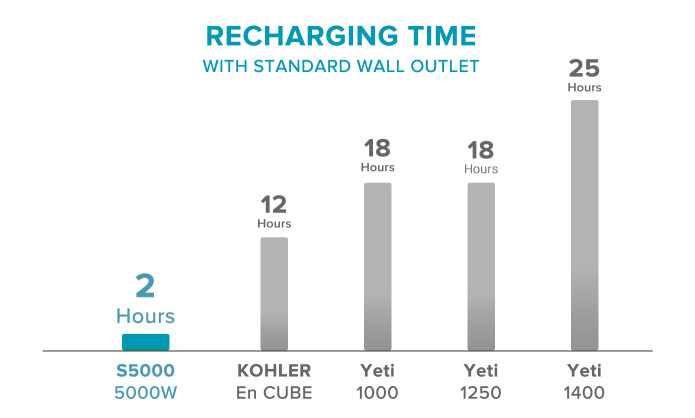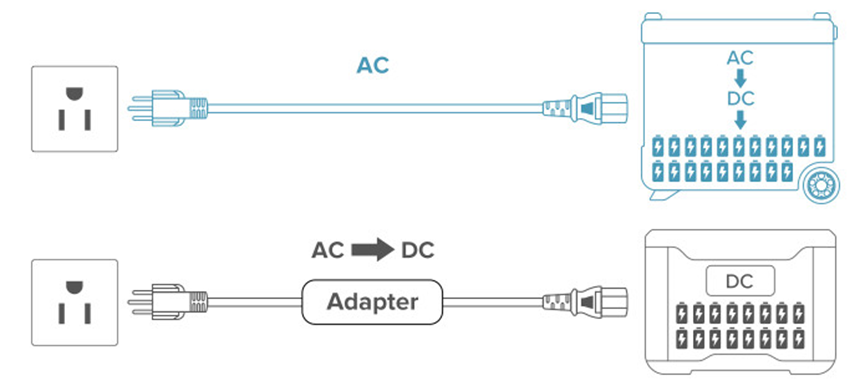 And it just plugs right in with a conventional plug, no bulky adapter that you see on other battery units.


Charge or power up to 12 devices at once.  S5000 has 4x regular USB-A ports, 2x 100W USB-C ports which allows charging 2 MacBooks at full speed, and 5x 3,500W wall outlets on both the international and American models.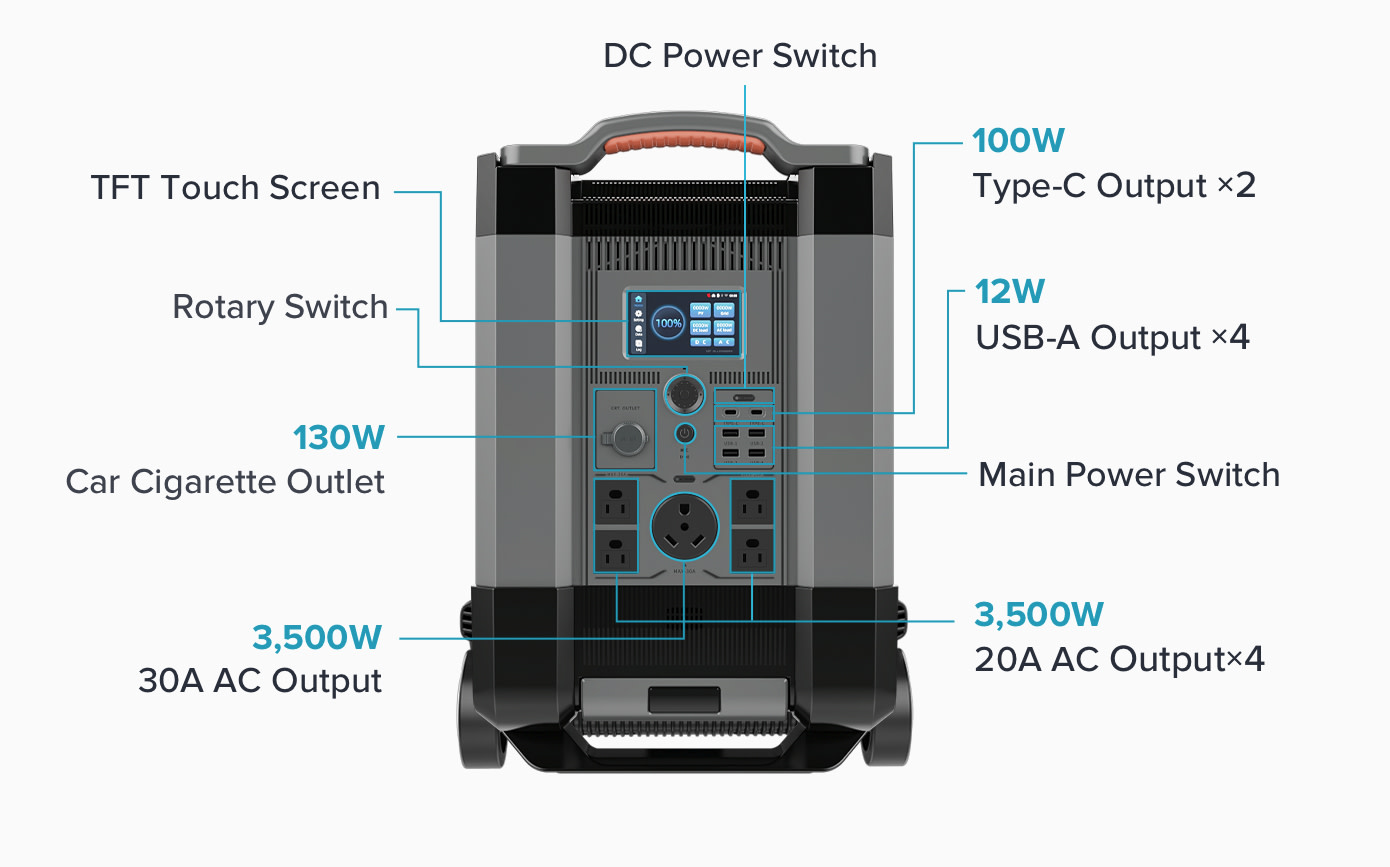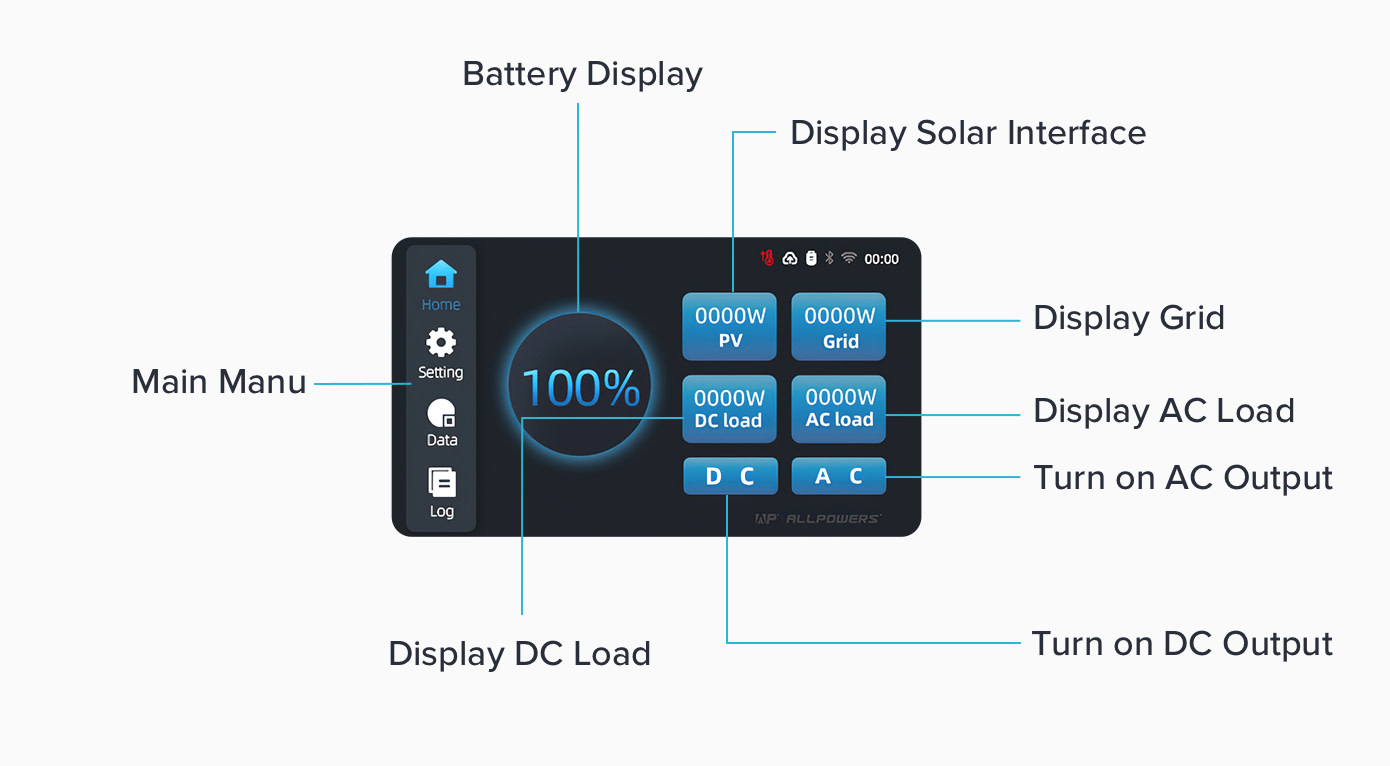 A single S5000 unit packs 5x 3,600W AC outputs, power anything you could imagine. Laptop, Refrigerator, Electric saw, or even a Tesla, just plug in whatever you need to power. You can even use it as an emergency backup for powering your electric vehicles up to 18 extra miles on a single charge.  It can be easily controlled remotely using the ALLPOWERS App.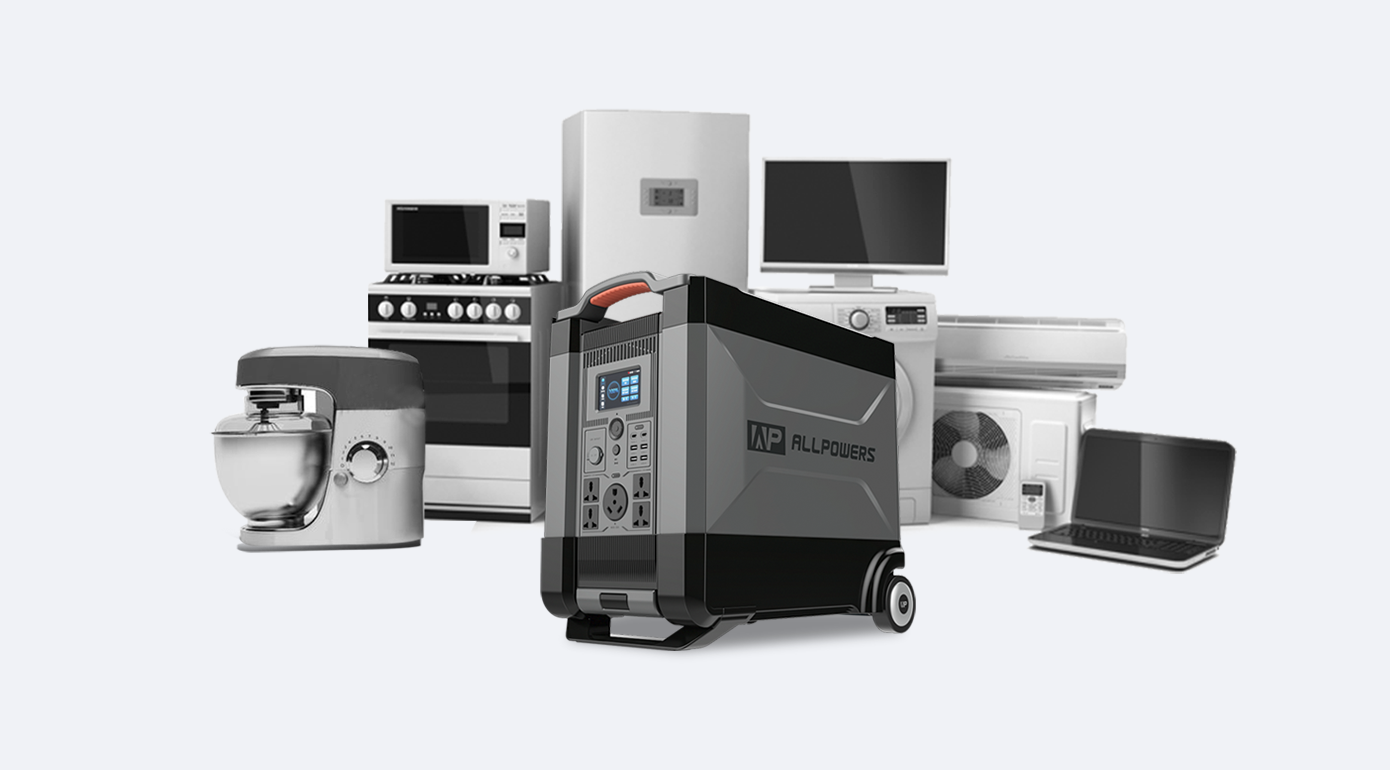 We designed S5000 with power-hungering devices in mind, with the portable Double Voltage Hub. For example, most of the good electric saws have between a 10-15 amp motor. Running on 110 volts that is between 1,100-1,650 watts of juice without load on it. That's to say,  you can use the electric saw for hours in the wild with S5000. Along with mud-resistant wheels and a retractable pull-bar for portability, you can take the power with you anywhere you like.  ​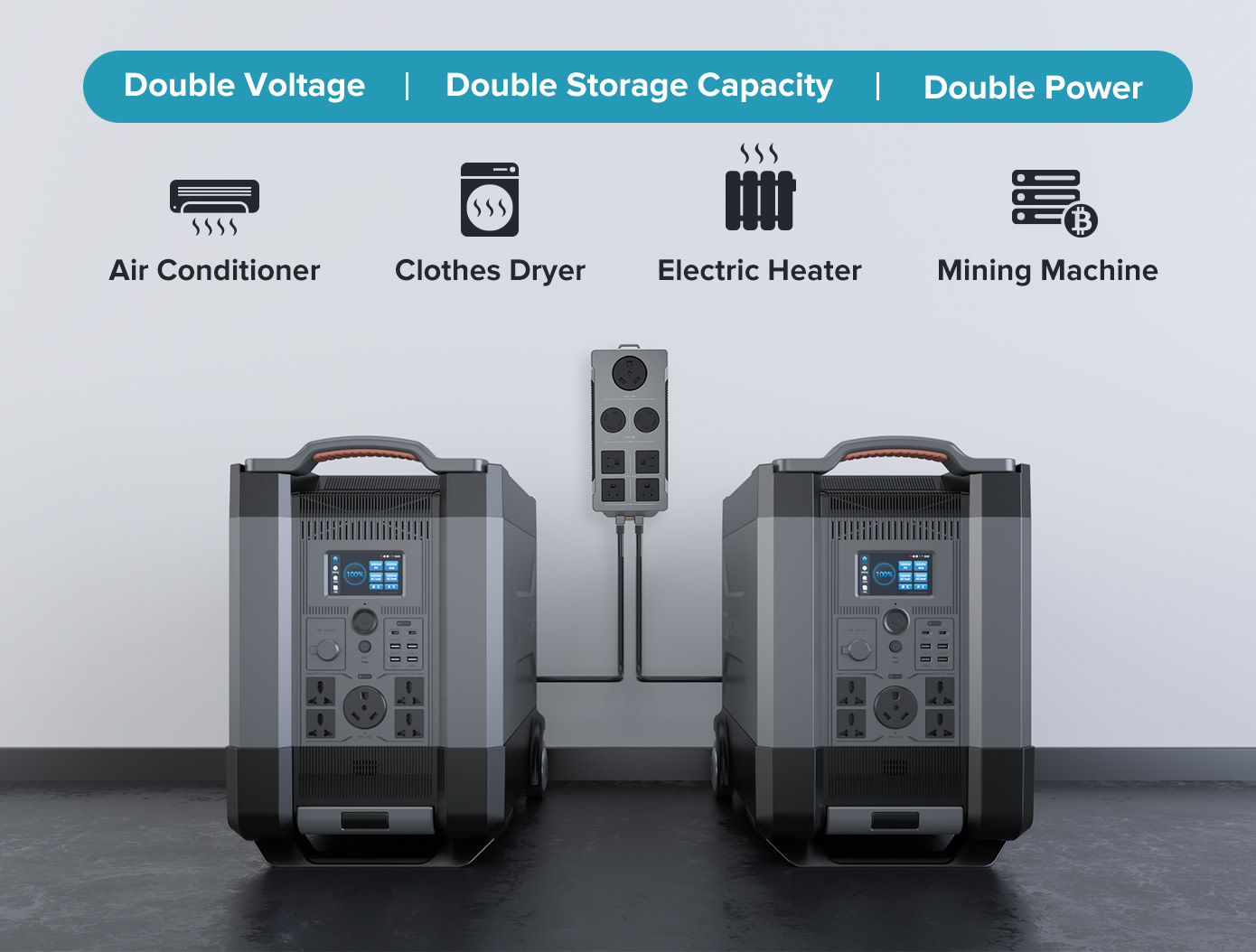 You can even pair two units together to achieve 7000W with Smart Home Panel. Power 99% heavy-duty devices at home. With this setup, you get double the Power & double voltage 7000W/240V that runs through safely with 8 home circuits.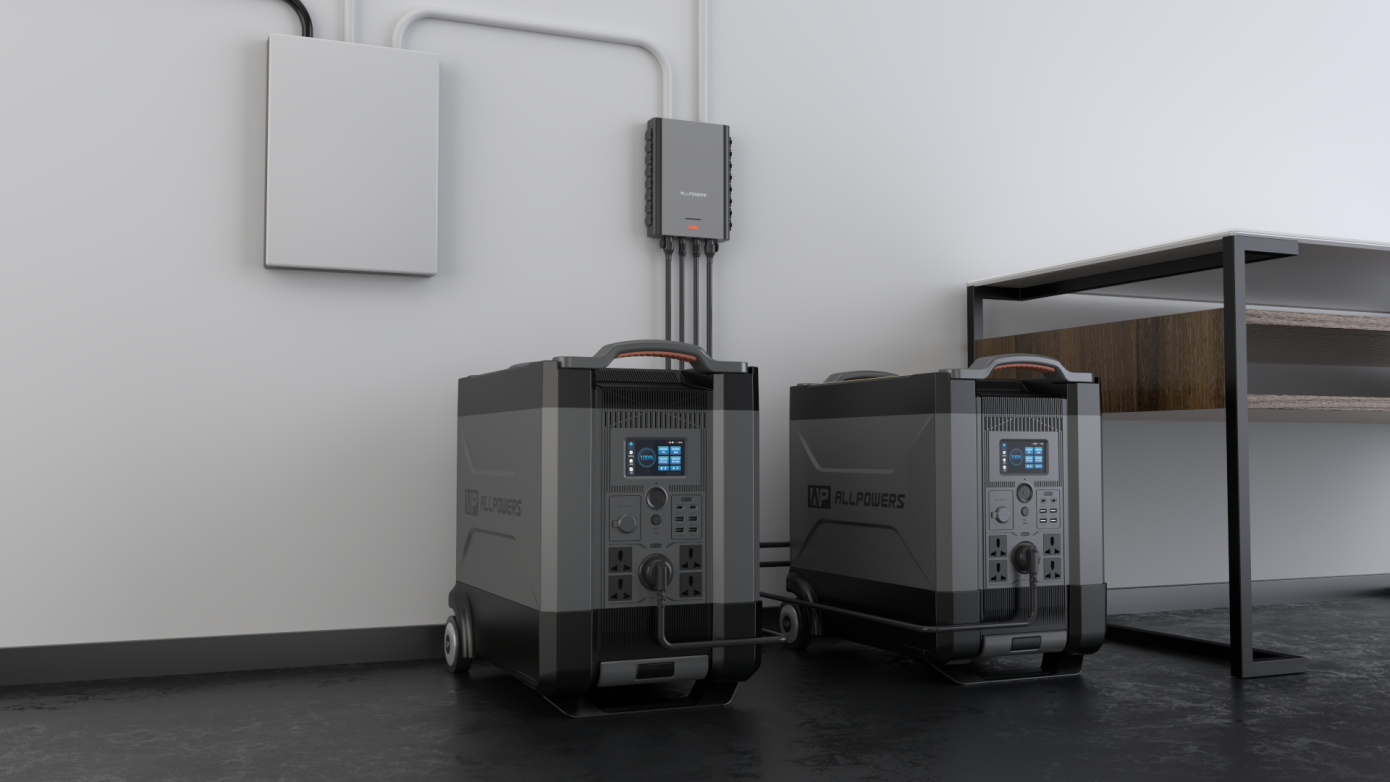 S5000 Series are equipped with UPS. An uninterruptible power supply (UPS), offers guaranteed power protection for connected electronics. When power is interrupted, or fluctuates outside safe levels, a UPS will instantly (less than 15ms) provide clean battery backup power and surge protection for plugged-in, sensitive equipment.
The electronic devices you rely on every day for communication, security and entertainment are at risk for damage and failure due to unexpected blackouts, voltage fluctuations or other power disruptions. A UPS provides battery backup power and protection for electronic devices, including: Computers, Televisions, Security systems Gaming consoles, Mobile devices.
Besides, Independent charging and discharging circuit modules allow S5000 charge and recharge simultaneously.


For families who rely on medical devices such as a CPAP machine or a medical fridge, a power outage could be a disaster. But with S5000, you're always well prepared for the unexpected.


S5000 is perfectly compatible with the natural world. You can use renewable solar energy to fully charge your unit in just 2.5 – 5 hours.

S5000 has a wide solar input voltage range from 12-72V, which makes it compatible with 90% of third-party solar panels with XT60 connectors. And when the weather is unpredictable, the smart maximum power point tracking (MPPT) automatically adjusts, maximizing your solar generation at any time of the day.

When fully charged using DC electricity, S5000 conveniently stores the energy for use at a much later date so you can always rely on a fully charged unit no matter when you need it.

Maximum power point tracking (MPPT) electronically tracks the energy input and converts the maximum amount of power from each solar cell.
Our solar panels are made from waterproof microfiber PU leather which makes them highly durable, easier to fold and therefore lighter and more portable. We selected premium-grade panels and the finest leather and the end result is a much higher Solar Energy Conversion Rate of 20%, as compared to the average rate of 15%.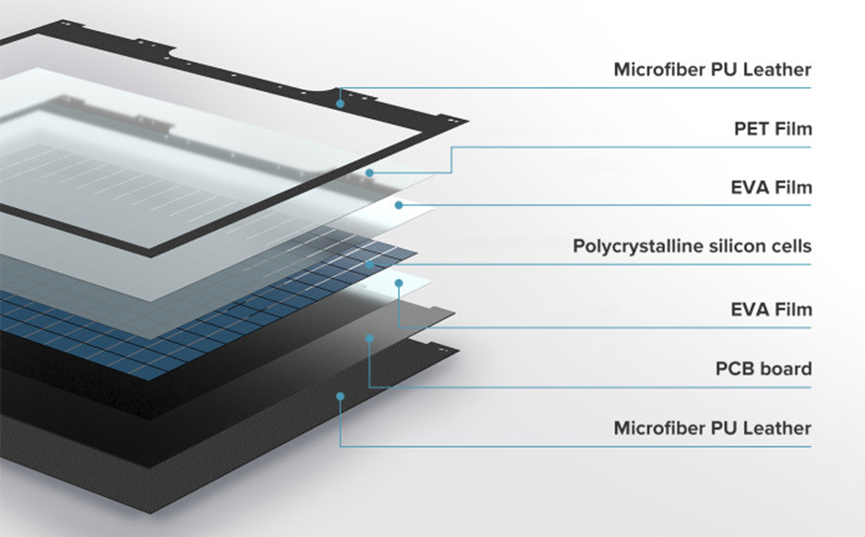 The benefits of solar power are endless. Apart from being pollution-free with no greenhouse gas emissions, it reduces dependence on fossil fuels and foreign oil supplies. With S5000's XT60 industry-standard solar outputs, the unit can quickly and cleanly achieve a full charge in just 2.5 hours. Even on a cloudy day, a level of charging is still occurring.

Whether you use our solar panel or another brand, S5000 will take full advantage of nature's power source to recharge. In perfect sunlight using any panel that has 2000W solar input, S5000 can be fully recharged in about 2.5 hours.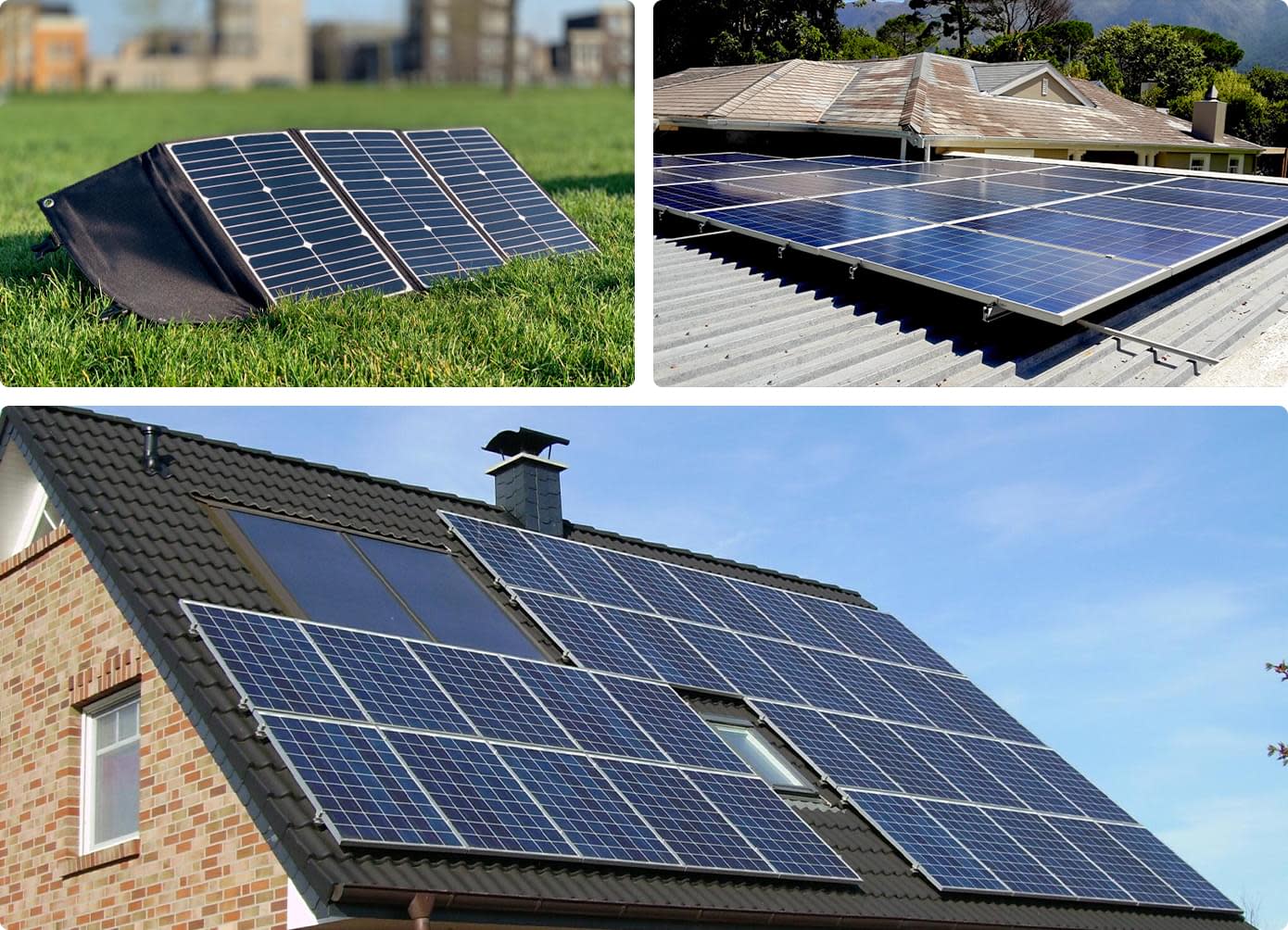 Now you have complete peace of mind that everything you use in daily life is always secure and always on when you need it.
Whether it's powering your appliances and devices inside your home, in the garden or workshop, at the office, or even when you're in the great outdoors, you can hook up S5000 to your portable solar panel or directly to your rooftop solar installation.
Now there's never an emergency or even an inconvenience and you're secure in the knowledge that you're living a greener, healthier life.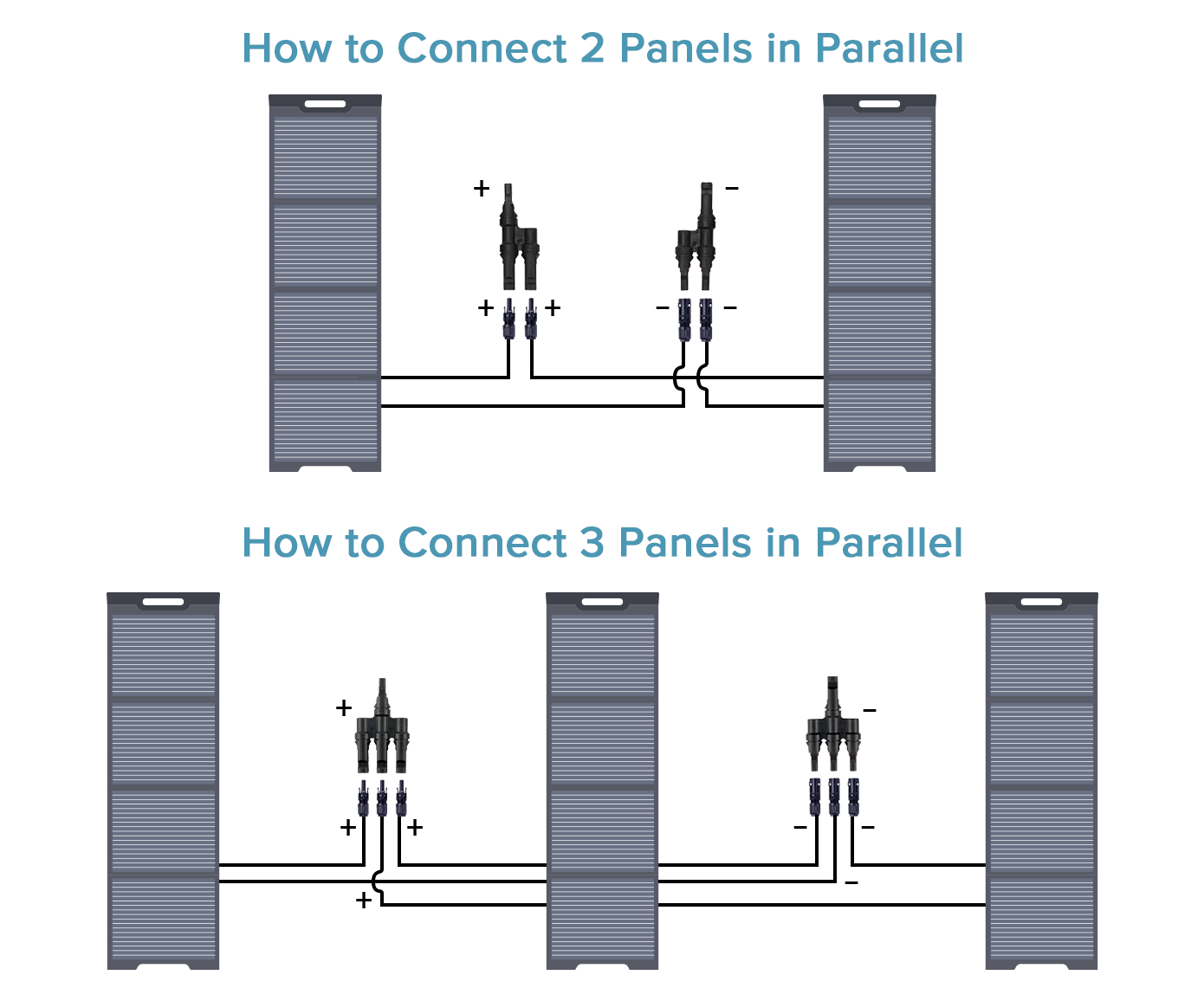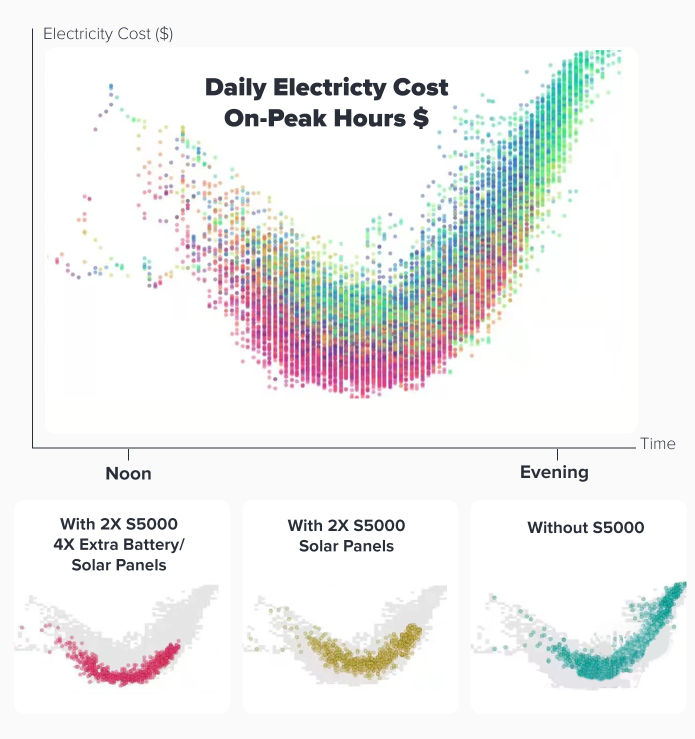 Our solar panel is made of waterproof microfiber PU leather and can be folded into a smaller size, which makes it more durable, more portable as well as ultra-light. To reach a higher Solar Energy Conversion Rate (20%, much higher than the average rate of 15%), we selected a premium-grade panel.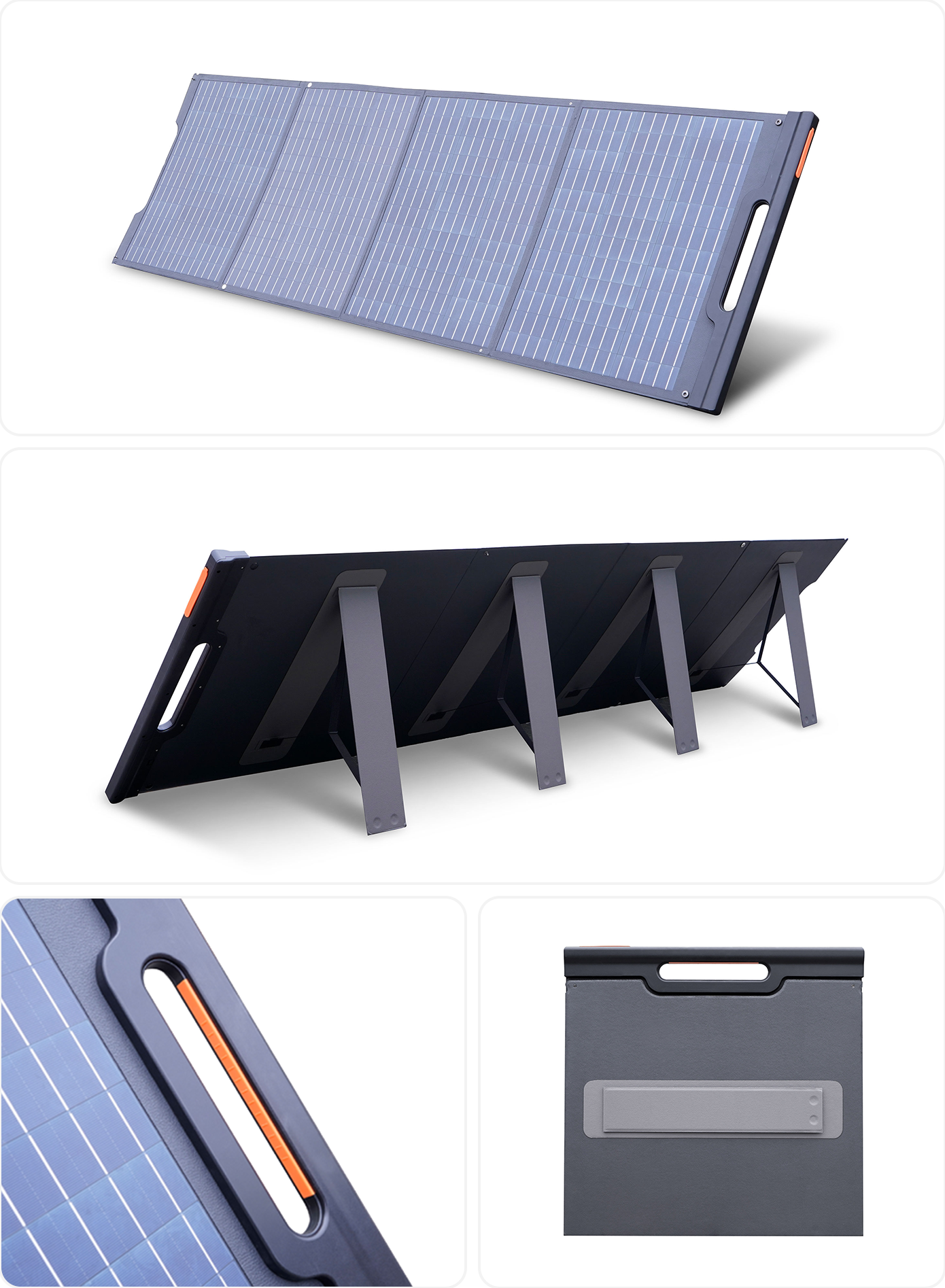 At the core of S5000 is a state-of-the-art LFP battery with 6000+ cycles. This means you will have years of use from your unit before it loses any of its capacity.
EV Grade–A Level LFP Battery that offers a fire-resistant, blade design for optimized space usage & heat dissipation. you will get the best battery quality for your next adventures.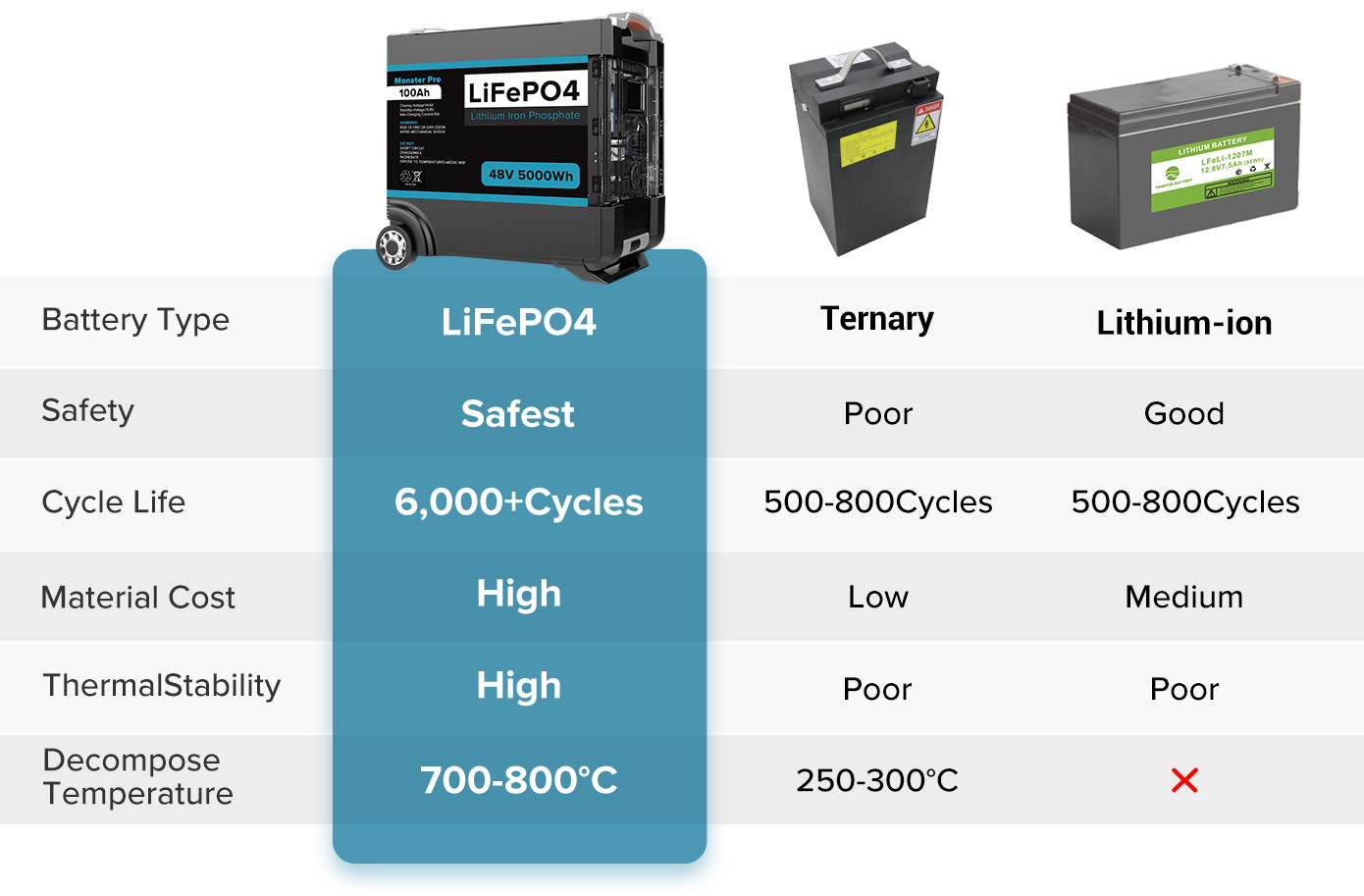 S5000 is housed in a strengthened casing, perfect for all conditions. It is the most sophisticated and formidable power station ever to power any home. Armed with more than just massive LiFePo4 capacity that is the most stable & safe battery, expandable & comprehensive ecosystem design with exceptional craftmanship, S5000 adept proven practice with the latest innovations, making them one of the most mighty home backup batteries in the modern world.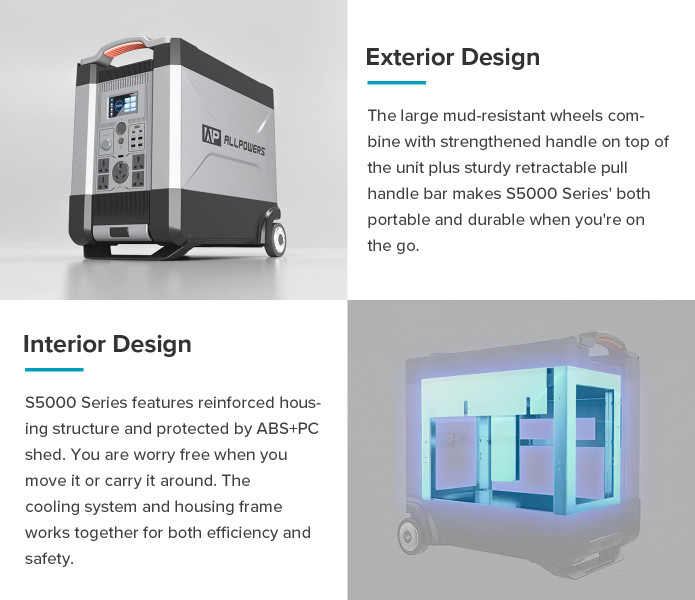 The battery of S5000 is reliable and endurable. You could always rely on it. Over a dozen international certificates and safety features ensure reliability and endurance, such as Short-Circuit Protection, Battery Overcharge Protection, Output Overcharge Protection, Harsh Temperature Protection, and so on.

An intelligent BMS protects your S5000 from power surges and overheating, while at the same time it monitors and alerts you to any sharp changes in temperature.
S5000's state-of-the-art BMS fully utilizes all LFP battery series and it protects any single series from taking too much or too little, so as to maximize the batteries' longevity and performance.
The intelligent battery management system provides real-time analysis and regulation of voltage, current, and temperature. This unique protection mechanism makes S5000 an incredibly safe and efficient home battery.



You can control S5000 either on the unit itself, or via the App. Both the on-board TFT Touch Screen and the smart customizable App offer you access to your power settings, (such as charging and discharging levels), monitor AC charging speeds, control the ecosystem, and a whole lot more!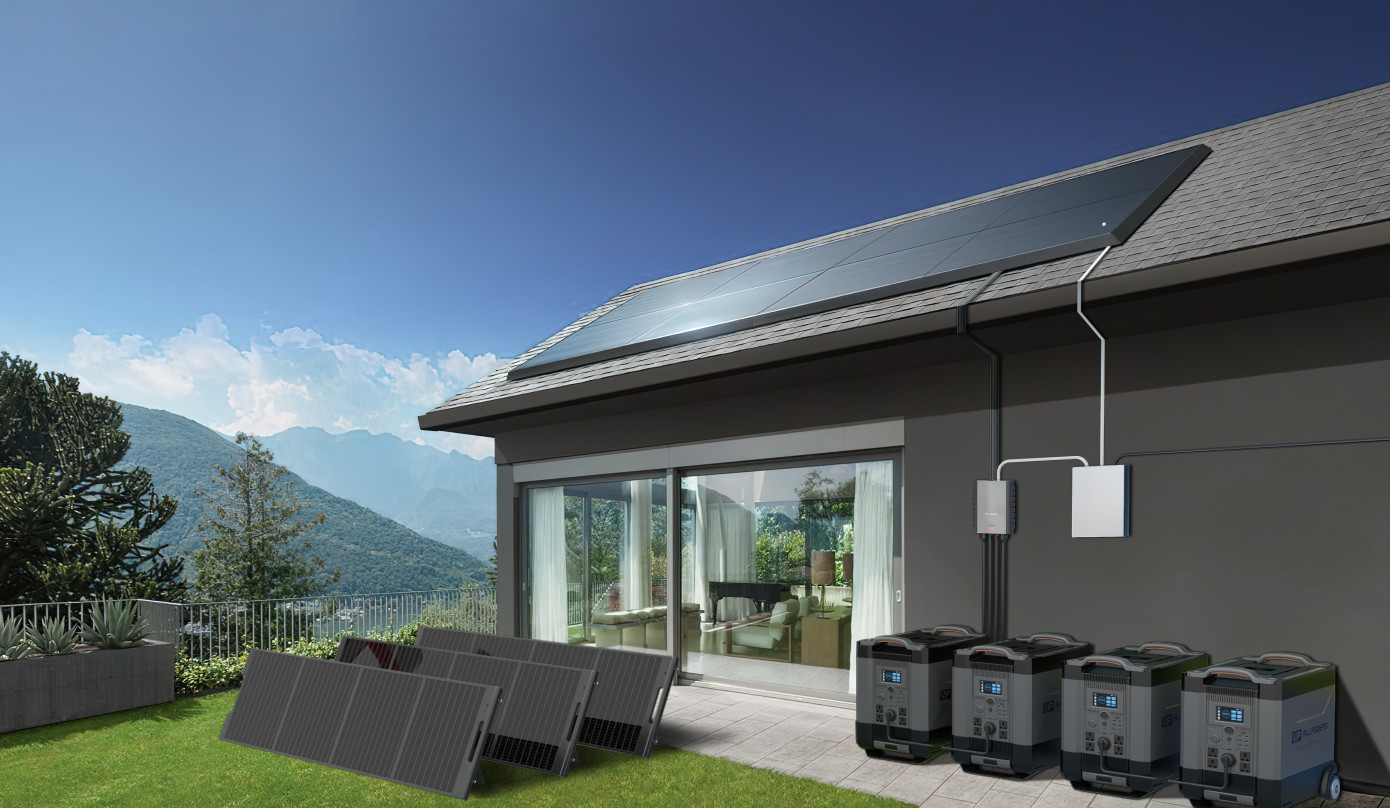 S5000's expandable ecosystem provides you with power during blackouts, customizable energy around the clock, and lower energy bills. How does it achieve all this? With a selection of extra batteries, solar arrays, a smart home panel, and more. From backup power to reducing your reliance on the grid with green alternatives, the S5000 ecosystem can be customized to all your energy needs.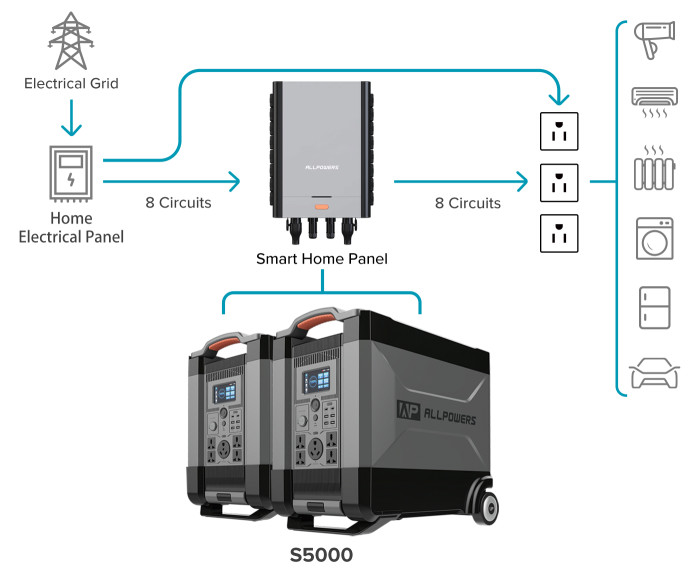 The new ALLPOWERS Smart Home Panel is the heart of the S5000 home battery ecosystem. It integrates up to two S5000 units with 8 home circuits. Each S5000 can be connected with extra batteries, and solar panels, giving you uninterrupted power during blackouts, smart energy management for your critical loads, and lower energy bills.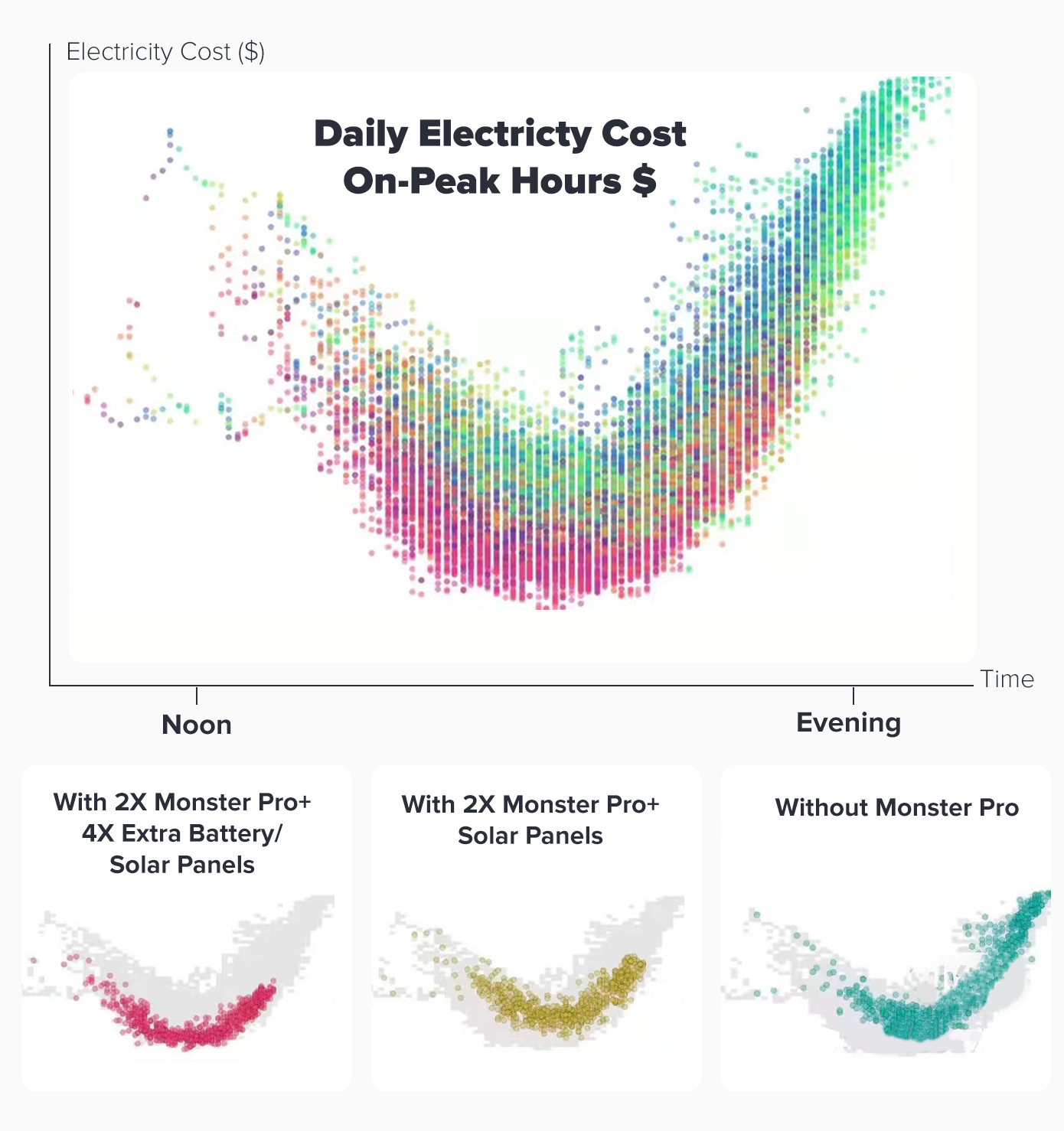 The Extra Battery provides an expandable option that integrates with your S5000 ecosystem. It auto-starts when your S5000 hits a low level of charge, re-charges your S5000, and stops the operation all by itself once your S5000 reaches full charge.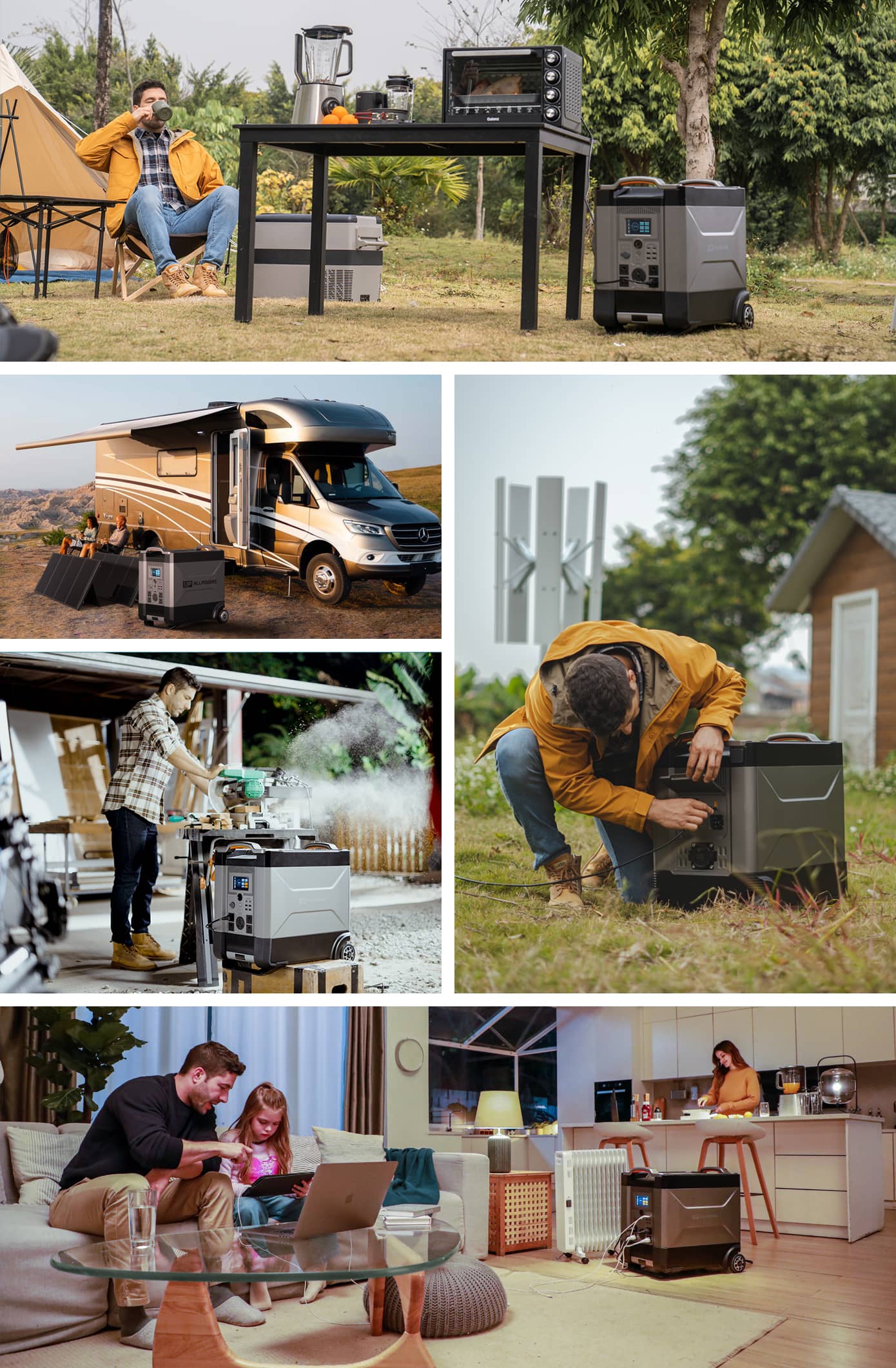 S5000 fully lives up to its name. It is the most powerful energy station ever devised to fuel any home. Armed with more than just a massive LiFePO4 capacity, it is also the safest and most stable battery on the market.
S5000 has a proven track record for also being expandable and comprehensive in its functionality. And it's exceptional craftsmanship is obvious in its sleek design. Quite simply, S5000 exceeds all expectations of form and function, making it one of the most highly reputed backup batteries in the modern world.

With S5000, you can take 'home' with you, wherever you go. It features wheels and a suitcase extendable handle that makes transport easy. And if you're looking for a complete power solution for RV road trips and outdoor adventures, S5000 comes with a dedicated 30A AC outlet.
S5000 is mobile energy that is always available and gives you the freedom to go anywhere anytime. Get your S5000 now, share it with your friends and start enjoying your new-found energy freedom today!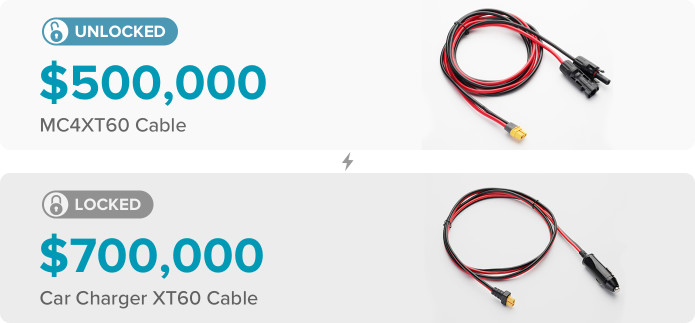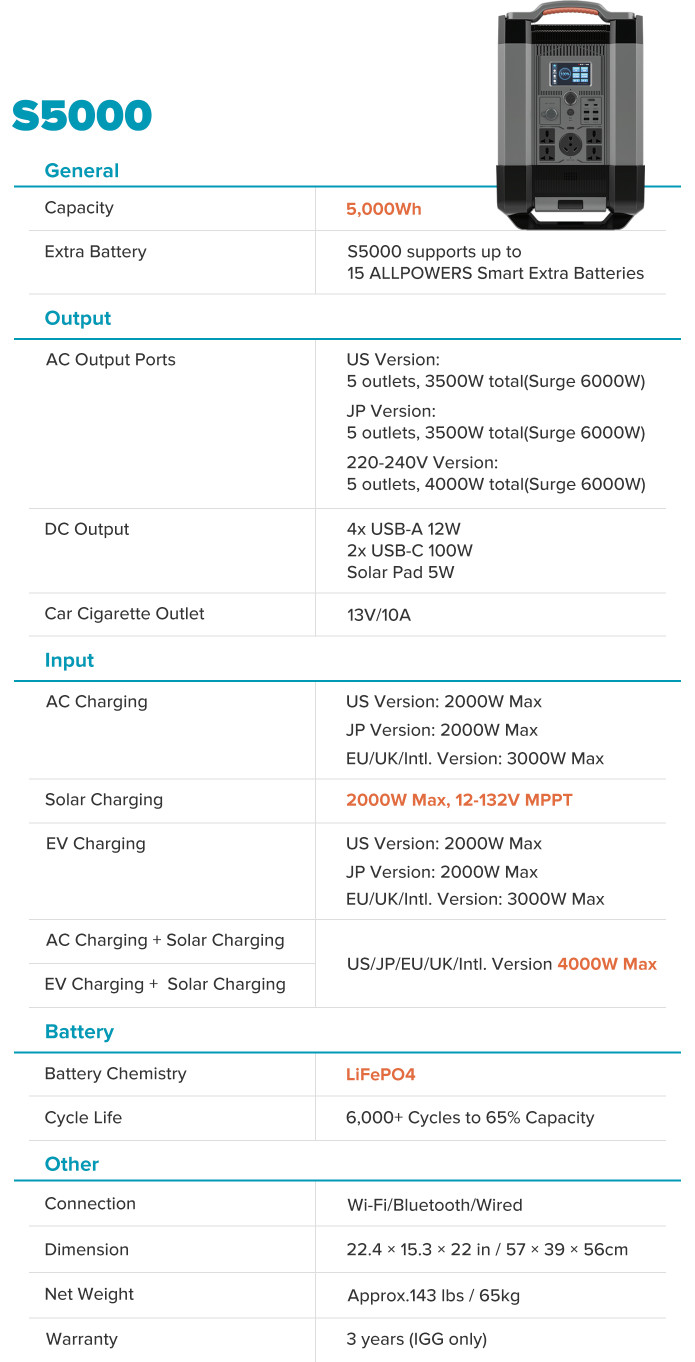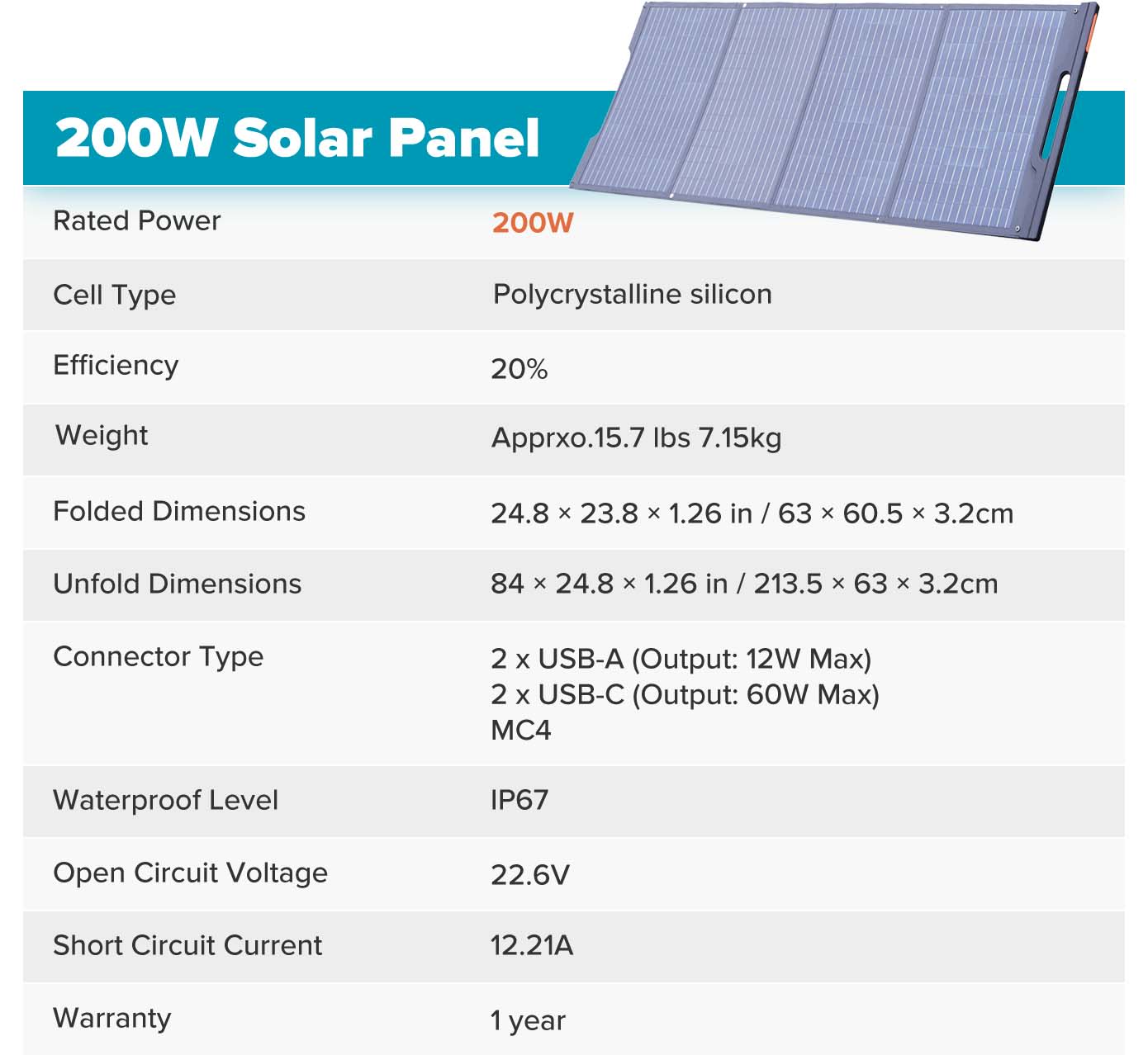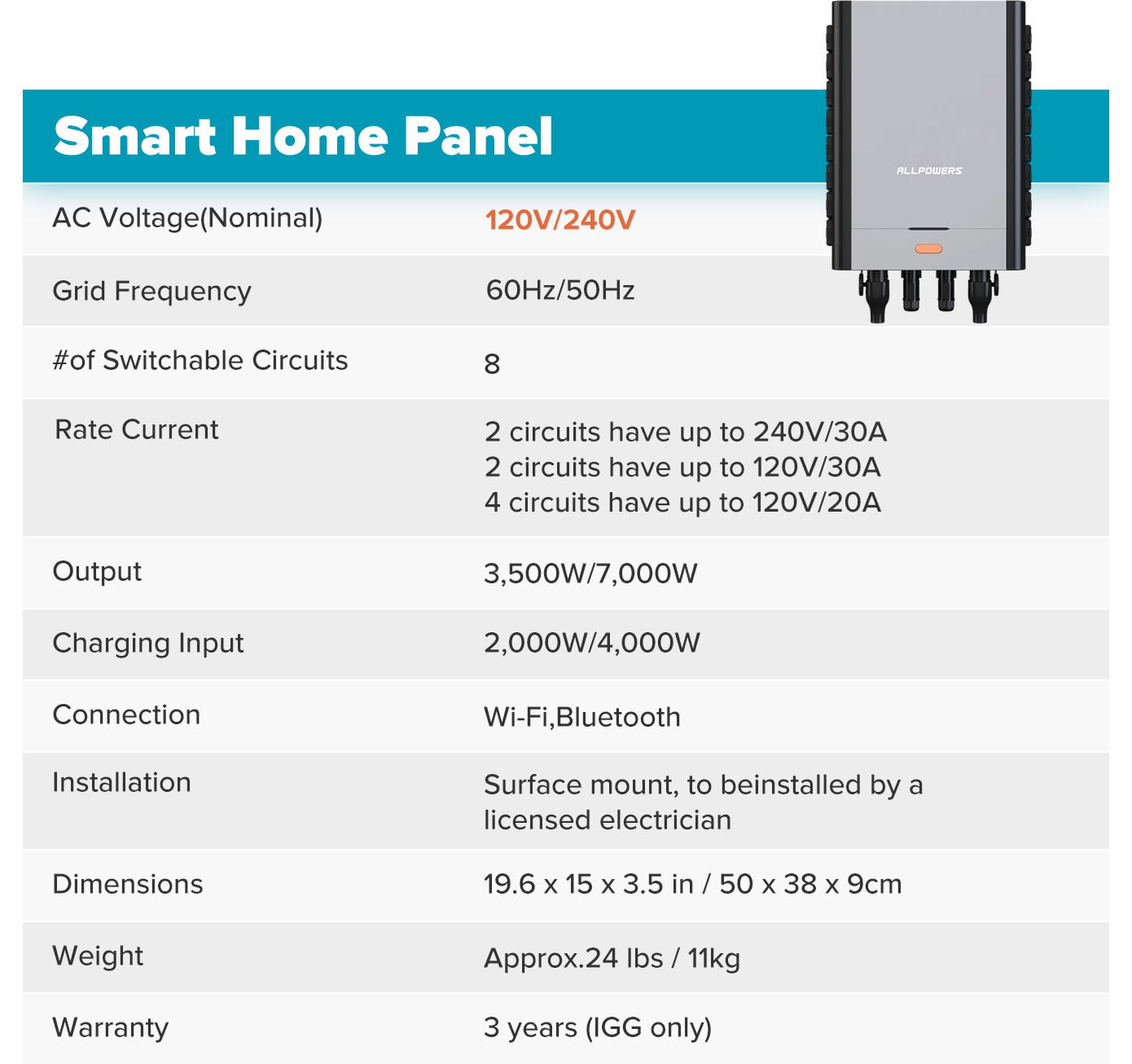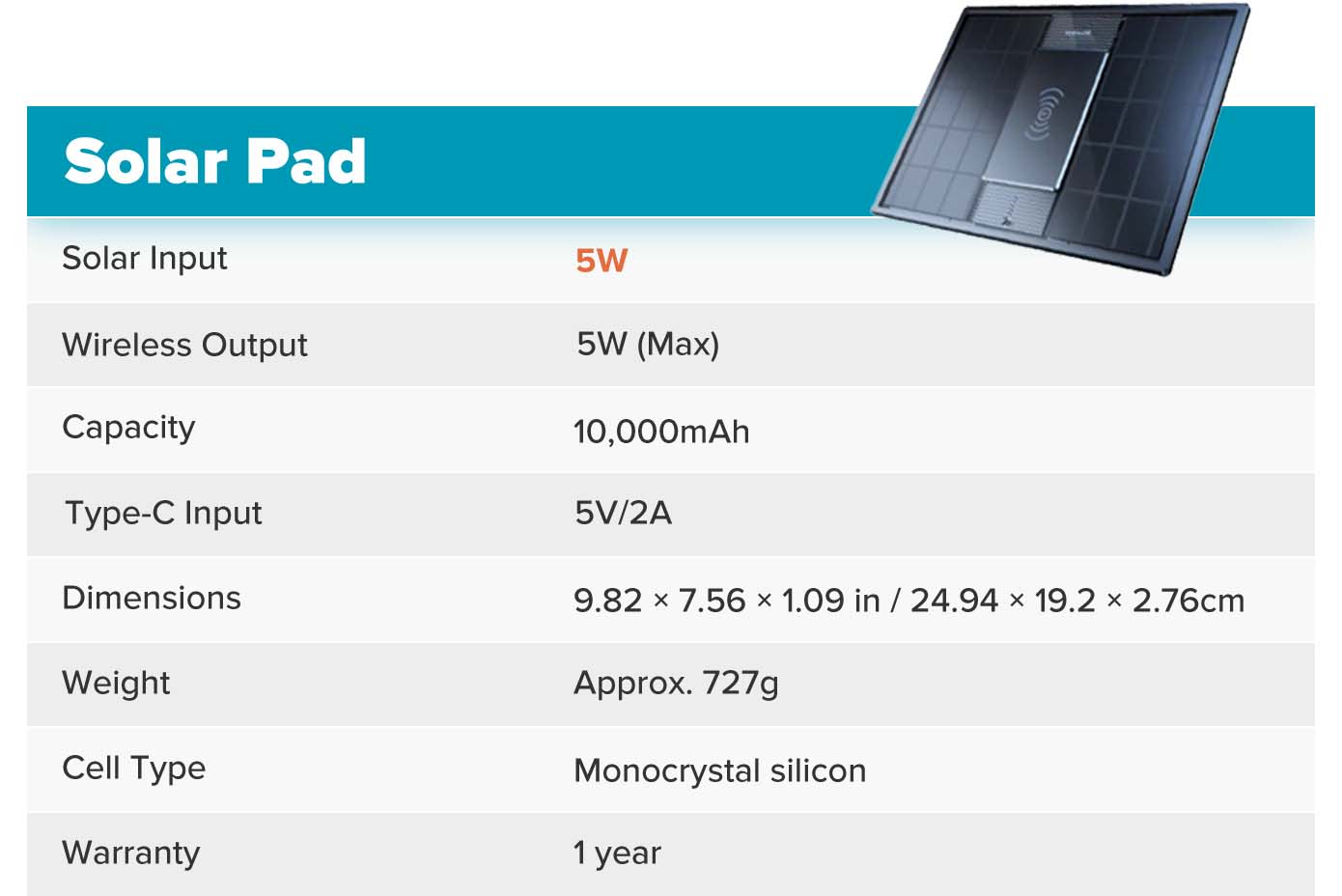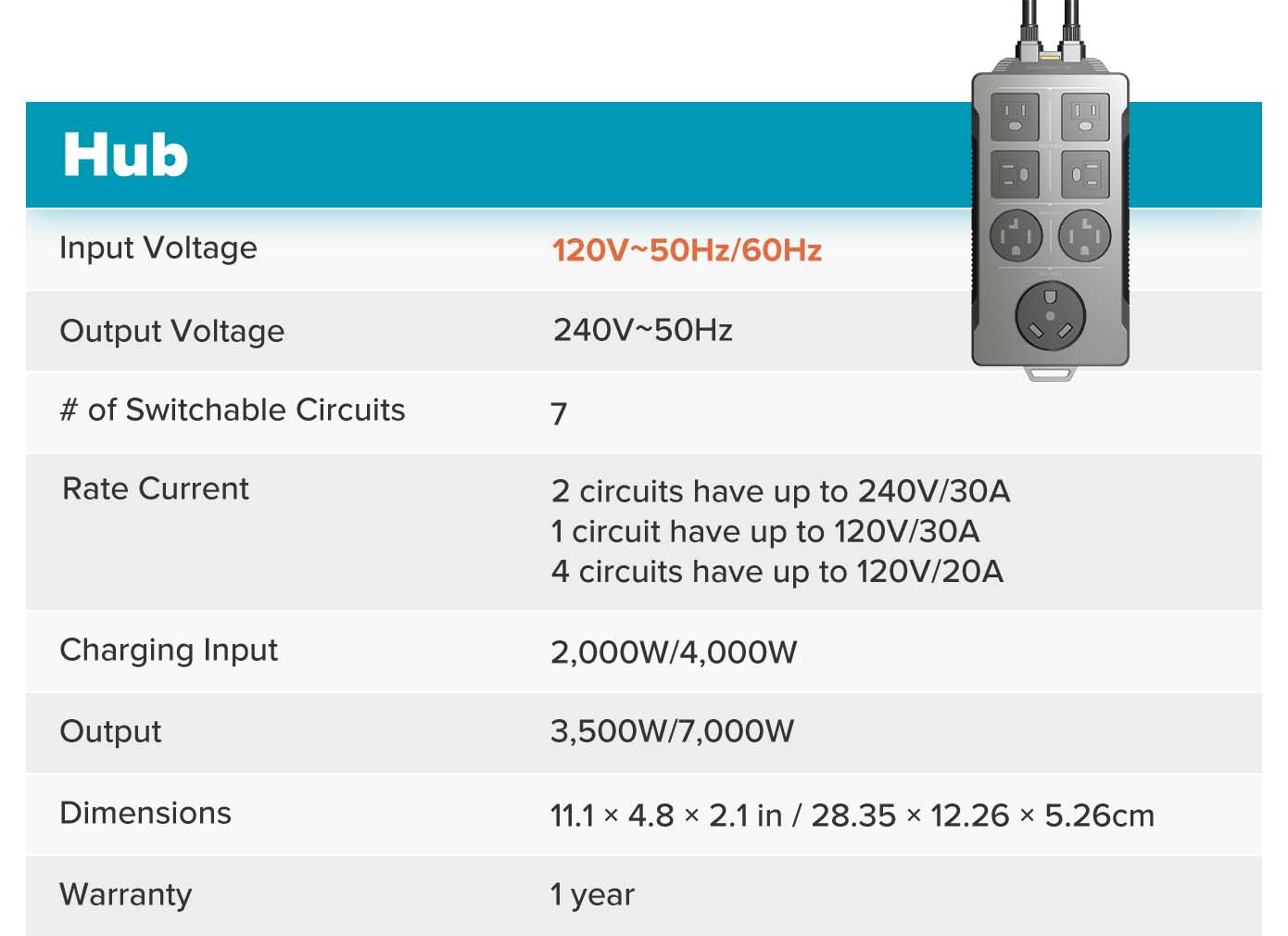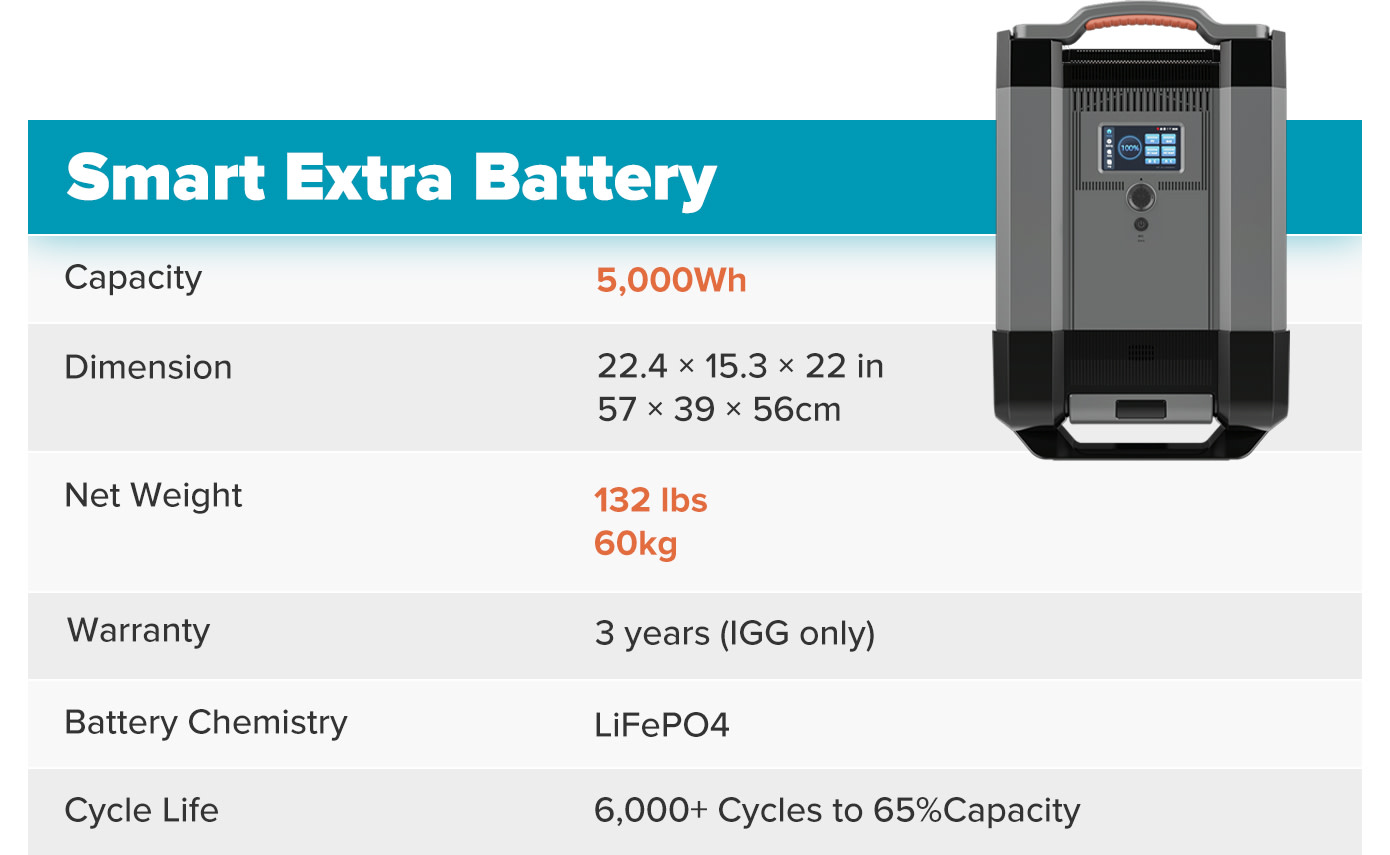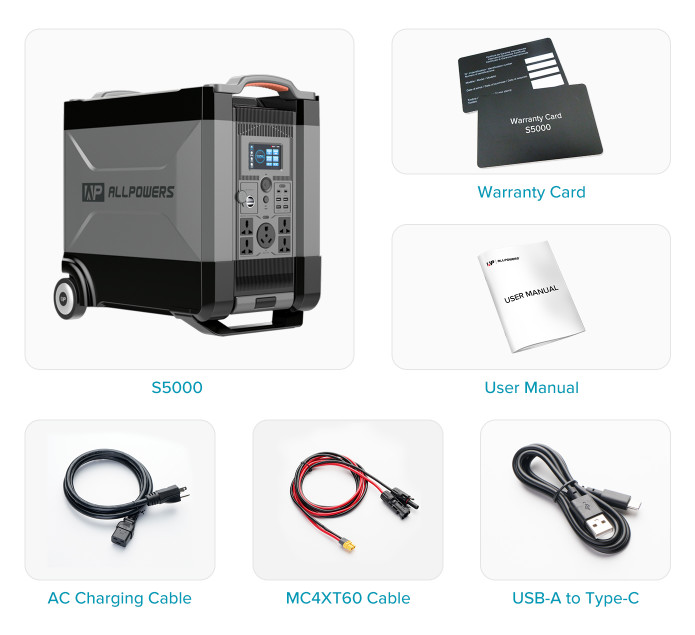 1.S5000  2. AC Charging Cable  3. XT60 Charging Cable  4. USB-A to Type-C Pro+  5. User Manual  6. Warranty Card



The Team is planning to ship S5000 series out to all over the world beginning in August 2022 gradually, the team will provide pictures of the package and loading. Shipping status will be updated continuously with more and more S5000 shipping out, we appreciate all Backers' love and support of S5000! Please stay tuned!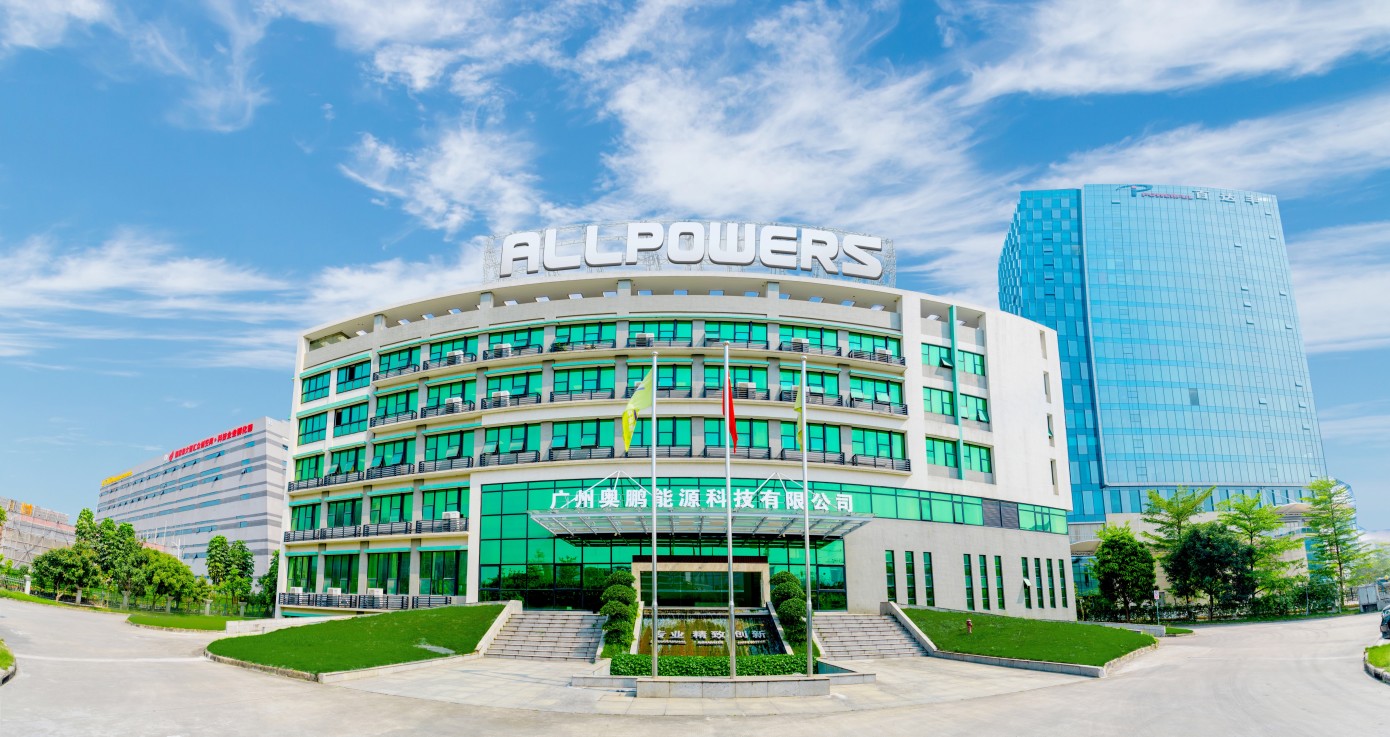 We spent months developing, testing, prototyping, and molding before the campaign started. We would like to invite you to back us as we start mass production. For early backers who support us on IGG, you will receive our earnest gratitude and attentive post-sales service.

ALLPOWERS was founded in 2008. We are a team comprising experienced designers and engineers with a mission to bring the best power products to everyone. In the past 10 years, we've devoted ourselves to R&D of power products. Based on our professional engineering experts and reliable supply, we are able to create and produce best-in-class products that everyone can enjoy.


To maintain the best safety and reliability of our products, ALLPOWERS has passed dozens of international certificates and approvals including CNAS, TUV, FCC, CE, ROSH, SGS, ErP, PSE and UL.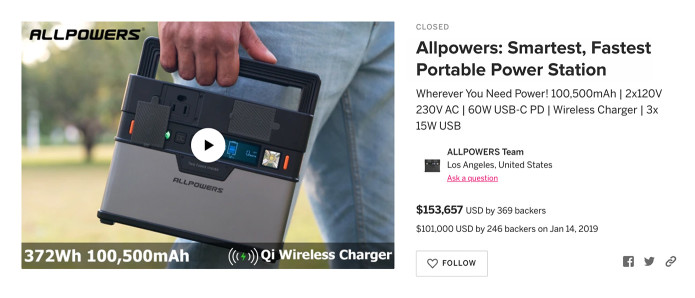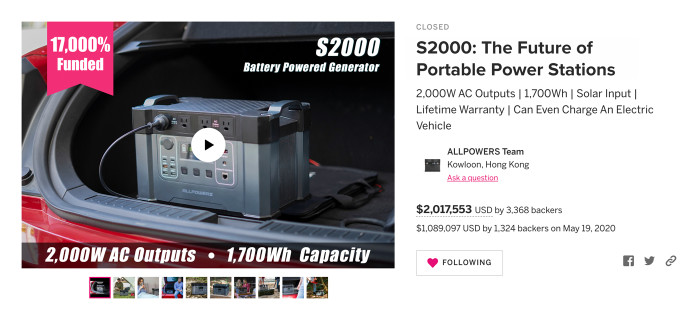 This is the second campaign we've launched on IGG. We've been rolling out best-selling solar power storage products for years, campaigns were well delivered thanks to our backers' support and trust. 


Press Kit
If you're a member of the press looking for info or media assets(Click me), or please contact us at monstercares@allpowers.com