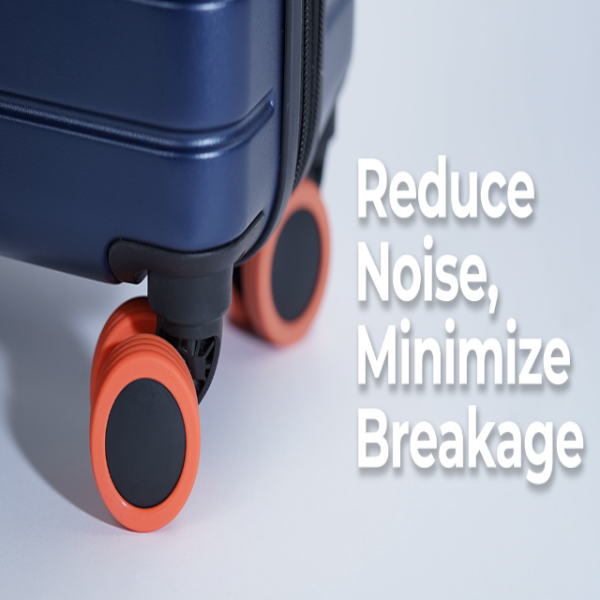 Shockproof Silicone Shoe Specialized for Wheels!
$66,638
raised out of
$2,000
Concept
Caster shoes effectively reduce noise from friction!
Story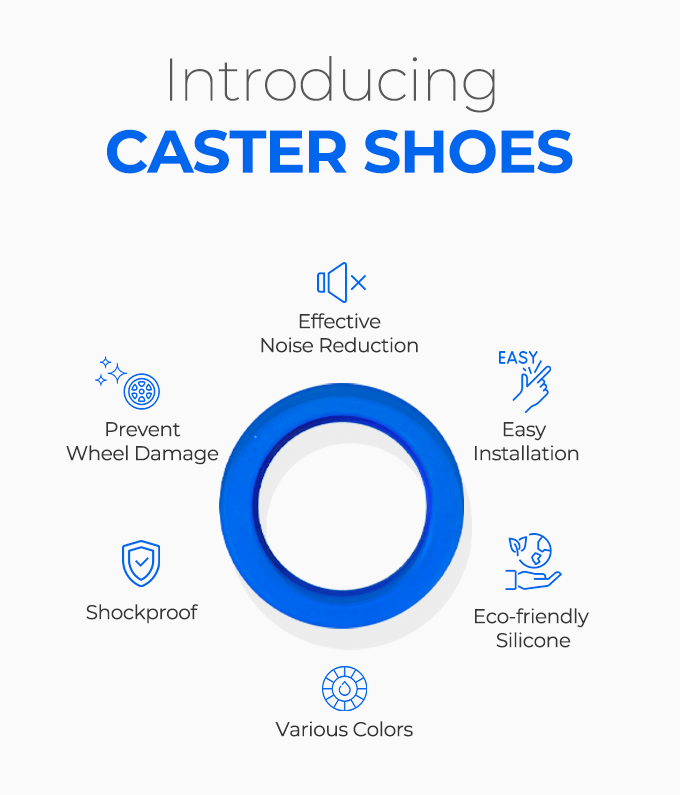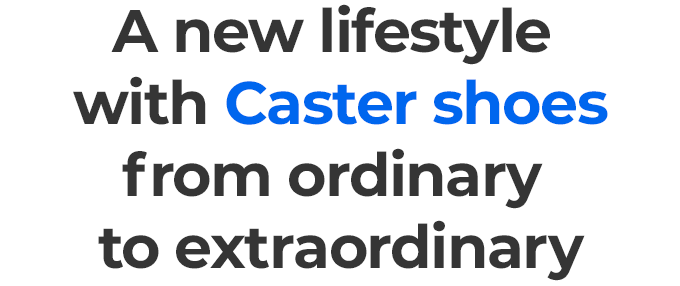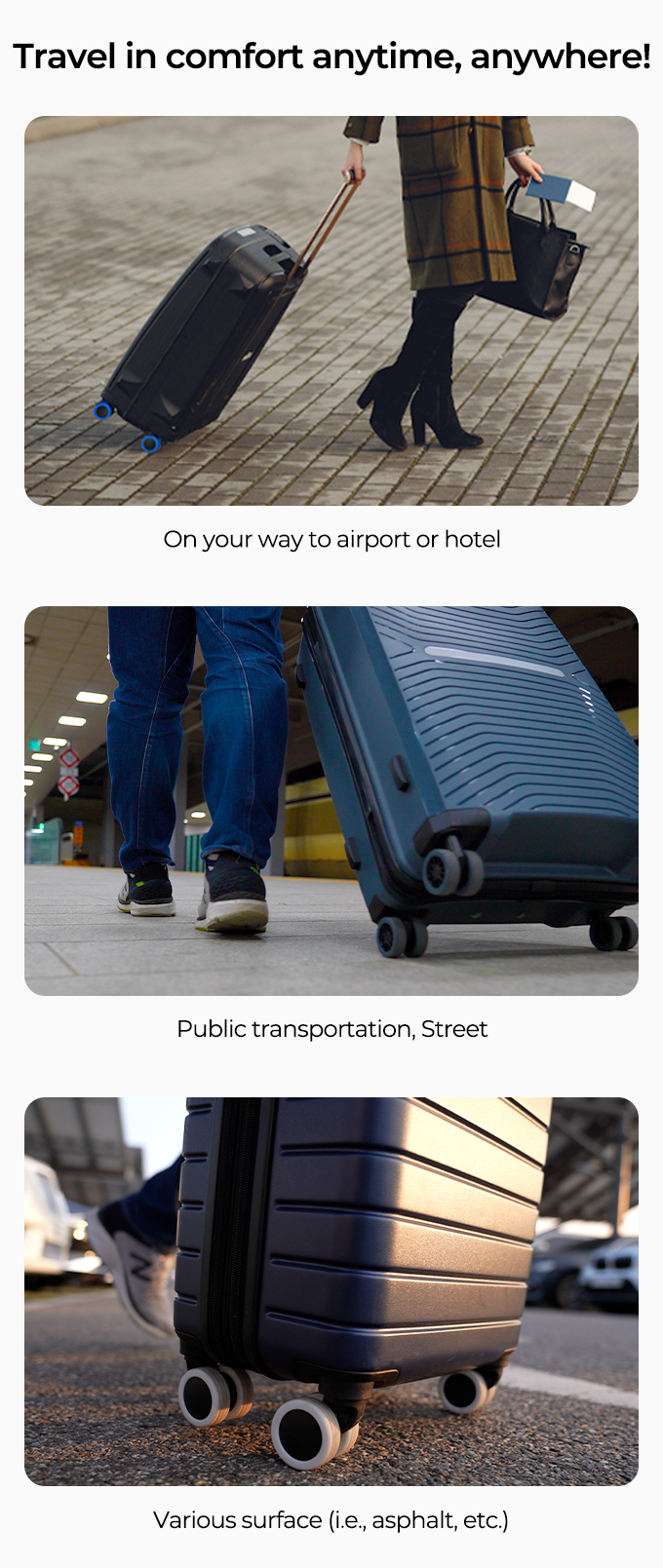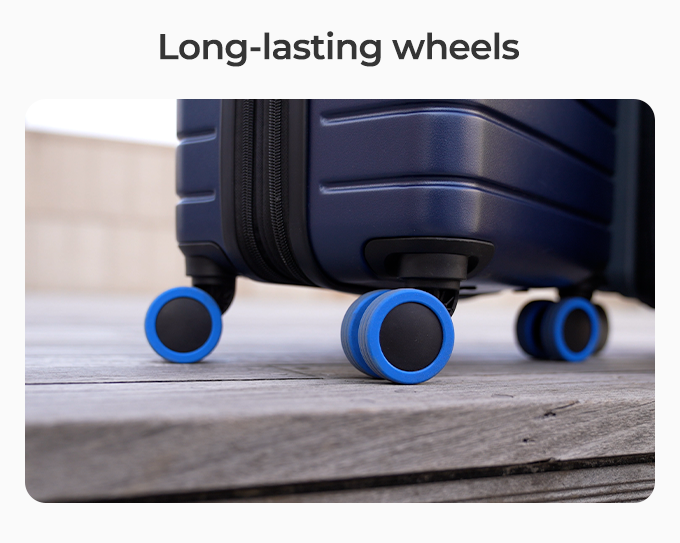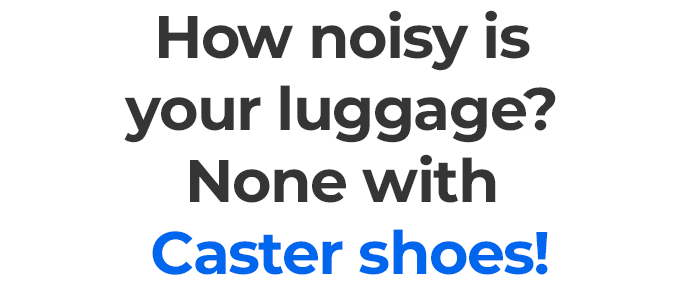 What do we always carry with us when traveling? A luggage full of excitement and noise. Dragging the luggage through subway, bus or on the road, it's hard not to notice the loud rattling noise our bag makes especially in the middle of the night or early in the morning.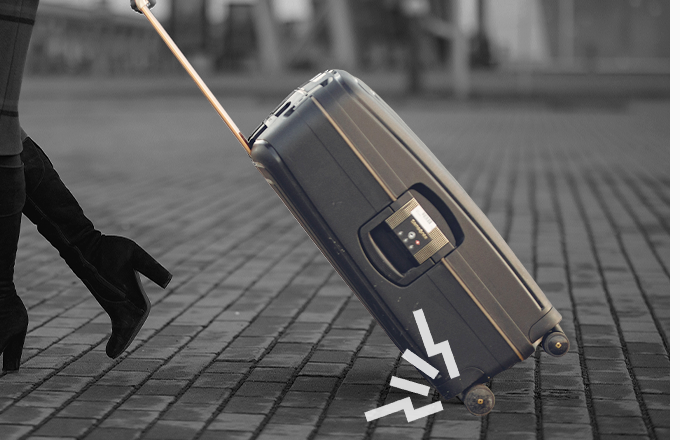 The constant friction between the ground and the luggage causes loud noise, and it also shortens the lifespan of the wheels attached to the bag. As wheels are bound to get damaged when they get stuck or worn out from rough surface, you are often left with a decent luggage that you can no longer use.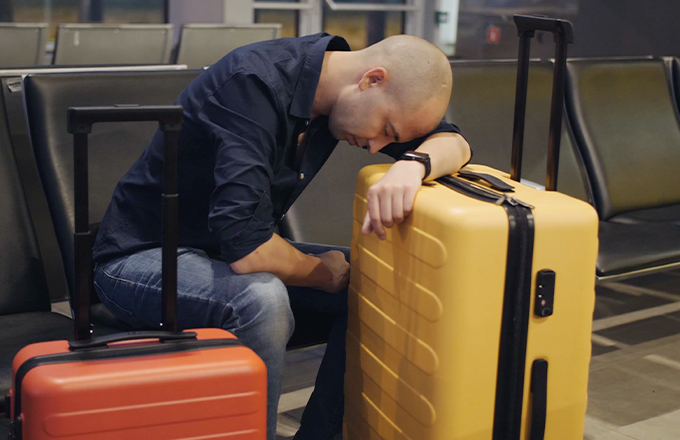 Try adding Caster shoes on the wheels for a better, easier use! Covering the wheels with our silicone Caster shoes will instantly reduce friction and effectively improve the noise that comes with it. Now freely carry around your luggage of any size without worrying about noisy, fragile wheels.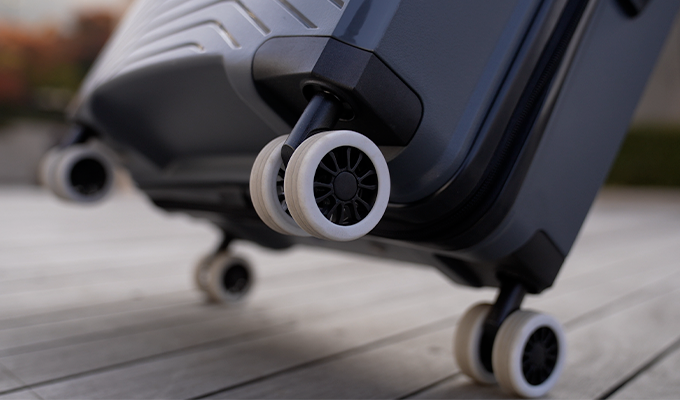 Caster shoes – the world's first silicone cover specialized for wheels – will provide the greatest comfort during your journey.

Caster shoes is designed with hardness that effectively reduces wheel friction against the surface, optimized for noise reduction.
When measuring the noise level on the road as a test, the luggage mounted with the cover only reached 26.3 decibel compared to the regular luggage without a cover.
The users noticeably witnessed the difference with their ears more at ease.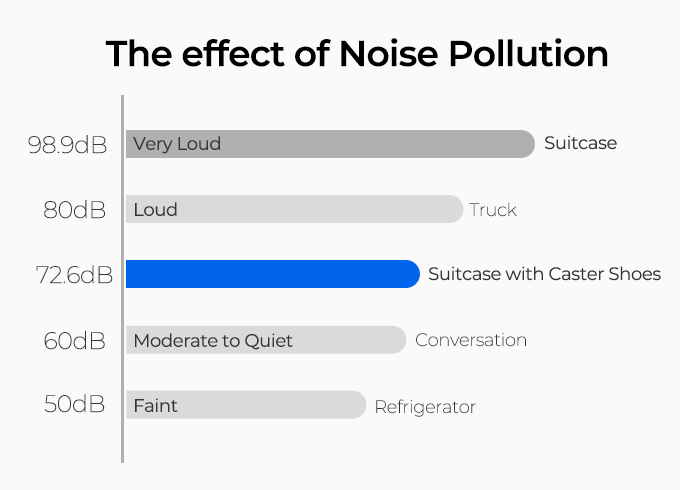 In addition to traveling, you can also use Caster shoes to your home and office chairs. Avoid being the noisy neighbors or focus on your work at peace in a quiet environment.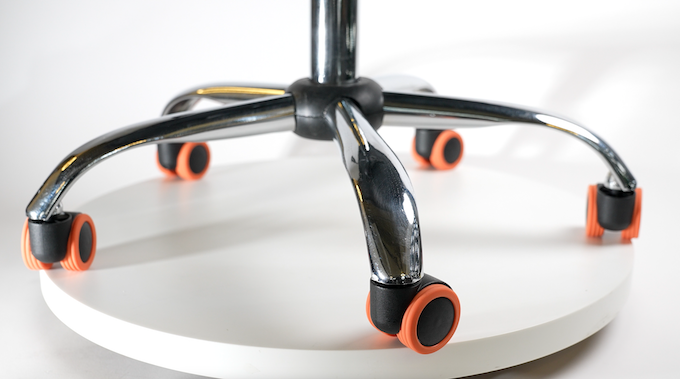 Most luggage wheels are made of polyurethane or plastic, and each material has a different wear rate. The wheels wear easily on the road with rough surface, making it uncomfortable for the users to carry or handle the luggage.
Silicon Caster shoes are so resilient and durable that your wheels won't wear out or break. With caster shoes, you will be able to experience the smooth handling of any luggage with very little effort.
Make your luggage last longer with caster shoes and save unnecessary expense. You don't have to throw out your favorite luggage and buy a new one due to worn-out wheels.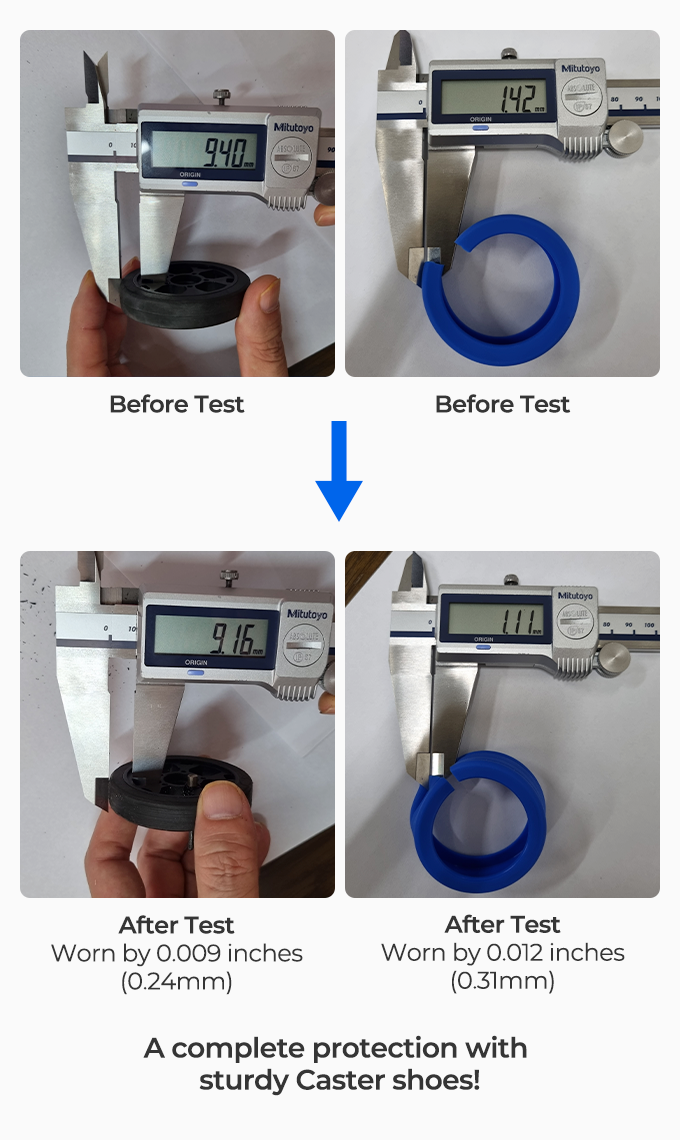 Caster shoes are made of silicone materials that effectively absorb noise, vibration, and shock. Carry the heavy luggage with ease and no noise by covering your wheels with elastic silicone caster shoes.

Try dragging your luggage on a bumpy sidewalk or any rough surface. Caster shoes will remain sturdy and cannot be scratched easily thanks to its durable material.

Unlike other general chemicals that may be harmful to us, silicone is a non-toxic, eco-friendly material. Caster shoes can be used with confidence as it's made of food-grade silicone, which is completely harmless to human body. Caster shoes is also resistant to contamination so you can simply wash Caster shoes with water to keep it clean without any additional product.

Using the optimal elongation percent, Caster shoes are non-adhesive and can be easily fit into the wheels. It was designed with a narrow rim on the inner surface that comes in direct contact with the wheel – improving the attachment while preventing it from falling out when moving.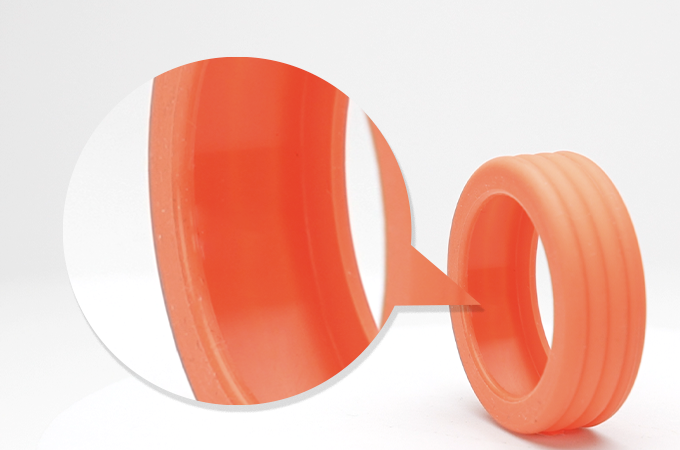 Caster shoes will not lose its original shape even if it is repeatedly stretched out with great force. Freely install and uninstall as many times as you wish. Our product can withstand external forces well thanks to its high tensile force and will not lose its elasticity no matter how frequently it has been used.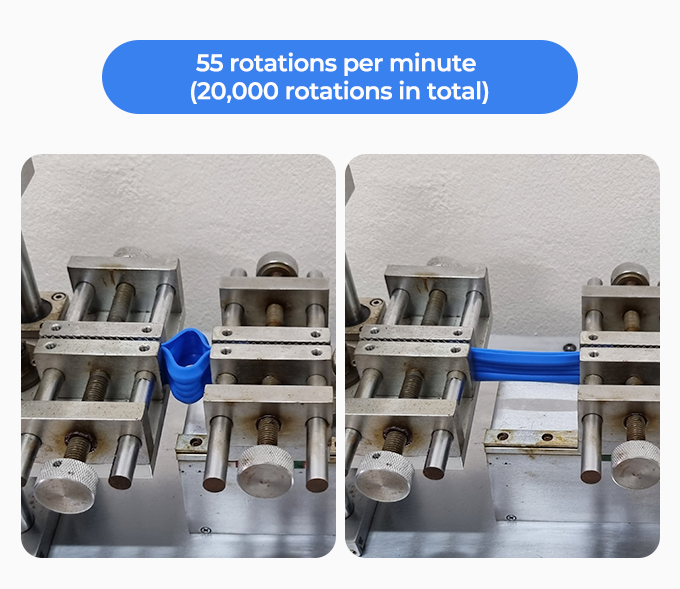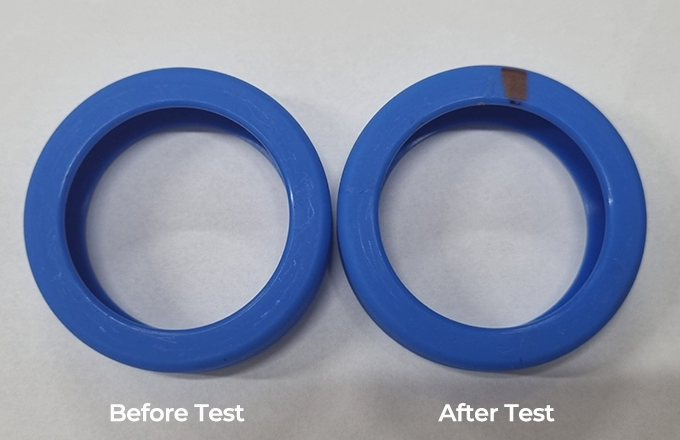 Caster shoes are stretchy and non-slipping, perfect for any weather and environment when traveling even on a rainy day.
Caster shoes come in a variety of size and color options for each style of luggage. From sky blue, purple, orange, black, dark gray, light gray, red to white, find the color of your taste from these seven options.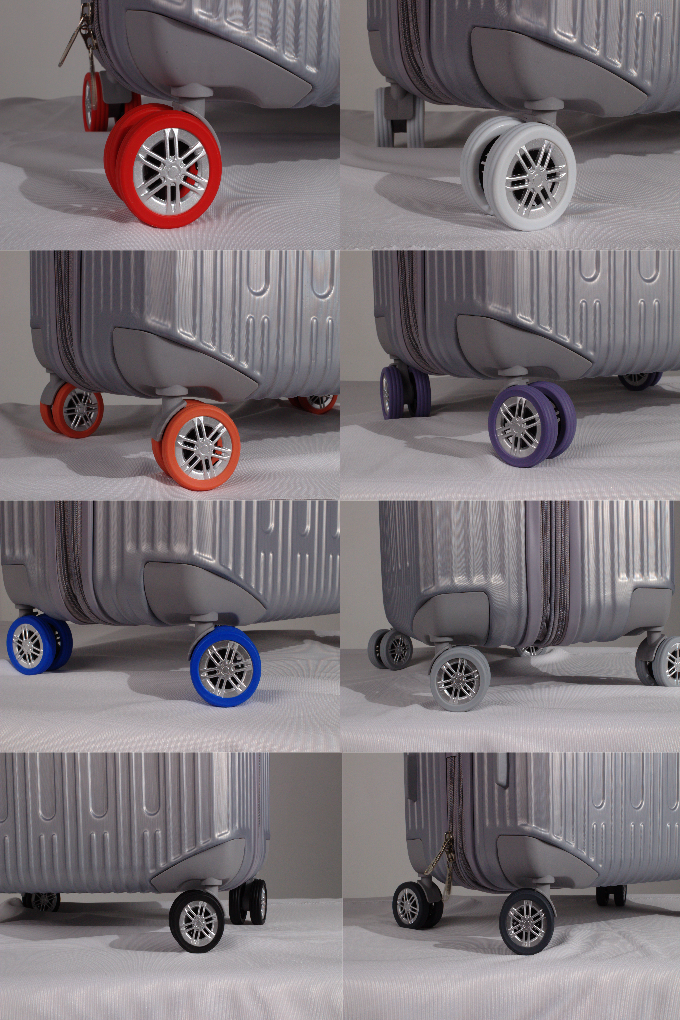 Do you ever dread to go through baggage check because you must spend an hour looking for your luggage among tons of similar looking luggage? Put on Caster shoes to stylize and find your luggage quickly anywhere!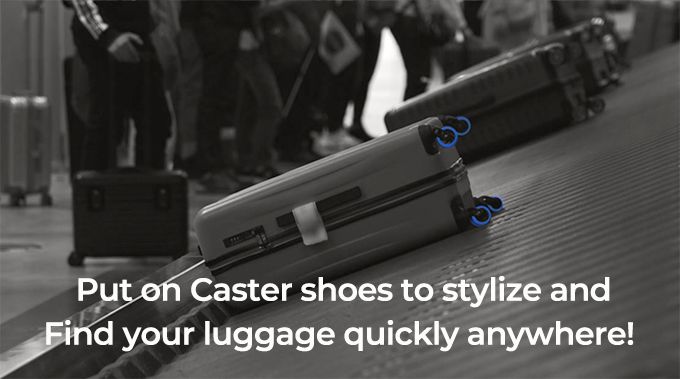 Choose between small and large size depending on the wheels of the luggage you are using, from a travel suitcase to office chairs.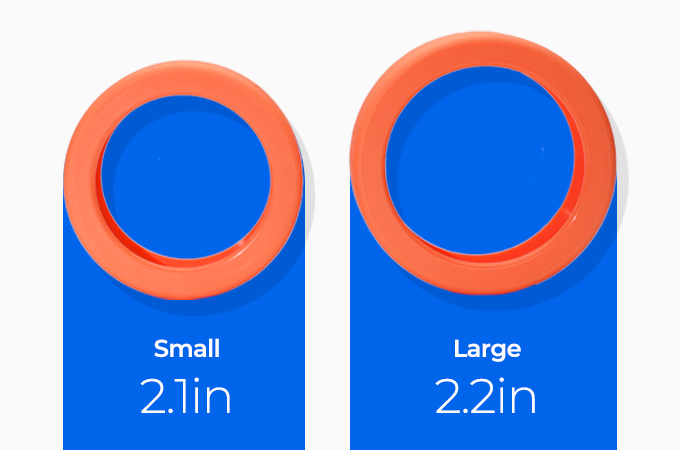 Size Recommendation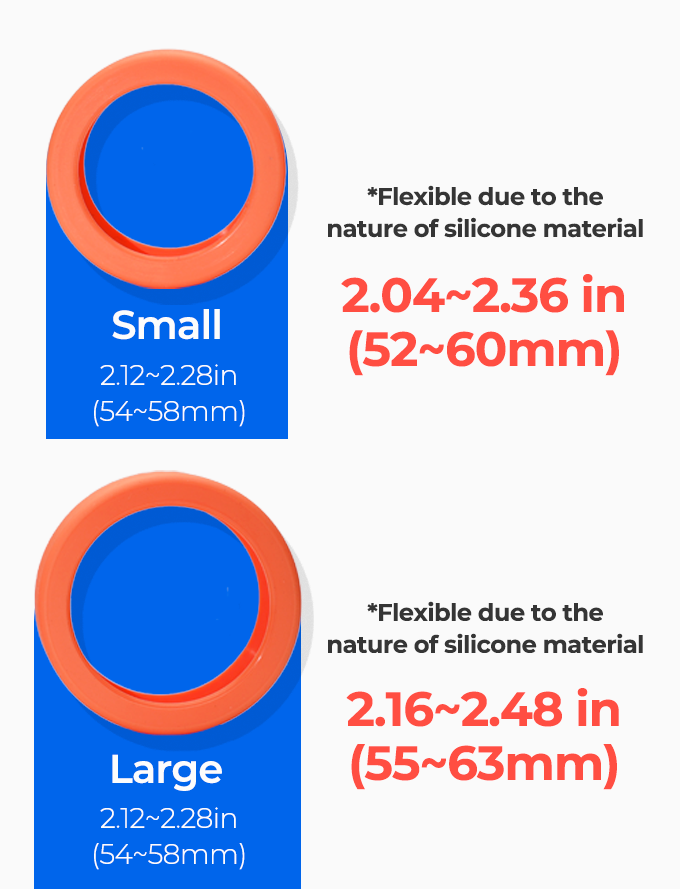 The case of Caster shoes is more than just a package for the product.
Our case, made of plastic-free hard kraft paper, is strong against impact and can be used as a regular household item. Manufacturing process for the case is also eco-friendly because we used the hot stamping method to engrave the product name rather than printing.
Caster shoes case is a good size and sturdy enough to carry with you anywhere. Once Caster shoes are out of the case to be installed on the wheels, utilize the empty case to store a variety of travel essentials as you'd like!