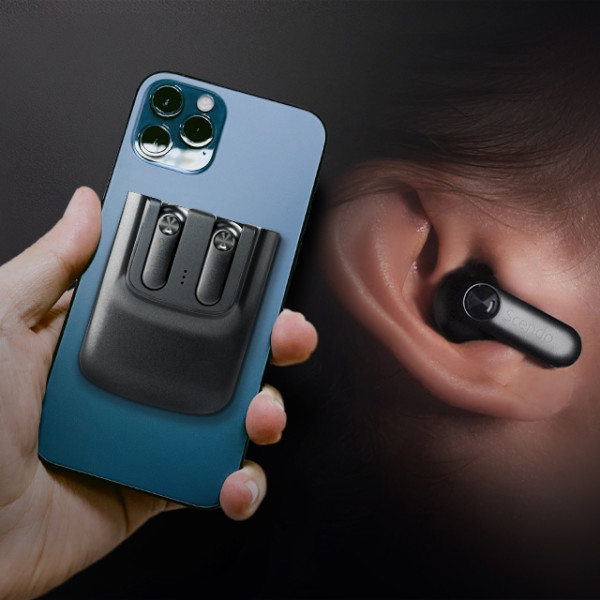 Snapods:TWS earbuds MagSafe for iPhone 12 or More
$75,788
raised out of
$10,000
Concept
Next-gen TWS tech | Store & carry on any phone | BT 5.2 | Latest Qualcomm QCC3040 | 45H playtime
Story
Short Summary


True wireless earbuds are great, but let's face it, there is still room for improvements. Inferior sound quality to headphones; choppy Bluetooth connection and annoying audio stutter; take forever to find the case to put them back in or take them out; notoriously easy to lose because of their small size…
We think there ought to be a better solution. Aside from its supreme sound quality and rock-solid wireless connection that rival the headphones doubling its price, what really distinguishes it from other TWS earbuds is its paradigm-shifting magnetic snap-on design which keeps it attached to iPhone 12, or any phone's back when used with the included ultra slim metallic frame. It is super easy to carry, store and access, either on your phone or used alone, offering you a joy of music that can never be missing and always ready at hand.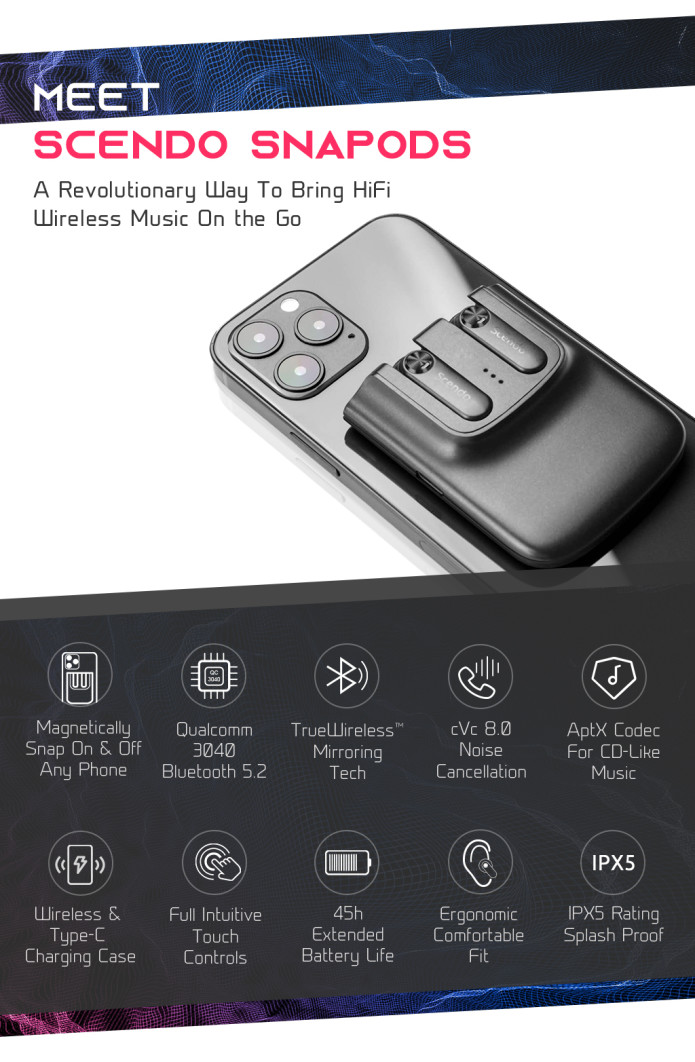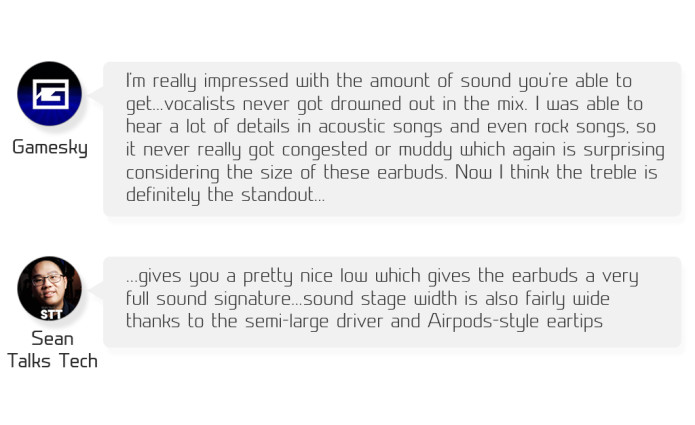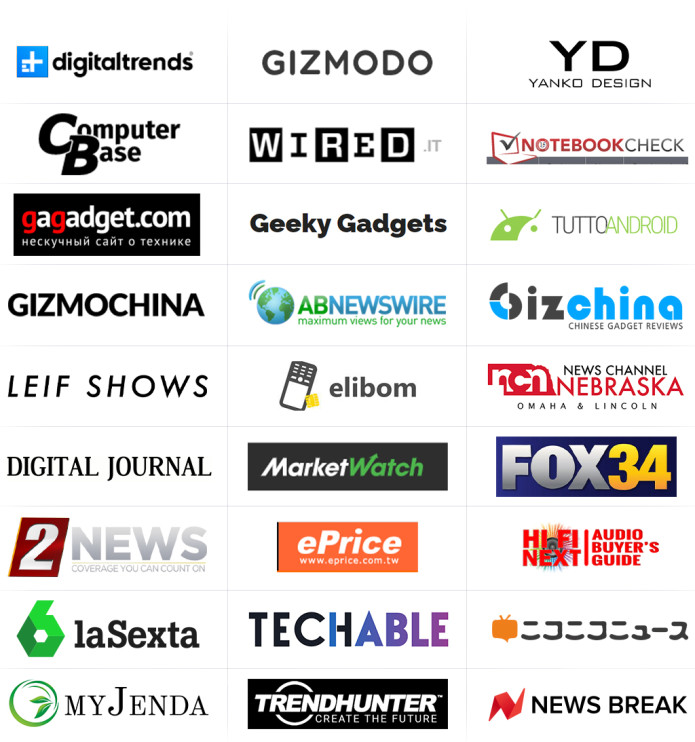 Thanks to the latest Qualcomm 3040 flagship chipset embedded, you can finally bath in that fastest, sutter-free wireless audio you have always wanted. The next generation Bluetooth technology successfully eliminates the audio pauses abound in almost all other TWS earbuds which could result in frustrating or even unbearable choppy music. The most stable connection, hence the unsurpassed listening experience ascends your spirit sky high.

The Snapods earbuds slot into shafts at the back of the phone. So whenever you need to use your phone to listen to music, podcast, watch videos, play games, make calls, or after you are done using it, you will always have your earbuds ready to be deployed or stowed away at fingertips. You will never lose or misplace your earbuds ever again, and they will always be there the next time you need them.

The magnetic force holds Snapods earbuds and case firmly on your phone and won't come loose or off during the fiercest movement, but will move smoothly when you slide them in or out. The sleek and compact design makes it extremely comfortable to grip and easy to hold.
With other TWS earbuds, you will always be interfered by a pause or a voice prompt when you switch from one earbud to the other. Scendo Snapods features an upgraded TWS technology over the previous generation, the TrueWireless Mirroring Technology, which realizes true seamless and rapid swap between the two earbuds while cutting down the power consumption by 50%. Now, with Scendo Snapods, you will notice absolutely no interruption at all, and switching between earbuds will feel more natural and instinctive than ever.

Scendo Snapods comes with Bluetooth 5.2, the fastest, most advanced Bluetooth technology around to reach the lowest latency and highest level of robustness. You can confidently use your Snapods earbuds when facetiming, playing games, or viewing online videos with no lip-sync issues.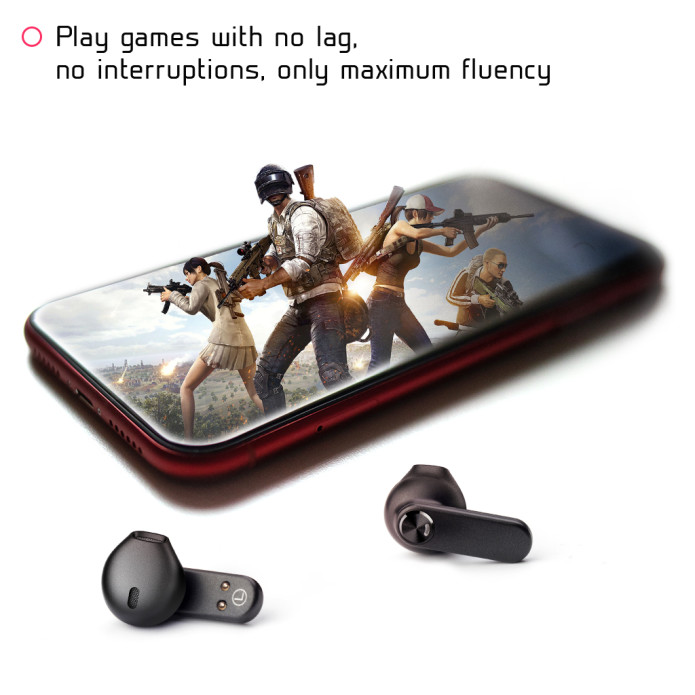 Snapods engineers have years-long association with the world's leading audio brands in skillfully tuning the sound to include rich details and wide soundstage for a phenomenal listening experience. With a bespoke 13mm over-size dynamic driver coated in graphene, a high-performance, flexible diaphragm material for audio, the bass and treble response are both extended with high sensitivity and ultra-low distortion, so every music genre, from classical to contemporary, is enhanced on accuracy and clarity to ignite your emotions.

Snapods provides wired quality sound wirelessly through its support of the top two commonly used compression algorithms – AAC and aptX. Apple devices rely on the AAC for Bluetooth streaming, while most Android phones support aptX. They are practically synonymous with high-fidelity Bluetooth audio and present wireless audio as you would experience it in the live environment.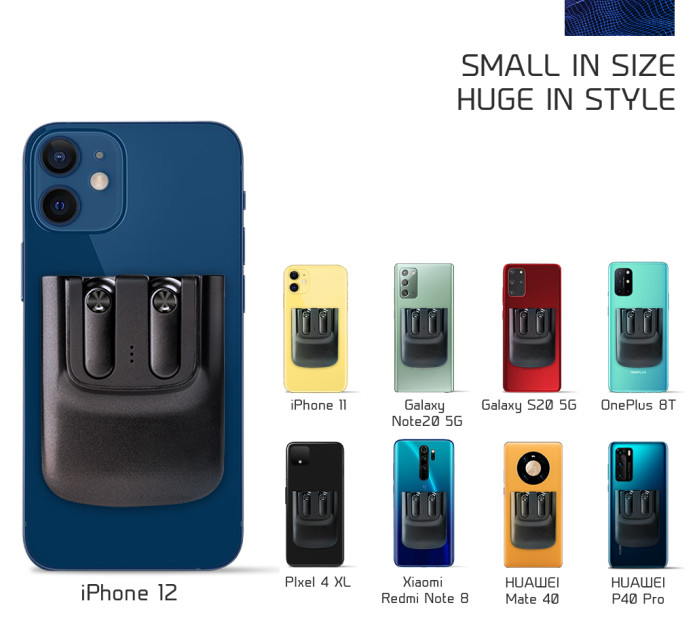 Snapods earbuds are also the best buds of the new Apple iPhone 12. It is inherently attracted to the magnets embedded in the back of the device and attaches to it without the aid of anything adhesive or metallic.
And not just iPhone 12, it also goes well with all other phone models when used with the included ultra slim,lightweight metallic frame. It is of negligible weight and thickness that it is imperceptible after being applied to the back of your phone, and invisible when covered beneath a phone case. The adhesive is specially treated to leave no sticky residue after peeling off.

In addition to your phone, Snapods also attaches to your fridge, locker, white board, or anything metallic.
With the help of the sticky metal frame, you can turn any surface into a handy accommodation for Snapods: the back of a tablet, laptop, Kindle, etc.

There is up to 5 hours battery for each earbud, and up to 40 hours with the charging case. So a total of 45 hours of playtime keeps you swaying to limitless beats wherever you go, almost double the hours of Airpods.

The mounting mechanism of Snapods remains your phone's wireless charging and contactless payment intact and won't affect the performance of your phone in any way.

The case features Qi wireless charging without adding too much bulk. Snapods is the slimmest model to feature this technology. You can either place it on a wireless charging pad or plug in a Type-C cable for a quick recharge to the case. 3 LEDs on the case will flash to indicate the remaining power.

The magnetic attraction is of perfect strength so Snapods effortlessly snaps on and off your phone even with a phone case on.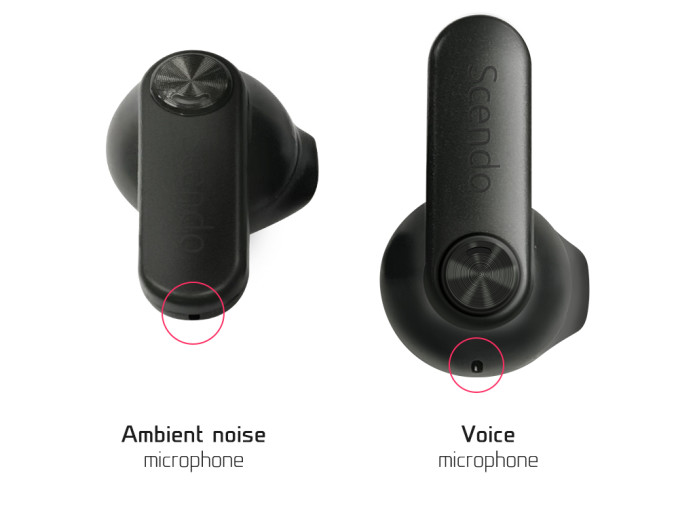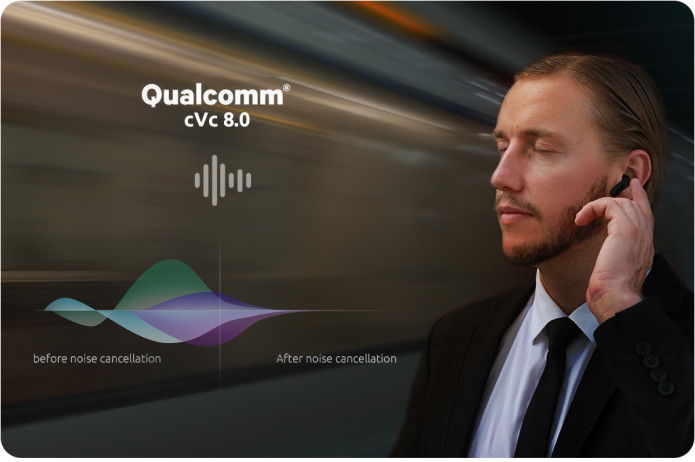 Each Snapods earbud features 2 microphones. The Qualcomm® cVc™ noise reduction algorithm used in Snapods has evolved into cVc 8.0, the most advanced version in the current market, which is capable of filtering out up to 30 decibels of ambient noise. This cutting-edge technology kicks in after the added microphones sample the ambient noises from your voices captured by the original mics, to ensure a crystal clear call quality in boisterous conditions like a chaotic bar, busy street or loud subway.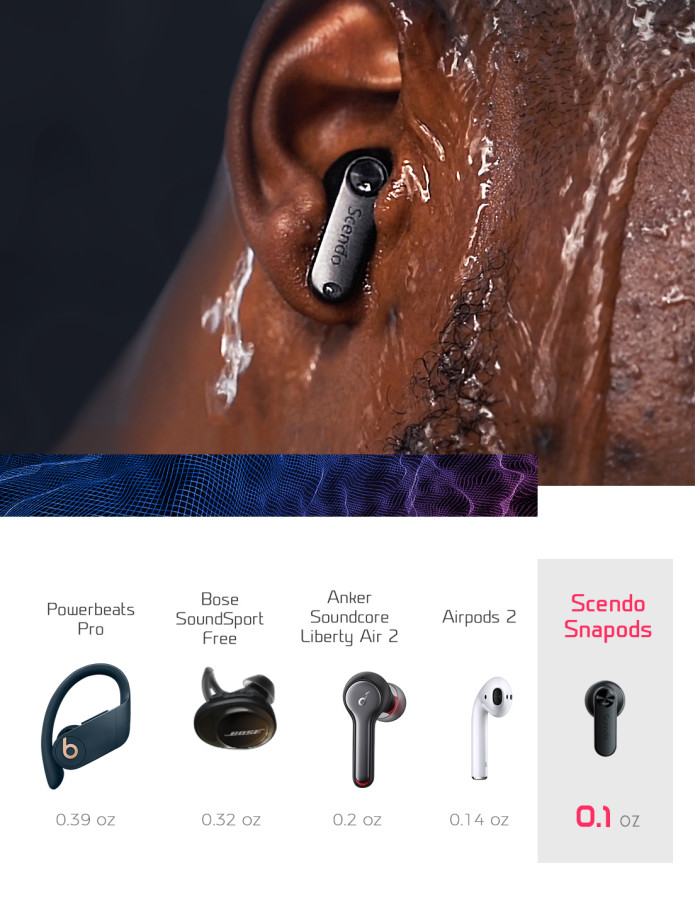 Compact and comfortable, you will find no better fit for everyday activity and sport in other earbuds. Snapods have been tested for secure fit with extra grip ergonomic design. Built with solid but lightweight engineered material which is even lighter than Apple Airpods 2, you will feel nothing but the beats when wearing these during the toughest workouts.

Another advantage of the TrueWireless Mirroring Technology is that it makes pairing a breeze for you. With just one click, you can hook both earbuds to your device at once, which is superior to some of the previous TWS earbuds which requires a two-step connection to both left and right earbuds respectively – a real pain every time you try to pair your earbuds with a new device.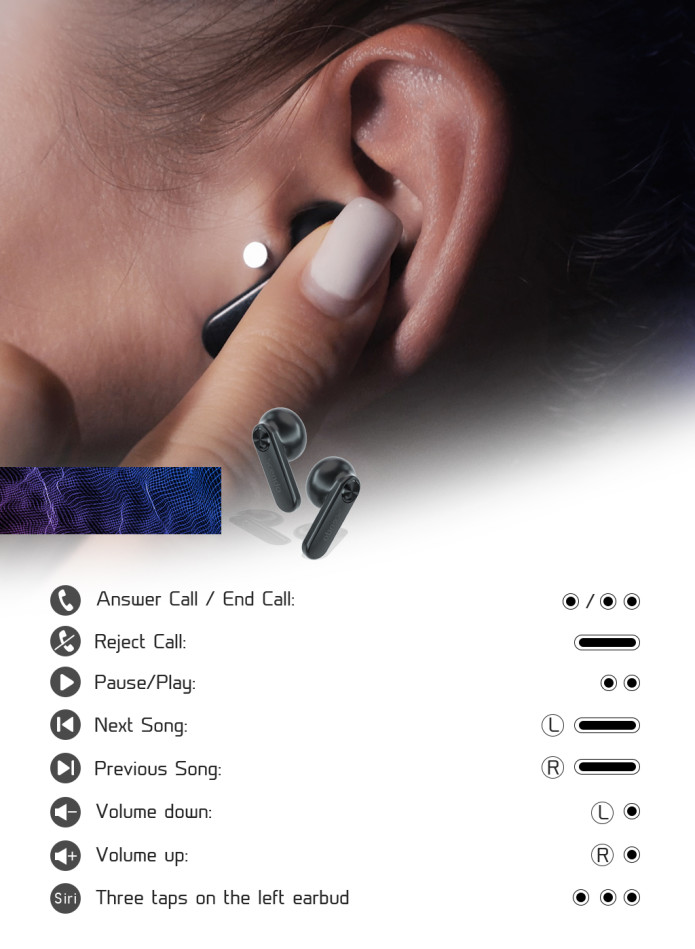 Most TWS earbuds on the current market only offer partial control that could be either too sensitive or too tardy to maneuver. Snapods gives you a complete and intuitive set of control over your phone never experienced before, so you can stay off your smartphone for most actions.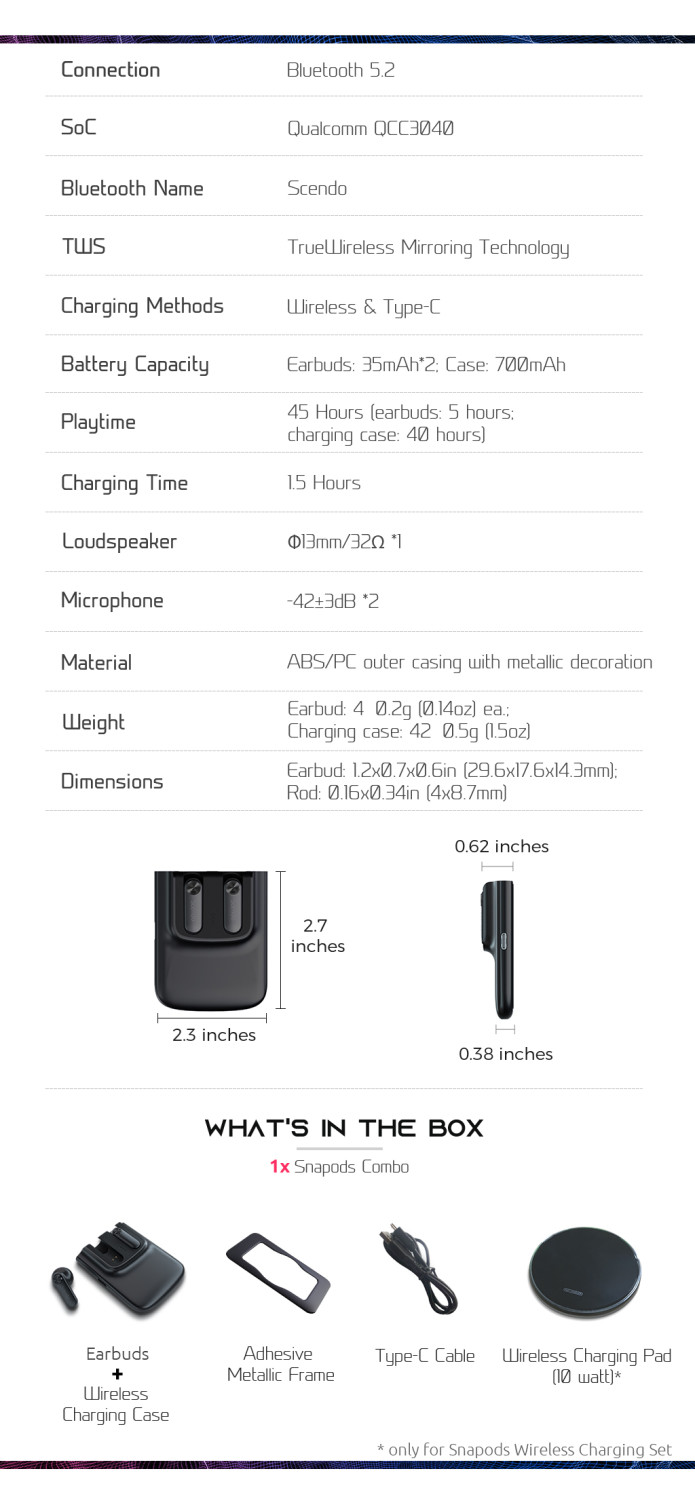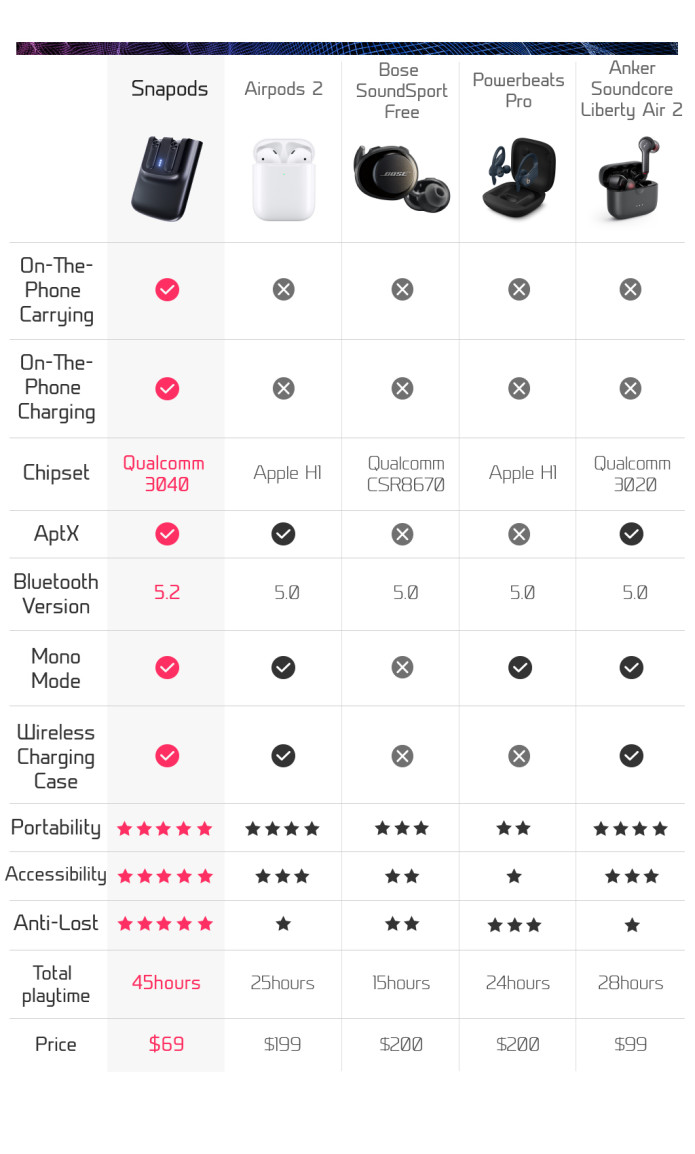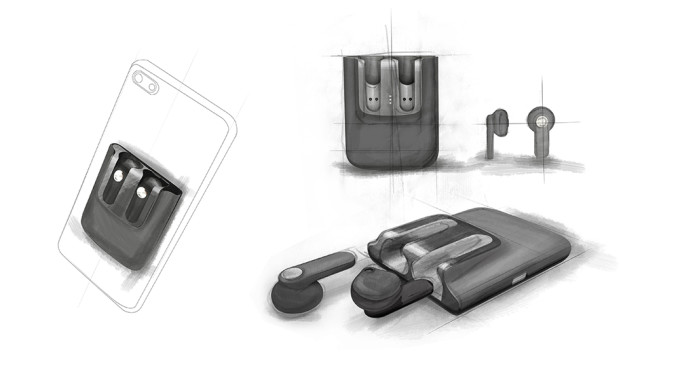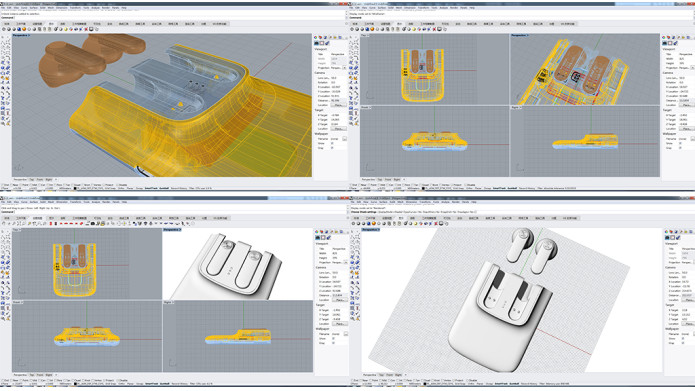 Snapods is a brilliant design that is the first of its kind which blazes the trail in the way of taking high-quality music with you wherever you go.
Advances in technology have made TWS earphones smaller and lighter than ever, but here's the awful truth: nearly every one of the buyers have been plagued by the hidden dark side of those earbuds —— they are easy to lose, hard to find, inconvenient to carry in the bulky case and frequent to run out of charge.
As a group of audiophiles fascinated by innovations in electronics, we decided to create a revolutionary solution to these pitfalls, to bring true freedom out of true wireless earbuds to music lovers, and to set the bar for all future TWS earbuds.
Snapods is designed to be the world's first on-the-phone carrying TWS HiFi earphones. It is magnetically attached to the back of any smartphone, so it is hard to lose, quick to access, easy to carry and always powered up to accompany you on your next adventure.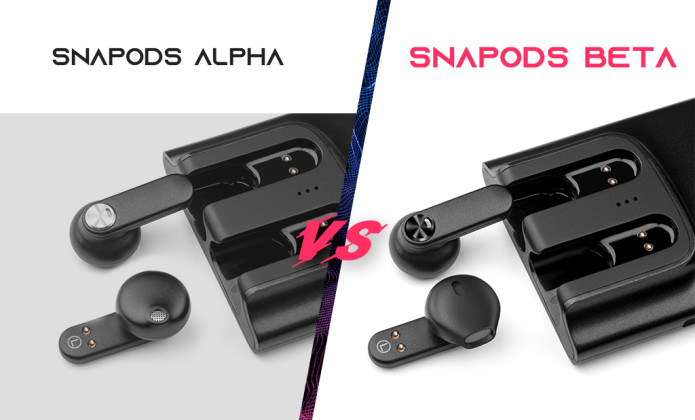 The Snapods Alpha was first launched on Kickstarter in August, as the world's first anti-lost TWS earbuds with a breakthrough snap-on design. After several months' effort to upgrade, we returned to the essence of the TWS earbuds: the sound quality. We engineered it with the latest Qualcomm QCC3040 SoC, which has a higher Bluetooth version for a faster, more power-saving and stable wireless transmission; a more advanced TrueWireless Mirroring pairing mechanism for a more seamless and swift swap between earbuds; four microphones with the most up-to-date Qualcomm's clear voice capture algorithm for crystal clear calls. Moreover, we made immediate modifications to the embedded magnets in the Snapods case to match with the MagSafe in the new iPhone 12, as soon as it came out on the market. This is a major improvement, as it is going to be the world's first TWS earbuds with MagSafe for iPhone 12, which eliminates the need to use the adhesive metallic frame. In conclusion, the Snapods Beta will appeal to a much wider audience since it is enhanced in both appearance and audio performance.