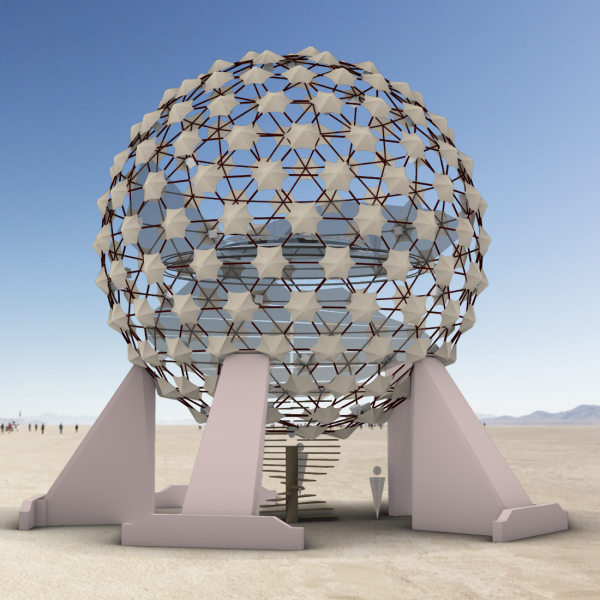 Sonic Sphere for Burning Man 2022
$1,000
raised out of
$50,000
Overview
https://youtube.com/watch?v=733407945
Concept
A spherical concert ball lined with lights and speakers for mind-blowing immersive experiences
Story
Sonic Sphere Overview
We're an international collective of musicians, engineers, polymaths and philosophers beyond inspired to create a spherical concert hall to conjure outrageous new shapes in musical consciousness.
The Sonic Sphere is a reimagining of Karl-Heinz Stockhausen's legendary 3-D concert hall of 1970 with dazzling modern technology for this year's Burning Man Festival. 
The elevated 12.5m geodesic sphere will be lined over its entire interior surface with a 52.4 speaker rig and more than 20,000 LEDs to create the first fully spherical audiovisual experience ever created. Hundreds of souls will lie in sound-and-light-perforable nets suspended in the centre to experience incredible 3-dimensional audiovisual compositions.  
Features
52 unique audio channels for immersive sound – so the music comes from behind, in front, left, right, above and below. 
High grade audio for pristine listening experiences
A diverse mix of musical genres and meditations 
Synchronised lighting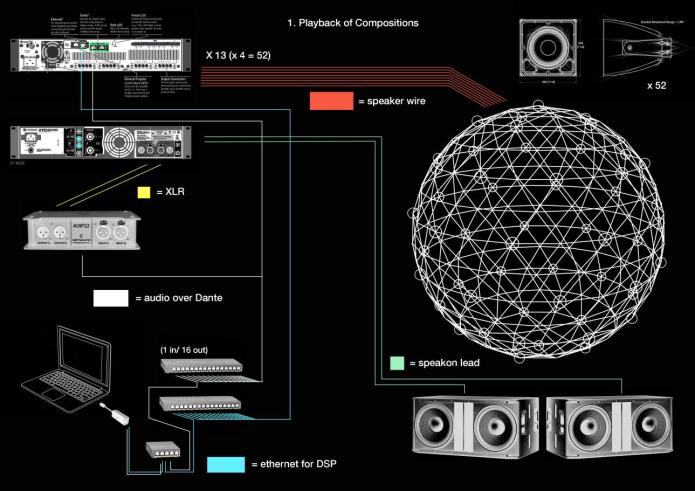 Use of funds
This is an entirely volunteer, non-profit enterprise, so our costs are exclusively for the raw materials necessary to construct this marvel. We have already directly raised $100k to meet 2/3rds of the costs of materials. 
We need $50k to complete the acquisition of all such raw materials including steel, speakers, LEDs, amplifiers, electronics and nets. 
Perks include contributing to a sensational new engine of audiovisual consciousness; access to our community of makers; and the chance to extend the scope of human consciousness.
All pledgers will receive a Sonic Sphere sticker for their laptops, a source of guaranteed intrigue and admiration across the best cafés of the world. 
Anyone who makes it to Burning Man will of course be able to experience it directly. 
The Impact
Your contribution will bring to fruition perhaps one of the most extraordinary engines of listening and avant-garde sonic experience in history. 
This will be the first completely spherical concert hall in history
It will contribute to a research program that reached its apogee more than 50 years ago and is need of invigoration.
All learnings will be shared via an open-source project so others can build sonic spheres too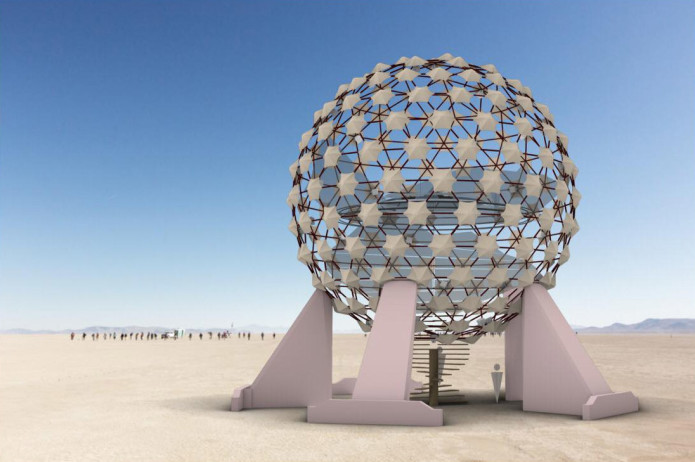 Risks & Challenges
We are pushing the boundaries of 3-D audio, 3-D lighting and architectural innovation. 
While our team have, variously, built the world's largest Ferris wheel; a suite of prototype spherical concert halls and large complex projects, this is an ambitious project.
We have built 7 prototypes over 18 months, spending $50k and thousands of volunteer hours on R&D.
Black Rock Desert presents unique challenges including extreme weather 
We have been solving, and will continue to solve, these challenges with a mixture of gumption and enthusiasm.  
Further ways of participating
Sonic Sphere is part of an international open-source movement to reanimate applied research into how the light of consciousness can form new shapes. It is not only through donating that you can contribute:
Musicians should compose 3-D music and sound installations for the Sphere
Anyone with stems and/or 3-D recordings of music or soundscapes should please get in touch to contribute
Please forward this campaign to your most vibesome friends – especially those who are patrons of the arts
Please reach out to us via:  https://sonicsphere.art/