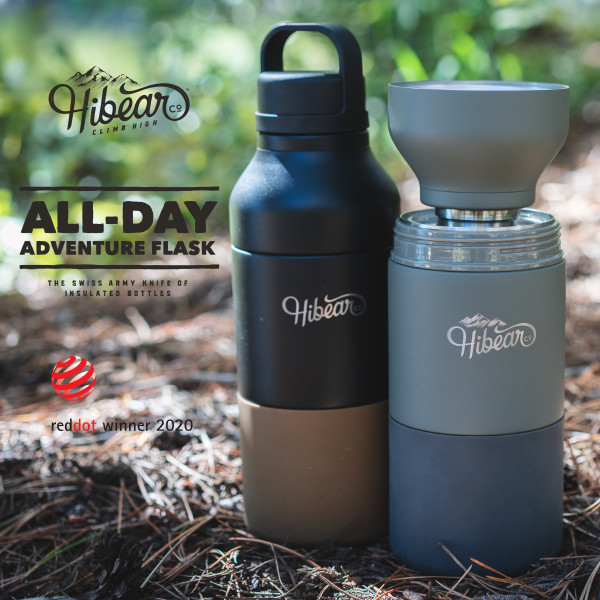 The All-Day Adventure Flask by Hibear
$98,673
raised out of
$10,000
Concept
The Swiss Army Knife of Insulated Bottles: Unmatched versatility to pack less & do more.
Story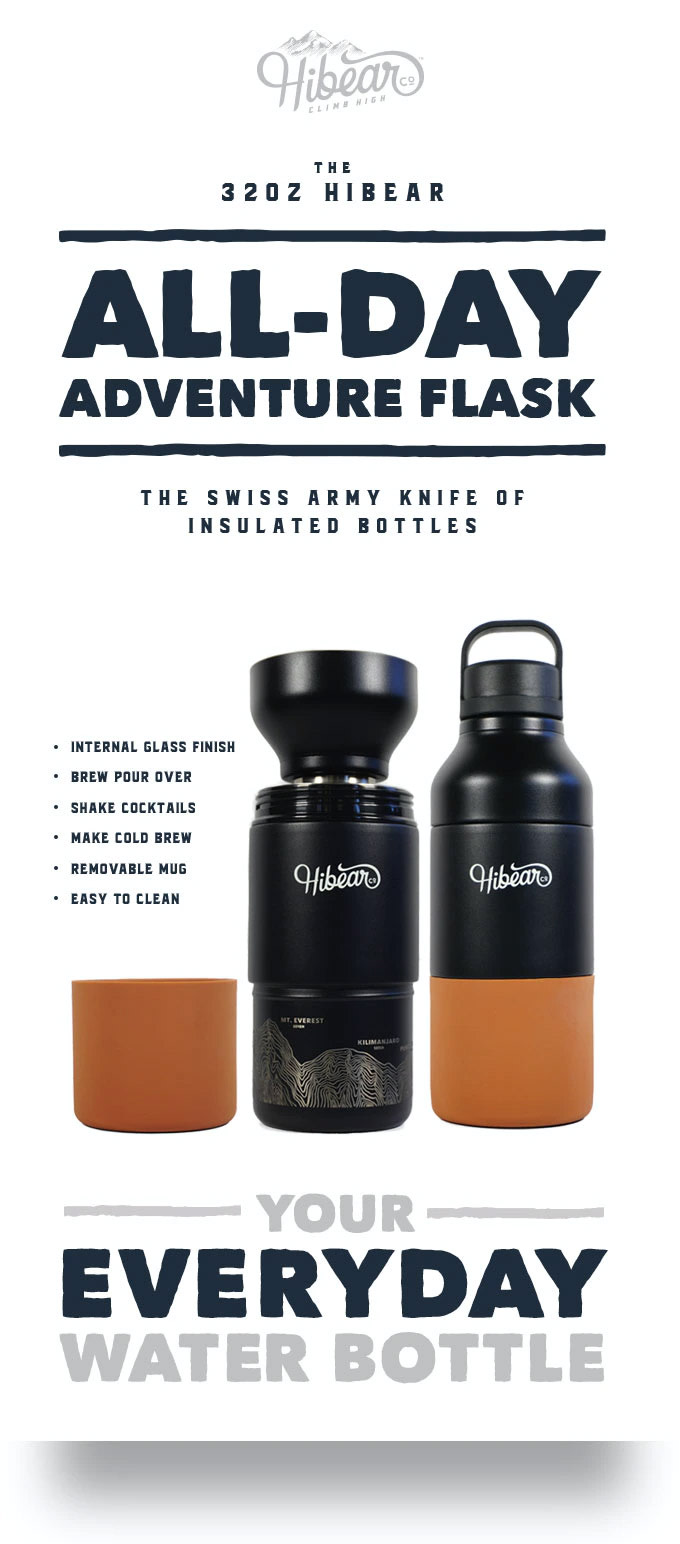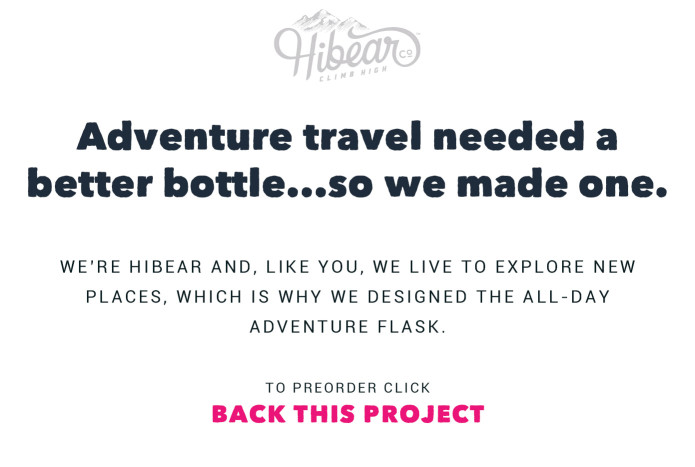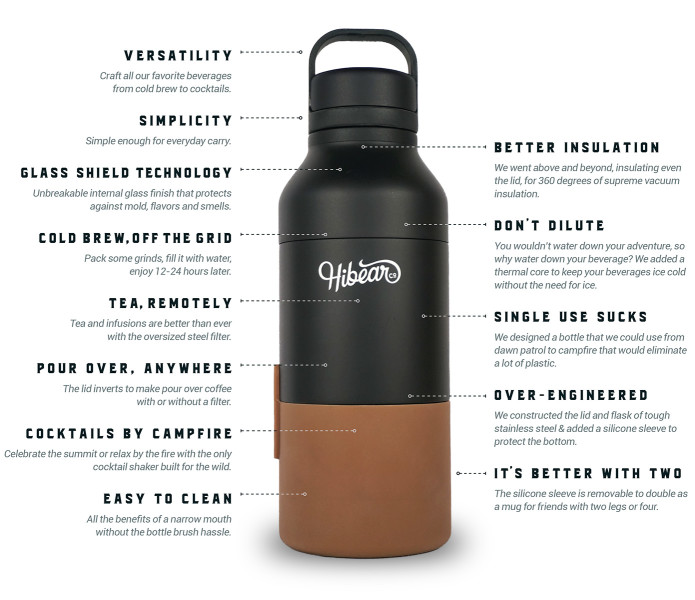 Some call it the Swiss Army knife of insulated bottles. We call it the The All-Day Adventure Flask. It crafts beverages from coffee to cocktails, yet simple enough to be used as an everyday water bottle.




The All-Day Adventure Flask combines the best functionality of beverage making into one simple bottle built for the campground, but still kitchen counter cool.


Our innovative insulated lid inverts so you can make pour-over wherever, whenever.
The blade gasket on the strainer creates a firm fit to prevent it from tipping over.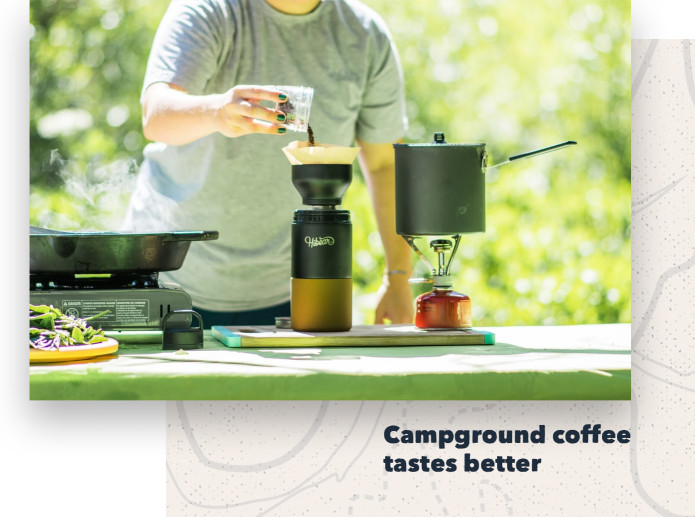 Celebrate the summit with the only cocktail shaker built for the wild.
Fill with your favorite octane for post-pow-day party sessions. Don't forget to hug the DD.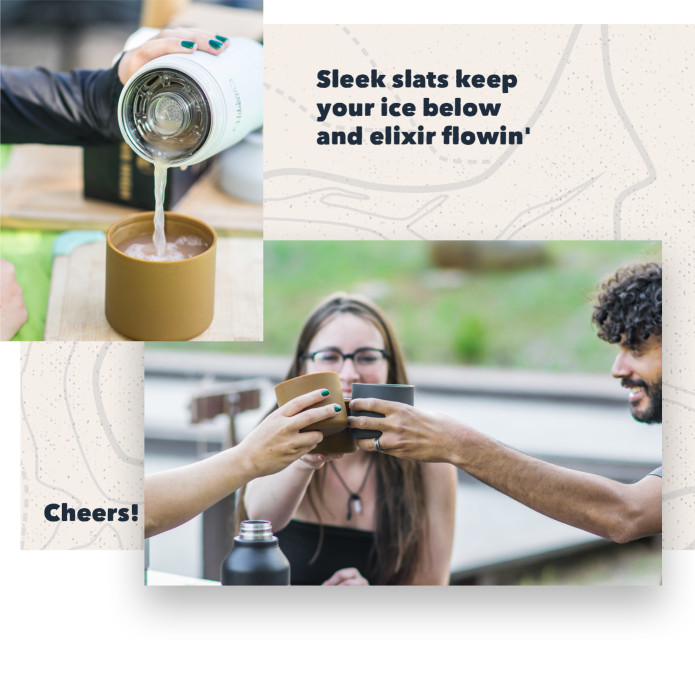 Aerate, filter, chill, & leave the glass at home.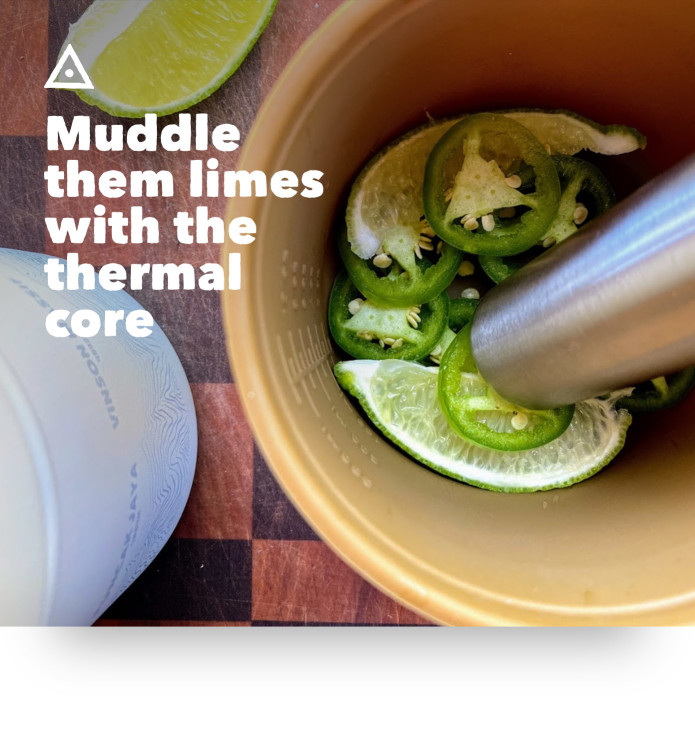 Mellow the mood with a green tea or gameface with some sweet sweet Yerba Maté.
Pour a cup for the universe or a hypothetical someone else.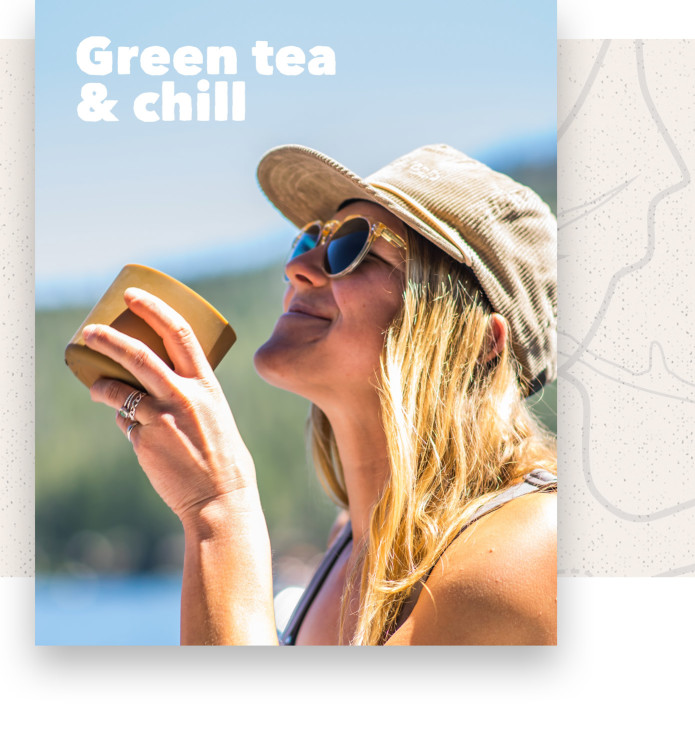 Make dawn patrol better. By better, we mean caffeinated.
The flask's oversized steel filter lets you make super strong cold brew on the go.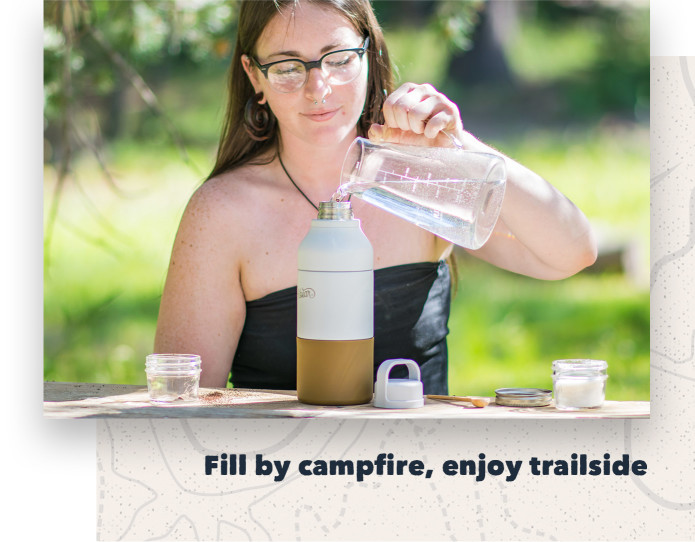 Spice up your life with a little infusion of flavor to your H2O.
With infused water you're flying high through the clouds on a magic carpet trying to find your big blue genie friend. What the hell is in this water? Amazing. That's what's in the water. Straight freaking amazingness.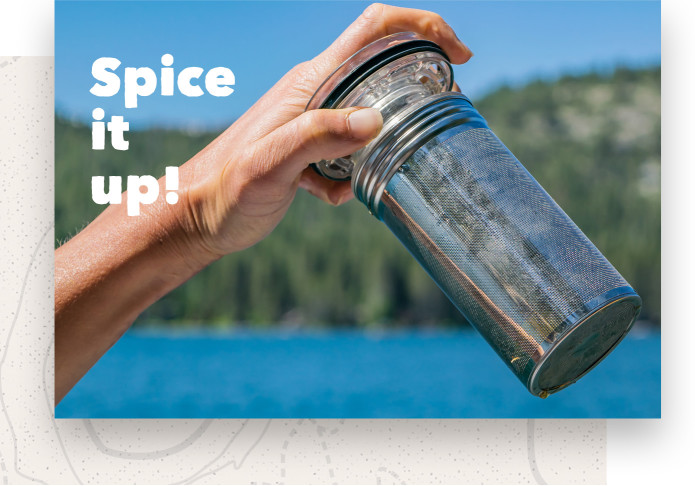 It's simple enough to use as your everyday water bottle.
Keep out the backlash of teeth cracking ice and off the shirt when Karen slams on the breaks.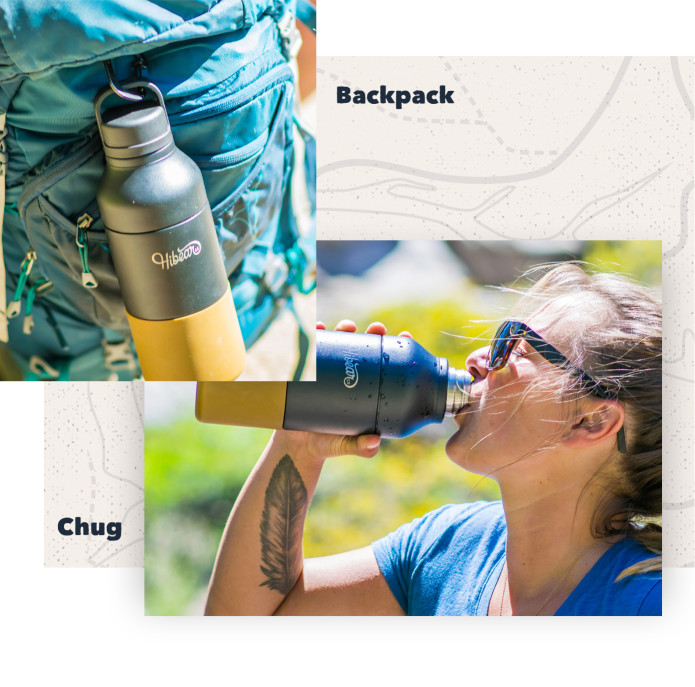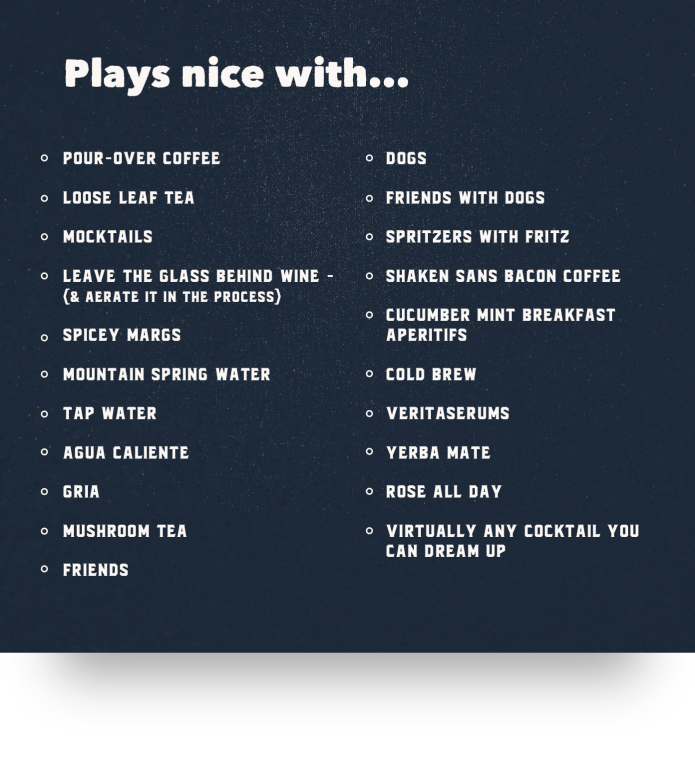 Ditch the bottle biology project. You're out there to have fun. To keep you going, we made it super easy to clean.
With an ultra-wide mouth and an internal glass finish to combat nastiness. Hands work really well with a non-abrasive sponge, cloth, t-shirt, or friend's sleeping bag. Leave the bottle brush at home.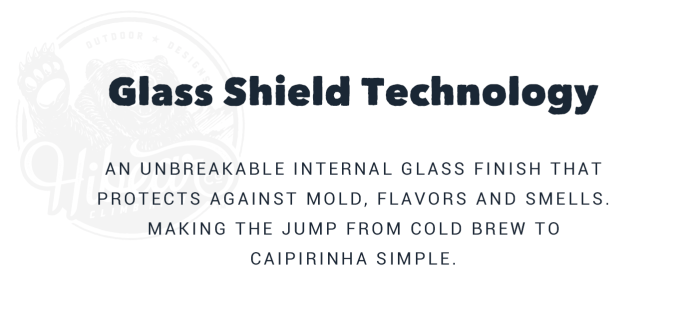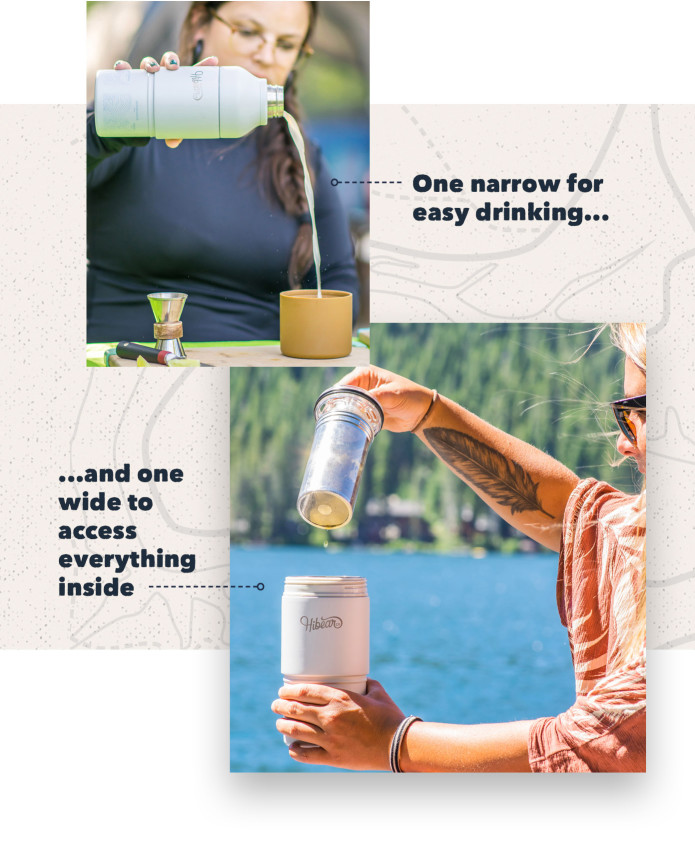 Over-engineered for maximum durability.
We constructed the Flask of double-wall stainless steel coated in a durable powder coat. We even added a silicone sleeve to protect the bottom against small drops.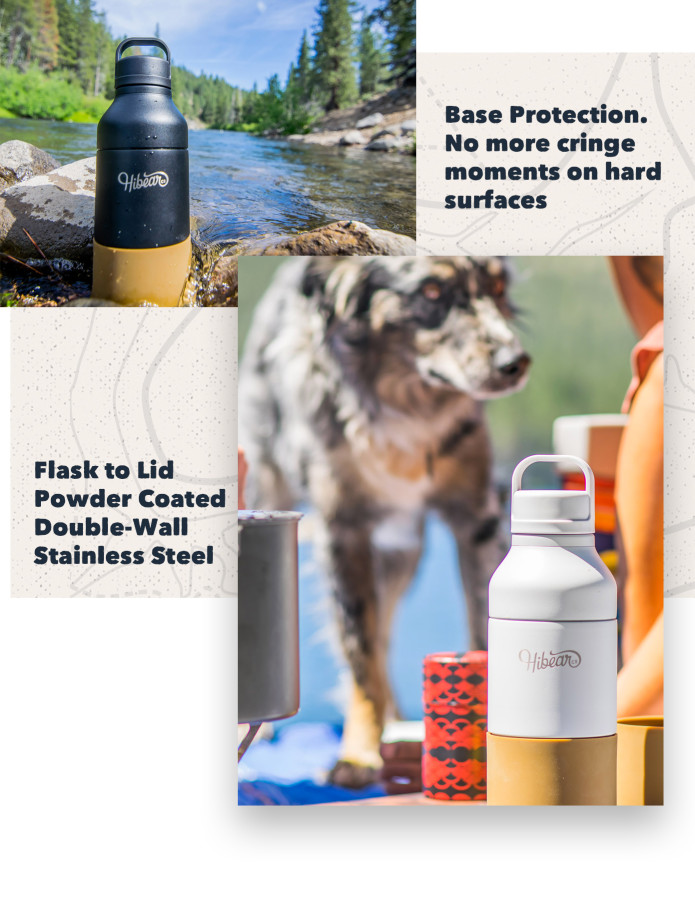 It's better with two.
Share with a friend, two legs or four.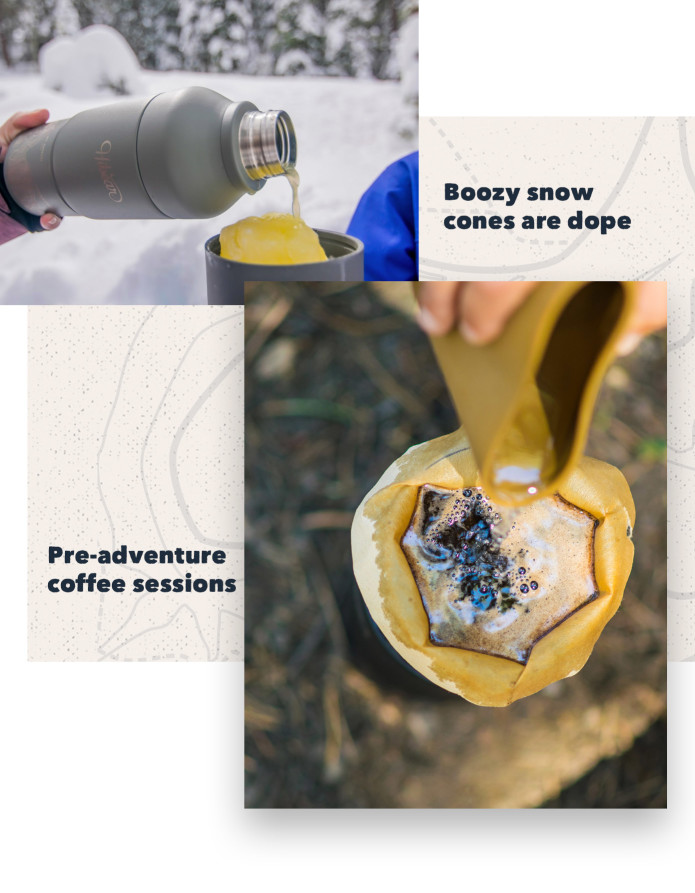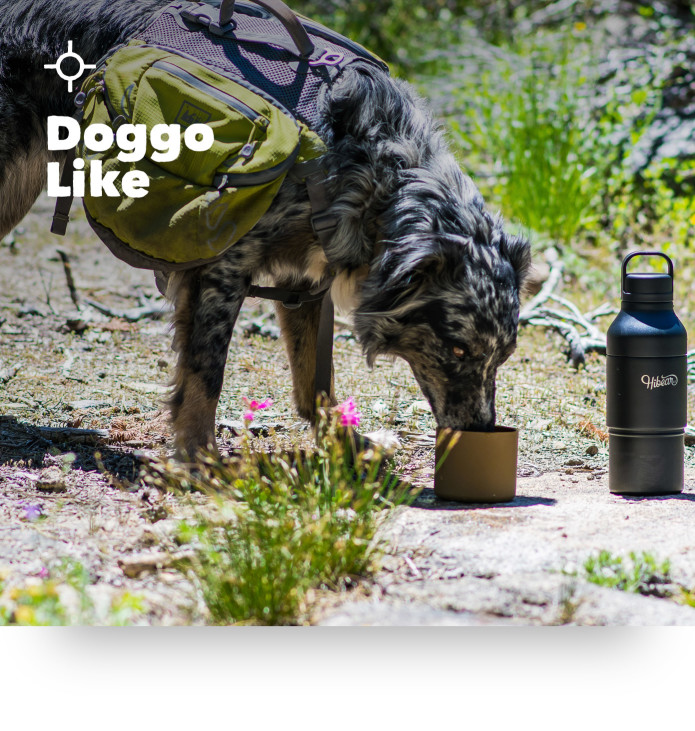 Keeps colds cold and hots hot.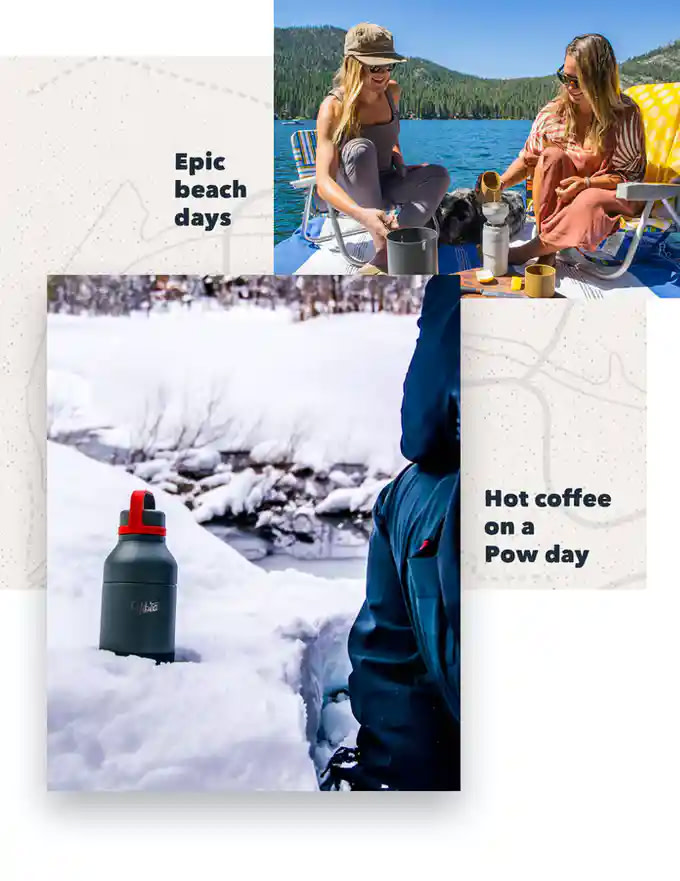 The All-Day Adventure Flask and its complete components to get crafting!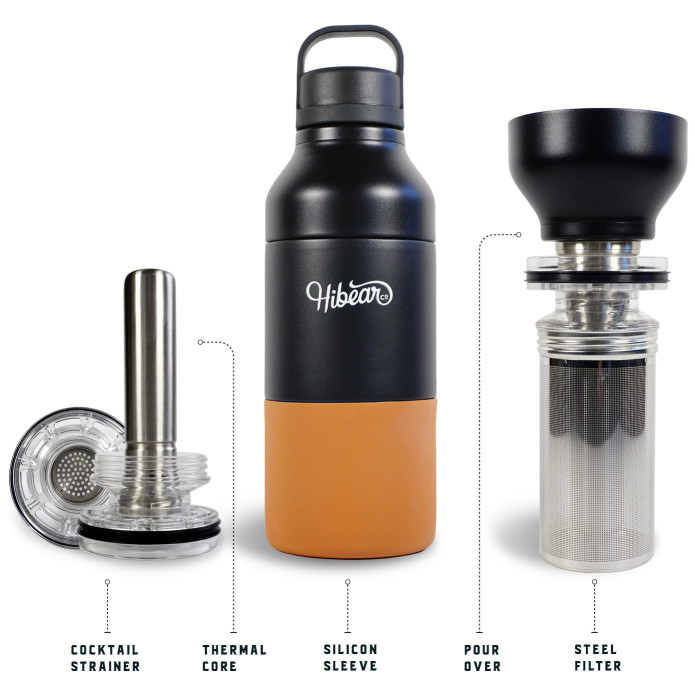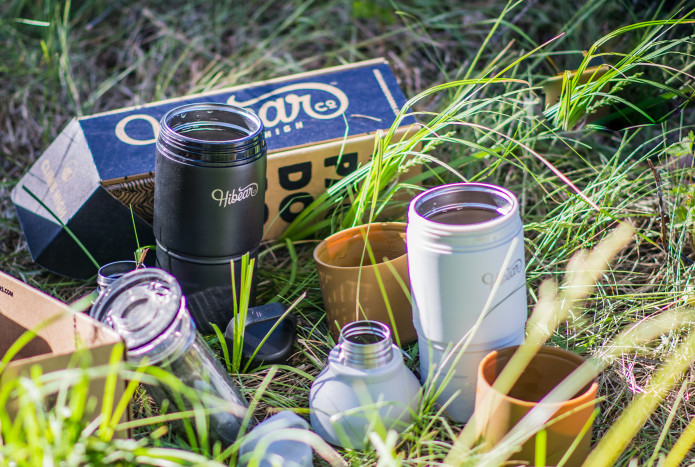 Backed by a 5 Year warranty. Because of the Adventure Flask's simple module design, it's easy to clean, service, and if needed replace parts to maximize its lifespan.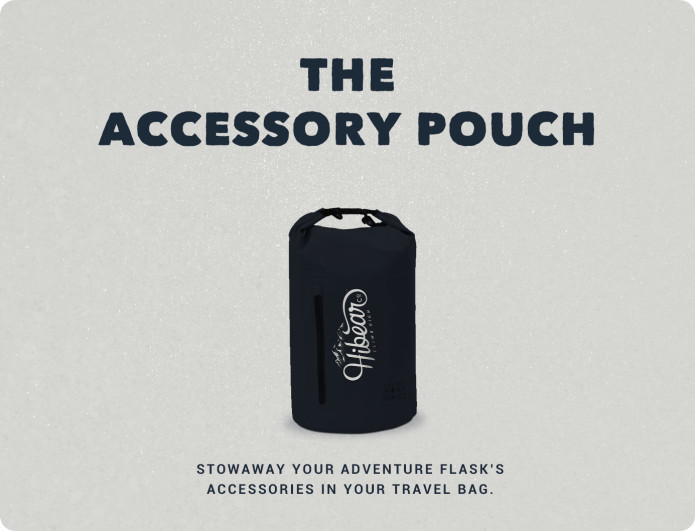 Meticulously designed over three years to optimize versatility through smart design. It is the solution to maximizing space and getting more out of the stuff you travel with.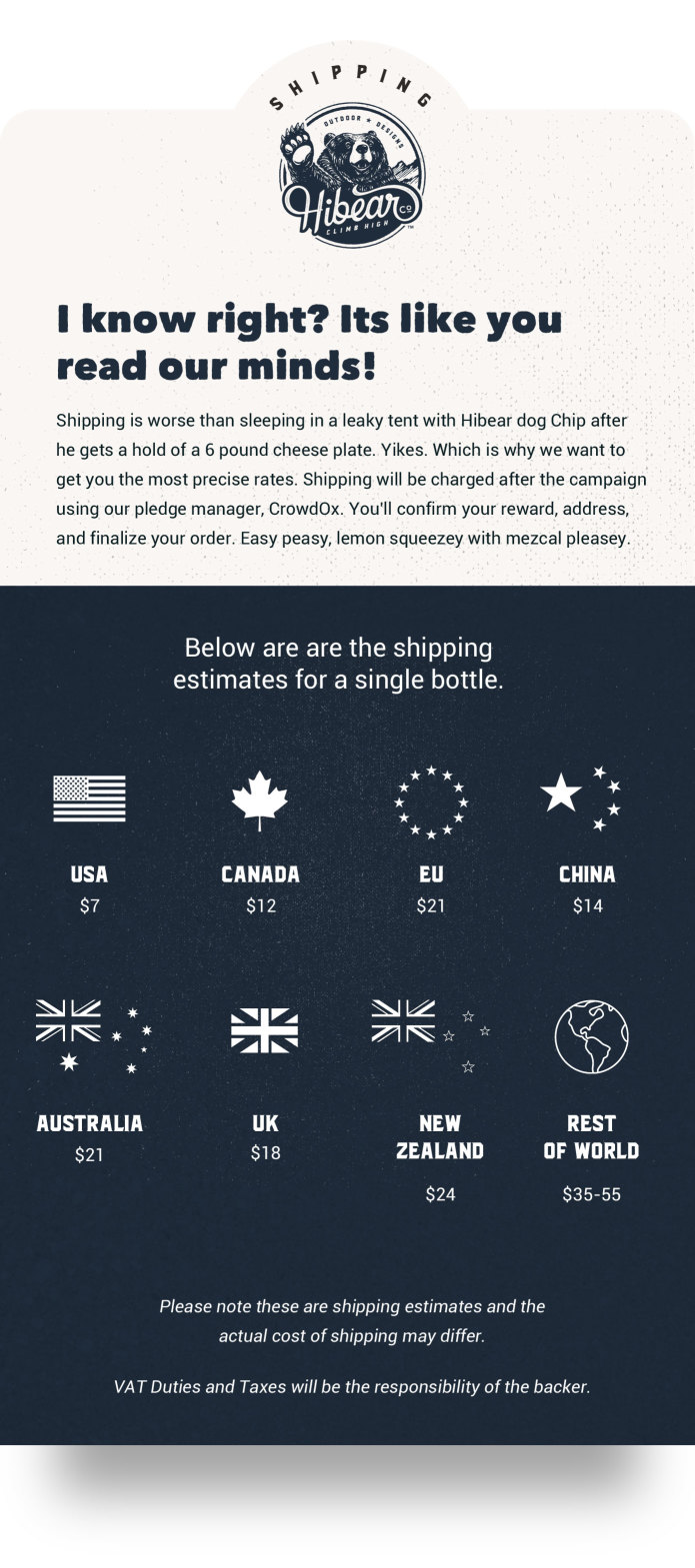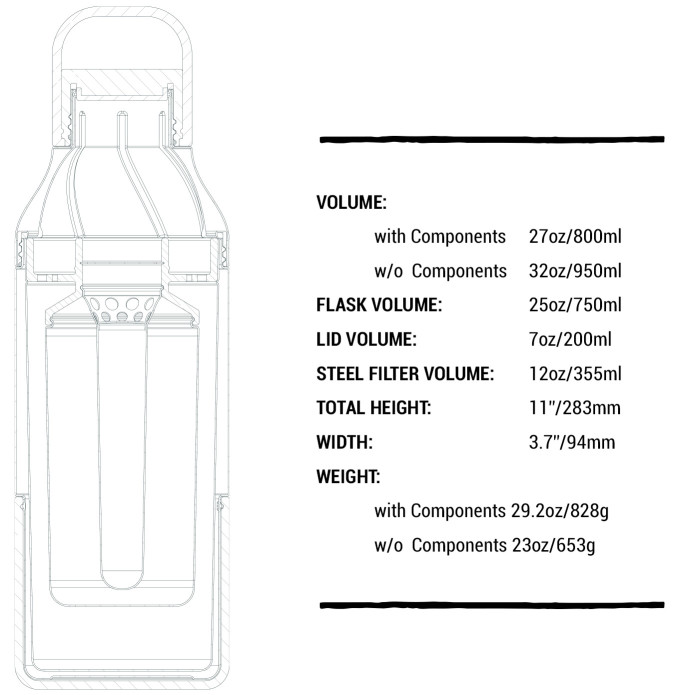 The All-Day Adventure flask is a thing, thingies must be made, and that process has a deep impact. Not like the 1998 movie, "Deep Impact" starring Morgan Freeman where a comet threatens all of humanity. But, a bit more like we need to consider and act on the effects our actions can have on the planet. Astrologically, we are all very close neighbors sharing the same house, so more like roommates. This means If we don't act, it will have a long-lasting "Deep Impact" sans Hollywood ending. Which is why we are committed to being part of the solution through offsetting our carbon footprint, building a quality product that reduces single-use plastic, and protecting our natural spaces.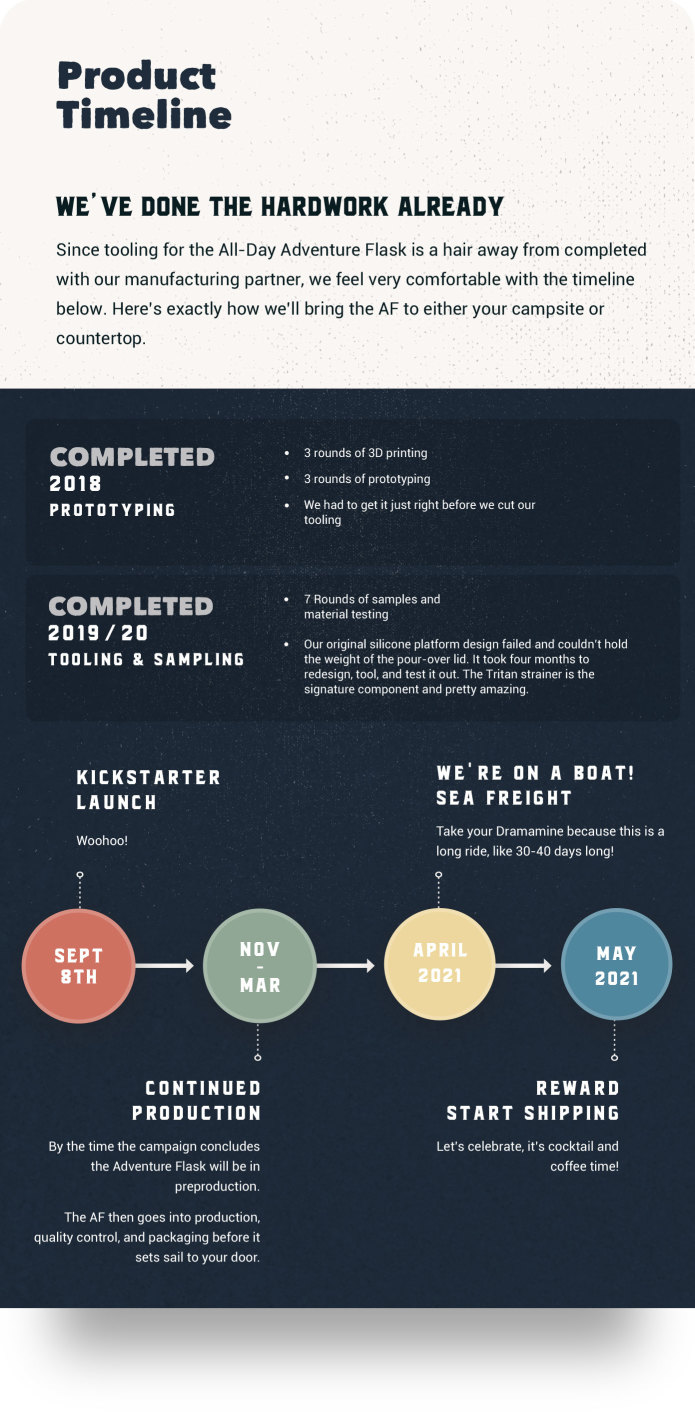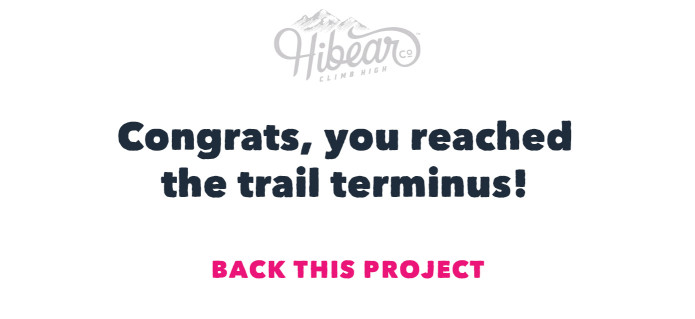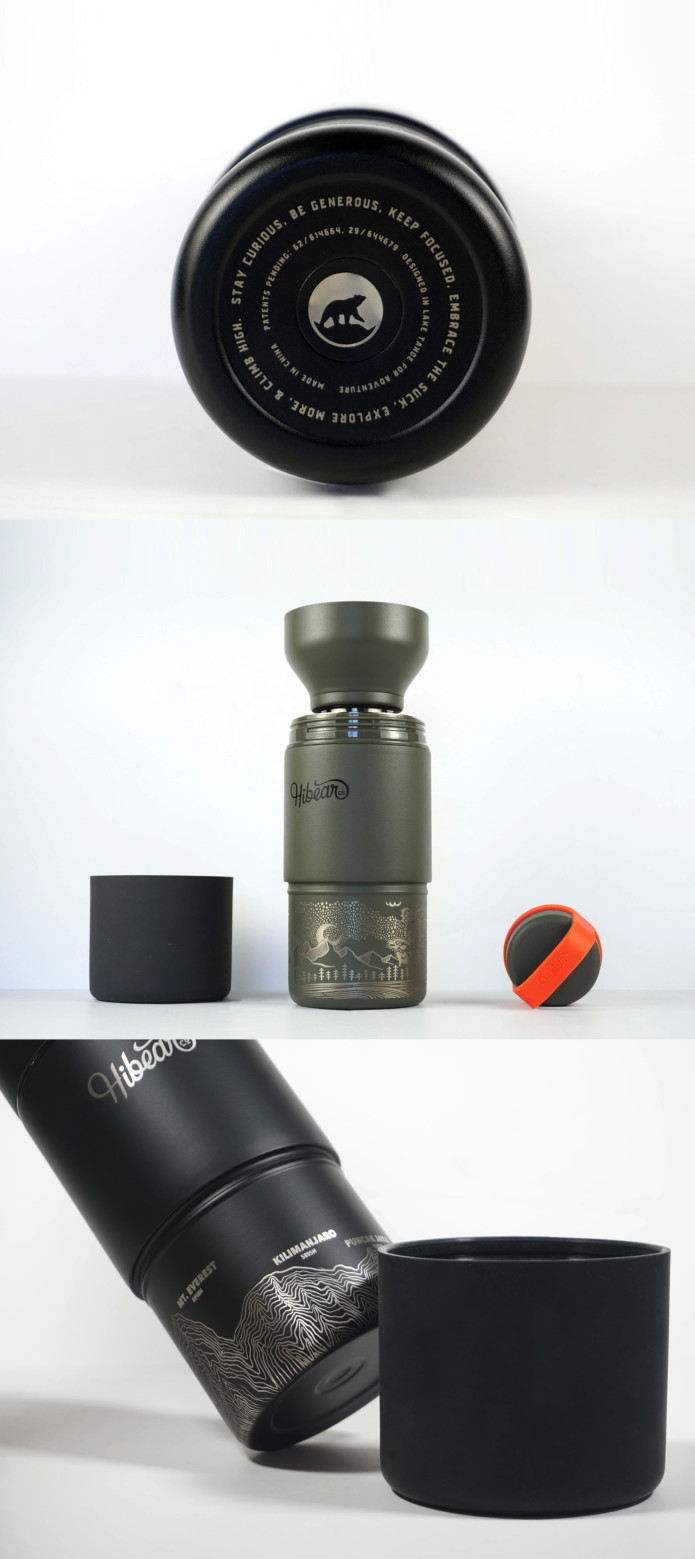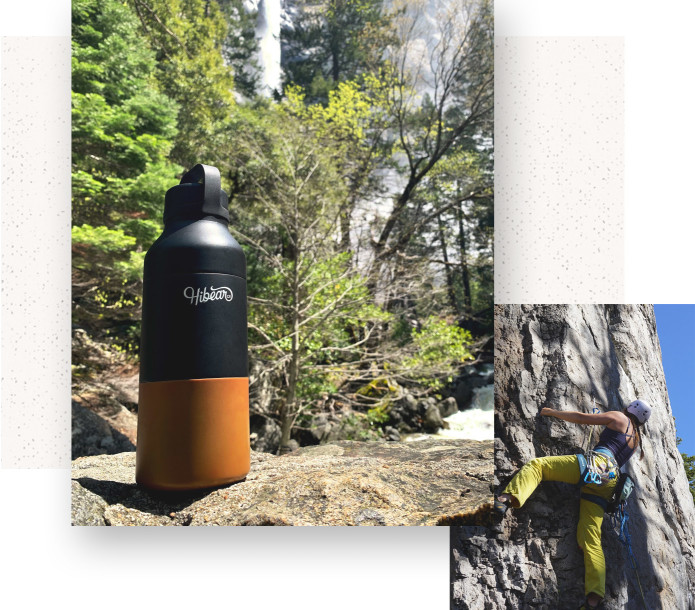 Risks and challenges
Every project is not without its bumps in the road, hurdles to jump, or even alpacas to ride across barren mountainscapes without food or water for days or run-on sentences to read before you get to the damn point. To avoid a great deal of that, we got the All-Day Adventure Flask project as close to production as we could. This filters out a great deal of uncertainty. That being said, things happen, like your alpaca breaking down on the side of a sand dune. We feel great about getting your Adventure Flask on time in May, but things happen. Manufacturing tools can break and ships can be delayed. We'll manage these risks to the best of our ability and be transparent about them to keep you informed along the way. It's gonna be a grand old journey to get there, but gosh darn it, we'll do it together ?.
Environmental Commitments
Long-lasting design
We spent a great deal of time building the All-Day Adventure Flask. It has a simple modular design that makes it easy to clean, service, and if needed replacement parts. This assists in maximizing its lifespan and keeps more trash out of landfills.
Reusability and recyclability
We created a tool that is a compadre to your day, a Starsky to your Hutch. It's a flask that you can use from dawn patrol to campfire, and that my friend eliminates more waste than your standard bottle. What does that mean? Less single-use in the landfills, beaches, and oceans.
Commitment
We are Climate Neutral Certified. By measuring our greenhouse gas emissions footprint, purchasing carbon credits to offset that footprint, and implementing plans to reduce emissions this year and beyond. We think that's pretty cool but also need to remember that the fight against climate change happens every day.
We are excited to be a part of 1% for the Planet. 1% of our revenue is donated to nonprofits who support the health of our planet to create positive change.