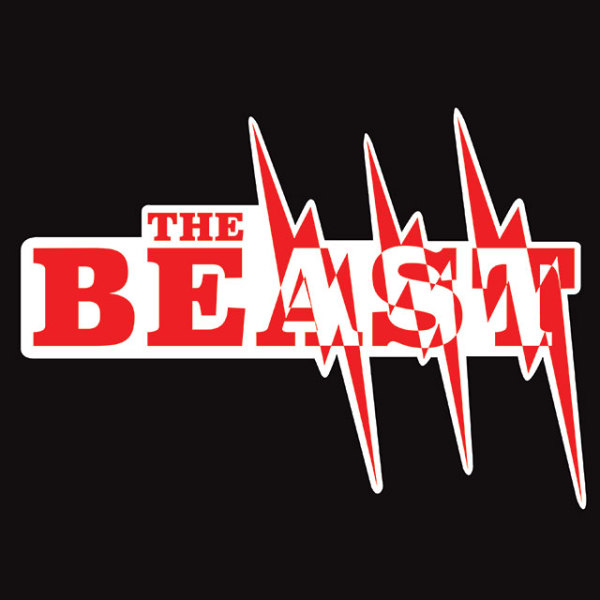 THE BEAST Portable Power Stations for Welders
$3,249
raised out of
$525,000
Concept
Power your welders & tools with 240V/120V
5,000W_continuous, 10,000W_Instant_Peak_Power™
Story
DESCRIPTION
First ever portable power station for the field powerful enough to drive your commercial portable welding equipment.
The BEAST is the first of its kind portable power station to feature 5-10kW Instant Peak Power™ pure sine wave inverter (5,000W continuous / 10,000W peak). It is capable of providing all the instant 240 or 120 volt power you need to reliably run portable welding equipment from Miller, Lincoln, ESAB and other vendors. 
It features plug-and-go usability and offers all the power you need for the big jobs in the field or indoors – wherever you need portable, Instant Peak Power™.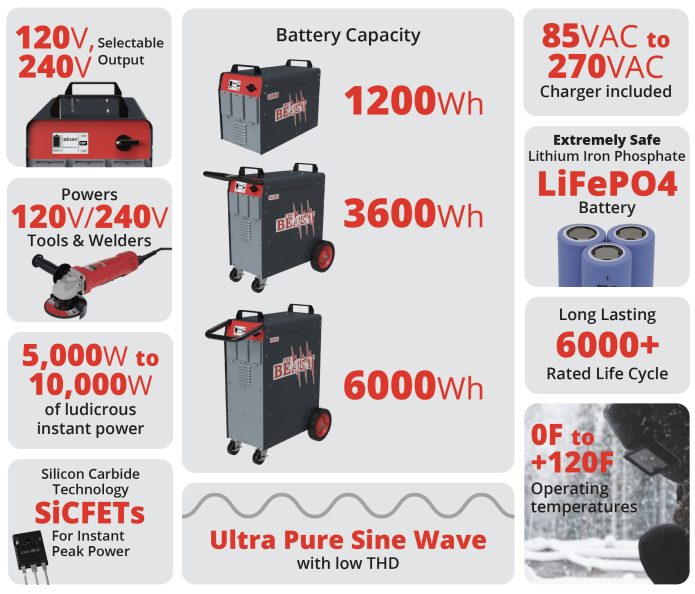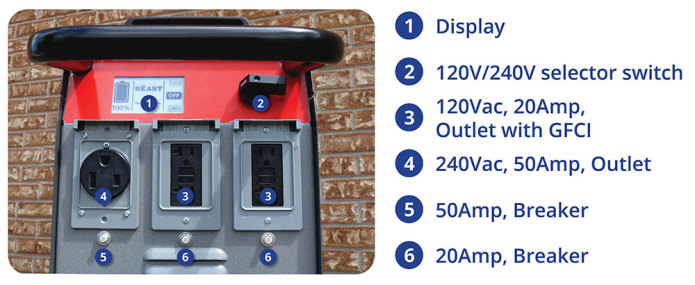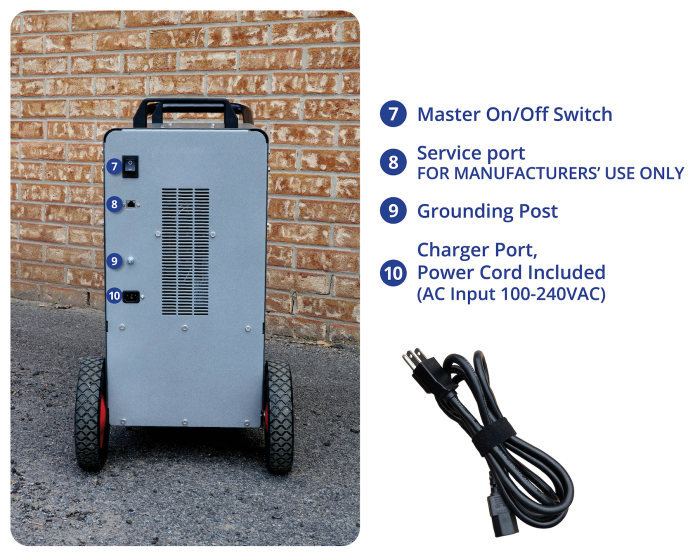 TESTED 240V Welders & Tools List
WELDING EQUIPMENT:
Miller CST282 Portable Welder
Millermatic 180 Portable Welder
Miller Dynasty 210dx Portable Welder
Millermatic MM211 Portable Welder
Miller Multimatic MM215 Portable Welder
Miller Multimatic MM220 Portable Welder
Lincoln 210MP Portable Welder
ESAB EMP 215ic Portable Welder
ESAB EMP 285ic Portable Welder
EVERLAST PowerTig 200DV Portable Welder
EVERLAST PowerMTS 275 Portable Welder
EVERLAST PowerPRO 205Si Portable Welder
WELDERS TOOLS:
Chop saw (metal) 10 inch, 240V ,Peak 5000W rms
Grinder 9inch , 240V, 1000W , Peak 5000W rms
Miter saw (wood), 240V, 14inch
Air compressor, 240V, 60 gallon
Lathe (metal), 240V, 36 " x  13"
TYPICAL PERFORMANCE FOR SELECTED WELDERS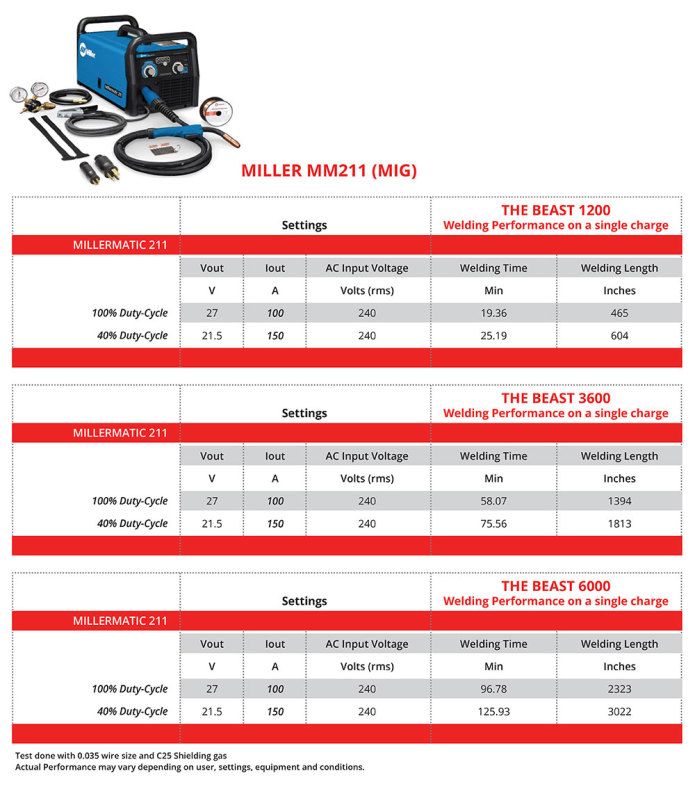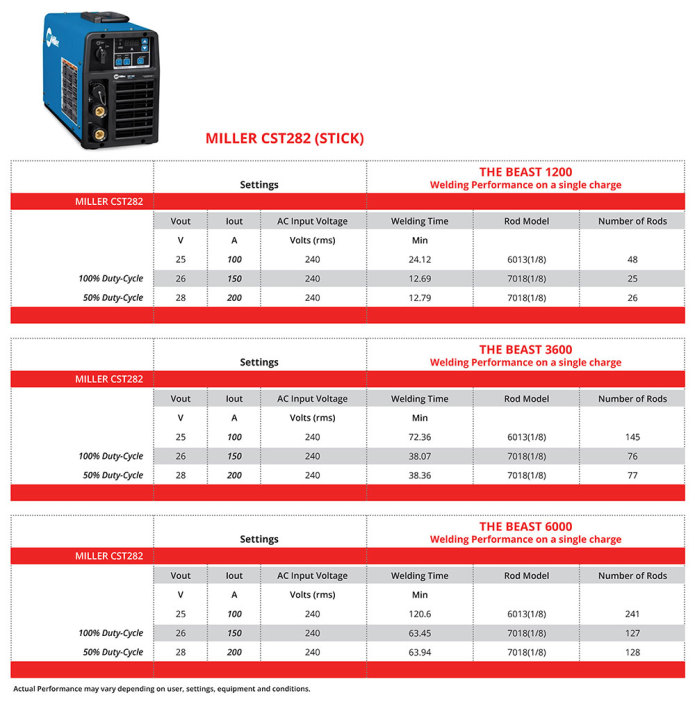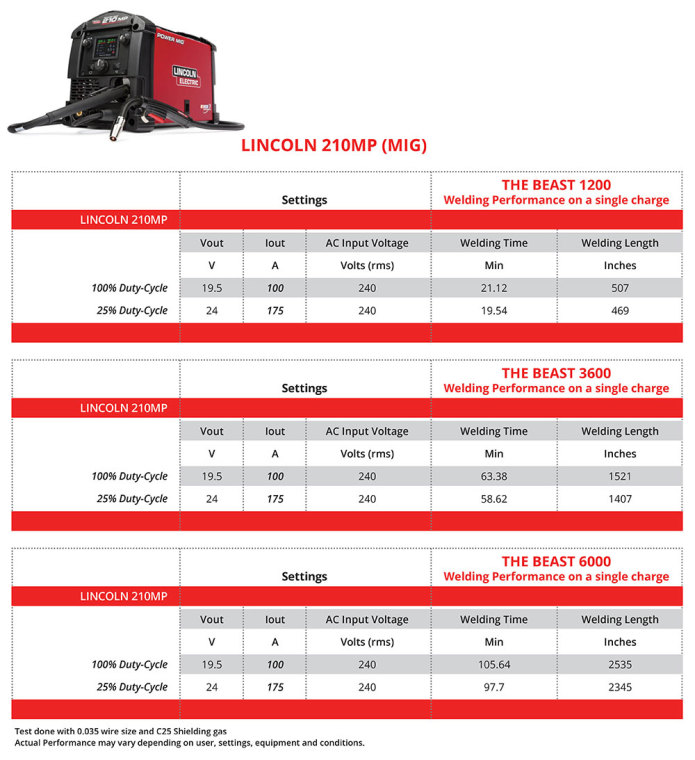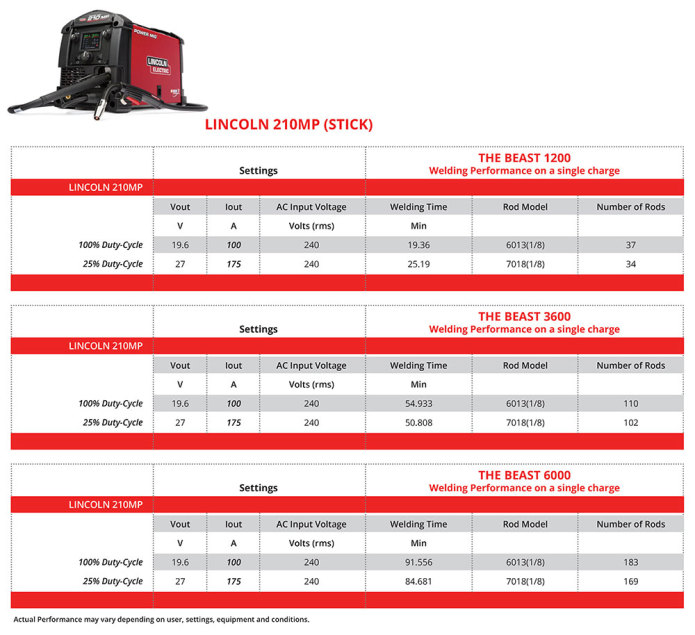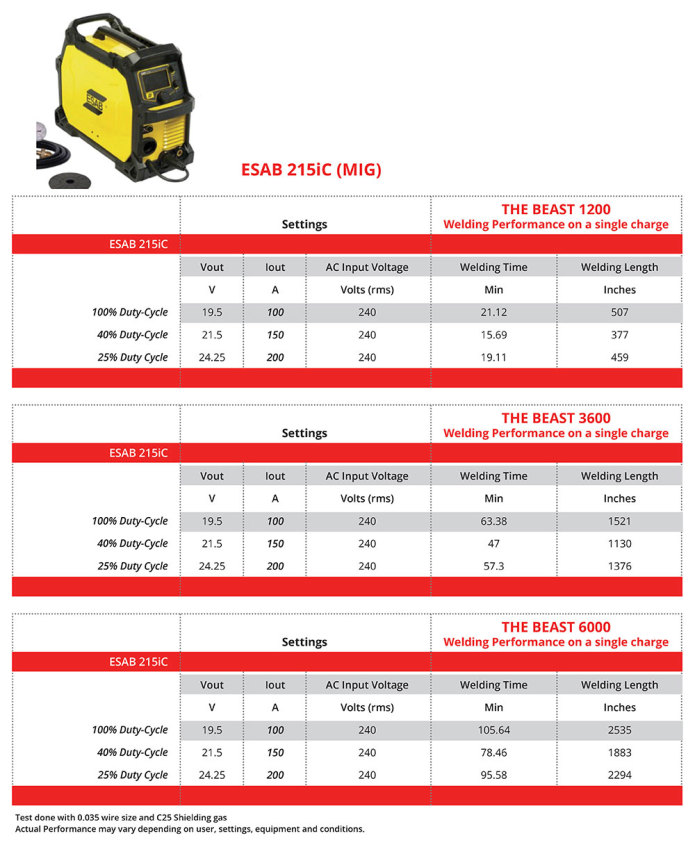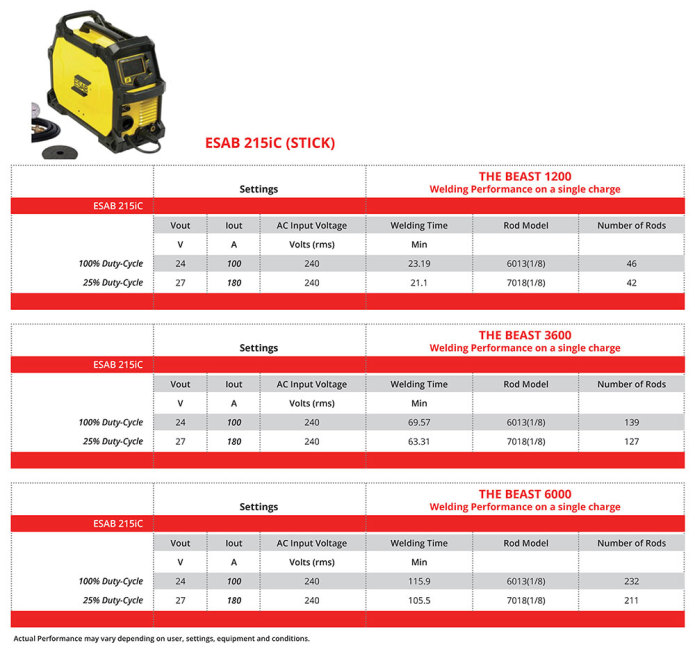 The BEAST product specs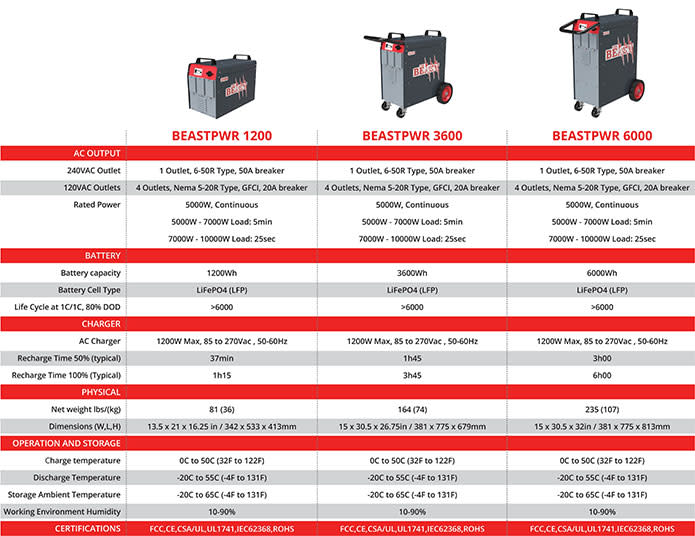 The BEAST compared to Internal Combustion Engine (ICE) – based Generators
The BEAST is a smarter alternative to the welding industry standard 7,000W generators. Fume-free and ultra-quiet, with no harmful emissions, our portable battery-powered devices enable flexible indoor and outdoor welding operations.
The BEAST compared to consumer-grade power stations
Typical consumer-grade power stations currently on the market can only handle low-power appliances, not high-power tools and welding equipment. They aren't made for the rigors of commercial and industrial applications like welding, grinding, compressors and more.
With performance comparable to high wattage ICE-based generators, The BEAST is the portable power you need when the job calls for that extra oomph.
APPLICATIONS
The BEAST is designed as a flexible power station to meet various welding and construction needs. Portable and mobile, The BEAST Series is a "no installation required" and maintenance-free, plug-and-go product that can easily be moved to the desired location when needed.
Welding
The BEAST is a premium 240 and 120 volt power source with instant-on power for portable stick, TIG, MIG welders and plasma cutting applications.
Construction
Construction workers typically use many different power-hungry tools on a job site (miter saws, table saws, grinders, compressors/nail guns, etc). As a result, they need reliable and consistent power especially if they don't have access to any power outlets. The BEAST is small enough to be moved around the construction site with minimum effort.
FEATURES
Instant Peak Power ™
The BEAST is capable of providing all the instant-on "flick of a switch" 240V or 120V power, with the 5,000W continuous / 10,000W instant peak power you need to reliably run welding equipment. No more heavy-duty extension cords! Which means shorter setup and teardown times.
Portability
Power where you need it. At 81 pounds The BEAST 1200, our lightest power station, is ideal for jobs in the field, and we mean actual fields, hard to reach places with no available power. There are no extension cords required to use The BEAST because it's right beside you! One person can easily carry our BEAST 1200, it's surprisingly compact AND powerful, coming in at 12"W x 16"D x 20"L and just over 80 lbs, when compared to ICE powered generators that start at 200 Lbs and are 8X as big!
240V Output 
The BEAST offers a 240V 50A NEMA 6-50P outlet with a 50A breaker to power 240-volt appliances. The high power output means you can now run any power tool or welder with ease. Switching from 240V to 120V is instantaneous (no need to walk back to the generator to switch voltage!).
Multiple 120V Devices Can Be Powered Simultaneously
Small portable inverters can typically power very few devices simultaneously. The BEAST is completely different, with its 5000W continuous output and 10,000W peak power, the BEAST Series can easily start AND power multiple devices simultaneously with four 120V, 20A outlets.
Here's a list we've tested so far with the Beast 1200/3600/6000 Power Station models.
Tested 120V Tools & Appliances List
GENERAL TOOLS:
Circular Saw 7-1/4,120V 1500W , Peak 5000W rms
Circular Saw 10inch,120V 1500W , Peak 6000W rms
Miter saw 12inch, 1800W, Peak 8000W rms
Chop saw 10inch, 120V , Peak 7000W rms
Compressor, Peak 7100W rms
Shop vac, 120V, 1200W
Table saw, 120V , Peak 7000W
Grinder 4-1/2 and 9inch ,120V
Drill ½ and SDH, 120V , 1500W
APPLIANCES:
Refrigerator, 120V,15A (GE Profile, French door 33inch, 24.8 cu.ft., for example battery duration with The BEAST 1200Wh = 18h45min, with The BEAST 3600Wh = 56h15min, with The BEAST 6000Wh = 93h45min)
Coffee maker, 120V (Nespresso)
Vacuum cleaner (Dyson), 120V
Battery charger, 120V, 1500W (Output 50Vdc)
Cell phone chargers
Laptop, 90W
Flat panel TV, 50inch 
Heatgun, 1500W
Induction cook top, 1500W
PC power supply 120W,300W,650W
Battery tool charger 18V
Microwave, 1200W, 120V (Inverter, new model)
Microwave, 1200W, 120V (Transformer, old model)
Batteries 
The BEAST uses lithium iron phosphate (LiFePO4) batteries, which are the safest lithium battery type currently available on the market. Each battery is specifically engineered to deliver high life cycles (6000+) and excellent performance over a wide range of operating temperatures from 0F to 120F. 
Charging
The BEAST has a powerful 1200 watt embedded charger and you can charge from any 120V or 240V outlet. See the Beast product line chart above for the charging times for each model.
RELIABLE AND DURABLE
Made with high durability Silicon Carbide technology, an all-metal casing and premium parts, The BEAST is both powerful and rock solid.