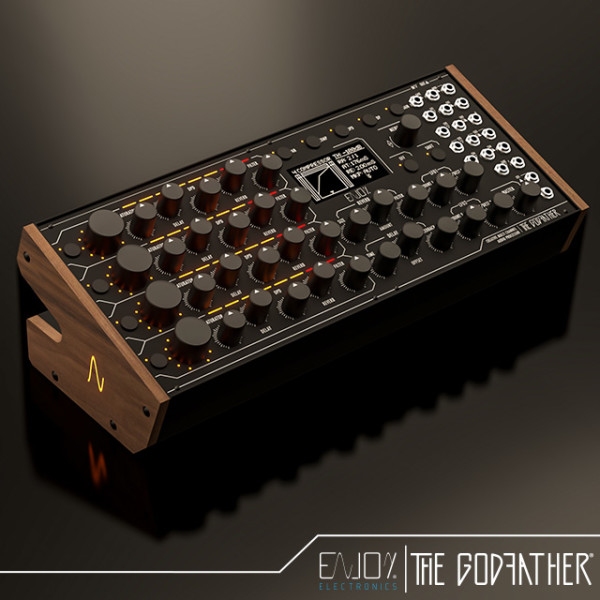 The GodFather : Multichannel
$51,578
raised out of
$15,000
Concept
will make you definitively abandon the conventional mixing concepts!
Story
May 2020, Simon came out with a crazy idea.
What if there was a single device capable of processing 4 audio channels separately, mixing them, equalizing them, compressing them, saturating them, filtering them, and adding emphasizing effects?
What if it stimulated your creativity both in the studio and on live stage thanks to its multiple independent delays, capable of instantly generating thrilling grooves, surprising rhythmic junctions and intricate polyrhythms?
What if for each of the 4 channels you could add filtered repeats within the main repeats to create additional sound layers?
What if, for each of the 4 channels, the result of all these processes could be offset between left and right to create rebounds and obtain an incredible immersive experience?
What if it was equipped with a large OLED display and a multitude of LEDs capable of providing instant, precise and effective feedback of the various functions with a simple glance, letting you focus on the creative aspect even in the most critical lighting situations?
And if by means of dedicated buttons it was possible to decide for each channel when to add, replace and delete the sounds within the repetitions, making the possibilities of sound design almost infinite, opening up unexplored sound panoramas?
What if all parameters could also be controlled by 2 internal LFOs and 4 external multi-assignable CV INs?
What if it were possible to correlate the dynamics of the various channels through the side-chain compressor to give the right space and the right presence to the sounds of the various channels?
What if it added atmosphere, depth, three-dimensionality and amalgamates your mix thanks to a large stereophonic Reverb equipped with dedicated hi-pass filters?
What if it managed to blend together the extremely high functional complexity and infinite creative limits with a surprising ease of use and achieve desired sound results?
What if you could synchronize MIDI or CV Clock with the rest of your setup, receive external signals, or control other devices?
And it wouldn't be incredible if all of this could be inserted into a 60Hp semi-modular TIER RACK and give a total audio, midi and CV "manipulation" to the semi-modular devices of the "family" that we love so much but almost fail to tame?
And what if, as if that weren't enough, it enclosed all the obsessive attention to details of a luxurious MADE IN ITALY product? High quality potentiometers, aluminum knobs, resistant finishes and precious wooden side panels that are able to excite just to the touch.
Here is the crazy idea of that​​ May 2020! After two years of hard work, design, emotions, headaches, technical challenges, crucial choices, we are immensely proud to be ready !!!
We have many other crazy ideas to which we dedicate our spare time to experiment, test and design. Stay tuned because in the next few years we will have really so much to show you!
Overview 

The Godfather in action
The Challenges

Featurings and Power all in small-scale spaces
The Electronic, Mechanical and Graphic Designs have been synergically worked out  to be able to insert all the controls, the LEDs, the buttons necessary to create a device that would allow a naturalness in the use without compromises.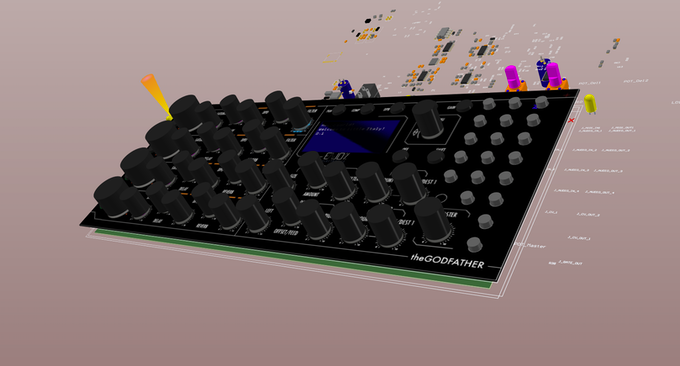 Tailor made knobs
For a performer, staying focused on the creative phase requires that the right number of controls are available, and that they are positioned in such a way as to allow natural use. This naturalness comes from a meticulous study and from dozens of configurations tested before reaching the perfect solution!
To achieve the high level of usability we had prefixed, 36 knobs and 11 buttons needed, accurately positioned in the right places.
To be able to get the right size, finish, feel, design and hide the potentiometer nuts, we have designed and made aluminum knobs manufactured exclusively for this product!
We don't play with plastic.
High quality potentiometers, aluminum knobs, durable finishes, involve high costs, but are essential to create a high-end device that will last over time.
Led's
On the panel there are 154 LEDs to drive!
Thanks to the meticulous positioning, the instant feedback they offer is essential for those who must focus on the creative aspect and have everything under control at a simple glance.
It wasn't easy at all! But, for us, it was essential to have them, and to have them like this!
We had to design and test different solutions and prototypes before finding the ideal configuration, which would satisfy our targets such as position, luminous homogeneity, no-light interference between neighboring LEDs.
Attention to detail remains our guideline
CASE : Design, shape and compatibility
The unique shape of the case is produced in a single piece of aluminum thanks to the extrusion technique.
To get it, we worked closely with aluminum extrusion experts to create a matrix that granted us very tight tolerances, despite the multitude of curves, corners and grooves.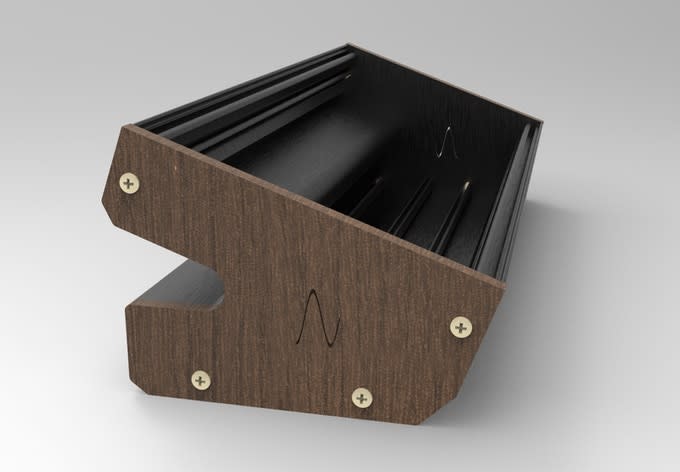 Alluminium and Wood Case
This strong shell is powder-coated in black, offering the highest resistance against scratches, dents and absolutely no chance for paint flaking.
To make it, we are committed to ordering a huge volume of parts and investing significantly in advance.
The power supply challenge
The supply of power to all processes, amplifiers, LEDs, displays requires a large amount of energy and can also generate significant noise. The high efficiency power supply stage allows to obtain the maximum energy, even on Eurorack systems which are very sensitive to the issue of power supply.
The whole audio section, on the other hand, is completely isolated and powered separately so that the power supply of LEDs, displays, etc does not affect the audio performance in any way.
Performance Oriented
Months were spent to carefully consider all the function and parameters. After that we invested a lot of time in designing the "one-knob-per-function" interface with a studio and stage performance perspective.
All the visual indication that "The Godfather" provides are extremely useful  and intuitive.
Despite the great complexity behind TheGodfather, it is surprisingly simple to use
You will see and feel the effort when playing with the GodFather.
60HP Semi-Modular footprint
Despite the unique design, The Godfather has the same footprint as a Mother32, DFAM, SubHarminicon, allowing it to perfectly fit into Tier Rack stands (4,3,2 sizes)
An extended list of features:
Process for each channel

Gain
Panning and Stereo Width
SHAPE EQ
Compressor with side chain
Saturator
Delay
Double Pulse Level
Dedicated DPD  Filter (HP/LP)
L/R Offset
Stereo Reverb Send
HP/LP filter
Mode
Level

2x LFO section

Accurate digital waveform generation
5 waveform : Ramp, Saw, Sine, Triangle, Squale
Syncable from all clocking source or "Free" running

Multi assegnable destination :

each LFO can be assigned on global parameters and multiple parameters within each channel

Delay FX

Digital Audio Delay
Indipendent delay for each channel
Tape or Jump mode
Syncable delay time from all clocking sources
Clock divider option (1/4 – 3/16 – 1/8 – 1/3 – 1/16)
L/R Offset indipendent for each channel
Feedback fron 0 to infinite to each channel

Double Pulse Delay

Position settings of each repetitions
LP/HP filter for each position
DPD level

Stereo Reverb

Customizable STEREO REVERB engine with DEDICATED HP FILTER

Clocking options

Internal Clocking
External Modular Clock
Midi clock
Tap Tempo

Trigger Mode

Normal
Trigger Add
Trigger Change

Global Control
Performance Features

One Knob Per Main Function Phylosofy
Multi parameter encoder
Led ring indicator for parameter value visual feedback

Led bar indicator for audio feedback, VU-Meter, gain reduction compressor, lfo,  Double pulse position, pan and

stereo opening

Connectivity

4 Audio input
4 Audio out
4 CVs input  from -8V to 8V
2 CVs outputs from 0 to 5V
2 Gate input / Clock input 5V
1 Gate output 5V
MIDI IN/OUT (TRS and CLOCK to DIN adaptors included)

Design:

60hp EURORACK
Led indicator  on each channel
OLED Display
ALUMINIUM Case
BACKLIT side WOOD panels
Technical Specifications
Power Supply: 100 to 240 VAC; 50/60 Hz, +12 VDC 1200 mA  (included)
Dimensions : 319 x 107 x 133 mm
Patchbay : 19 x 1/8″ / 3.5 mm jacks
4 CVs input  from -8V to 8V
2 CVs outputs from 0 to 5V
Gate input / Clock input 5V
Gate output 5V
TRS and CLOCK to DIN adaptors included
Superbooth
Its first public appearance took place at Superbooth 2021 in Berlin, in a Little Italy inspired stand, where our little boys were able to show you the uniqueness and potential of the new device!
The comments, the looks, the press, and the interest from other manufacturers were the confirmation that we had something big in our hands.
It is difficult to describe the feelings rising immediately after the Superbooth.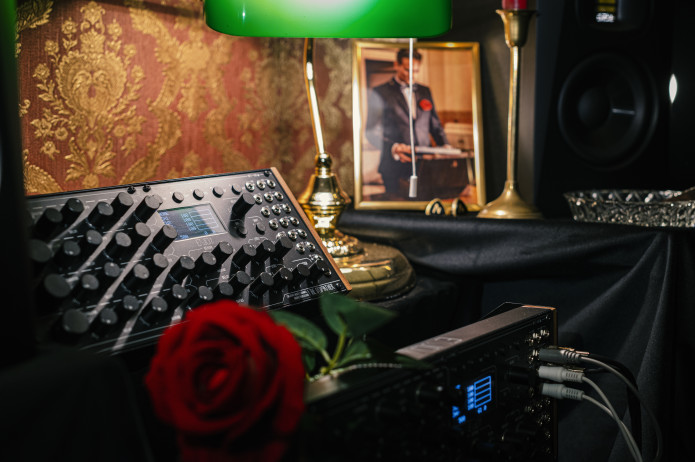 The LEDs interface and few functions were still missing
Our men have continued the development relentlessly, supported and encouraged by the Superbooth experience.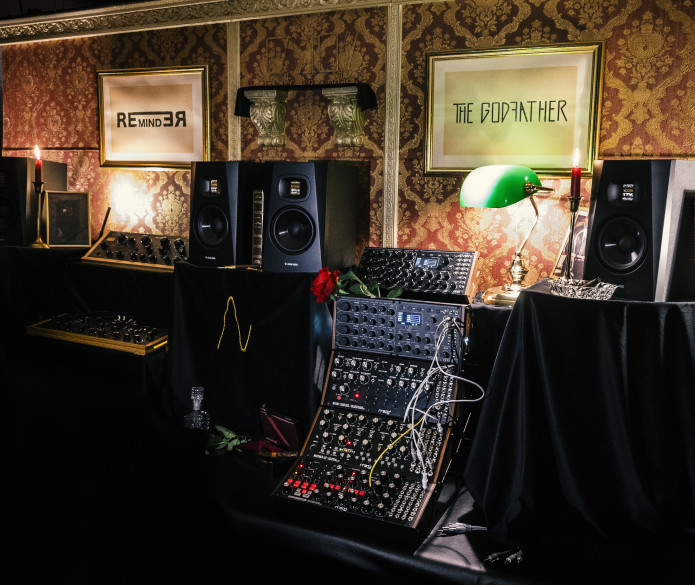 Little Italy inspired stand
Press
Why Indiegogo?
Help us to write the Enjoy Electronics story.
Indiegogo won't only provide the funds to put this unique product into production, but also much, much more.
It will allow us to better consolidate the company, hire staff to continue our dream of growing and design, develop and offer innovative audio solutions on the market.
We could employ engineers, programmers, designers, but also assembly workers who leave our country in search of work.
We will not solve the unemployment problem, but we will certainly give some chances to work in an innovative and stimulating environment, hoping that others will follow in our wake!
The Godfather is a complex device, with a large number of customized components.
Keeping the price at a reasonable level means ordering large quantities of material.
Making custom-made knobs in aluminum cases with the design and features we wanted, requires the purchase of a huge volume of parts and significant investment in advance.
Indiegogo can let us know exactly how many units are requested and so tailor our manufacturing precisely to meet this.
Finally, although some of the design work has been done, there are still areas that require investment to produce and deliver flawless products. Among the most important: the dedicated testing system!
About Enjoy Lab
Enjoy Lab born in ltaly from the passion for music, technology and design of its visionary founders, is a company that wants to support artists, producers, musicians and live DJ's to generate, elaborate and manipulate electronic sounds.
The continuous research and development, the elegant design, the obsessive attention to details and the quality of materials are Enjoy Electronics guidelines for the design, the construction and the introduction of innovative, incredibly stimulating and high performing audio solutions.
Shipping and payment
We ship worldwide with courier tracking like DHL, UPS , FedEx and other, with average 2 – 5 Business Day signed delivery.
We will ship from Italy.  The shipping cost are not included. If you live outside the EU, additional duties, taxes and fees may be applied by your country's customs, for which ENJOY LAB is not responsible for.If you are unsure of the regulations for your country, please check with the relevant public authority. We write the following customs commodity code on our devices shipments: 85437090.
To know the shipping cost, you can select the area where are you located among the ones in the campaign page. If it is not present, please write to us at info@enjoy-lab.com and we will provide to give you the best shipping cost till your address.
If you are not 100% satisfied with your order, we will be happy to arrange a return for any unused and unmodified items purchased within 14 days. ENJOY LAB will accept goods that are in good condition, without any external and internal damage or modification, along with the full set of accessories and documentation.The refund amount does not include shipping cost. The customer covers the shipping back to ENJOY LAB. A copy of the original invoice or receipt must be supplied along with the item. The refund is transferred once we have received and inspected the returned item.
The warranty is one year or longer if required by the relevant legislation.
Risks and Challenges
In our previous Indiegogo campaign we were able to start deliveries roughly on schedule, and it taught us many things we can do better this time around!
There are always things that can go wrong, especially when running a large production. For example, the PCB manufacturer may experience delays or our wood manufacturer may have a glitch in their CNC machine.
We have already prototyped and built with these manufacturers, so the risks are lower.
The only challenge we can think of is shipping delays. The current global risks of component shortages can lead to unpredictable complications related to the availability and price of parts.
We are committed to being completely transparent and providing you with in-depth information on how we are overcoming these possible difficulties and how they may affect shipping dates.
We have blocked some of the strategic components, but we would not know the quantity to buy until the campaign is over. We manufacture our products in our workspace in Italy