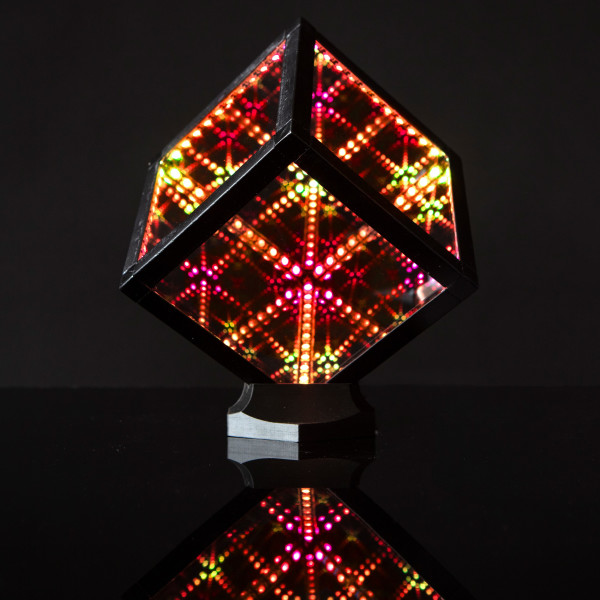 The HyperCube Nano
$304,822
raised out of
$100,000
Concept
Ultra-chromatic infinity art in a sleek, portable form!
Story

The HyperCube Nano is our newest model of ultra-chromatic art: a sound reactive, app-enabled, LED infinity cube – the most star-striking lighting tech in the multiverse.

At 5.5″ on each side, the HyperCube Nano is smaller and more affordable than our previous works, with higher density LEDs and all the same features and infinite depth.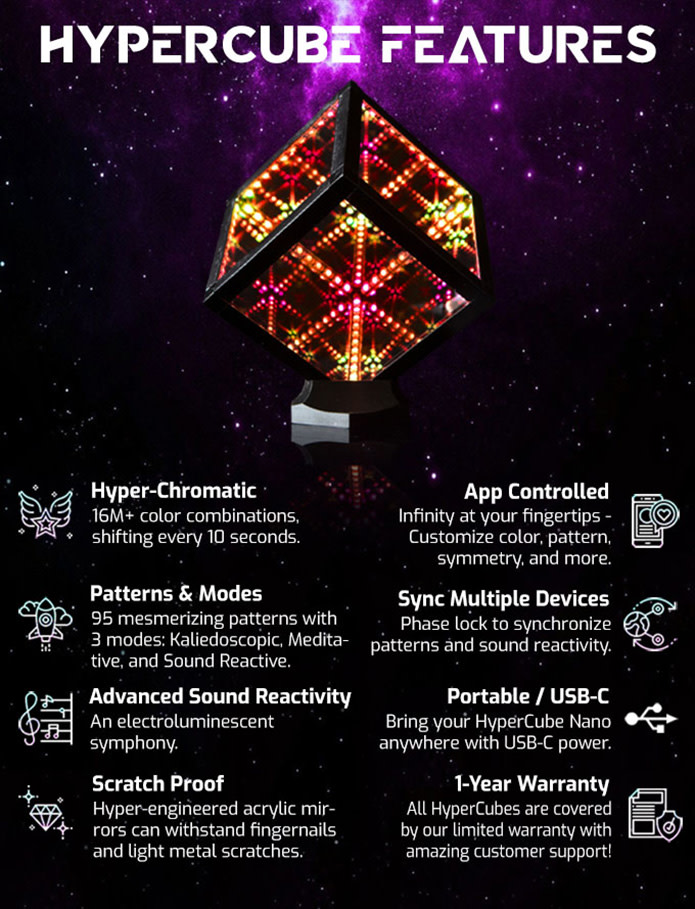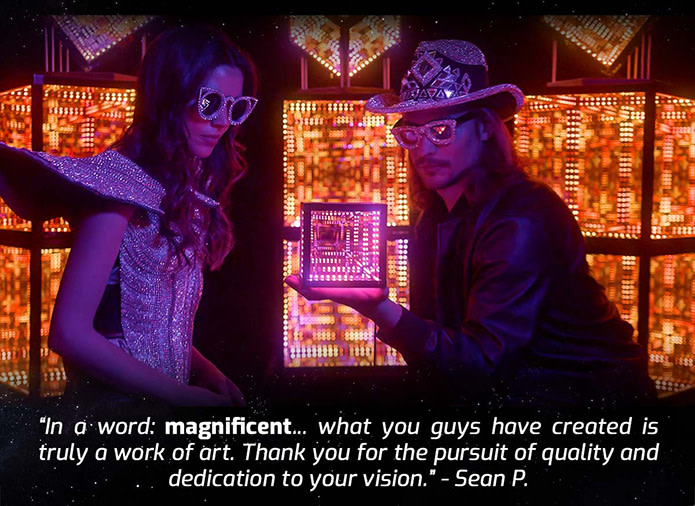 The HyperCube automatically cycles through new patterns every minute, a kaleidoscope of light and color, designed to mesmerize and entrance. Each pattern is custom-crafted to accentuate the symmetry of the cube, turning math into light – our form of art and expression.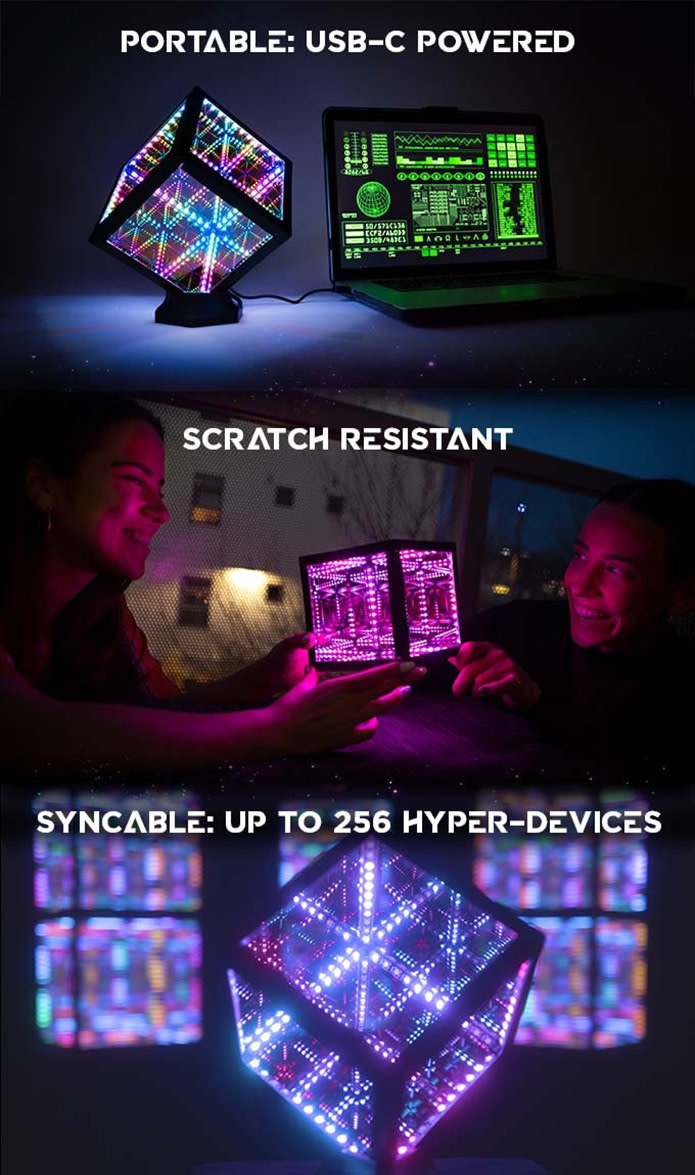 Up close, the space inside the cube to extends into infinity. Get lost in hyperspace.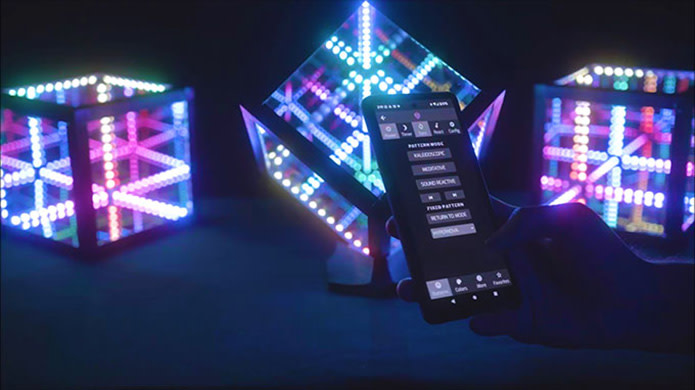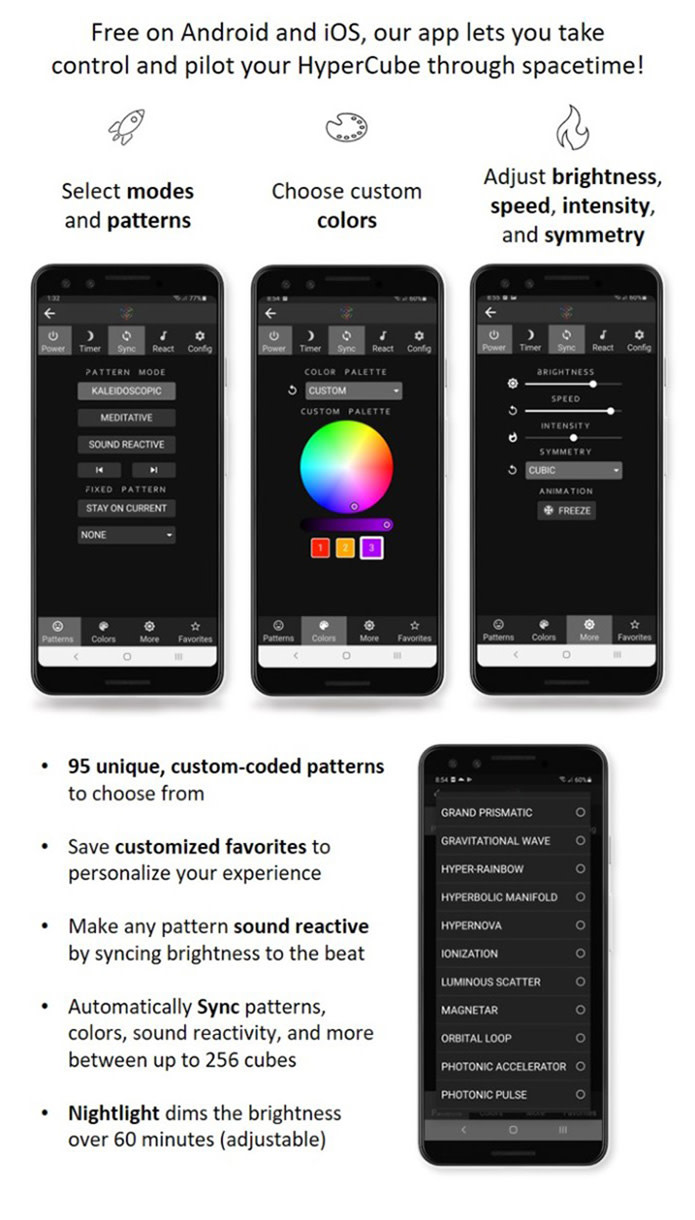 Harmonic, symphonic, electronic. Visualize and get lost in your music like never before with over 30 unique sound reactive patterns, specially designed to work with any kind of music. These patterns use a microphone to analyze musical lows, mids, and highs to create infinite ultra-responsive audio-visual variety. Don't just take our word for it,  crank up the volume and check out the videos!

HyperCubes are out of this world, but don't just take our word for it! We've shipped nearly 4000 of our larger models across the stars, and our customers are star-struck. See what they have to say!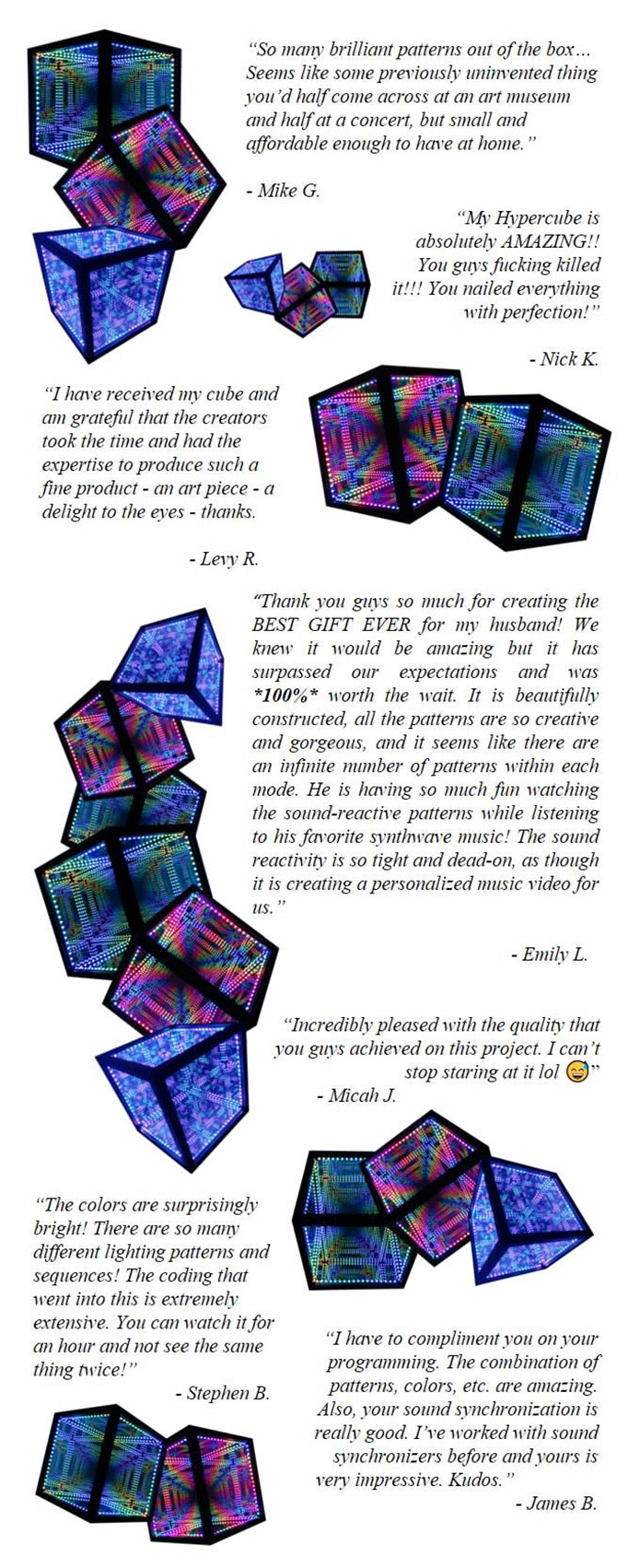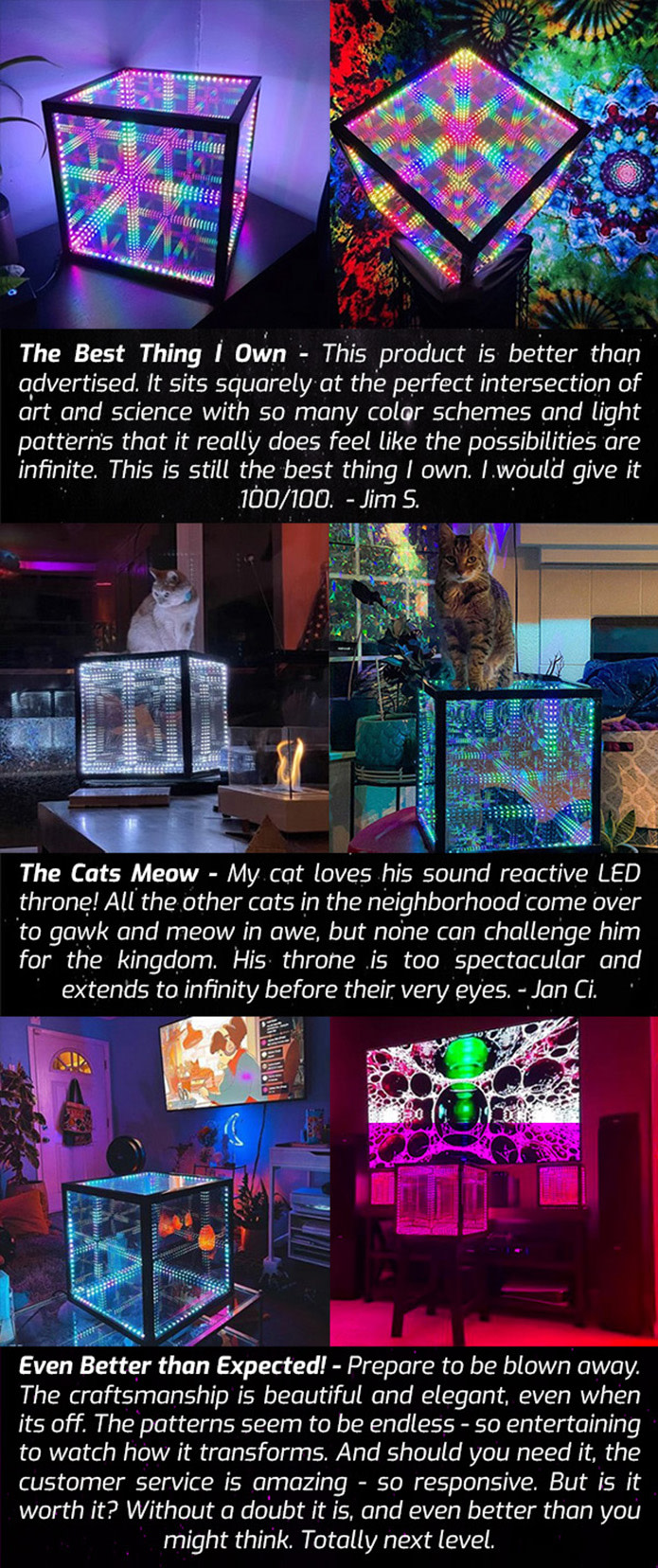 1x HyperCube Nano
1x Controller
1x Nano Stand (free!)
1x 5W power supply  (phone charger style)
1x USB-C cable
1x User Manual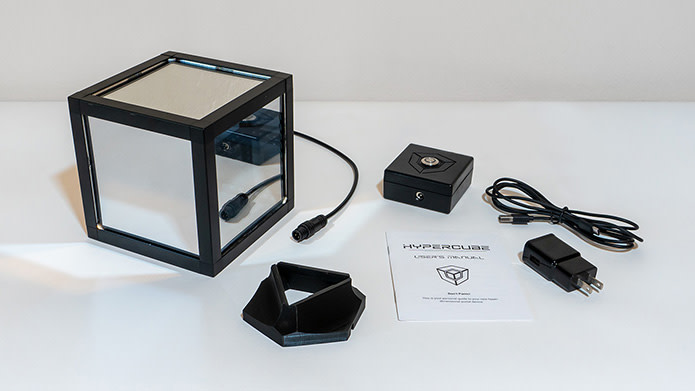 Note: prototype units shown. Final control box will be significantly smaller.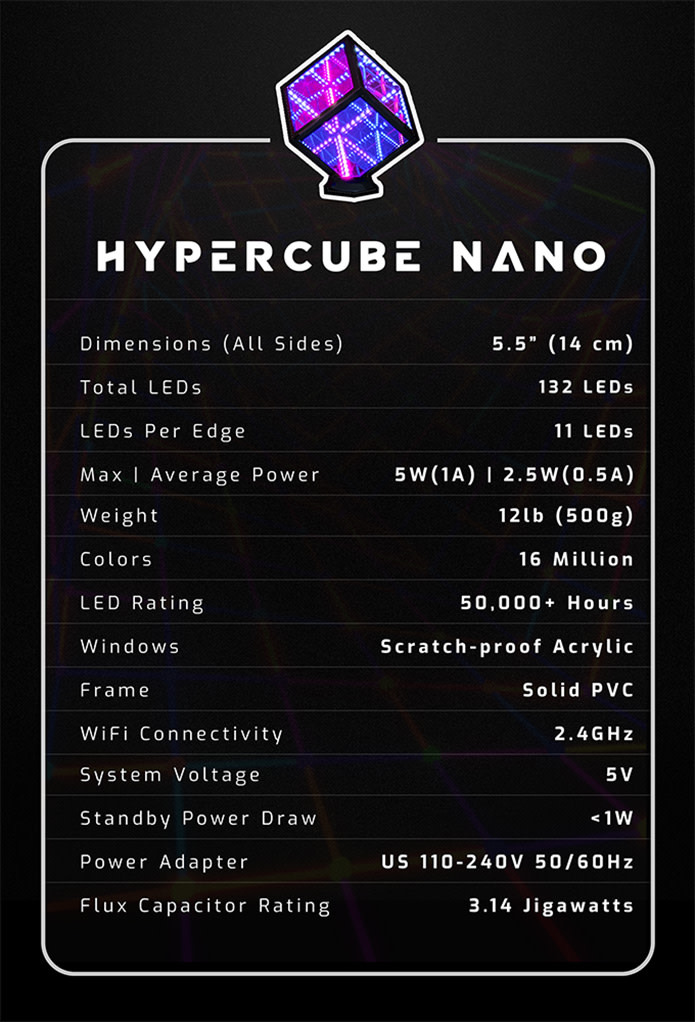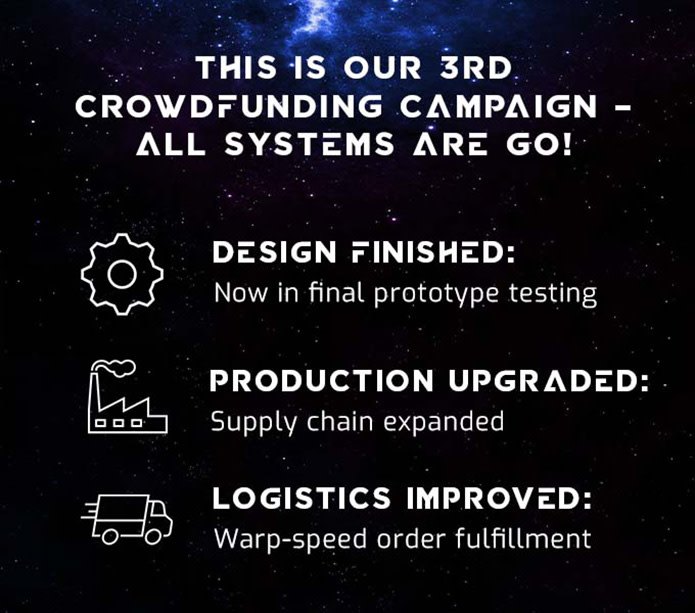 Hyperspace is being as realistic as possible with our project timeline. The design is finished – we have already received the first injection molded frame parts. We have begun producing tooling for other components, and suppliers are preparing for orders now. We have expanded our supply chains to overcome global supply chain shortages and our factory is already ramped up from production of our previous HyperCubes. This is a conservative and very achievable timeline and we've taken everything into account.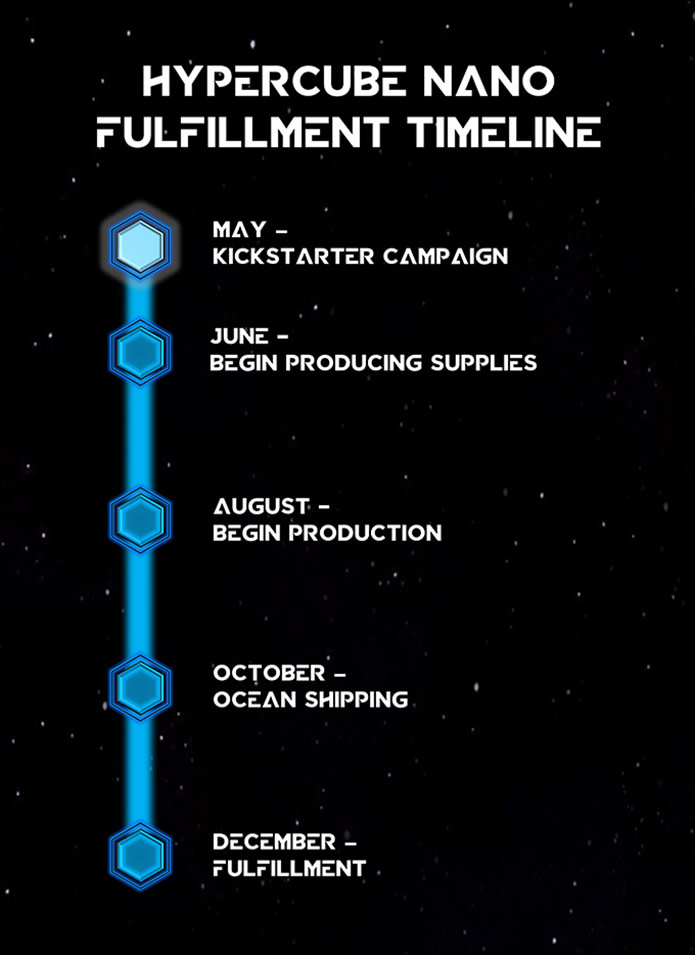 For this next mission we once again ask for the combined support of the crowdfunding community to help us bring the HyperCube Nano to this dimension. We are still a startup – and bringing on a new hardware product requires large amounts of upfront resources . We've got the experience, the determination, the know-how and the vision. – and in return we offer our backers and Hyperspace community these three things: 1) the best deal we will ever offer on the HyperCube Nano, 2) the chance to be the first in the galaxy to receive the newest infinity / hyper-luminous lighting tech, 3) the opportunity to spread infinite light though the beauty of art, technology, engineering, and design.
The HyperCube started as a Kickstarter project in August 2018. With the support of the crowdfunding community, the HyperCube experienced meteoric success, with thousands of HyperCubes pre-ordered and now nearly 4000 HyperCubes delivered across the stars! 
We've brought light to the lives of thousands of happy customers over the past 3 years, but we are still small operation with a lot of heart and soul. If you can take the extra two minutes to share this campaign with your friends, family and co-workers it would truly help. Thank you!





Risks and challenges
This is Hyperspace's third crowdfunding campaign and we have learned a ton along the way. We are still optimistic hyperengineers, but we are more experienced in the reality of creating new, ultra-chromatic infinity lighting tech. We have extended the timeline to allow our most accurate delivery times. If there is any change, you will not be kept in the dark. Hyperspace will be keeping everyone informed as progress is made. Bottom line – this is an achievable timeline with unexpected set backs built in. Supply Chain: Supply lines can be unpredictable given shortages and disruptions – we have built in redundancies in our supply chain with multiple suppliers for critical components that were at risk of bottlenecking production. Production: Manufacturing is hard. Luckily, our factory is our most trusted partner. We have been working with them for three years and they have the experience and the capacity to scale with us. Our factory partner has scaled many products from small scale projects to full scale ecommerce consumer and tech products lines. International Shipping: We have shipped HyperCubes to over 50 countries and we've developed great partners to help with logistics. If you are on Earth – we can send you a HyperCube!