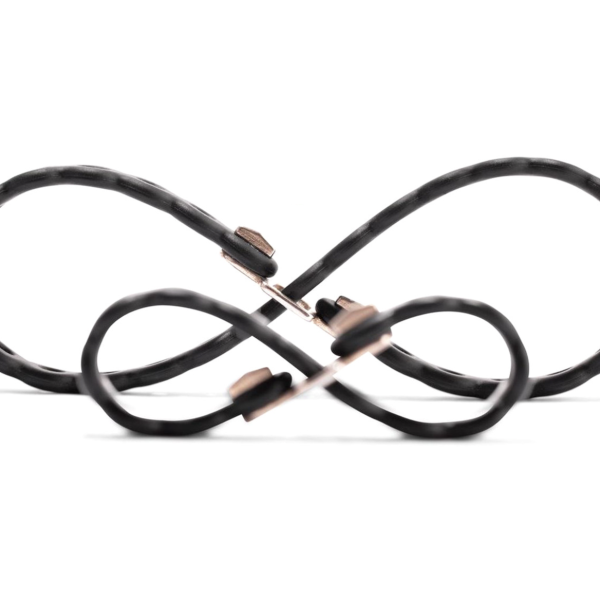 The MODL Infinity Tool
$180,128
raised out of
$5,000
Concept
A new type of flexible multi-tool
Story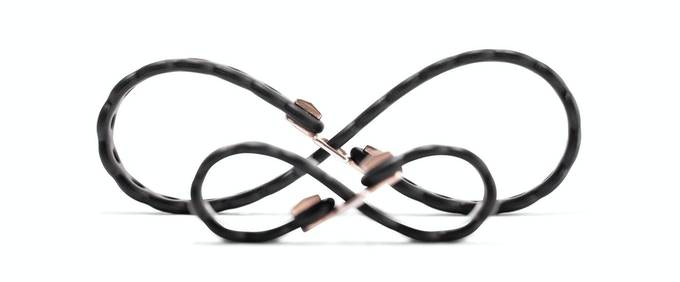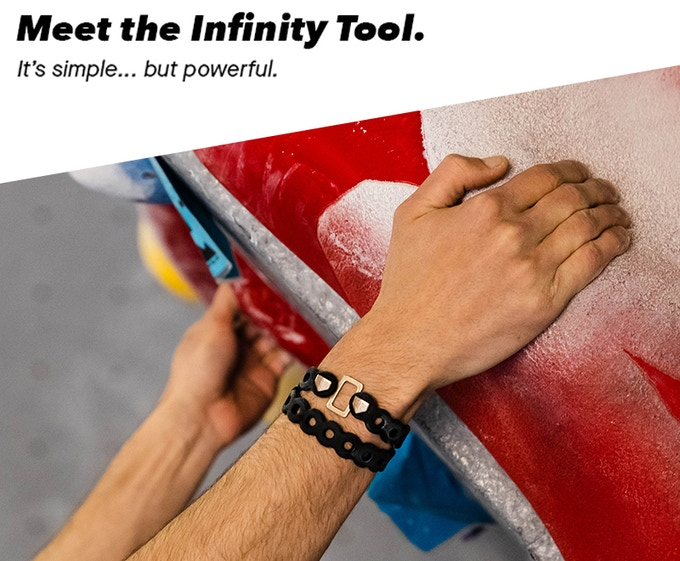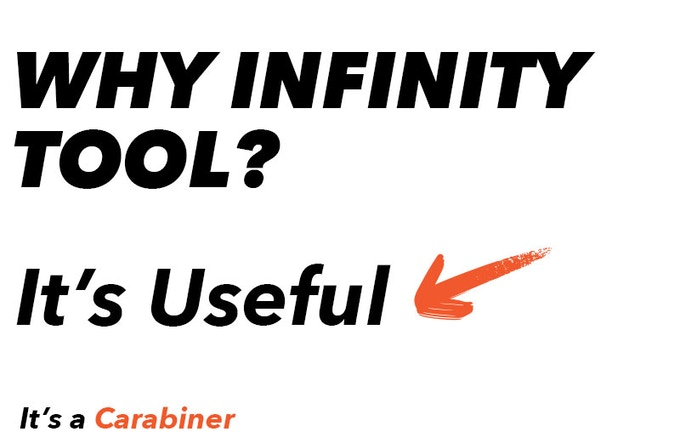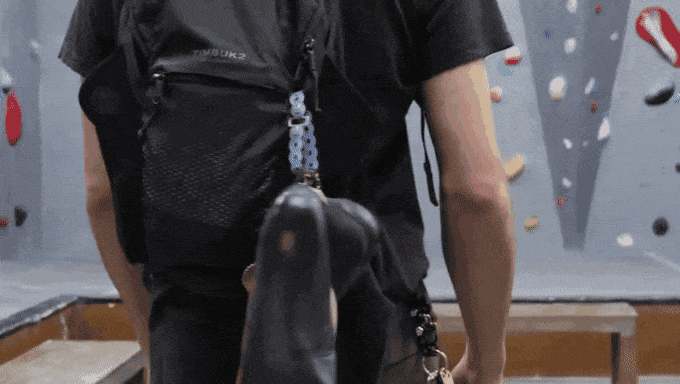 Clip and loop your gear together.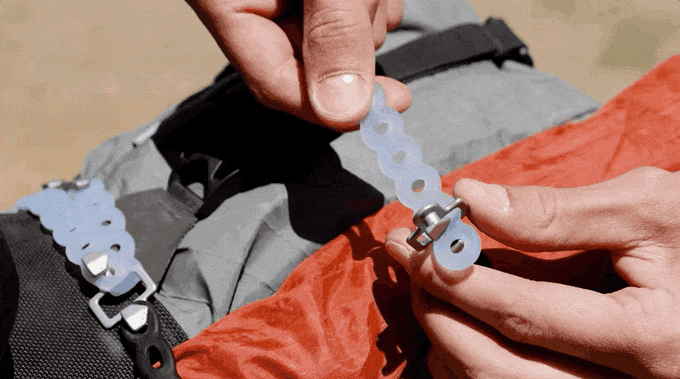 Cinch anything and everything down for care-free carry.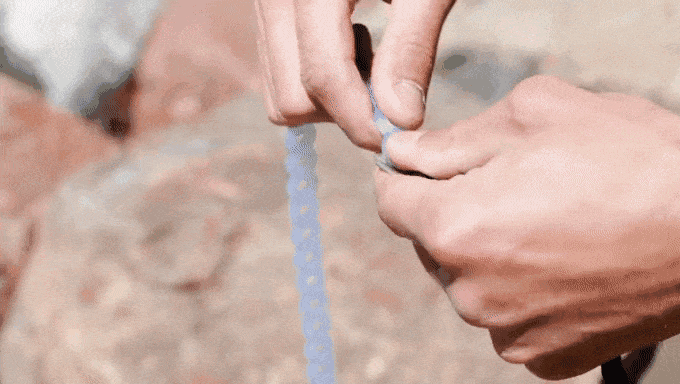 Make 'em longer, create webbing, and create something entirely new.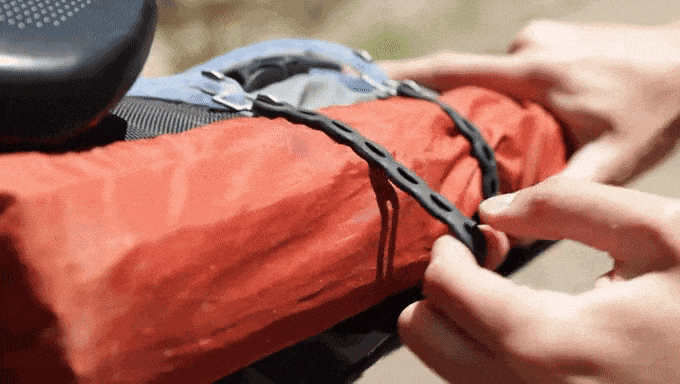 The Infinity Tool's silicone won't scratch your gear, it grips so your gear doesn't slide out, and it's stretchy enough to accommodate whatever you throw at it.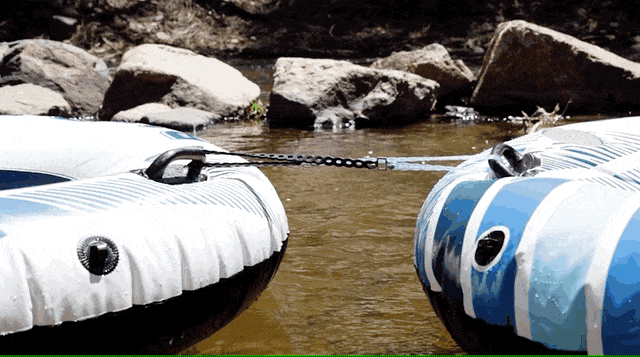 The Infinity Tool can hold up to 70lbs in a single wrap, but when you wrap it multiple times, you multiply the strength. (Ex. 3 wraps = 210lbs (70lbs*3))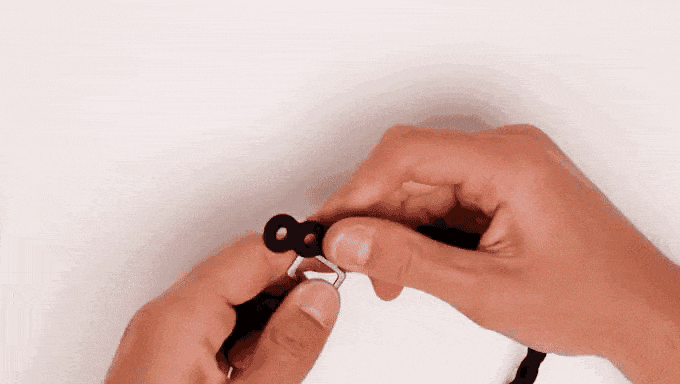 There are endless ways to explore the Infinity Tool. We're just now discovering what it can do and what we can make with it. Join the adventure!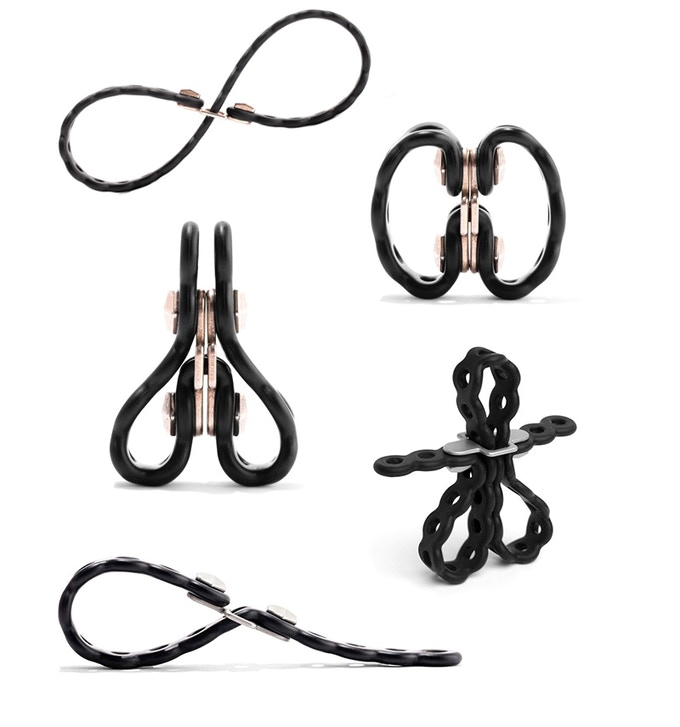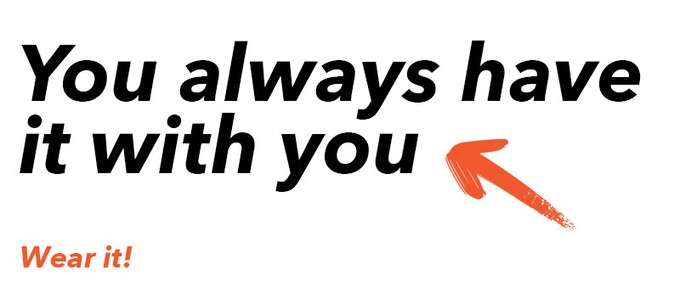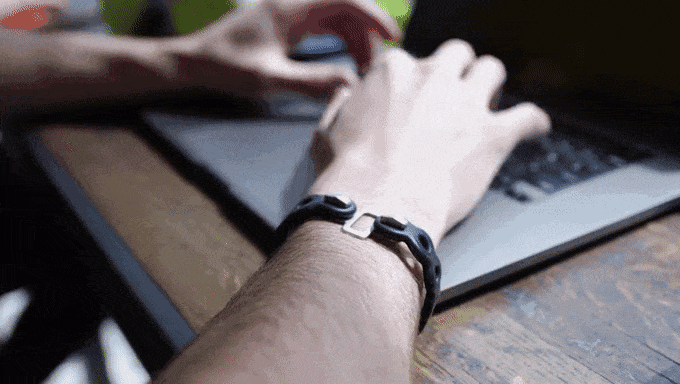 We believe the best tool is the one you have with you. The Infinity Tool is always able to be on your wrist, on your MODL, or anywhere else you choose to put it.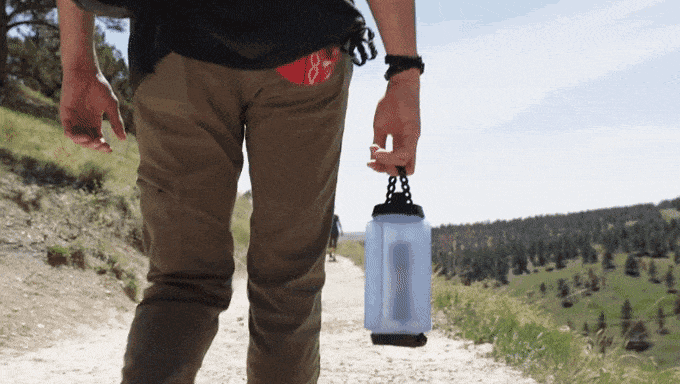 The combination of absolute functionality and design make it a no-brainer to have anywhere.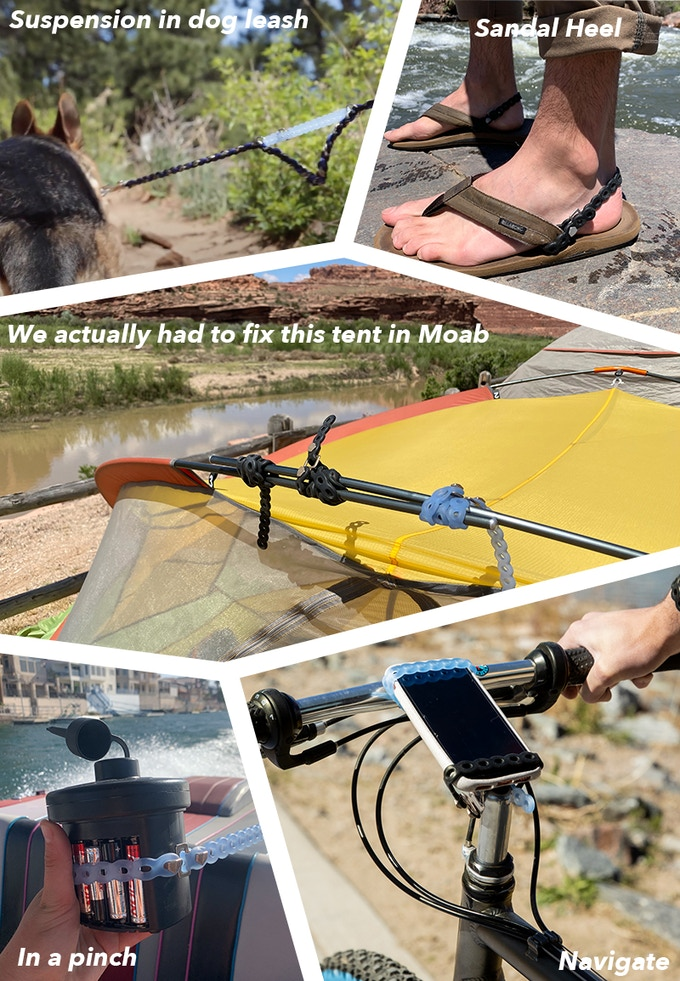 The Infinity Tool is just the beginning—it's the dawn of a whole new ecosystem for adventure tools.
We are learning new uses for the Infinity Tool every day.

 Right now we have one link – but what happens when we have hooks, other tools like bottle openers, letters to spell out a name, artist pins, and ways to mod out your Infinity Tool like never before?



The Story
Three friends, Barak, Zack, and Justin were out on a mountain adventure when they realized a totally missed opportunity when it came to their most important gear…
They had way too many bottles, bladders, and filters on their backpacking trip and none of them worked together. Not only was the gear cumbersome but all these separate products meant there was far more waste than was necessary. This is when they decided to solve this problem by creating the world's first multi-tool for water: the MODL bottle. 
 And that was just the start. 
They realized what they were building was akin to LEGO® blocks for adventure – a buildable system of adventure gear, designed to be adapted to your life and adventure. MODL and the Infinity Tool may seem like separate products, but in reality are one in the same.
MODL creates tools so that people can feel more free, more confident in taking the path less traveled. So they feel ready to step into adventure knowing they have the essential tools to be ready for anything.
We believe in the power of adventure and MODL exists to empower it.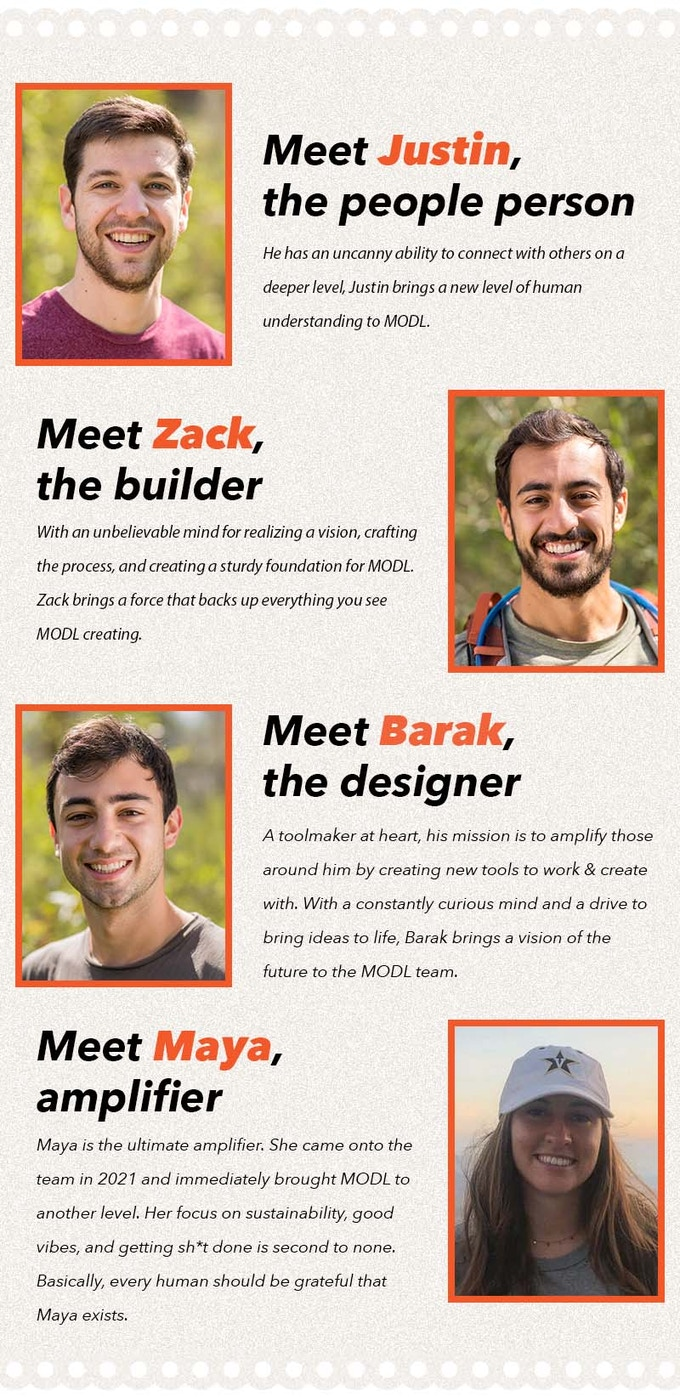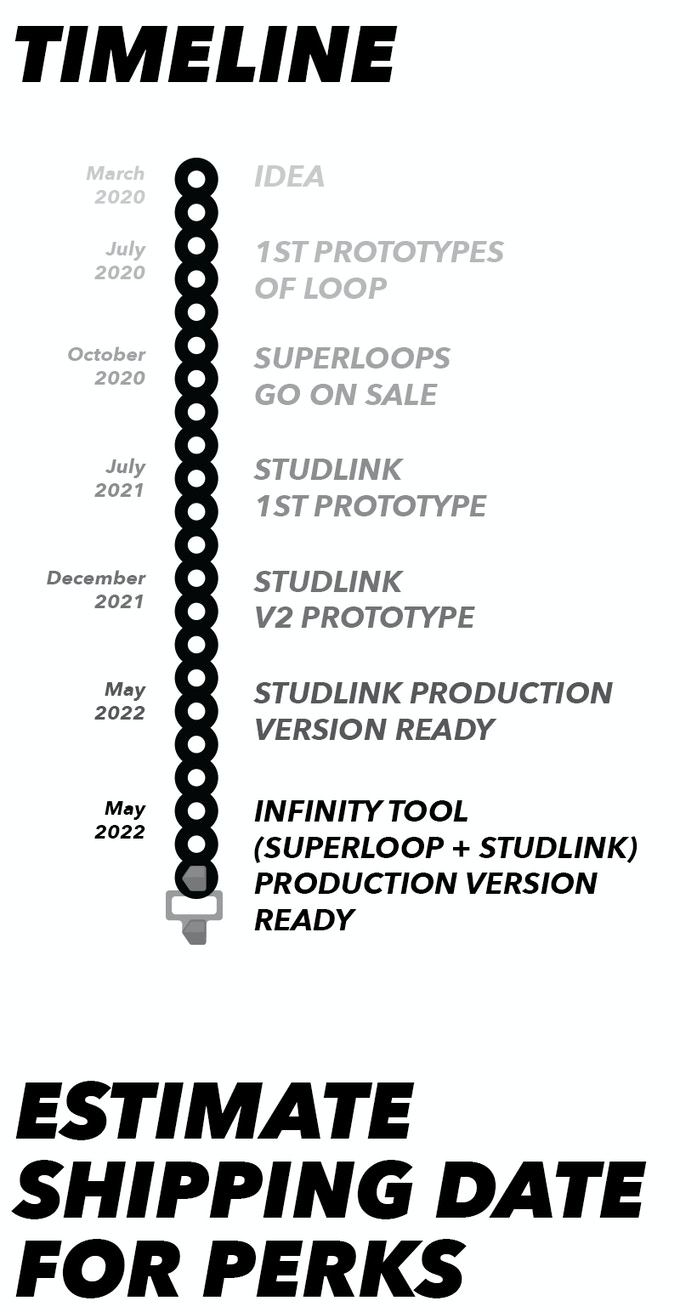 All Indiegogo pledge levels will ship out in September 2022.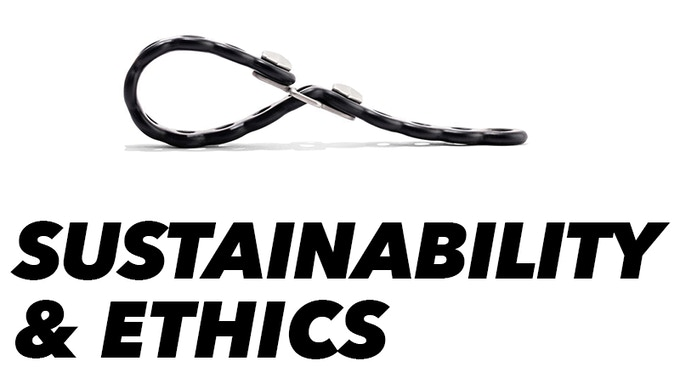 Put simply, we believe gear made to explore the outdoors, shouldn't hurt the outdoors. Protecting the natural world is at the forefront of everything we do because nature is a special place that must be open and healthy for all humans and all species.
Diving deeper, MODL is sustainable and inclusive by design – replacing lots of other gear while reducing waste and creating open-ended products that make fewer assumptions about the user. We're a member of 1% for the Planet, are Climate Neutral Certified, and are part of the Colorado Outdoor Business Alliance. That said, there is no "finish line" for sustainability & inclusivity – there will always be room for improvement and that is why you can always expect us to be striving for better in everything we do.
Warranty
We love you all. Probably too much (if that's even possible).
Talking with customers and learning from people who use MODL is hands down one of the best parts of our jobs. Our 100% customer satisfaction guarantee means we will do everything in our power to make sure you have the perfect gear, every time.
Any issues? We'll take care of you. Any ideas? We want to brainstorm with you. Feel free to reach out to us any time at hello@modloutdoors.com.