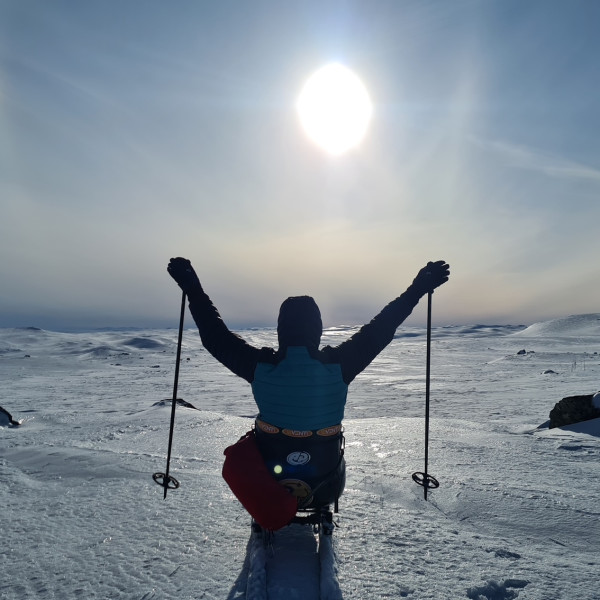 The POLE OF POSSIBILITY
$3,400
raised out of
$150,000
Overview
https://youtube.com/watch?v=677702556
Concept
A unique Antarctic project exploring 'inner gold', nature & wellness
Story
SUMMARY
WHAT IS THE 'POLE OF POSSIBILITY'?
The POLE OF POSSIBILITY (POP) is a World-First and Guinness World-record breaking journey to the South Pole in which two women explore the value of nature for physical and mental well-being. 
Together Paralympian Karen Darke and Manchester Arena bombing survivor Iona Somerville will unravel the process and mindsets that have helped them to navigate tough mental, emotional and physical challenges. Through their journey, they will demonstrate the power of nature and its critical role in keeping humans and the planet in balance and wellness. 
They will share their journey into the icy Antarctic wilds with film-maker Mike Webster who will record the expedition through a documentary film, and Professor Mike Christie of Aberystwyth University who will use the expedition as a research platform to demonstrate the impacts of climate change on the Antarctic continent and how this has wider impacts to people and nature across the world.
The Team's vision is to 'inspire through exploration'. Through this unique expedition, the POLE OF POSSIBILITY Team will demonstrate what is possible when we seek the growth in difficult challenges, and highlight how interactions with nature can keep ourselves and our planet in a state of health and wellness.
WHY? THE IMPACT
Our mission is to promote inspiration through exploration. 
Mental health, wellbeing & the 'adversity advantage'
Through Karen and Iona's personal life journeys, we will encourage people to see the opportunities in adversity, to recognise the value of nature for physical and mental well-being, and to recognise that surprising wellness benefits are possible following some of the life's toughest events. This will be done primarily through production and distribution of a film, but also via speaking, writing and media exposure.
At the age of 21, Karen had a life changing rock-climbing accident that left her paralysed from the chest down. Karen's spirit of adventure and love for nature helped her overcome adversity to become a paralympic gold medallist and to also undertake numerous expeditions including hand-cycling across the Himalayas and to climb one of the World's biggest rock walls 'El Capitan'. The POLE OF POSSIBILITY will be Karen's biggest adventure to date. Her paralysis not only create enormous physical challenges for travelling across the frozen Antarctic plateau, but the extreme cold will also have significant physiological impacts on Karen's body.
Iona grew up in a broken family in a deprived community, and despite wonderful family around her, she struggled with self-belief, confidence and vision for a positive future. The Polar Academy changed all this for her, with a positive experience of regularly being in the outdoors, physical training with a team and a clear goal. This gave Iona the resilience to mentally overcome the challenges of post-traumatic stress following her front line experience at the Manchester Arena bombing.
Both Karen and Iona have faced significant challenges in their lives, which could have broken them.  However, drawing from the inspiration of exploration they have overcome both physical and mental barriers. The POLE OF POSSIBILITY will push their minds and bodies to the next level to achieve the unachievable. 
The POLE OF POSSIBILITY will also happen to be a World and Guinness Record:, a World First for a female to sit-ski to the South Pole and a World Record for the furthest distance ever taken to the Pole by sit-ski.
Value of Nature & Climate Change Research
The two women will be accompanied by researcher Professor Mike Christie, an Environmental Economist at Aberystwyth University and a chair of the Intergovernmental Science-Policy Platform on Biodiversity and Ecosystem Services (IPBES). Mike's research explores how people interact and demonstrates how consideration of these values in policy decisions can lead to more sustainable outcomes. As part of the expedition, Mike will synthesis the latest scientific research on how climate change is impacting the Antarctic continent. This evidence will then be used to highlight what we, as individuals, can do to reduce our impacts, as well as to demonstrate how action now can significantly help avoid catastrophic effects that would impact the well-being of both current and future generations. 
During the expedition, Mike will also collect ice samples enroute to the Pole. These samples will be analysed for their microbial content. Microbes can darken the ice sheet surface, which in turn can accelerate summer melt. The data collected will better help scientists understand the impacts of climate change.
The POLE OF POSSIBILITY will also be a fully CARBON NEGATIVE expedition, with trees being planted to offset the carbon footprint.
WHO, WHEN & WHERE?
The team will depart for Antarctica in December this year, 2022. 
Karen Darke MBE: Mindset Coach, Paralympic gold-medallist, Guinness Record holder & adventurer (www.karendarke.com) is teamed up with Iona Summerville: Youth engagement lead & Polar academy graduate (www.ionasomerville.com) . They will be accompanied by Professor Mike Christie and Mike Webster, film-maker to create a documentary.
The POLE OF POSSIBILITY will begin in Antarctica at the 79th meridian west, at Union Glacier camp. 79 is the atomic number of GOLD and the team will ski across the Antarctic plateau approximately following the 79th meridian to the South Pole, a reminder of our innate ability to overcome the unexpected and find 'Inner Gold' through challenge. The journey will be around 250km covering the last two degrees. Karen being paralysed will go by sit-ski or possibly an ICE handbike, but by arm-power, and the others on regular skis.
PROJECT POSSIBILITY STORY COMPETITION
The team are running a story competition for young people to share their stories of possibility and overcoming challenges. More at https://www.karendarke.com/project-possibility/
PARTNER CHARITIES
In partnership with THE POLAR ACADEMY, QUEST 79, the SPINAL INJURIES ASSOCIATION, and CONNECT UNIVERSE, the project aims to inspire a more conscious, connected and emotional healthy world. Exploring ideas of 'Adventure Mindset', resilience and post-traumatic growth, Karen Darke and Iona Somerville will feature  in a thought-provoking documentary film being created by Mike Webster of SPIRAL OUT PICTURES. 
SPONSORS
Connection and collaboration is core to enabling and enhancing the reach and impact of the project. We have had generous support to date from the Sinequa, BBraun, Sprayway, Top Trumps, Franklin Ventures, MacDonald Partnership, Tisos, The JD Foundation, Raw Velo, Precision Hydration, Feathered Friends. The team have 50% of the financial support needed and most of the equipment. However, ….
WHAT WE NEED / HOW YOU CAN HELP
To have wider impact and to tell the story in a powerful and meaningful way, Karen and Iona need a greater team: Professor Mike Christie to help research the value of nature and disseminate this research, and Film-maker Mike Webster to create the documentary so that the story and experiences can be shared.
The team are seeking a further £125K. This is purely to cover costs of the full team getting to and being in Antarctica. 
You can make a donation here on this Indiegogo page of any amount. We appreciate your support so much and are privileged to be telling this story with your help. Thank you!
We have outlined some 'perks' that we would like to offer in return for various amounts of support. If you would like to be a major donor and prefer not to use this platform or to discuss more bespoke options, please contact Karen Darke, karen@inspireandimpact.com 
Other ways you can help
We are grateful for you being interested in our project and thank you for sharing as widely as possible, regardless of whether you are able to help support financially. 
Please use the Indiegogo share tools!
OTHER PROJECTS
The team are all accomplished and leaders in their individual fields of curiosity. See their individual  profiles for more details, or Wikipedia!
RISKS & CHALLENGES
Whilst we are heading into a risky and challenging environment, we are confident that we have a team and training experience that will take us through this exploration and story-telling journey successfully. We have completed official 'Polar Skills Training' in Norway in 2022, and continue to train both physically and mentally.
There are specific challenges related to having a Spinal Cord Injury that Karen is working on with experts, including temperature control, pressure sore prevention, bladder and bowel management etc. These are all 'details' that add interest to the story and are vital to get right in order for success. A reminder of the importance of working through detail.
Our film-maker is experienced in filming in extreme and challenging environments and also a drone operator so we are confident to gather fantastic footage and stills!
We have a strong, passionate team determined to explore and discover this incredible continent. We will be with  a registered Polar Guide for ALE (Antarctic Logistics and Expeditions) for extra safety and support.