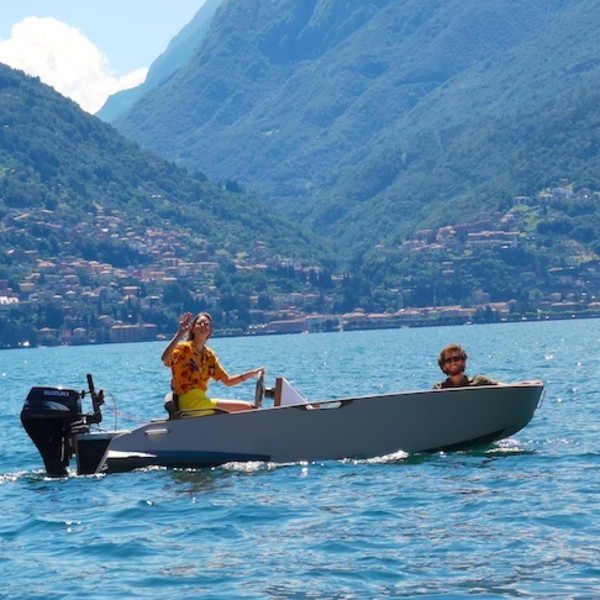 THE-ULTRALITE – Ahead of time – portable powerboat
$4,800
raised out of
$135,000
Overview
https://youtube.com/watch?v=415971425
Concept
The Ultralight-Portable catamaran – peak performer with heaps of innovative user friendly solutions
Story
EPOXY REVOLUTION – KART 388
Yes, this is the only one boat in her class to be integrally built with vacuum molded 100% epoxy/sandwich structure, carrying unsinkable sintered pvc core(zero moisture absorbtion), the same technology used in modern aircrafts fuselages construction, bringing a number of innovative and practical solutions. Perfect free time/holiday partner as well as ideal daily use marine mate, peak performing in any of your salt or fresh water activities, and, due to its transport ease, allows to explore the wild as never before, with minimum utilize budget. According to the technical breakthrough, this power catamaran exceeds the limits of known performances, reliability and robustness, bearing exclusive overall services, best sailing comfort ergonomically, driving sharpness and precision, unparalled stability and ease of use with extremely efficient – low drag design. 3D model here:  https://sketchfab.com/3d-models/e-marine-kart-f…



With its hi-module structure, cutting-edge outline and lightness, the boat can glide fast with small/power portable outboards in 5 to 20 hp range, with 4 passengers capacity in class D (waves up to 1'3″) and 1 person allowed in class C (waves up to 6'5″). The ultralight weight and functional solutions guarantee a low manteinance cost, easy handling & storage, while a great durability is promised by the sturdy 100% epoxy construction.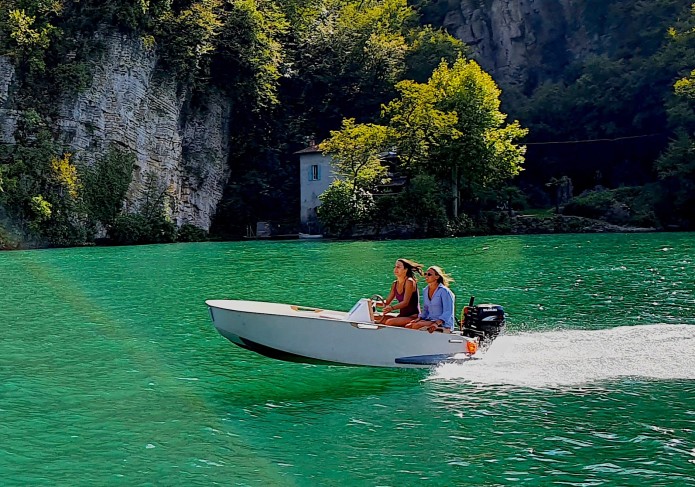 INNOVATIVE – MATCHLESS FEATURES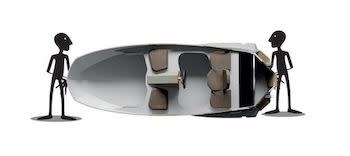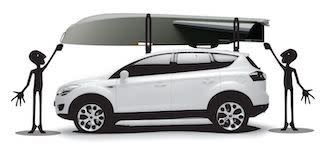 EASY TRANSPORT AND LAUNCH
1) Integrated wheels system allows to the transfer and launch of the complete boat, wheels can be rapidly engaged on/off the rear platforms, and stored in the rear compartment while sailing, very useful ashore to trolley around and equipping the outboard motor and controls before the launch. Tool free – wheel joint and release is possible through a spring system placed into the support bar.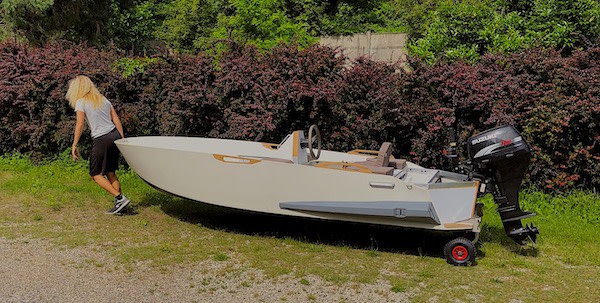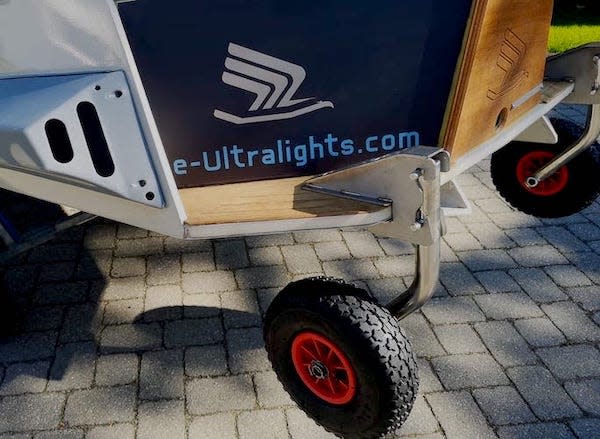 TRANSFERS – LOAD – STORAGE 
2) The drive cockpit is quickly removable, allowing the flat-capsized boat to be loaded on car's roof-rack. Cockpit + teleflex drive cable assembly can be stored anywhere, separately. Front section of the bench is reinforced by a fiberglass crossbow, in order to increase seat's strenght and granting better shock absortion to forward passengers' greater sailing comfort in rough waters. Boat can be easily stored anywhere, tipically lifted above Your car, in your garage's roof, by a 3 points pulley+rope referrals hooked to the 3 lateral boat handles(140 Lbs weight only).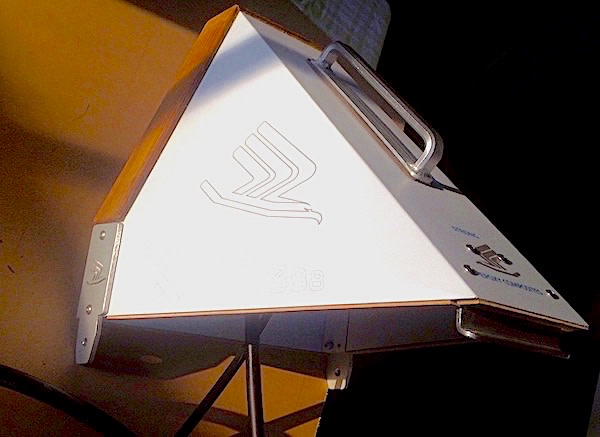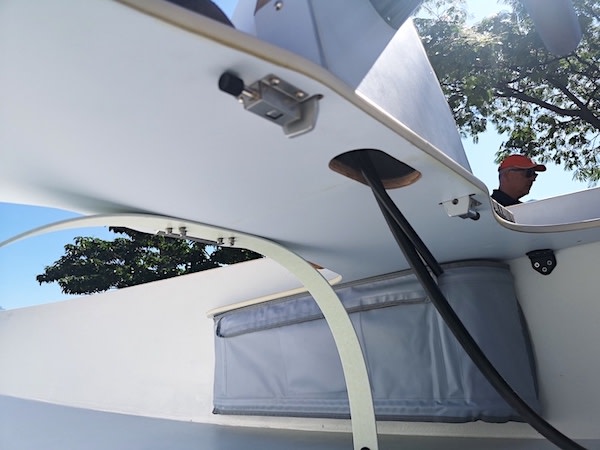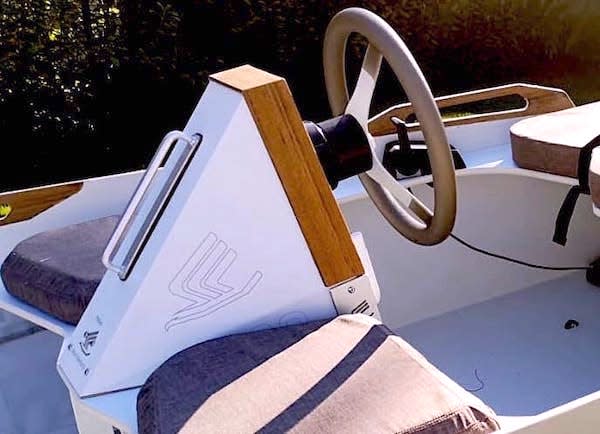 INCREDIBLE STATIONARY STABILITY
3) A peak innovation of ours consists in the hull-integrated – ballast stabilizers. The catamaran shaped hull bottom is open in the aft section and built hollow inside, it fills-up with water while floating still. The 25 gallons water intaken during stationary time greatly cut down the boat's roll in choppy sea conditions, with remarkable stability benefit. Moreover, through the 2 fore air intakes an immediate water flow out is possible abaft during acceleration speeding up the glide phase. Two extra side flaps, pricipally designed to avoid edge catching in tight turns, also work as ballast/stabilizing means during still floatation. These flaps are also useful when docking, as lateral shock guards.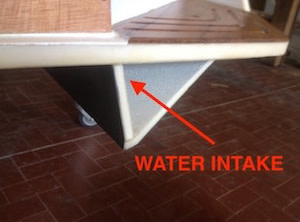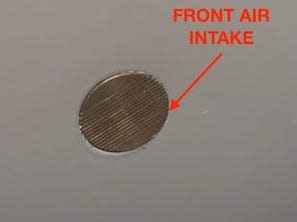 SAFE – UNSINKABLE                                                                       
4) Sailing in safety! The epoxy sandwich boat structure is unsinkable, floatation is granted even when a large size leak is in the hull. In addition a  4/cb ft=115 Lt. anti puncture, inflatable floatation bag is secured under the storage net behind the rear seat , this compartment ensures additional floatation even when boat with a heavy 120Lb/20hp motor is completely flooded, giving the ability to jump into the boat and drain it.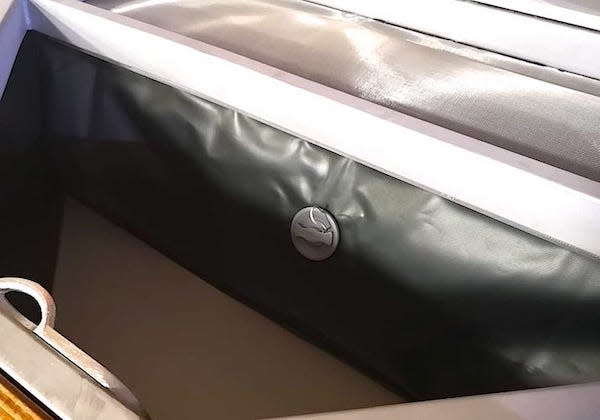 REMOTELY CONTROLLED DRAIN PLUG                                     
5) Flow-rite remote drain plug device – when embarking water in waves or under heavy rain, drain plug can be actuated by the helm located – remote switch, allowing to easily empty the boat while sailing, operating the system without moving from the drive seat position.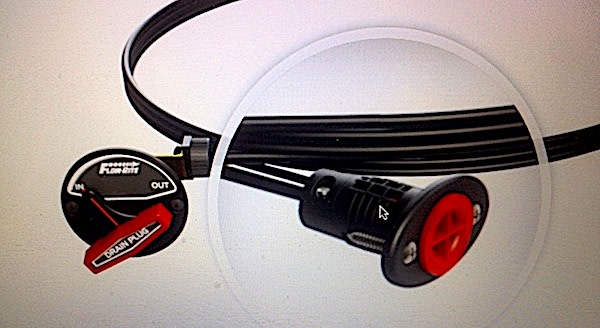 LOW DRAFT AND LOW WAKE    
6)The catamaran hull shape with its nearly flat aft portion is allowing great stability, it generates a reduced wake during sailing and very low draft feature(reaching approx. 1′ only during the plane, and few inches more while idling). Safe navigation in lagoons,rivers and overall shallow waters is granted through this peculiarity. The catamaran "center tunnel" hull, matched with an extremely low boat weight generates additional thrust-up during planing, pls. be careful whilst sailing upwind in strong wind conditions as this feature can become dangerous @ high speed!                                   
BEST SERVICE BOAT
7) Somebody do not care about light weight and small size outboard/installed power in some case, but it makes a huge difference when you sail alone, for work or pleasure, beeing easy to handle during any operation, beaching or simply carrying the boat on larger vessel, to use it as a tender. Forget about bouncing inflatable tenders, this is the best You can get.

BEST FISHERMAN'S PARTNER
8) By her extreme lightness, great trolleying and launching ease is achieved, with unsinkability and robustness features. Unbelievable stability in water during steady or idling speed situation is given by the integrated-exclusive ballast system, jointly with a low draft and easy beaching ability. 
This boat is the best "game mate" for the brisk fisherman. The front compartment can accept a fish tank up to 6′ long and 2′ wide. Pulling the boat up and down from the car's roofrack can be executed by a single person when some proper rollers are mounted on rack's bars.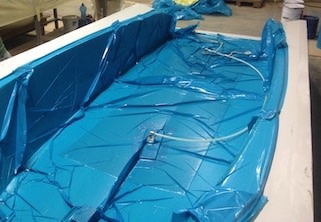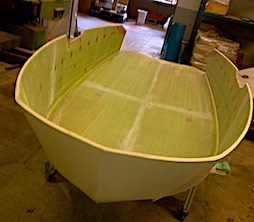 Vacum bagging and internal construction images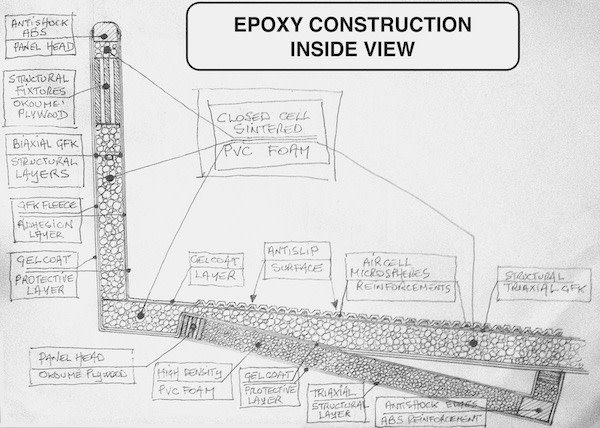 ADDITIONAL UTILITIES
8) Double gas tanks or battery packs fixtures are positioned under the front and rear bench seats, these positions can be connected along sideways by an extra belt to be used as footholds while sailing alone in bumpy, rough sea navigation conditions. The abaft cushion is designed to allow 2 side passengers or alternatively, in single guide mode, a convenient back rest positioned behind the center seat's lean can be tilted up and fixed through some flexible webbing belts. Two lateral front bags are designed to store compulsory safety items such as lifevests, telescopic paddle etc. An additional pocket organizer is located on drive cockpit, under the steering wheel shaft in order to place cell-phones, wallet, fishing items etc.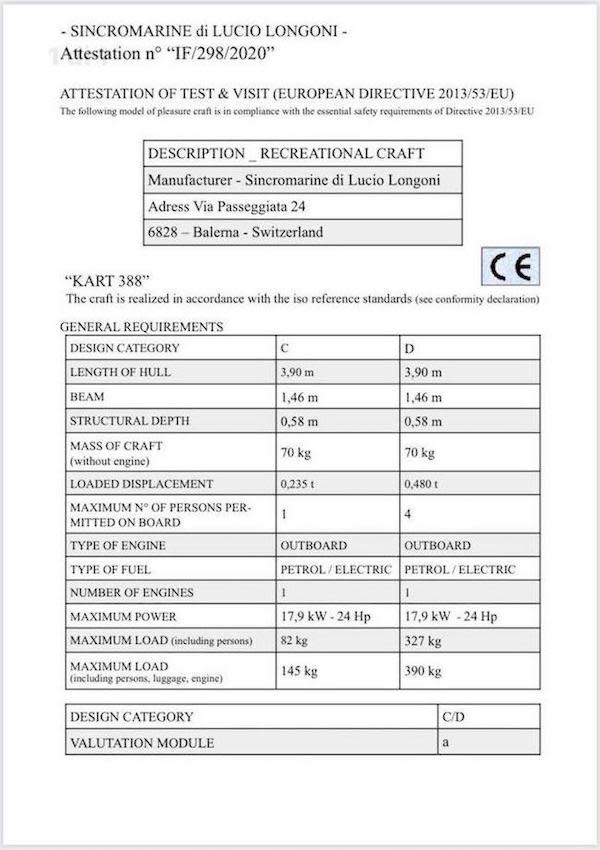 SPREADING THE FEELING
We call You to be part of the action!! We strongly believe in this tool, and North America with its huge coastal landscapes, countless marinas and inlets, and a myriad of lakes, rivers and lagoons is "the perfect place" our product to be. All leisure timers – pro's or challenging users will love this boat! The ULTRALITE with its 150 Lbs. weight and firm structure generate exciting, outstanding sensations in water. Particularly when riding alone or in a couple, the direct and responsive drive can be compared to a go-kart ride, melted with the adrenaline impact of a full throttling raceboat. Bring these performances anywhere in the wild, with simple and effortless handling operations!

THE ULTRALITE – KART 388 – The marine flyabout is ready 4 launch. The project team has concluded their prototyping development, and currently into the first 100 units serial production run. Due to COVID related – season slow down, the ability to clear the first batch may be slowed by financial challenges. Beeing located in Europe, we are taking the opportunity of this campaign to enlarge our market, with a direct producer>backer connection…wishing to keep our work team non-stop busy.  Looking to raise new backers in the North American and Carribean Islands areas, which are the largest potential  areas to have these little rockets sailing about. The boat is of course powerable in both outboard versions, thermic/gasoline engines or electric/battery. 
We are shipping the whole batch of units to Jacksonville-FL on Our charge, to save single unit/rip offs, providing the best possible overseas promo perk to our backers, scattering the seeds for a larger and faster Ultralite fleet diffusion in the continent.
The total amount to rise with this campaign is Euro 135.000 
– A 33% advanced deposit amount is requested joining the campaign.
– Balance amount to be paid at delivery
The ULTRALITE 388 unit price indicated in perks is including the shipping from Europe and storage costs, delivered ex – Jacksonville depot – FL.
The perks' amounts are ranging from a -38% to -29% off regular SRP of Euro 6.800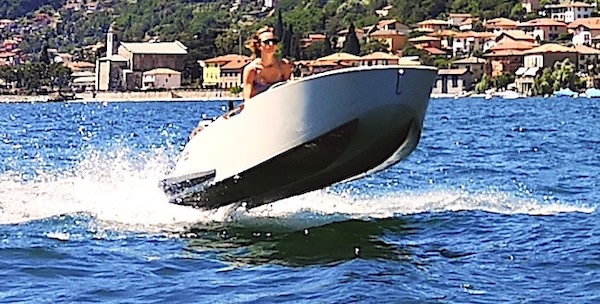 The ULTRALITE with its 150 Lbs. weight and firm structure generate exciting, outstanding sensations in water. Particularly when riding alone or in a couple, the direct and responsive drive can be compared to a go-kart ride, melted with the adrenaline impact of a full throttling raceboat. This little dinghy represents  the "state of the art" in small size marine construction. As in aereonautical field, lightness, rigidity and streamlined design makes the difference in performances and reliability, cannot be compared to any other!… 
SRP for complete boat incl. universal outboard motor remote controls kit is Euro 6.280 exw. boatyard/Milan/Italy – Euro 6.800 – delivered to door Continental Europe  
BUILDER BACKGROUND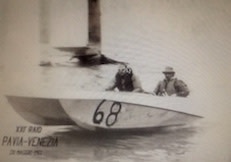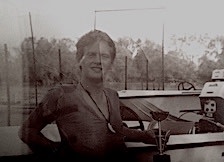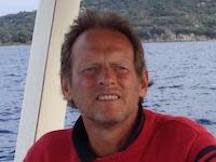 Grew in a motor-boats background as My father was a boat racer in the 60's. I had my first boat when I was 14′ and first boat racing experiences at 16′ , at 18's switched to sailboarding (immediately after into regattas and composite sailboards manufacture). In year 1981 built the first snowboard, timely following into snowboard racing and building.  
Having passion in boating, in the early 90′ I was back into marine activity, engaged in a composite motor and sailboat building company,  (MAS-Yacht) to design and realize all precision cnc/machined parts to these boats, here I had the idea and made the first prototype of a small, portable motor-boat, the Marinekart 338.
https://www.nauticafeltrinelli.it/lagodigarda/m…
The outcome was a mix of 2 diverse construction systems and tecniques, Alpine ski and racing sailboats.  The fusion of these 2 technologies delivers sturdy, vacuumed epoxy sandwich materials, featuring extreme lightness and rigidity, shock robustness and unsinkability.  www.marinekart.com