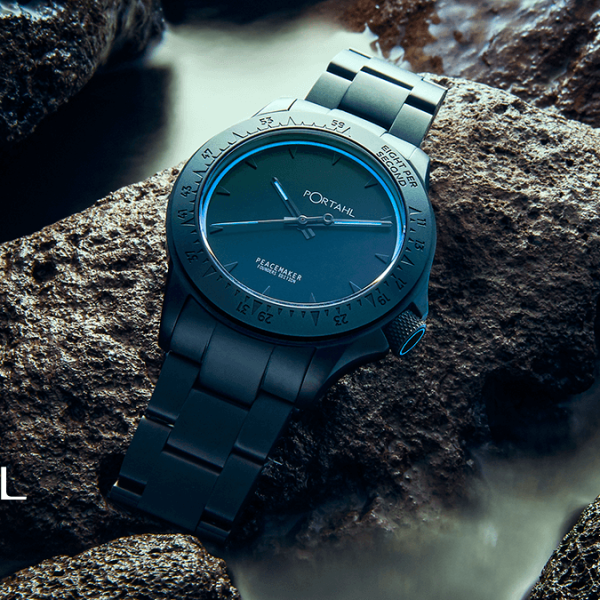 The Watch You Are Missing
$104,314
raised out of
$20,000
Concept
Rethinking Classic Watch Design | Swiss Made Movement | Black Titanium | Watch Artisan Inspired
Story

Women have their little black dress. Men will have their staple black watch, designed and engineered by pOrtahl. We at pOrtahl designed and created the watch you are missing, inspired by high-end watch customizers from around the world.
Below is a list of reasons why pOrtahl's Peacemaker is the watch you are missing:
 Made from grade 5 titanium, the metal of the Gods
 Minimalistic design inspired by watch artisans
 Matte black DLC coating
 Swiss Super-LumiNova® 
 Swiss made STP1-11 Automatic Movement 
 40 mm case & just 11 mm thick (!!)
 10 ATM (100 meters / ~330 ft) Water Resistant
 Sapphire glass 
 5 layers of anti-reflective coating on front and back glass
 Open sapphire glass caseback 
 Scratch-free ceramic bezel
 Hi-beat (8 beats per second)
 44 hours power reserve
 Fingerprint & Sweat resistant coatings
 pOrtahl's signature Lume Portals 
 2-year international warranty
 It's minimalistic 
 It's matte black
 It's awesome
This is your chance to own a 'Founders Edition' Peacemaker watch, packed with features and designed with you in mind at just a fraction of the retail price. Your reward for believing in us so early on. Bragging rights incoming!
⮟Allow us to tell you our story. ⮟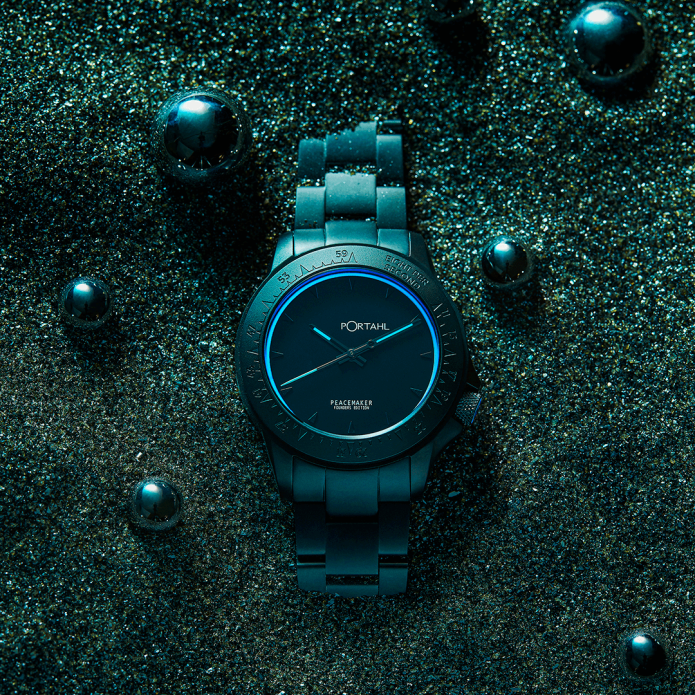 Need any help? Chat with us!?


We have for a long time been inspired by the creations of famous high-end watch customizers such as MAD Paris, Blaken and Artisans de Genève – often referred to as watch artisans. They challenge the status quo and rethink classic watch designs to fit today's design standards. A customized watch like that can easily set you back tens of thousands of dollars.
So, we decided to take matters into our own hands. We started pOrtahl to incorporate these customized watch styles popularized by the artisans into our brand DNA. We do this by making it our mission to create watches that are remarkable by their color, material and design.
After two years of blood, sweat and tears we are finally launching The Watch You Are Missing.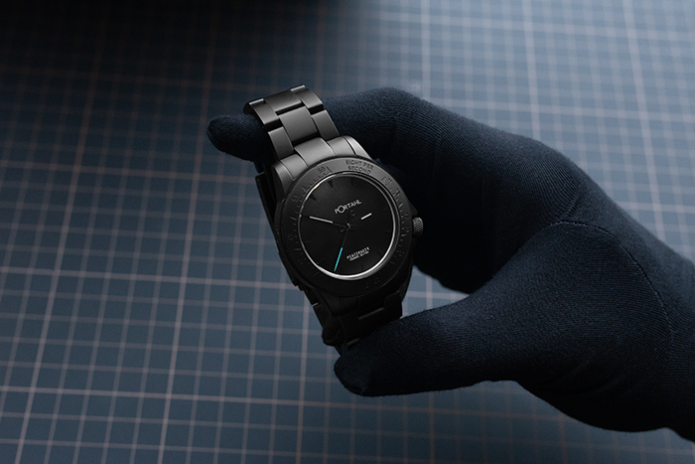 We did a ton of research in order to find and incorporate the best features for your money, with the goal of creating a mid-range everyday watch. This watch was designed by us at pOrtahl, incorporating our vision on watch design and inspired by the boldness of the artisans. We interviewed peers on their frustrations, we scoured countless of watch fora and we worked closely with our focus group of over 3,000 members on Facebook. After lots of experimenting and four different prototypes these are the features you will get when you purchase your very own pOrtahl Peacemaker.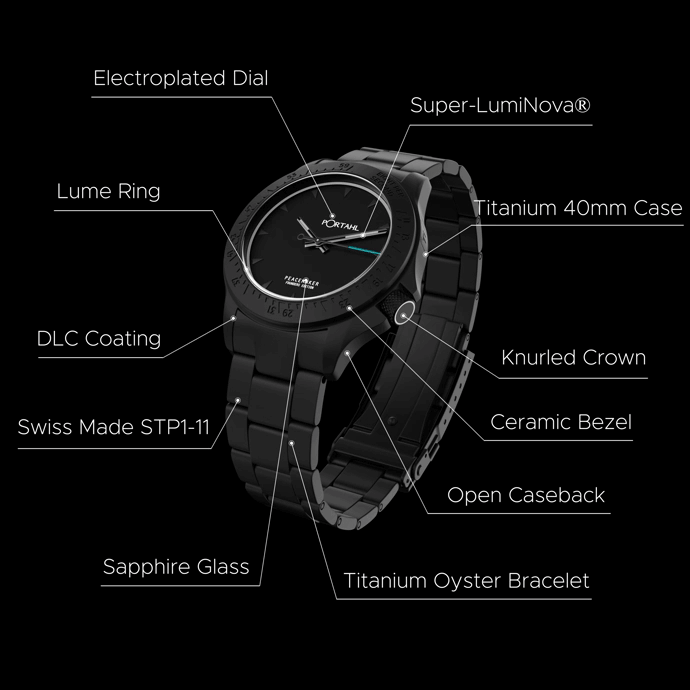 Peacemaker was forged from aerospace grade 5 titanium, also known as the metal of the Gods. It is ~5x stronger than stainless steel, at only half the weight. We optimized for the perfect weight so that the watch feels hefty in the hand, but effortless around the wrist.
Titanium offers many benefits over stainless steel, more commonly used by watch brands. Titanium is more expensive to source and harder to work than steel, however we strongly believe that the advantages of titanium are more than worth the extra cost.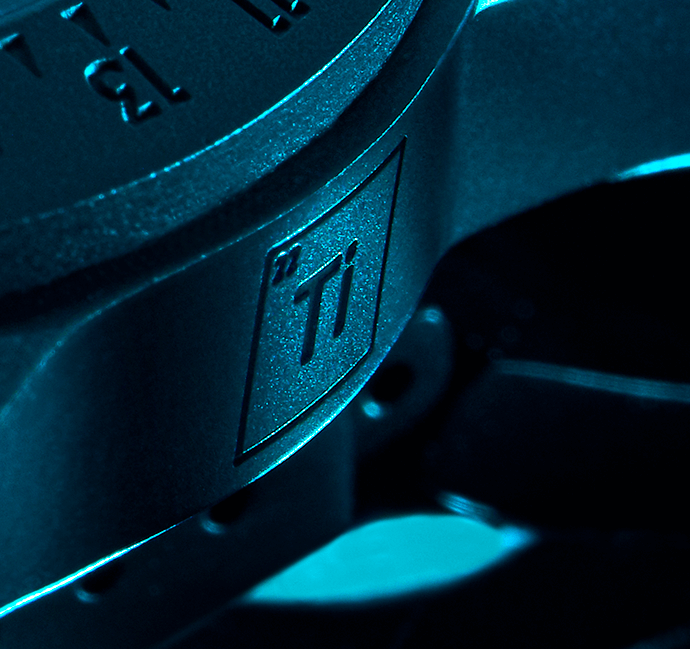 Our titanium case and bracelet are fortified with a matte black 'Diamond-Like Carbon' (DLC) surface treatment. Additionally we added a fingerprint resistant coating and a sweat resistant coating. Your watch shall remain rust and stain free and oh yeah, unlike most stainless steel watches it's anti-allergic!
We paid extra attention to the quality of our DLC surface treatment. We have tested and re-tested several coating methods in collaboration with our coating partner, to improve the quality of the coating to the highest standards.
Every link in the bracelet has been coated individually, allowing for a more even distribution of coating molecules along the surface of the bracelet.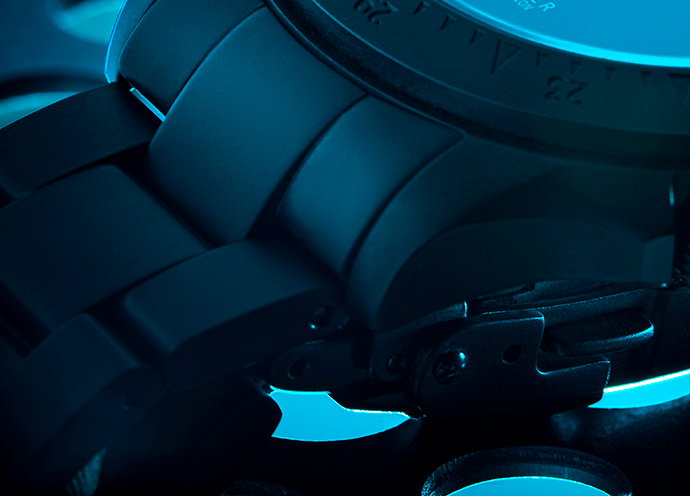 The beating heart of Peacemaker is a customized Swiss made STP 1-11 Hi-beat automatic movement. It has 26 jewels and beats at a rate of 28,800 vibrations per hour. That's 8 beats per second! With a 44 hours power reserve it's no problem to enjoy a mindful Sunday without knowing the time, only to slide it back on your wrist on Monday morning – still running.
A Little Bit About STP…
"Driven by passion, powered by innovation"
In 2006, a small group of entrepreneurs decided to develop mechanical movements and produce them in Swiss Jura. In keeping with the motto "driven by passion, powered by innovation", fascinating mechanical movements of outstanding quality were created and are produced on state-of-the-art assembly lines, some of which have been developed by STP itself. " (source: swisstp.com)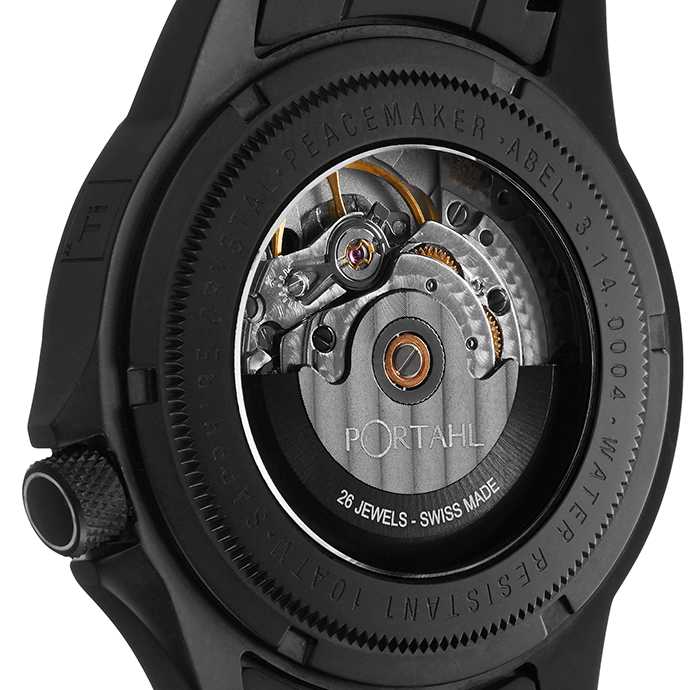 Curious to learn more about our movement manufacturing partner, Swiss Technology Production? Have a look at the video below to discover how they manufacture outstanding movements such as the STP1-11.
Let's compare our STP1-11 to the most popular movements used by microbrands today and you'll see why we chose the STP1-11 as our movement of choice for Peacemaker.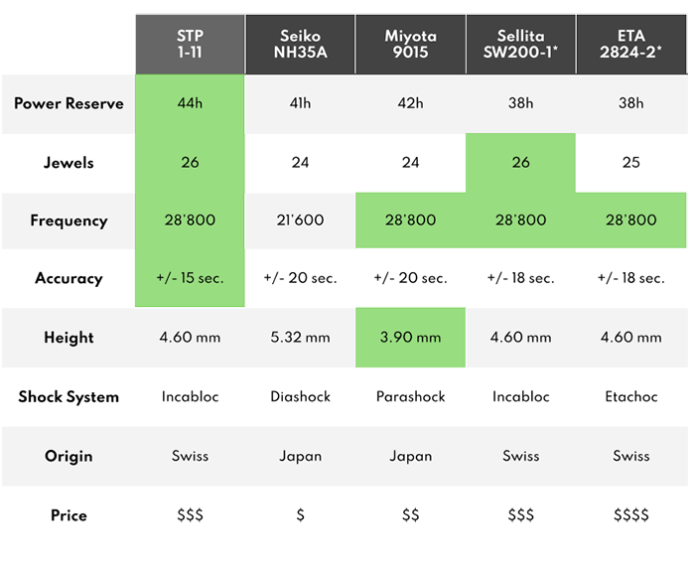 Peacemaker sports a 40 mm case – ideal for the average size men's wrist. We wanted to make this watch as slim, yet robust as possible and we did just that. Peacemaker's case is just 11 mm thick (!!), yet has 10 ATM water resistance. Engraved into the sides of the case are the pOrtahl brand name and the titanium periodic element (Ti). Peacemaker's movement is visible through the open sapphire glass caseback.
The bracelet's solid end links connect seamlessly to the case – which means no ugly gaps. We hate ugly gaps. The lugs of the case reach slightly past the second link, reducing rattle of the bracelet. The links on the oyster bracelet can be individually removed through its pin system, ensuring lasting sturdiness. No loose screws. We also hate loose screws.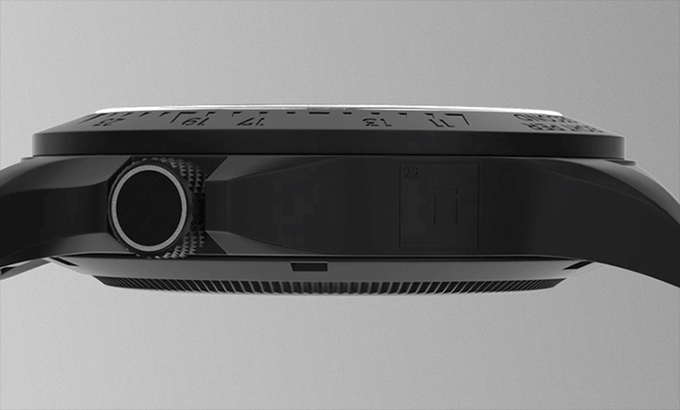 Fixed to the top of the case around the sapphire glass you'll find our scratch-free matte black ceramic bezel sporting our signature seconds engravings. The inscriptions are only showing the prime numbers on a sunburst circumference. The 'EIGHT PER SECOND' inscription is a reference to the amount of beats per second of our Swiss automatic movement.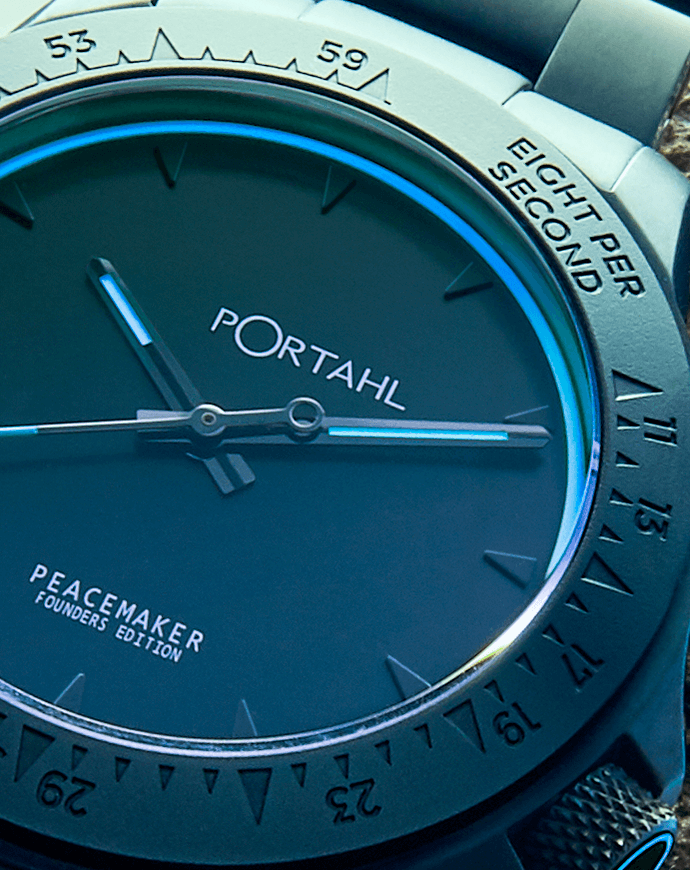 An everyday watch should be able to take a punch. Our sapphire glass on the front and back of the case offers the very best clarity and scratch resistance your money can buy. We applied not one, not two, but five layers of anti-reflective coating to the inside of the glass, ensuring an unblemished view of the passing of time.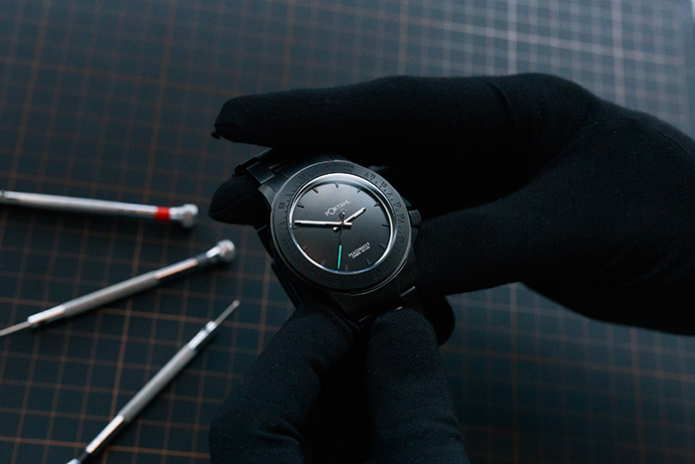 Our DLC coated milled solid steel clasp is your security against sleight of hand thieves, who are sure to want a pOrtahl of their own. But they won't get yours. We did hours of research to find the right balance between security and ease. This fold over, double push-button clasp with safety makes for a two-step removal, giving thieves a hard time trying to steal your pOrtahl. The clasp provides 6 micro-adjustment holes for the perfect fit.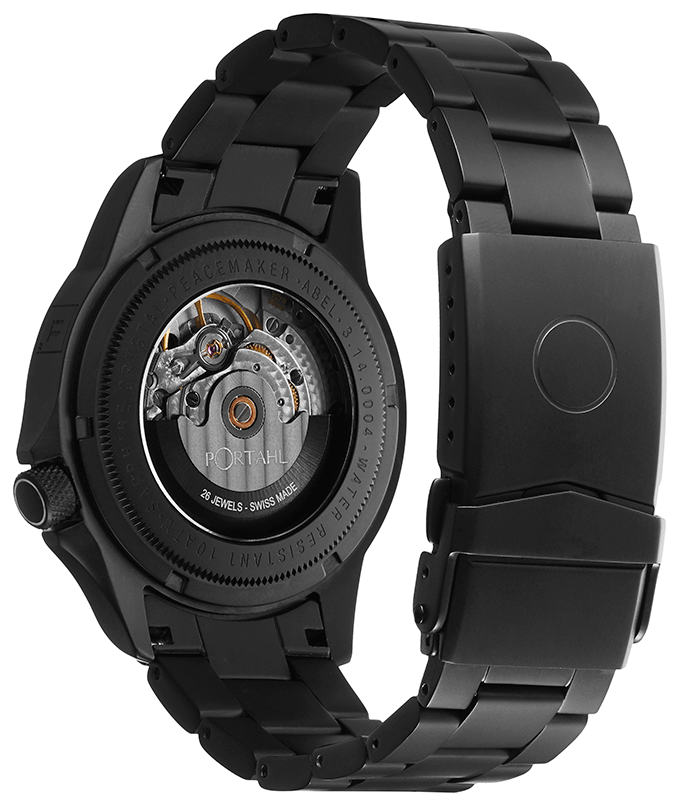 Every King needs a crown and on the Peacemaker it's located off-center at the 4-hour position. This makes for increased visibility of the pOrtahl ring on the face of the crown when holding a glass of wine or a beer. The lume portal on the crown will illuminate at night catching the eyes of passersby. The perfect conversation starter.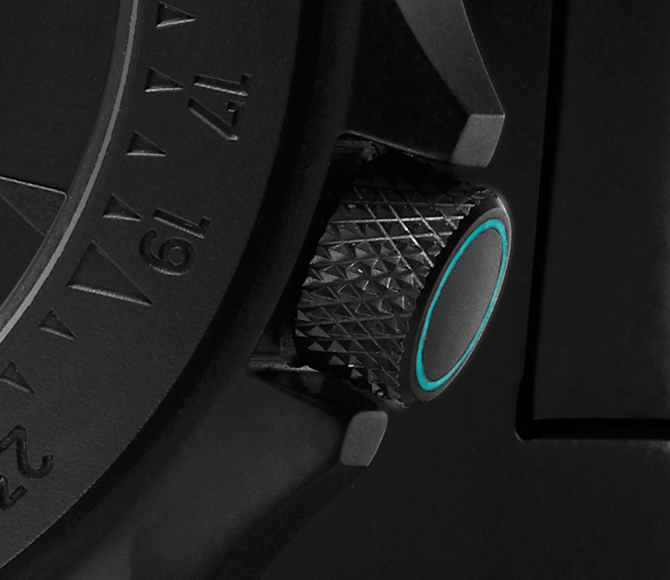 The Peacemaker's electroplated black dial provides a minimal, yet mesmerizing aesthetic. In the top half of the dial you will find our brand name, with the '◯', representing the (soon to be) iconic pOrtahl logo at the center line.
In the bottom half you can find the name of the watch –  'PEACEMAKER'. Underneath is the proof that you were here first and are part of the pOrtahl Founders Collective. Exclusively for crowdfunding backers we added a 'FOUNDERS EDITION' inscription.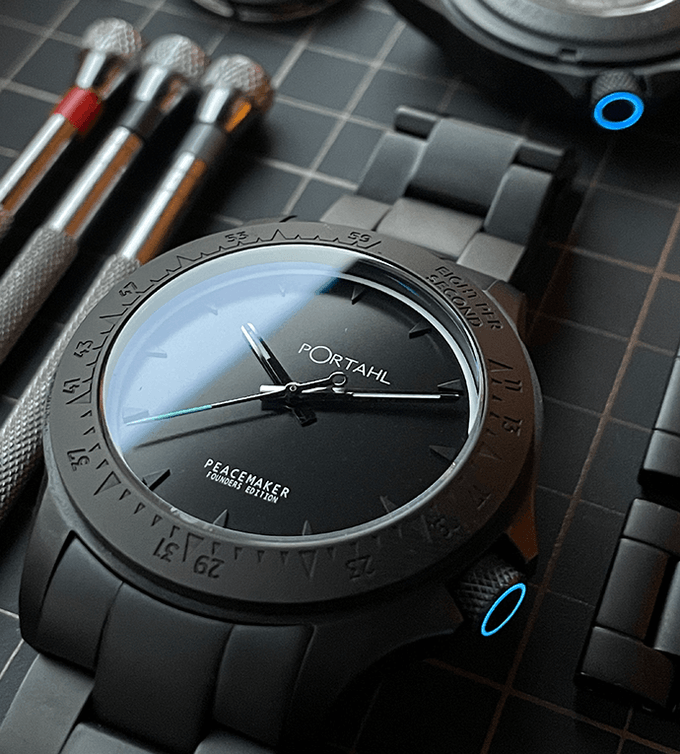 The Hours and Minutes Hands
Our polished gunmetal hour and minute hands tell the time on the Peacemaker. The hour and minute hands were inspired by both the Rolex Daytona and Zenith El Primero. The hands are injected with 5 layers of bright blue BGW9 Super-LumiNova®, allowing you to tell time in the dark.
The Seconds Hand
Our customly designed seconds hand sports our signature counterweight on the back and the pOrtahl blue tip. It's designed to nearly reach the edge of the dial where it draws its perfect circles along the border of the dial.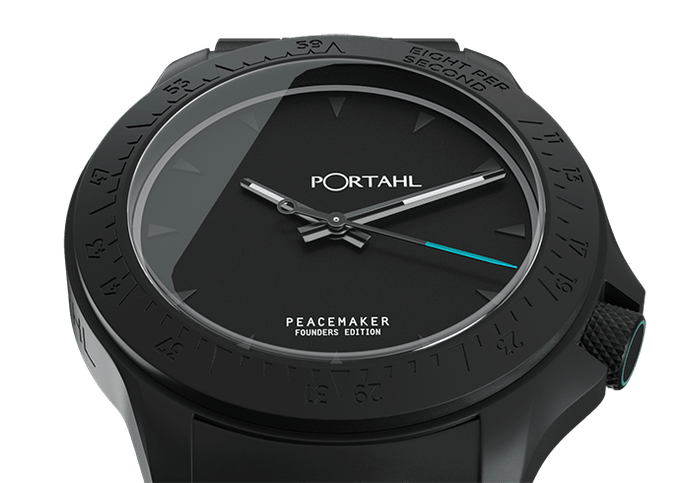 During the day Peacemaker is designed to be modestly minimalistic, but at night…  At night the watch comes alive as our signature lume portals light up in the dark. These lume portals, powered by Swiss Super-LumiNova® are featured around the dial and on the crown.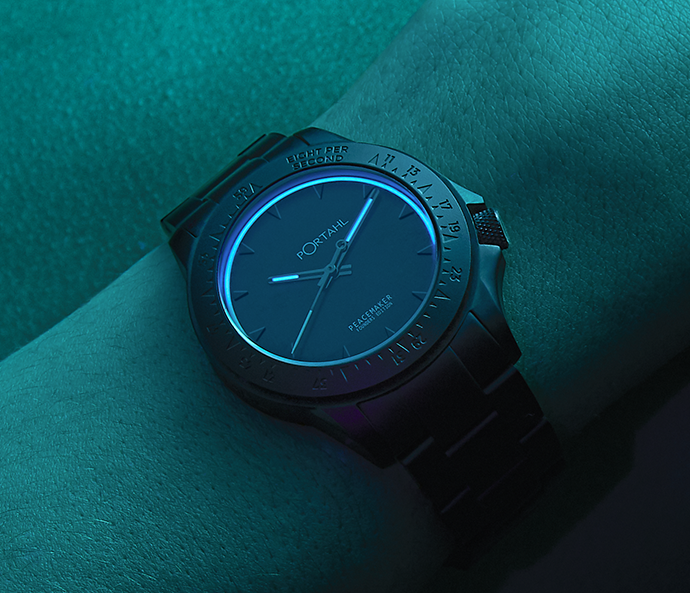 We were aiming for the perfect size for everyday wear. Not too big, as slim as possible and effortless around the wrist. We believe this is it.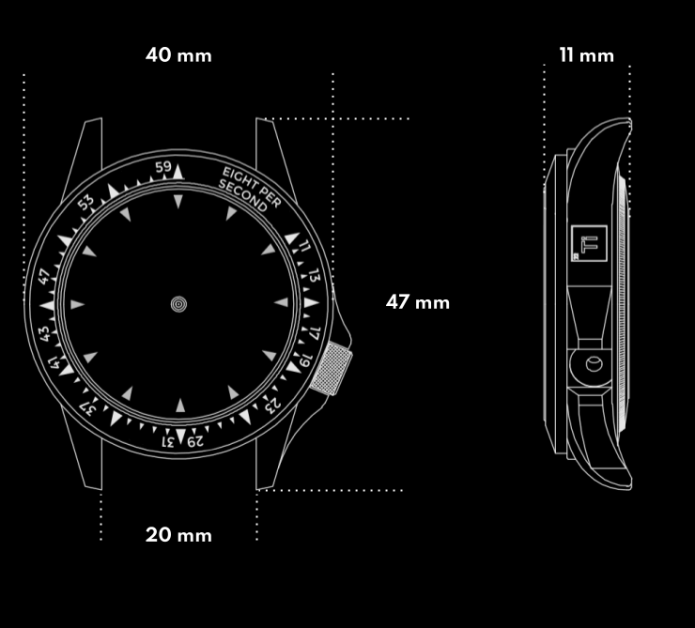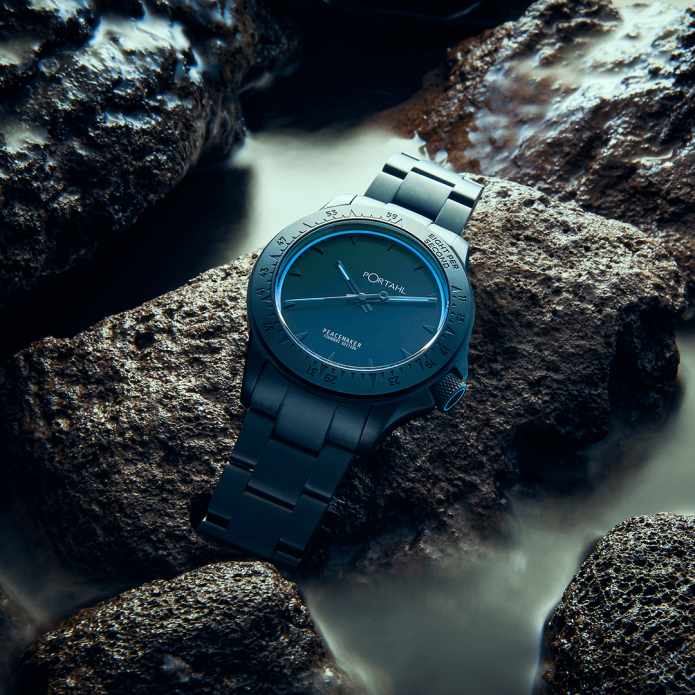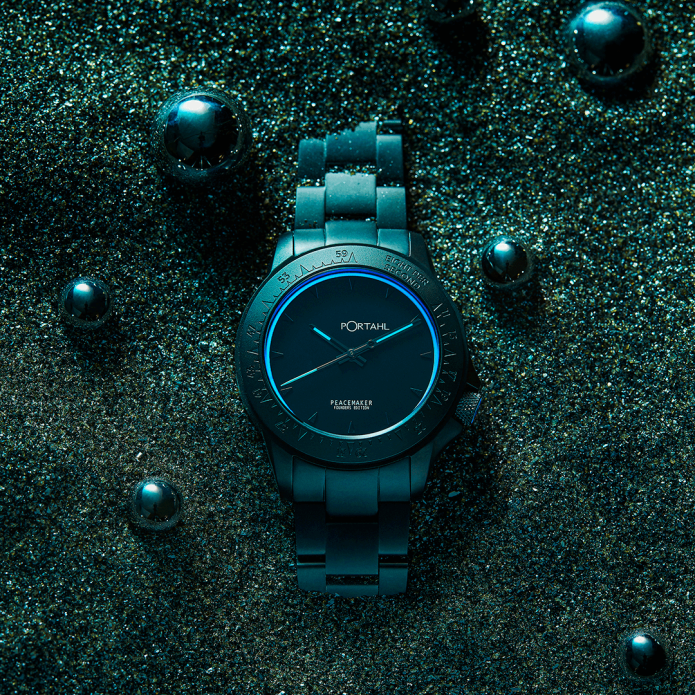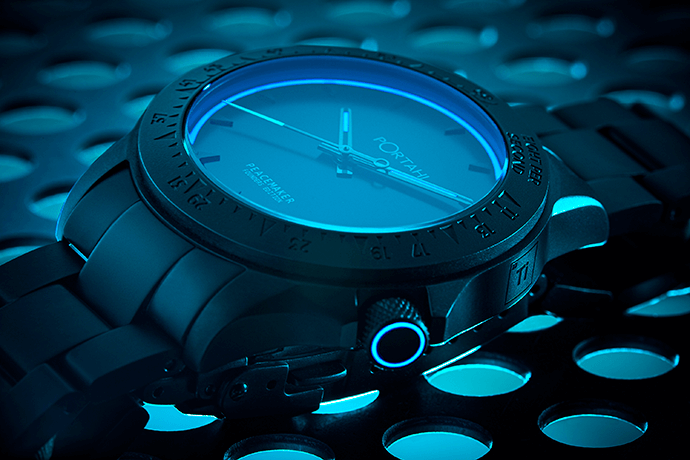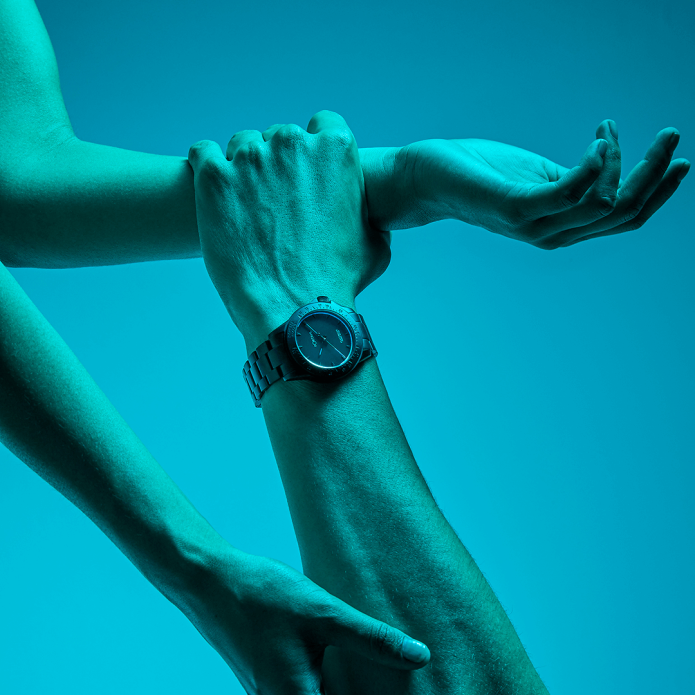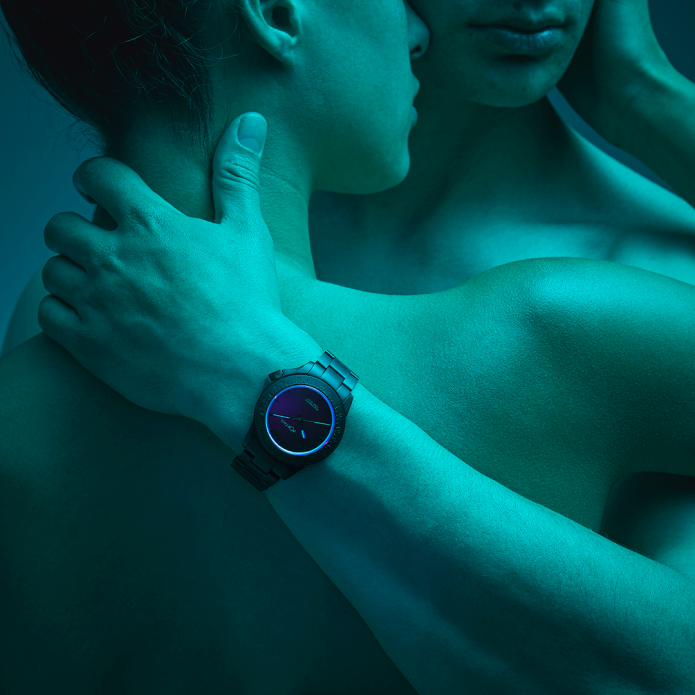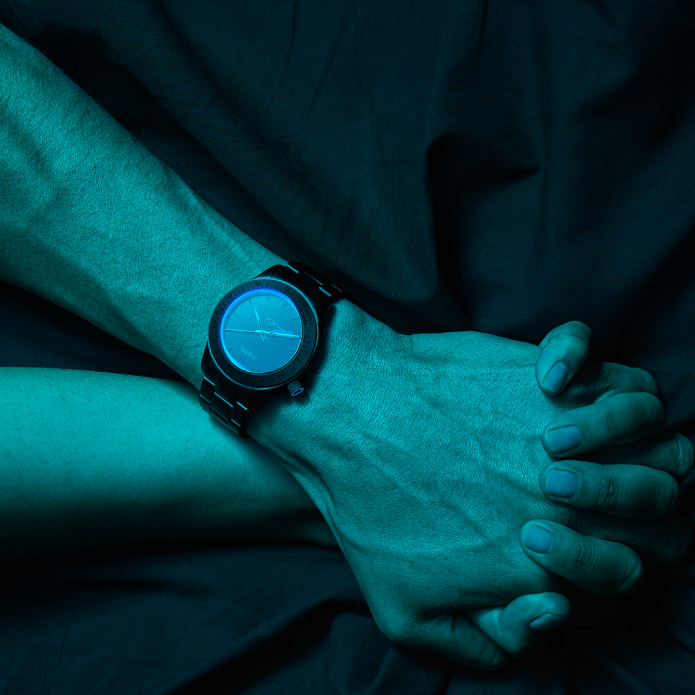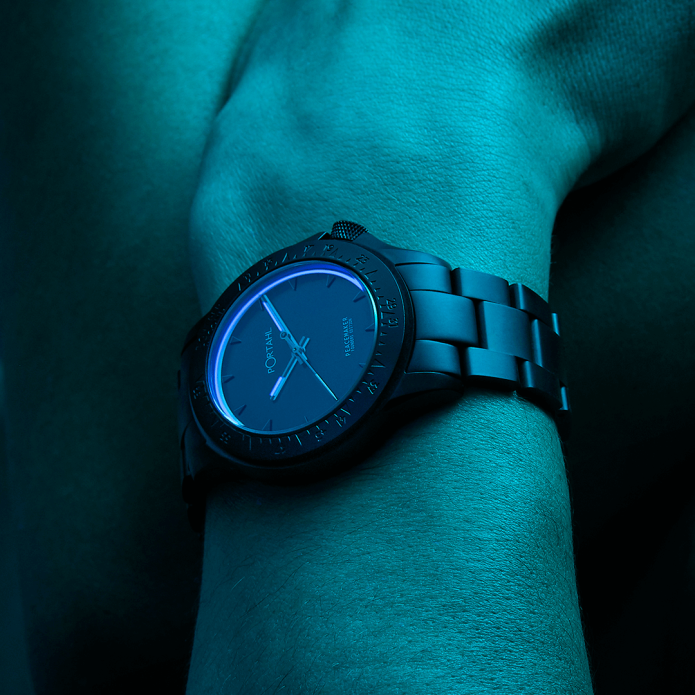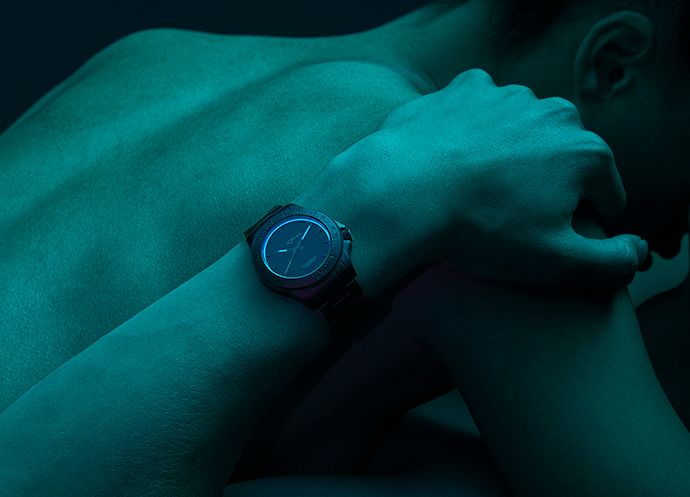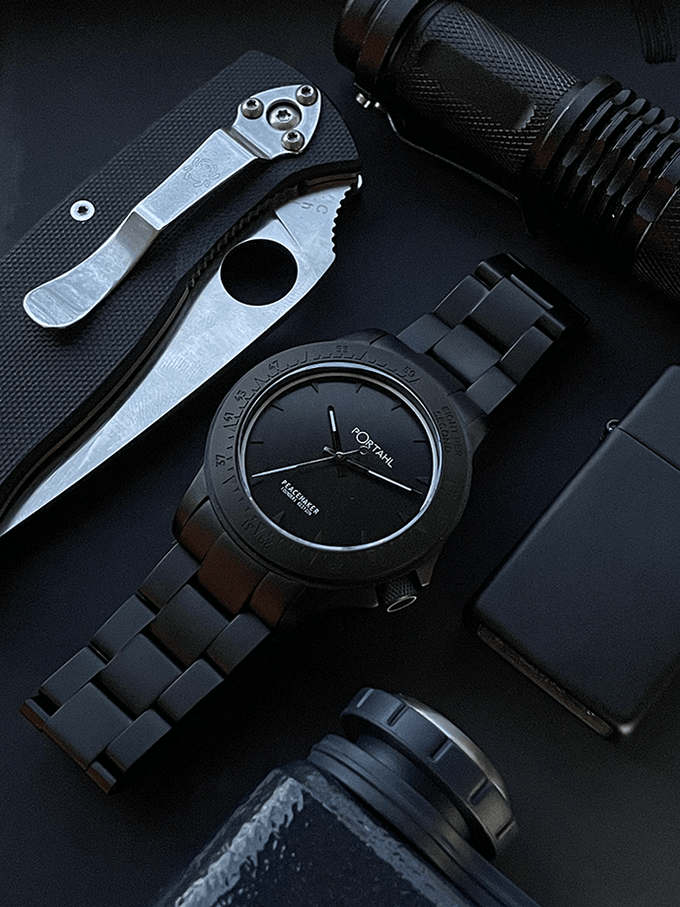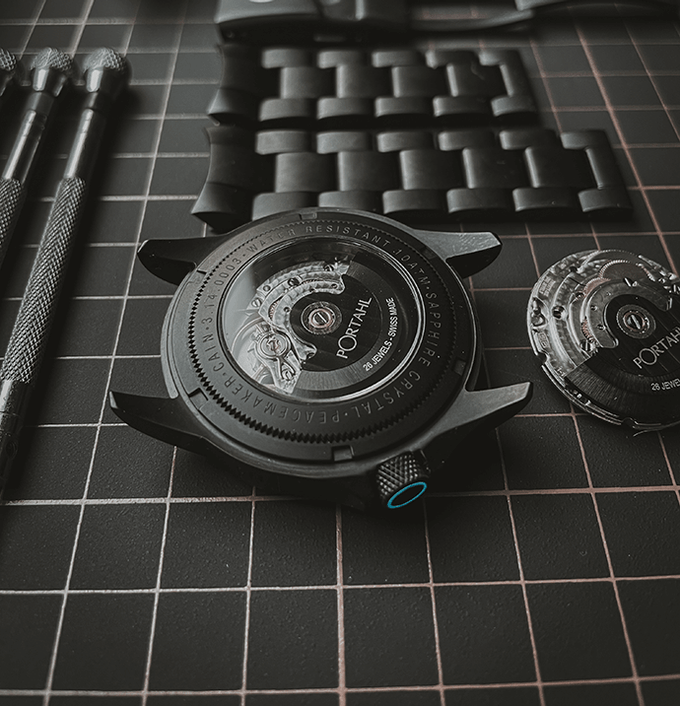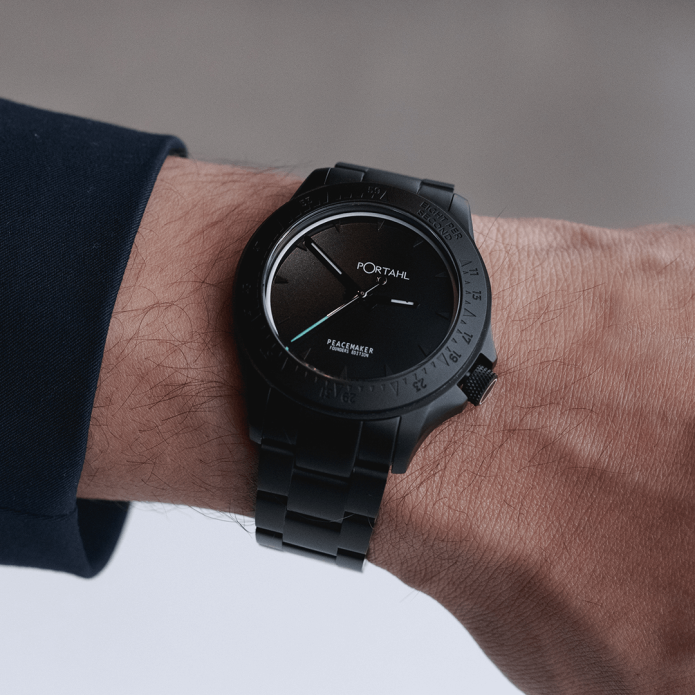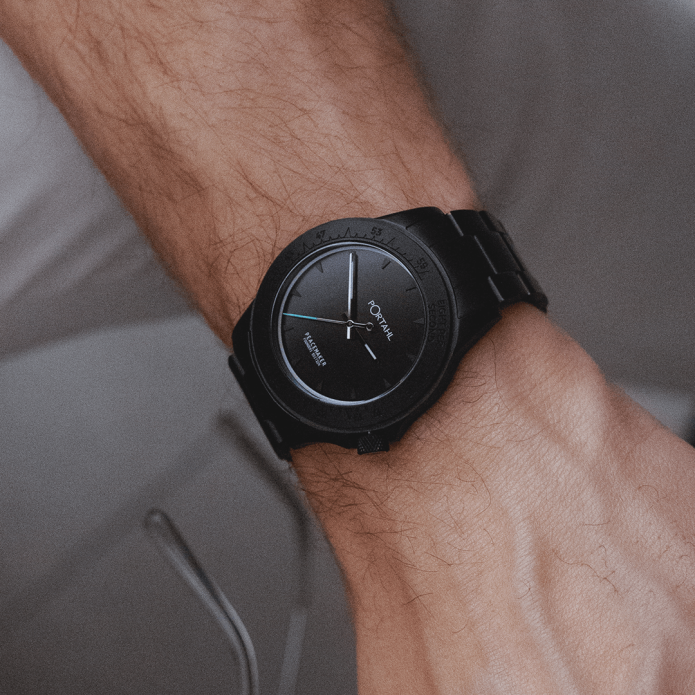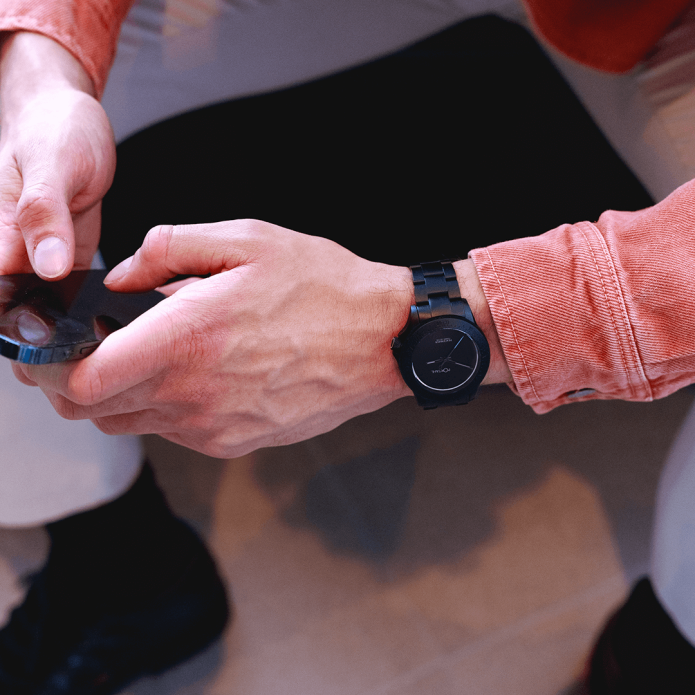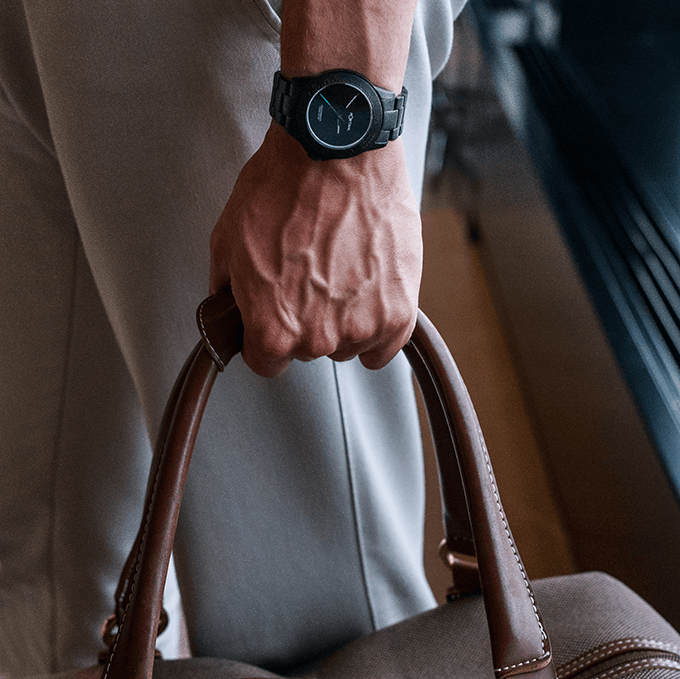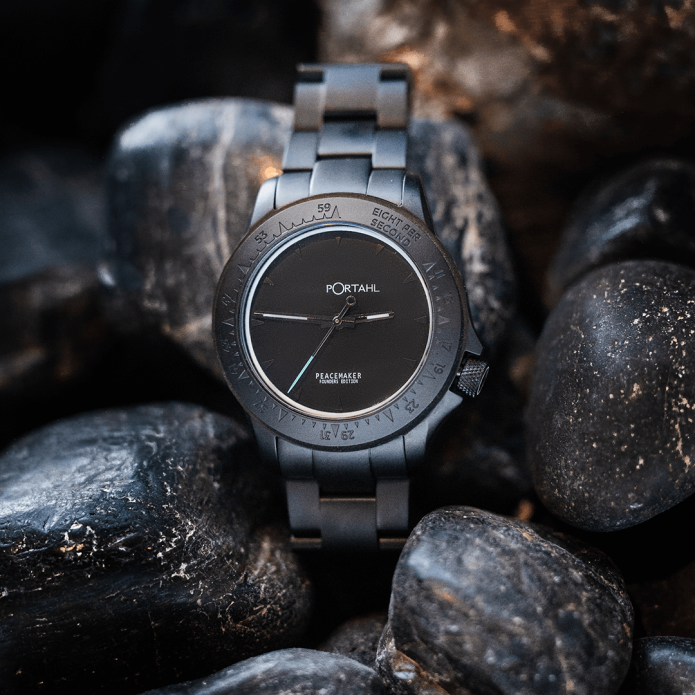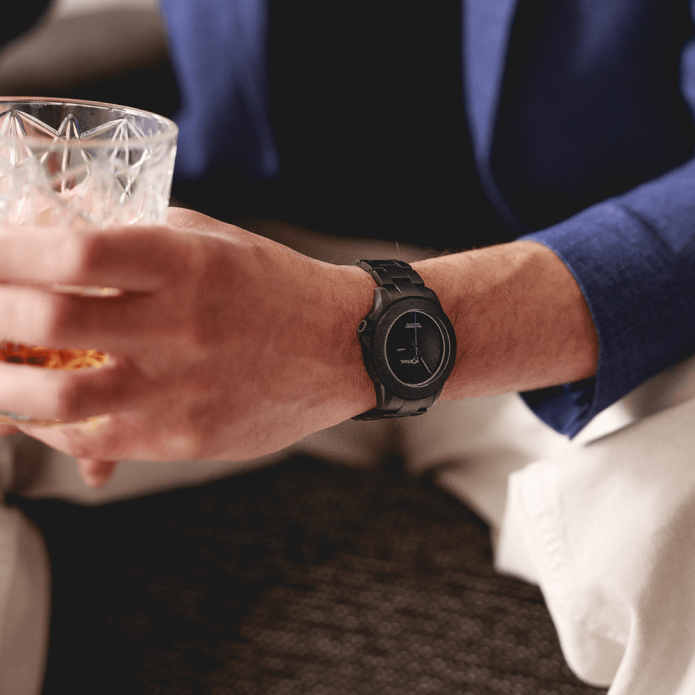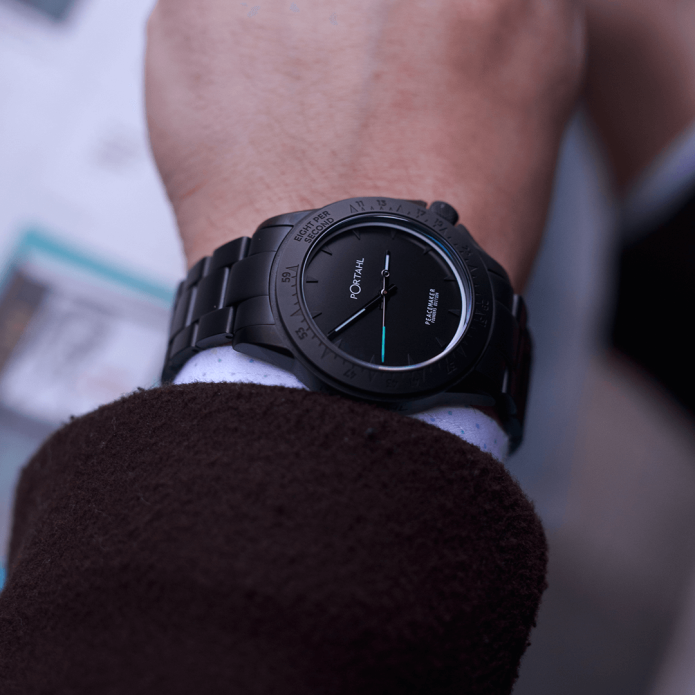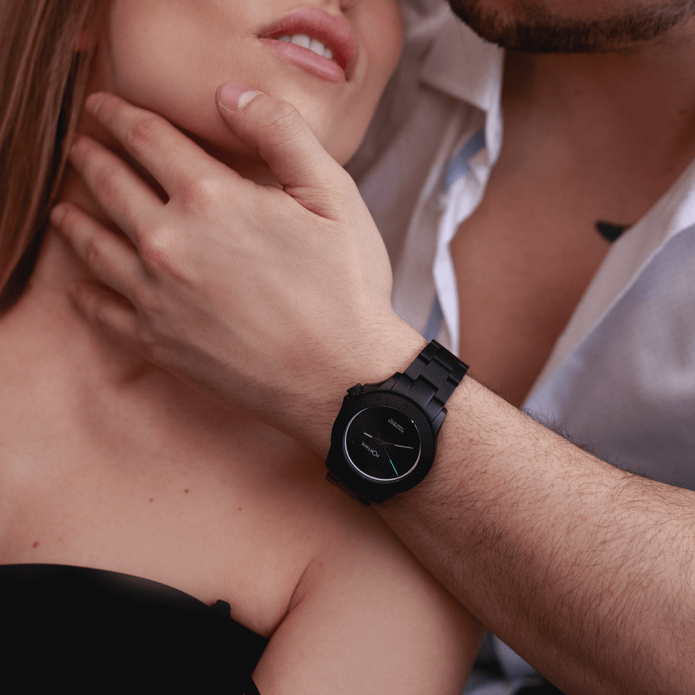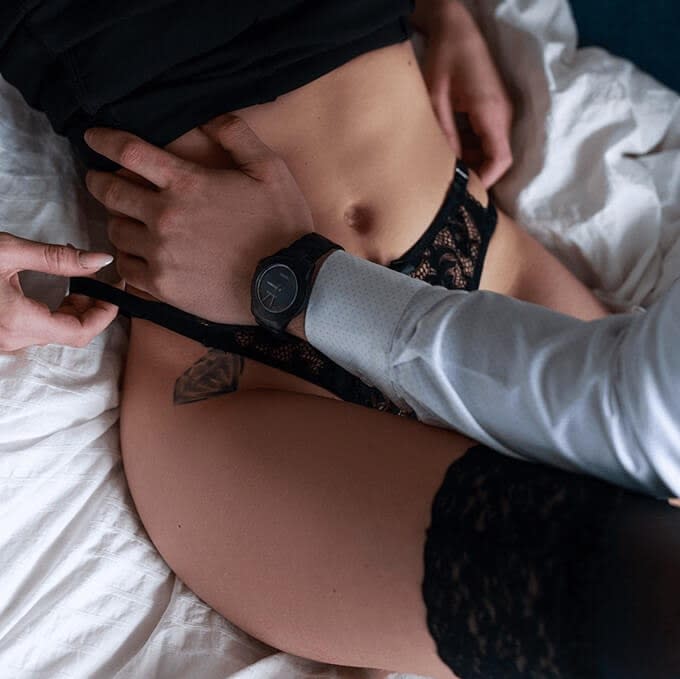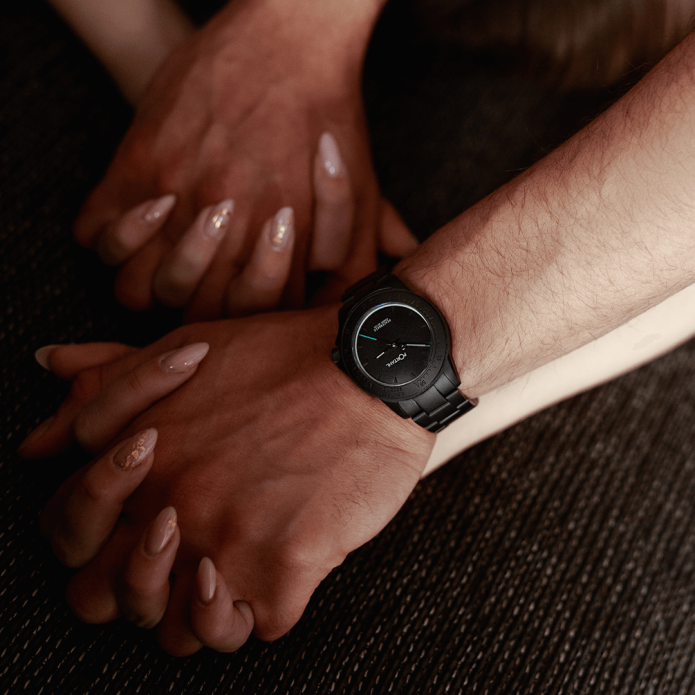 We have designed pOrtahl's Peacemaker from scratch and in this chapter we want to share our vision on watch design with you. We'll explain the reason behind some of the choices we've made so that you may better understand what makes Peacemaker so special.
At pOrtahl we have 5 design goals that make up our design ethos for any watch that we are ever going to create.
Something you choose every day – Our watches are tempting to put on every single morning.
A conversation piece – Our watches are conversation starters and we'll give you a story to tell.
Lasting lifetimes – Our watches are engineered to last and to be passed on from father to son.
The best possible experience – Our watches are designed with you in mind.
Making every time telling occasion special – Our watches invoke the same feeling of excitement as when you saw your pOrtahl for the first time – every single time you look at your watch.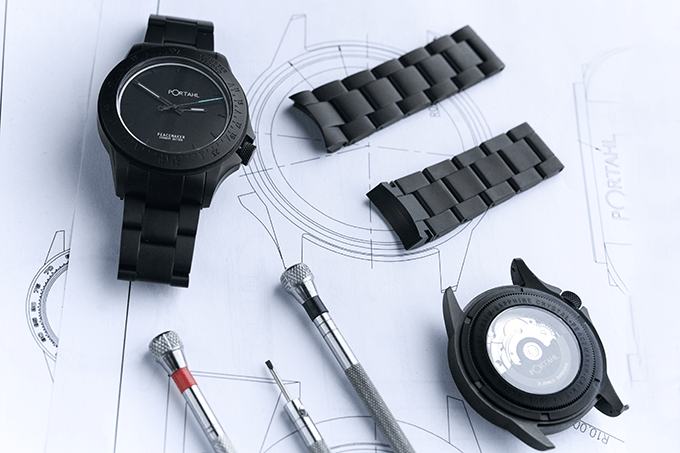 Surface Treatments (DLC)
One of the things we are most proud to bring to you is our matte black DLC (diamond-like carbon) coating, a best in class surface treatment. This coating provides some damage control and makes sure that your pOrtahl is able to take a punch. This provides  some extra peace of mind.
Feedback from our focus group pointed out that black DLC coatings can vary in quality and durability, which is why we decided to test several methods of surface treatments. We created a coating process that coats every link individually, allowing for a better and more even distribution of the coating molecules along the surface of the bracelet, hence a more durable coating.
'Men's Staple Black Watch'
Why did we choose black? Women have their little black dress. Men will have their staple black watch, designed and engineered by pOrtahl. Peacemaker is a unique addition to every watch collection and at the same time it is also the perfect everyday watch for the one-watch-guy. A black watch just goes well with anything you wear.
Another reason we chose black is the paradox of choice. Successful people such as Steve Jobs, Elon Musk and Barack Obama are known for wearing the same outfit every day. This is mainly to limit the number of choices they have to make and to save their brain capacity for more important decisions throughout the day. Your matte black pOrtahl Peacemaker will always be a good option.
Minimalism
We firmly believe a watch is no longer worn for its primary function – i.e. telling time. It is worn to make a statement. That's exactly what we were going for with many of our design choices. A statement. You'll notice that the indices we designed have a minimalistic aesthetic. They disappear and appear depending on how the light catches the dial. Combined with our custom seconds bezel inscriptions they are more than enough for getting a quick glimpse of the time.
Super slim
Slimness has been a persistent trend in modern product design. Slim phones, slim laptops and many other products that we use daily take up as little space as possible in our lives. We wanted to make our watch as slim as we possibly could so that it easily slides through sleeves and doesn't look or feel clunky on the wrist like many other watches do.
To create a watch this thin (11 mm) there are a couple of choices we have made to make it all possible.
The movement. A movement for the large part decides how thin the case can possibly be. Our Swiss made STP1-11 offers the perfect balance between the features and quality we want to offer you and its sexy slimness.
The glass. We chose flat sapphire glass on both the front and back of the watch.
The bezel. We chose a non-rotational bezel as rotational bezels significantly increase the thickness of a watch.
Water resistance. 10 ATM water resistance again gave us the perfect balance between slimness and the right features we want to offer. More than 10 ATM is just unnecessary for most people. Casual swimming with a 10 ATM watch is perfectly fine and let's face it, how many of us are really scuba diving with our favorite watch? Yeah, that's what we thought.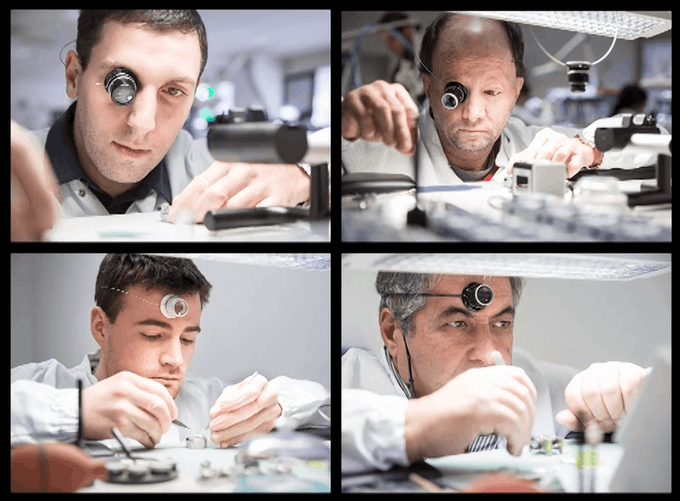 Getting rid of tiny frustrations
We tried to get rid of all of our little frustrations that both we and our friends have had wearing various types of watches over the years.
Off-center crown. We put the crown off-center on the 4-hour position so as to prevent it from poking into your hand too much when bending your wrists (for instance when you play sports). This also prevents the watch from getting stuck behind things.
Extended lugs. Some watches have watch bands with too much sideways mobility in between the links of the bracelet, making the watch feel cheap and flimsy. We have extended the lugs on the Peacemaker slightly past the gap between the end link and the second link. This prevents the bracelet from "rattling" too much and provides a more sturdy and high quality feel.
Knurled pattern. The pattern on the side of the crown is knurled allowing for more grip when pulling it out, setting the time or hand winding the movement. There is nothing more frustrating than trying to get your freshly cut fingernail under the crown of a watch to pull it out.
Pins over screws. We have experienced this ourselves and clearly, we are not alone. Watch fora are full of complaints about screws in bracelets loosening over time. Pins may be a little harder to replace, but they add lots of longevity to your bracelet.
Safety
Thieves will always want what you have. But even if it isn't stolen, losing something you love is one of the worst feelings one can have. That's why we added a fold over, double push-button clasp, with safety – which makes for a two-step removal – providing some extra security around the wrist.
After reading horror stories from people losing their watch because they didn't tighten a loose screw in time, we found yet another reason for pins over screws.
Additionally, we chose not to add a quick release spring as this too creates a single point of weakness for either theft or loss of your watch.
These are all decisions we've made to ensure your watch stays around your wrist.

Doing things differently (instead of creating another silver diver)
We love product design and are always looking for ways to improve on current design standards. That's why, instead of creating yet another silver diver, we wanted to create something different. Something inspired by the bespoke watch artisans that go against the grain.
The '◯'. Most brand names, like regular names, are written with a capital letter at the beginning of the word. In our case, however, pOrtahl is written with a lowercase 'p' and an uppercase 'O'. The '◯' is the very core of our brand DNA. It represents the portal through which you escape from the often immense pressure of modern day life on every time-telling occasion. The '◯' is therefore what we want to emphasize in our brand name. It is incorporated into the design in many ways.
The off-center logo. It may take some getting used to, but it was a conscious design choice to have the '◯' at the centerline of the dial, putting the rest of the brand name off-center to again emphasize our brand identity.
Lume portals. Although the Peacemaker may be humbly minimalistic during the day, it comes alive at night thanks to the different Swiss Super-LumiNova® lume portals lighting up around the dial and on the crown. This will soon be a way to recognize who is one of us, even in the absence of light.
Packaging
We started out sketching and designing metal and lacquer high-end watch boxes for our watches. During this design process, we gathered feedback from our focus group on Facebook on this idea. When we told them what we were working on, however (to our surprise) most people in our group recommended us not to go for a metal or wooden box since they would just throw it out anyway. It seems most people will not save watch boxes (or any boxes for that matter). It was recommended to us that we'd go for a hard paper box as this can still provide a very high quality experience, yet at the same time, it reduces our carbon footprint and it is much easier to recycle. That's how we pivoted to luxury hard paper boxes for our packaging.

pOrtahl offers a 2-year international warranty on our Peacemaker watch, meaning we will repair or replace your Peacemaker watch within 2 years of delivery if it suffers any mechanical, manufacturing or assembly defects. This warranty does not cover damages resulting from misuse, or any cosmetic damage such as scratches or marks to the finish, which under the conditions of the warranty constitute regular wear and tear. Opening of the caseback outside of an authorized repair will render the warranty null and void. In the unlikely event that your Peacemaker suffers from a mechanical defect, please contact us immediately and we will offer you a fitting solution.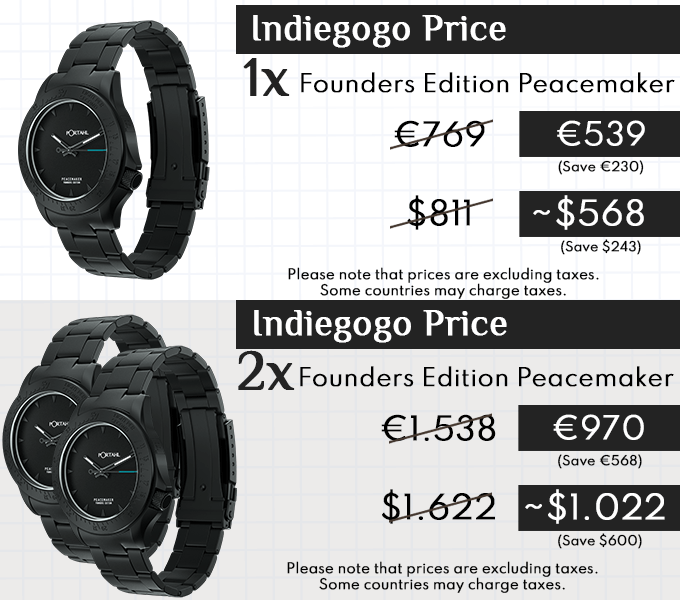 Our campaign is designed to deliver
As you may know, many Indiegogo projects offer their backers tons of design options to customize their products, creating not just a paradox of choice for the backer, but also a lot of logistic complexity to the project. After all, all variants have to be manufactured according to order and shipped out to the right person.
After analyzing tons of projects and meticulously going through their comment sections to learn from their mistakes it became clear to us that almost every project that offered customization would not deliver on time or too often delivered the wrong goods.
At pOrtahl we are focused on our promise to deliver. We have worked tirelessly for the past two years to bring you the watch you are missing and we firmly believe that this is it. No customization needed. We aim to deliver your watch on time, to your doorstep, as promised.

Here's a timeline of some of the milestones we have achieved leading up to our launch. It's been an amazing journey and we are so grateful to finally launch our watch on Indiegogo. There is much more to come for pOrtahl!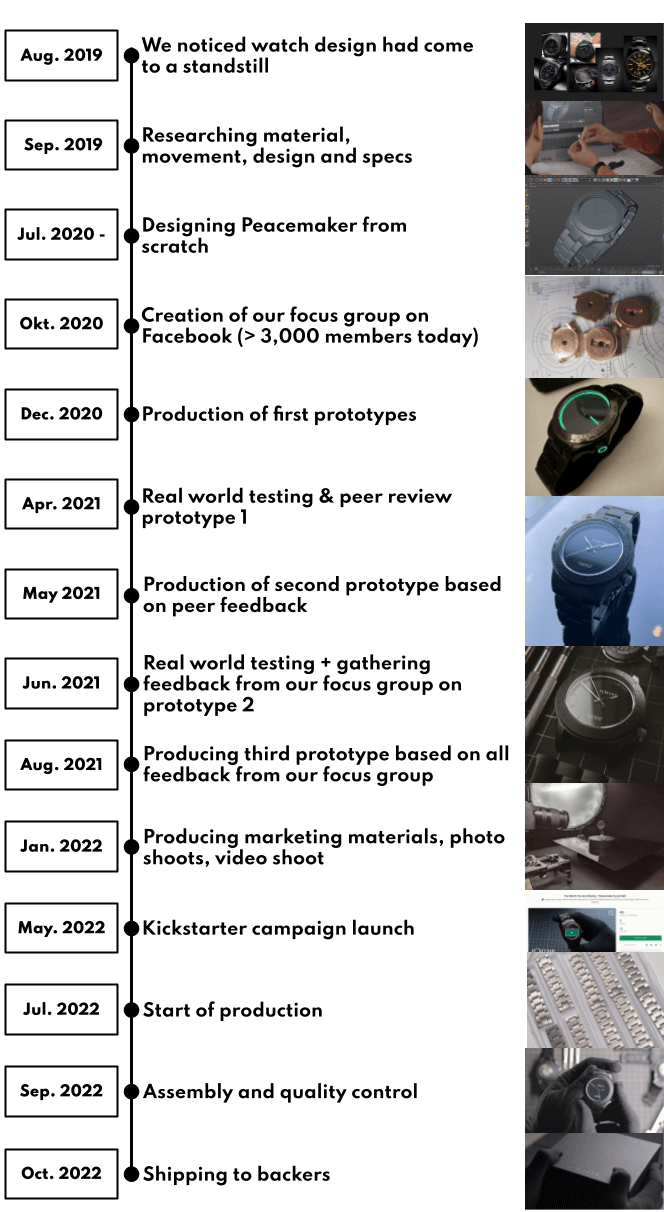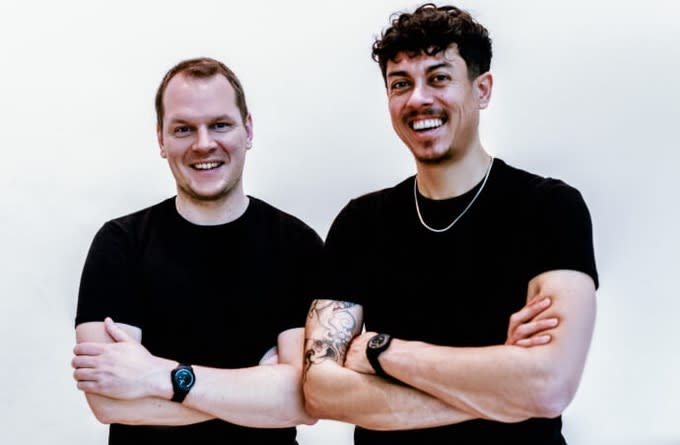 My name is Alain (on the right) and I co-founded pOrtahl together with Jordi (on the left). We met when Jordi became my supervisor, back when I was doing an internship at a marketing agency in 2015. We became best friends over our shared love for product design and we started working together shortly after finishing my internship. We have been talking about creating a watch together ever since we met, but we finally started working on it right before the pandemic hit.
For the past two years we have been working on 'The Watch We Were Missing'. Now, after many setbacks, successes, obstacles, victories, coffees, beers and tweaks we are extremely proud to show you what has since become 'The Watch You Are Missing'! This is Peacemaker. It's been an incredible journey and we are so, so close to making this dream a reality. We need your help to do it.
If you like the watch and you're curious to see us release more watches like it, please back our project today and help us kickstart pOrtahl to be the next big thing in the watch industry. Thank you!
Hopefully yours,
Alain from pOrtahl.
Reach out to us!
Follow us, like us or reach out to us on any of the channels below for a chat.
Website: https://pOrtahl.com
Email: hello@portahl.com
Chat: Click here to message us on Facebook!
Facebook: https://facebook.com/pOrtahl/
Instagram: https://instagram.com/pOrtahlglobal/
Risks and challenges
We have set October 2022 as the delivery date. We are well-placed to meet this date thanks to our first-class manufacturing partners and incorporation of a one-month buffer. The production of a watch is a highly complex process that involves many parties working together. As with all complex projects, there can be unavoidable failures or delays – even if all parties are professional in nature. Delays may also be caused by political developments or the still ongoing pandemic.