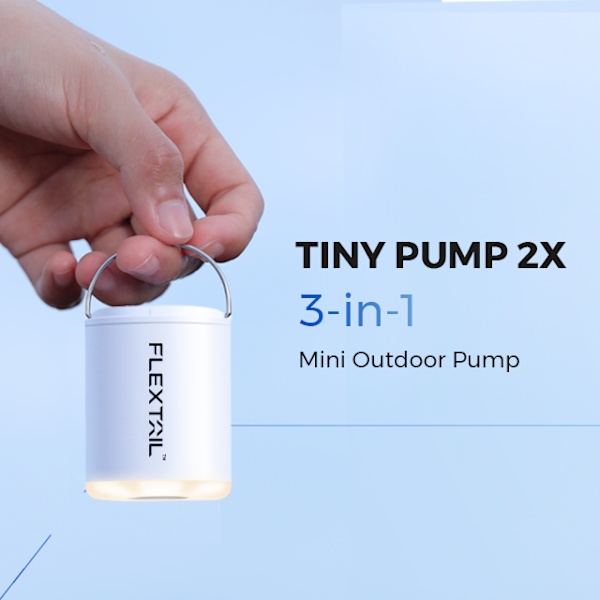 TINY PUMP 2X: Ultimate 3-in-1 Mini Outdoor Pump
$5,294,257
raised out of
$100,000
Concept
Pocket Size| Ultra-light | Air Pump | Vacuum Pump| Camping Lantern| 4kPa Pressure| Waterproof
Story

To comprehensively provide you with consummate outdoor experiences, we never stop striving for breakthroughs. So this time we bring the smallest 3-in-1 waterproof air pump & vacuum pump & camping lantern-TINY PUMP 2X to improve your trip and lighten your package.


As the smallest 3-in-1 waterproof outdoor pump, TINY PUMP 2X measures  1.8*1.7*2.3 in, and weighs only 96g, as small as your AirPods pro. Slip this little tool into your pocket means you have an air pump, a vacuum pump, and a camping lantern. You can use this mini tool for mutiple purposes.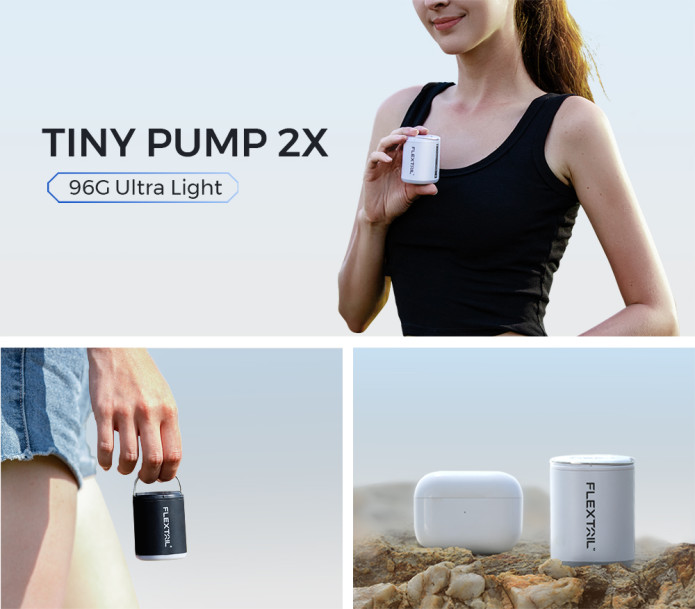 There is a hanging ring on the top of TINY PUMP 2X. You can hang it anywhere you want.


Equipped with the latest AIRVORTECH™ technology, TINY PUMP 2X can reach up to even 4kPa air pressure and 180L/min airflow, which enables this mini pump to fill various large inflatable products rapidly.  The deflation port and the inflation port are optimized to the top and bottom, which makes it much easier to hold and operate.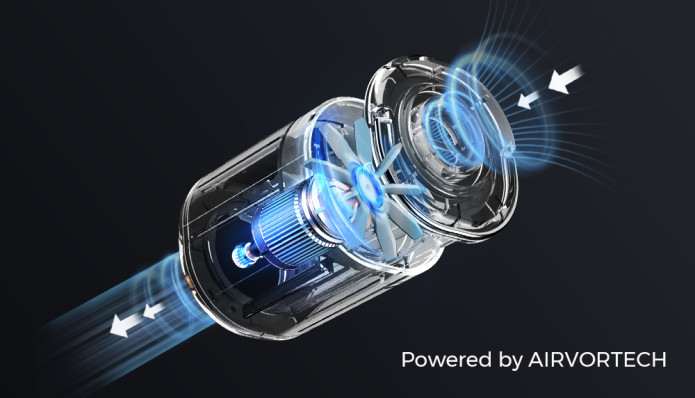 With TINY PUMP 2X,  your inflatable products can plump up in a snap. It's more efficient but much smaller than other normal electric air pumps. Having this mini tool on your trips, you will get more convenience and pleasure.


 Like other portable pumps of FLEXTAILGEAR, TINY PUMP 2X can also be used to deflate air products and vacuum bags. Just press the button, and it will draw the air out of the vacuum bag in 30 seconds, helping you save 70% of the storage space.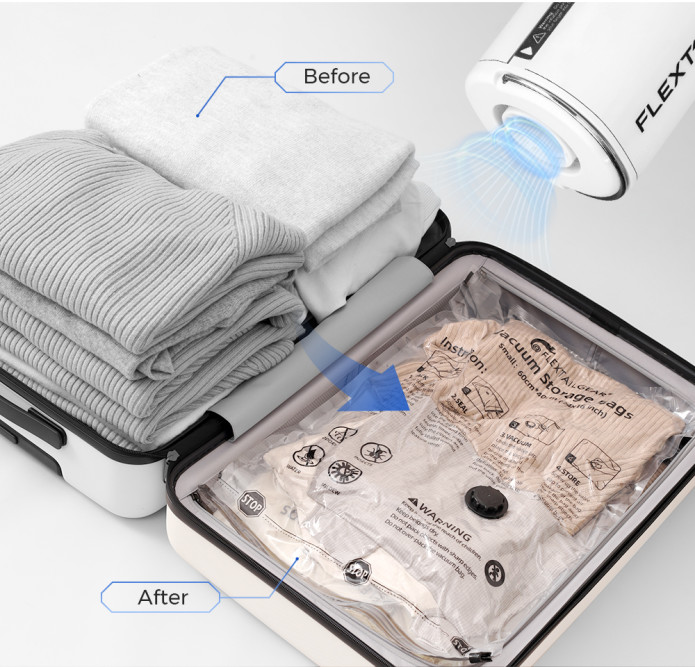 Too hard to lit a fire? Don't forget your TINY PUMP 2X. It can make a fire by blowing air and delivering oxygen faster, safely, and efficiently. Enjoy a blazing bonfire or a great BBQ easily.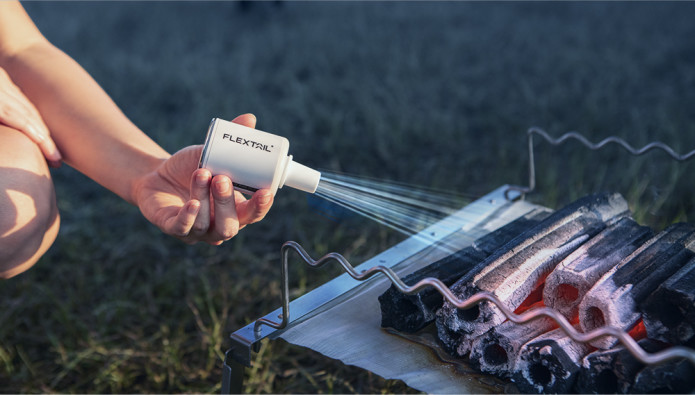 Another function of TINY PUMP 2X is more than you can imagine. It is suitable to clean your camera lens and other hard-to-reach cracks. You can easily blow the dust away.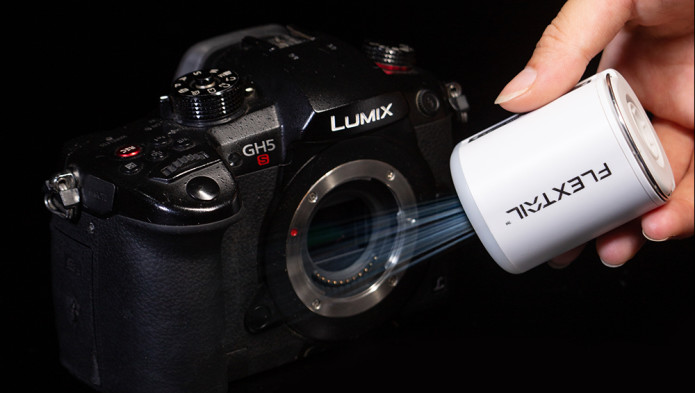 There are 8 ultra-bright LED bulbs at the bottom of TINY PUMP 2X. The three brightness settings  offer desired light to wherever you go: camping, hiking, cycle touring, or having a BBQ in your backyard, and the illumination can last up to 10 hours.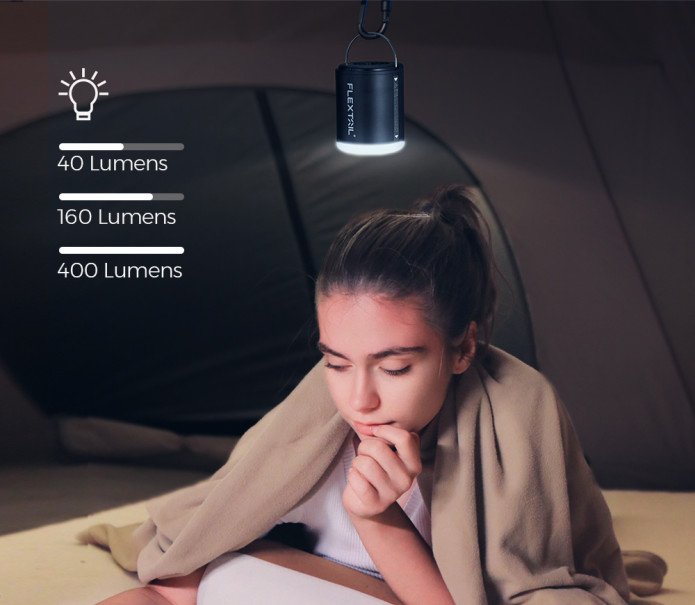 The built-in magnet has a strong force, which allows your TINY PUMP 2X can be strongly attracted by iron, steel, nickel, and other ferromagnetic material.


IP44 level waterproof protection shields it from water and dust, and TINY PUMP 2X can easily deal with various outdoor environments.
The high-quality ABS housing and PC lampshade material can ensure its durability and reliability. It will keep intact even if it falls from 1.2m of height and hits the concrete floor.

 TINY PUMP 2X can be charged by a fast type-c port. The cordless design allows you to use it anytime and anywhere.  It has a charging indicator light, and you can get the charging situation at any time.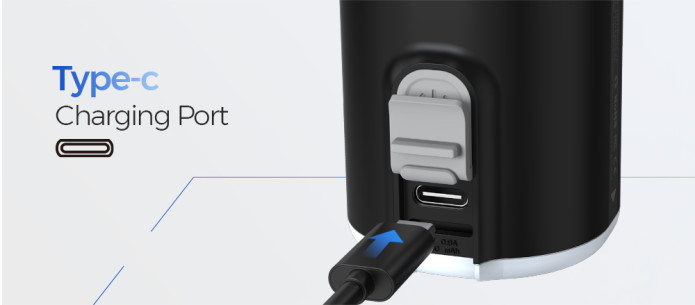 The small size doesn't affect its running time. Equipped with 1300mAh rechargeable batteries, It can inflate over 105 pillows after fully charged, or provide illumination for over 10 hours.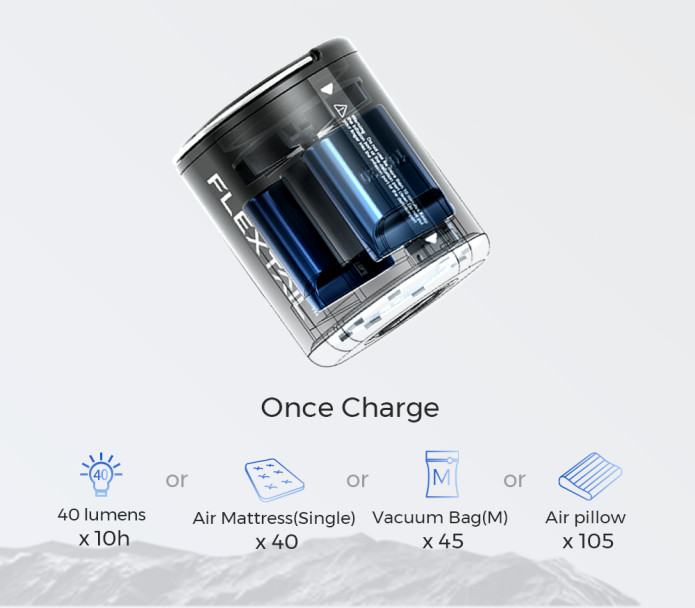 Equipped with 5 different nozzles to meet your different demands.

WHAT OTHER MEDIA SAID: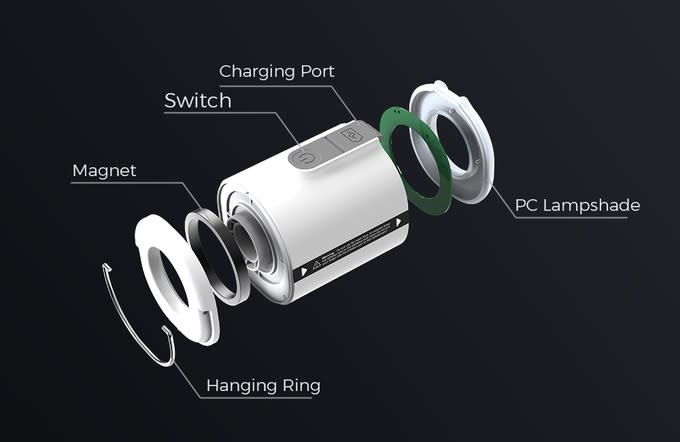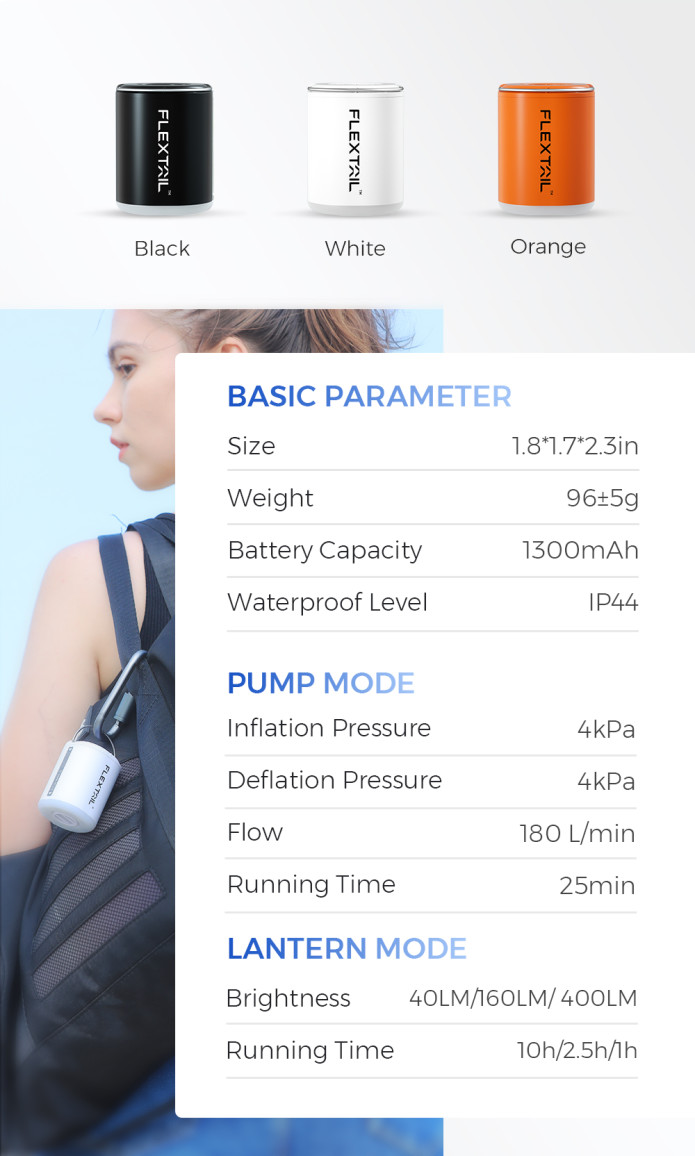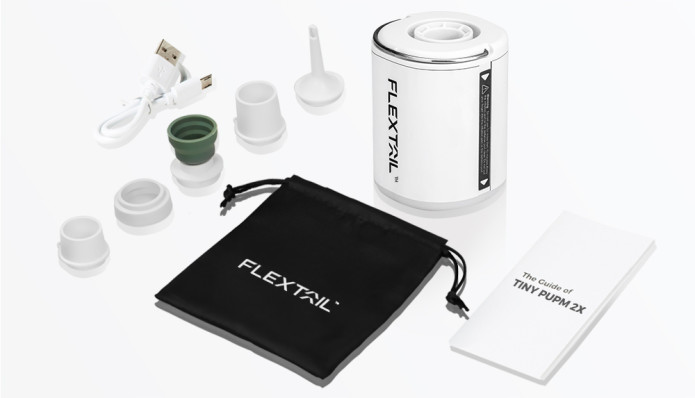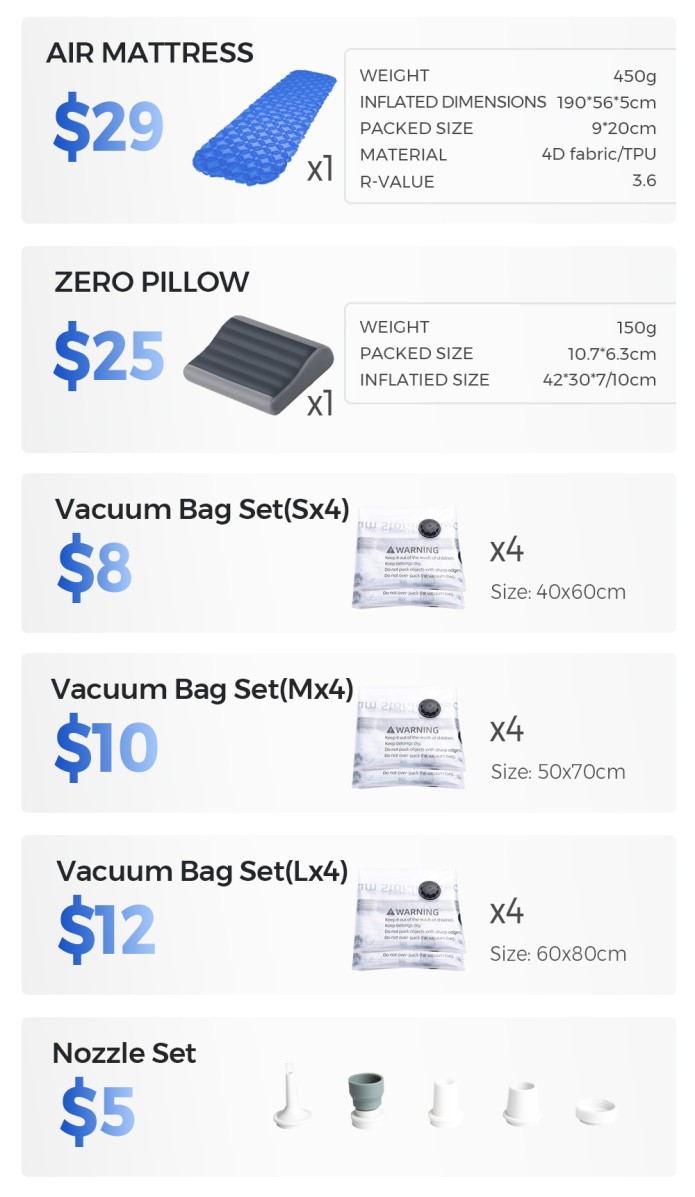 FLEXTAIL is committed to creating the most professional outdoor electrical appliances. It began with a hiking trip by three founders during their college in 2012. They knew each other from an outdoor activity club and jointly deemed that the application of appliances can help people get rid of tedious labor and enjoy nature better. This desired vision and their engineering background drove them to work on creating professional outdoor electrical appliances.
They climbed the Annapurna Peaks together and agreed that the most beautiful and divine mountain -Machapuchare would be the starting point of their dreams. It also represents the team will pursue relentlessly rugged reliability and unequaled performance of the products.
Among the towering mountains, enjoying the amazing view of rolling hills and indented shorelines, and feeling the mountain winds, they kept challenging themselves to push beyond their physical limitations in nature. Meanwhile, they made up their mind to invent the lightest and the most professional appliances.
In the past ten years, FLEXTAIL engineers went to more professional laboratories to continue this exploration and have launched the world's first outdoor air pump, outdoor electric heating mosquito repellent device, and outdoor projector…Compared to the clunky and single-function traditional device, FLEXTAIL reduced the weight and the volume by more than half and achieved better performance. FlEXTAIL team devoted themselves to creating innovative and remarkable lightweight camping appliances and keep refreshing their own lightweight record.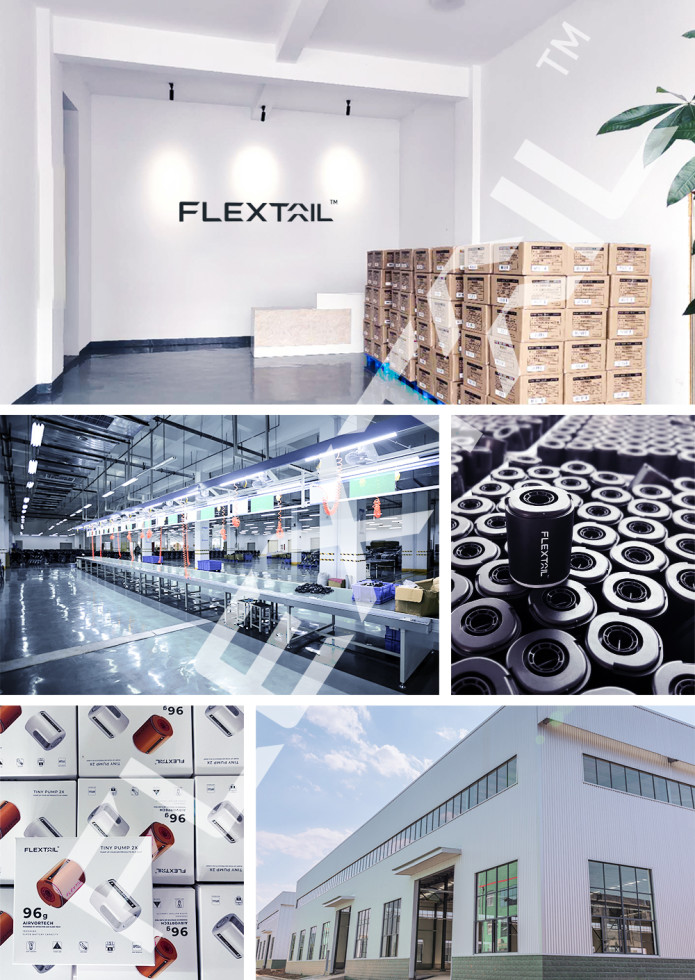 We are in mass production!