Treasure Hunters is landing in the United States
$13,890
raised out of
$200,000
Concept
The app that sends you on a treasure hunt to win real prizes is coming to you!
Story
After a successful year in Switzerland with thousands of prizes handed out, Treasure Hunters is landing in the United States. No more running this way and that tracking little virtual creatures, called Pokemon! Go on an exciting, real treasure hunt with your cell phone and take home INCREDIBLE PRIZES! 
From Los Angeles to New York, from Chicago to Miami, get ready to win video game consoles, smartphones, luxury watches and a great deal more!

Our team of digital world and video game enthusiasts expanded and developed its app in Switzerland with a seed funding of $3,000,000. This was contributed by the 1,500+ people who believed in the project. With Switzerland's many demographic constraints (four different official languages and small surface area for instance), we managed to run and experiment with our app's multiple features, and we are now ready to unleash its potential in the world's most attractive market.
This calls for both drive and funds. We've obviously stocked up on drive, and as for funds, we have a base on which we were able to develop a solid app.
This is why we decided to launch a Indiegogo campaign so that we can rev up and reach our primary goal of demonstrating the full potential of our game in the United States. The target is to raise at least $200,000 to start up in the first cities we have planned to cover in the West coast.
The funds we need are mainly for buying thousands of gifts so that all players can find treasures. The Indiegogo platform is the perfect tool to make a name in the United States, and we are convinced that our startup has what it takes to succeed in this country.

A glimpse at the past
It all began one fine day in 2017, when Chris was hit with the idea of creating a new app. As he gazed at the larger and larger groups of teens huddled at the Pokéstop in front of his home, this thought came to his mind – it's really crazy to travel so many miles just to collect Pokémon… they don't even get to win a "real prize".
The basic idea of Treasure Hunters was born. All that he needed now was to rally the right people to brainstorm the project. Who better than his two friends, Guillaume the developer, and Diego a successful entrepreneur, both new technology buffs, and Pierre, his "I'll try anything" gamer friend.
The four had already worked together on other mobile app projects in Switzerland, and the idea was soon adopted.
Great idea, but no one has come up with it already?
After umpteen Web searches and fifty apps downloaded and tested… NOTHING, at any rate, nothing that bore a strong resemblance or that was finalized.
The four marginally geeky friends then came up with the idea of talking about their project to make sure that it does not already exist somewhere. Where could we find a large number of new technology fans and people who would be interested in our app idea? THE CES!
Road to LAS VEGAS!
After two months of brainstorming while waiting for biggest tech event of the year, the foursome took off for a week to attend the 2018 Consumer Electronics Show in Las Vegas. With each meeting, discussion and even the evenings spent with exhibitors from all over the world, the specs of what would become the Treasure Hunters mobile app got bigger, and each of these meetings encouraged us to pursue this wonderful project.
Return to Switzerland and the first fund-raising
Chock-full of enthusiasm, a completed specs and business plan at hand, the team had to find help to start the project, they needed a team of developers and more importantly, funds to hire them. Undaunted, the four teammates began scouting for their initial investors, and their first partners.
In three months' time, the four friends had managed to raise nearly $200,000 from their family and friends circle and by spreading the word. What's more, during their initial meetings to find partners, and even before the development of the game had begun, they clinched a partnership contract with Switzerland's largest Media group.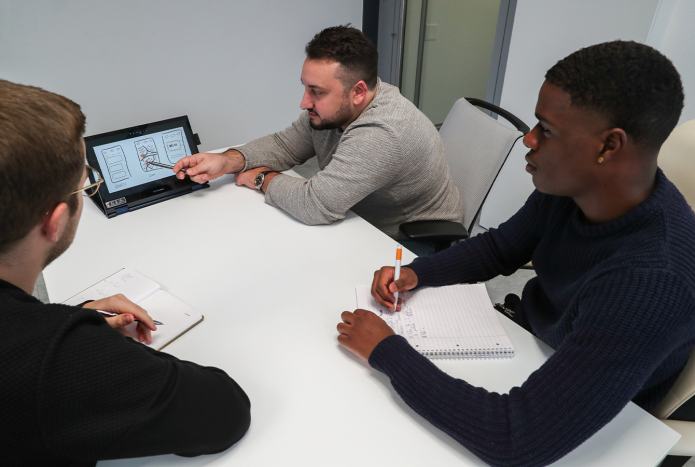 Kickoff
In Switzerland where the average salary of a developer is around $100,000 a year, it was very difficult to recruit people having the skills to develop an app such as Treasure Hunters. The four friends therefore decided to find a team of developers abroad who were capable of taking up the challenge. They sent out offers to various countries, and a few negotiations later, they chose the Parisian team, TkT.
In the meantime, Guillaume had been developing a platform for selling company shares so as to reach out to a large audience and simplify the ongoing fund-raising to the maximum extent. Chris and Pierre wrote the marketing material and briefed the Paris team, while Diego was in charge of finding new investors and new partners.
The much-awaited launch
More than a year into the Treasure Hunters story, on July 1, 2019, the app was ready for the official launch. The launch was planned only in Switzerland so that we could test our app and business model and be ready for the international arena!
Expand to the WORLD!
The app has run for a year in Switzerland, and the time has come for Treasure Hunters to export itself and get the whole world hunting. This is why we are launching this campaign.

Treasure Hunters is a powerful and intuitive geo-tracking and gaming based application, representing the next level of digital marketing. Users of the application use their mobile devices to hunt for mostly high-priced real-life treasures (e.g. Porsche, Rolex, nights in luxury hotels), by combining geo-tracking specific content with augmented reality (AR) elements.
Partners of the application are provided with a revolutionizing marketing channel with the benefit of 1) variety of native targeted advertising solutions and 2) ability to move users to specific stores. Blue chip partners are actively approaching Treasure Hunters to be part of this appealing concept, e.g. Maurice Lacroix, McDonald's or Tamedia. The Company has succesfully launched the application with its blue-chip commercial partners in July 2019 in its home country Switzerland as a market test phase and will now rapidly internationalize.
Treasure Hunters in Switzerland after one year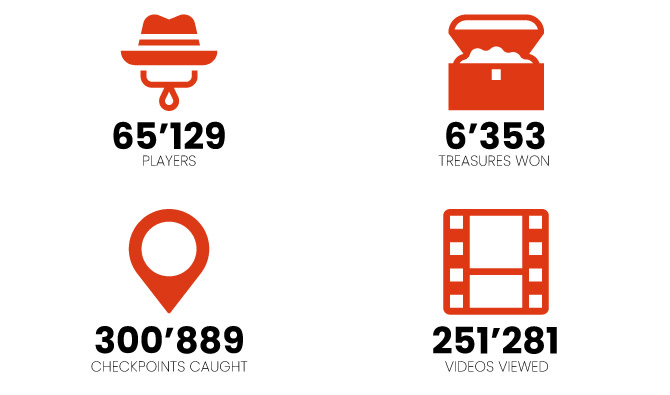 Launch of a quest
Once you sign in, you will see the list of quests! Once you have decided which treasure you want to hunt, tap on it! When you are ready to start looking for the treasure, tap on "Start hunting!".
Your ongoing quests are shown in the "My quests tab" so you can find the quests you have already started. You are impatient and want to know what you could be hunting soon? That what's the "Coming soon" tab is for. It shows you the future quests and the countdown to them.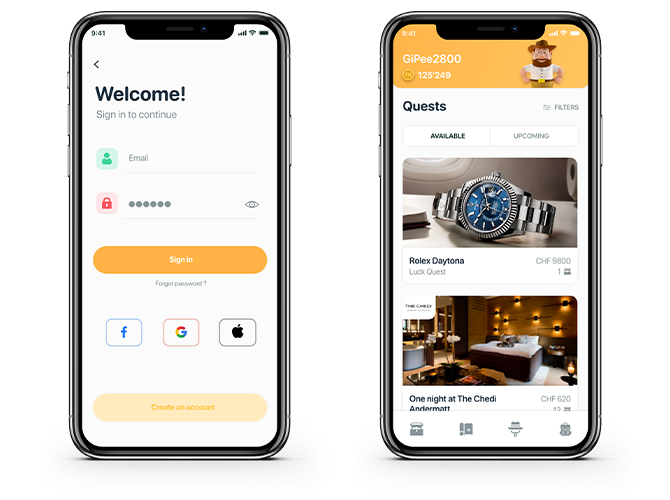 How the quest works
Once the quest is started, the map opens and shows your location. On the map, you will see checkpoints as well as greyed areas that represent treasures that have already been hidden.
You must go to these areas to find the treasure chests. Several areas are shown as a given treasure can be won in different places. When an area disappears, it means that the treasure was found by another hunter.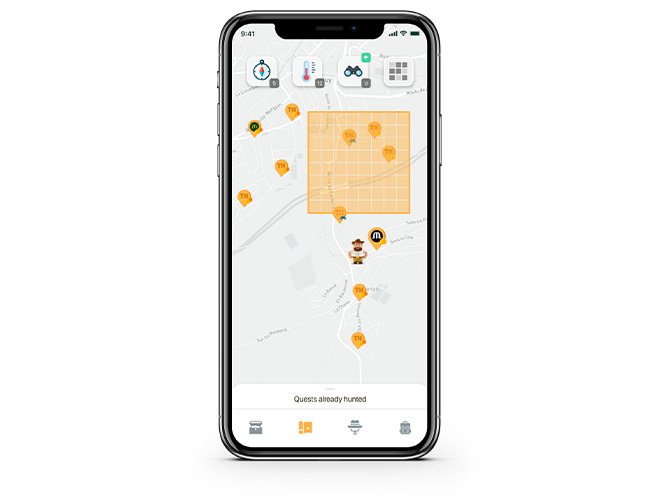 How to win
A treasure chest is hidden virtually in each search area. You need to look for it, move around and have some luck as well. When you are close enough to the treasure so that you can grab it (within three to four yards), a treasure chest will appear on the map! Tap on it and look around through your screen – you will see it floating. When you see it, tap on it to try opening it and win the treasure!
You can open the treasure chest in two ways: by using a key (bronze, silver or gold) or using a 5-digit code.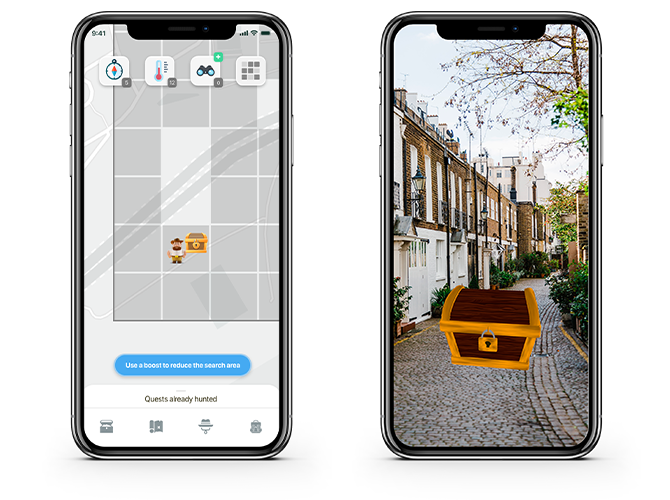 Tools to help you:
Boosts to narrow down the search area:  You can make the search area smaller by using your coins or by watching a video ad.
Compass: Our compass does that shows you the direction in which you must look for the treasure.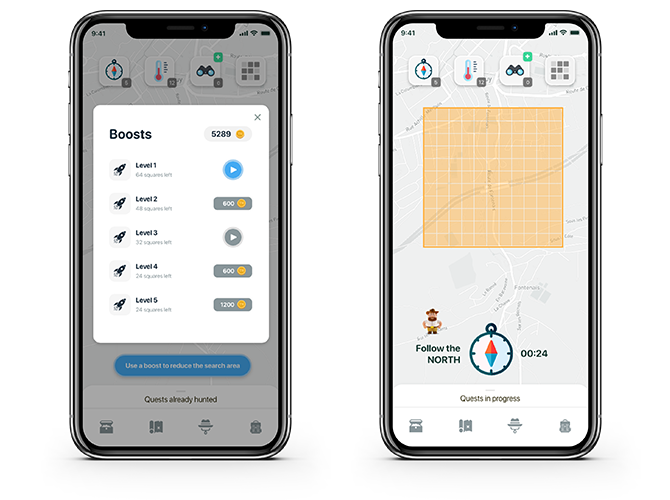 Thermometer: it works on the hot-cold principle. When you get closer to the treasure, the thermometer turns red, and when you move away from the treasure, it turns blue. 
Binoculars: with the binoculars, you can shift your field of vision in a well-demarcated area to know whether a treasure is hidden in it.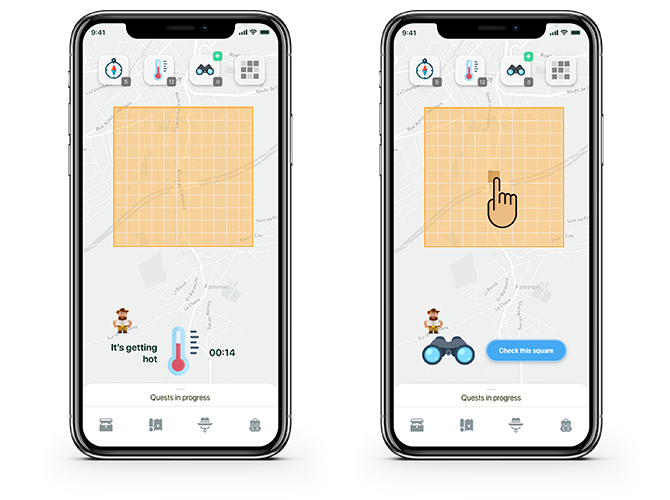 Checkpoints
You can collect free coins at specific points that are marked with a star on the map. These points are called checkpoints. They are found at all bus stops, all train stations, and in our partners' locations.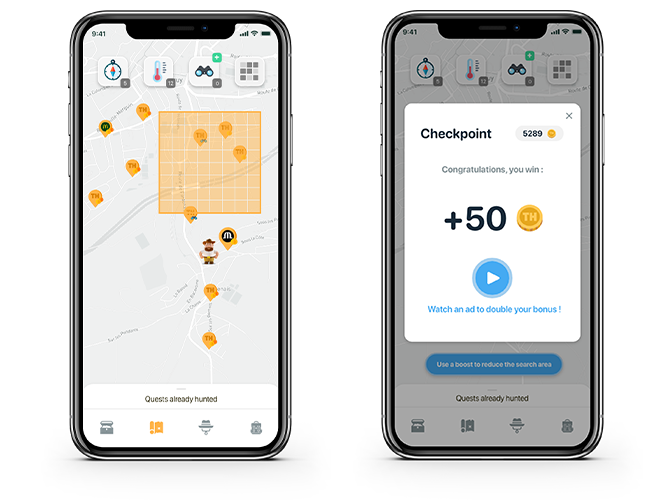 Referrals
You also win something every time a player wins ! That is how our referral system works! The more people you refer, the more free coins you will earn every time they win.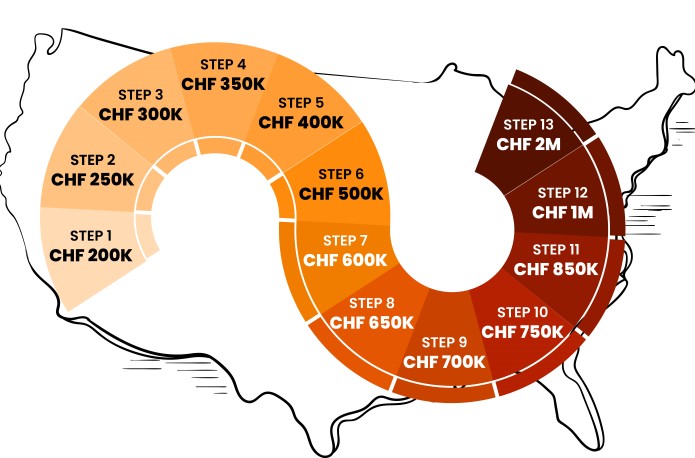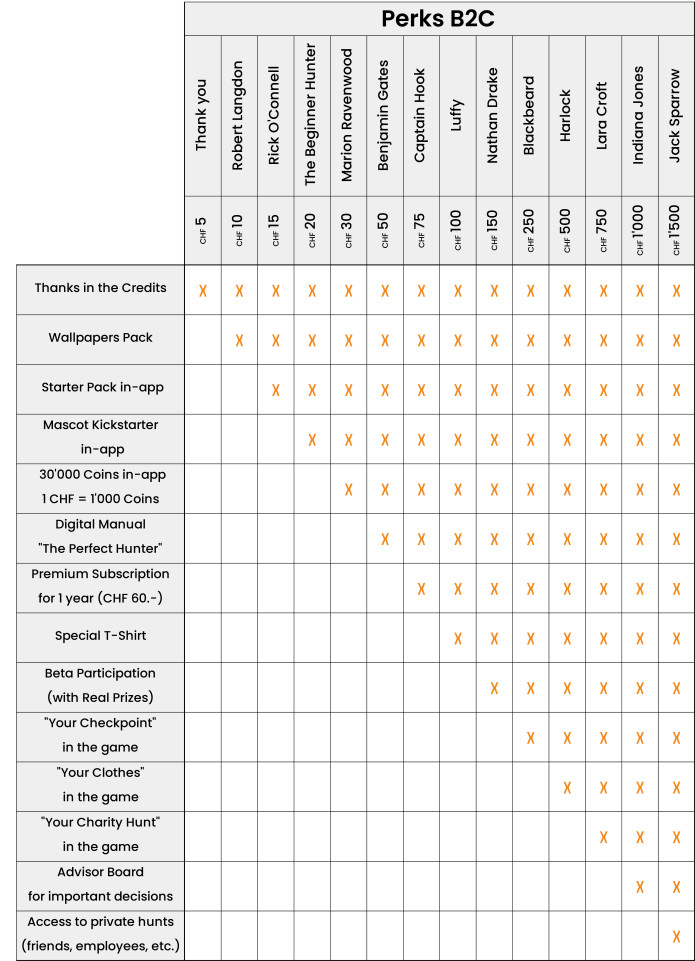 B2B Perks
Checkpoints : Players have to visit a precise location – a checkpoint – to collect daily bonuses. Checkpoints can be positioned in strategic locations from the advertising standpoint, such as inside a department store. Players can be sent to a store every day to collect the daily bonuses.
Videos : We will created an advertising platform that is used to show in-app videos (advertising). By viewing them, the player can earn credits or clues. 
Quests : We offer brands to use the application for product launch campaigns. Treasure hunts can focus on a specific product to be hunted and won by players.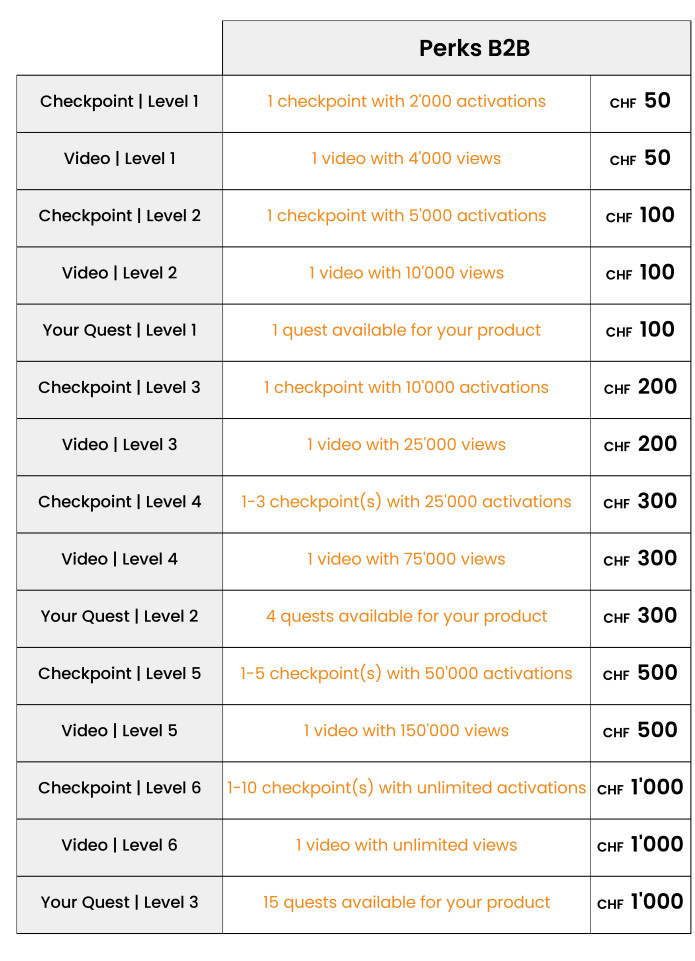 We regularly participate in events such as trade shows and exhibitions that bring together companies that operate actively in the world of video games, or technology and innovation. In 2019 for instance, we participated in the Switzerland-wide event Herofest in Bern, and in the Zurich Game Show that was of course held in Zurich. We also had the opportunity of participating in one of the largest video game shows in Europe, the one and only Gamescom in Cologne, Germany.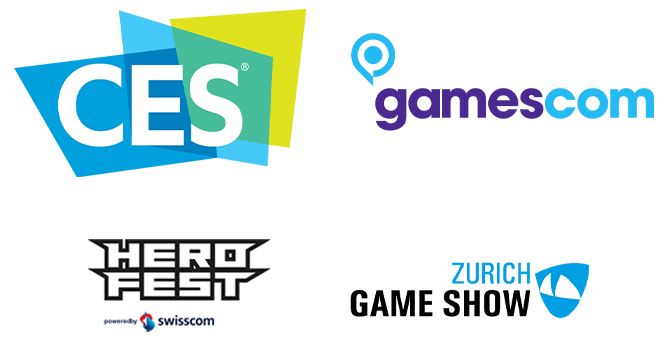 In January 2020, we had the honor of being selected to take part in world's biggest tech show held in Las Vegas, CES. This one-of-a-kind adventure brought us new contacts on the other shores of the Atlantic. For the rest of the year 2020, Covid put an end to the numerous events that were being organized, including the Asian version of CES that was to be held in Shanghai in June and that we were eagerly looking forward to attending. We plan to continue participating in such exhibitions to keep a high profile and demonstrate the developments to our game. We have been invited once again to CES in Las Vegas in January 2021. However, this will be a wholly online version that will give us the opportunity once again to show ourselves and demonstrate the potential of our game.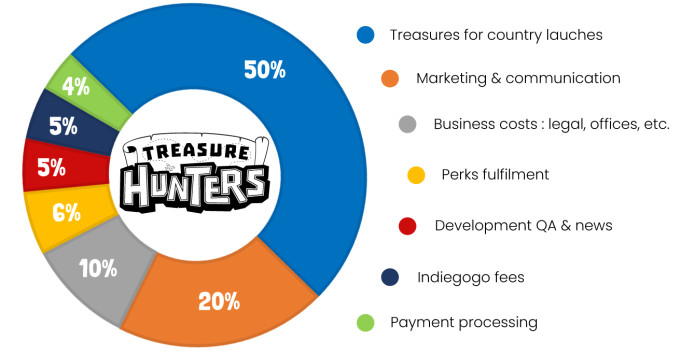 The development of mobile games carries certain risks. The time and funding constraints spark unforeseen challenges that could ultimately lead to changes and cause delays. Thankfully, the Treasure Hunters team are seasoned application developers who can take it in their stride.
The first version of the game went live in Switzerland in July 2019 itself and our team has had the opportunity to carry out various tests and updates since then. The great challenge we face is to find the ideal balance between our own ideas for Treasure Hunters and what our community of players expects from us. We are well aware that there are several fans who have grown fond of the work we have done up to now.
This is why, for several months now, we have been studying the remarks and suggestions we have received from our players so as to develop a new version that will best meet the expectations of the most accomplished players as well as the new users we will be reaching out to in the United States. The American market is huge. It will allow us to create a true community of players who can contribute to improving the game and come up with suggestions for continual upgrading.