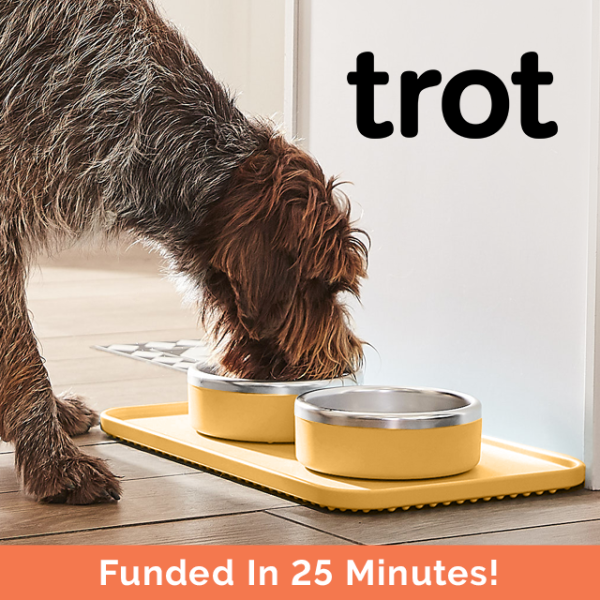 Trot Puzzle Slow Feeder – Pet Feeding
$52,994
raised out of
$10,000
Concept
Magnetically secured stainless steel bowls & no mess mat for happy, healthy pets. Lifetime Guarantee
Story

Designed with both pets and owners in mind, the Trot feeding system eliminates the hassle & mess of meal time for a healthier pet and cleaner home.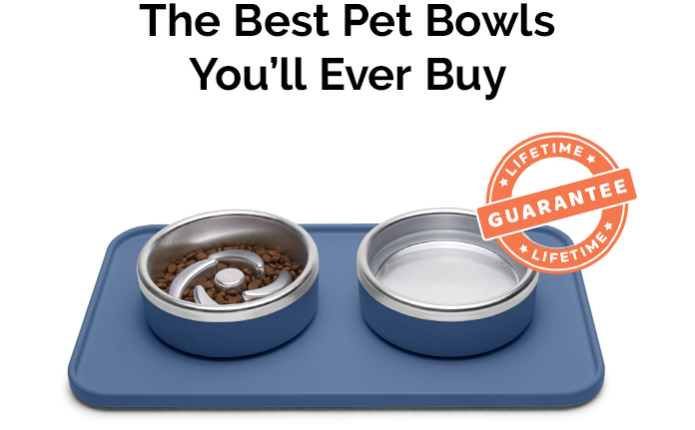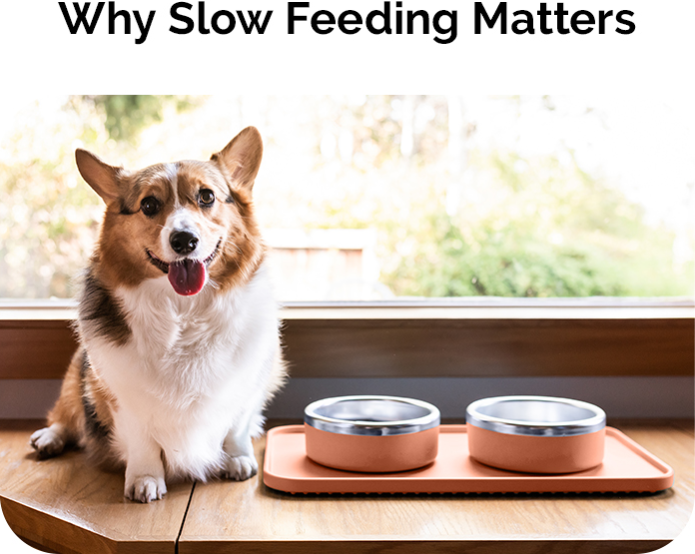 According to the American Kennel Club, fast eating can cause everything from discomfort, choking, and vomiting, to more serious life-threatening conditions like bloat, gastric dilatation, and volvulus (GDV).
Trot puzzle slow feeding bowl is designed to give your best friend a fun challenge during meal that naturally slows their eating down in order to make meal time easier on their digestion.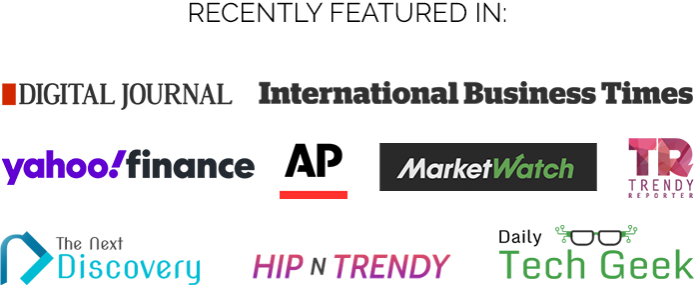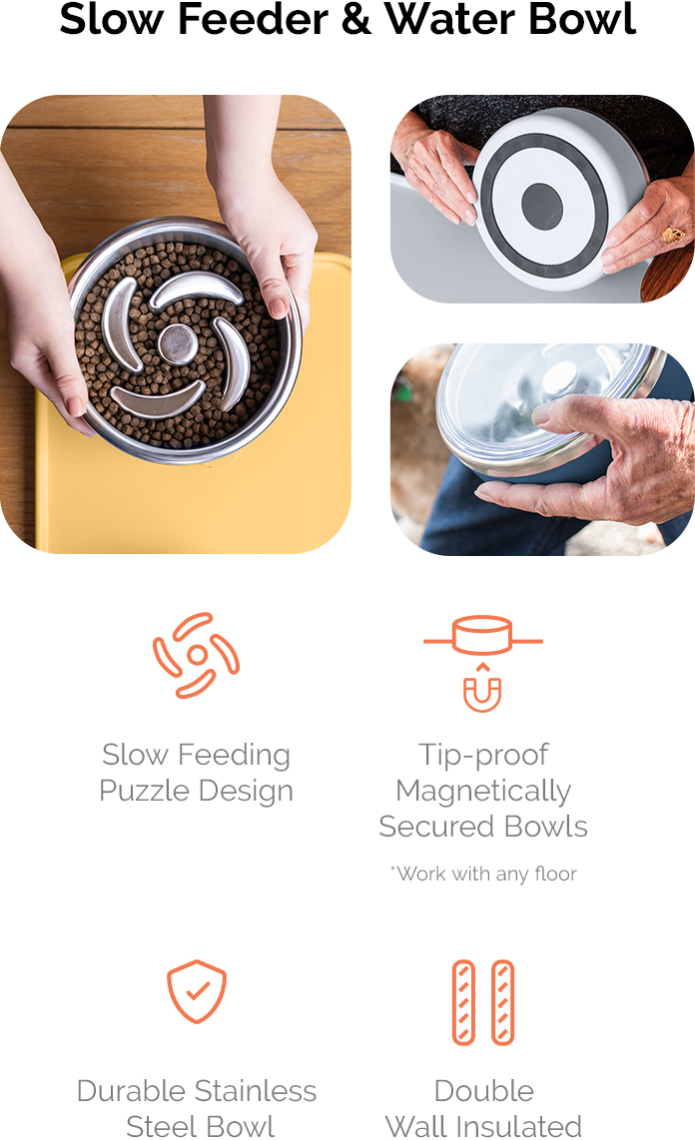 Magnetically secured, stainless steel bowls work with both the floor or no mess mat.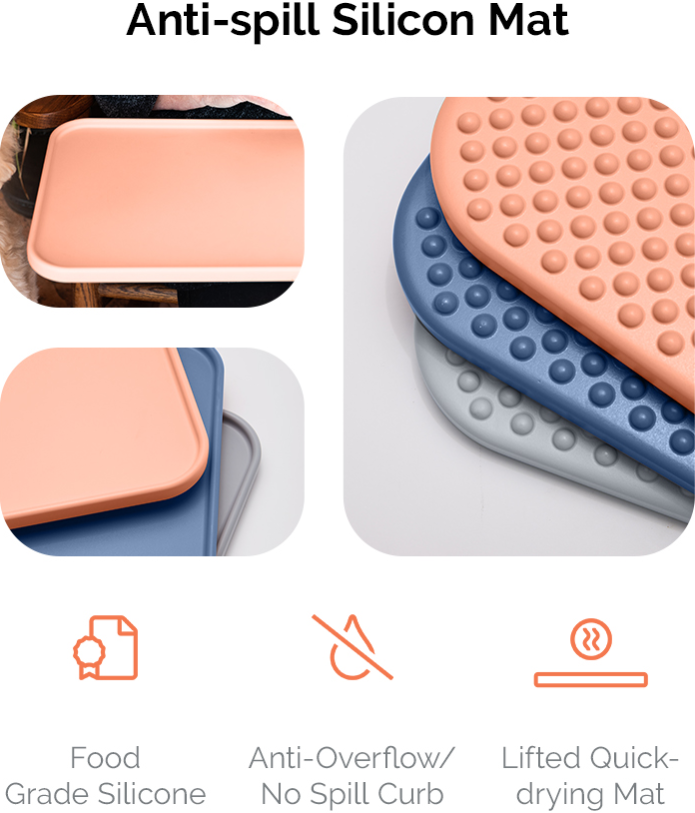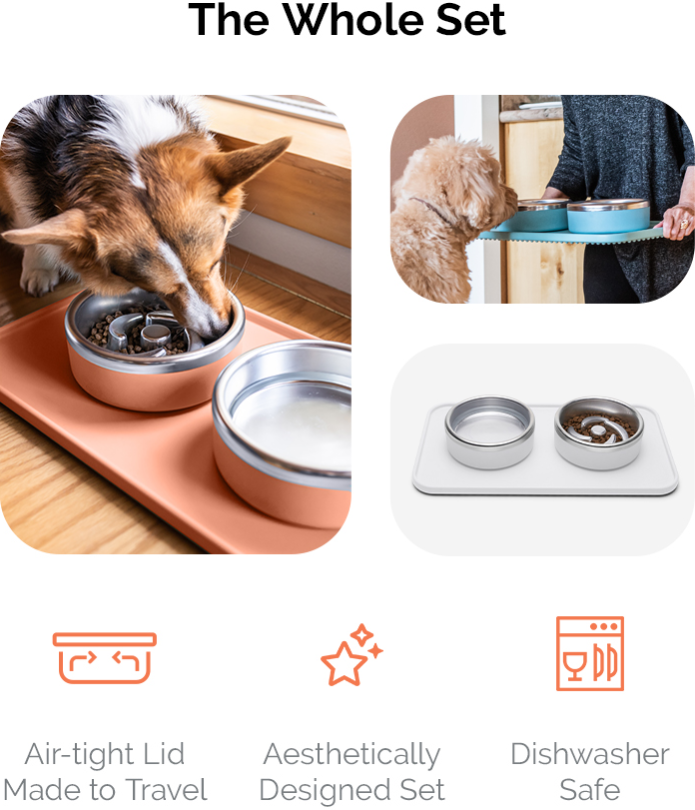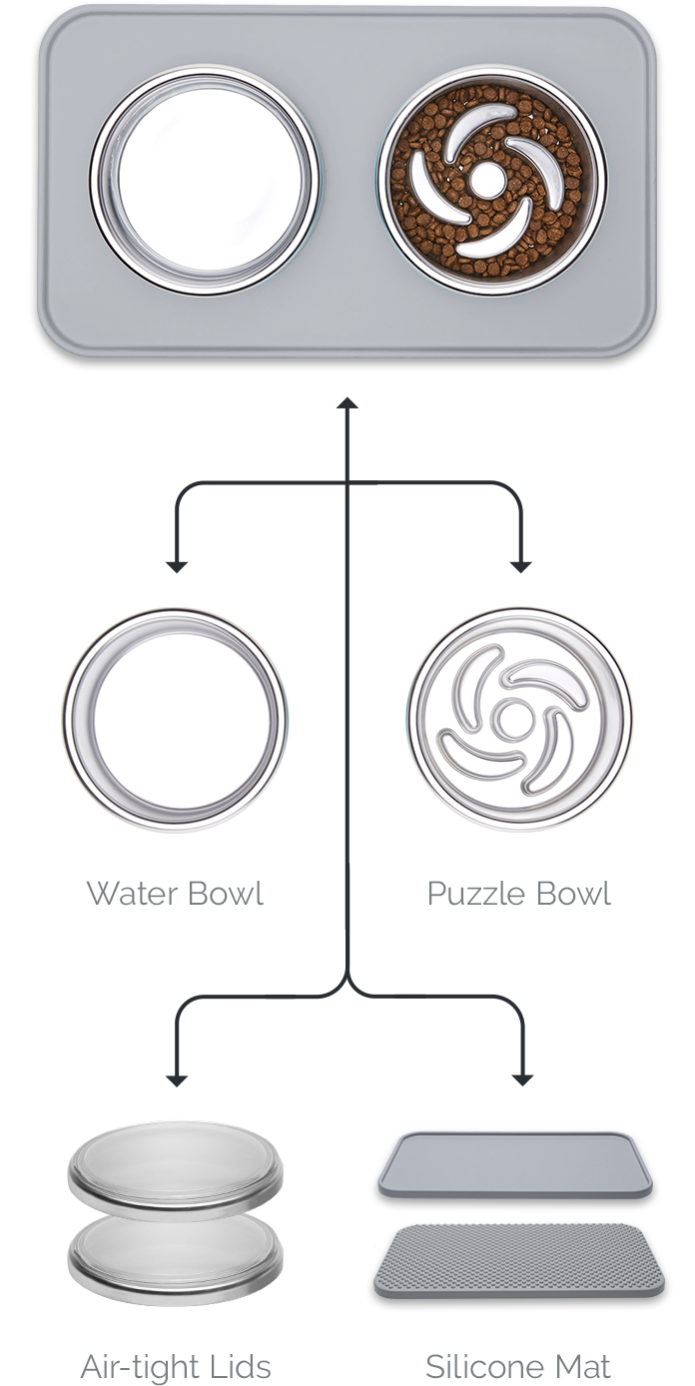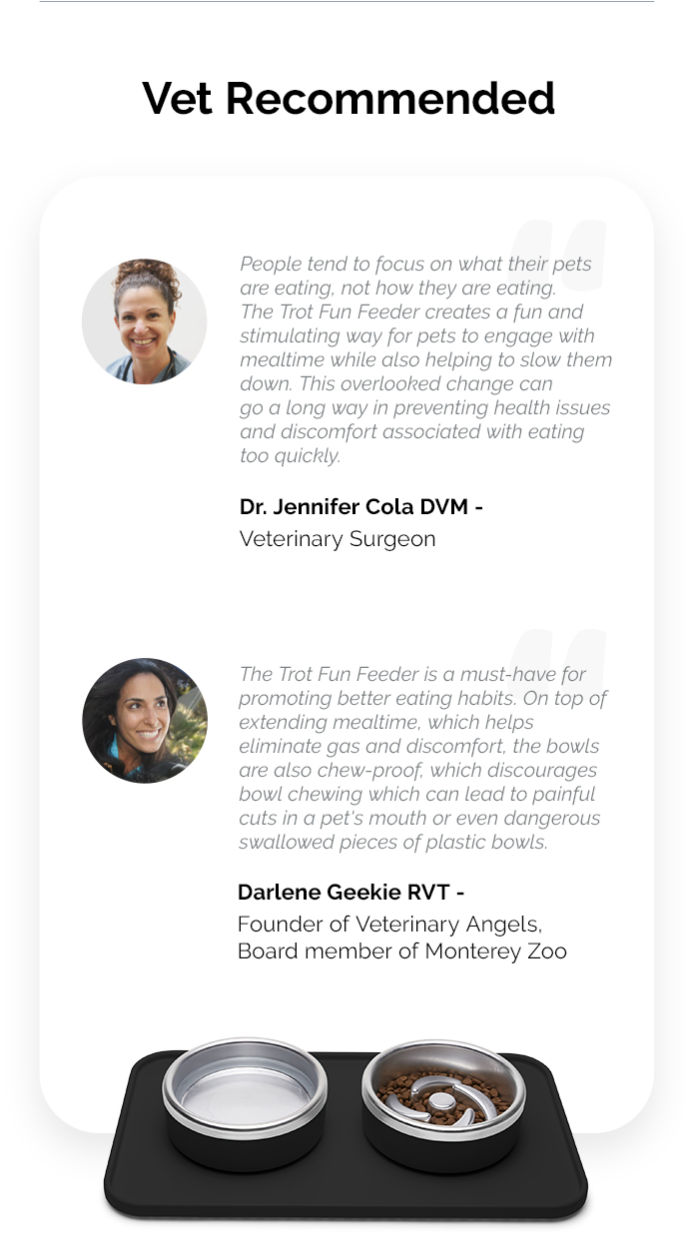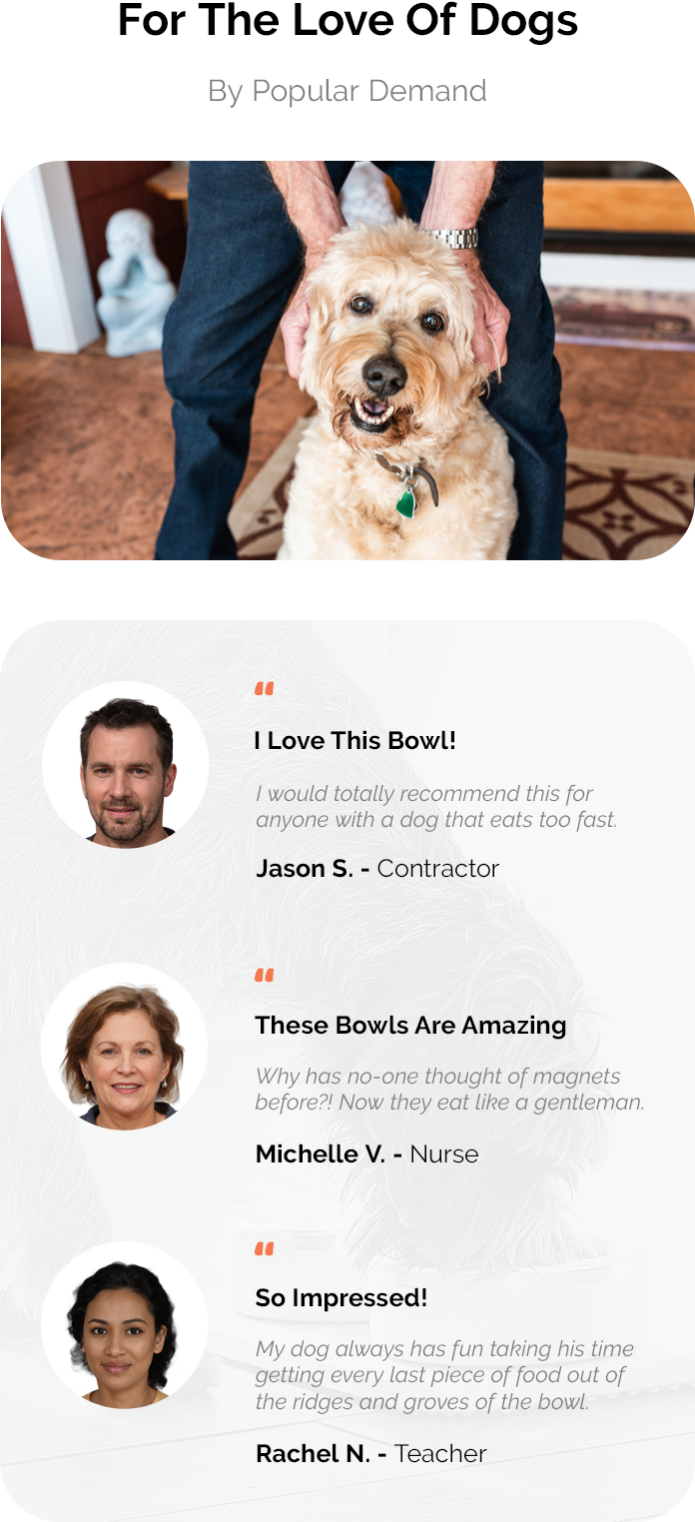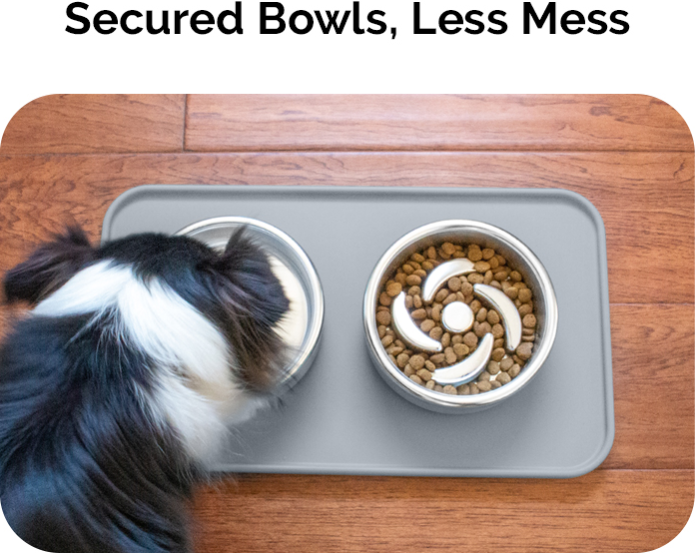 Prevent tips and spills with magnets that secure to the bowls to the curbed, spill-proof mat. Micro feet raise the mat just enough to ensure liquid dry quickly.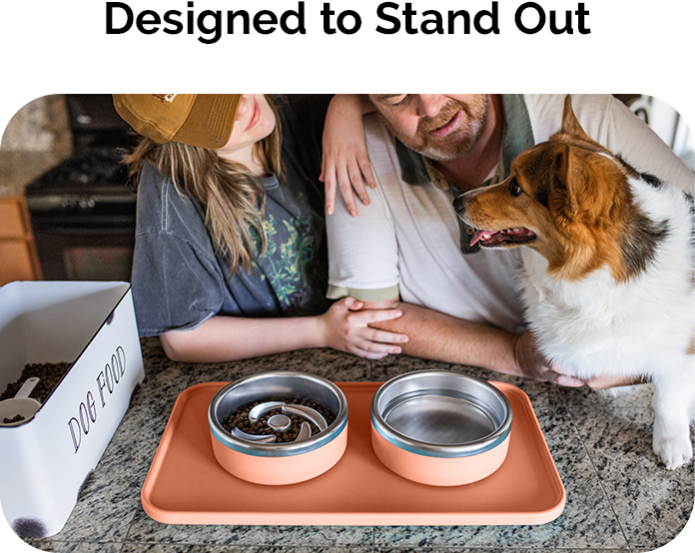 Trot pet feeding set transforms your pet area from an eyesore to a beautiful accent piece in any home.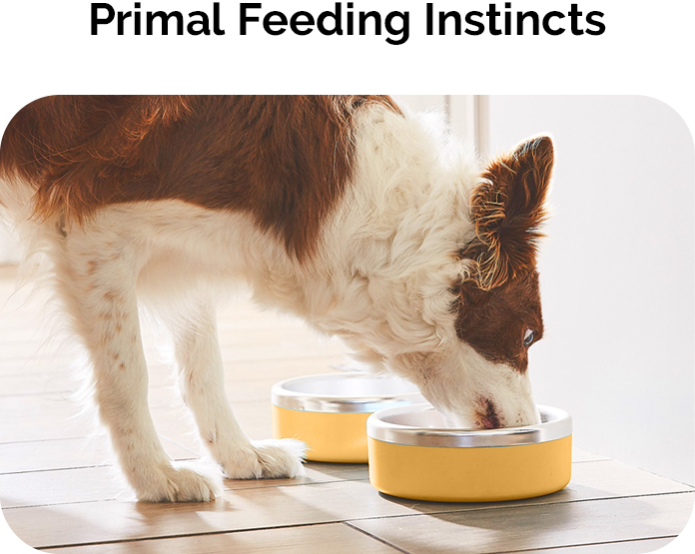 Puzzle feeding engages your pet's brain, triggering natural instincts during feeding that enable happier, healthier, and more exciting meal time.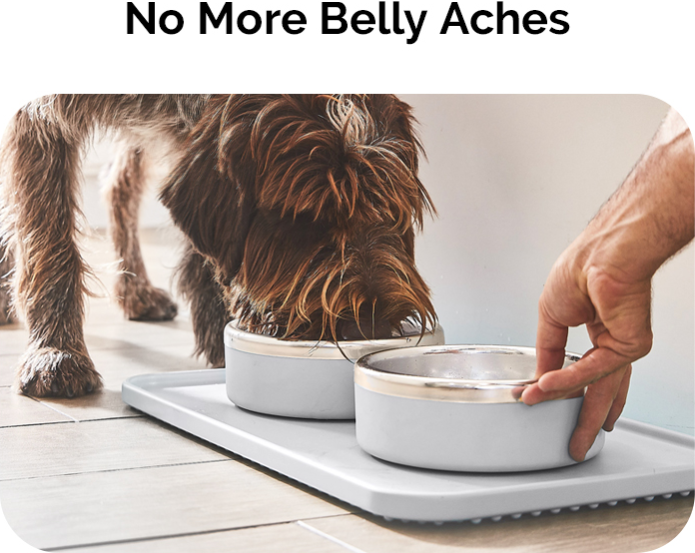 Your dog can't tell you when their stomach hurts. The puzzle feeding design ensures slow eating, reducing pain, discomfort, and the risk of health problems associated with fast eating.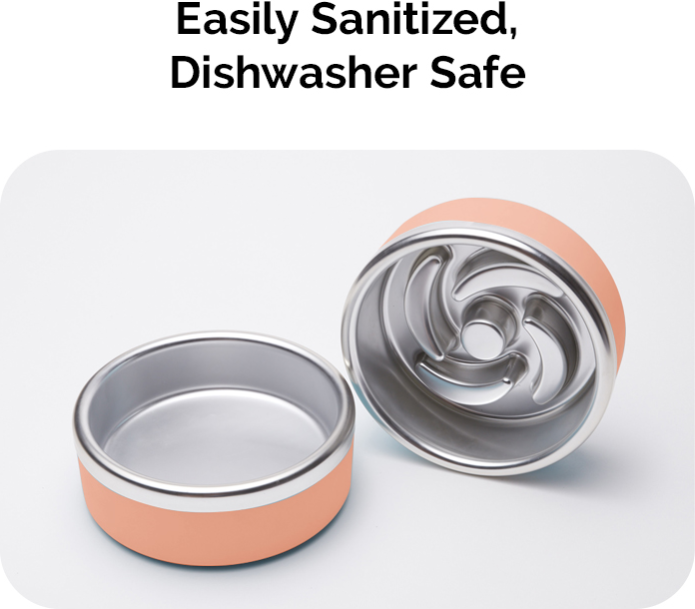 Trot pet bowls are made of food grade stainless steel and can be washed at high temperatures necessary for sanitation, unlike plastic bowls.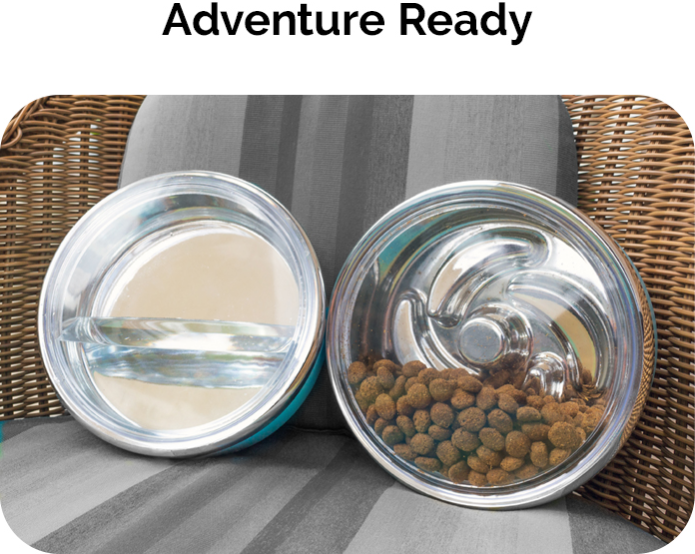 Air-tight lids let you travel confidently – perfect for a day at the beach, park or any other adventure.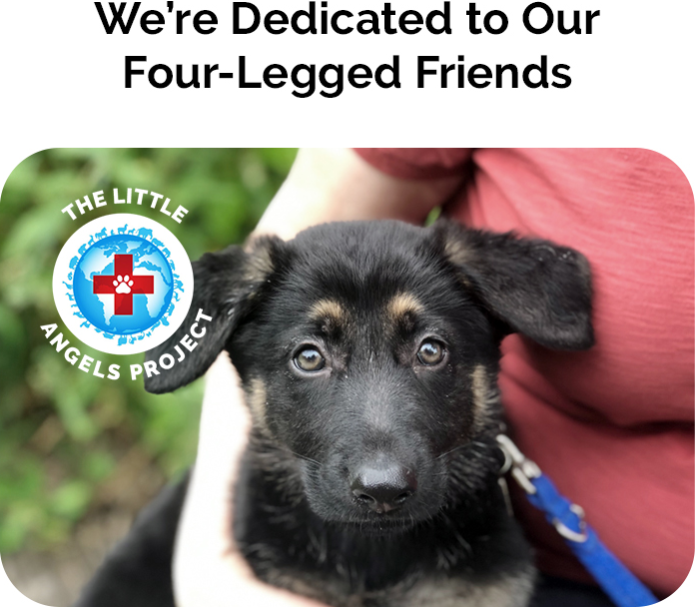 A percentage of every sale goes directly to the Little Angels Project, ensuring injured animals in shelters can have access to medical care and be placed in loving forever homes.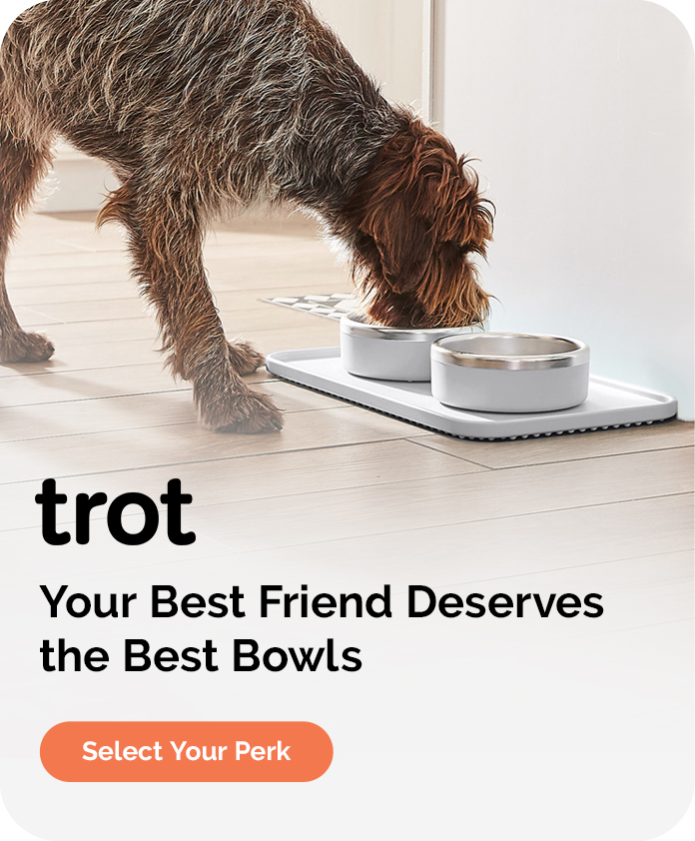 The perfect expression for both your best friend and home, The Trot system is available in a selection of great colors and can be personalized with laser engraving.

Trot products are made from premium and sustainable material with a soft spot for planet earth.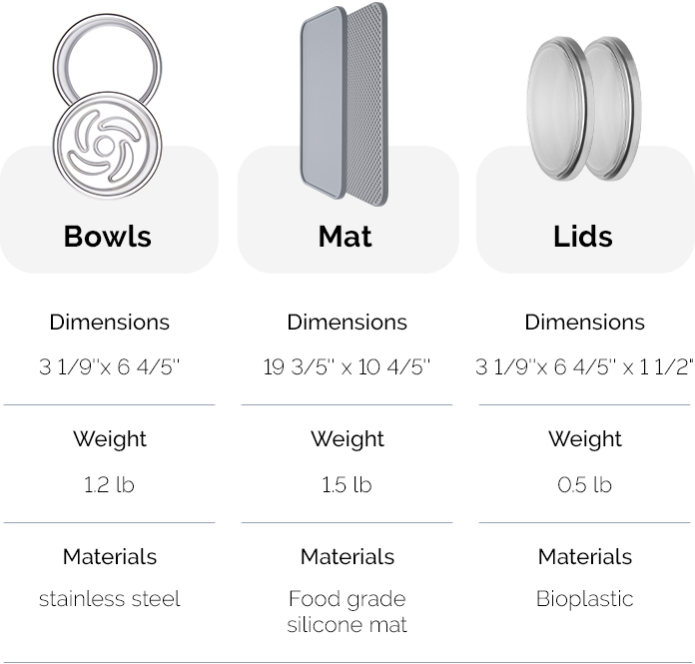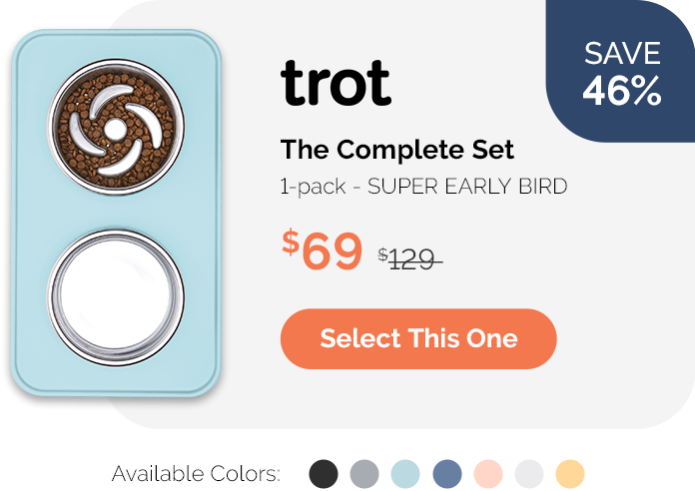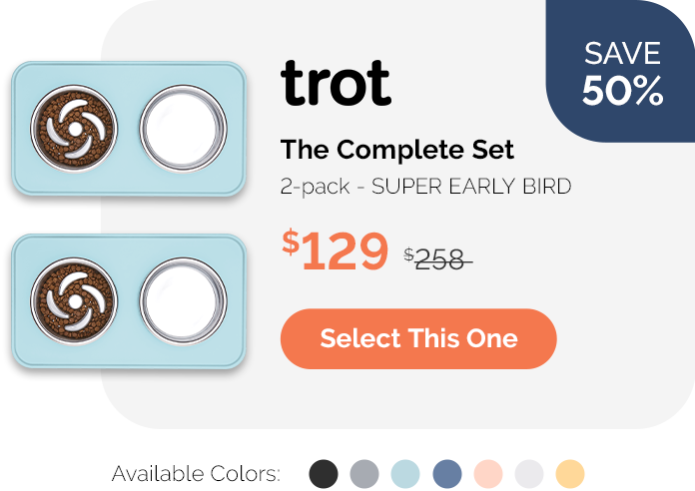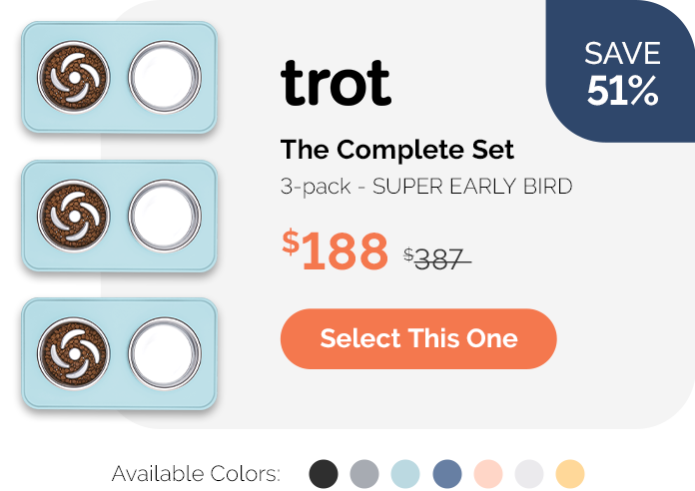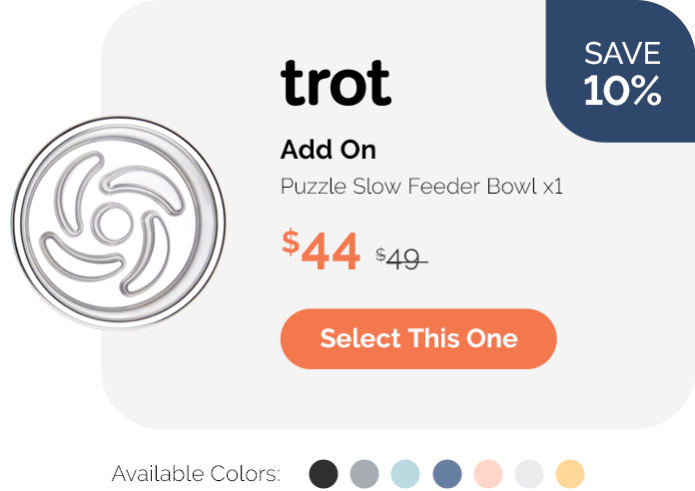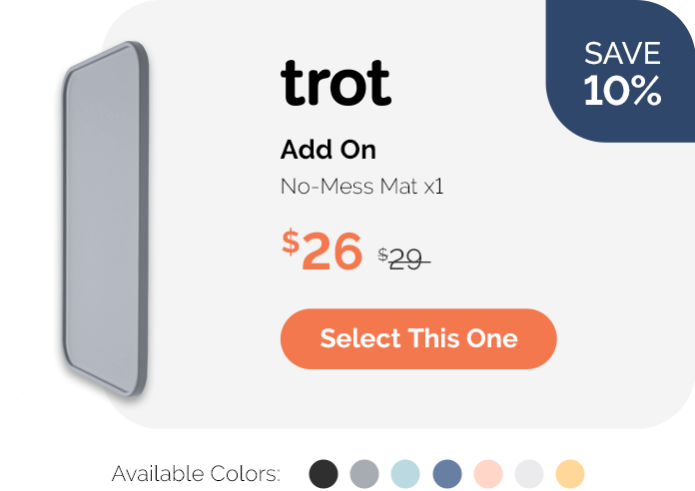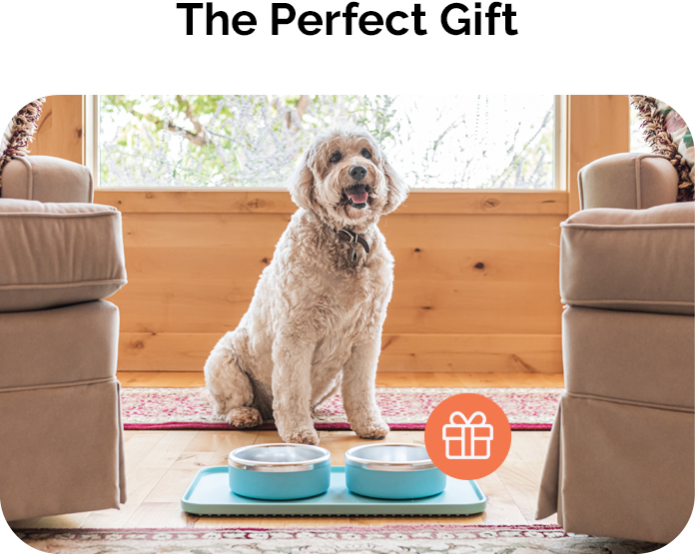 Do you have a pet lovers in your life? Then Trot bowls are the perfect gift option for them! We've got your covered with this gorgeous printable gift card that you can give the lucky giftee.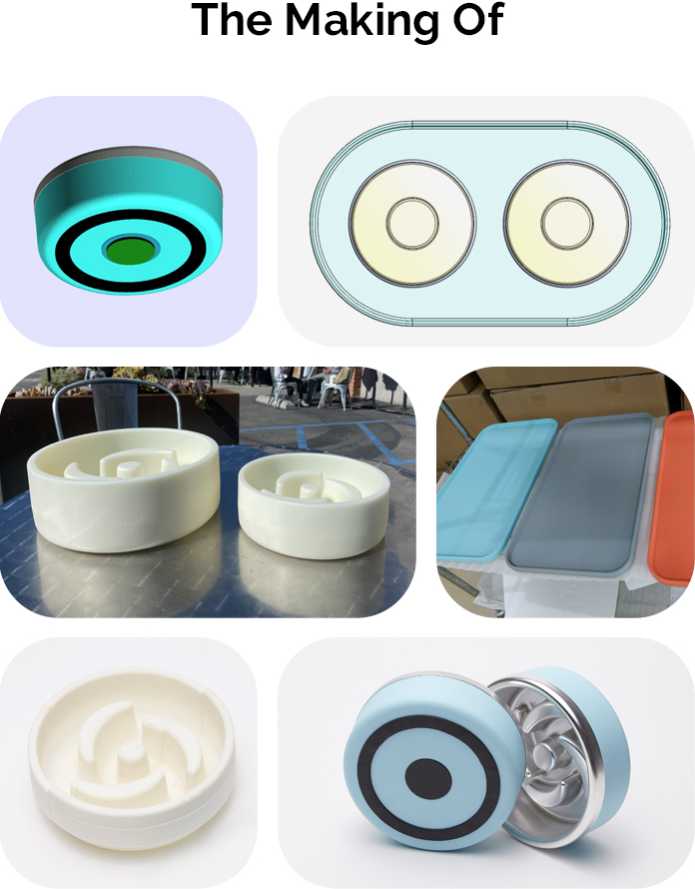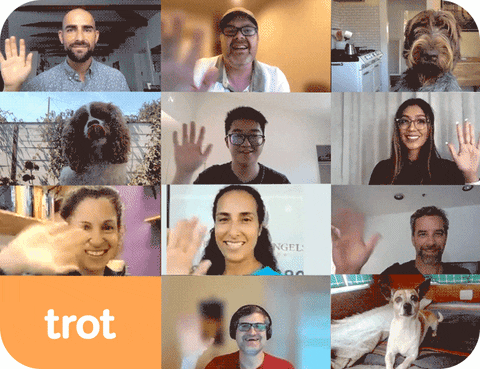 We make it easier to have happier and healthier pets. We do this by making a feeding system that engages pets when they eat while slowing their consumption for better digestion and stimulating their primal instincts. It also fits into the lives of pet parents better, using a smarter design that's easier to clean and more aesthetically pleasing.
We also make a food topper that both pets and their owners love. It makes mealtime exciting again by adding new flavors while providing many things they may be missing from food alone.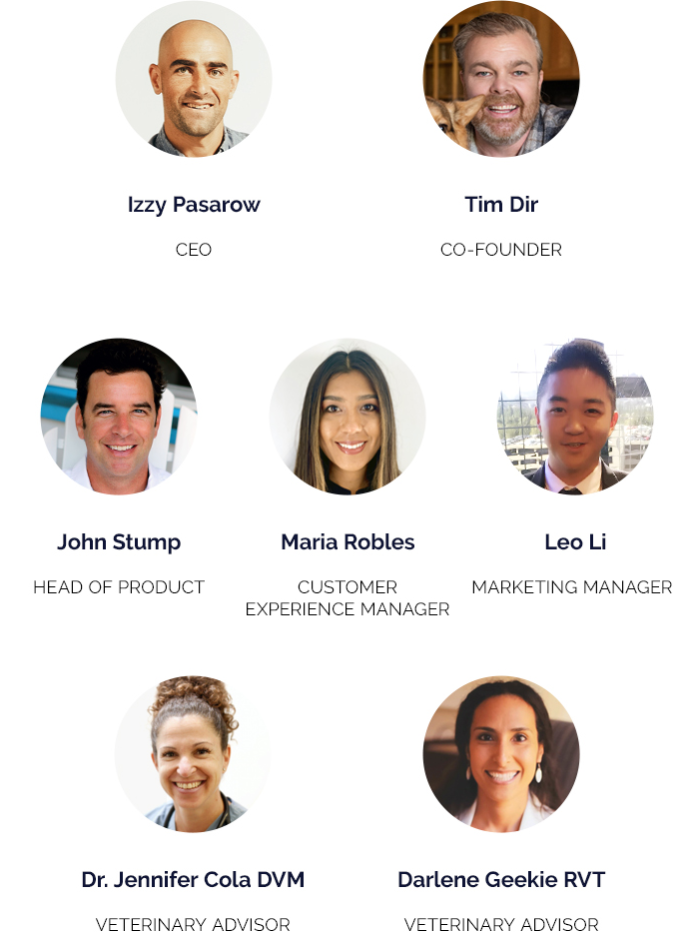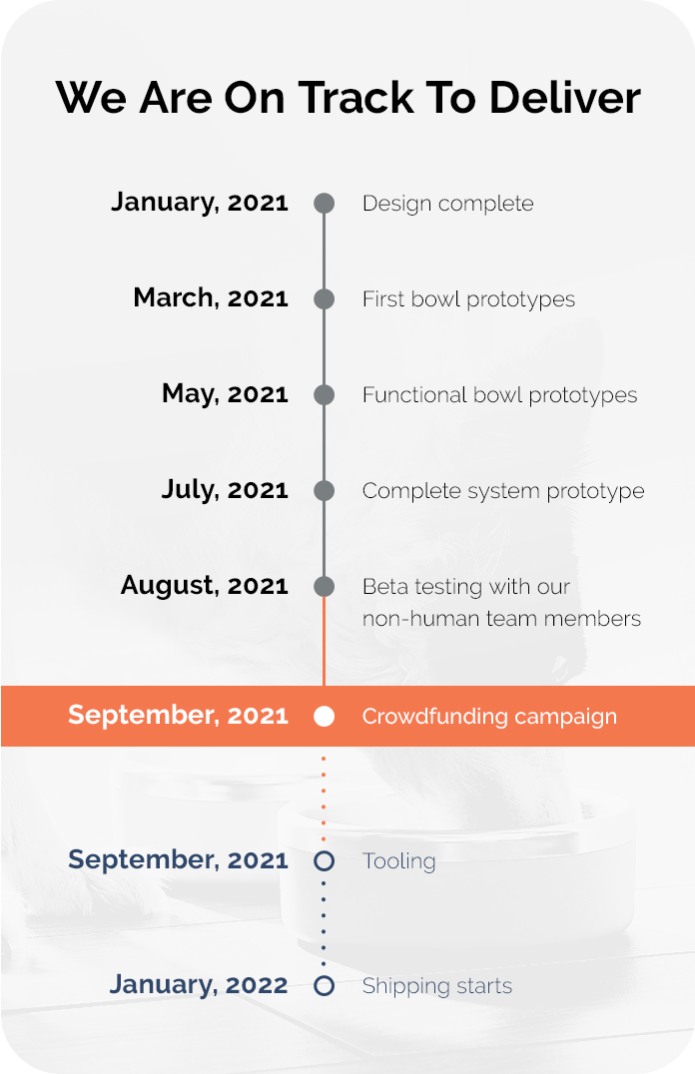 We are able to ship worldwide. VAT and GST not included. Please see reward for details on the shipping cost that applies to you.

We plan to ship starting in January 2022* We will keep you up to date on our progress and the expected delivery date of your order.
*Actual ship dates may vary. We will keep you notified of your product ship date.

By backing now, you'll get to own one of the very first products off of the line, plus exclusive access to provide valuable feedback that will shape future generations of Trot Puzzle Slow Feeder.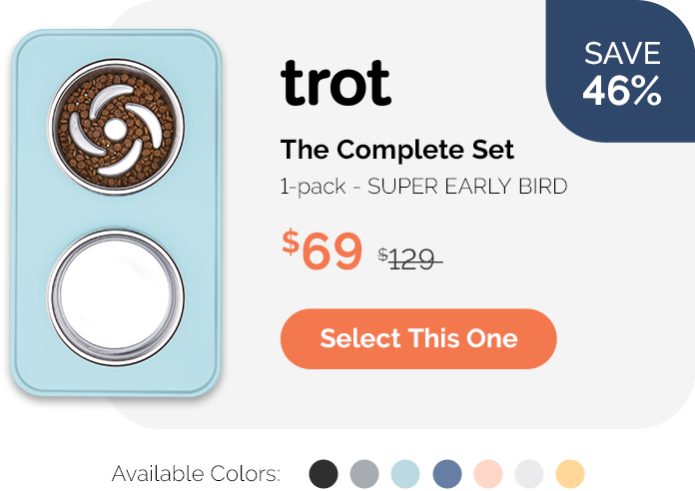 Like what you're seeing? Want to help? Just 30 seconds of your time could make the difference in growing the community. Hit one of the buttons below and tag a friend or coworker who needs this!
The more people who know about us, the larger our community will become! And the larger the community, the better we'll be able to make the product!
We can't do this without you.






Rainfactory is a multiple-award-winning crowdfunding marketing agency that operates as a marketing department for growing brands. Rainfactory's experienced team & data-driven, battle-tested approach ensure long-term market dominance for eCommerce start-ups.