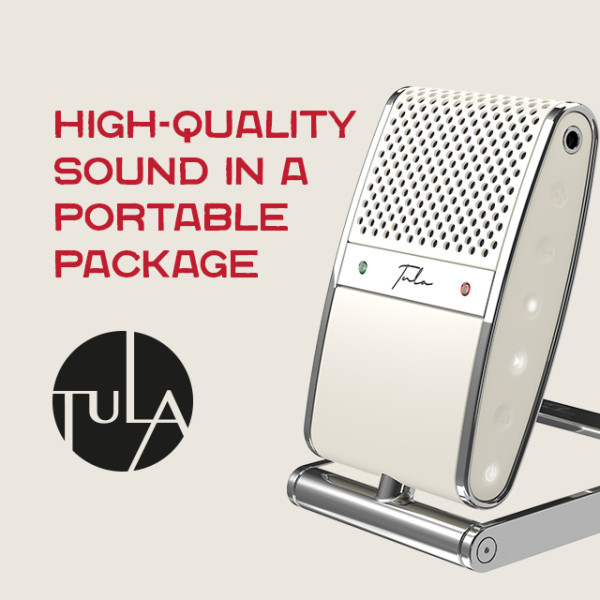 Tula Mic: USB microphone & mobile recorder
$100,683
raised out of
$15,000
Overview
https://youtube.com/watch?v=AHYYeQQeNVM%3Frel%3D0
Concept
Create the best sound with noise cancellation, internal memory and a hint of nostalgia.
Story
Meet the Tula Mic — a USB mic & mobile recorder that gives you studio-quality sound without the need for an actual studio.
The Tula is all the equipment you need to intuitively capture and record high-quality sound no matter what you're doing.
Hosting a podcast, producing digital content, or just attending work meetings from home. The Tula comes equipped with noise cancellation, plus the mic doubles as a mobile recorder.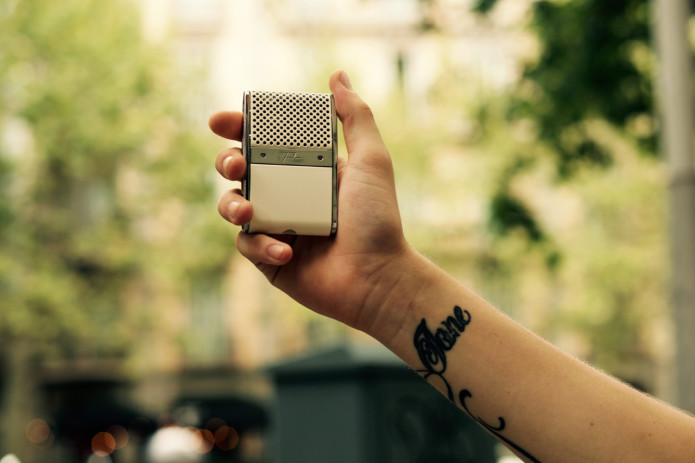 The Tula doesn't just have great features, the mic's design is unmatched — a true combination  of modern and nostalgic aesthetic. Not only will you capture high-quality audio always, you'll look great while doing it.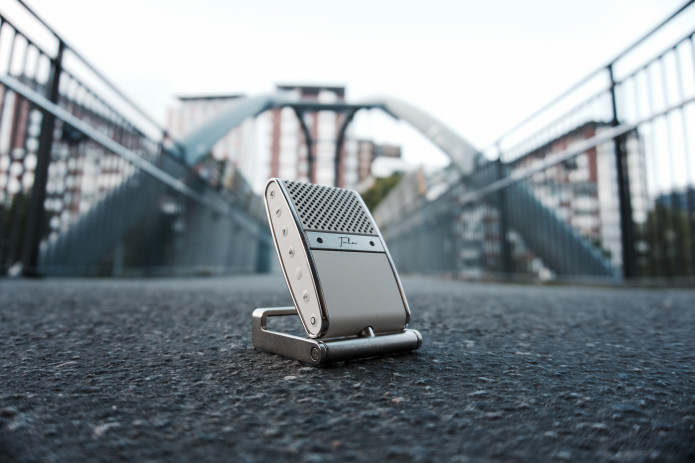 The Tula was designed for maximum ease and portability. Its base opens and closes with a premium feel and is detachable with a simple quarter-turn mechanism. The Tula Mic's form factor is based on the golden ratio, allowing for maximum ease and portability.


The Tula Mic will allow you to effortlessly capture great audio. Whether you're a content creator, a work-from-home professional or just somebody who appreciates good sound in Zoom meetings and Skype calls, the Tula could be just what you're looking for. It's a high quality USB mic (and so much more).

Imagine your own little recording studio in your pocket. The Tula makes that a reality. With its own internal battery and memory, the Tula Mic can give you up to 12 hours of continuous recording in high quality 16bit/48K wav format. 

Not everyone has the luxury of always using a microphone in a silent environment. We teamed up with a well-known Swedish music software company to create an embedded version of their noise-reduction algorithm. With just the touch of a button, you can get rid of unwanted background noise such as fans, air conditioners or even traffic. 

The Tula was designed in conjunction with Red Dot Award-winning industrial designers in Barcelona. It's a thoroughly modern device featuring cutting-edge audio technology and yet its soft curves and solid build quality reference a bygone era.

The folks behind the Tula Mic are no strangers to the world of audio. Founder David Brown is the co-owner of Soyuz Microphones, one of the most well respected high-end microphone brands on the planet. Soyuz is the audio choice of the likes of Coldplay, Radiohead and many more. Plus Tula's firmware, electronic and mechanical engineers have worked on the iconic OP-Z synthesizer from Teenage Engineering. 

The Tula Mic features Burr Brown op amps, TI audio codecs and high performance ECMs. It has both uni and omni-directional capsules and its 3.5mm headphone jack doubles as an input for a lavalier microphone. Yet, the priority has always been to keep the Tula so frictionless and user friendly that even a child could use it.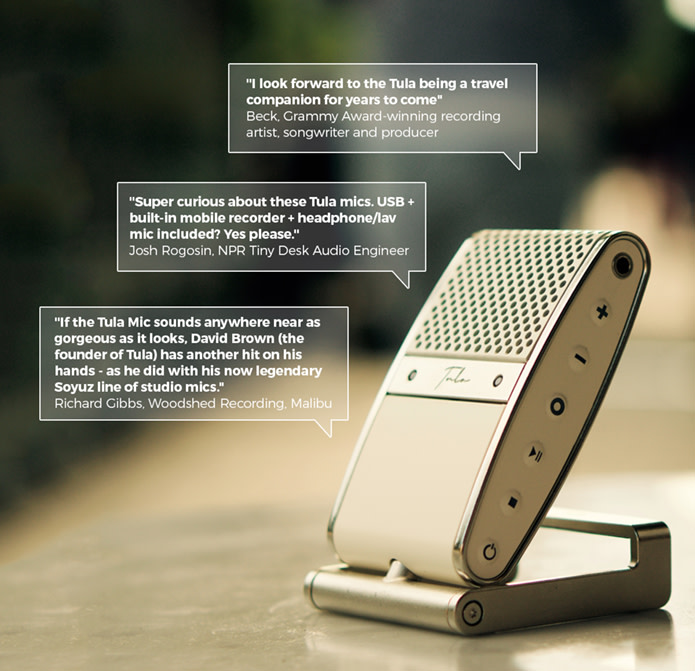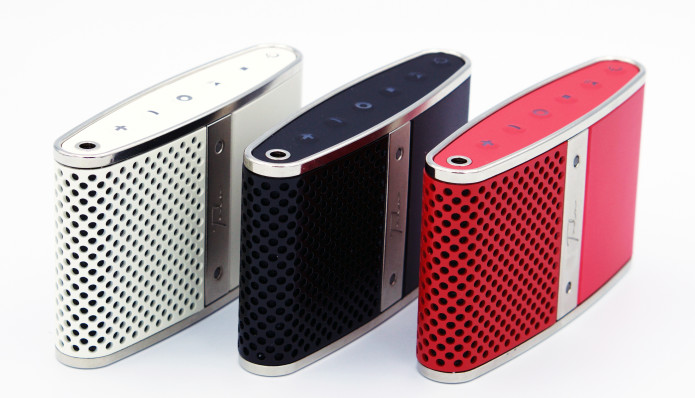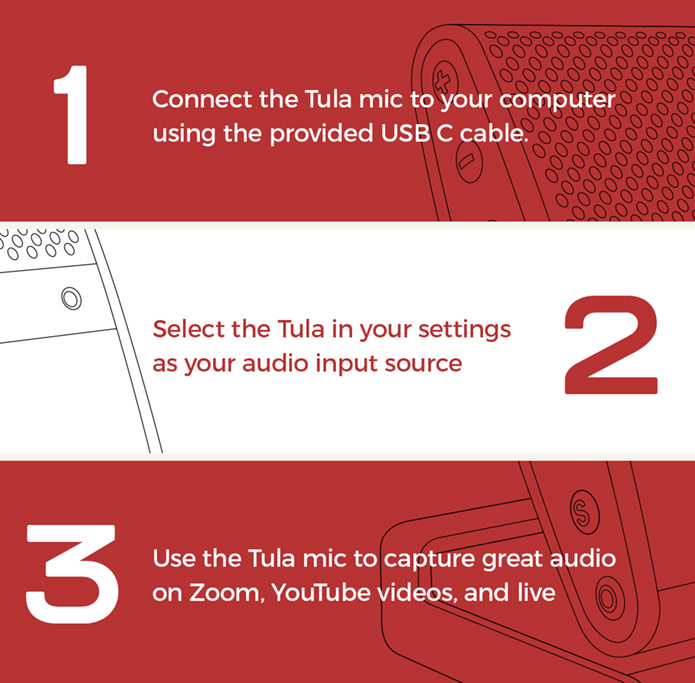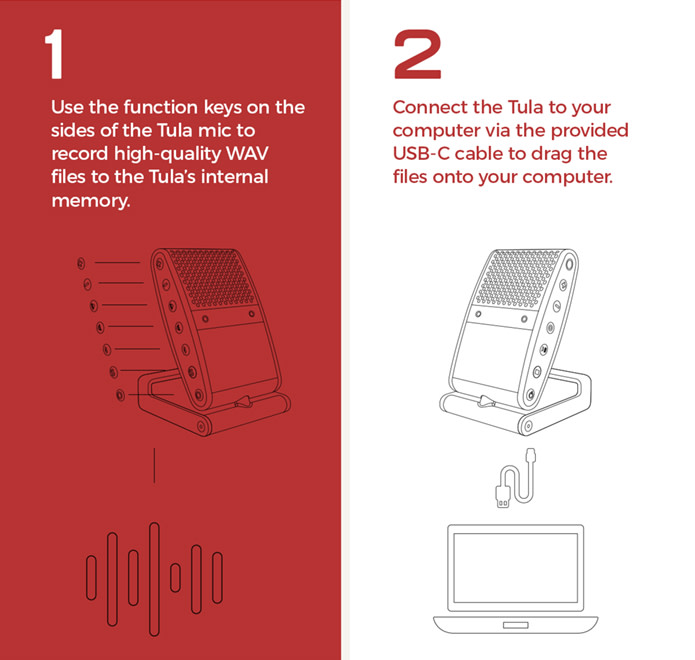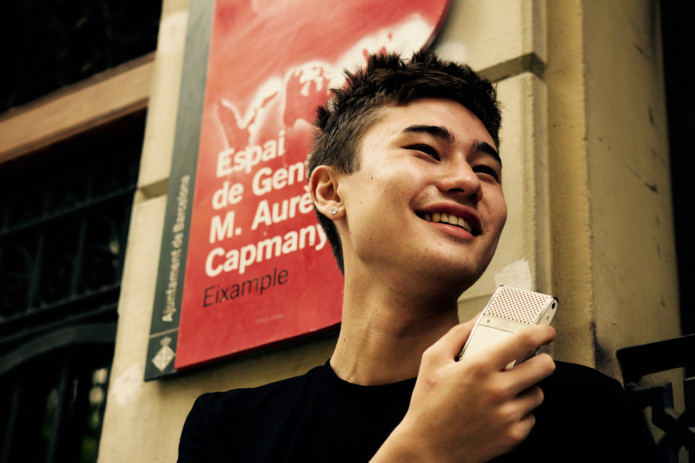 The Tula was designed with the modern content creator in mind. It's intuitive, portable and stylish. Podcasters can use it in their studio or remotely as a mobile recorder when conducting interviews in the field.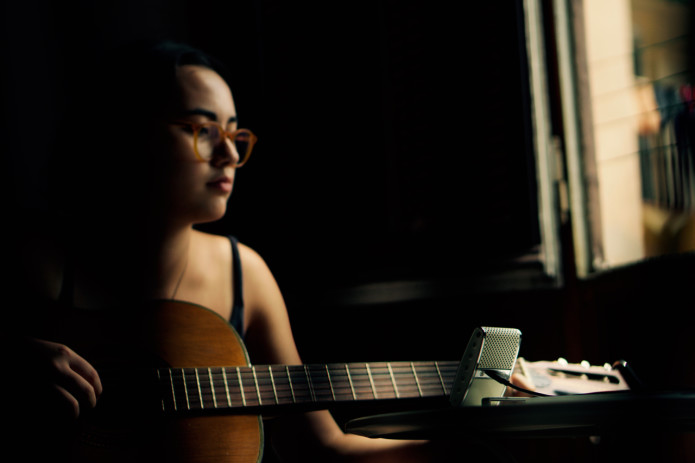 You can use the uni-directional capsule in conjunction with a lavalier microphone plugged into the Tula's 3.5mm jack to conduct an interview with two separate mono tracks using nothing but Tula. No computer or phone needed!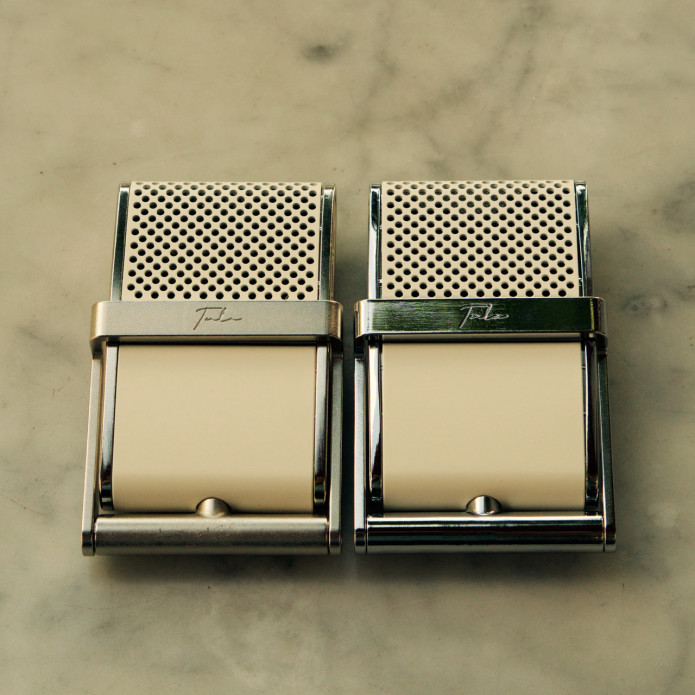 YouTubers, you can use the Tula as your primary audio source for filming videos or streaming from your computer. If you're recording outdoors you can use the noise cancellation feature to block out any unnecessary background noises.
 
Or use it as a mobile recorder. With its internal battery and memory, the Tula will give you up to 12 hours of high quality recording. The device is also equipped to fast-charge via the USB-C port.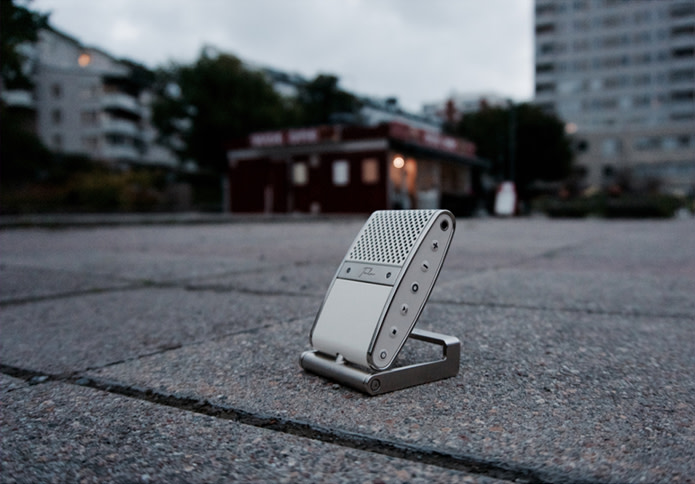 How many work meetings are you attending remotely during the global pandemic? Does this sound familiar: "You're cutting out." "It sounds like you're in a wind tunnel." "Are you on mute?"
We can't clear your calendar, but we can get you the right mic to showcase your ideas with clear, crisp sound.
Bring your best voice to the next team meeting. The Tula gives you high-quality audio always.
Plus you can use the noise cancelling feature to remove unwanted background noise. Fan too loud? Kids too cranky? With the Tula Mic, they won't end up in your Zoom meeting.

The Tula is not the first portable USB mic, but it's the first one that doubles as a mobile recorder, has high-quality sound and  onboard noise cancellation. It's made from top-notch materials and features a superior design aesthetic.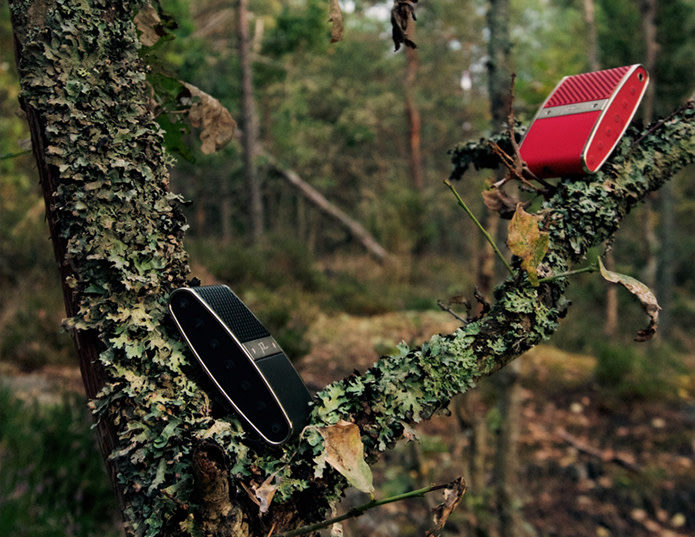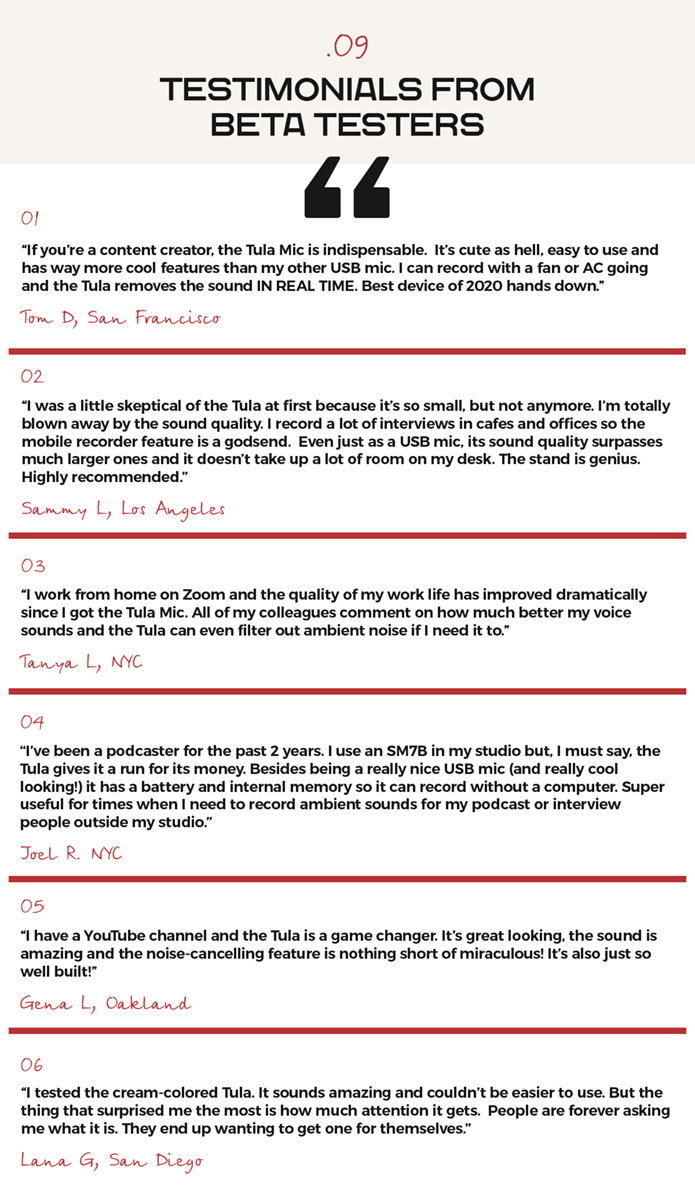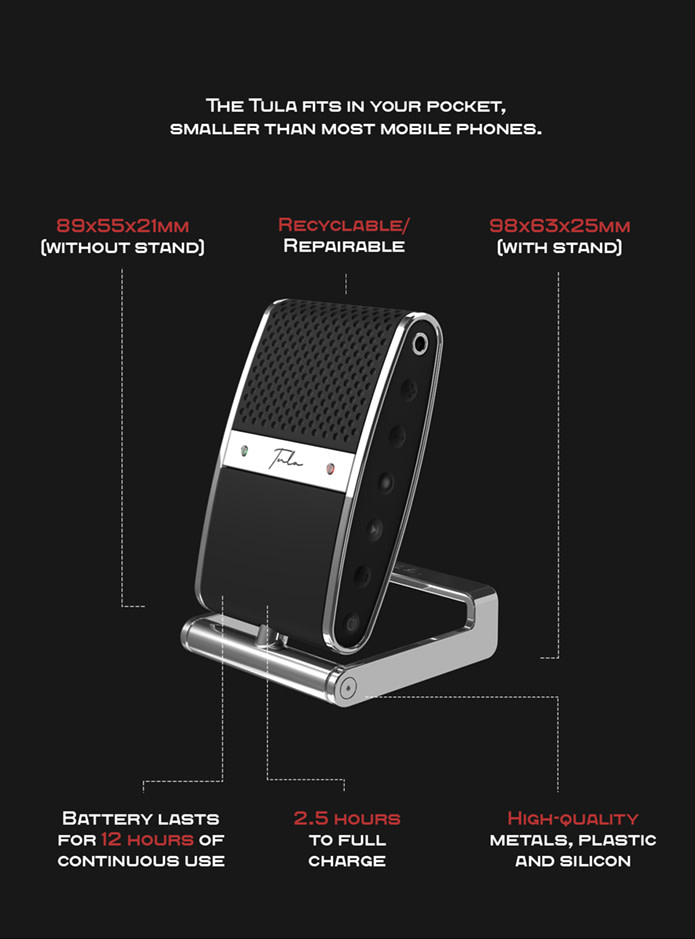 Sound samples
Ready to hear the Tula in action? Visit our Soundcloud for samples.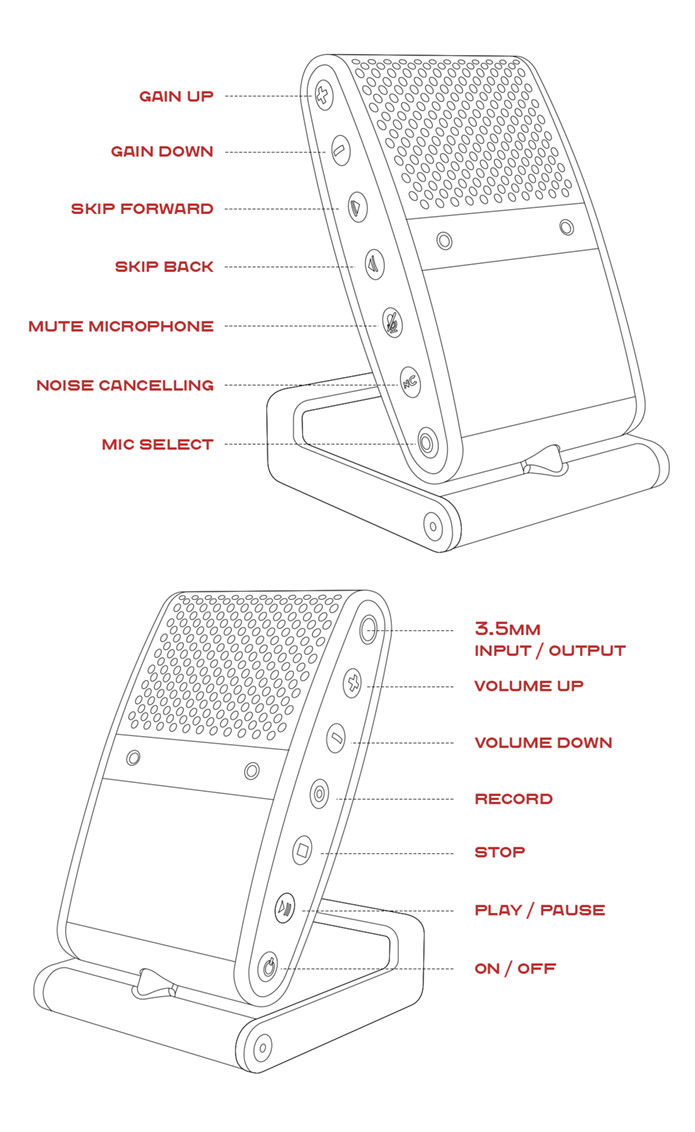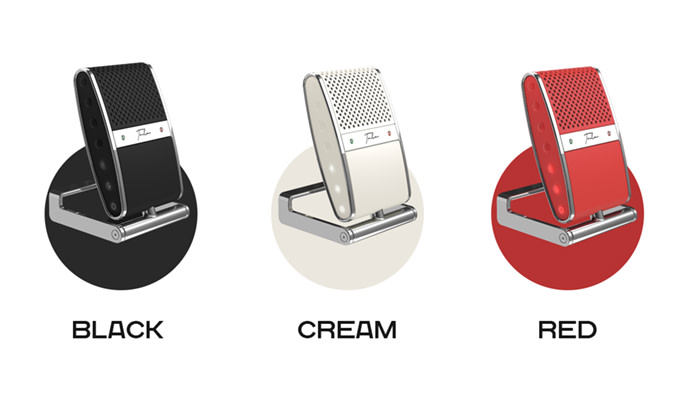 The Tula has been fully developed, tested (and tested again). So with the help of our crowdfunding backers, we're ready to mass produce and send the mics out in December.
When your Tula arrives in its 100% recycled material box, you'll find a Tula mic, plus a removable folding stand, a USB-C cable and a custom adapter to affix your Tula to standard mic stands and arms.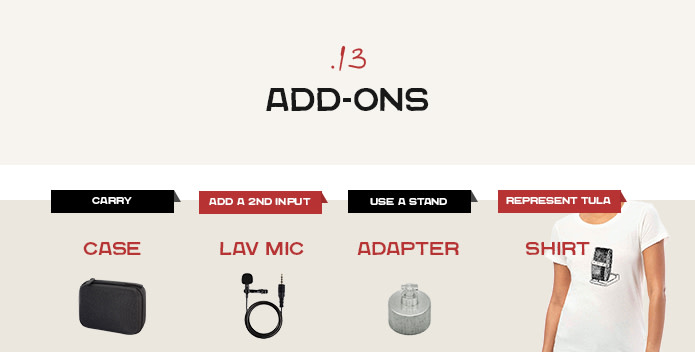 Several of your purchase options include these add-ons already. That's the best deal! You save when you buy as a bundle.
But if you want to add one at a time, or maybe pick up an extra shirt, you can do that when you check out. Here are the add-on options:
Case: The Tula carrying case is perfectly designed to fit your Tula mic, stand, adapter, USB-C cable and even your lav mic. It's perfect for when you're on the road or just out for a bit of mobile recording.
Lav mic: The lavalier mic plugs into the 3.5mm jack to allow you close miking of interview subjects. It can also be used in conjunction with the cardioid capsule to record two separate mono tracks of audio (for remote interviews without the need for a a computer or phone).
Adapter: The Tula adapter is custom made to give you the same convenient quarter turn mechanism as the Tula stand when using other mic stands and arms.
Tula shirt: Natural cotton Tula mic t-shirt featuring a hand drawn Tula on the front. It's unisex and comes in sizes S, M, L, and XL.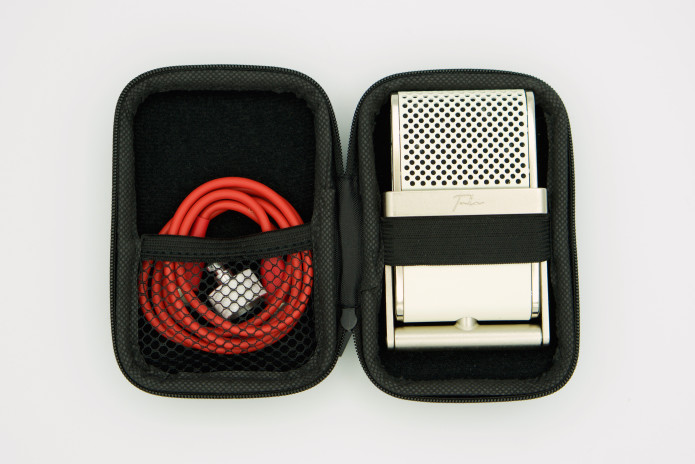 One of the most frequent questions we hear: "Can I attach the Tula to a stand?"
You can use the Tula on its own with the included stand. And if you want to attach it to a different mic stand or mic arm, we've got you covered. The adapter uses the our custom quarter turn mechanism to allow you to use the Tula with any stand. With the adapter, you can position the Tula right where you want it to get the very best sound.
The adapter is included with your Tula mic.
When you're done, store the adapter in the Tula case. (Just make sure the case is part of your purchase!)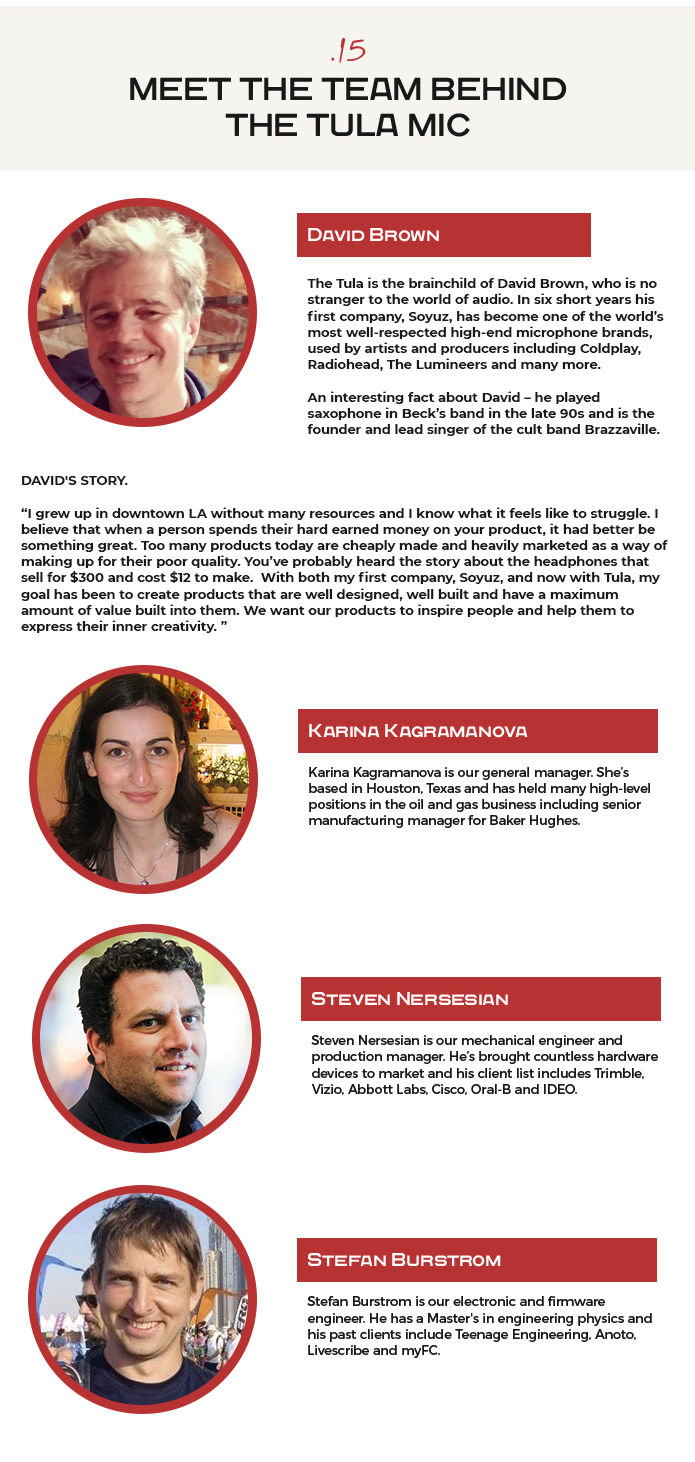 We're a team from very diverse backgrounds who share a love of making cool stuff! Steven, our mechanical engineer and project manager has brought dozens of hardware products from concept to mass production. Stefan, our electrical and firmware engineer is a master of firmware and embedded systems who was deeply involved in the creation of the iconic synthesizer the OP-Z from Teenage Engineering. And David? He says: "I'm just a singer who likes to imagine and draw cool products, and assemble teams who can turn them into a reality."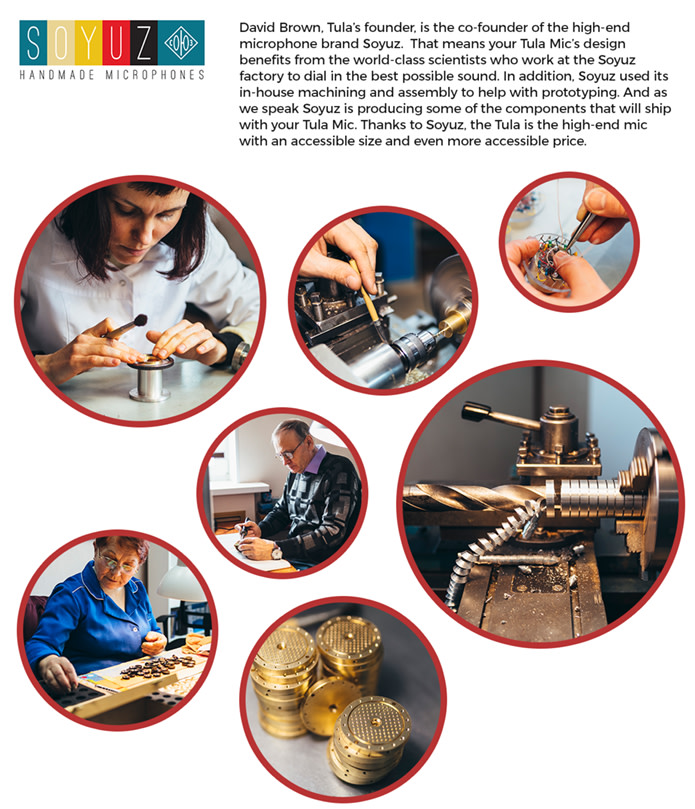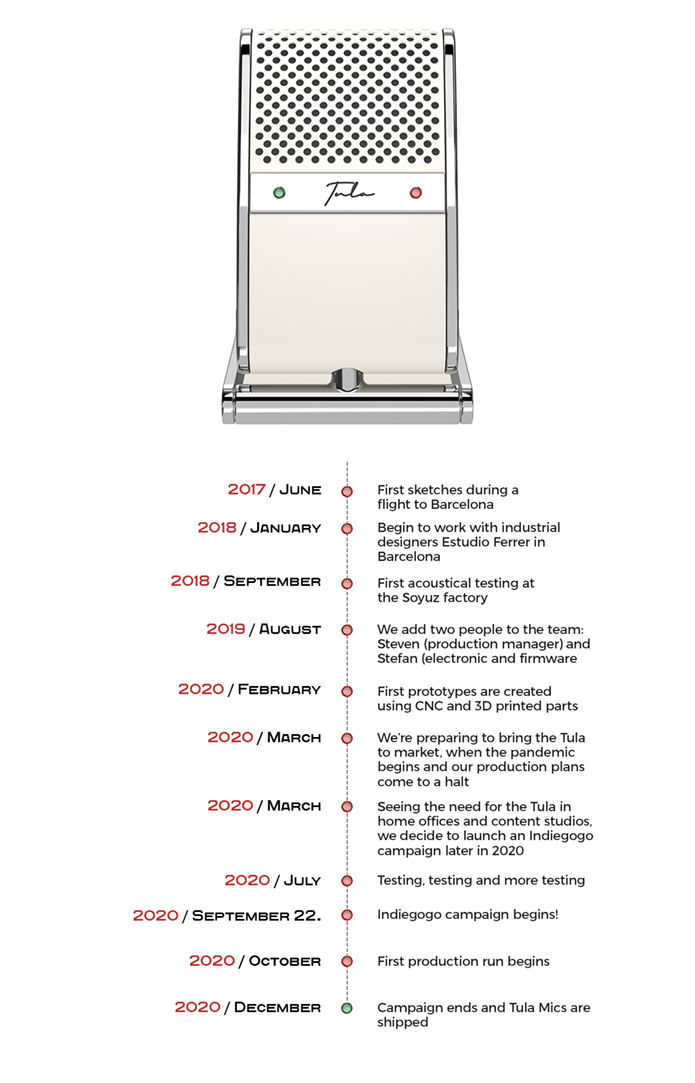 Tula was well on its way to being fully funded by investors earlier this year. Then, on March 9th, the markets of the world collapsed.  
We believe that the need for the Tula has only increased due to the pandemic. Your voice is more important than ever. And for many of us, our voice is what connects us to family, friends, colleagues and new opportunities. We want to carry your voice and far and wide, whether you're recording an interview, running a meeting or documenting daily life.
We believed that people would see the value in the Tula and that we would be able to raise the funds needed for our first mass production run via an engaged community on Indiegogo.  
Our work continued even after the pandemic pressed pause. We've managed to finish virtually all of the development work through spring and summer 2020. That means folks who invest in a Tula Mic will get their microphone less than two months after the campaign ends.

This is not our first manufacturing and shipment process. It's not even our first time producing a world-class mic (learn about our first one here).
Ready to press "play"
We're ready to start mass manufacturing the Tula Mic once we reach our funding goal. We've got a factory in place. Our project manager has a very close relationship with the factory and has successfully brought many hardware products to market before. We're fully committed to delivering your Tula Mic on time, and with proper planning and safety measures, COVID-19 will have no impact on our production.
What this means for you
Generally, the biggest risk for any hardware product is unknown delays in manufacturing as things can always change along the way when bringing a brand new product into the world for the first time. It's highly unlikely that this will happen for the Tula.
In the unlikely case that delays occur, rest assured we'll disclose all information in our updates.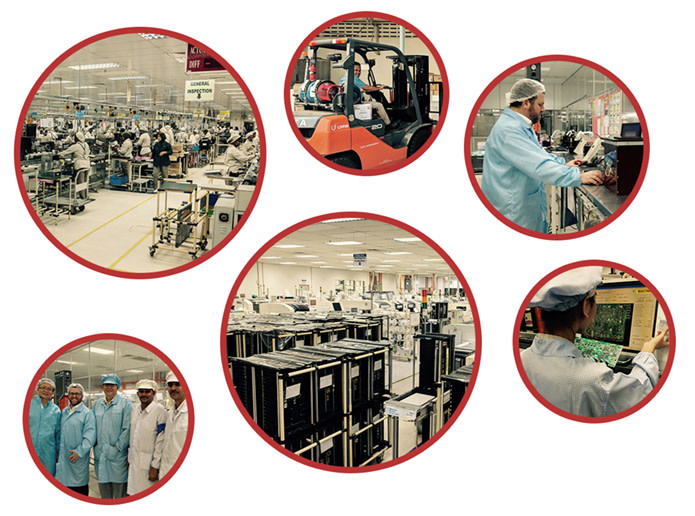 Return policy
The Tula has undergone 2+ years of development and testing. The funds raised through Indiegogo will be used to manufacture Tula Mics for our backers. With your support, it's ready to go.
In accordance with Indiegogo Terms of Use, we will not offer refunds or return for items that are not defective. All Tula Mics come with a 12-month warranty, so in the unlikely event that you receive a faulty device, please contact us at info@tulamics.com.
Sustainability
The Tula was designed with longevity and environmental concerns in mind. All the parts either snap or screw together so that the Tula can be easily repaired and when its life is over, it can be separated into its various parts and recycled or disposed of correctly.
Shipping
At the end of the campaign, we'll reach out for your shipping address. Shipping charges are estimated to be $5 standard shipping in the US, $10 to Canada, and $15 – $20 for international shipping. The charges might increase or decrease slightly.
We're offering both US and international shipping. Please note we're not responsible for additional duty and taxes that may apply to your country. 
For US fulfillment, Tulas will first be sent via air freight from our factory in Malaysia to our fulfillment center in the US and then be shipped to US addresses. US-based backers are expected to receive rewards within 3-8 days from our fulfillment warehouse. 
For the rest of the world, rewards will also be sent from our fulfillment center in the US and should be expected within 4-20 days from shipping depending on the size of the delivery and your country.