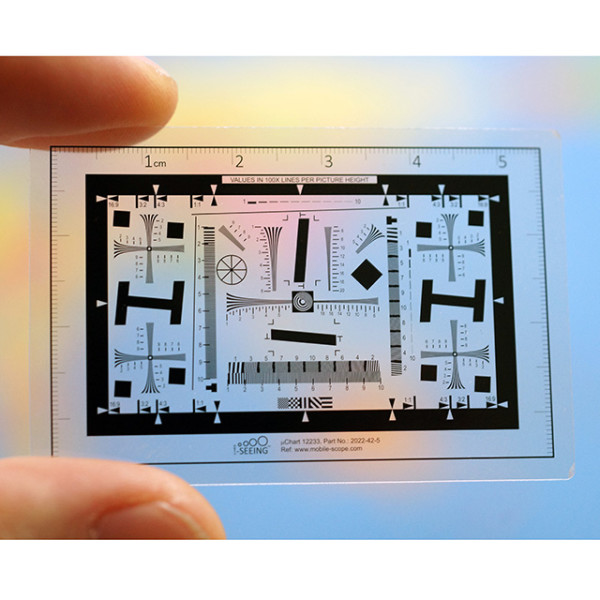 uChart – Test your lens,
$63,120
raised out of
$6,700
Concept
Affordable quality micro charts comply with iso standards to test the resolution of your optic tools
Story
From 2018 to 2022, we took Kickstarter and Indiegogo by storm with the Fingertip Microscopes – iMicro Q, iMicro C, iMicro Q2, and iMicro Q2p, earning 25K pledges from the community over 50K iMicros delivered to our backers in over 70 countries. We also brought to our backers the µRuler M and µRuler Q, the quality yet affordable calibration target.

We want to go further, and this time we bring the µChart – the test target for cameras, lenses, phones, and more to friends who like to observe tiny things. Two different µCharts are developed:

What is µChart?
A quality micro-Chart with fine patterns tests the resolution of your camera, lenses, phone, and other optical equipment.
Two different µCharts are designed: µChart12233 and µChart1951.
They either comply with iso 12233 or US military test protocol.
They are suitable for testing close-up lenses with larger magnification.
µChart12233 is ten times smaller than a standard ISO12233 test chart and has a 1:1 ratio to a full-frame camera.
A close look of µChart
They are made using photomask technology in microelectronic production to assure accuracy. It has rich fine patterns that comply with ISO12233 or USAF1951.


Why do you need µChart?
When we test our eye's vision, we see a chart from a distance. So, when we test a lens and camera, a dedicated chart is necessary; if we want to test the camera and lens with a short focal length or larger magnification ratio, we need a dedicated tiny test chart with fine patterns.
How to use µChart?
It is easy to use µChart, to observe the µChart with enough illumination and stable condition to get the best image. You can recognize the finest pattern on the image or use software to analyze the image to get the results.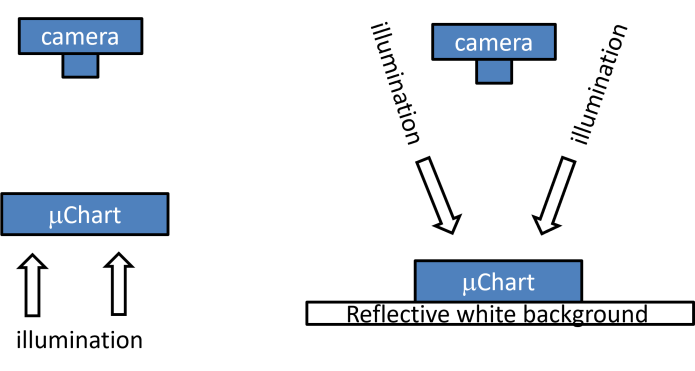 Application examples of µChart
You can use it to test your cameras and optical equipment, especially those of high reproduction power.
Test your phone camera with the different accessory lenses
Today, the phone usually has multiple cameras, and You may use your phone camera to take a picture of it and then check the finest pattern you can record with your phone with each camera.
 Test a digital camera with different (close-up) lenses 
You can use it to test your camera with different lenses, especially for close-up lenses that are used to shoot small items. A standard close-up lens on a full-frame SLR usually has a 1:1 ratio, which is equivalent to the size of 24X36mm. You may use your camera and close-up lens to take a picture of it and then check the finest pattern you can record.
It is a nice tiny chart. Have fun, and you may play with it in your hand and see the finest pattern you can see.
Why are they such low cost yet high quality?
The commercially available resolution test chart is usually made either by etching on glass/metal substrates with low-volume production or printing on a large copy. Therefore the commercially available resolution test chart usually is very expensive.
µChart is made with the photomask technique in the microelectronic industry, one of the processes to make IC chips. So its accuracy and quality are ensured.
On the other hand, instead of glass/metal, µChart can be made on large PET sheets and cut into each piece of µChart (6×9 cm) by mass production. Thus µChart can be a low cost.
Pilot test and quality validation
Our previous production of µRuler has already validated the production process. We tested the accuracy of the μRuler at the National Center of Measurement and Test for East China. The calibration certificate reported U=1.5μm, k=2. That means when coverage factor K=2, the expanded uncertainty U=1.5μm. In other words, with a probability of 95%, the value of the measurement is within the range of ±1.5μm.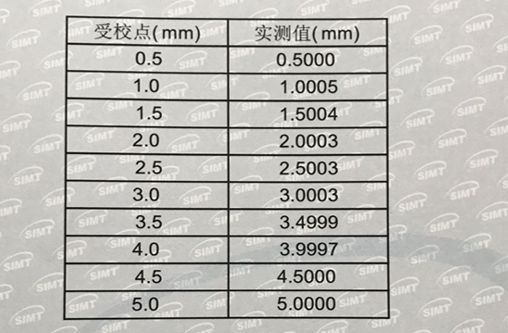 We have already made a small number of µCharts and validated the process and quality.

Comparison of µRulers and µCharts
Both µRuler and µChart are made using photomask technology in the microelectronic industry to assure accuracy.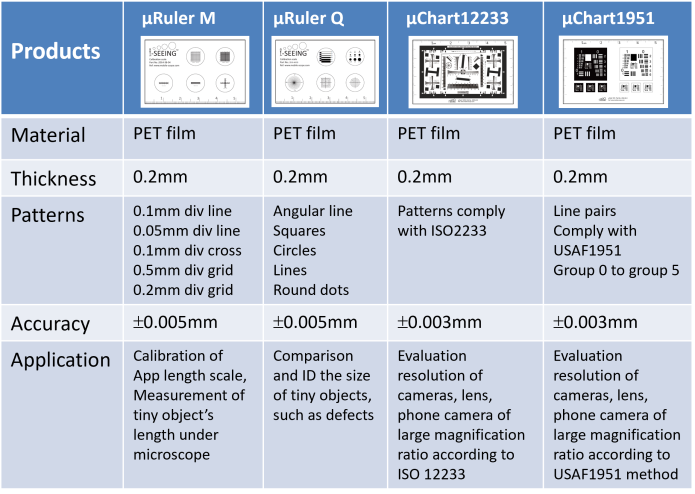 Rewards

Timeline

Why is your support so important?
We plan to start this project by building this small, low-cost ruler to help more and more people in the microscope community. Your support is highly appreciated and very important for the success of this project, as a minimum volume needs to be reached for µRuler production on a large scale with a low cost.