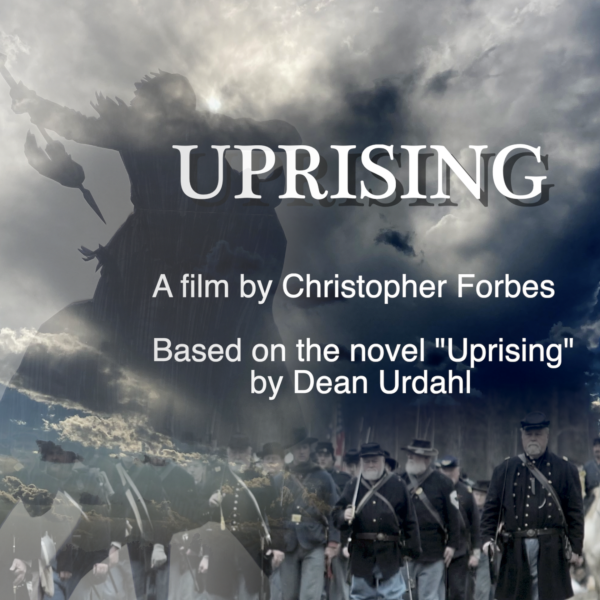 UPRISING feature film
$2,000
raised out of
$90,000
Overview
https://youtube.com/watch?v=726871739
Concept
This is a campaign for the creation of a feature film based on the novel "Uprising" by Dean Urdahl.
Story
     In the summer of 1862, the Civil War raged across the eastern United States.  What this meant to the people of Minnesota was that money that was supposed to go to the Dakota tribe was frozen in Washington.
     These payments were for vast tracts of land that the Dakota had signed over to the United States, payments that were detailed in the treaties of 1851 and 1858.  Without these payments, the Dakota were starving.
     "Uprising", the motion picture, is based on the novel "Uprising" by Dean Urdahl, a ten-term Minnesota state representative.  We are not creating a documentary, but a scripted feature film that will feature the scope and richly detailed characters that populate Mr. Urdahl's book.  This is a 416-page book and we expect the finished film to run between 150 and 200 minutes.
     Of critical importance to the creation of this motion picture is the involvement of indigenous peoples and re-enactors who specialize in the era, both U.S. Army and civilian.  The Lower Sioux Reservation has expressed interest in working with us, as are several large re-enactment groups from the central Minnesota area.
     The film "Uprising" is being produced by Christopher Forbes, who is also adapting the book into screenplay form.  Mr. Forbes has more than forty feature films to his credit.  35 of these films are historical features, and ALL of these historical features have found distribution.
     Principal photography will take place in September and October 2022, in central Minnesota.  We are still casting many roles.  There are a small number of scenes that take place in the southern United States, and those scenes will be shot in November of 2022.  December 2022 through May of 2023 will be consumed by post-production and editing, followed by a world premiere on Memorial Day weekend, 2023, in Litchfield, Minnesota.  
     This is a very important story, both to the history of Minnesota and the history of the United States.  This was a war that lasted six weeks and saw more than 600 casualties.  
     The wounds of that war are still healing, and hopefully this film will foster some of that healing.
     Please take a look at our unique perks at every level of participation, and please share the campaign if you can. 
     The funds we raise from this campaign will be used for principal photography of the "Uprising" film, which will begin in early September and end in late October.