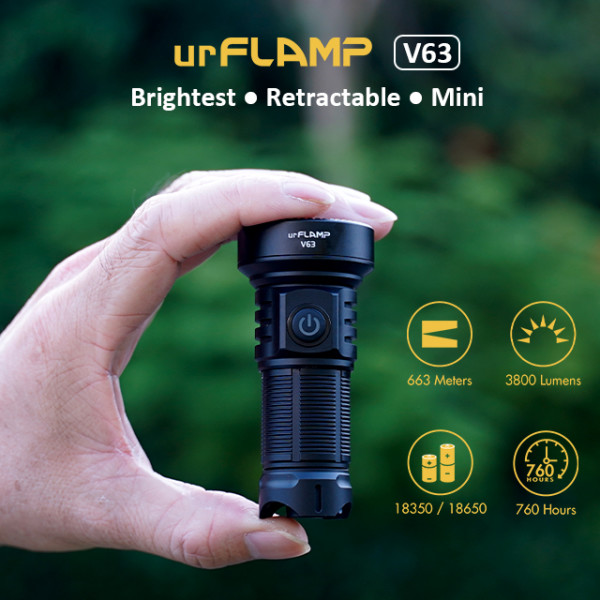 urFlamp V63: Brightest Retractable Mini Flashlight
$123,499
raised out of
$5,000
Concept
3800LM | 3.3in Palm Size | 663m Range | 18350 & 18650 Cells | Magnetic Base | 760H Runtime | IP68
Story


Discover the V63 flashlight, where compact practicality meets versatility.  V63 is designed with the retractable tube to effortlessly accommodate both 18350 and 18650 lithium batteries. It offers seamless Type-C charging.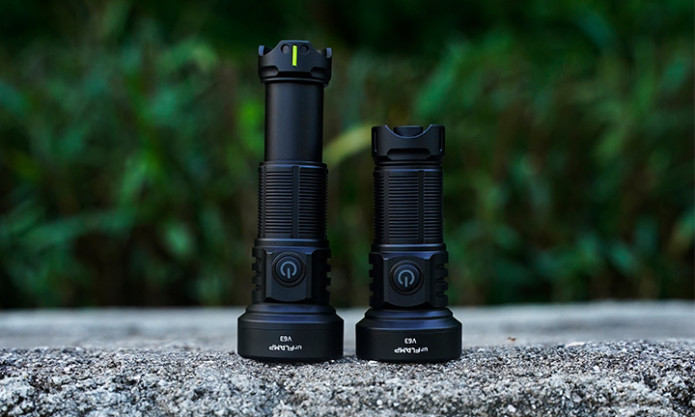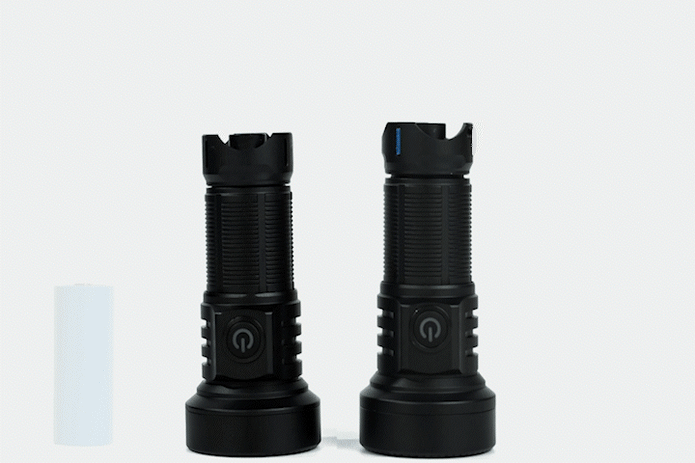 Experience the ultimate adaptability with the V63 flashlight! Its ingenious retractable design effortlessly accommodates both 18350 and 18650 lithium batteries, unlocking unrivaled flexibility and capability. Say goodbye to limitations and embrace the power to conquer any situation with the V63 flashlight by your side.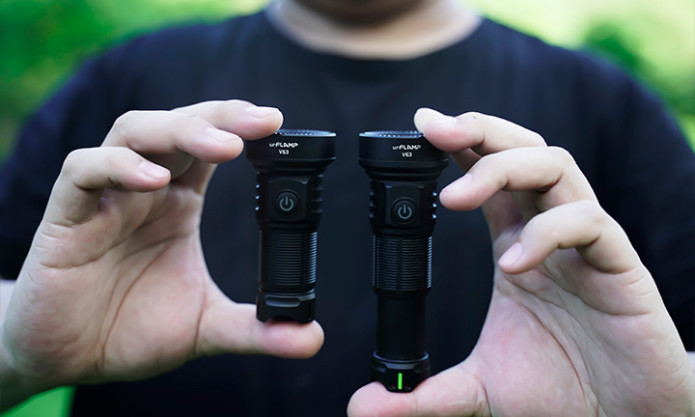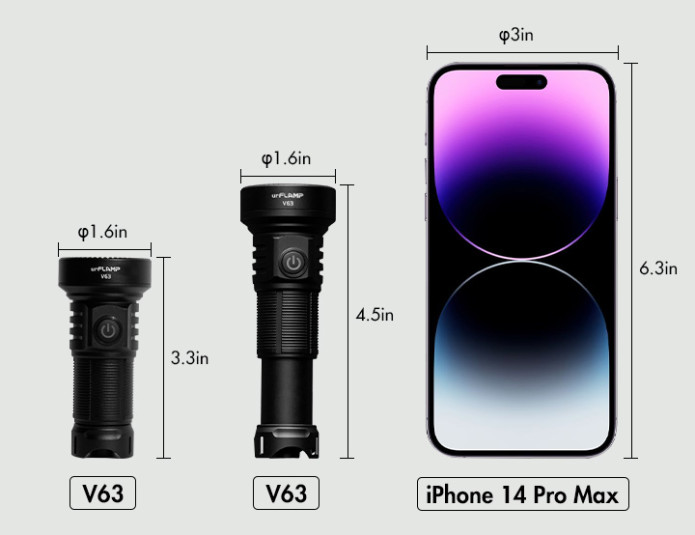 Who says size matters? The length of the V63 is only half that of the iPhone 14 Pro Max, yet it boasts a beam distance of up to 663 meters. Even with a 18650 lithium battery installed, the flashlight's body remains a mere 4.5 inches long. With its impressive 3800 lumens, the V63 is akin to having a mini-sun in the palm of your hand.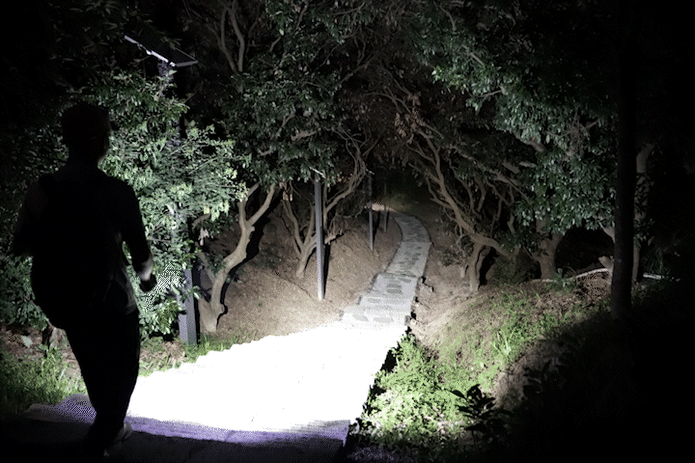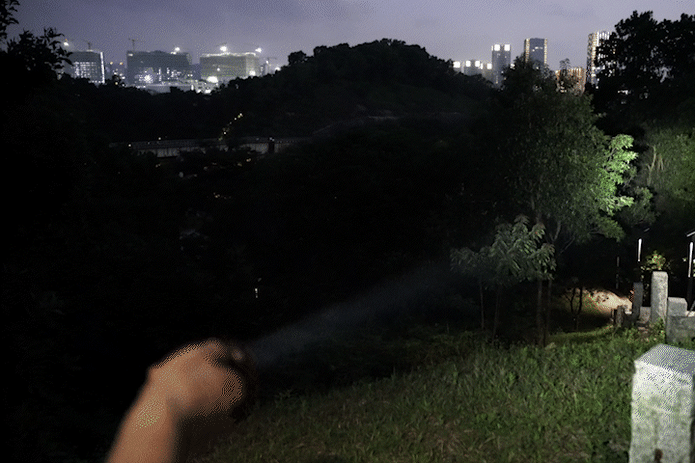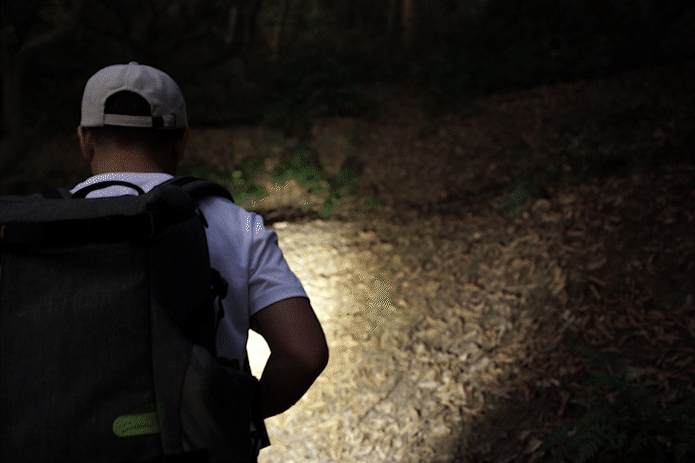 To meet users' needs, urFlamp V63 is available to choose different LEDs and lens. You can have a spotlight or floodlight. For a focused beam, you can choose 1 piece of LUMINUS SFT40 LED and PMMA TIR lens, it's perfect for search or patrol work even nite fishing; while for a floodlight, you can choose 3 pieces of OSRAM P9 LED, ideal for walking dog, hiking or camping. Choose the version that suits your lighting needs best.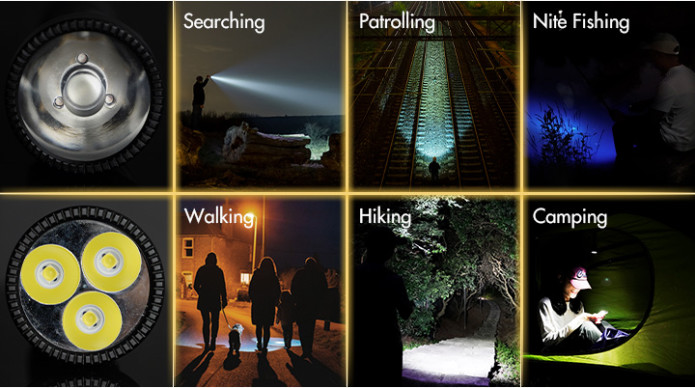 What are the differences between spotlight and floodlight versions?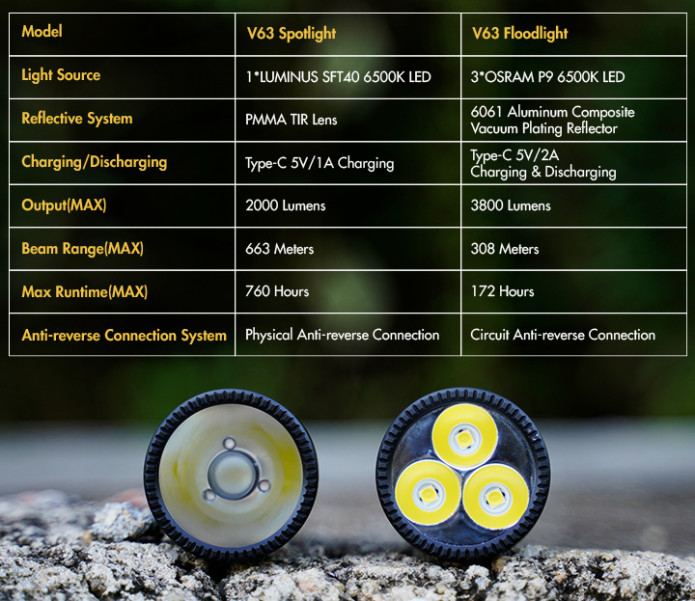 Discover your ideal match with our all-inclusive Comparison Table.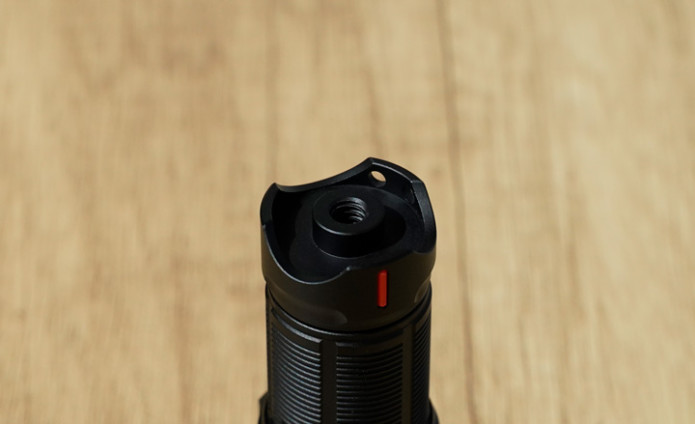 The tripod mount on the V63 offers added versatility and convenience. Features 1/4-inch standard tripod hole, it's compatible with the majority of models on the market, delivers a steady light source, or when you require both hands for other tasks.
Hands-Free Operation
The V63 can be used with a magnetic base, with this add-on accessory, V63 can be attached to ferrous surfaces, with an adjustable lighting angle, it frees up your hands for other matters.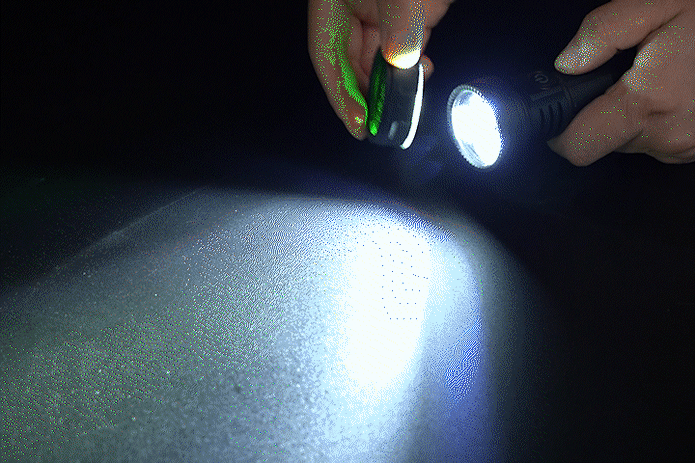 The V63 flashlight comes with a comprehensive set of standard RGB (Red, Green, Blue) filters. In just one second, these versatile filters transform your lighting for specialized situations like nighttime hunting, duty assignments, filming, etc, empowering you to effortlessly conquer tasks and achieve remarkable results.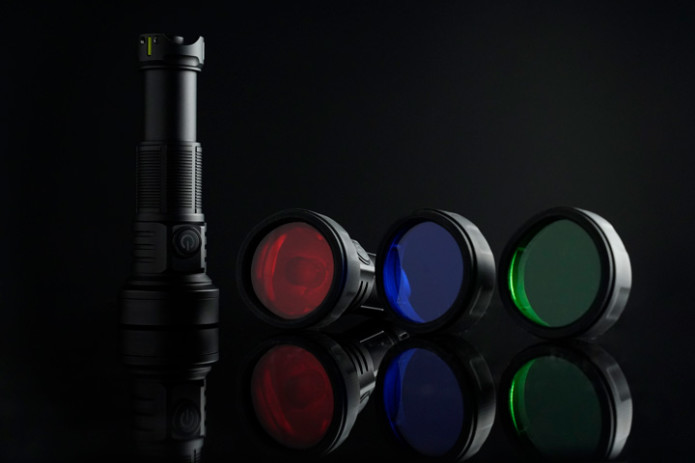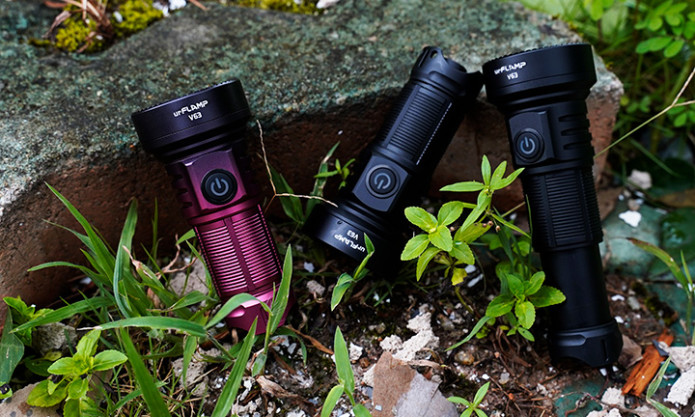 Available in multiple color options, including classic Black and captivating Gradient Pink.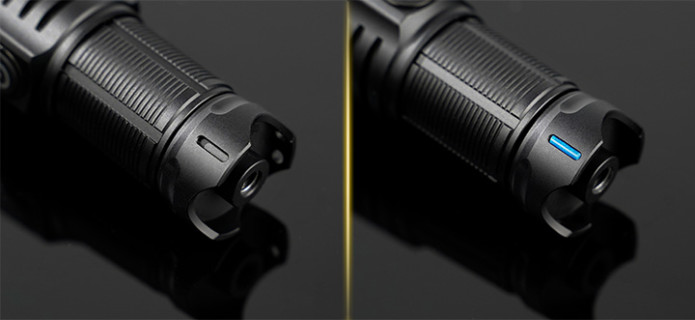 Plus the DIY slots on the flashlight's tailcap allow for a Luminous tube or Tritium tube to be snapped in as desired. V63 boasts a stylish design that catches the eye that is a beacon of reliability and functionality, making it a perfect companion for any adventure or everyday use.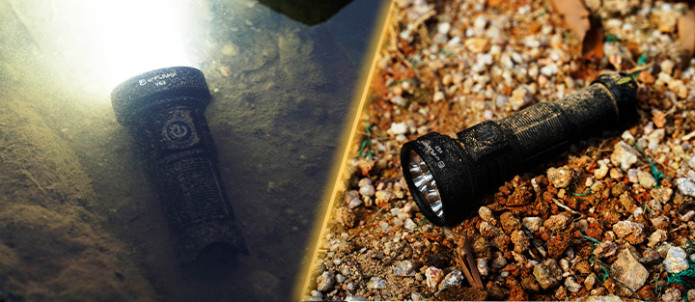 Crafted from 6061 aviation aluminum alloy and treated with Class III hard anodizing, its robust body conquers challenges.

With an IP68 dustproof and waterproof rating, 1.5m drop resistance, and an operating temperature range of -10°C to 60°C, the V63 excels in harsh conditions. Embrace unwavering reliability with the V63, your ultimate adventure companion.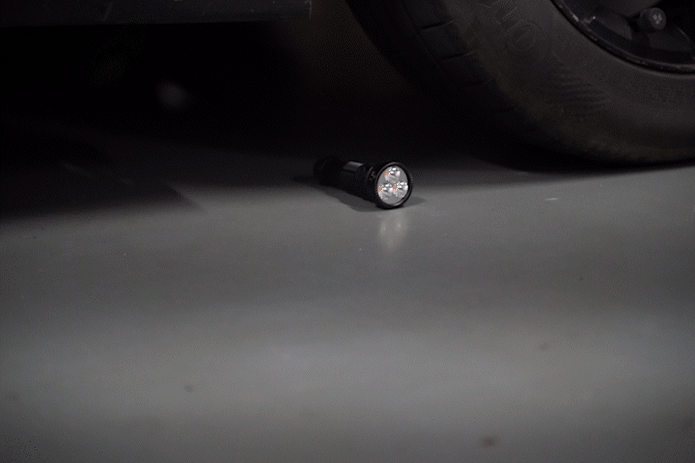 Do you want to know how tough the V63 flashlight can be? Check out this video, and you will be amazed by its resilience!


Power up with our advanced USB plug. Connect your Type-C charging cable for convenient charging. Stay informed with the stylish charging level (C) display and indicator light. Activate Eco mode with a single click for energy efficiency.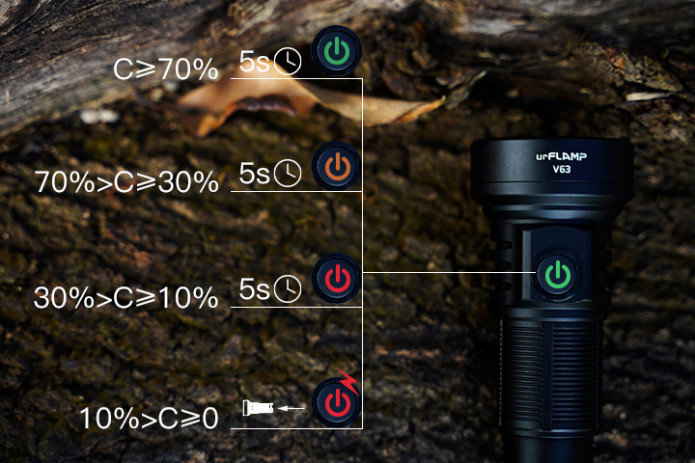 Experience seamless startup with automatic battery level detection. Witness the indicator light's captivating behavior as it responds to your power needs.

By inserting the OTG connector and Type-C charging cable, you can provide a reverse power supply of 5V/2A to a mobile phone or other electronic devices. Discharging is only suitable for the V63 floodlight version.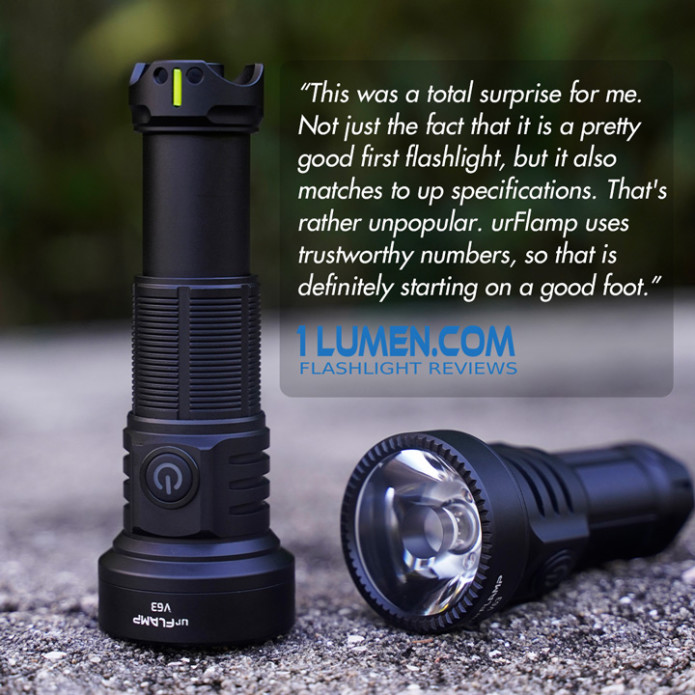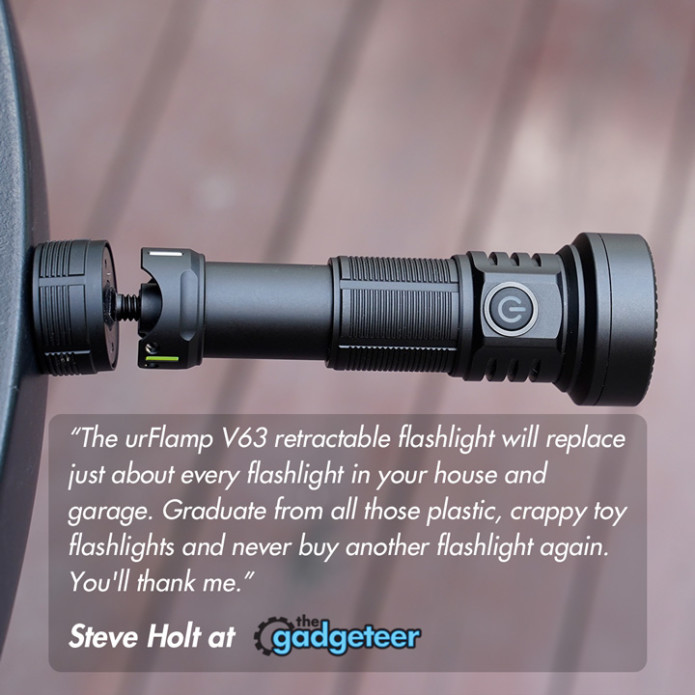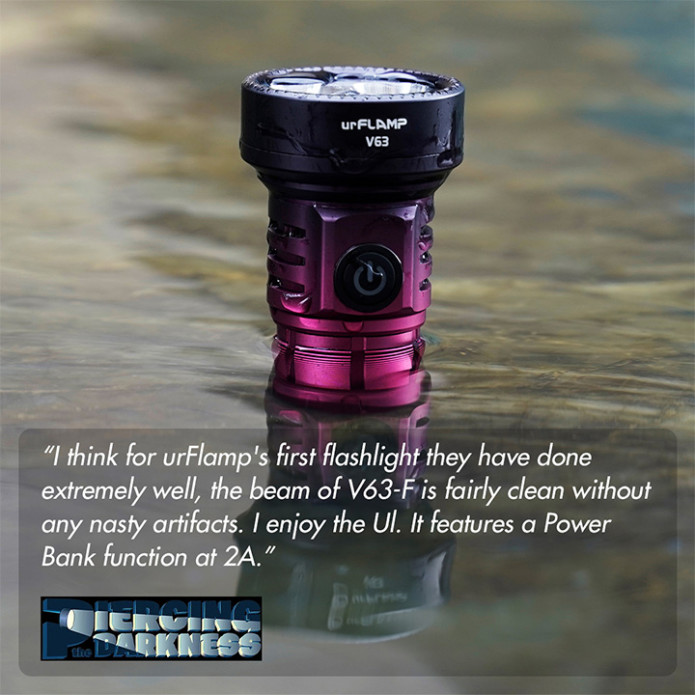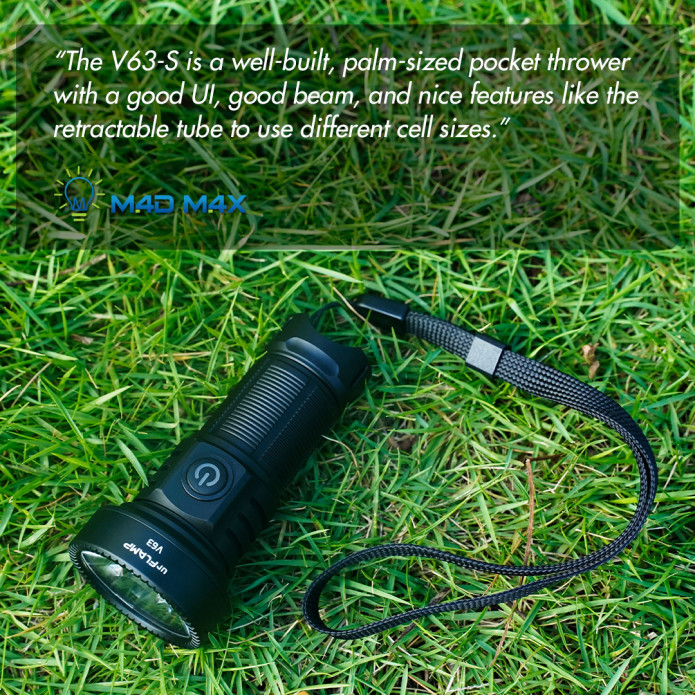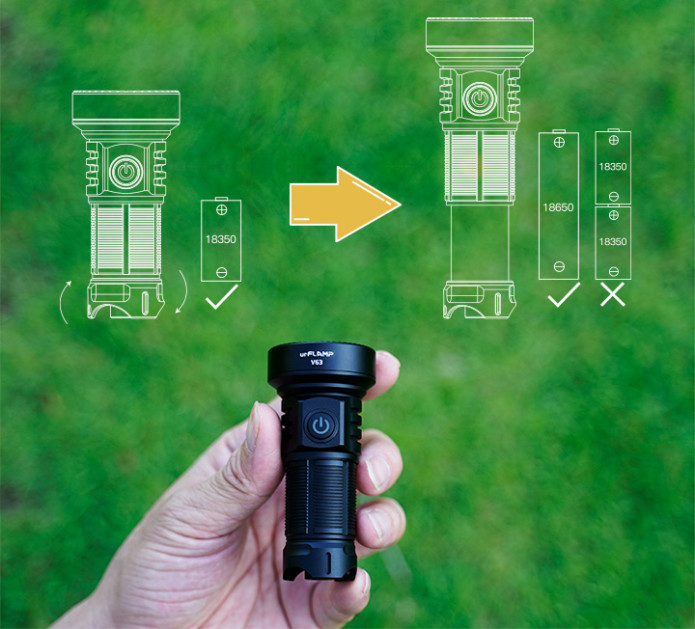 To learn more about how to install the battery, check out our YouTube video.
Experience the pinnacle of control with the V63 flashlight! With 3 default brightness levels(Low-Medium-High) and 2 stealth modes (Instant Eco & Quick Turbo), it adapts to your every need including extended battery life.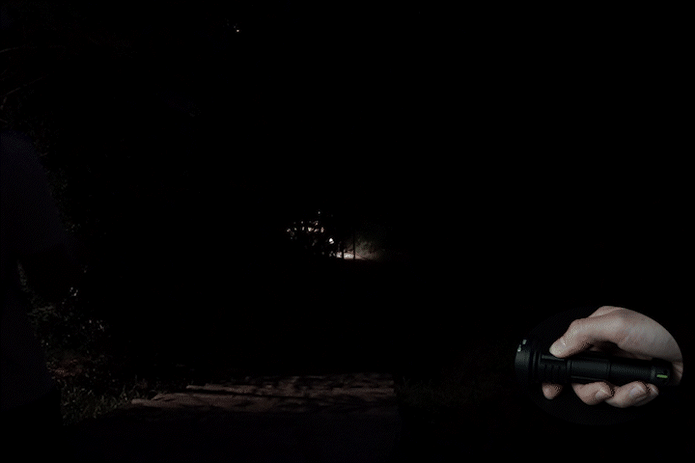 Stay prepared for emergencies with Strobe and SOS modes, while Lockout and Unlock features ensure utmost security against accidental touches. The V63 is your trusted guardian for meeting diverse lighting needs in the darkest of moments.
Please check the V63 User Manual and YouTube Video for more information.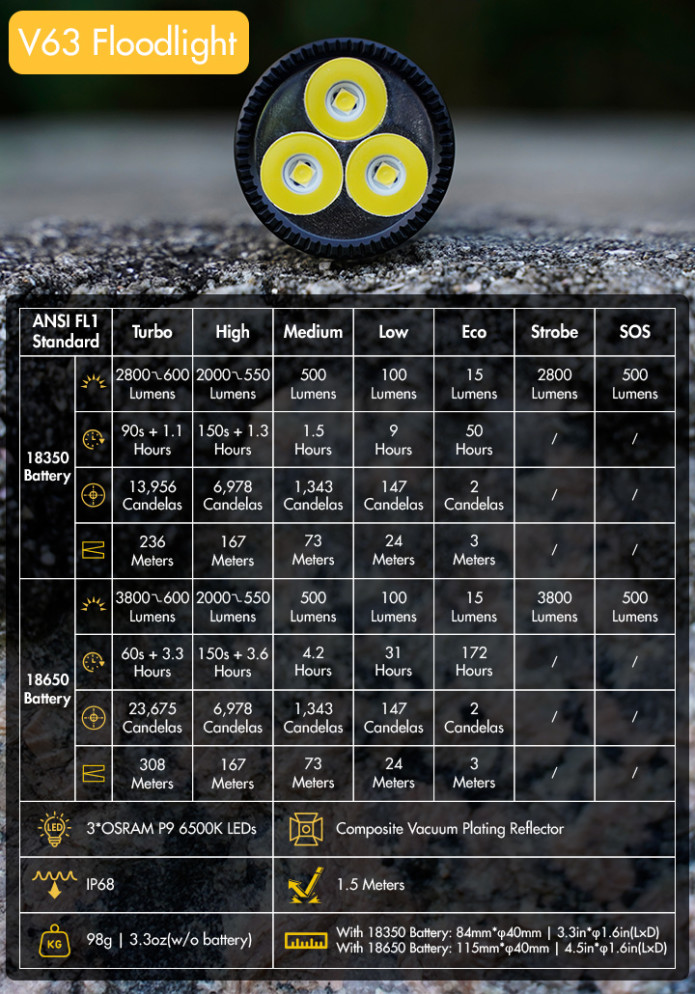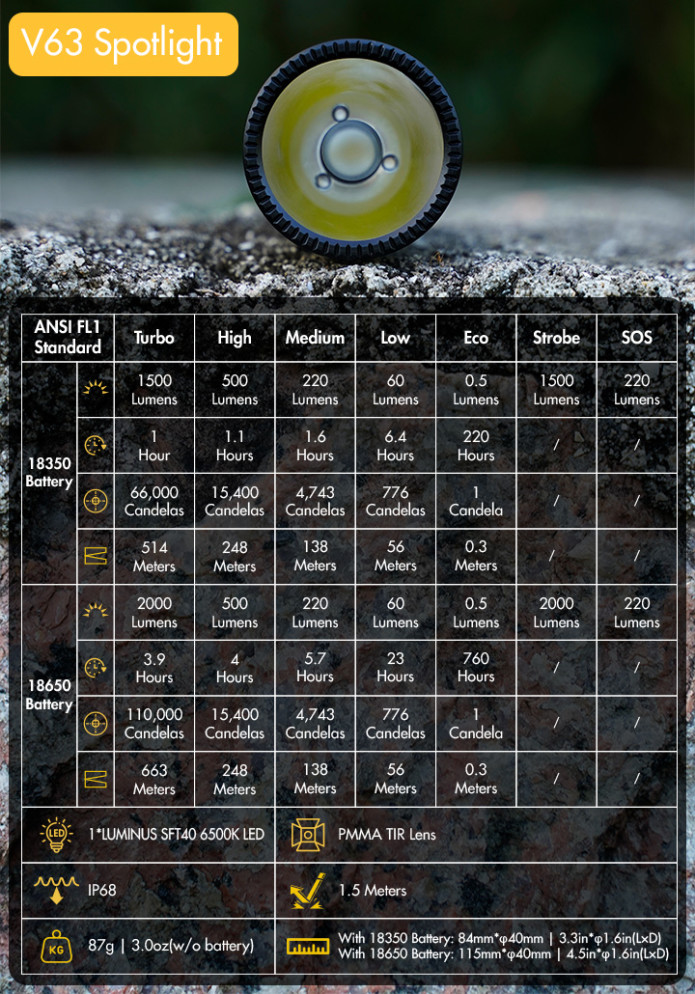 NOTE: This data is obtained through testing conducted in the laboratory using the ANSI/NEMA FL1 standard, with a 1100mAh 18350 high-drain Li-ion battery and a 3800mAh 18650 high-drain Li-ion battery battery. Due to variations in testing environments and batteries, the data may differ.

V63 Floodlight Kit Item List​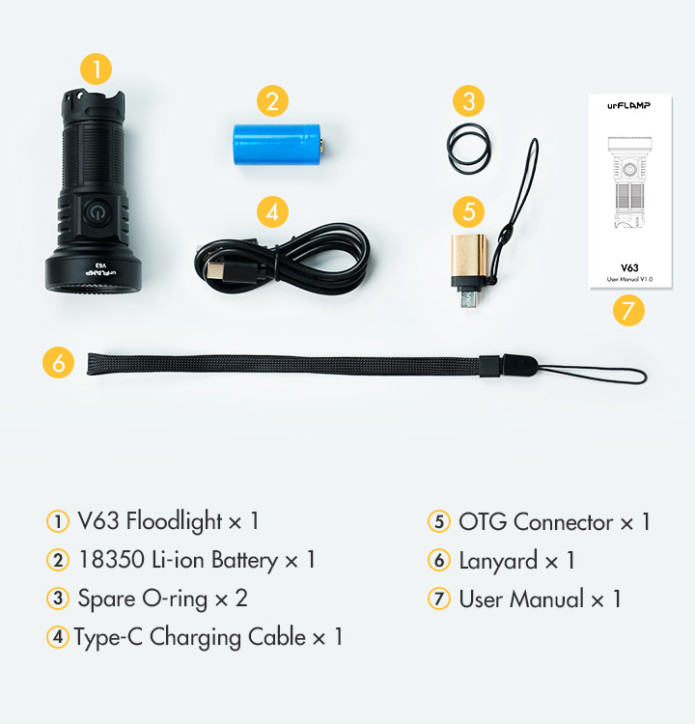 V63 Spotlight Kit Item List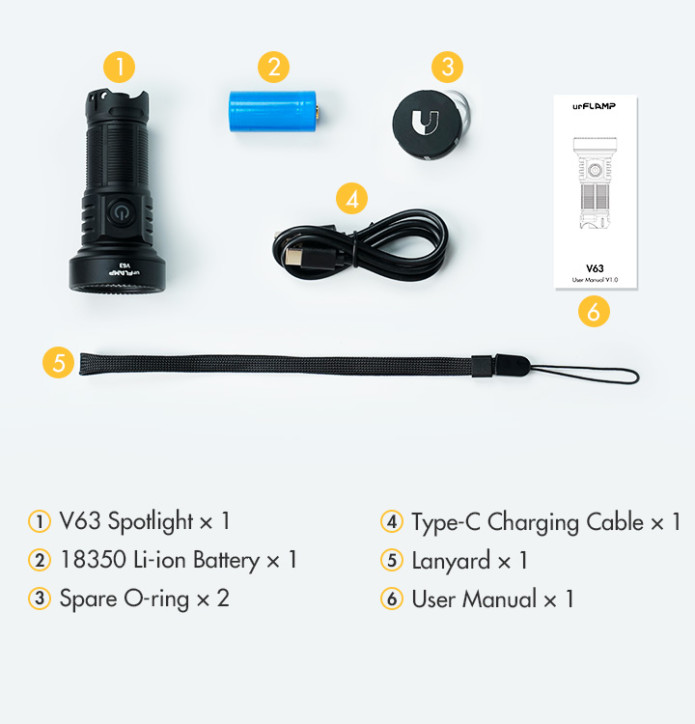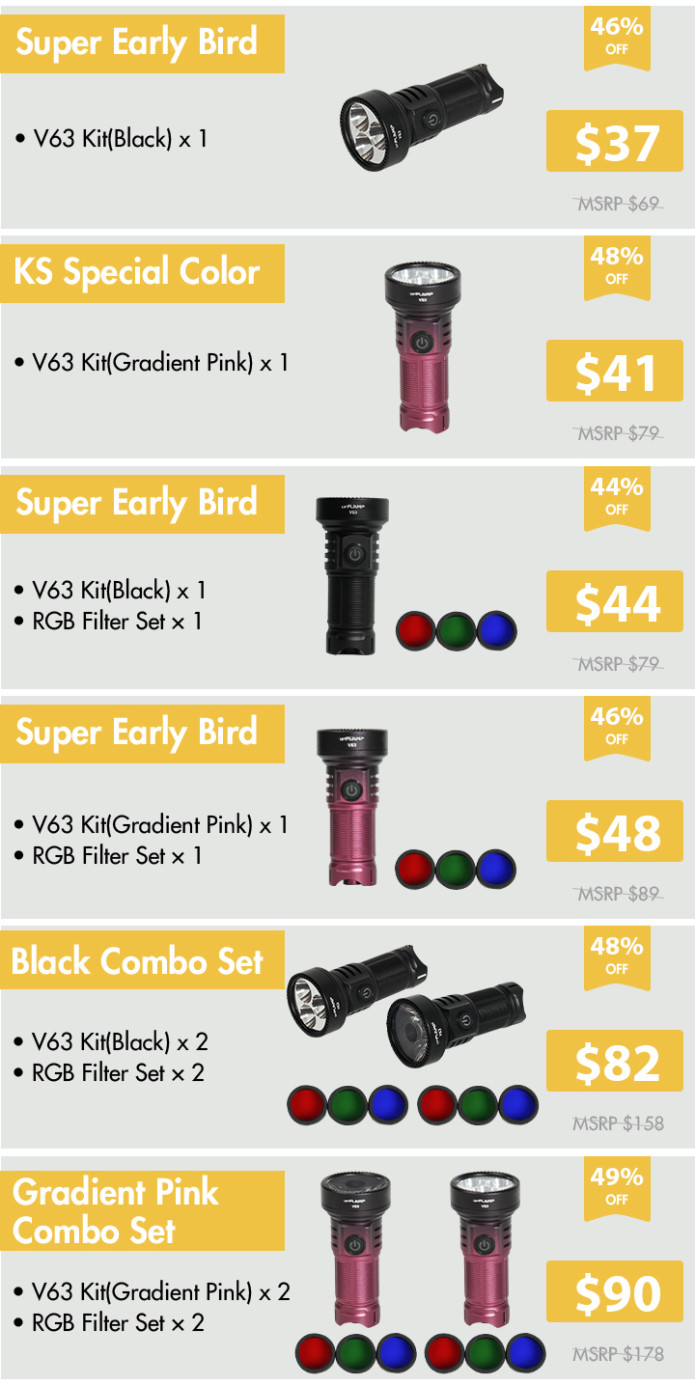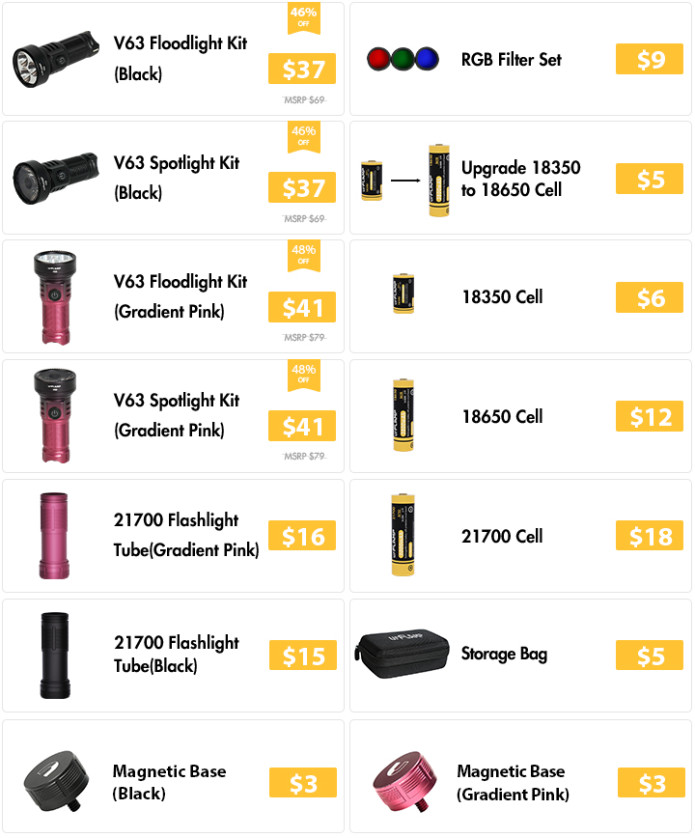 urFlamp, founded by engineers Wayne Xu and Cherry Ye, is a brand driven by their deep love for flashlights and dedication to practicality. With extensive experience in the lighting industry, they set out on an entrepreneurial journey to create a brand that delivers exceptional lighting solutions.
With a keen understanding of the industry from their work in renowned flashlight companies, Wayne and Cherry established urFlamp to provide users with high-performance and user-friendly products. At the core of urFlamp's mission is engineering excellence and customer satisfaction.
With urFlamp by your side, you can confidently navigate the darkness, as their passion and expertise illuminate your path to new adventures.
urFlamp Team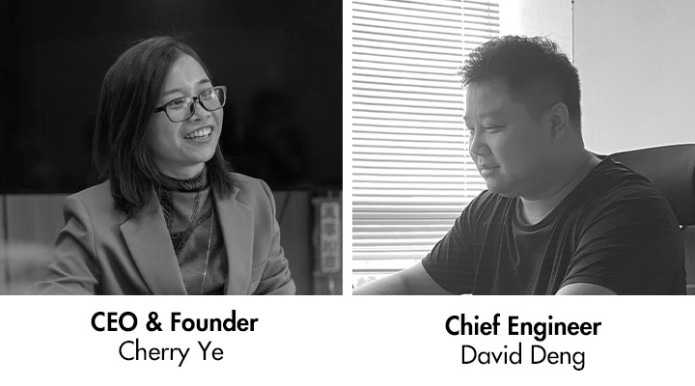 V63 Design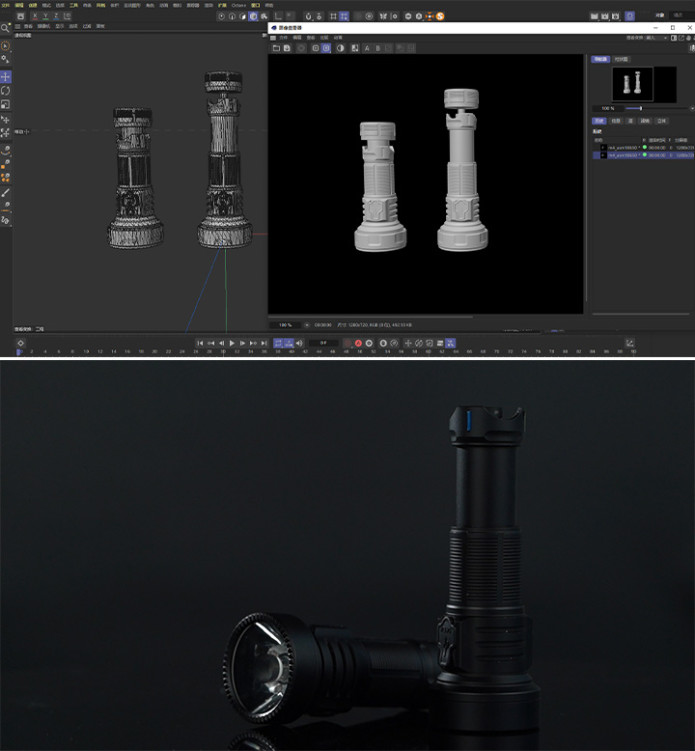 Thank you for your big support! Together, let's lit up this journey!