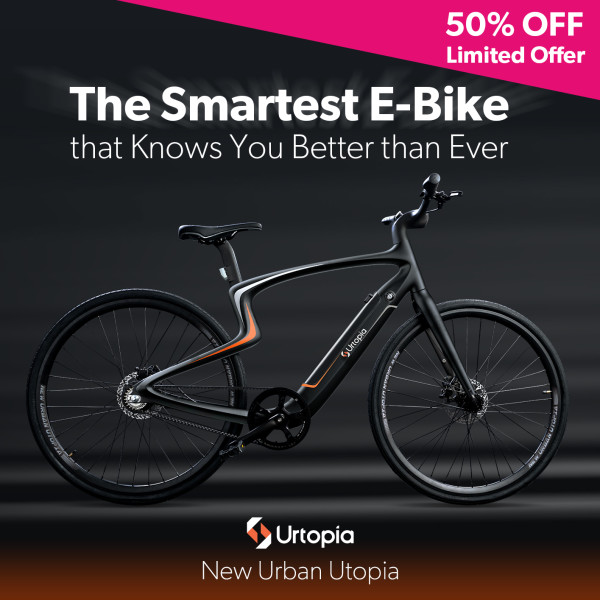 Urtopia Carbon Electric Bike – New Urban
$4,182,336
raised out of
$312,000
Concept
Full carbon/30 lbs.(13 kg)/Smartbar/Torque sensor/Built-in radar & gyroscope/Gates™ carbon belt
Story
Our passion for a sporty and smart lifestyle has attracted a wide range of sports stars. Let's hear what they have to say about Urtopia e-bike.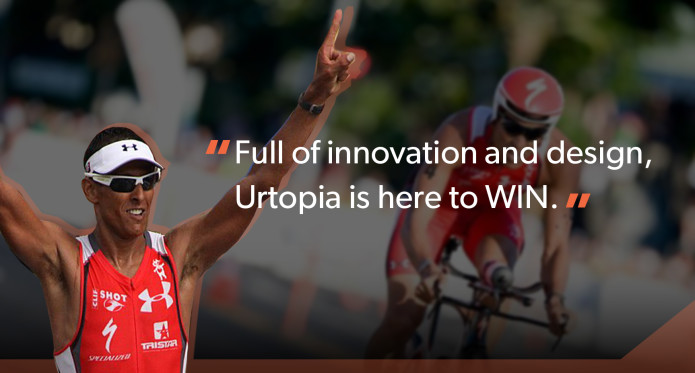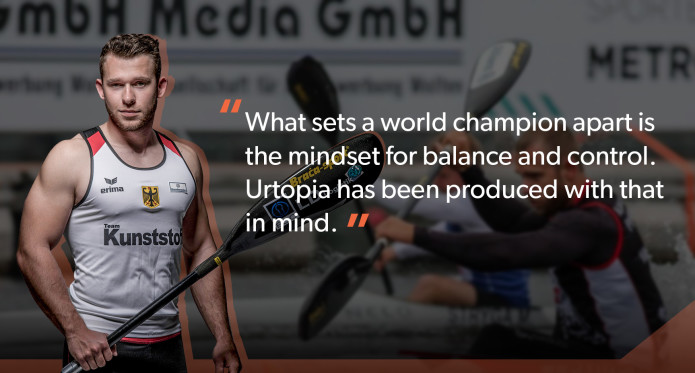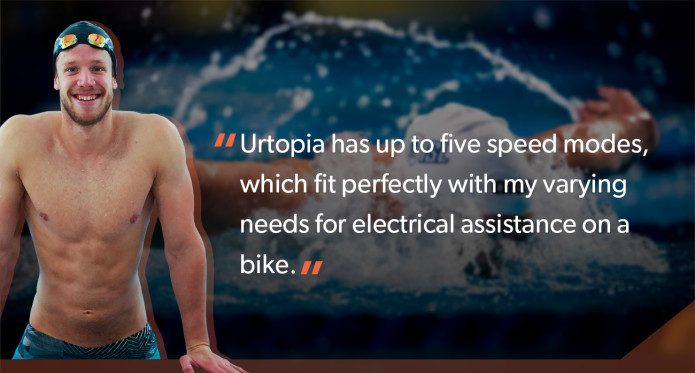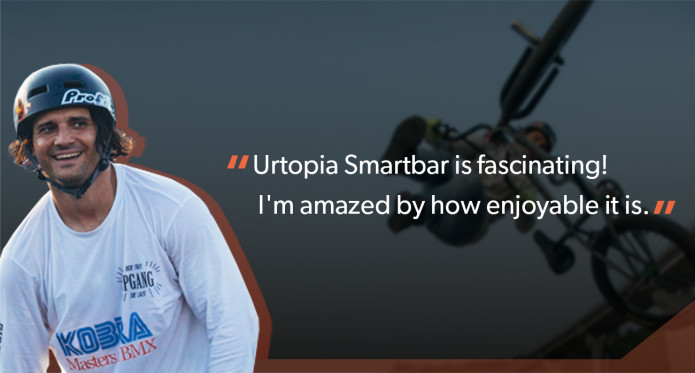 Sporty, intelligent, and futuristic, Urtopia's core spirit doesn't stop at just a strong sense of aesthetics, but also incorporates state-of-the-art technologies. Unlike others that are heavy and old-fashioned, Urtopia strives to redefine what e-bikes can be.

Urtopia's front light has a bright white LED compliant with the German StVZO, that is, it's leveled off so as not to intrude with oncoming traffic.

Our rear lights consist of a red rear light and two projection lights. The red light brightens up whenever the rider brakes.

The projection lights don't only indicate that an Urtopia rider is upfront, but also to which direction the rider is turning, simply at the press of the left thumb. Just a bit safer on the road!

A technology reserved only for high-end bikes, internal cable routing makes Urtopia more aerodynamic and its rider less prone to danger. Aesthetically, the simplistic form factor is pure beauty.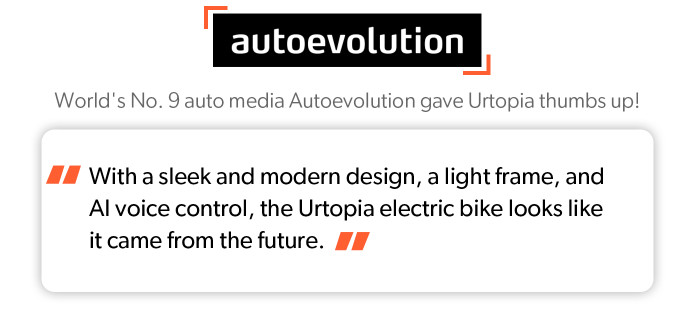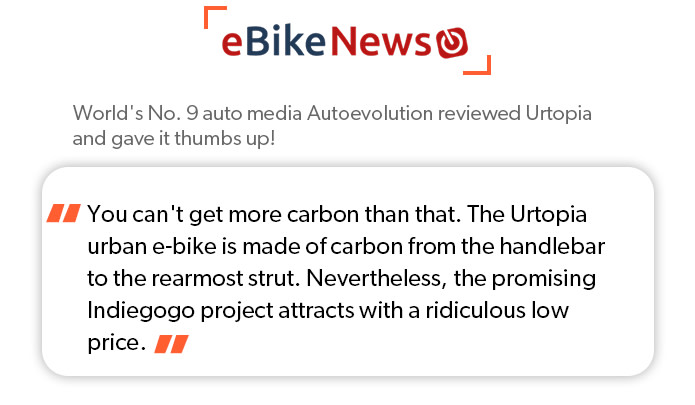 In addition to premium-quality materials and advanced tech, Urtopia is integrated with highly-practical functionalities for which you have to pay hundreds of dollars more if you buy other e-bikes.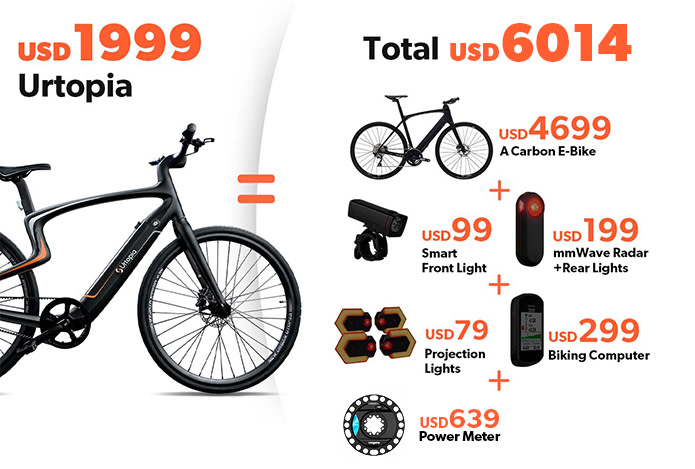 To reward our early backers, Urtopia has prepared abundant exclusive gifts for you, and our gifts for early backers are ACCUMULATIVE! That is, the earlier you place an order, the more gifts you'll get!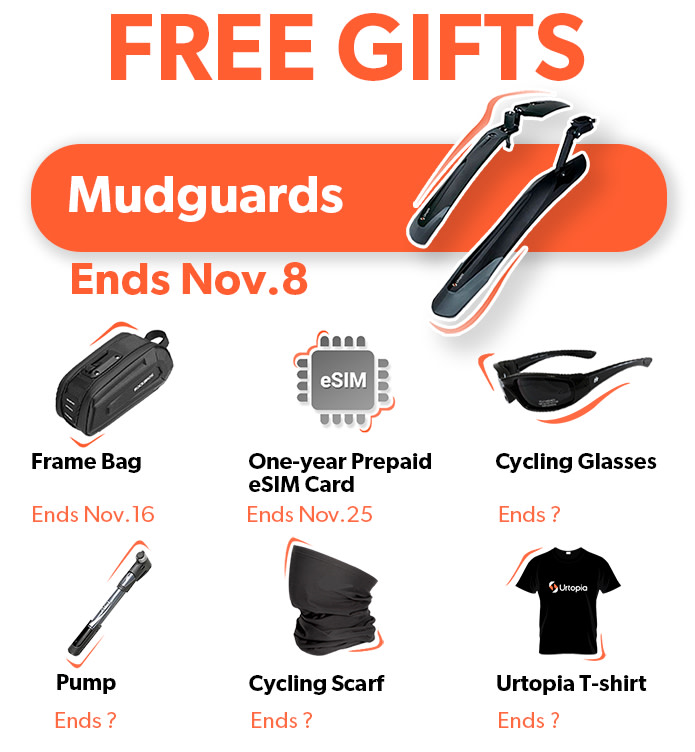 Weighing ONLY 30 lbs. (13 kg), Urtopia is easily carried around and eye-catching. Unlike most e-bikes on the market, Urtopia is FULLY made of carbon fiber. And while other full-carbon e-bikes ask for over USD 4500, Urtopia is priced at a jaw-dropping USD 1999! Along with cutting-edge performance and smart functions, Urtopia is redefining what we call an e-bike.

Technology changes the way people interact with the world, keeping us ever more connected. Urtopia's emphasis on connection and interaction has triggered our heavy investment in technology, and resulted in a tech wonder that we fondly call Smartbar.
Choose a frame paint that suits your style the best, and ride with pride!


With headquarters in Hong Kong and factory in mainland China, we take advantage of China's powerful supply chain and efficient logistic network.
On the other hand, we have set up local warehouses and support centers across North America and Europe. Instead of having your Urtopia shipped from overseas, you pay no more taxes while customer service is within reach.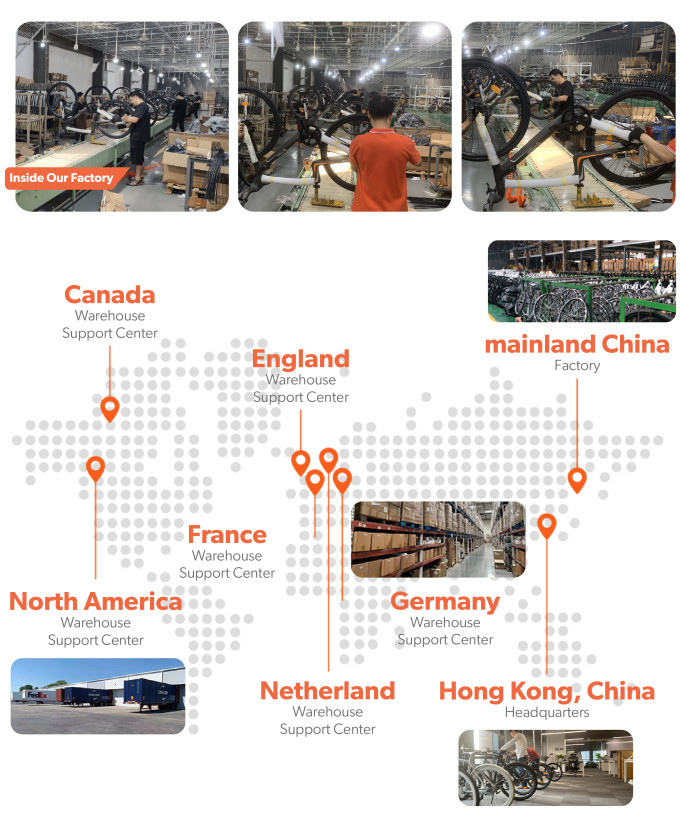 Finally, we only work with the most trusted names in global logistics to guarantee speedy delivery to customers everywhere.

At Urtopia, we put qualities first, so that troubles come your way last. With comprehensive warranties detailed below, your peace of mind is guaranteed.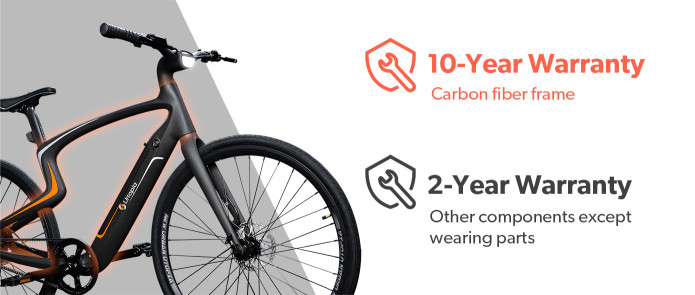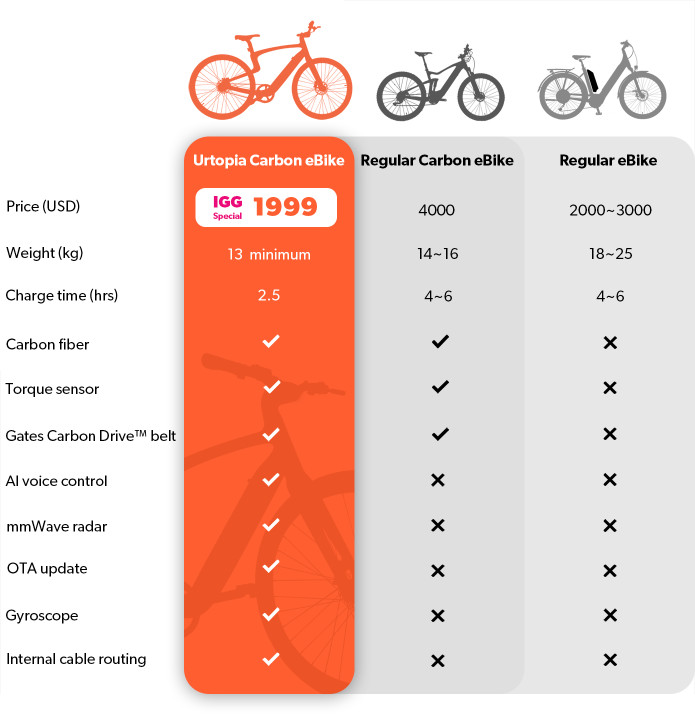 More often than not, premium quality and creativity are recognized only by a select few. Here at Indiegogo, we look for backers who share our values and in return, we reward them with the most technologically advanced e-bike at the lowest possible price.
As a result, the current pricing is so LOW that you'll never find such an offer anywhere in the future.
Exclusively for early backers, we'll launch a series of sales events and giveaways. The earlier you order, the more gifts you win. Buy now or cry later!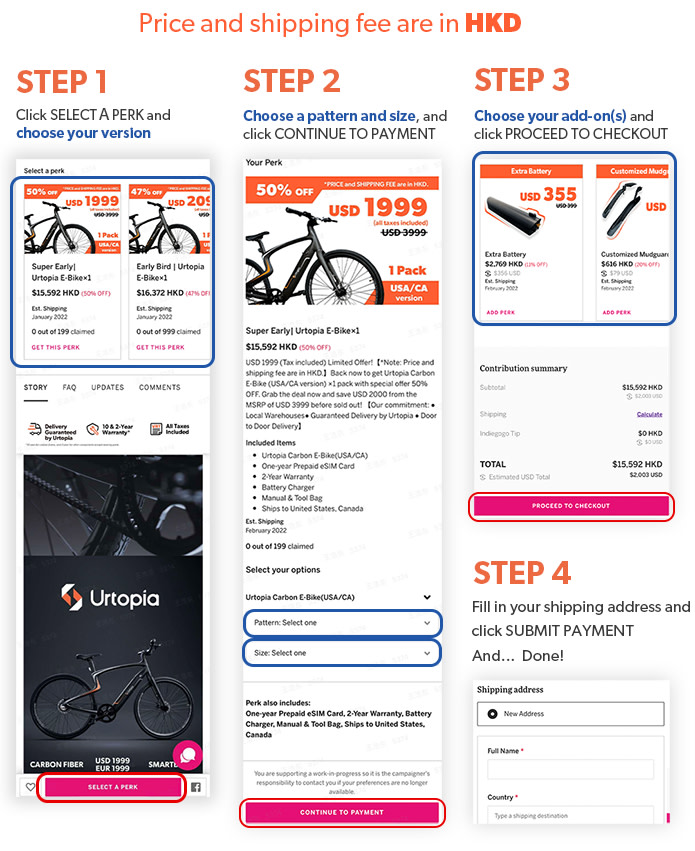 Urtopia's R&D team has dedicated countless hours to perfect the e-bike riding experience. In addition to our customized motor and clutch system, our engineers have chosen belt drivetrain and torque sensor to further enhance power transmission.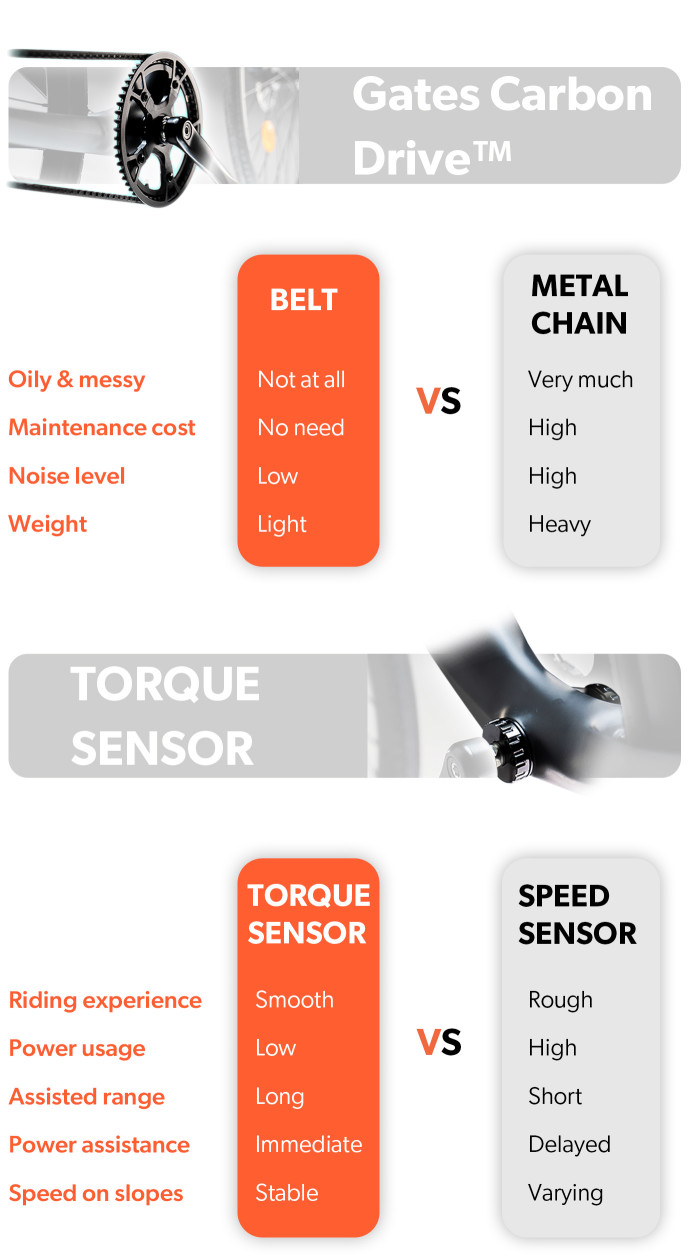 The Urtopia app consists of many smart functions such as anti-theft tracking, navigation, trip records, social networking etc. All in all, they make your journey with Urtopia always fun and motivating.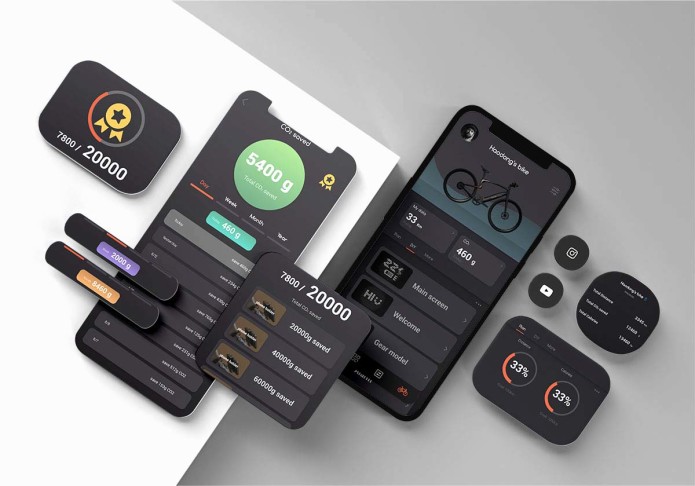 Cycling instead of auto transport reduces carbon footprint. Urtopia's smart app faithfully records every bit of such an effort. Now with the help of electric power, you can ride even longer, and further the protection of our environment.


Urtopia uses mmWave (millimeter wave) radars to prevent dangers on the road, the same technology used by auto-makers to realize self-driving.

Urtopia's highly-sensitive gryoscope constantly monitors its activity when in standby mode, alerting its owner of any unwanted movement, via an alarm or a message to the app.

Along with gyroscope monitoring, Urtopia uses real-time GPS tracking to fend off possible theft. No matter where you are, you always know where your bike is.

Now turning your bike back on is as simple as a single tap on a button, just like unlocking your phone.

Thanks to Urtopia's ultra-light design, customized motor and clutch system, torque sensor application, and a high-quality LG battery, you can ride it for up to 80 miles (130 km) per full charge.

A 250W motor may seem puny to hardcore heavy bikers, but it is a balanced choice made after comprehensive evalution of available motors on the market.
As we try to appeal to mostly active urban dwellers, a light-weight configuration is essential to the majority of our customers. While some motors may provide a couple times more power, the size and weight of them and the accompanying batteries increase exponentially, rendering a 13 kg e-bike entirely out of the question. In addition, there is strict speed limit on e-bikes in most developed countries, making any extra speed or power illegal or unsafe.
Instead of relying on the brawn, we use our brains to make Urtopia a fun ride. Our customized motor and clutch, together with torque sensor, belt drivetrain, and other proprietary technology, provide our customers one of the best riding experiences at an unbelievably low cost.
More functionalities such as AI voice recognition and assist-adaptation are in the pipeline at Urtopia's R&D lab. With OTA updates, they will soon reach each bike and get integrated automatically.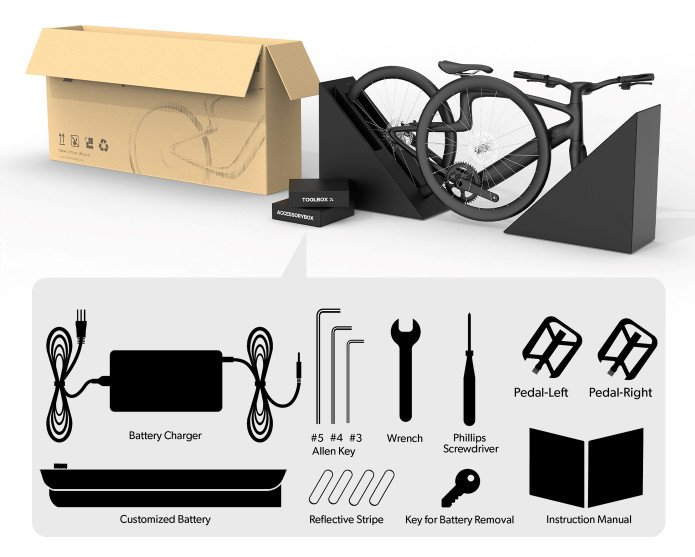 Once you get your long-waited package, put your Urtopia together is as easy as one, two…two minutes: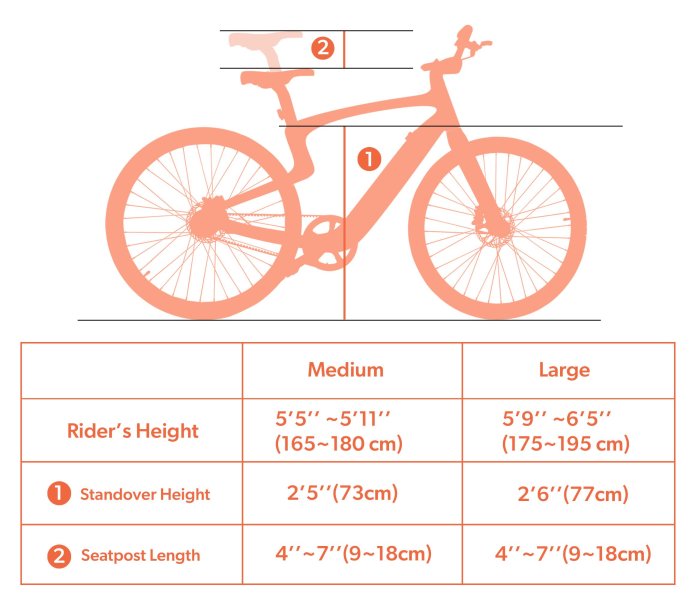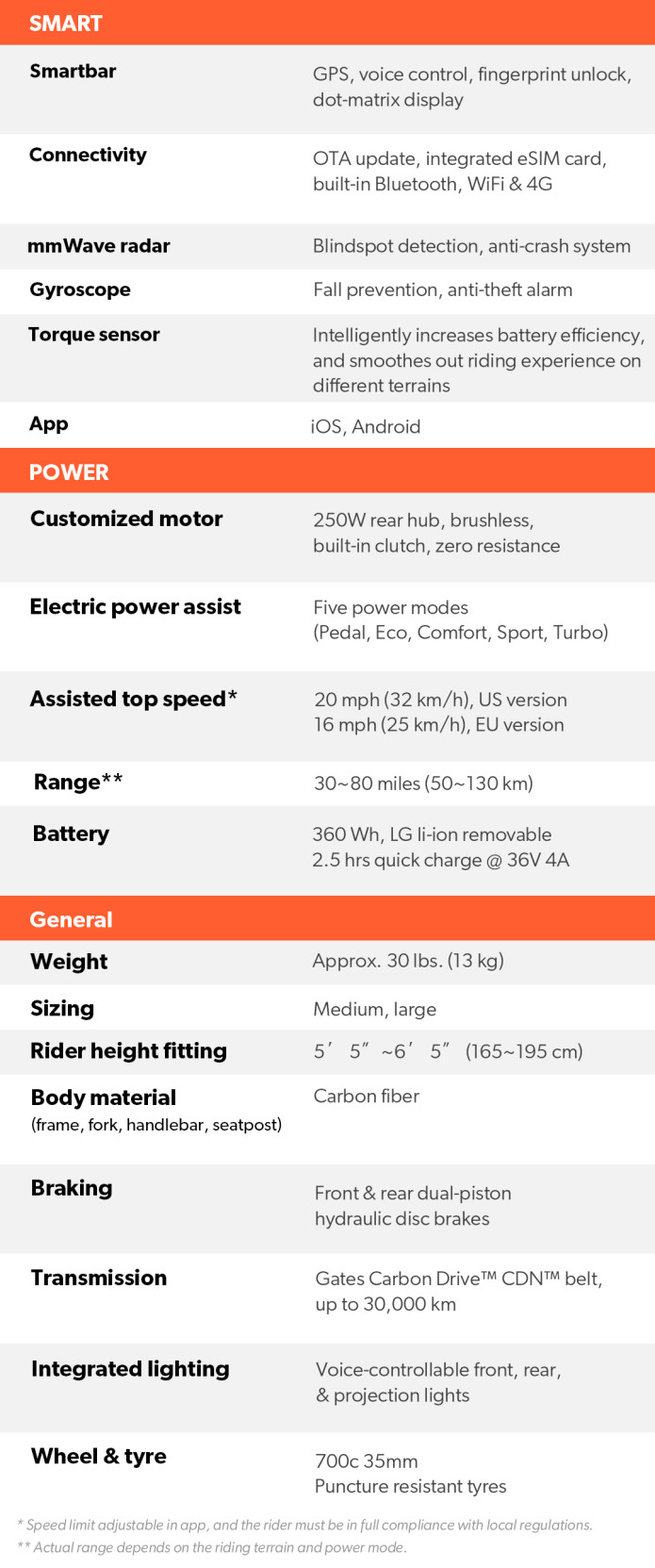 Over the past half year, Urtopia e-bike has passed some of the harshest quality tests in the industry. The carbon fiber frame was subject to tests under the BS EN 14766 standard which specifies safety and performance requirements for mountain bikes intended for off-road, rough-terrain use. Also, Urtopia e-bike meets the compliance requirements of UL, CE, FCC, REACH, RoHS, and CPSC.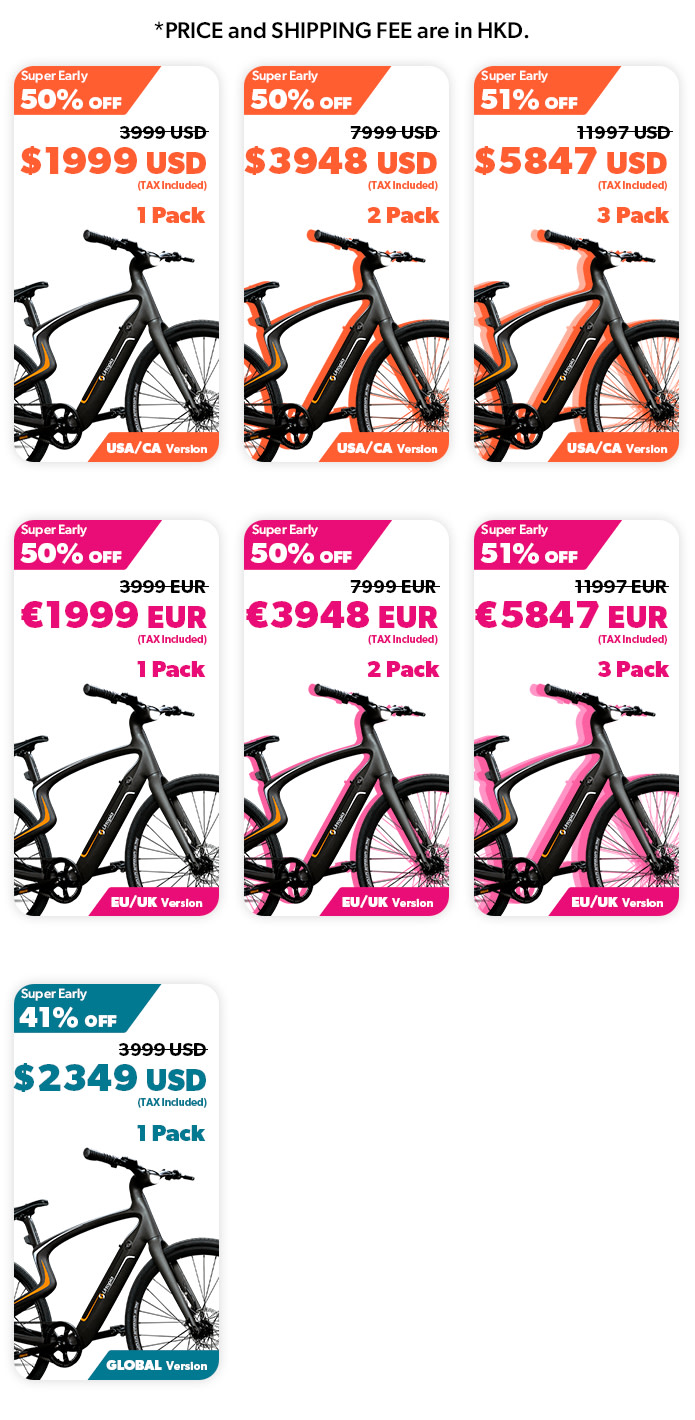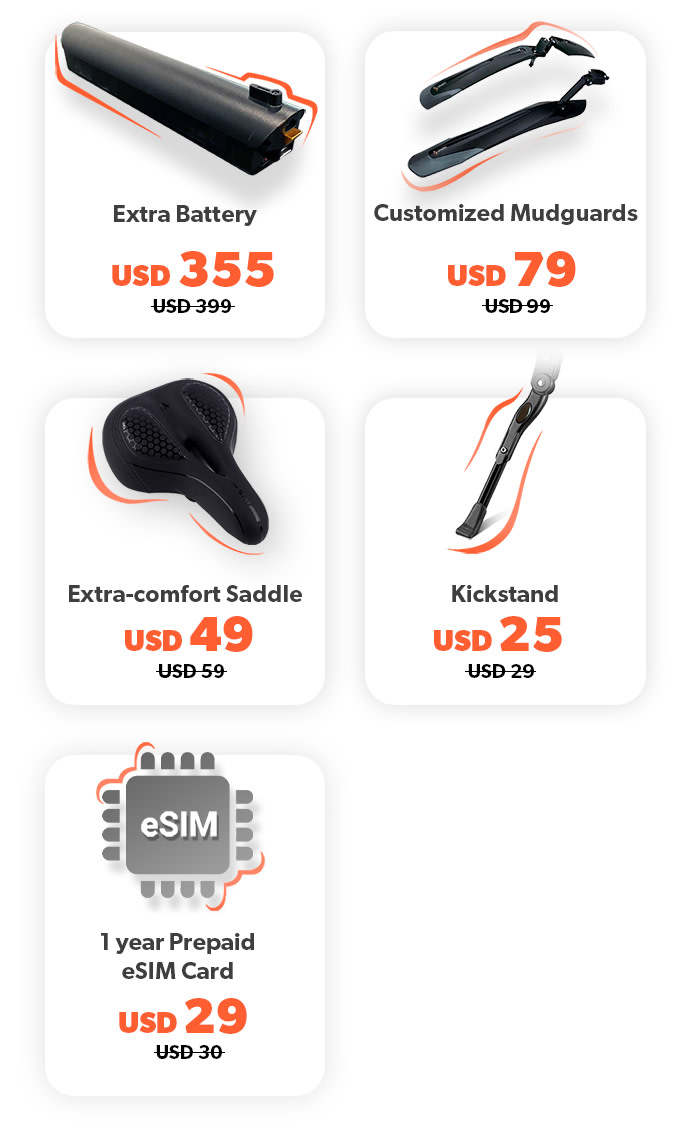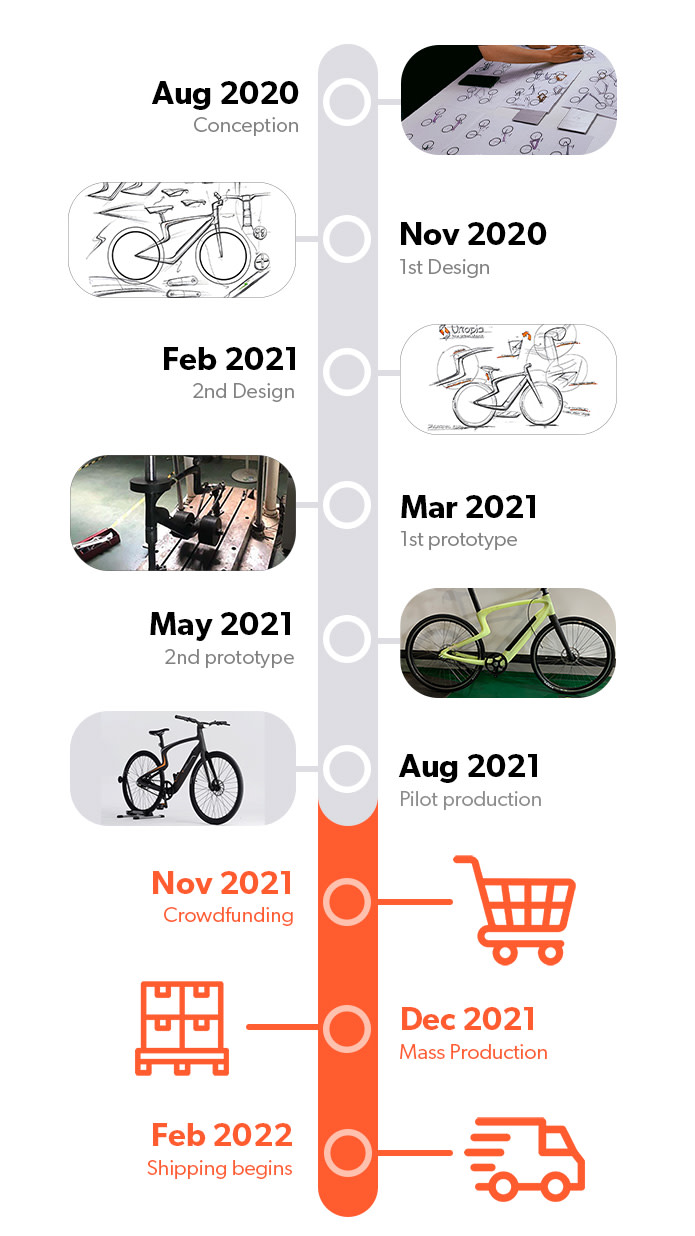 Urtopia aims to advocate a sporty and healthy urban lifestyle powered by smart technologies.
We are a young and vibrant team headed by science and engineering PhDs graduated from Ivy League and MIT. Bound by a common love for sports and biking in particular, we want to build an e-bike that's technologically advanced while affordable enough.
Our passion and background have attracted many talents to join the force, including our chief designer Mathis Heller, who has won many product-design awards. His most famous works include the BMW I series and Siemens ICE 3 high-speed train.

Over the past few months, the Urtopia community has kept growing daily, with over 5000 members worldwide so far. Each of them shares our passion for e-bikes, innovation and sports.
Let's take a look at what they have contributed to make Urtopia e-bike a colorful addition to their daily life.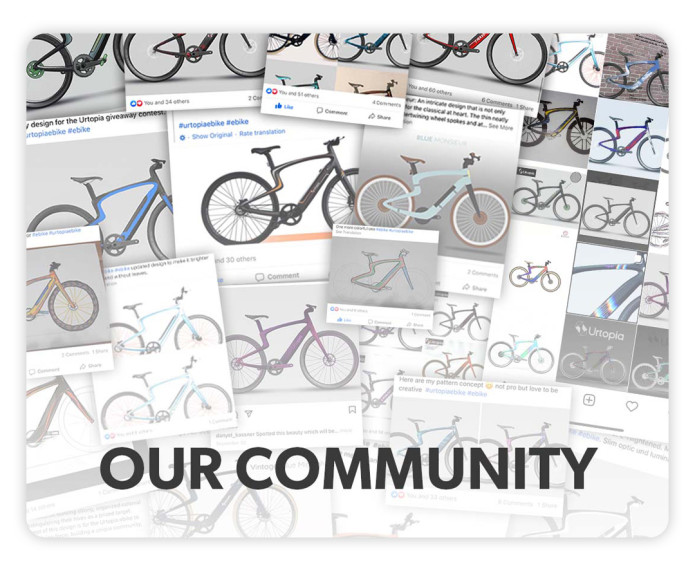 And here is a photo montage of some of our community members with their Urtopia.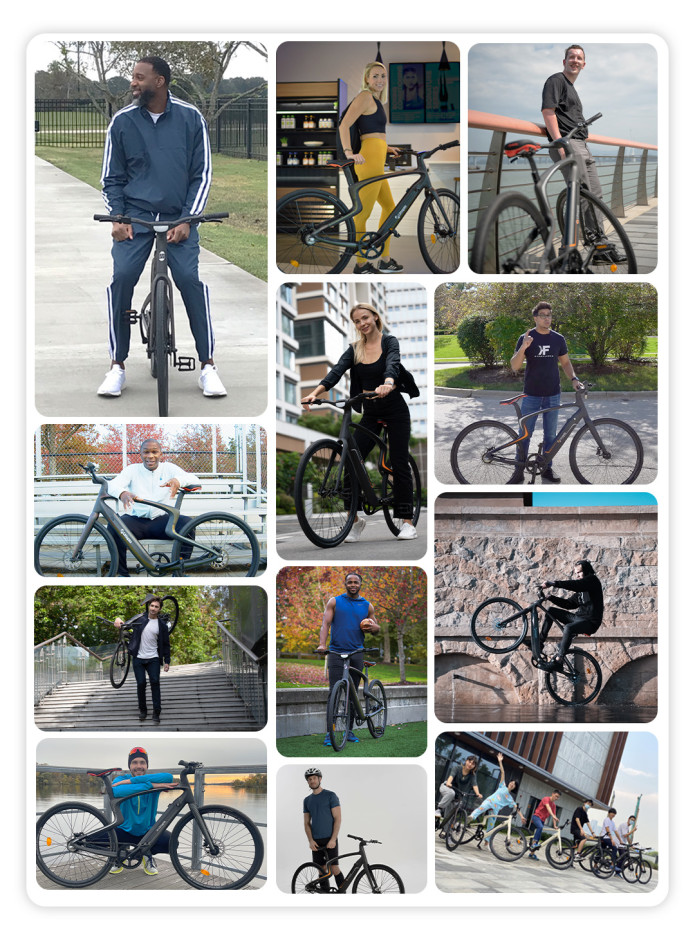 Customer Service: support@newurtopia.com
Press Contact: sns@newurtopia.com