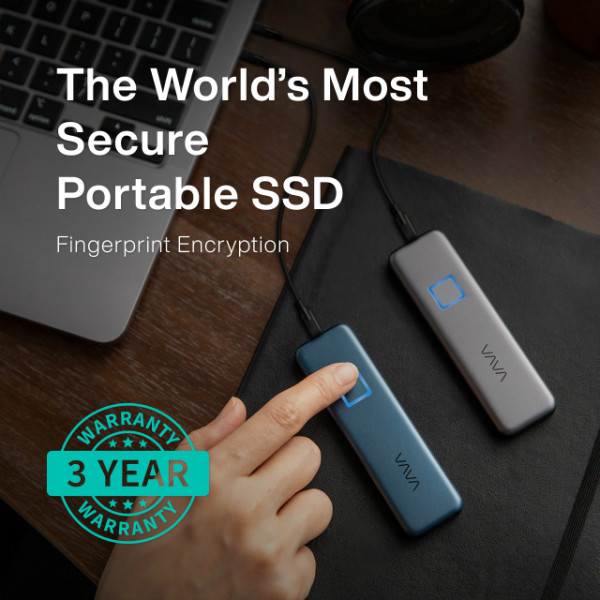 VAVA Portable SSD Touch
$86,086
raised out of
$15,000
Concept
AES 256-bit & fingerprint encryption. 1TB & 2TB. 540MB/s transfer speed. Multi-device compatibility.
Story



Overview
The VAVA Portable Solid-State Drive (SSD) Touch gives you the ultimate fingerprint security and 540MB/s transfer speed in a palm-sized package. Experience the convenience of securing and unlocking your critical files with a touch of a finger.
AES 256-Bit Encryption
Fingerprint Identification Technology
Ultra Sleek Design
Up to 540/480MB/s Read & Write Speed 
Multi-device Compatibility

Fingerprint Encryption 
Ultra Sleek Design
540MB/s Fast Speed

As Featured In



Secure Your Files with a Touch
The VAVA Portable SSD Touch utilizes the world's most advanced encryption technology – AES 256-bit hardware encryption, which keeps your data secure and unbreachable. The fingerprint reader adds an extra biometric layer of security to data on the drive. Unlock using fingerprint authentication or user-generated passwords.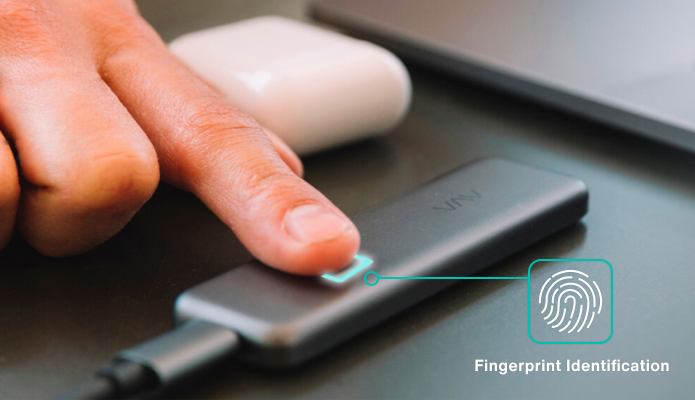 Register up to 10 Fingerprints
With the capacity for 10 team members' fingerprints, collaborating on projects has never been easier.
LED Status Indicator
The VAVA SSD Touch features an LED light that glows when the device is in use. The light blinks blue during data transfer and red when an error occurs, so you know what your device is up to at a glance.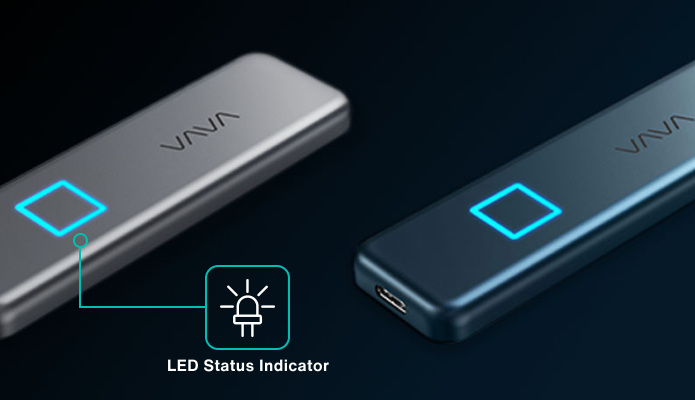 Transfer Your Files in a Flash 
Transfer 10GB of data in just 20 seconds with the ultra fast speeds of the USB 3.1 Gen2 VAVA SSD Touch. Featuring read/write speeds of up to 540/480MB/s, it's 4.9x faster than standard hard disk drive (HDD).
*Speed Test on Windows PC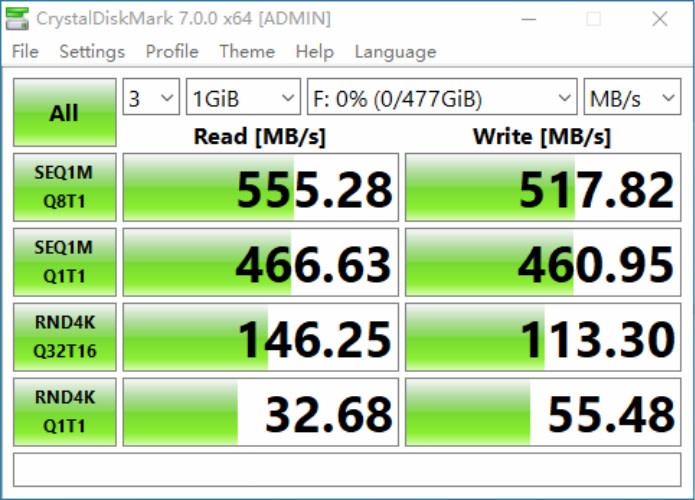 *Testing Rig: Windows 10, 64 bit, USB 3,1 Gen2
*Speed Test on MacBook Pro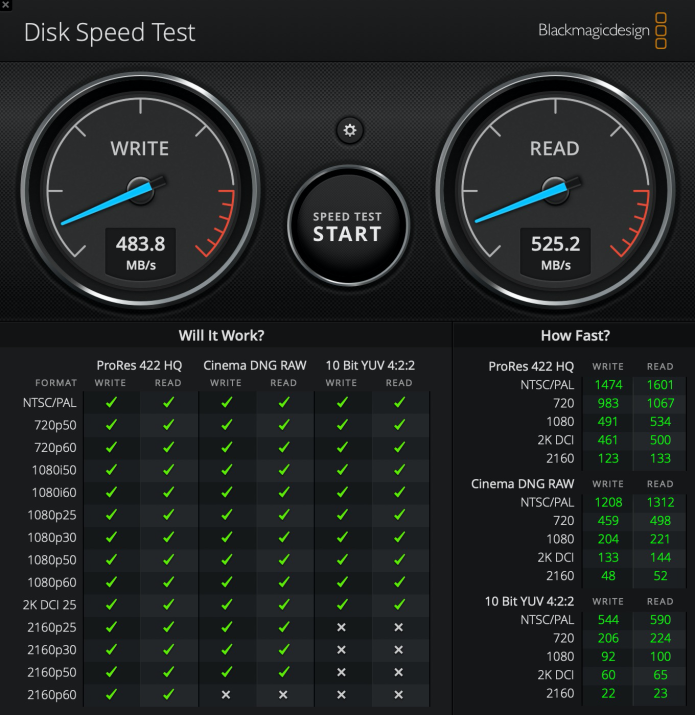 *Testing Rig: MacBook Pro, 2.2GHz Intel core i7, 16GB 2400MHz PDR4. 
** Performance may vary depending on host configuration. To reach maximum transfer speeds of 540 MB/s, the host device and connection cables must support USB 3.1 Gen 2 and the UASP mode must be enabled. 
*Speed Test for Sandisk, Western Digital, and Samsung on MacBook Pro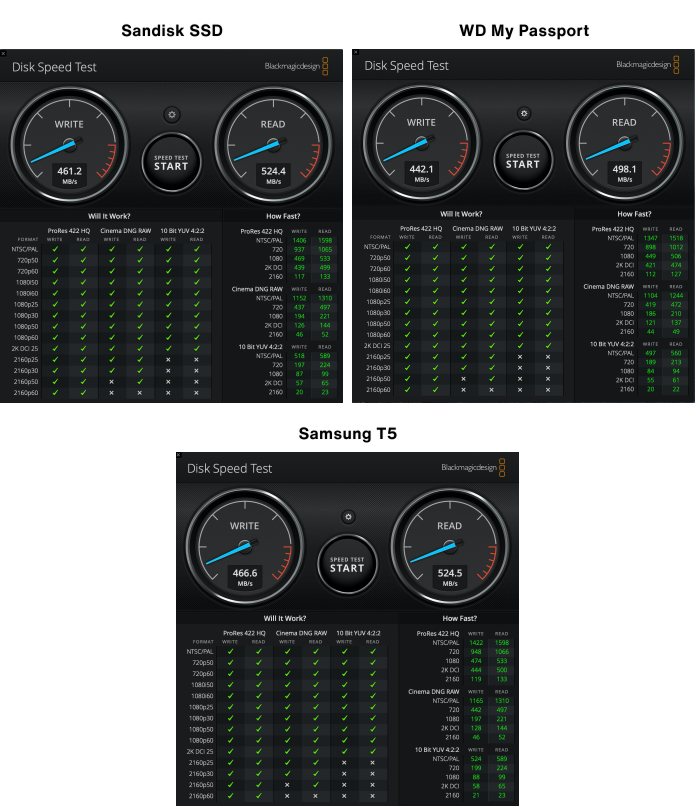 *Testing Rig: MacBook Pro, 2.2GHz Intel core i7, 16GB 2400MHz PDR4. 
VAVA vs. Other External Storage Devices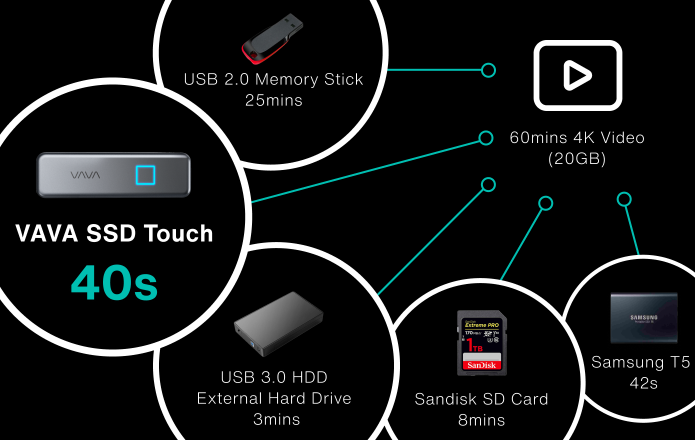 Reduce Game Load Times by 40%
VAVA SSD Touch shortens game loading times by up to 40%. For games that require frequent loading for new areas or titles with long initial load times, using the SSD Touch saves you time and prevents game time interruption.
Ultra Sleek Design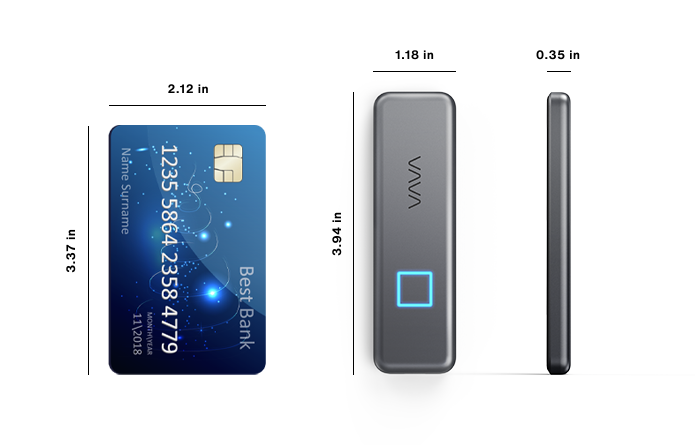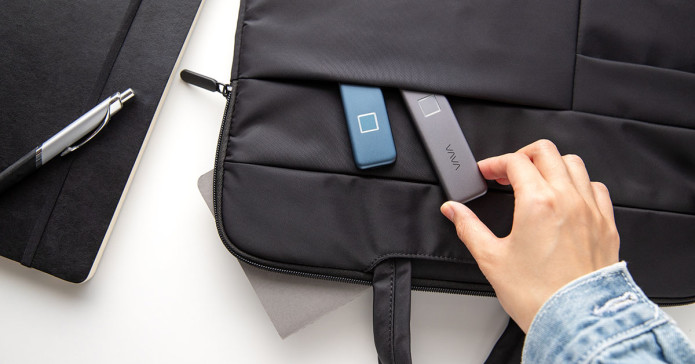 Multi-Device Compatibility
The VAVA SSD Touch is compatible with PC, Mac, iPad Pro, Android devices, gaming consoles, cameras, and more. For your convenience, it comes with both USB Type C-C and Type C-A cables.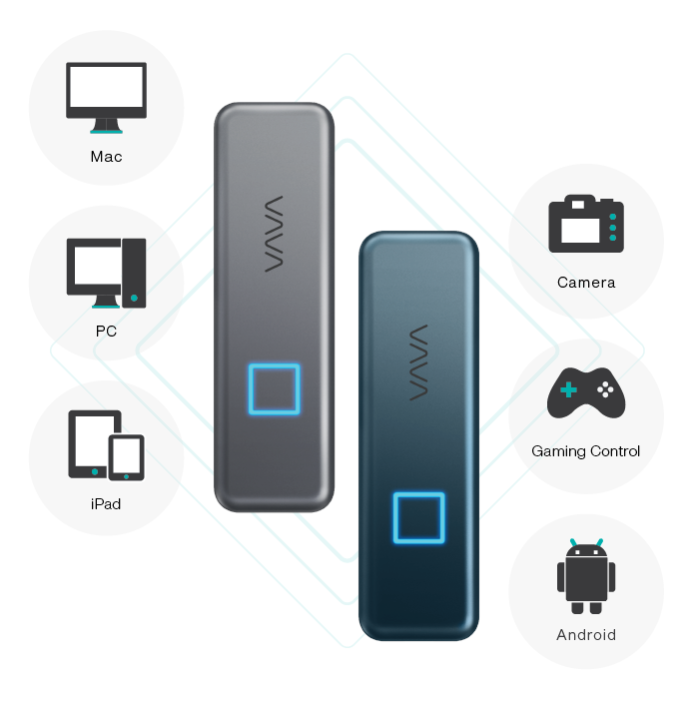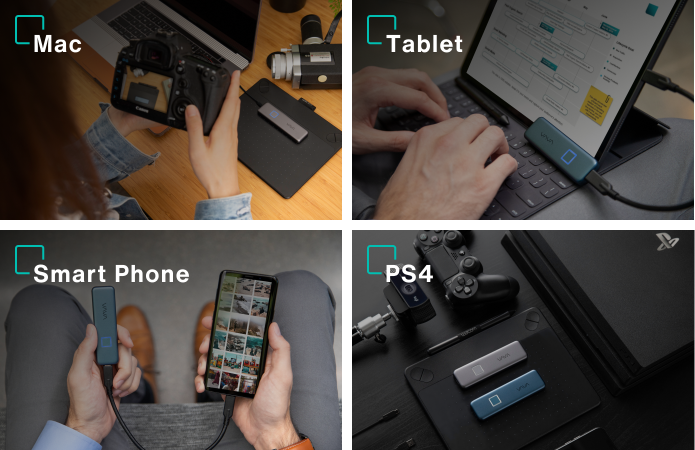 Strong and Shock Resistant 
Unlike HDDs, the VAVA SSD Touch is free of any moving parts and is more resistant to shock. Constructed of strong zinc and aluminum alloy, the SSD Touch prevents any data loss from drops up to 4 feet (1.2 meters).
Thermal Control  
Aluminum is a great heat conductor to keep the flash controller cool at all times. The Aluminum alloy upper case and the Zinc alloy lower case prevents overheating problems and keeps the VAVA Portable SSD Touch cool all the time.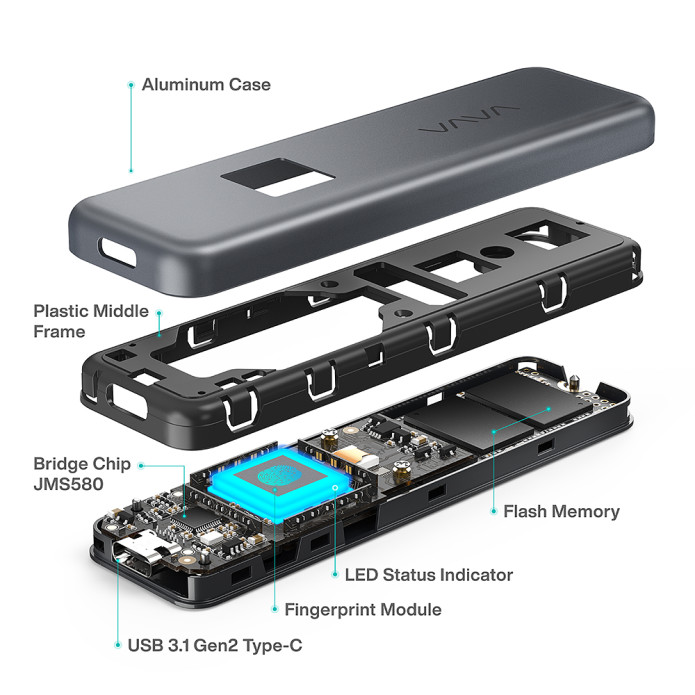 More Color Options
Store your data in style. The VAVA SSD Touch currently comes in two colors to complement your devices: cobalt blue and space gray,  and is available in capacities of 500GB, 1TB, and 2TB.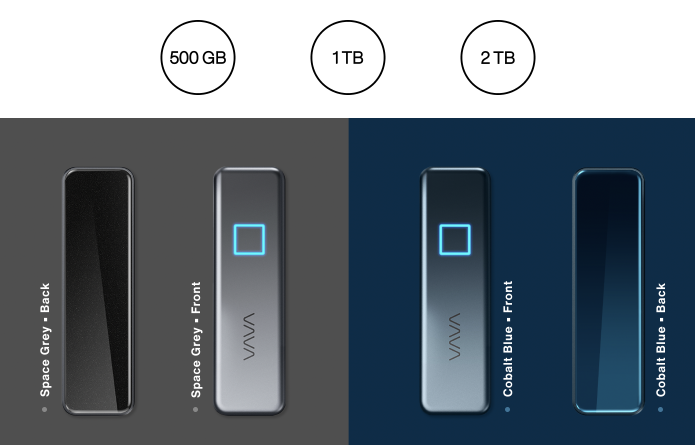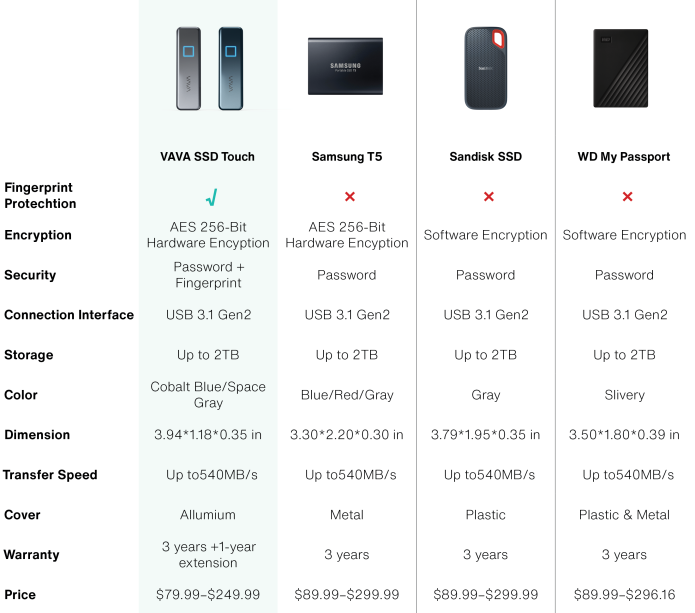 VAVA has been dedicated to become a green tech company that is empowered by renewable resources. The VAVA Portable SSD Touch is made of renewed tin and produces zero waste to landfill during manufacture. The aluminum case is 100% recyclable.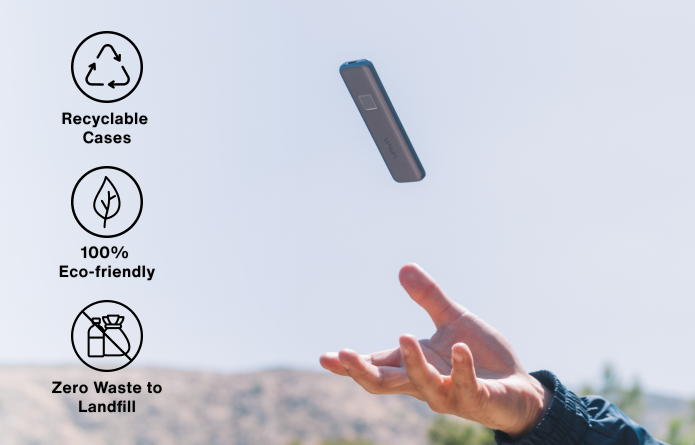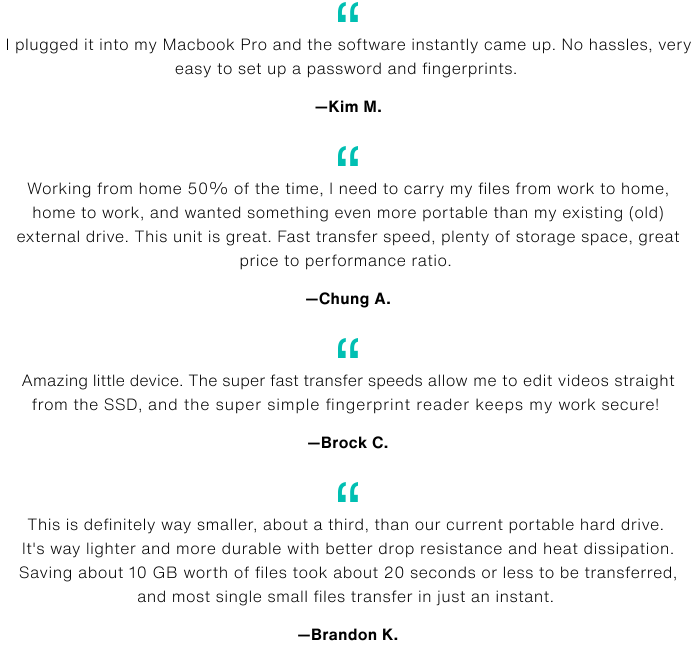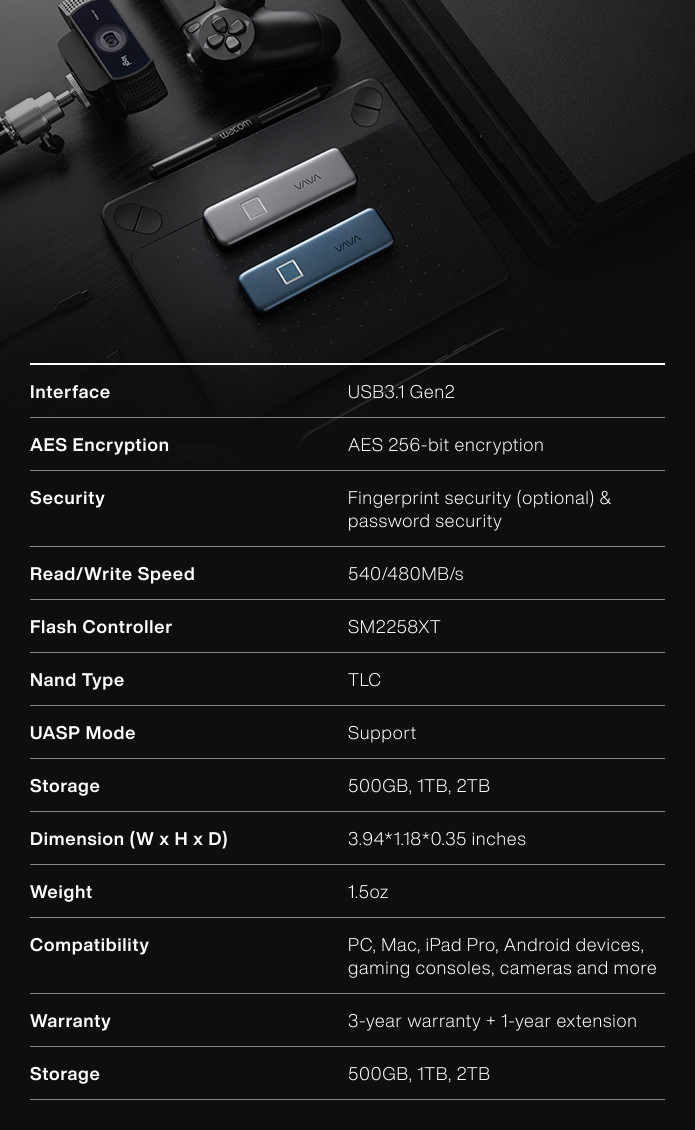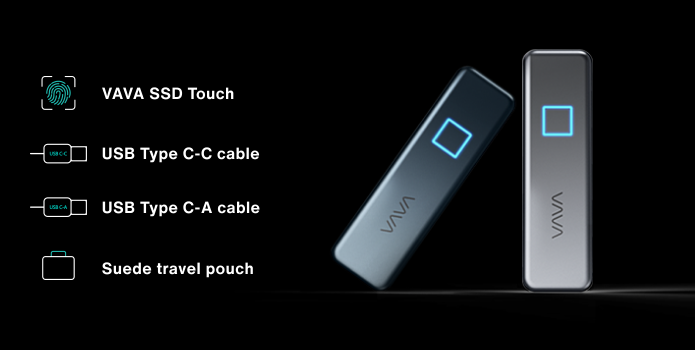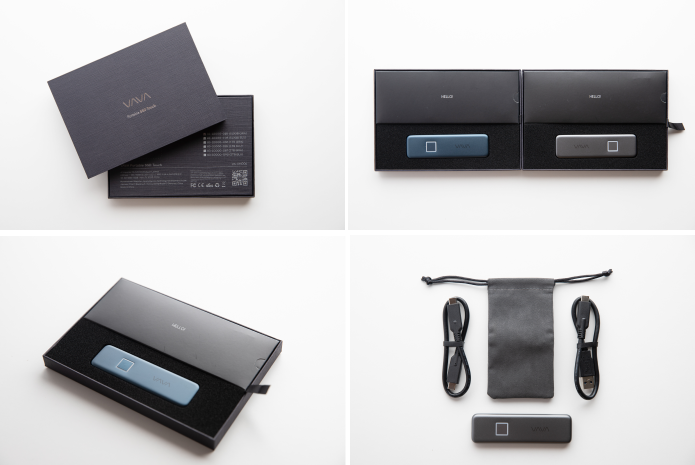 Step 1. Click here and register as a Booster.
Step 2: Share your unique Booster link on your Facebook, Twitter, Blog, Website, or wherever you'd like!
Step 3: Refer to your Kickbooster dashboard and watch your commissions roll in!

We have completed three rounds of testing production and are now in full production. The mass production and quality assurance will be completed around September 20. We will start shipping the VAVA SSD Touch to backers in early October.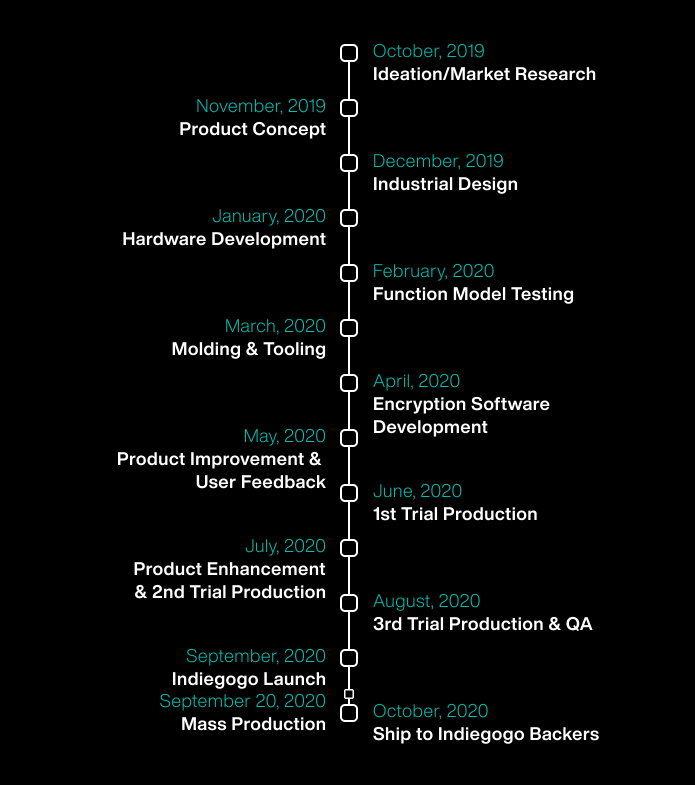 Founded in 2015, VAVA has been dedicated to improving and enriching people's lives through innovative technologies, products and designs.
For the last 4 years, our award-winning team has been disrupting the tech hardware market with innovative products and solutions. We believe that people deserve quality products and wish to bring the latest technologies to the public.
This is our fifth crowdfunding campaign. We've always delivered absolutely amazing products to our backers and don't plan to stop.