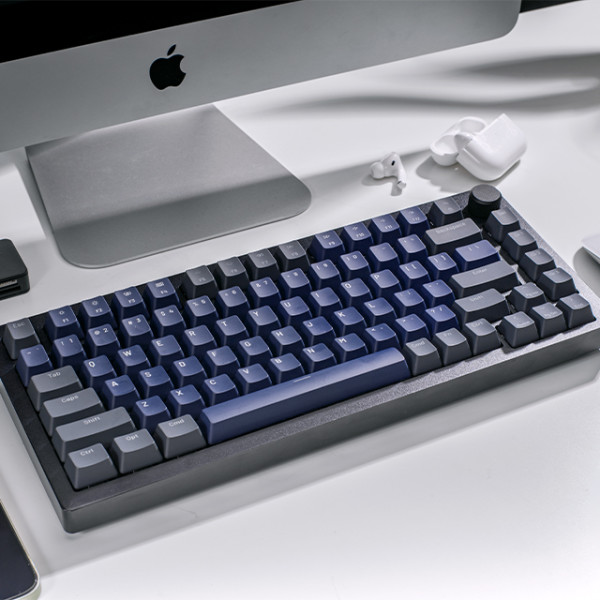 World First Wireless HE Switch Mechanical Keyboard
$329,801
raised out of
$23,550
Concept
Hall-Effect Switch | Customized Knob | Billion-Press Durability | All Aluminum
Story

H1-Hera is the world's first wireless Hall-Effect switch mechanical keyboard with a compact layout to enhance your typing experience. With 75% layout, full aluminum CNC machined body, and customizable Multifunction Knob, the H1-Hera is destined to take your typing experience to a whole new level.   
H1-Hera utilizes contactless magnet switches powered by hall-effect sensors. This high-quality switch style is usually applied in aerospace, military equipment and submarines that require the highest reliability & consistency.
Each switch has billion-press durability and IP68 water resistance to avoid damage from liquid, dust, and dirt. This protection provides three times more lifespan compared to traditional mechanical switches and ensures long-term reliability.
Each keystroke delivers a contactless & friction-free linear feeling. These advanced switches provide the smoothest and most effortless typing you have ever experienced.
The incredible input speed of 1ms eliminates any possible keystroke delay.
 H1's testers have 23% faster input speed compared to the use of the traditional keyboard. Boost your productivity with enhanced typing.
The world's first silent switch option lets users of busy offices and mixed environments work quietly in any situation.
Each key can be adjusted to meet your preferred sensitivity level, you can find the right trigger (Actuation: 0.8 mm~3. 6mm) for work, gaming, or other applications to achieve higher accuracy and reduce typing errors without the need for software.
Customize the lighting, color, and volume by way of the Infinitely Creative Metal Knob! Your work has never been this easy. 
The entire body is crafted with 6061 aluminum that is CNC machined, polished, anodized, sandblasted and undergoes 25 more manufacturing stages to achieve the work of art that is the H1-Hera. Created for a lifetime of unbreakable durability and sturdiness on your desktop.
H1-Hera supports bluetooth 5.1 or wired connection for various systems including Mac, Windows, Android, and IOS. Connect up to 3 devices with a single click for effortless multi-tasking across laptop, phone, and tablet.
Versatile compatibility between Apple and Windows with a selectable key configuration between macOS & Windows layouts.
The Hot-Swappable Option lets you easily swap and mix switches without soldering.  You can hot-swap every switch on the H1-Hera with our amazing hall-effect switches(Silent red, red, blue version). Create your own personalized keyboard.
Includes keycaps for both macOS and Windows (3 keycaps for each) to allow you to switch between operating systems with ease.
18 built-in light modes that can be adjusted to five different brightness levels. Infinite combinations let you go wild with color.
Thanks to our optimization of the shape of the LEDs, the keycaps will not leak light while providing the best RGB lighting effect on the characters.
To support multiple users, we will be working on different Hall-effect switches and will offer more options on the functionality. 
Currently, we only offer the following two colors. In subsequent updates, we will let everyone vote for the color they like, and the one with the highest votes will also be added to the color selection.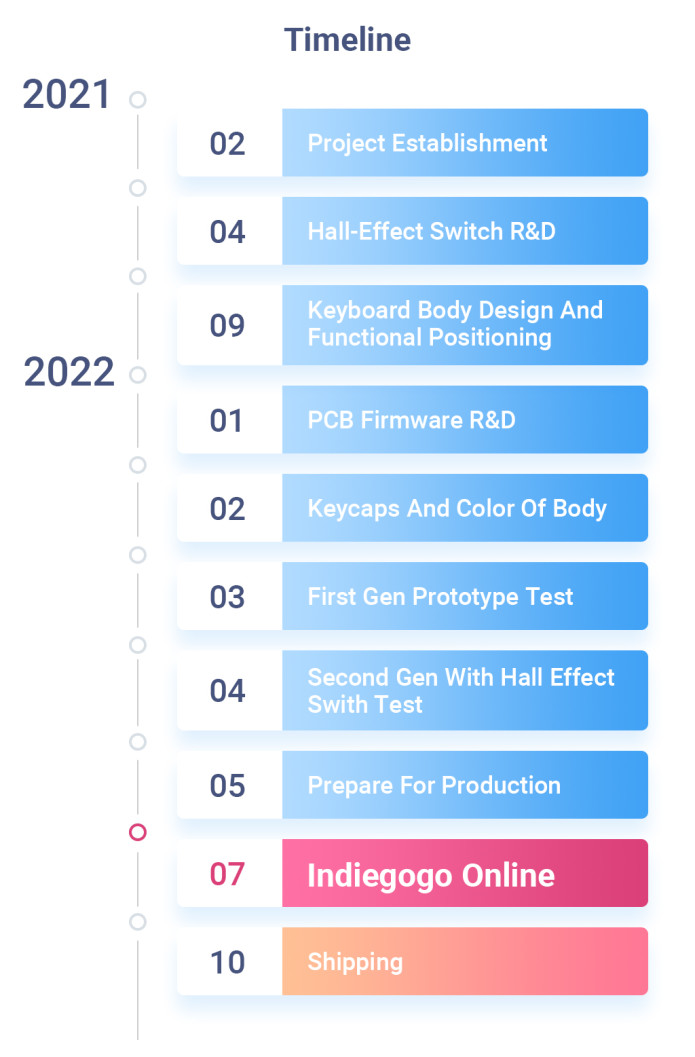 Our Story
Hephboard was born in 2020 and consists of a group of mechanical keyboard enthusiasts who pursue the best typing feel. Our team is composed of mechanical keyboard enthusiasts, designers, engineers and mechanical keyboard switch production experts. The core member Golden G has more than 20 years of keyboard engineering and structural design experience. Danny Liu, an expert in mechanical switch production, has always provided Razer with the most high-end switch designs and improvements. We persistently pursue the best typing feel and quality of mechanical keyboards and have a minimalist industrial design concept.
Our supplier members were once the core engineers of Gateron and TTC, and they all have more than ten years of production and supply chain experience. Over the years, they have produced high-quality keyboards for brands such as Razer and Logitech. We can assure you that the keyboard of hephboard will never disappoint your expectations.