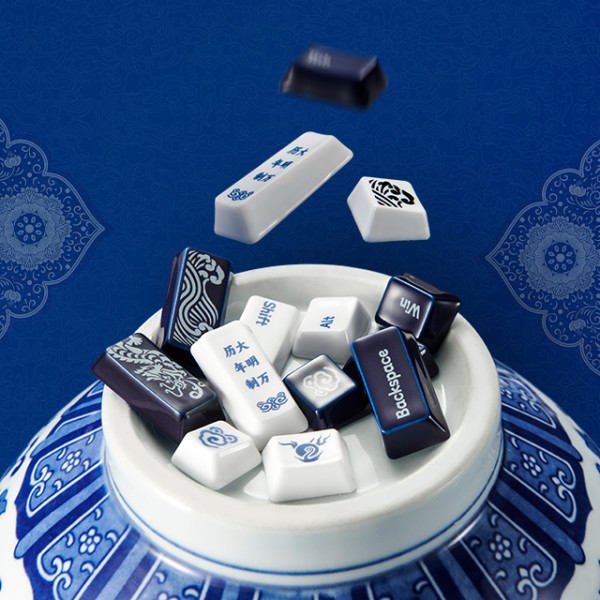 World's First Blue and White Ceramic Keycap Set
$154,891
raised out of
$78,000
Concept
Full-ceramic Keycap Set Featuring Unique Blue and White Dragon Patterns for Artful Smooth Typing
Story

Style your typing with timeless patterns inspired by Ming dynasty blue-and-white porcelain! Our Blue and White Ceramic Keycap Set features unique blue and white dragon theme pattern with a delicate combination of ceramic craft and Chinese dragon culture, imbued with a sense of agility and gravity.
Perfectly inheriting all great attributes from our iconic ceramic keycaps, the blue-and-white ceramic keycap set offers a superior and silky smooth typing experience with artful elegance and exquisite thock while remaining cool to the touch after hours of typing. The alumina ceramic grants exceptional durability and resistance for a sustainable thocky typing.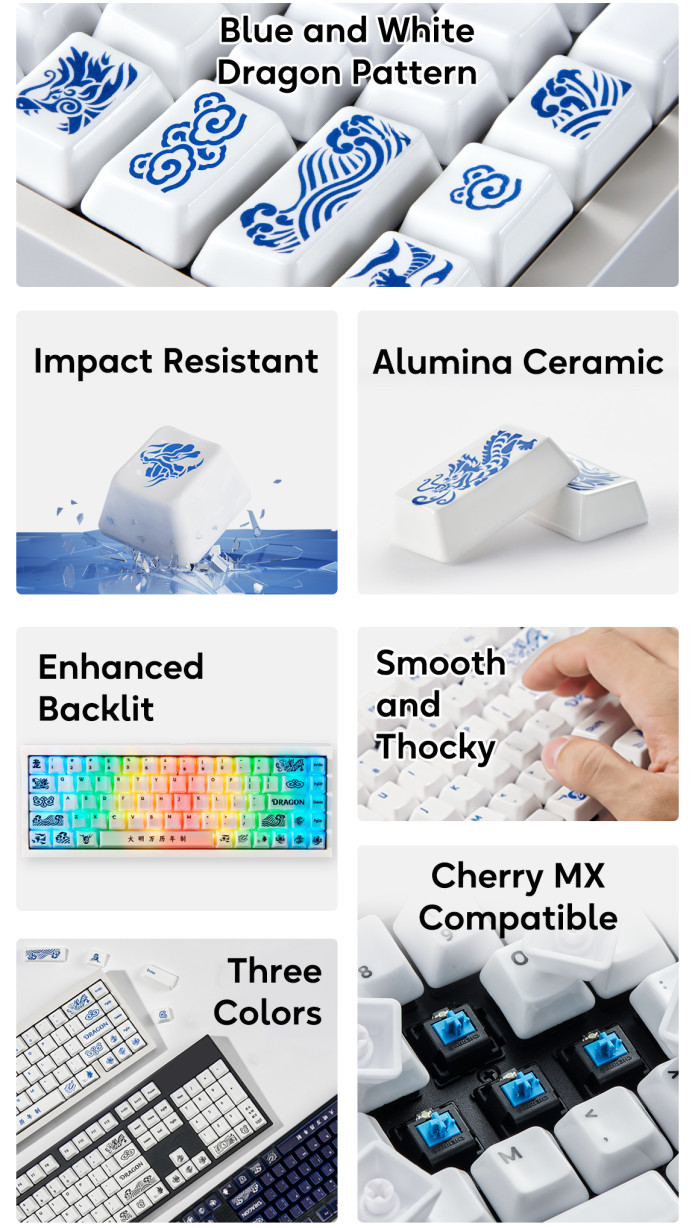 Chinese blue-and-white porcelain has inspired ceramists worldwide since cobalt was first introduced to China from the Middle East thousands of years ago, leading to various blue-and-white decorations nowadays. Our blue-and-white dragon pattern is just one of them, known as Qinglong in Chinese, which stood the test of time.
Qinglong is one of the Four Symbols of the Chinese constellations, which are the astral representations of the Wufang Shangdi. The Qinglong appears as a door god at Taoist temples, standing for enduring prosperity and growth. When applied on ceramic keycaps, it represents a vigoroustyping and artistic aesthetic.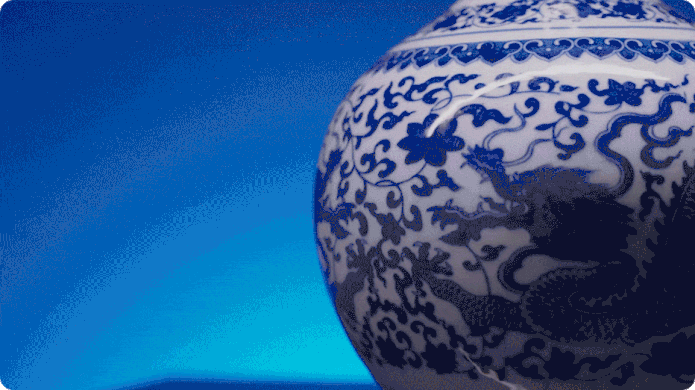 Our ceramic keycaps are inspired by Chinese ceramics which are one of the most significant forms of Chinese art and traditional craft globally. Ultimate smoothness, maximum thock and glossy sheen in one cool touch that only ceramics can achieve.
Taken together, these two elements make for a powerful combination of strength and prosperity in typing experience.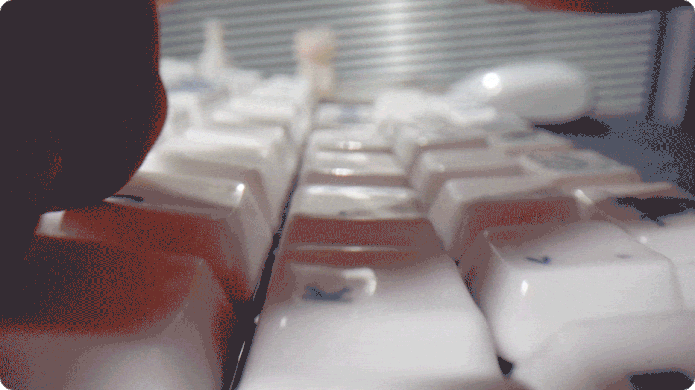 Each ceramic keycap uses enhanced glazing technology and makes the most of ceramics to deliver unmatched silky-smooth thocky typing experience, with glossy surface and cool to the touch after hours of typing.
Ceramic has better light transmittance than any plastic, allowing more lights to shine through ceramic keycaps, achieving peak and vibrant RGB illumination without compromising smooth typing feel.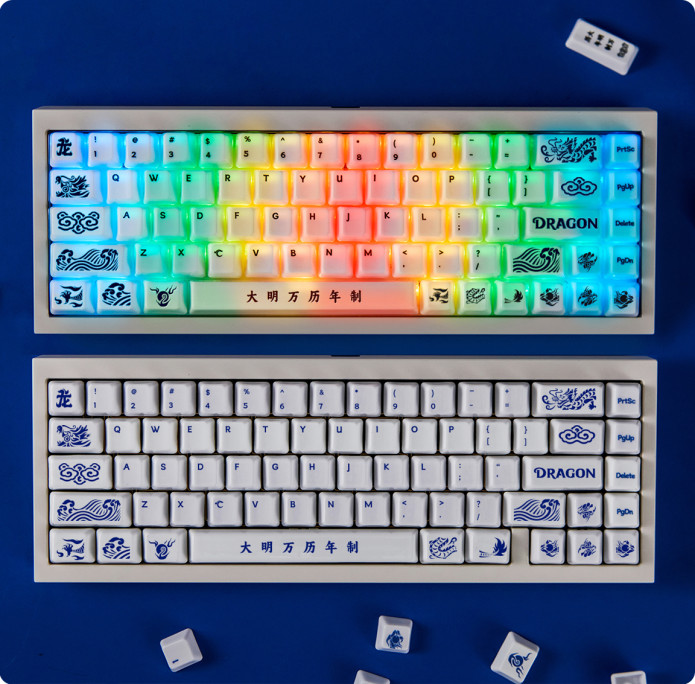 Ultra Hardness & Durability
Alumina ceramic is an advanced ceramic material favored among manufacturers for its outstanding attributes. Its hardness ranks second after diamond and wear resistance far exceeds steel and stainless steel. When applied to keycaps, it secures a solid smooth typing experience.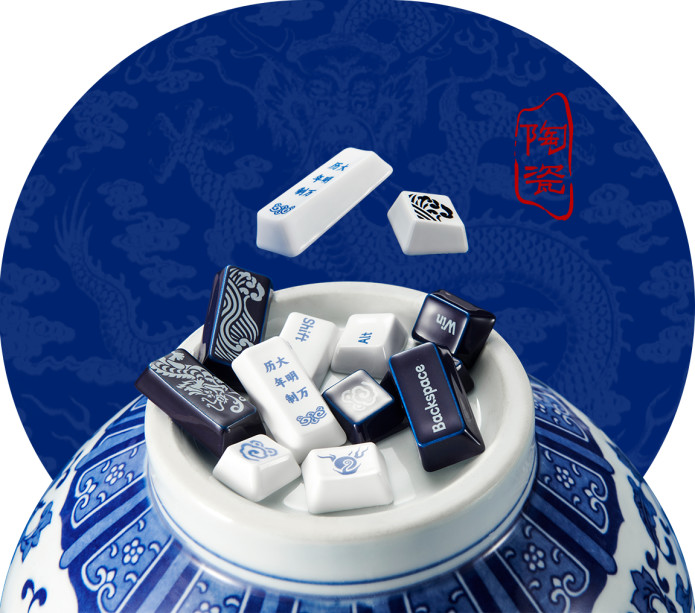 The new plastic stem design significantly improves the durability and stability of ceramic keycaps, preventing itself from being broken or warped easily.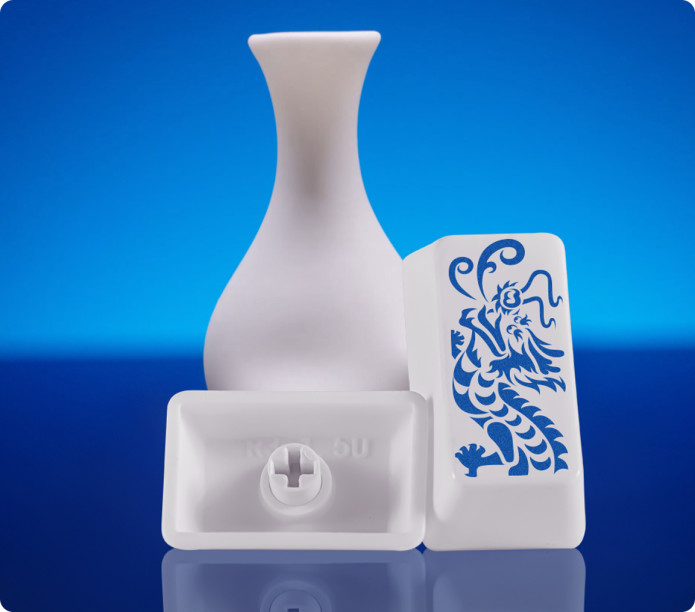 The portrayal of the Chinese blue and white dragon patterns painted on the ceramic keycaps is astounding in its sophistication and diversity.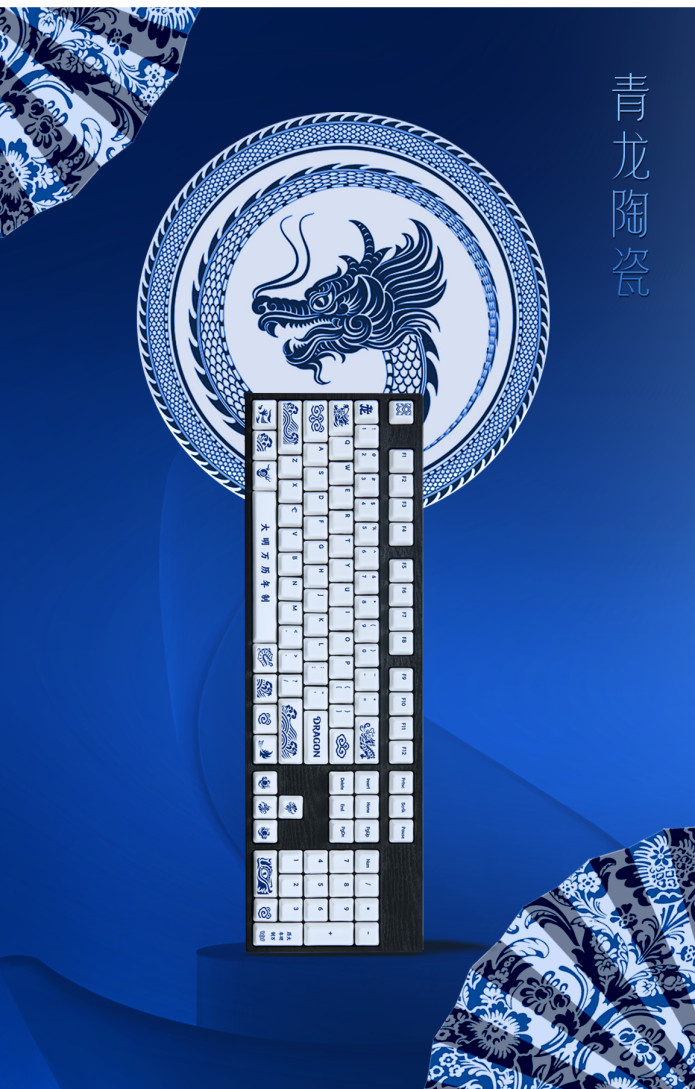 Each pattern design features a delicate combination of ceramics craft and Chinese culture, imbued with a sense of agility and gravity.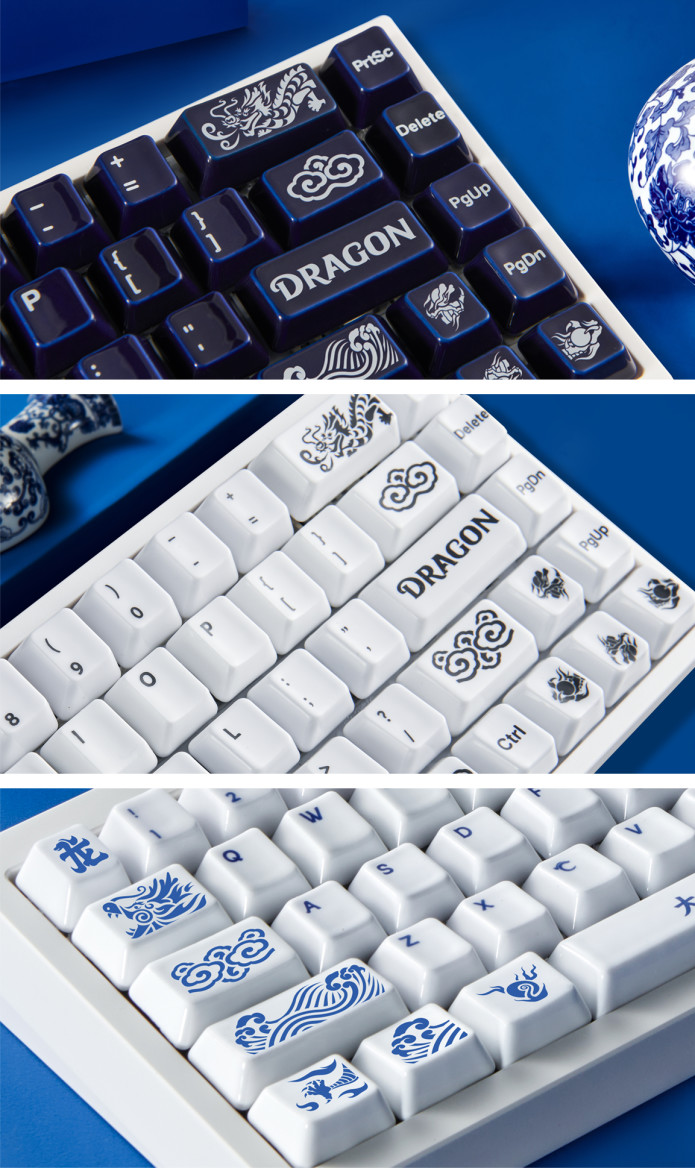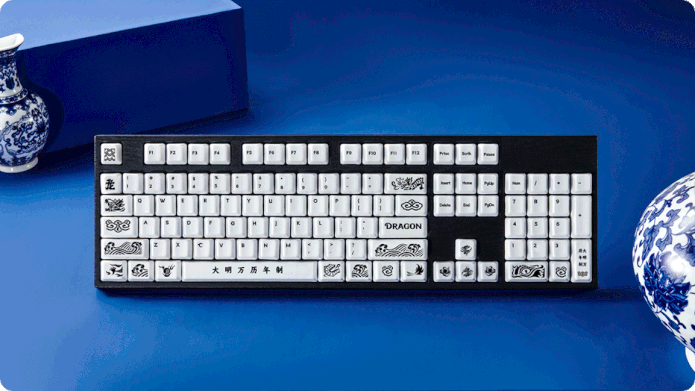 Our campaign comes with new split sets rewards with each set having the same three colors options, allowing you to customize a decent mix-and-match blue and white ceramic typing layout.
We provide three colors of blue-and-white ceramic keycap set: Willow Blue, Cobalt Blue, and Obsidian Black for various typing style.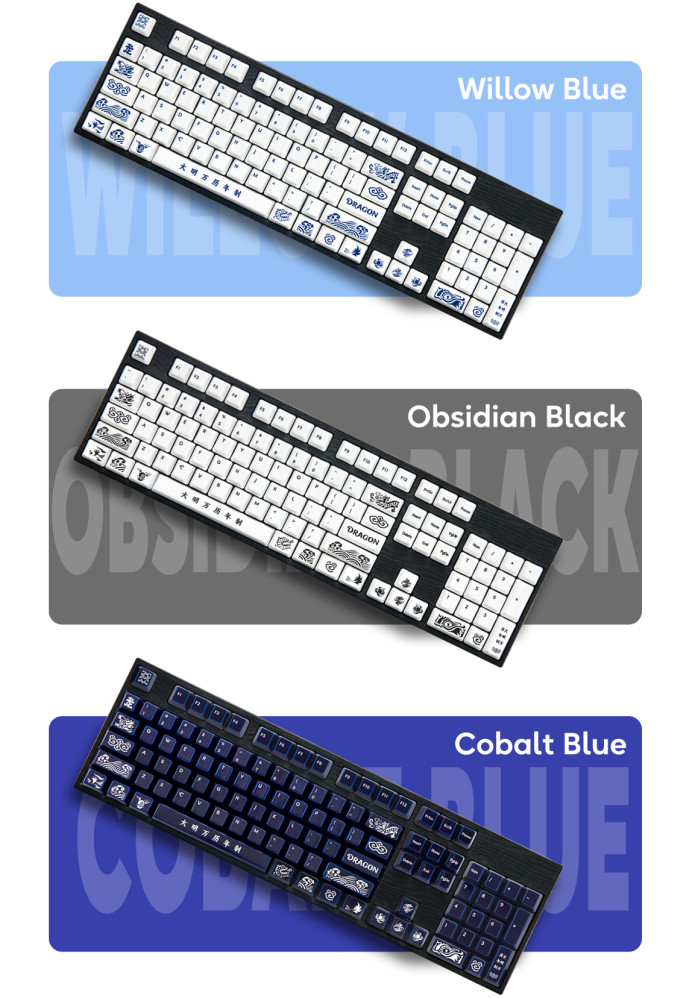 For each color, we offer A,B,C three split sets featuring specific keys and having three colors options for ultimate keycap layout customization.