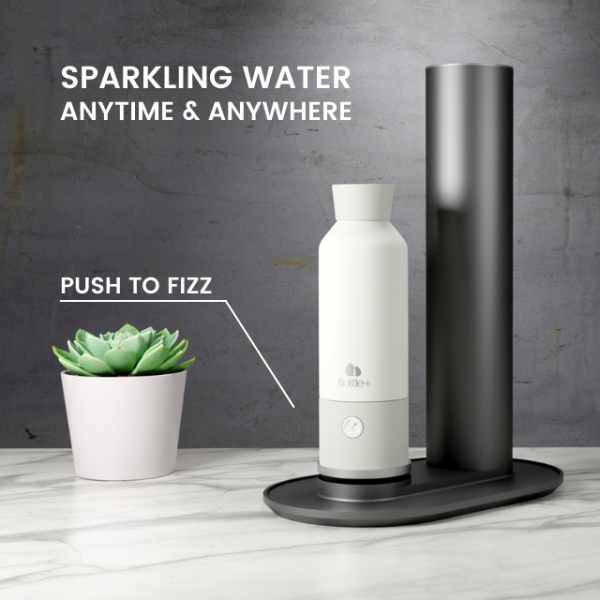 BottlePlus: Sparkling Water Anytime & Anywhere
$157,070
raised out of
$25,000
Concept
Portable soda maker bottle. Always perfectly fresh & fizzy. Zero waste.
Story
​

You love drinking sparkling water, but want to get rid of plastic bottles? Meet Bottle+, the portable soda maker with an integrated and refillable CO2 tank that allows you to create your own sparkling water anytime & anywhere, without single-use plastics. One full Bottle+ gas tank is enough to produce up to 15 bottles of sparkling water on-the-go. Once the gas tank runs empty, simply refill it at your home refilling station which works with standard CO2 cylinders.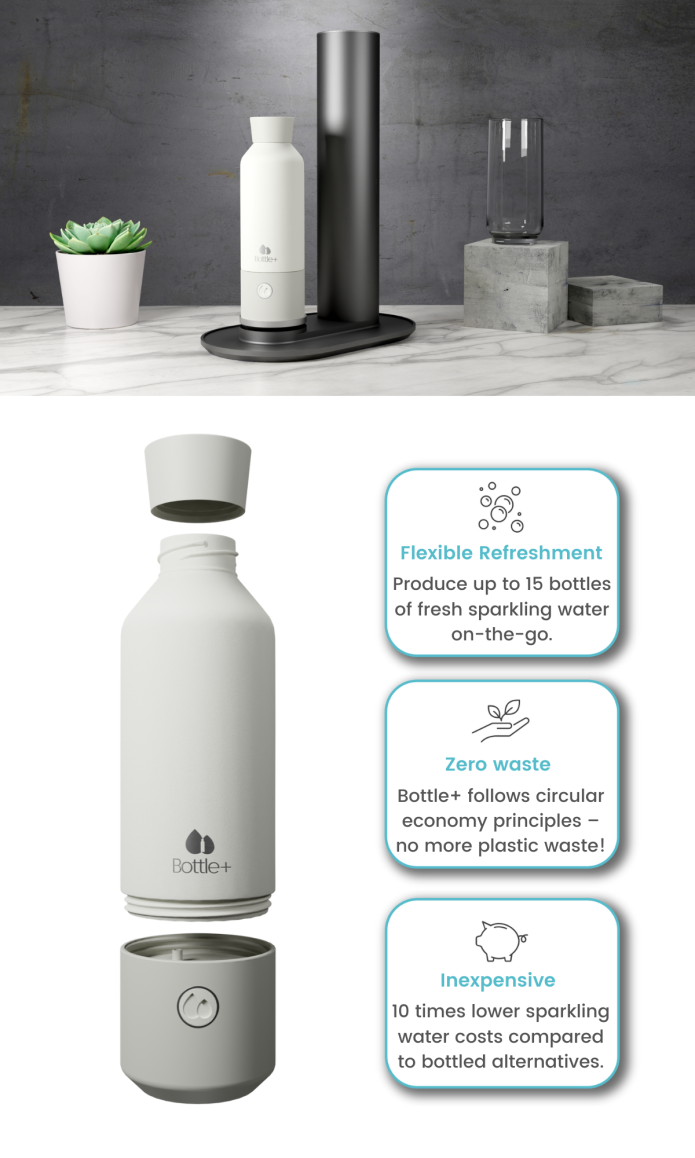 The sparkling water production process is easy, quick and without any safety concerns. You can even choose your preferred level of carbonation! Let us explain to you how it works:
Our patent pending solution has been designed and engineered in Switzerland in collaboration with professional partners and in consultation of the Swiss safety authorities. Along the way, we have been continuously integrating feedback from our community. Bottle+ combines technology and sustainability to form a unique customer experience.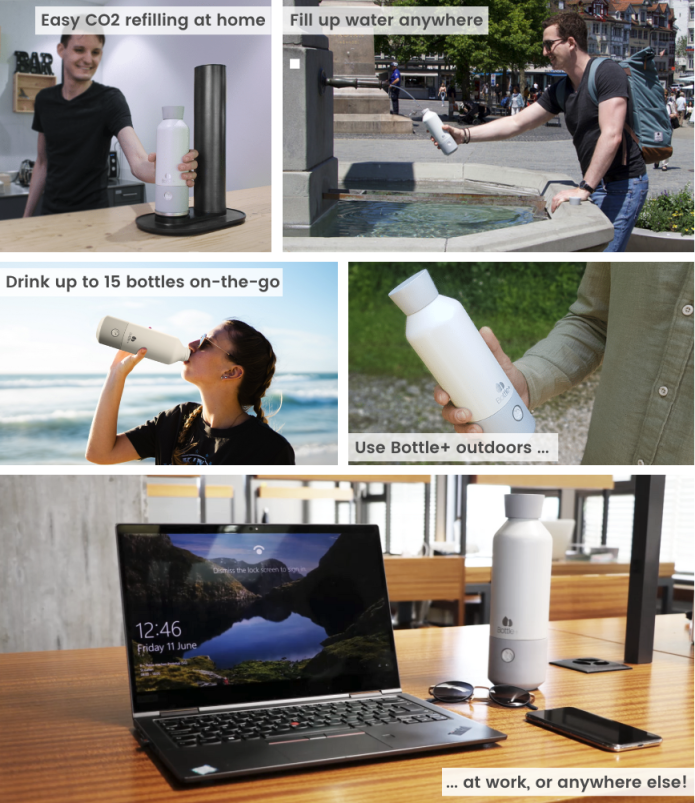 Bottle+ comes with high quality, durable materials and a stunning design. A powder coated, single-wall stainless steel body is supplemented with the lid and the adapter made out of BPA free HDPE. All parts are dishwasher safe.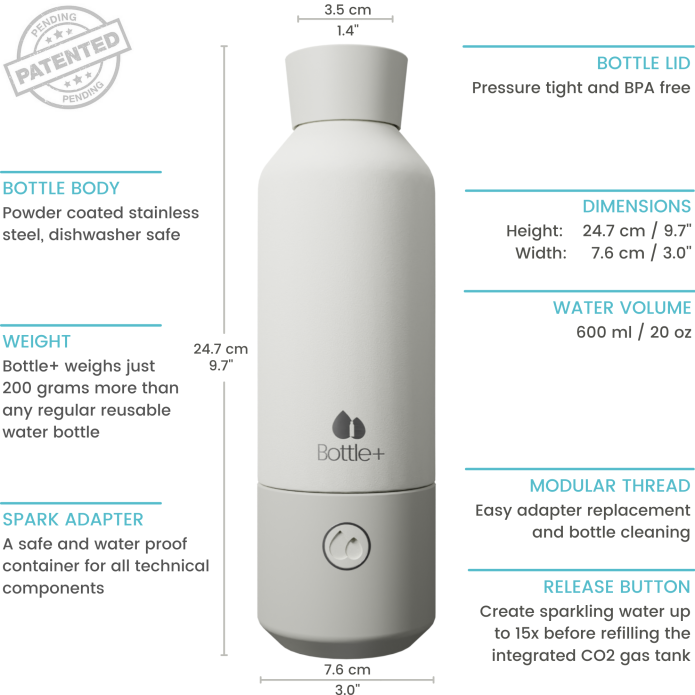 Bottle+ has a water volume of 0.6 liters (about 20 oz). Its compact design makes it your perfect companion to bring along during work and freetime activites. The FIZZ adapter weighs about 200 grams – which is similar to your smartphone's weight.
The refilling station has the following dimensions: HxLxW = 15×11.8×7.1 inches = 38x30x18 cm.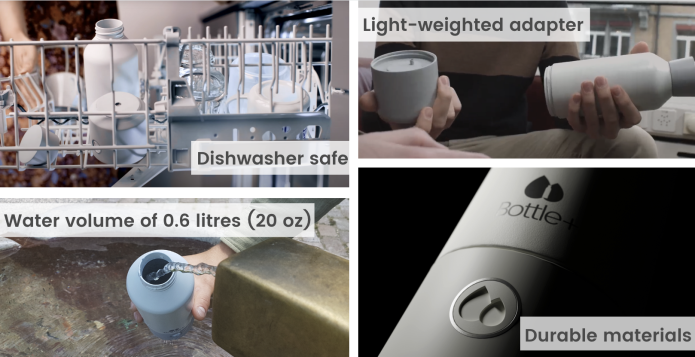 Which color do you love the most? We have one for every taste! We will contact you to choose your color after the campaign.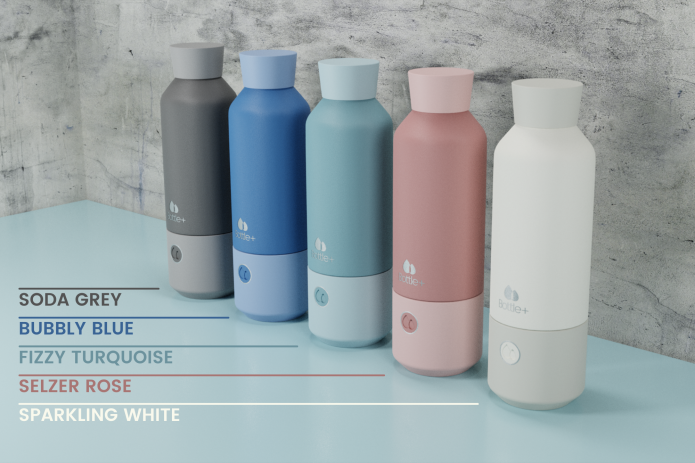 Did you know, that every hour 54.9 million plastic bottles are sold around the world? Adopting circular economy principles is one of the core strategies to address the problem of single-use plastics. Bottle+ has adopted two main principles by avoiding the production of any kind of waste and by assuring a long lifetime of the bottle.

11 million tons of plastic enter our oceans every year. We believe that plastic reduction and plastic collection must happen together to tackle the worldwide plastic pollution. By establishing a partnership with Cleanhub we will collect 1 kg of plastic for every Bottle+ sold before it can end up in our oceans. Cleanhub's collection efforts are targeted at regions with the greatest risk of mismanaged plastic waste, using the best methods for treating plastic in the regions where it's collected.


Sparkling water is a healthy substitute for carbonated sugared drinks and the perfect thirst quencher – no sugar while keeping the excitement. The more excitement, the more you drink, and the more hydrated you stay.  This allows you to perform at your best both physically and mentally.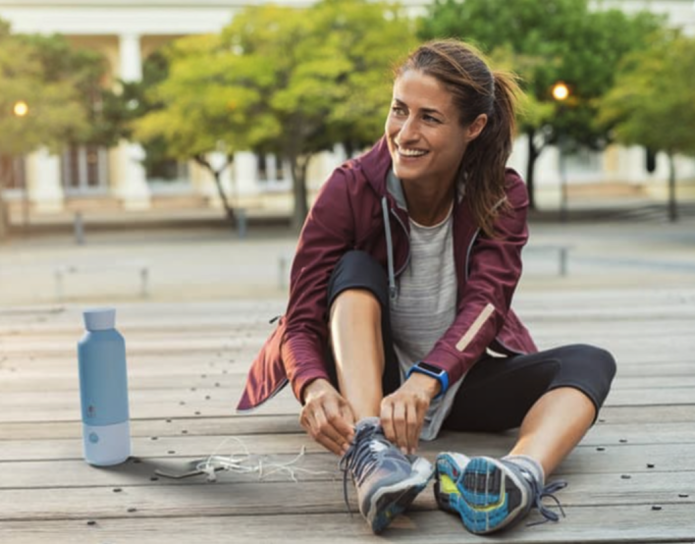 Bottle+ outshines its competition on the sparkling water market in various aspects: Portability, sustainability, design, any many more.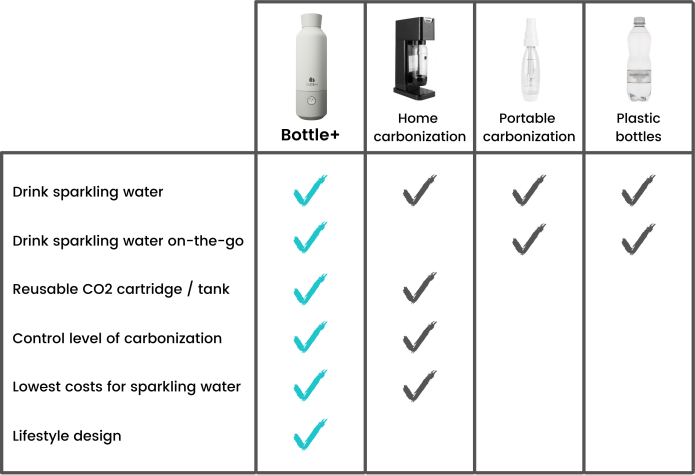 The detachable adapter doesn't only ease keeping your bottle clean (even after carbonating sugared drinks!), but it also gives you the flexibility you need. Don't feel like drinking sparkling water today and carrying the extra weight? No worries, just replace the FIZZ with the STILL adapter and tackle your daily challenges.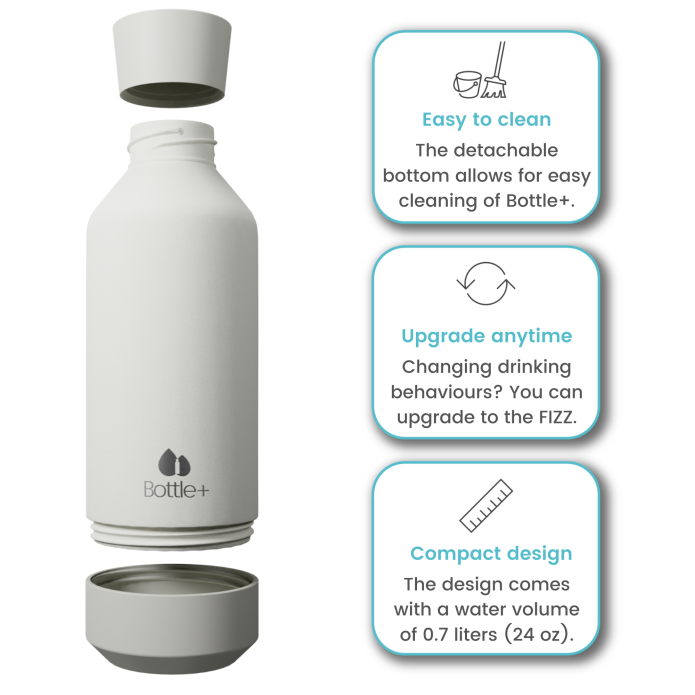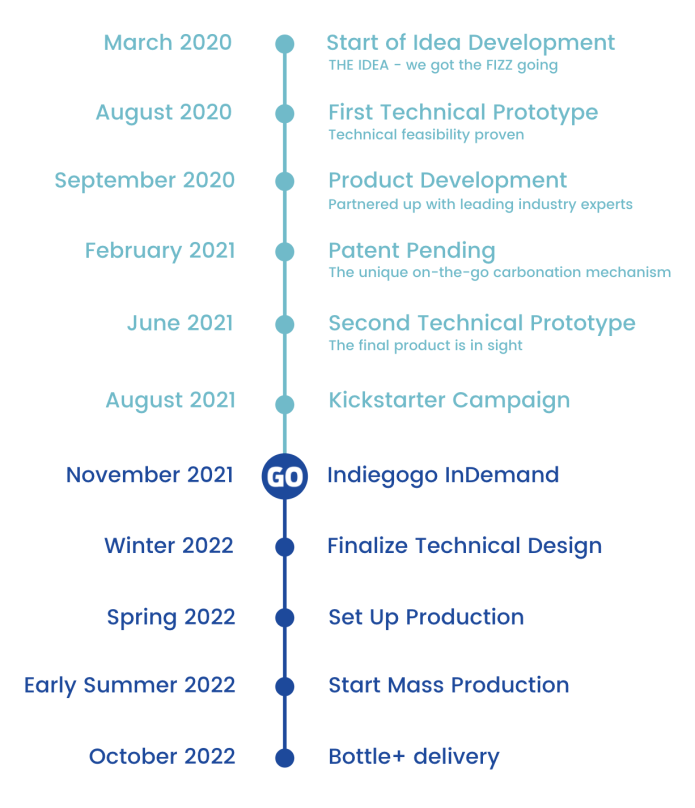 Many people and organisations have been involved to bring Bottle+ to where it is now: Designers, engineering offices, accelerators and incubators, metal processing companies, national safety centers, prototyping companies, and of course the Bottle+ Co-Founders. We are proud to have engineered everything locally in Zurich, Switzerland.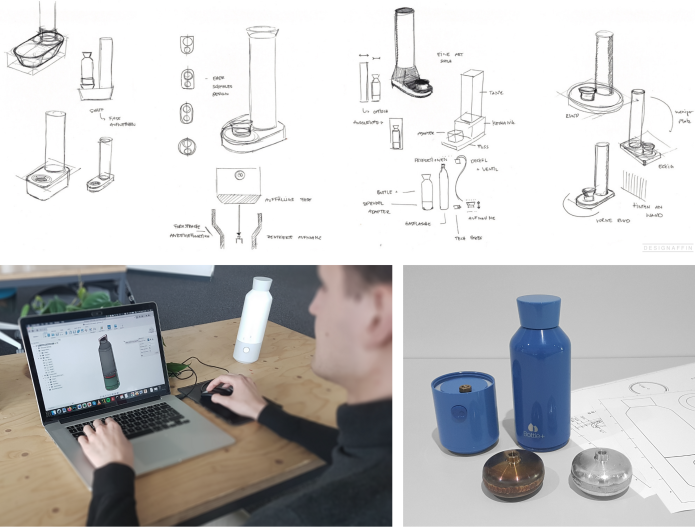 Trust is built on transparency and this is what you can expect from us. A fully working prototype is developed, it is however not yet spatially optimised and not yet ready to manufacture. The next steps are not a question of feasibility, but a question of time and financial resources. We need YOUR SUPPORT to bring Bottle+ to life!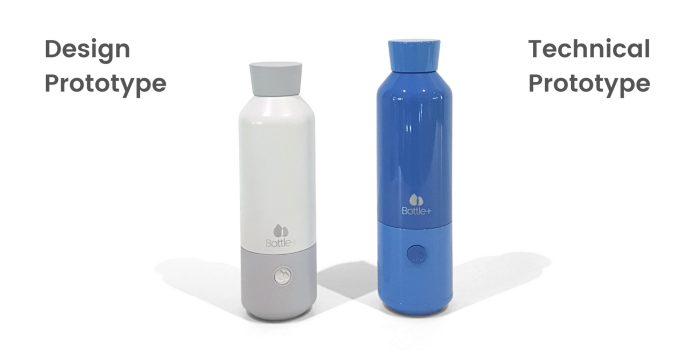 We are happy to share an uncut video of our prototype that demonstrates the core functionality of Bottle+: creating sparkling water on-the-go.

We are five friends from Switzerland and alumni who recently graduated from the Swiss Federal Institute of Technology in Zurich (ETH Zurich) and the University of St.Gallen (HSG). We love sparkling water. However,  what we found missing is an easy and environmentally friendly sparkle on-the-go. That was the start of Bottle+ in summer 2020 and we have been working on this mission ever since to make sparkling water available anytime & anywhere, without single-use plastics.  As a team we share this passion while combining complementary skills and experiences in sustainability consulting, mechanical engineering, product design and consumer goods to bring Bottle+ to life for you.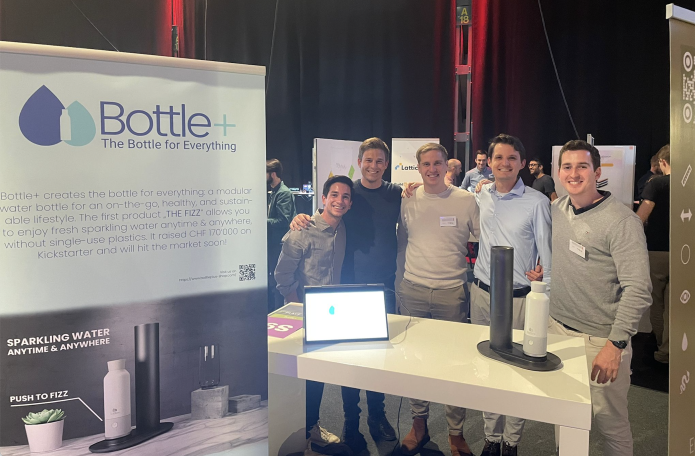 The picture shows our recent appearance at the AI+X Summit of ETH Zurich (Swiss Federal Institute of Technology). Christian and Linus (2nd and 3rd from left) are responsible to drive the operational activities of Bottle+.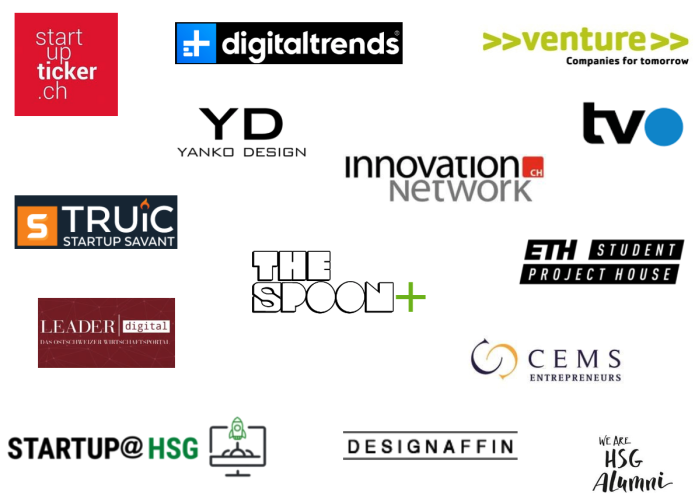 We're a team of young, motivated alumni from Swiss universities breathing the entrepreneurial spirit and drinking a lot of sparkling water. Our partners understand every step from design to direct fulfilment and provide the support we need. We began collaborating at the Engineering Concept stage and currently have a fully working prototype, which we already further iterate to improve Bottle+. With your support, we will be able to optimise and finalise the technical design, before finishing the Design-for-Manufacture engineering. While we have budgeted sufficient resources and time, we know that there might be things outside of our control and current visibility.
Shipping in October 2022: We plan to place the manufacturing order by early Summer 2022. We'll iterate, review samples and do quality/safety control from June to August (please be aware that during this process the design and features of the product might be subject to change). This timeline will allow us to keep up with our shipping estimate, just in time for Christmas 2022! Even though the timeline is tight, we believe that the risks are manageable and we're confident in our ability to deliver. We have the right resources, partners and other support in place to meet our deadlines and get Bottle+ to you in time. Of course, if by chance anything unexpected happens, we promise to keep you informed, both during the campaign and afterwards. Transparency is one of our core values and fully reflects within this Crowdfunding Campaign. We have and will not keep anything hidden from you, as you will become part of our Community by backing this campaign.
On shipping costs: At the current stage of the project it is extremely difficult to estimate the expected shipping costs for each country (and additionally, due to Covid-19, shipping costs have become highly volatile). We know for a fact that some projects that promised free worldwide shipping ran into serious financial issues afterwards. In order to minimize this risk, we decided to not include shipping costs in the Indiegogo Perks, but to bill shipping costs before the delivery of the product. We will do our best to keep those additional costs as low as possible, and if financially feasible we will try to cover part of it ourselves!
The Bottle+ Team: We are all recent alumni from Swiss Universities and bring along a broad skillset and a fantastic team spirit. Most of us have known each other since childhood, hence we fully trust and understand each other. Since a few weeks, Christian and Linus are being fully in charge of the operational activities of Bottle+, with the other team members still supporting in the background when necessary. Our young age implies a certain lack of experience, which however is compensated by our partners and advisors. The five of us have pushed the project to where it stands now, and Christian and Linus are dedicated and eager to push it until the market launch and beyond. Don't let thirst come first. Get your Bottle+ today for an amazing early bird price and be among the first to experience the future of hydration. We appreciate and are grateful for every bit of support. Join us on our journey!