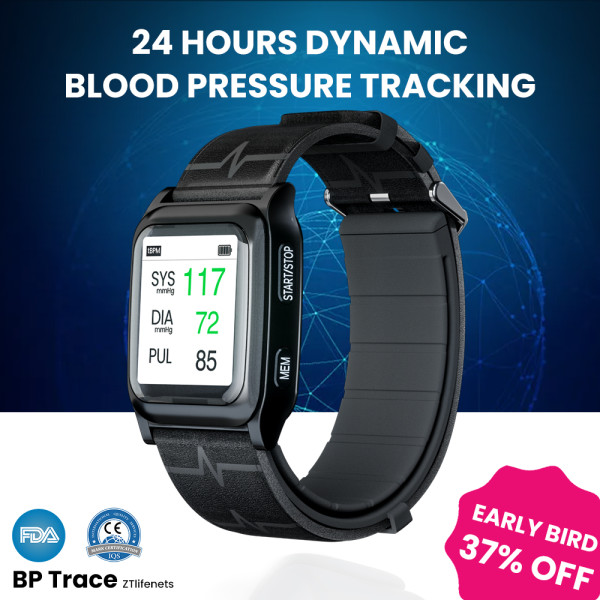 BP Trace 24hr Wearable Blood Pressure Monitor
$89,511
raised out of
$77,649
Concept
Wrist-type blood pressure monitor| 24hr tracking with oscillometric tech| FDA&CE approved accuracy
Story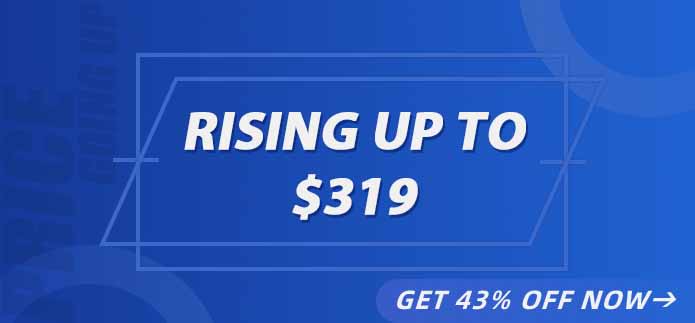 Despite hypertension being identified as a leading risk factor for stroke, heart attack, kidney failure, and even dementia, it can be difficult for those with hypertension to constantly monitor their blood pressure, and carrying a sphygmomanometer is just not practical. Because of this, wearable blood pressure monitoring devices have become a trend.

Based on this trend, we developed a smartwatch-like blood pressure monitor utilizing self-initiated automatic oscillometric technology that allows you to measure your blood pressure anytime, anywhere. After five different prototypes, we finally bring you the completed BP Trace – a blood pressure smartwatch with a patented inflatable cuff design, powerful internal algorithm, and high accuracy sensor. This device will make tracking and managing your personal health easier than ever before.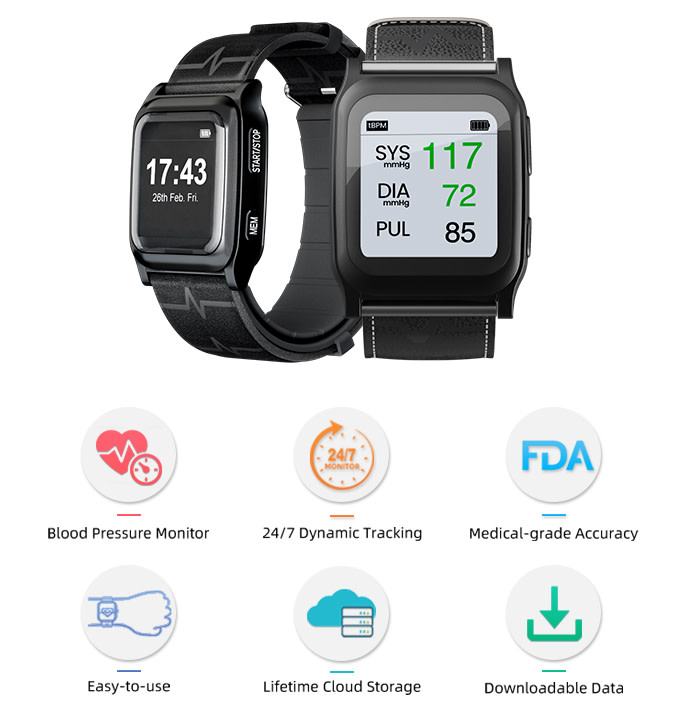 BP Trace is designed to be smart, simple, and efficient for those who need to check their blood pressure frequently. Simply put it on like you would a regular wristwatch and get your result in seconds. A state-of-the-art blood pressure device to help you stay healthy on the go.

To get a new blood pressure reading, press the activation button and raise and hold your hand over your heart. The cuff will automatically inflate and deflate on its own, and once complete will display your completely accurate systolic and diastolic pressure readings on the screen.
BP Trace does the same job as a traditional device and offers the same results, but "big", "heavy", "hard-to-use" are now things of the past. The smart technology of today allows BP Trace to be wearable, convenient, and totally user-friendly.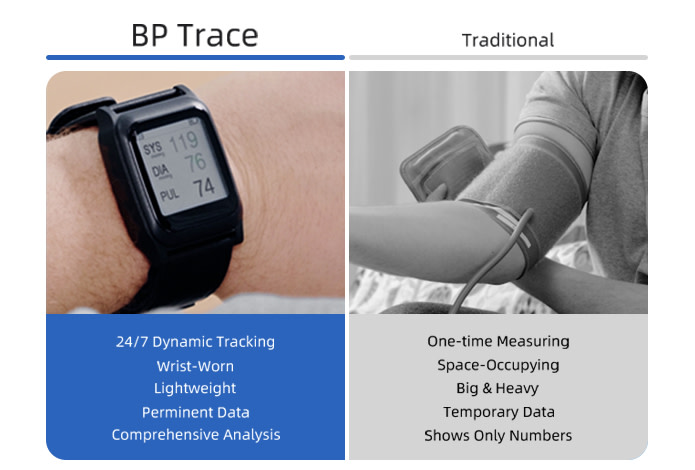 Size, portability, data storage, monitoring frequency, and ease-of-use make BP Trace superior to any traditional upper-arm oscillometric machine. There's simply no comparison.

BP Trace employs the commonly recognized oscillometric technology along with new micro air inflation technology that holds multiple international patents. This device measures your blood pressure just as accurately as a regular upper-arm oscillometric device, like those typically used by doctors and other medical professionals.
The auto-inflating mini air-cuff is embedded underneath the strap to read both systolic and diastolic blood pressure, just like the thick cuff of a traditional device that is usually placed on the upper arm.

As one of the pioneering devices in the smart health device industry, BP Trace has been certified for its data accuracy by both the FDA and Medical CE. The inflatable cuff design and oscillatory technology used in BP Trace has multiple international patents as well.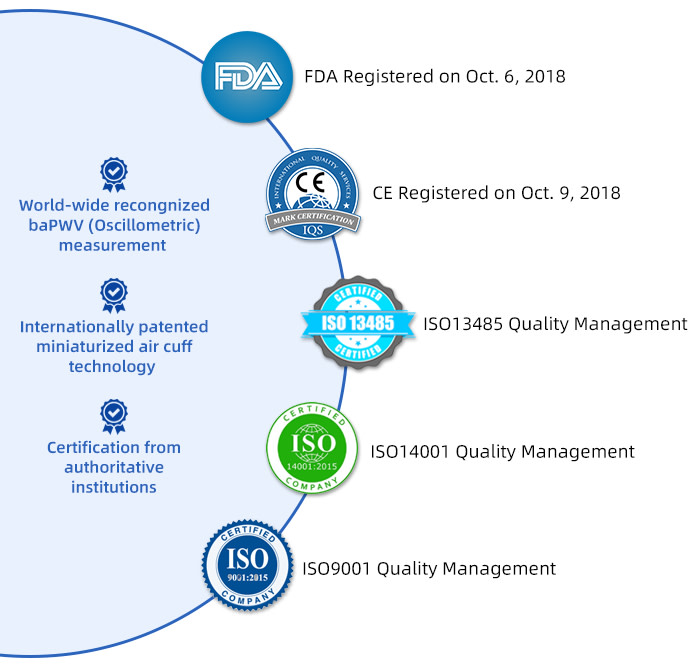 Check the certifications here
Check the patent here

In the following video, we demonstrated how to use BP Trace to check your blood pressure. We also e made a few comparisons with a traditional oscillometric monitor like those used in clinics and hospitals. Below are screenshots of the blood pressure readings from the video.
In the first test, we completed a resting blood pressure reading with both a BP Trace and a traditional device. When we compared the results of the two devices, they were almost identical. The close-ups below show that the two results varied only slightly. (Please note that a deviation of up to 5 mmHg is still considered medically acceptable).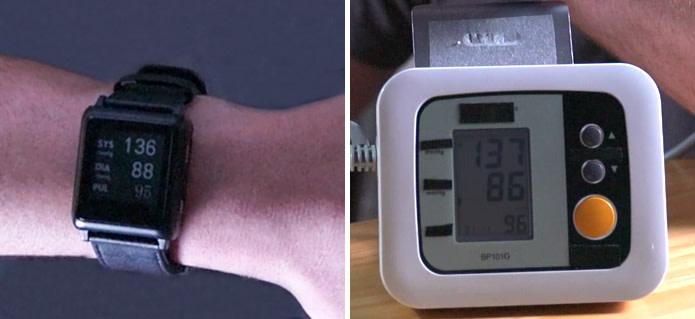 The second test was done to compare the accuracy of a dynamic blood pressure reading. The tester did some light physical activity before measuring his blood pressure a second time. The results showed a small fluctuation in his heart rate and blood pressure but were overall still very accurate.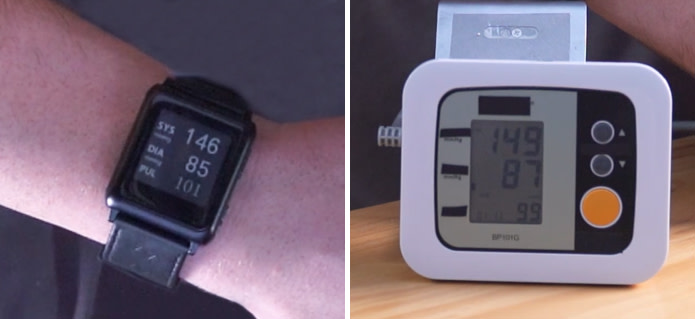 *International ANSI/AAMI/ISO 81060‐2:2013 guideline for the validation study (Criterion 1: Mean and standard deviation (SD) for the difference of the device minus the observer BP measurements ≤±5 and ≤8 mm Hg, respectively).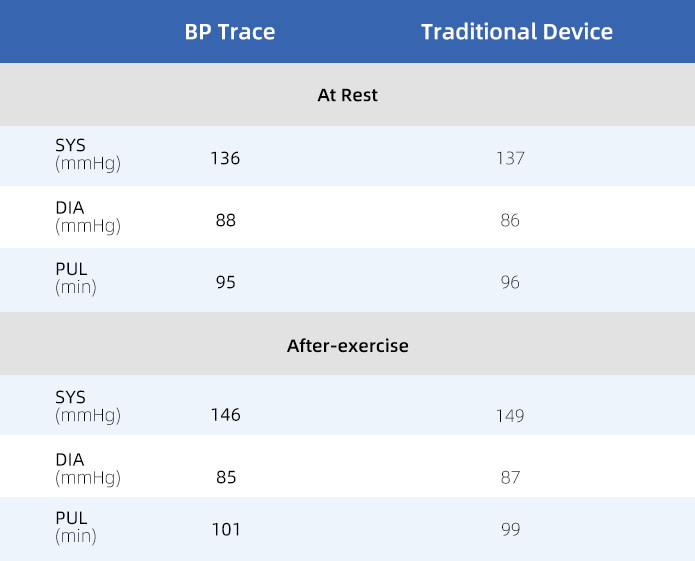 Abbreviations: SYS, systolic pressure; DIA, diastolic pressure; PUL, pulse; mmHg, millimeter of mercury; min, minute.
In Conclusion – For both active and resting measurements, BP Trace can measure blood pressure and heart rate accurately. However, we truly believe this product has the potential to become even more accurate., We will continue to do rigorous testing and further improve the product, and we guarantee to deliver a completely standardized final product by the final release.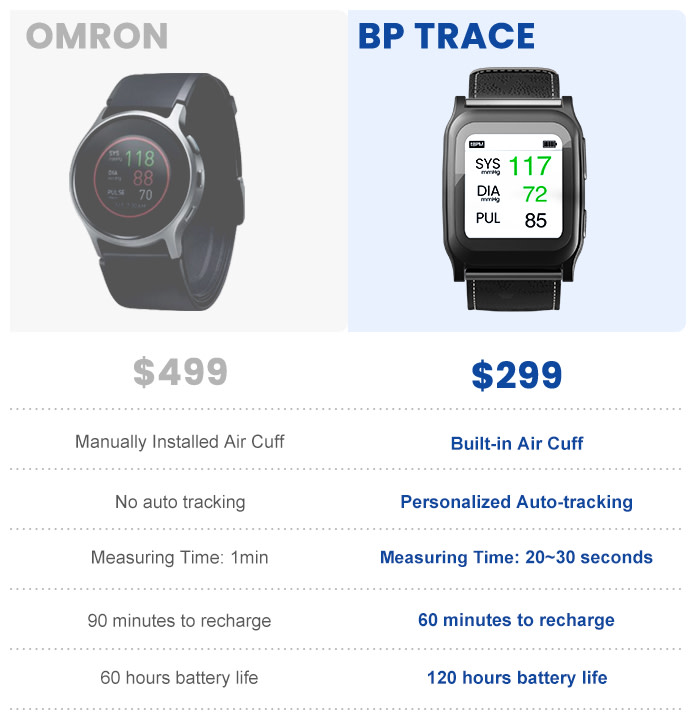 Being diagnosed with hypertension is usually based on multiple blood pressure readings over time, and only severe cases receive immediate drug treatment. To aid in the diagnosis, management, and estimate of risk in patients with hypertension, 24-hour ambulatory blood pressure monitoring is becoming a necessity. However, this type of constant observation is almost impossible outside of a healthcare facility and can be quite intrusive and inconvenient.
BP Trace is the solution to this problem. This 24-hour active monitor is wearable, auto-sampling, and fully persistent. Simply put it on your wrist, and let the self-initiated automatic oscillometric cuff check your blood pressure at regular intervals throughout the day. With BP Trace, you can easily obtain useful information including:
24-hour average blood pressure
Average daytime blood pressure
Average nighttime blood pressure
Calculated percentage drop in blood pressure at night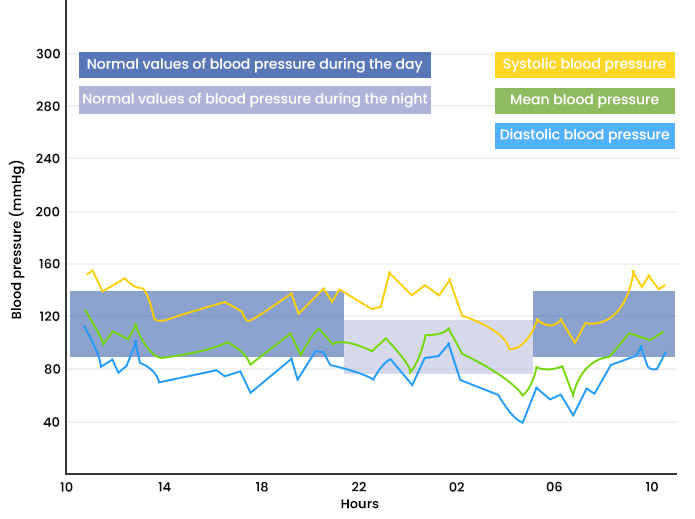 Easily check your blood pressure variability throughout the day.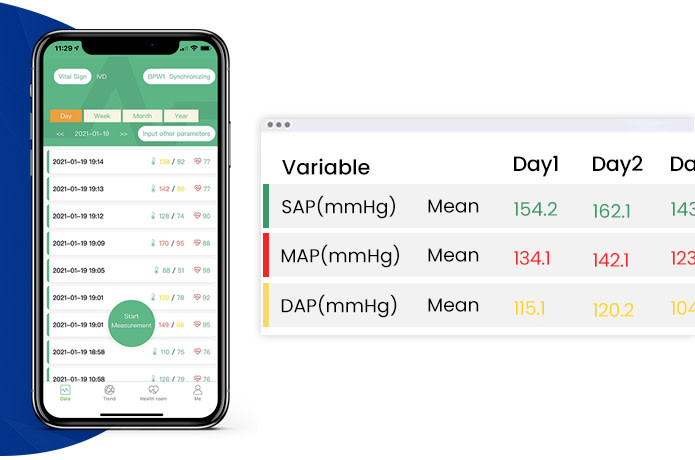 Export data from the app to calculate your average blood pressure.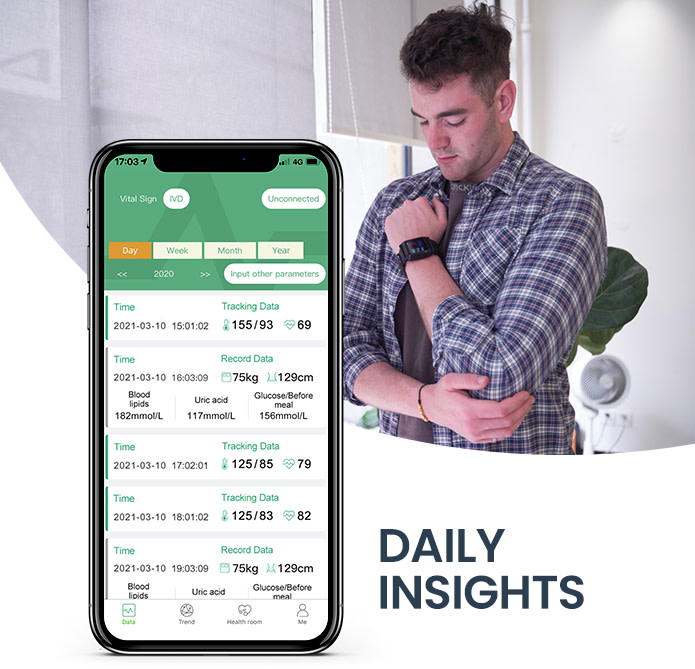 The app provides comprehensive data to help you understand your personal health.

The BP Trace app stores multiple types of health-related data. As you continue to use BP Trace over time, each result is saved and analyzed to create trends, ranging from hourly to yearly. Most patients go to the doctor's office without any descriptive or concrete references for diagnosis. This can not only waste time during a first-time medical examination but also doesn't provide the doctor with any solid information about your past conditions.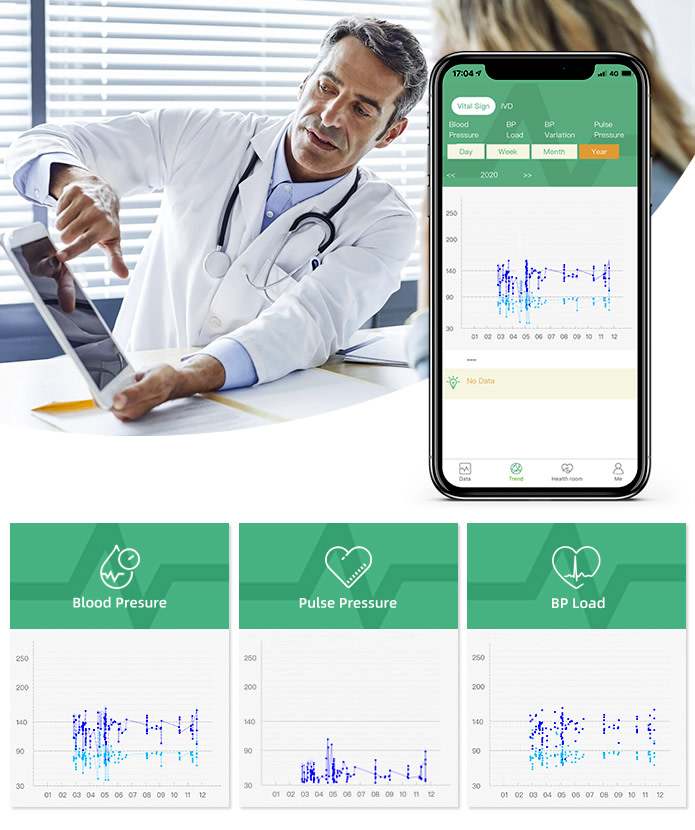 The long-lasting battery life allows BP Trace to run its tracking program throughout the day and provides you with medication reminders and warnings for abnormal readings. By observing weekly trends, this device can help you make progress with your health management and help consolidate all the information necessary for a new diagnosis.

For patients that require long-term care and continual health management, weekly, monthly, or even yearly data may sometimes be required, and BP Trace can easily fill these requirements. BP Trace lets you track your measurements over multiple periods of time using smart charts, trends, and stats. With the BP Trace app you can easily share your measurements and progress with your doctor, friends, and family, or export them anywhere through email. The BP Trace app can export data in both pdf and excel files. With our lifetime free cloud storage, all of your data can be downloaded easily for a deeper analysis.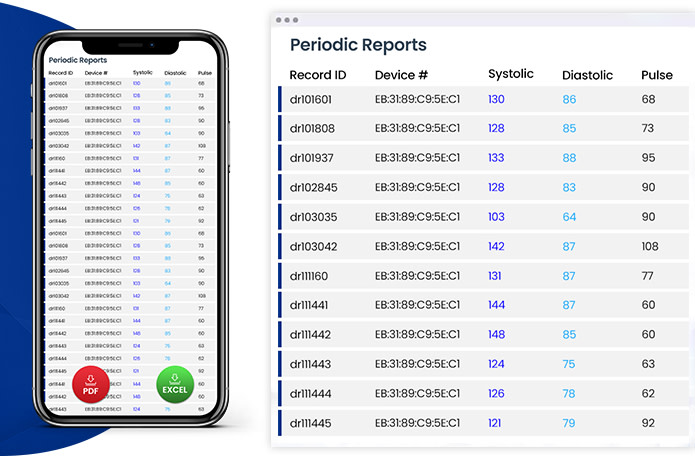 Choose custom time periods (intervals) and frequencies for blood pressure sampling based on your own preferences or your doctor's advice. Just follow a few simple steps and wait for auto-measurements to begin.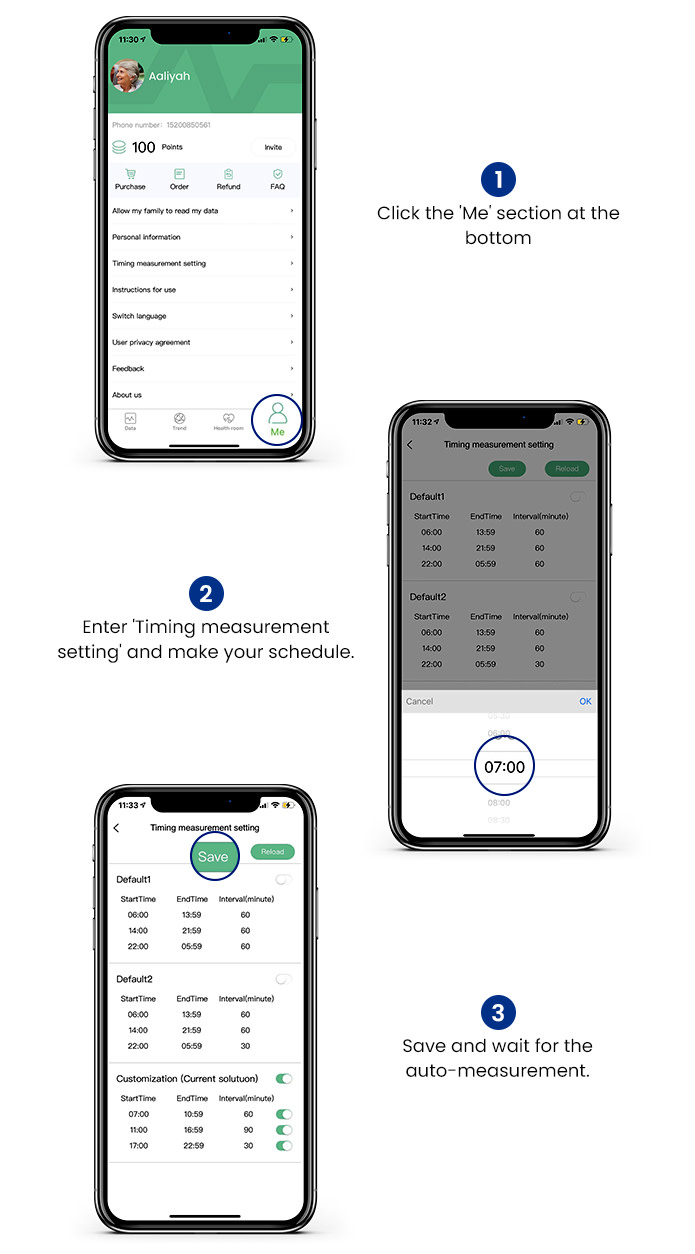 *A notification will appear 1 minute in advance.

To accommodate the need for continuous measurement, we also optimized BP Trace's battery life. Under standard conditions (default setting), the device can complete up to 20 blood pressure measurements a day and can be used for 3 days, which makes it an ideal portable health monitor.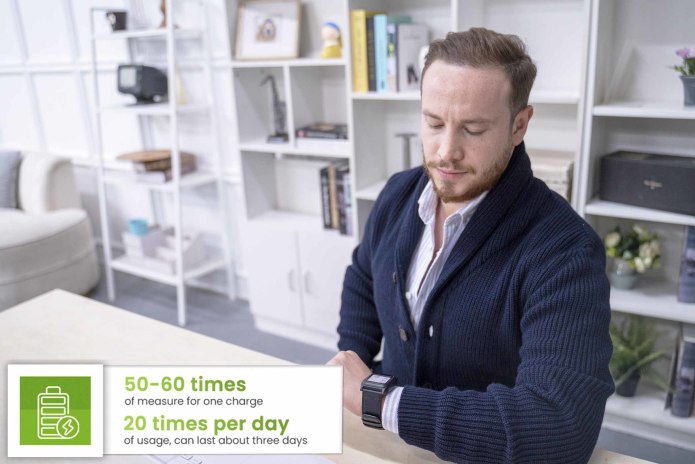 BlooBlood pressure can change dramatically from morning to night, and while you sleep. It's important to keep track of these fluctuations, and BP Trace continues to monitor your blood pressure even during the night without disturbing your sleep.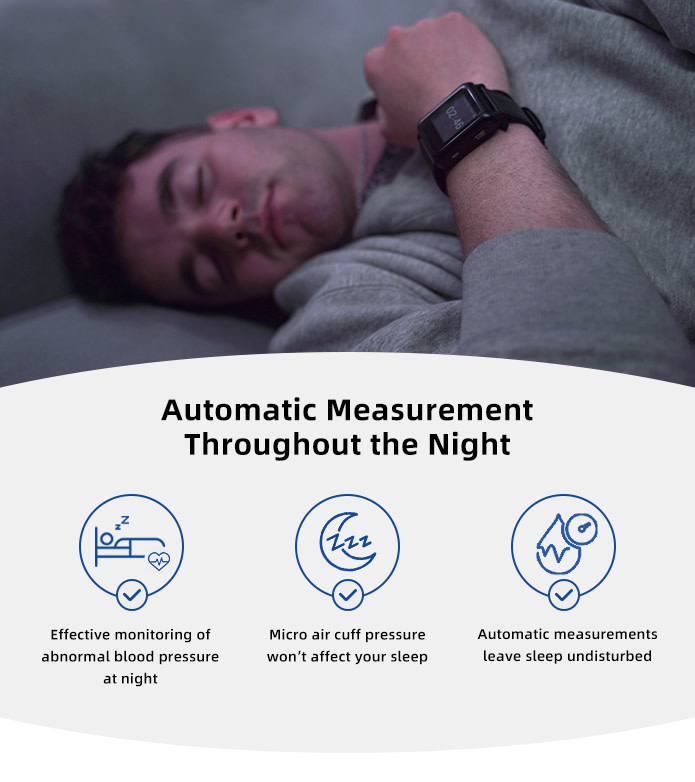 Family happiness is the ultimate goal of our medical technology. We included a feature in the BP Trace app to enable you to share data with family members by linking your accounts. This feature lets you check the wearer's condition in real-time, no matter how far away you are.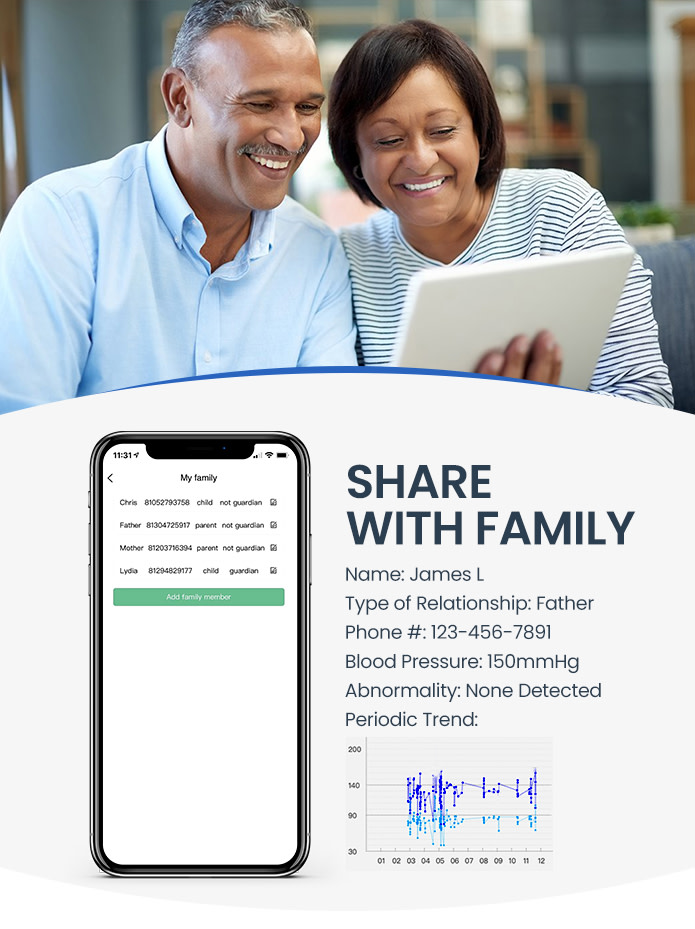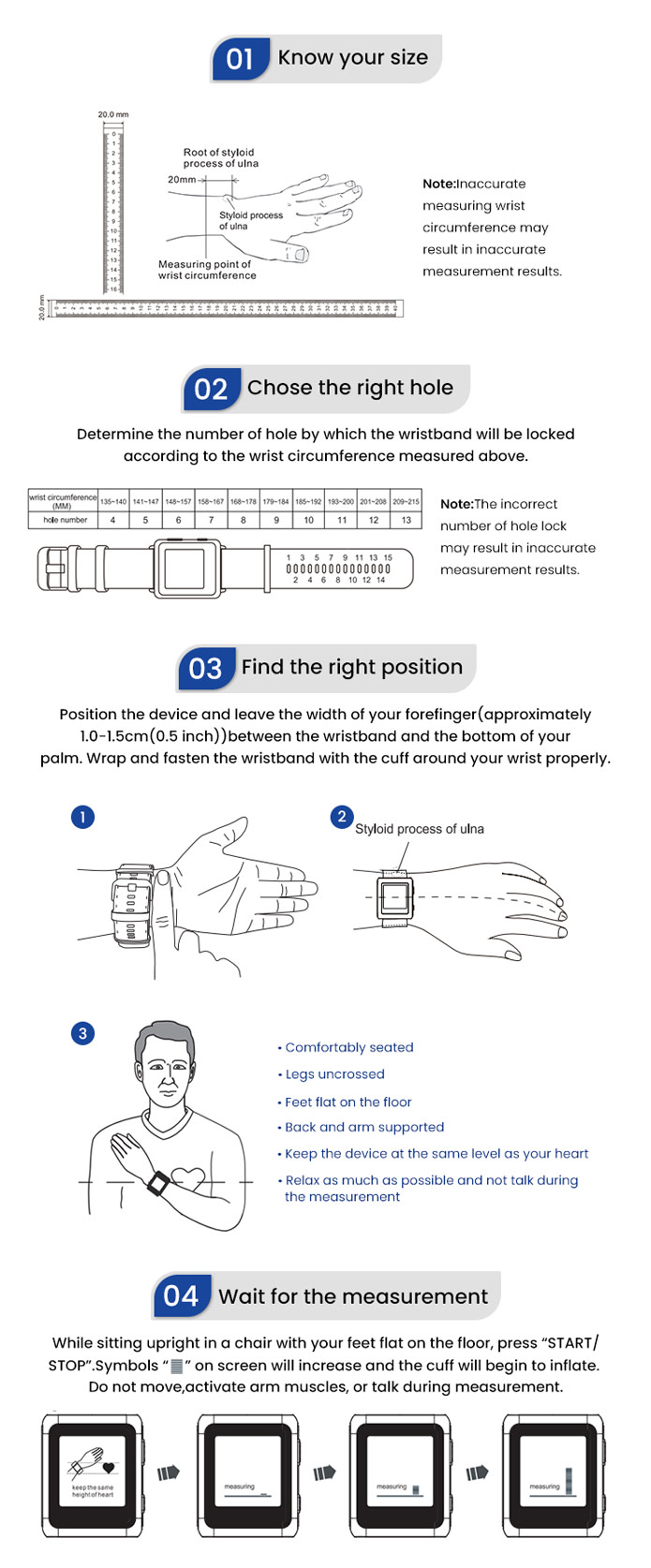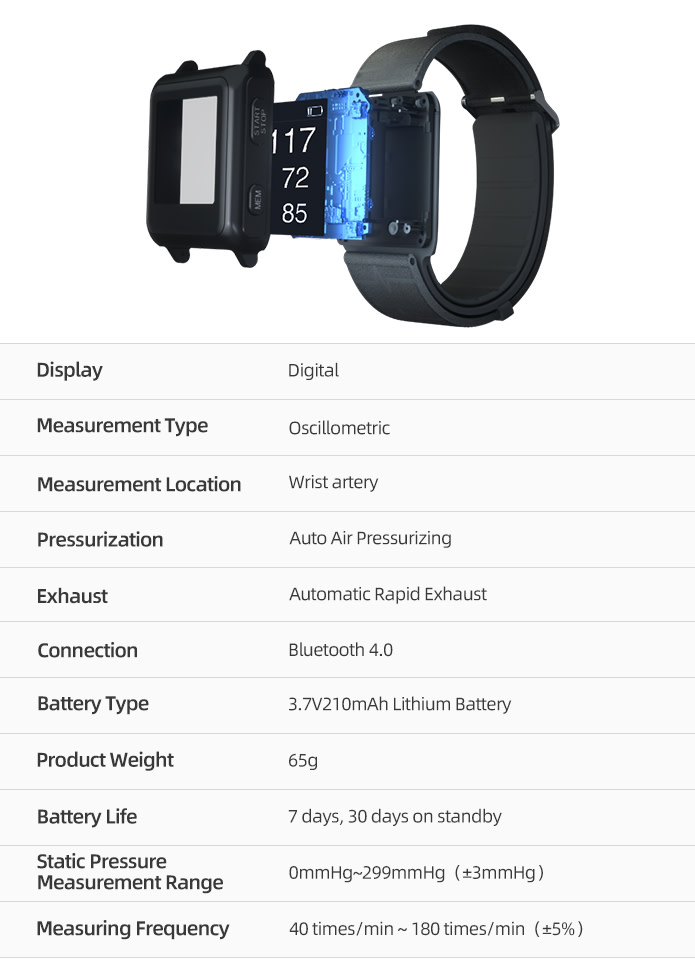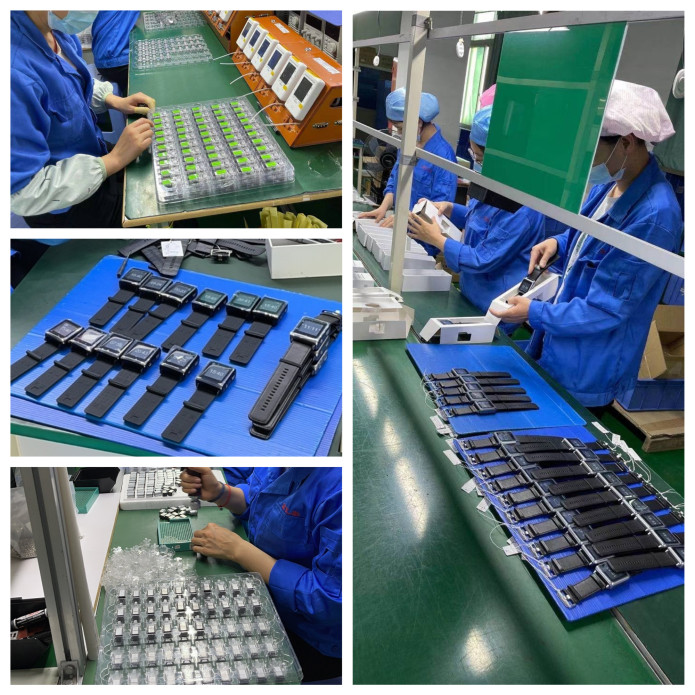 ZTlifenets is a sister company to Kingyield Technology Co., Ltd. While Kingyield focuses on hardware development and manufacturing, ZTlifenets is responsible for branding, systems operation and marketing. We have built a class of noninvasive vital sign monitoring equipment and aim to bring smart wearable health innovations to the world. With years of experience with medical hardware and health management AI software, we have made significant contributions to the smart health management ecosystem and have helped advance the medical device industry. ZTlifenets has received multiple international certifications for its products and is always working on self-development and research to become a one-stop shop for all your health device needs.