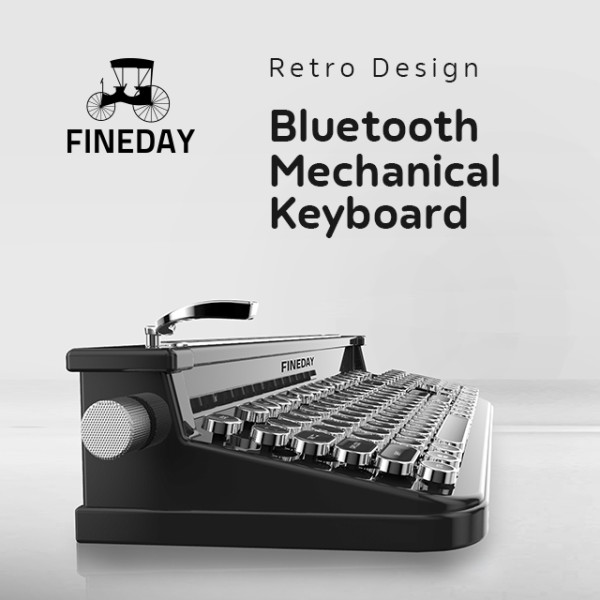 Fineday-Retro
$64,144
raised out of
$15,000
Concept
Enjoy a more satisfying typing experience | Multi-pairs 3 devices | Bluetooth 5.0 | LED backlight
Story
50% Off VIP Early Bird Ends In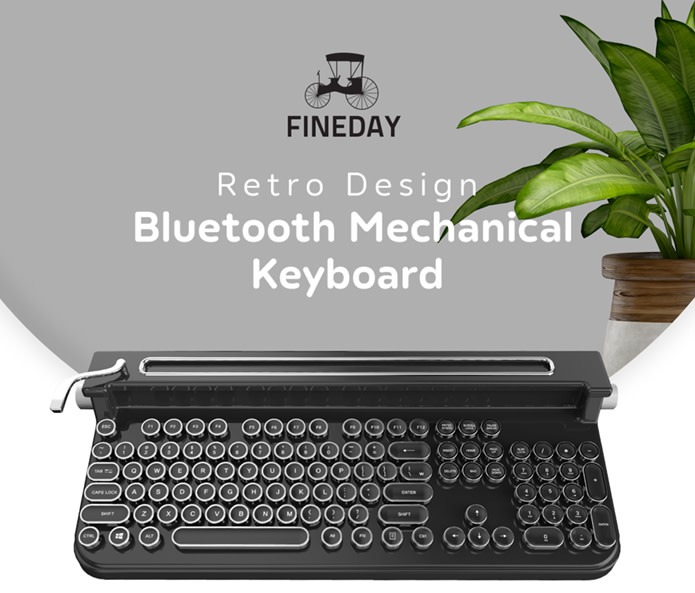 Experience the ultimate tactile typing experience with Fineday. Easily pair multiple devices, enjoy a strong Bluetooth connection, and work faster with multi-function hotkeys.
Meet Fineday — a retro typewriter keyboard that lets you experience NEWTRO (New Retro) with the most up-to-date technology. Immerse yourself in nostalgia and get those creative juices flowing while boosting typing speed and accuracy.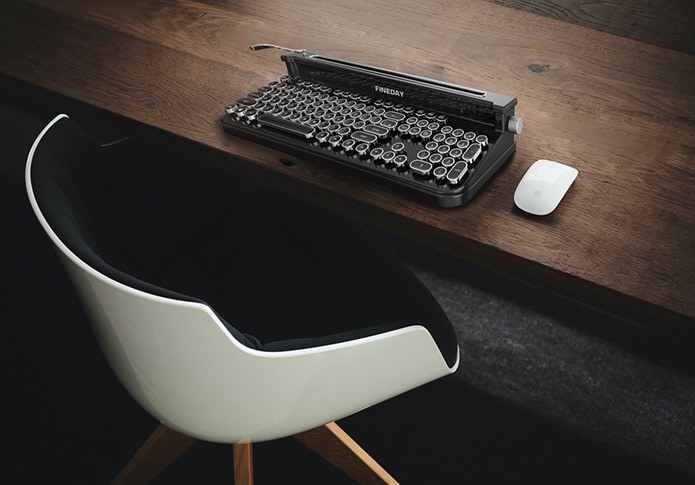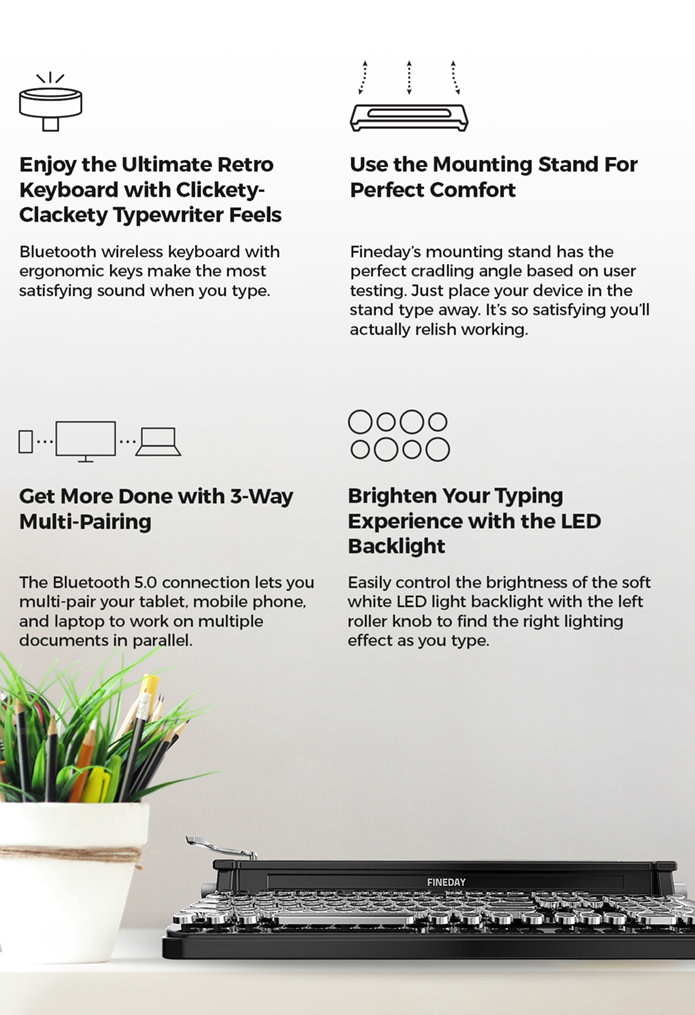 It's comfortable, consistent, responsive, and tactile. With Fineday, you get to revel in the joys of tactile typing with authentic saddle-shape keycaps. The OUTEMU blue axis mechanical switches give off a noticeable tactile and audible feedback.
Making Fineday the perfect treat for your eyes and ears.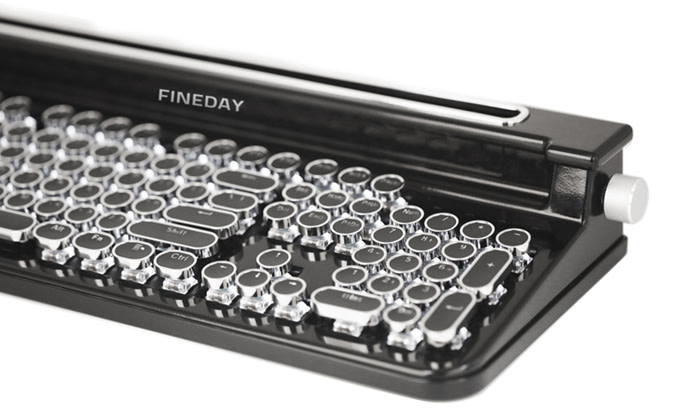 Writing is a manifestation of your thoughts and inner musings. It's a symbol of human civilization. The journey that started from an oracle bone script has reached revolutionary digitalization.
Fineday helps you embrace nostalgia without saying goodbye to the most up-to-date technology, so you can take part in our collective sociocultural evolution.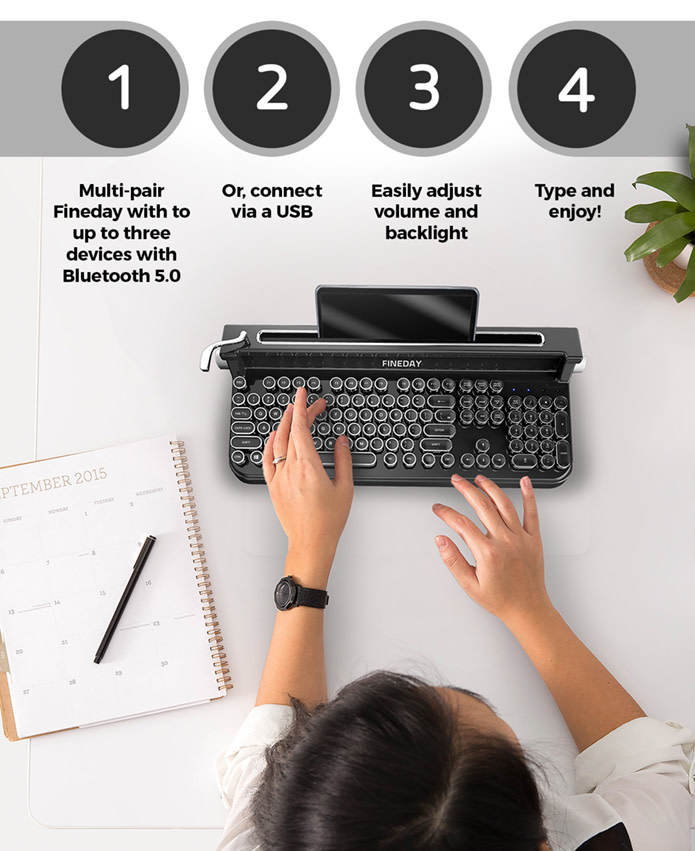 > Enjoy three points of connectivity
Fineday allows you to simultaneously work on three devices. Connect your keyboard, phone, tablet, laptop, or desktop, and get things done faster with a strong Bluetooth 5.0 connection.
> Works in both wireless and wired mode
Don't want to deal with wires? Turn on Bluetooth to seamlessly pair your devices with Fineday. Want to go into warrior typing mode without worry that the battery will run out? Connect Fineday via the USB cable.
> Perfectly compatible with Windows/iOS/Android
The Bluetooth keyboard supports most smart devices on the market.
> A 9.22-degree cradling angle for ergonomic comfort
Easily stow your devices in the mounting stand to type for long time intervals without feeling any strain on your neck.
> A number pad for the complete typing experience
This was the top-requested feature by our version 1.0 users and we were happy to make it part of version 2.0.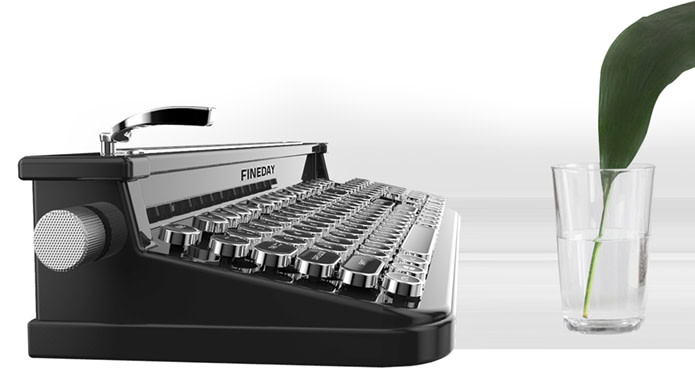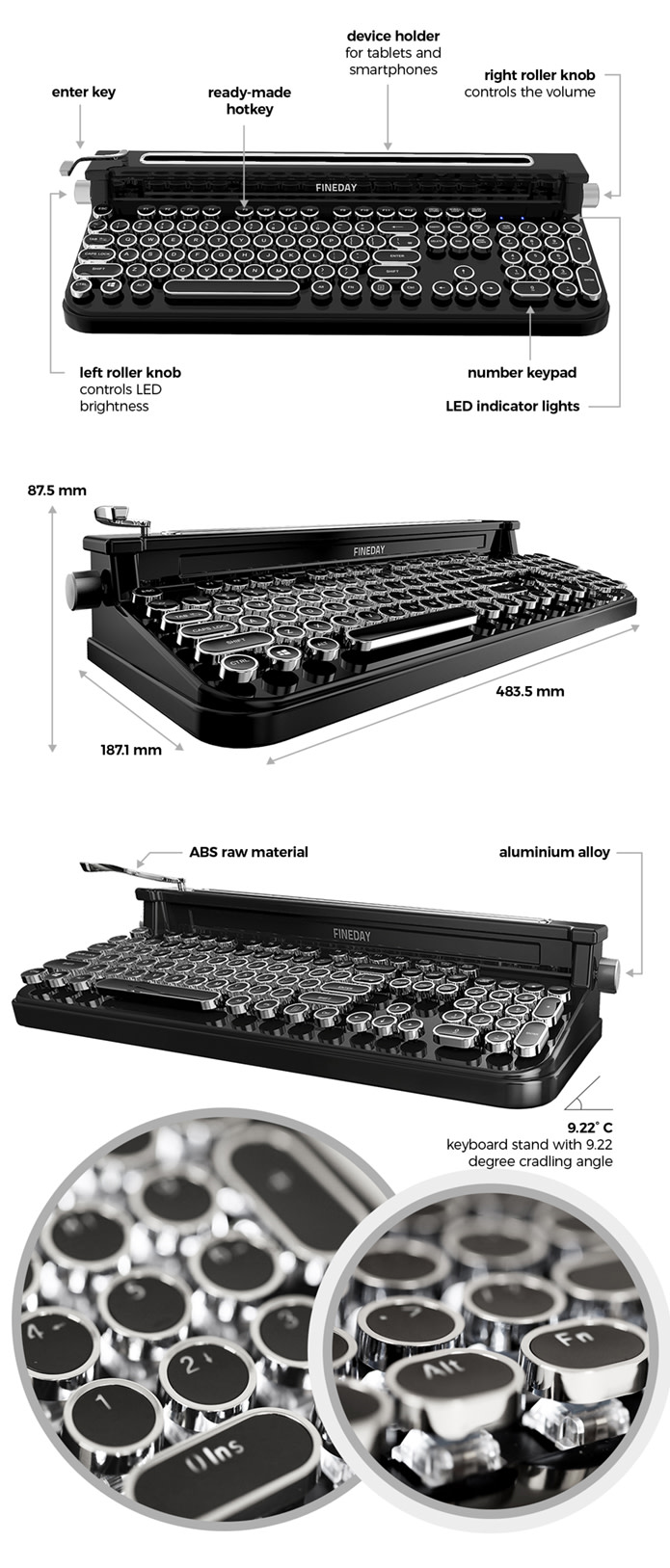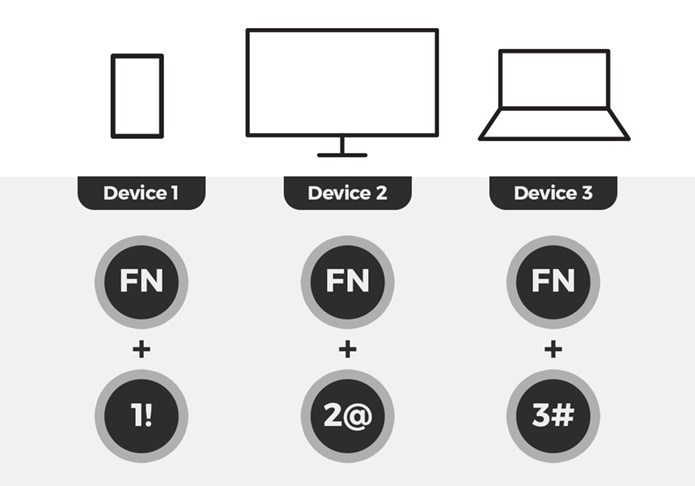 I'm a user of Fineday's 1.0 version keyboard. First of all, Fineday's product has been improving through continuous updates for more than a year. We're currently using the 1.0 version which is excellent not only in design but also in function. My only regret was that there were no number keys, but I'm very satisfied that the 2.0 version model will include the number keys. I hope you'll continue to grow into a company that is sincere and trustworthy, as you've done so far!

Most of all, using both wired and wireless at the same time is the biggest advantage. You can use your smartphone or tablet at the same time as you use it by USB to your PC or laptop. It's an amazing function to work between wired and wireless at the same time. If you put your smartphone and tablet on the stand, your work efficiency will be greatly improved. Oh, and of course, I just love the design.

After experiencing the keyboard myself, I felt it was more than just a keyboard. In addition to many great functions and uses, the keys and sounds of the mechanical keyboard were excellent. I smiled while I was using it.

The bottom of the keyboard is stable and has a good color and surface treatment. Putting it on the desk gives me a sense of comfort and stability overall. It was easy to hold a mobile device and has a good touch of key and typing speed. Backlights are also fitted for night work. Light penetrates keycap text, making it convenient to work with at night.

It feels like playing a musical instrument. The lever can work, so I feel like I'm typing on the typewriter. Love the clickety-clackety sound that awakens the feelings of nostalgia. I'm less stressed when I work, using this keyboard. The function of connecting to the mobile device and using it is great, but I think I'll just use it USB connected for the most part. I think it's a great product and worth keeping even just as a mechanical keyboard for PCs.

Its luxurious and beautiful design is also very useful. I don't use a lot of keyboards, but I just want to have this product. It seems to be a great gift for your friends.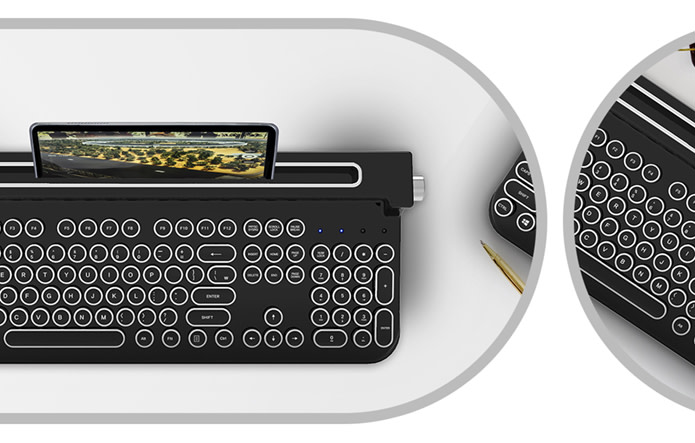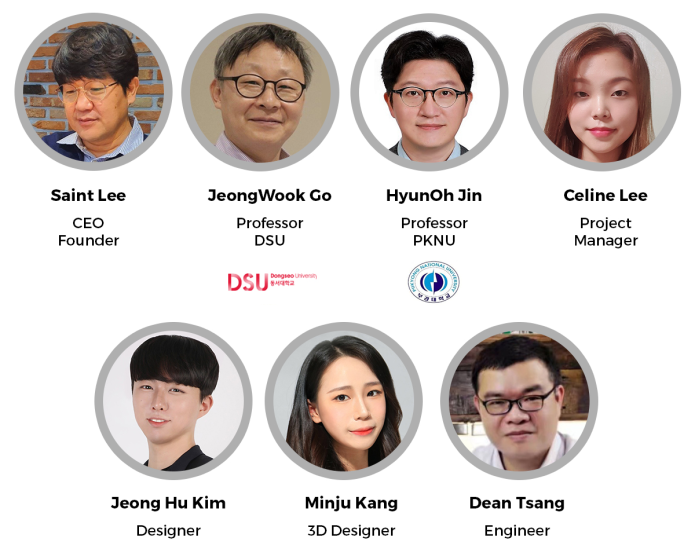 Fineday comes to you by MAKERSGROUP, a company that's passionate about retro designs.   Our CEO Saint Lee started the company in his 20s and has so far developed and produced creative and valuable products in North America, Korea, and China.

We are dedicated to producing and selling products that go hand in hand with our vision of bringing NEWTRO products to the public. We previously successfully launched Fineday 1.0 on a Korean crowdfunding website. So, this is not our first rodeo.
Fineday 2.0 is the new and improved version that guarantees a satisfying typing experience, always. We decided to launch Fineday with Indiegogo because running a crowdfunding campaign allows us to gather real customer opinions and deliver a product that's perfect for the people who want to use it.
Backer contributions will allow us to start manufacturing Fineday to help you experience NEWTRO with a better typing experience.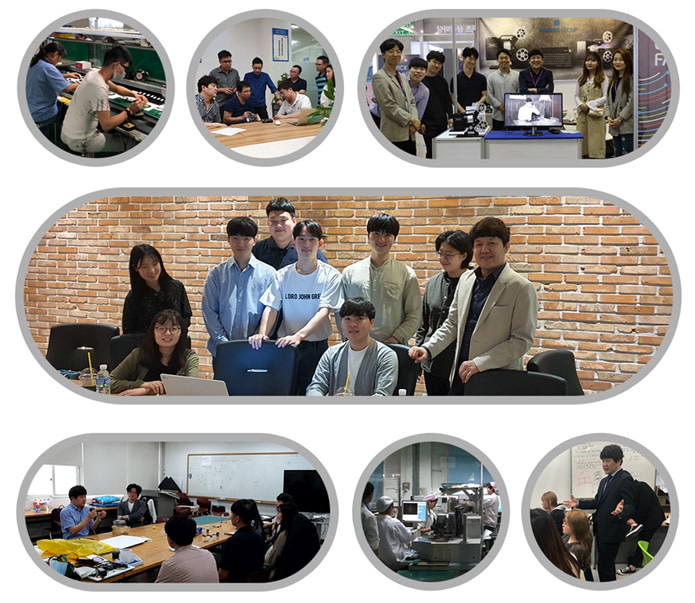 Manufacturing partners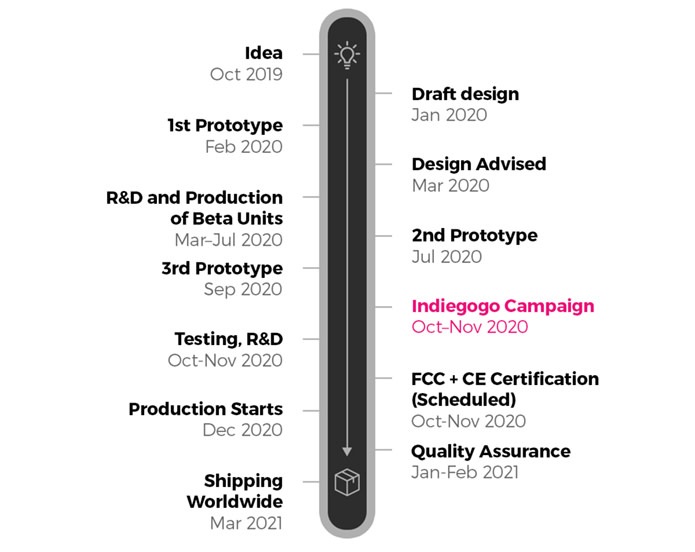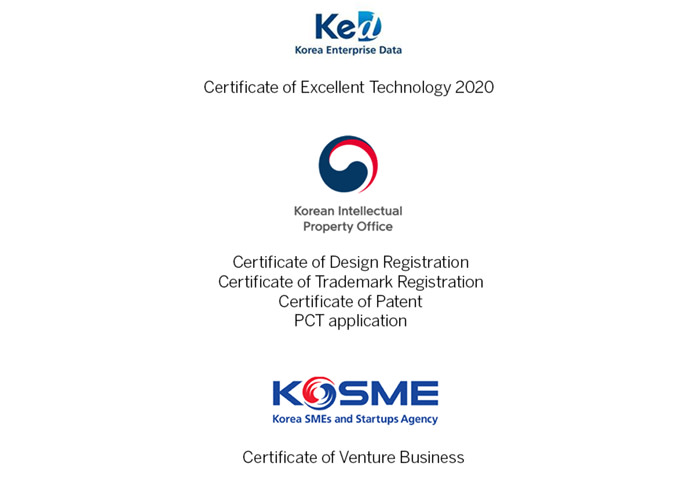 Warranty
All Fineday products come with a 1-year warranty. In the unlikely event that you receive a faulty device, please contact us at hello@finedaycase.com within 15 days of receiving the product.
Return policy
We'll use the funds raised through this campaign to start the manufacturing process. In accordance with Indiegogo Terms of Use, we will not offer refunds or product returns for items that are not defective.
Risks and challenges
We're ready to start the manufacturing process once we reach our funding goal. Generally, the biggest risk for any hardware product are unknown delays in manufacturing as things can always change when bringing a brand-new product into the world for the first time. If this happens, we'll disclose all information in our updates.
This is however highly unlikely since we have already successfully launched and delivered Fineday 1.0.