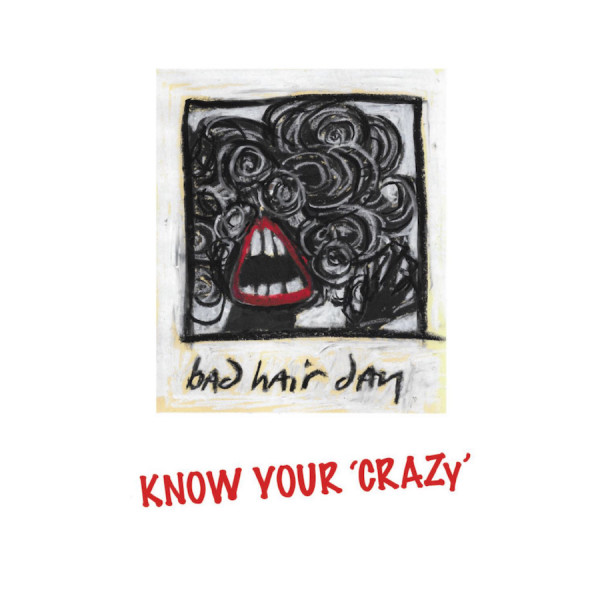 Know Your Crazy
$4,156
raised out of
$50,000
Concept
An art book for women, by women.
Story
Know Your Crazy
Know Your Crazy is an art book made for women, by women. It features mixed media art created by Vivienne Boucherat, a visual artist and musician from London, and was brought to life by Cindy daSilva, an artist manager out of New Jersey, and Rene Harbison, who heads up a production and consulting firm in Austin, Texas.
We all have our own 'crazy', and we each internalize in our own way.  We've made art come to life using Vivienne's own little heady, mad women and we have presented it hopefully in a way that each one of you can relate to. Our intent was to make 'crazy' less crazy. We hope you'll share with your friends and that you'll have some fun, share a few laughs and perhaps shed of couple of tears, but most importantly know you are not alone. For all of our differences, we are all very much the same. 
We decided to crowdfund Know Your Crazy so that numerous women could be a part of our project! By backing our project, you will have the opportunity to experience some, if not all of these wonderful perks!
We are recreating the 1972 Rock anthem "Hold Your Head Up", originally by Argent, to serve as the soundtrack for our project.  You can be featured in our women's movement recording and/or video for "Hold Your Head Up – (Almost) A cappella Version."  (Diamond and Platinum tiers only)

Did you know the lyrics are actually "Hold your head up, woman"? We didn't think so ? But Vivienne knows because she is married to the songwriter!  Her husband Chris White was the original bass player for 1960s British Invasion legends, The Zombies, and has countless credits to his name as a songwriter and producer, including the beloved Zombies classic "This Will Be Our Year" (heard in pivotal emotional scenes on TV shows like "Schitt's Creek", "The Marvelous Mrs. Maisel" and "Mad Men").  Chris wrote "Hold Your Head Up" for and about women, which is why he's disappointed so many fans misquote the lyrics.  Our (Almost) A cappella Version will set the record straight!

Audio – A clip of your vocals (at least 10 seconds) which will be recorded in a professional recording studio (limit to 30 minutes at the studio) will be included on "Hold Your Head Up – Almost A cappella Version." Get dressed up, go to a professional recording studio, where a talented engineer/producer will help you sound your best! The experience of a lifetime!

Video – Sing, dance, hold up a sign that says WOMAN! Those are just a few of the things you can do within our "Hold Your Head Up – Almost A cappella Version" video that will be on YouTube for all the world to see! Be a part of our women's movement and get ready for your closeup! ?
Will be guaranteed attendance of our Fireside Zoom Chat + Q & A with Vivienne Boucherat, Cindy daSilva, and Rene Harbison (date TBD) (Silver through Diamond tiers only)
Will receive one of our first edition box sets (out of 500) which includes

(59) 8″ x 10″, museum quality, art reproductions, by Vivienne Boucherat
A copy of the book 'Know Your Crazy' 
This beautiful and sophisticated box will be impressive as a coffee table piece, but each of the 59 limited edition prints could also be framed individually to enhance your home environment, or make meaningful gifts for friends.  These 59 pieces of art are valued at $15,000 USD.
The dimensions of the box are, 11.75" x 8.75" x 2.25"
Your name will appear on a separate page that will be included in the box set 
(Bronze through Diamond tiers only)
Receive an exclusive t-shirt complete with the 'Know Your Crazy' cover art design on the front

Available Small-3XL (3XL only available for unisex crew)
Shirt styles available: unisex crew, ladies loose crew, ladies fitted crew

Receive an exclusive tote bag

A custom, cotton canvas tote bag complete with the 'Know Your Crazy' cover art design on the front
At 19 x 15 x 5" it's a perfect size to toss in your reading or work materials and even a small laptop or iPad. And because it's 100% cotton and completely washable, you could also throw in your yoga pants and a T and head out to a class after a long day. Best of all, the 'Bad Hair Day' image is sure to stir up a conversation or two along the way. 

ALL ORDERS INCLUDE A COPY OF 'Know Your 'Crazy', a collection of Vivienne Boucherat art prints; her little mad women as she calls them. The art externalizes the Artists' own internal 'crazy'.

The 5×7" PUR bound book is produced on museum quality, archival paper. Though small in size this little book is huge in content! We know it will be a nice edition to any art collection or book collection that you may already own. 

10% from every purchase will be donated to the 501c3 non-profit charity Know Your Worth
What We Need & What You Get
We need your help raising $50,000. Your contribution will help cover the costs for:

Manufacturing the book, box set, t-shirt, and tote bag
Covering production costs for the "Hold Your Head Up – A cappella Version" song and music video
Funding Know Your Worth

You get to be a part of a unique project and movement created for Women by Women
The Impact
Know Your Worth is a 501c3 nonprofit specifically designed to help talented women who can't afford to go to art or music school to achieve their goals. By contributing to our project, you will be able to make someone's dream come true. 
Risks & Challenges
We will ship all US packages via USPS Priority Mail 3 days in December 2020
For orders outside the US, we will ship via USPS International in December 2020
If we don't reach our entire goal, 10% of proceeds will still go to Know Your Worth. We will still fulfill all orders.
Other Ways You Can Help
If you're not able to contribute, you can still spread the word about Know Your Crazy with your friends and family! You can share: